Whether you're one of the estimated 30-50 million Americans who suffers from lactose intolerance or you're trying to avoid dairy as a way to improve your overall health, the following 25 indulgent dairy-free recipes will make you look forward to meal time!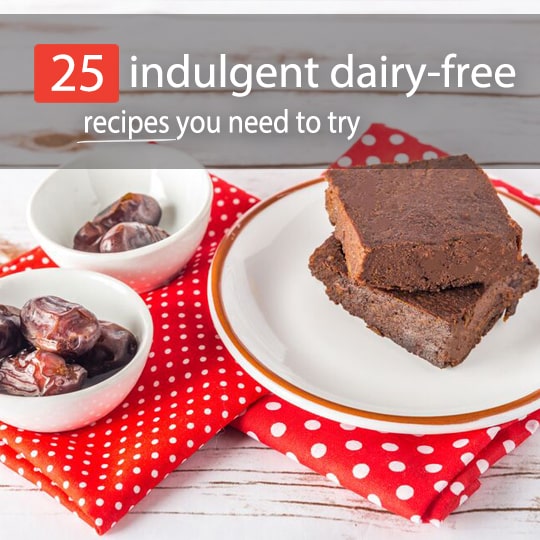 Why Would Someone Ditch Dairy?
Along with better digestive health, ditching dairy has been linked to a number of health benefits, such as improved sinuses, clearer skin, and boosted energy levels. Some studies even show going dairy-free can strengthen your bones. I know that goes against everything you probably learned as a young child since milk is known as a great source of calcium. But according to a 2014 study published in the British Medical Journal, researchers who followed more than 100,000 people in Sweden over a period of 20 to 30 years found milk drinkers actually suffered more overall bone fractures and hip fractures. This isn't the only study to reach these findings.
What Is Dairy Exactly?
By definition, dairy products are foods and drinks that are made from the milk of mammals, such as cows and goats. Popular dairy products include milk, yogurt, cheese, and butter.
So what about eggs?
For some reason, people love to clump eggs into the "dairy" category. However, eggs are not a dairy product and can most definitely be included in a dairy-free diet. That's great news since eggs are a wonderful source of protein, healthy fats, and other nutrients that benefit the body.
Recipes
Dairy-Free Breakfast Recipes
1) Healthy Yogurt and Granola Parfait – As I just mentioned, yogurt is usually a no-go when you're eating dairy-free. But, just like how there are dairy-free milk options, there are also dairy-free yogurt options. A few of them include soy yogurt, almond yogurt, and coconut yogurt. In this recipe, the creator layers coconut yogurt between fruit, hemp seeds, and chia seeds! It takes just minutes to throw together and is an easy grab-and-go breakfast.
2) Peanut Butter Banana Overnight Oats – Overnight oats are extremely easy to prepare, you can eat them on the go, and they're loaded with healthy ingredients. To make your own, all you have to do is fill a Mason jar with oats, liquid, some add-ins, and toppings. Pop it in the refrigerator overnight and the flavors will fuse together by the morning. No cooking required. This particular recipe is loaded with protein and fiber that will help keep you feeling full for longer. Plus, using either almond or coconut milk keeps this recipe dairy-free approved!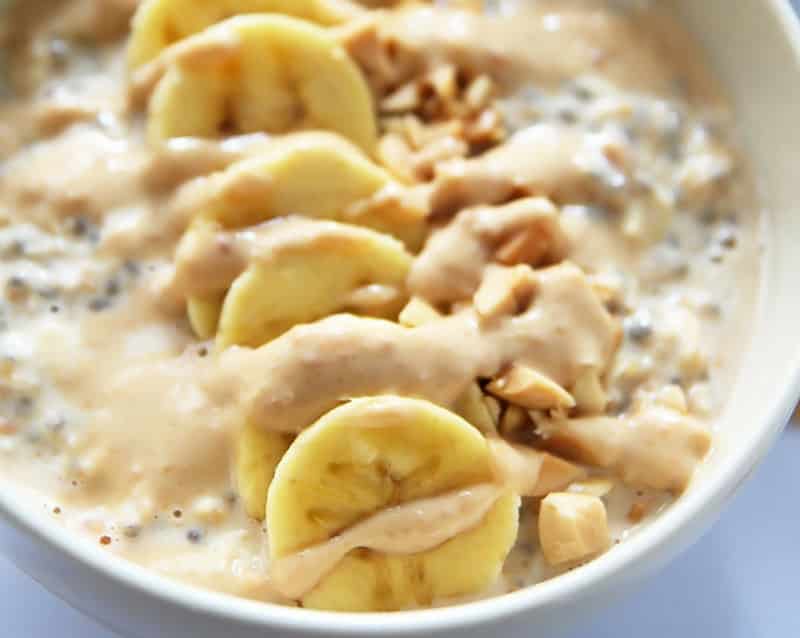 3) Cinnamon Sugar Pumpkin Muffins – Are you someone who enjoys baked goods for breakfast? If so, these cinnamon sugar pumpkin muffins are a must-try. They're bursting with flavor and are extremely moist, thanks to the coconut oil and pumpkin puree. If you're watching your sugar intake, you can always skip the outer coating of cinnamon sugar!
4) Banana Muffins – These banana muffins are dairy-free, gluten-free, and refined sugar-free. Bananas and coconut flour add the bulk, chia seeds act as the binder, and several other ingredients (like honey, vanilla, and cinnamon) create a robust flavor.
5) Gluten-Free, Dairy-Free Banana Pancakes – No matter what age you are, pancakes are always a fun breakfast food. Since they're typically filled with gluten-laden flour, milk, and butter, it's pretty fair to say that pancakes can make your taste buds want to do a little dance. Unfortunately, the same can't be said for your waistline. But with a few simple ingredient swaps, pancakes are actually easy to healthify. Take this gluten-free and dairy-free recipe for example. Using bananas, oat flour, coconut oil, cinnamon, nutmeg, and a few other ingredients, a small stack of these pancakes is actually a guilt-free breakfast!
6) 3-Ingredient No-Bake Cereal Bars – Are your mornings typically too hectic to enjoy a sit-down breakfast with the family? No worries! Whip up a batch of these no-bake cereal bars on Sunday evening so you have a nourishing on-the-go option during the work week. With just three ingredients — a cereal of your choice, peanut butter, and a liquid sweetener of your choice — it doesn't get any easier than this!
7) No-Bake Cranberry Coconut Energy Bites – Cranberries, walnuts, oats, coconut shreds, and flaxseed are all held together by almond butter and pure maple syrup. Just roll the ingredients into little balls, pop them in the fridge to set, and enjoy them on the go. Each bite offers a punch of protein, vitamins, minerals, and craveable flavor.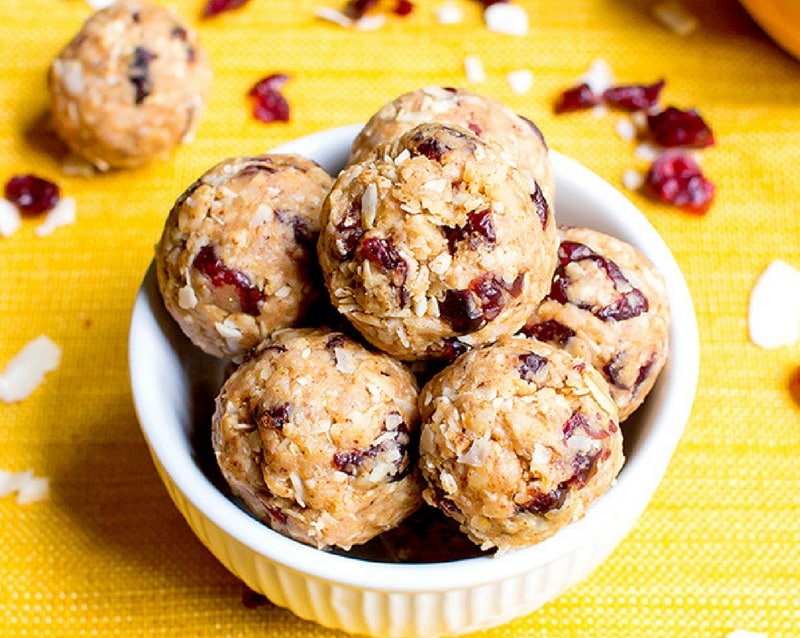 8) Instant Pot Coconut Yogurt – Yogurt is a wonderful breakfast or snack option since it's loaded with live cultures, AKA probiotics, that benefit the gut. Did you know that researchers link the gut to nearly every function in the human body?
9) Dairy-Free Frittata With Spinach and Tomatoes – Often times, frittatas are made with some dairy to create that light and fluffy texture. But it's really not necessary. This recipe uses eggs, coconut milk, peppers, spinach, tomatoes, and some type of meat (if you follow a vegetarian or vegan diet then just leave the meat out). Pop your mixture in the oven for a few minutes and dig in.
10) Green Vegan Protein Smoothie – Green smoothies are loaded with vitamins and minerals that support overall health. When you throw some plant-based protein into the mix, even better! This recipe calls for a variety of superfoods — spinach, chia seeds, hemp seeds, almond butter, and banana. Plus, keeping with the dairy-free theme, the creator used unsweetened almond milk rather than lactose-filled cow's milk. A few dates add natural sweetness to the drink, but if you need more you can always squeeze in a little bit of raw honey.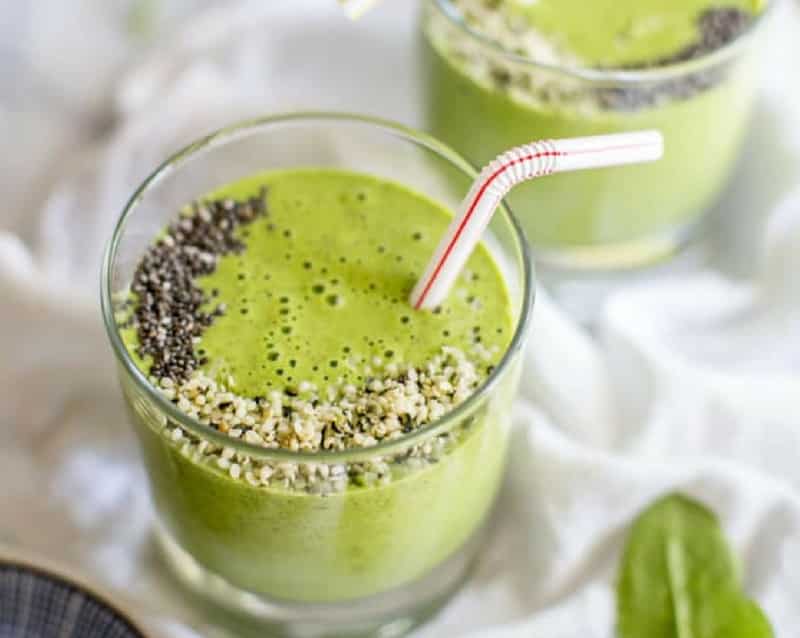 Dairy-Free Lunch/Dinner Recipes
11) Cauliflower Fettuccine "Alfredo" – This super light vegan alfredo pasta sauce is made with cooked cauliflower, olive oil, and spices! A little nutritional yeast gives it a nice cheesy flavor. It's a win on flavor and win on texture. If you don't want to serve it over pasta, pour it over a bed of rice or use it as a veggie dip.
12) Dairy-Free Mac N Cheese – It is possible to ditch dairy and indulge in mac n cheese, you just have to get creative. The "cheese" sauce in this recipe freezes well so you can easily double the recipe and place half in a freezer-safe container. Just heat it up when you're ready to dig in again.
13) Vegan Grilled Cheese Sandwiches – Potatoes, carrots, onions, cashews, coconut milk, and nutritional yeast aren't typical "grilled cheese" ingredients, but the end result actually tastes a lot like your childhood favorite grilled cheese sandwich.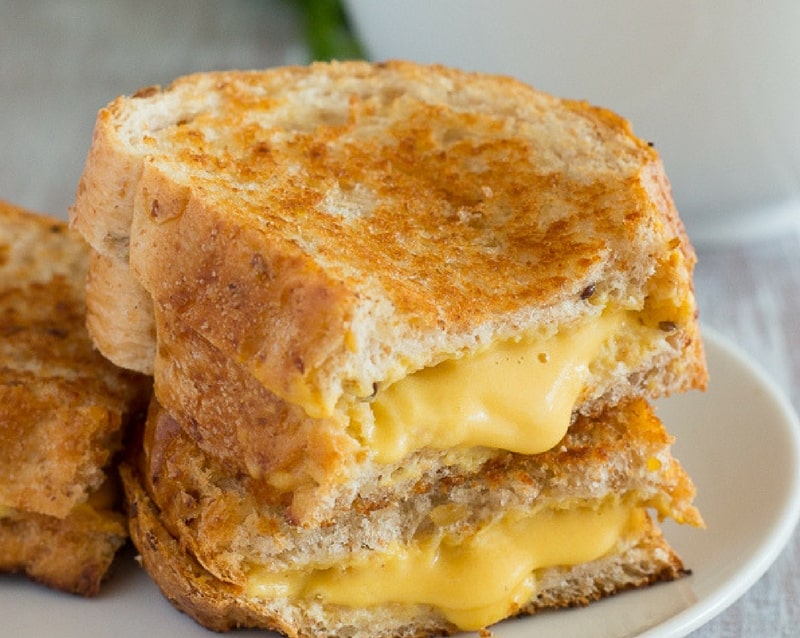 14) Mushroom and Kale Lasagna – Cashews are used as the base of a creamy sauce that will make you totally forget about the cheese in traditional lasagna. With only 30 minutes to prep and another 30 minutes to bake, it's definitely worth a try.
15) Avocado Quesadillas – Cheese quesadillas are amazing. Hands down. But so are avocado quesadillas. Along with the amazing taste, this Mexican-inspired meal is actually quite healthy. Avocados are filled with healthy fats and proteins that nourish the body in more ways than one.
16) Dairy-Free Pesto – While pesto isn't usually viewed as a "dairy food," many recipes do call for parmesan cheese. While dairy pesto is great, it really doesn't need the cheese to please your palate. This recipe celebrates simplicity with cilantro (you can also use basil), olive oil, garlic, pine nuts, lemon juice, and a little salt and pepper. Once you whip up a bowl of this delicious pesto, use it as a dip, spread, pasta sauce, or dressing.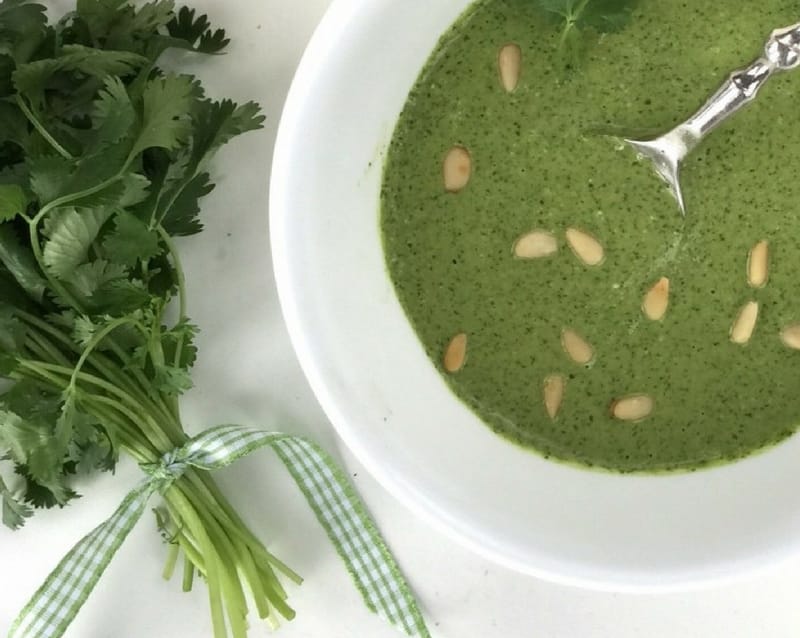 Dairy-Free Dessert Recipes
17) Raw Chocolate Cake – Often times, rich and indulgent cakes include full-fat milk and butter. Of course, I can't forget the frosting, which usually has, even more, milk or cream and butter. But it doesn't have to be that way, and this cake proves it! One bite of this Raw Chocolate Cake by the famous Jamie Oliver and you may be fooled into thinking it's the real deal. Sweetened with Medjool dates, honey, and raw cacao, it's super sweet without using any refined sugar. For the frosting, coconut oil, agave, honey, and more cacao are put on display.
18) Chocolate Peanut Butter Milkshake – Making a dairy-free milkshake is way easier than you may even realize. All you have to do is swap out the regular cow's milk for a nut milk. In this recipe, the creator used almond milk, but you can use hazelnut milk, coconut milk, or even rice milk if you prefer. Since many processed chocolate products do contain dairy, this recipe uses cocoa powder.
19) Healthier Dairy-Free Cheesecake – This recipe is a lightened-up version of traditional cheesecake with a third of the calories and sugar … and no dairy. It combines dairy-free cream cheese with coconut yogurt, vanilla extract, a sweetener, lemon juice, and a little cornstarch. You will have to bake this one, but it's still super simple to whip up!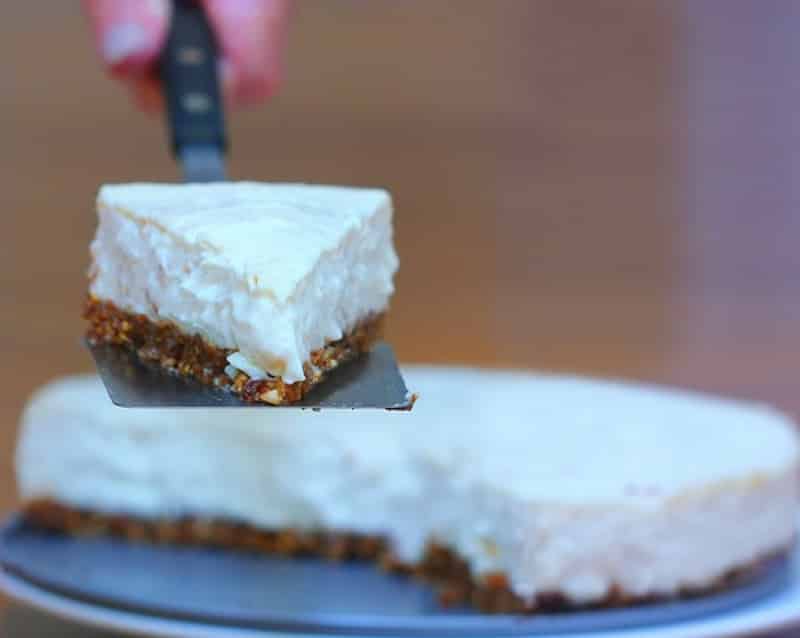 20) Vegan Pumpkin Swirl Cheesecake – This recipe is perfect during Fall and the colder winter months. Something about the combination of pumpkin and cinnamon just makes this healthier dairy-free cheesecake taste like comfort.
21) Yellow Cake Donuts – I'm not going to sugar coat this – there is a lot of sugar in this recipe. While donuts aren't something you'll want to include in your daily diet, they're certainly a fun treat from time-to-time. If you're looking for a dairy-free version of your favorite yellow cake donut then this recipe is perfect for you. Rather than milk, the recipe calls for unsweetened coconut milk; instead of butter, it includes healthy avocado oil.
22) 3-Ingredient Double Chocolate Mousse – The texture of whipped coconut cream is absolutely amazing. So it's no wonder that by adding a little powdered sugar and cocoa powder you would create an amazing dairy-free mousse.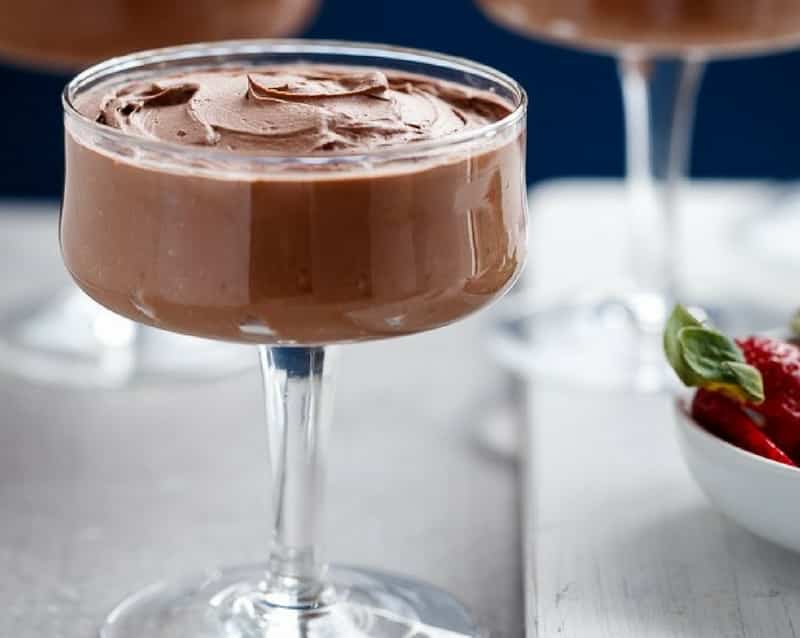 23) 3-Ingredient Dairy Free Fudge – This is the perfect no-bake treat. Using coconut milk, confectioner's sugar, and dairy-free chocolate chips, this dessert will take you about 10 minutes to make and it's sure to impress a crowd.
24) Edible Cookie Dough – Is it just me or is there something addicting about cookie dough? It's even more lip-smacking good than a baked cookie! The only problem is – since most cookie recipes call for eggs, the raw dough isn't all that safe to consume. Enter this edible cookie dough recipe. Just make sure to use dairy-free chocolate to keep this recipe completely free of dairy.
25) No-Churn Dairy-Free Ice Cream – I scream, you scream, we all scream for dairy-free-ice-cream! A bowl of this smooth and creamy treat is made from coconut milk, sugar, and just a touch of powdered gelatin. A few spoonfuls and you may be fooled into thinking it's the real deal!