Going on a camping trip and spending some time in the great outdoors is one of the best things you can do for your health – both mentally and physically. Unplugging from the internet and busy corporate world can help bring down your stress level and blood pressure. Breathing in the fresh air can help oxygenate your cells, which is great for detoxing. Additionally, all of the hiking and physical activities involved in a camping trip can help you burn off some extra calories. While it's clear time spent outdoors can improve your health, many people sabotage those benefits by loading up on unhealthy foods. That doesn't have to be the case, though. Read on for healthy camping food ideas and recipes!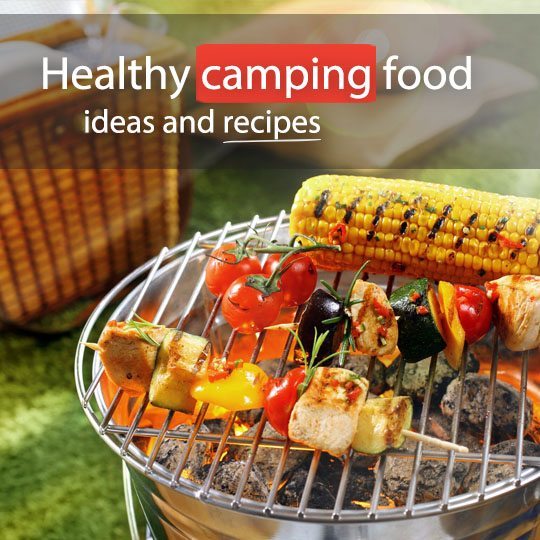 Just think about a typical camping trip for a second. Usually, campers fill their paper plates with processed deli meats, hot dogs, candy bars, smores, and booze. Sure, all this stuff is delicious and fun, but they don't help nourish your body for a day of activities. Rather, these foods are loaded with sugar, sodium, and preservatives. That means they make you sluggish, tired, and bloated.
You can easily swap out the junk for fresh fruits, vegetables, lean proteins, and healthier dessert options with a few simple packing tricks.
Quick Tips To Prepare Healthy Camping Food
Plan Ahead
Before you hit the road and head to the campsite, grab a pen and paper and start planning. Plan out how many people are going on the trip, how many days you are going to be away, what cooking tools will be at the site, and what activities you are going to fill your days with. This will all help give you an idea of the amount/type of food you'll need to bring.
From there, start coming up with a menu plan for each day. Think about breakfast, lunch, snacks, dinner, and more snacks. Keep in mind — on days you plan to do harder activities, you'll likely get hungrier and need to eat more food.
*Recipes below!
Plan For An Extra Day
You never know what's going to happen when you are away. Maybe you'll wind up leaving a day early or staying a day later than planned. Since you don't want to run out of food, it's always a good idea to bring along at least one extra day's worth.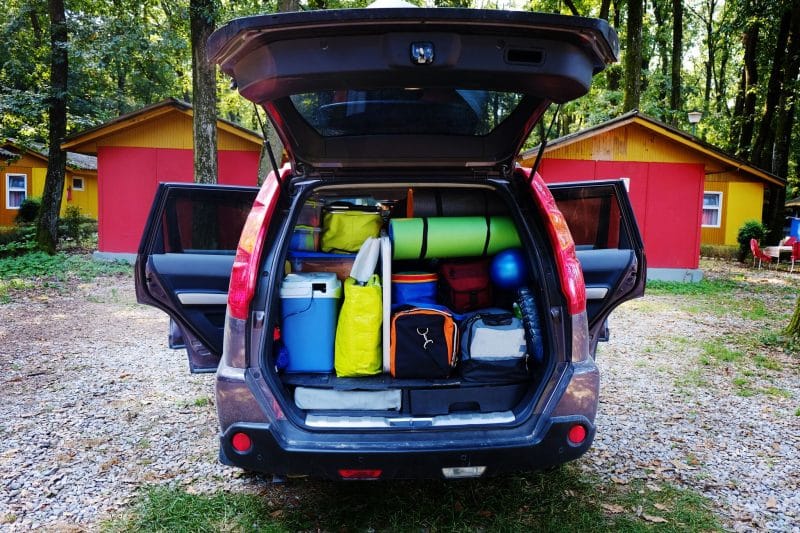 Create a Kitchen Checklist
After checking out the campsite to see what cooking appliances/tools they offer on the grounds, start creating your own list of things to bring. Some common items include:
Coolers / ice
Lighter
Firewood / charcoal
Fire starters / newspaper
Propane or liquid gas stove (you will also need propane canisters if you bring your own stove)
Smoker (if you want to smoke your meat)
Dutch oven
Cooking utensils (pots, pans, etc.)
Skewers / grill fork
Paper plates
Plastic utensils
Trash bags
Paper towels
Aluminum foil
Pot holders
This is just a short list of essentials and ideas. Never fall short of ideas on how to build a camp or survival fire with Geekprepper's post, Ultimate Fire Building Guide & Glossary with Dozens of Techniques.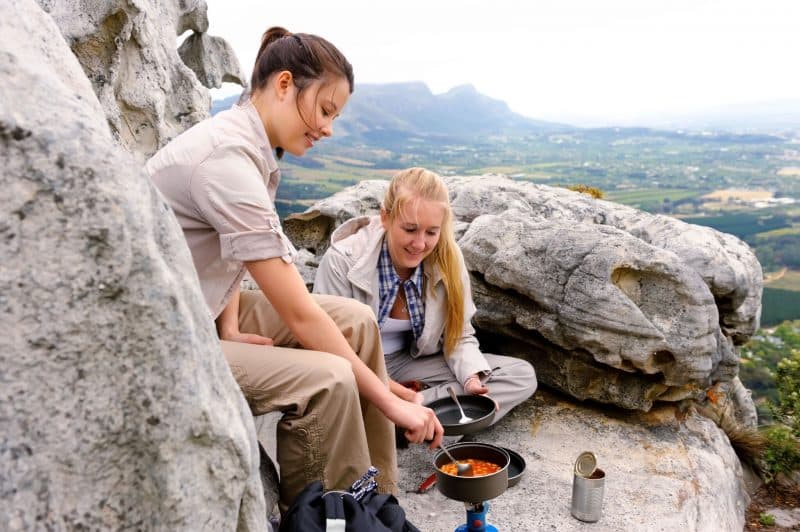 Save Cooler Space With Frozen Drinks and Food
When it comes to packing for a camping trip, people often want to pack more food than they have room for. To help save you some cooler space (and extend the chill life of drinks/cold food), freeze your water bottles and any freeze-able foods a few days in advance. They will act as additional ice packs in your cooler until they're consumed.
Extend Chill Life
During the trip, open your cooler as infrequently as possible. Additionally, try not to lift the lid all the way up. This will help trap the cold in your cooler, extending the chill life. To save you from having to rummage through your cooler to find the meal you want to eat, thoughtfully plan out your meals in advance. This will allow you to pack the foods that you'll eat early in the trip at the top of the cooler.
---
Types Of Foods You Can Bring + Recipes
Make-Ahead Breakfasts
The more meals you can cook and assemble before your trip, the better! Here are some make-ahead breakfast ideas that are made with nourishing ingredients to help energize your mind and body for the day ahead.
Yogurt Parfait – Yogurt parfaits are super simple to prepare and easy to pack. Since the yogurt can spoil, though, this is a meal you'll want to eat the first morning of your trip.
No-Bake Overnight Oats – Overnight oats are extremely easy to prepare and pack in your cooler. All you have to do is fill a Mason jar with oats, liquid, some add-ins, and toppings (this particular recipe calls for rolled oats, chia seeds, banana, almond milk, and vanilla extract). Pop it in the refrigerator the night before you leave for your trip and the flavors will fuse together by the morning. No cooking required. Overnight oats will stay fresh for up to three days in the refrigerator (or your cooler), so make sure to eat them toward the beginning of your trip.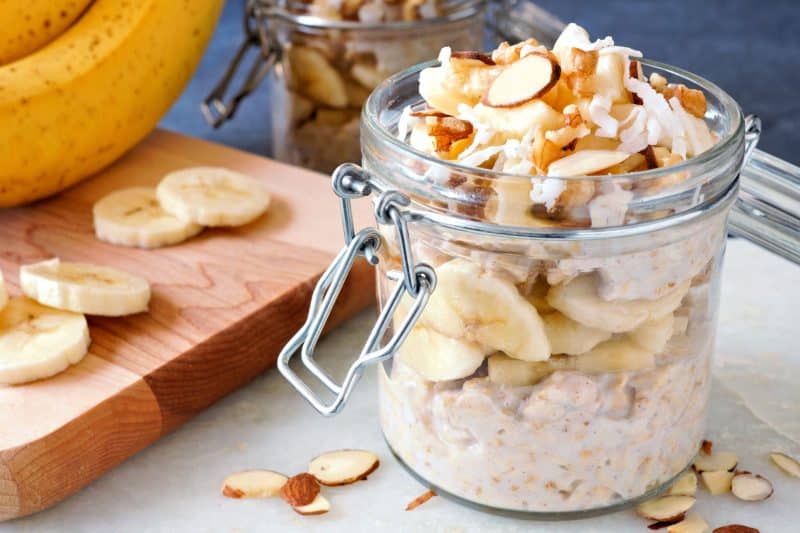 Egg Muffins – While there is some controversy about eggs because of the high fat and cholesterol content, researchers say eating whole eggs is actually extremely good for you. It's important to remember that not all fats and cholesterol are created equal. Eggs are actually a great source of protein, healthy fats, and good cholesterol. Plus, eating just one egg provides your body with 13 essential vitamins and minerals. Oh, and did I mention that one large egg is only 70 calories?
Eggs aren't the only star in this breakfast muffin, though. It's also loaded with vegetables that provide your body with an extra dose of essential nutrients. Make these egg muffins before your trip, wrap them up in plastic wrap, and then heat them up on your campfire stove when you're ready to eat.
Breakfast Burritos – Burritos are great since you don't need any plates or utensils to dig in and enjoy. Make your burritos ahead of time, wrap them in some tin foil, and pack them in the cooler to keep fresh. Just like with the egg muffins, you can easily heat your burrito on your campfire stove. If you follow a gluten-free lifestyle, just make sure to use gluten-free tortillas. You can even go one step further and make them yourself with this homemade gluten-free tortilla recipe.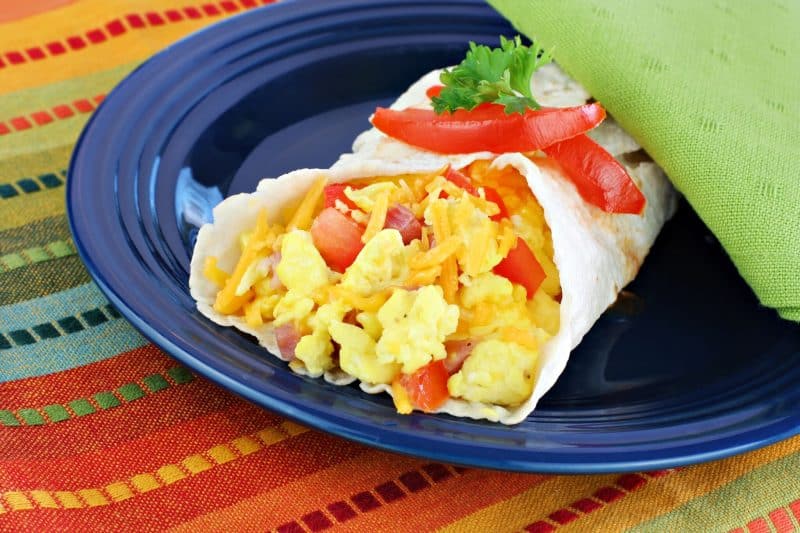 Oatmeal Breakfast Cookies – Cookies for breakfast? Yes, please! These healthy "cookies" contain absolutely no refined sugar or dangerous additives. They are simply made from oats, bananas, peanut butter, honey, and some spices. That means they're packed with protein, fiber, vitamins, and minerals that will keep your belly full and energy level high. Since these cookies won't spoil easily, save them for the last few days of your trip.
Two Ingredient Banana Pancakes – Pancakes are a delicious and fun breakfast meal. Plus, they're easy to cook, wrap up, and store for a later date. The only problem with the average pancake recipe is it's loaded with carbs. Between the flour and refined sugar, a helping of pancakes could put you in the mood to nap rather than explore the great outdoors. That's where this two ingredient banana pancakes recipe comes in handy! It's nothing but a banana and two eggs turned into pancakes. That means you get to enjoy a fun pancake breakfast without feeling sluggish and bloated after!
---
Hard To Bruise Fruit/Veggie Snacks
Fruits and vegetables make for wonderful snacks, but packing things like bananas and tomatoes may leave you with mushy messes. When packing fresh produce to munch on during your camping activities, opt for ones that don't mash or bruise easily. Here are a few options:
Apples
Pears
Oranges
Grapefruits
Celery
Carrots
Bell Peppers
Broccoli
Cauliflower
Along with fresh fruits and vegetables, you can easily pack some small containers filled with peanut butter, almond butter, hummus, or another one of your favorite dips. Just make sure they are stored in an airtight container so they don't spoil or spill during your travels.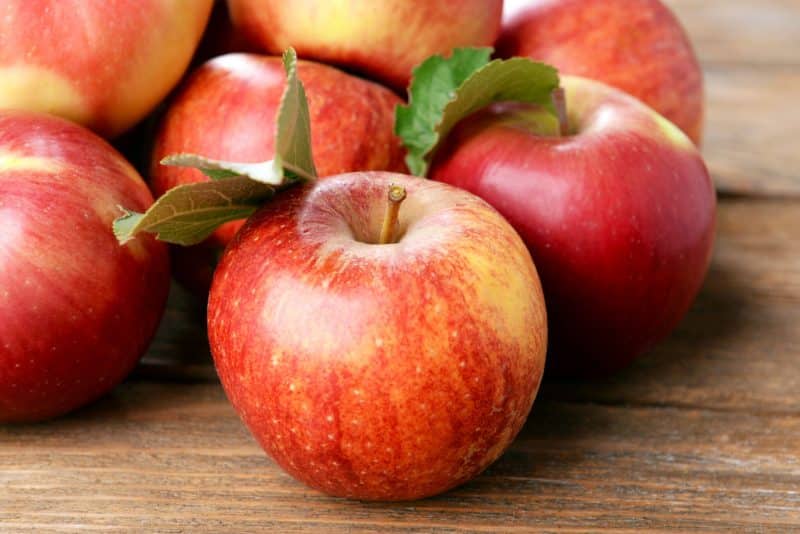 ---
Backpack Stuffer Snacks
Peanut Butter Granola – While there's no denying granola is delicious and convenient, there is one problem. Most of the store bought stuff isn't as healthy as you think. In fact, granola is on our list of foods people think are healthy, but actually aren't. The truth is, store-bought granola is loaded with sugar, unhealthy fats, and oils. The good news is, you can make your own granola at home before your camping trip to monitor every ingredient. Take this recipe for example. With only four ingredients and about 10 minutes of prep time, it doesn't get any simpler than this recipe!
No Bake Granola Bars – Made with only 5 ingredients, these homemade granola bars are simple to make and easy to customize. Almond butter and honey work together to bind the oats, chopped almonds, and chocolate chips. There's no need to bake the granola mixture. Just pop it in the freezer for about an hour. When it's firm, cut the granola sheet into bars, wrap in plastic wrap or foil, load it up in the cooler next to some other frozen items, and enjoy when you're ready!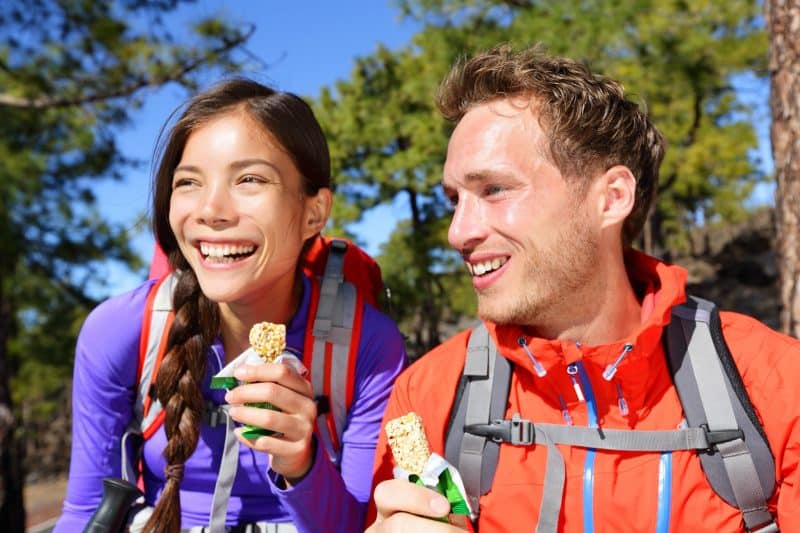 No-Bake Energy Bites – Make a batch of energy bites before your trip and munch on them when you need a quick boost of energy. This particular recipe is loaded with old fashioned oats, peanut butter, and flax seeds, making it a healthy protein-packed snack option!
Trail Mix – Rather than buying store-bought trail mix that is coated with sugar and other unhealthy ingredients, why not just make your own? Trail mix is a cinch to whip up and you can easily customize it to your taste preference. Just mix a variety of your favorite nuts, seeds, dried fruit, and grains. Then, divide your mixture into individual portion sizes and store in plastic baggies. Trail mix won't take up any room in your cooler and will stay fresh for your entire trip.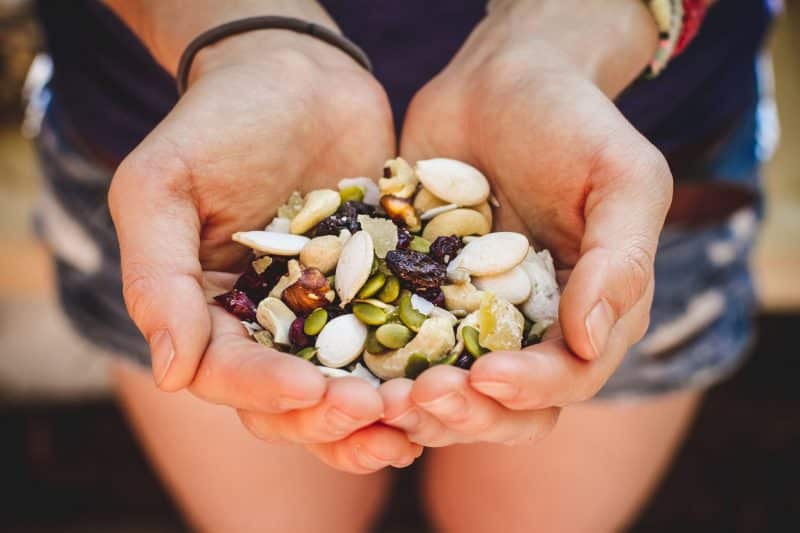 Roasted Chickpeas – Chickpeas are loaded with fiber and protein. They're also easy to grab-and-go, making them the perfect camping snack. When roasting your chickpeas, season them to your liking. This recipe gives four variations – sesame soy, honey cinnamon, garlic parmesan, and smokey spice blend. Once they cool from the oven, divide into individual portion sizes and store in plastic baggies.
Homemade Fruit Leather – Who says fruit rollups are just for kids? Homemade fruit leather is made by pureeing fruit, spreading it onto a baking sheet, and popping it into the oven at a low temperature for a long amount of time. You're basically dehydrating the fruit – not cooking it! Watch this video to see how easy homemade fruit leather is to make:
---
Tin-Foil Lunches/ Dinners
Tin foil dinners make for great, healthy camping meals.There's minimum effort involved in prepping the food, and clean up is a breeze since you don't need serving plates. You can eat your dinner straight out of the foil! As you scroll through these tin-foil dinner recipes, remember that you can grill just about anything in a tin-foil package. If you just want corn on the cob, wrap it up and toss it on the grill. It's the same with mixed vegetables and other meats not mentioned below.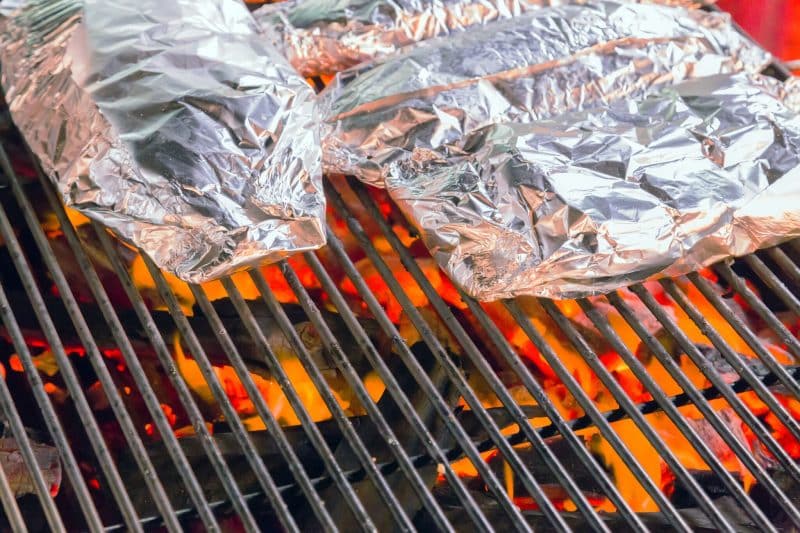 Chicken Fajita Foil Dinner – This tin-foil dinner recipe is loaded with flavor and healthy ingredients. The chicken provides a nice serving of protein and the vegetables are loaded with vitamins and minerals. If you follow a vegetarian or vegan diet, you can easily ditch the chicken and replace with another form of plant-based protein!
Grilled BBQ Chicken In Foil – If you like the barbecue taste, then you will love this recipe. It's nothing but chicken breast, veggies, and some barbecue sauce. Simple, yet delicious.
Shrimp Boil Foil Packets – Load your foil with shrimp, andouille sausage, corn on the cob, and baby red potatoes and you have yourself a hearty meal! If you want to make this meal a bit healthier, ditch the sausage and replace with a different lean protein.
Salmon and Summer Veggies in Foil – Salmon is one of the healthiest meals that you can eat. The fatty fish is a nutritional powerhouse that's loaded with good-for-you Omega 3 fatty acids, protein, vitamins, and minerals. Plus, did I mention that it's delicious? While this recipe recommends you cook the foil pack in the oven, you can easily lay it onto the grill/stovetop to cook.
---
Other Grilling Meals
Veggie Burgers – While you can certainly pack beef burger patties to cook on the campsite grill, if you follow a vegetarian or vegan diet then you can still participate in the burger bonanza. Chickpeas act as the base for these veggie burgers and various spices create an amazing burst of flavor. Make the patties before your camping trip and then throw them on the grill once you get there.
Skewers – I'm linking to an herbed lemon garlic chicken and veggie skewer recipe. However, get creative! Simply thread your favorite meats, vegetables, and fruits onto a skewer and pop it on the grill. Use up leftover ingredients that you used for other camping meals. There is no right and wrong when it comes to skewers. Just have fun!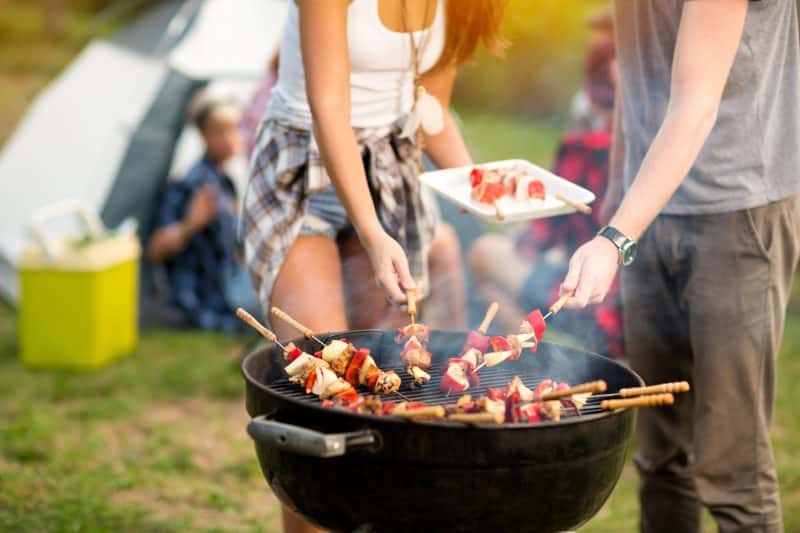 ---
Healthier Desserts
Toasted Marshmallow Strawberries – What's a camping trip without smores? If you want to participate in the camping tradition, but don't want to eat all of those calories, try this recipe instead. All you need is a strawberry, some marshmallow fluff, a stick, and a campfire! Roast up your treat the same way you would regular smores.
Campfire Banana Boat – This dessert is basically a banana filled with marshmallows and mini chocolate chips. It doesn't get much easier (or delicious) than this. You can easily prepare these campfire banana boats on the campsite's stove or barbecue.
Campfire Cones – The kids are going to love this one. Grab some waffle ice cream cones and stuff them with chopped fruit, marshmallows, and chocolate chips. Then, wrap your cone in foil and lay on the campsite's stove. You will be left with an ooey gooey treat!
Campfire Parmesan Popcorn – You don't need a fancy popcorn machine or microwave to enjoy popcorn. Just a handful of popcorn kernels, a little tin foil, and a grill. In a matter of minutes, you'll have a nice serving of popcorn that you can munch on while you star gaze. This recipe calls for Parmesan cheese, but you can easily ditch the cheese and drizzle a little chocolate on top instead!
---
Other Healthy Camping Food/Snack Ideas
For quick, healthy meals and snacks you can also pack:
Tuna bags
Cheese sticks
Hard boiled eggs
Pre-made salad jars (pack in a plastic jar vs glass to avoid breaks)
Canned soups (just heat in a pot on the grill)
Veggie chips
Enjoy!