Meeting your fiber needs is important, and knowing the difference between soluble and insoluble fiber can help make sure you get the right kind of fiber to reach your goals. As it turns out, there isn't much in common with the two types of fiber, except that they're both classified as fiber. Each reacts in a much different way in the body thanks to their composition.
Soluble and Insoluble are the two types of dietary fiber, and you'll need to get both if you want to have optimal health. Luckily most foods that are high in dietary fiber will contain some of each, so you don't need to seek out specific types of foods, just be sure to get your daily quota of dietary fiber. Solubility refers to whether or not the fiber will dissolve in water. On food labels you'll simply see the term "dietary fiber" with no breakdown as to whether you're getting soluble or insoluble, but there are some foods that are a bit heavier in one than the other, which we'll explore below.
[hr]
Soluble Fiber Basics
Soluble fiber can be dissolved in water and will slow down your digestion. This may sound like a bad thing at first, but it actually helps in at least a few ways. For one, it's the reason why fiber helps you feel full for a longer period of time. It's also why fiber can help prevent or manage diabetes because it affects blood sugar and insulin sensitivity.
Soluble fiber can also help you with your cholesterol levels. One of the most commonly eaten foods with good levels of soluble fiber are beans. Beans have been linked to heart health, and are recommended to those with diabetes, thanks mostly to their high fiber content. Other foods high in soluble fiber are fruits, vegetables, and grains.
[hr]
Insoluble Fiber Basics
Insoluble fiber cannot be dissolved in water and is known for helping move foods and waste along and making it easier to have a bowel movement. Insoluble fiber is why fiber has the reputation for keeping you regular.
Popular foods with high levels of insoluble fiber are cabbage, onions, bell peppers, and lettuce. The outer peels of many foods are where the insoluble fiber is found, which is why it's important to buy organic and leave the peels on.
[hr]
Similarities
One feature that each type of fiber shares is that they help carry waste and toxins out of the body. Soluble fiber does this by becoming one with the body, dissolving into the tissues themselves, while insoluble fiber acts as a bulking agent helping to free the body of sluggish waste that has built up, and keeping your digestive system clean. Neither insoluble fiber nor soluble fiber gets digested by the body the way non-fibrous foods do.
[hr]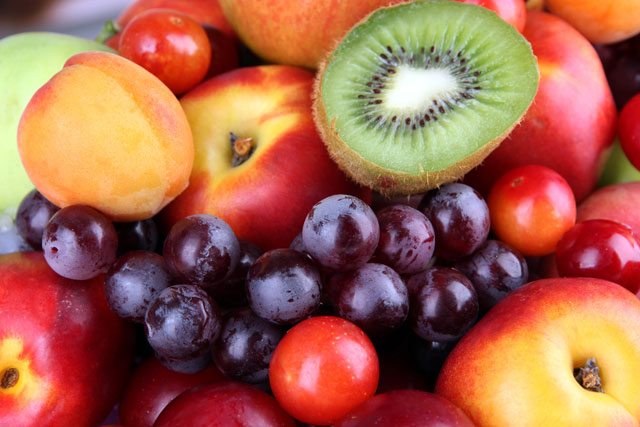 The Main Differences
What happens to each type of fiber once you eat it is the main difference you'll find between them. Soluble fiber is absorbed into the body while insoluble fiber isn't. Soluble fiber acts to slow down your digestion, while insoluble fiber acts to speed it along.
[hr]
Which Is Better?
Both types of fiber are necessary for a fully functional digestive system, and it isn't advised to seek out one of the other based on the specific benefits they provide. It's important to eat a balanced diet, and that includes a balance of both insoluble and soluble fiber. Soluble and insoluble fiber work as a dynamic duo within the body, and have yin and yang properties that make them work best as a team.
[hr]
How Much Do I Need of Each?
The guidelines for fiber vary greatly from country to country, and from health expert to health expert. What is unanimous is that Americans don't get nearly as much total dietary fiber as they need, and this is a trend that has been going on for quite some time. Increasing your overall dietary fiber without regard to whether it is soluble or insoluble is step one. At that point you can assess your digestive abilities and decide whether you need to correct any imbalances in terms of getting more or less of either insoluble or soluble fiber.
[hr]
Should I Take Fiber Supplements?
It's always best to get your fiber from natural sources in your daily diet. As long as you are eating a variety of fruits, vegetables, legumes, and some grains you should be consuming enough fiber without the need to supplement. But a common complaint is that with the Standard American Diet and hectic lifestyles it isn't always feasible to eat perfectly, and often fiber-rich foods are the first to get neglected on a busy day. As a contingency plan for when your diet goes off track, fiber supplements can be used to fill the gap and make sure that your digestive system is humming along. Just be sure that the supplement you choose does not contain psyllium husk or other unnatural bulking agents, as these can do more harm than good and you may find that you come to depend on them.