When you hear the word 'banana', does your mouth water, thinking about the creamy, sweet fruit that is extremely popular the world over, or does the thought of the texture make you feel a little queasy? You either love bananas or you hate them, but one thing is for sure, and that is, bananas are incredibly nutritious and extremely versatile when used as a baking or raw food ingredient. If you are one of the millions of people who do like the taste of bananas, then these 50 healthy banana recipes will keep you going for quite a while!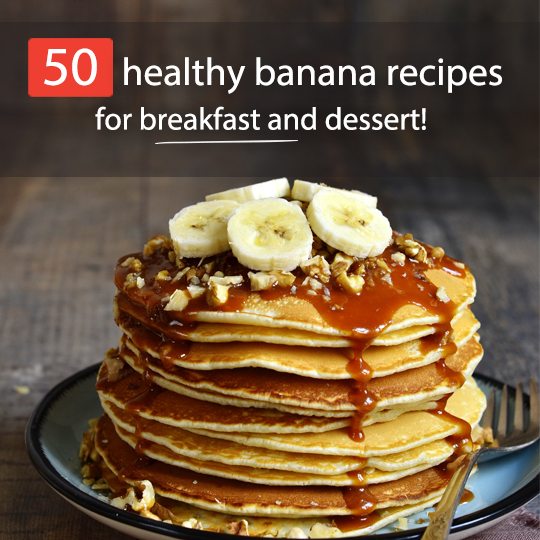 Nutritional Information
Bananas have a number of powerful health benefits. They are rich in fiber, antioxidants and several essential nutrients. A medium-sized banana (118g) contains 9% of your recommended daily intake of potassium, 33% vitamin B6, 17% vitamin C, 8% magnesium, 10% copper and 14% manganese. One banana has around 105 calories and is made up of mainly water and carbohydrates.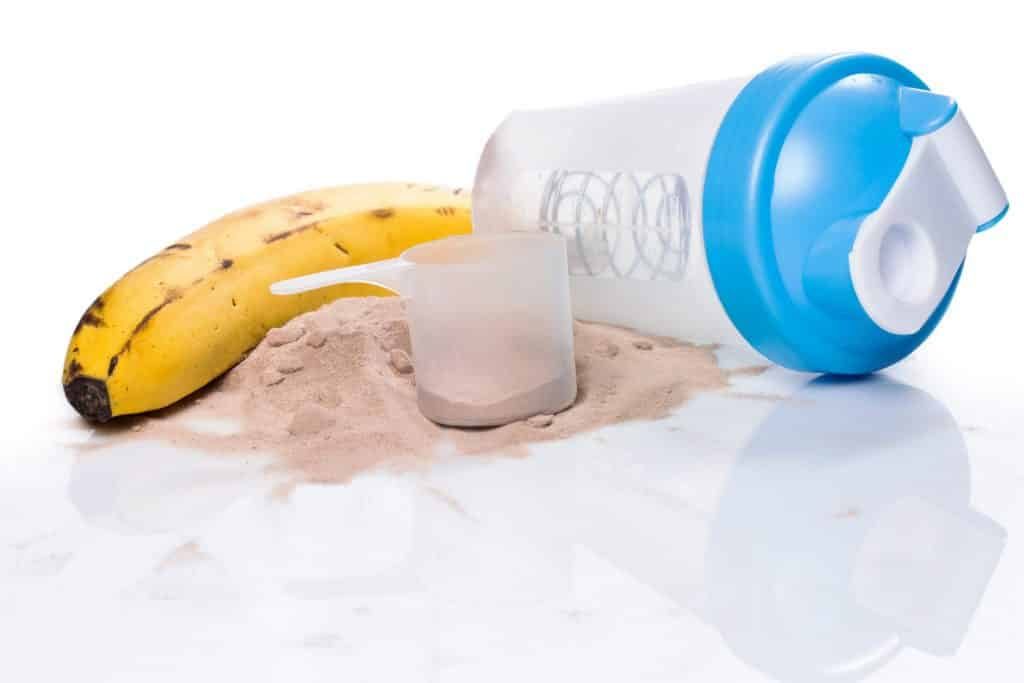 A Brief History Of Bananas
When you think of bananas, do you think of tropical holidays and cocktails by the beach? Bananas are believed to have originated in Malaysia, about 4,000 years ago, before spreading into the Philippines and India. Arabian traders introduced them into Africa, where Portugese explorers were first introduced to them, later taking them to America. Bananas were not sold in the US until the 19th century, because the fragile fruits were not able to travel far. However, the development of refrigeration and improved transport in the 20th century saw the sale of bananas skyrocket, becoming far more widely available. Most tropical and subtropical regions around the world grow bananas today, with major producers in South and Central America.
Healthy Banana Recipes
Bananas are so versatile when used as an ingredient, and, similar to sweet potato, apples and avocados, they can be used to substitute a multitude of carb-loaded and sugary traditional baking ingredients like flour, sugar, cream and butter!
Breakfast
1. Fluffy Kefir Banana Pancakes – Using kefir as a substitute for buttermilk, these delicious vanilla-flavored pancakes are filling and satisfying. The probiotics in the kefir gives the immune system a well-deserved health kick and the banana and maple syrup give them a sweet, caramelized taste.
2. Two Ingredient Pancakes – Okay, hold the press! We have pancakes made from just two ingredients. It takes literally seconds to mix the batter and just a few more minutes to cook them! And these two-ingredient pancakes surprisingly taste absolutely delicious! You're welcome.
3. Gluten Free Cardamom Banana Pancakes – Vegan, gluten-free, flavorful and healthy. What more could you want in a pancake? If you're a fan of sweet, decadent breakfasts or desserts, then this perfect match of caramelized banana and exotic cardamom was made for you! Free from processed sugar, and rich with vitamins, fiber and nutrients that won't cause a sugar crash, they are perfectly healthy and are quick and simple to make. Plus, they give you the perfect reason to leap out of bed in the morning when your alarm sounds!
4. Blender Banana Rice Gluten-Free Waffles – Talk about creativity with leftover food! This is the perfect breakfast option when you have leftover rice from the night before. These healthy waffles are super quick and easy to whip up, using bananas, rice, eggs (or a vegan alternative), coconut sugar, coconut oil, almond milk and a couple other base ingredients for a great weekend breakfast or brunch.
5. Breakfast Cookies – You can't really beat cookies for breakfast – for ease, speed, cleanliness, and, let's face it, deliciousness! These hearty cookies are packed with healthy, filling ingredients including oats, nut butter, seeds and fruit. They are the perfect grab-and-go option for busy mornings, and they taste incredible warmed up on a cold day.
6. Banana Coconut Chia Pudding Parfaits – If you're more of a night owl than a morning bird then this scrumptious make-ahead breakfast is perfect for those mornings that you know aren't going to be pretty! All you have to do is blend all the super healthy, nutritious ingredients and let them sit in the fridge overnight to thicken. Add bananas, oats, walnuts and coconut, and your own favorite medley of garnishes, and you're good to go – brain fueled and energy boosted!
7. Tofu Waffles With Baked Banana Sauce – This clever recipe is completely vegan and uses tofu as an alternative to buttermilk because of its ability to create the perfect waffle – fluffy inside and crispy outside. As a result, this breakfast is packed full of protein!
8. Banana Zucchini Overnight Oats – Another perfect roll-out-of-bed and grab-and-go breakfast that will fuel and nourish you for the day. Simply mix the 5 ingredients together, and, voila! You have your breakfast sitting in the fridge waiting for you in the morning!
9. Baked Oats – Oats, blueberries, walnuts, banana, raisins, plant-based milk, maple syrup and cinnamon – the perfect breakfast concoction, and a quick, easy one to whip up at that! And unlike bircher muesli, it is served warm – perfect for winter or cold, frosty mornings!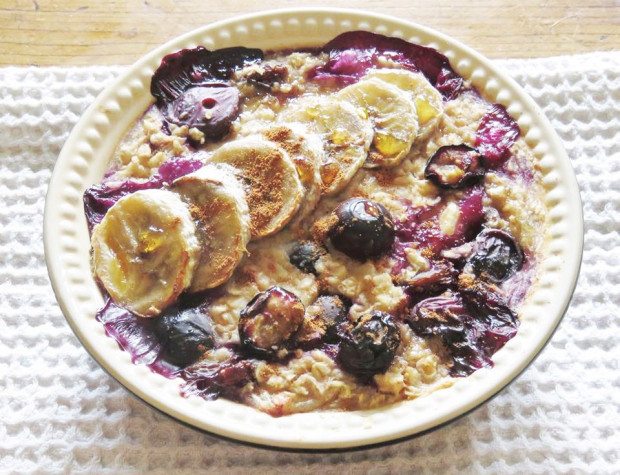 10. Dark Chocolate Almond Banana Bakes Oatmeal – Another delicious, satisfying and warming oatmeal breakfast for cold or early mornings when only a comforting breakfast will do. And what's more – making it is an absolute breeze. It's just a matter of combining the dry ingredients, adding the wet ingredients, and baking!
Muffins
11. Blender Banana Oatmeal Muffins – There isn't one unhealthy ingredient in these gluten-free blender muffins. The main ingredients are bananas, oatmeal, and Greek yogurt, and, since they're loaded with fiber and protein, they are extremely satisfying and filling!
12. Banana, Yogurt & Cinnamon Muffins – Banana and yogurt – a match made in heaven. Add the cinnamon, chia seeds and almonds, and you have a flavorful, nutritious low-carb dessert or breakfast that is full of fiber with no refined sugar, and they are super handy to grab as you race out the door!
13. Banana Cauliflower Muffins – Sound appealing? Maybe not, but you actually won't be able to detect the cauliflower in these yummy, moist muffins, and it's a great way to get one of your veggie servings into your day! Topped off with a delicious peanut butter icing, and these muffins are a winning dessert or snack for the kids.
14. Banana Nut Muffins – Taking all of 10 minutes to prepare, these tasty muffins are packed full of vitamins, minerals, fiber and protein. Unlike shop-bought muffins, there is less sugar, meaning they have a nice balanced sweetness, instead of being overly sweet, and they can work well as a morning tea snack if you're feeling hungry before lunch.
15. Vegan Chocolate Banana Muffins – Healthy enough for breakfast but good enough for dessert – you can't really argue with that! These muffins are rich, fudgy and ultra-chocolatey, but they are vegan, using coconut oil instead of butter, and unsweetened almond milk instead of dairy milk.
16. Blueberry, Coconut & Banana Wholemeal Muffins – Coming in at just 175 calories per muffin, these make an idea breakfast-on-the-go or morning tea snack. They are quick and easy to make, and, let's be honest; you can't really beat a blueberry muffin!
17. Salted Caramel Banana Bread Muffins – If these muffins have a stand out feature, it's their texture – the soft moist muffin paired with the crunchy granola topping is to die for! Delicious and decadent, but healthy enough not to feel too guilty, they're sure to be a winner with the whole family!
18. Banana & Rhubarb Mini Muffins – If you're a fan of rhubarb, then this is the recipe for you! And the cute little light muffins are the perfect picnic treat when rhubarb is in season in spring. The tangy, fruity flavor and beautiful color of the rhubarb works perfectly with the creamy banana and moist muffin base.
Banana Bread
19. Coconut Banana Bread – We had to include banana bread in this blog, because, let's face it – it's a classic for a reason. It's delicious, easy to make and super healthy. This is a great option, because it calls for wholemeal spelt flour instead of traditional white flour, and includes coconut (yum!), vanilla and cinnamon – the perfect combination of delicious ingredients – and with no refined sugar!
20. Banana Bread Snickerdoodles – If you always make the same old banana bread when you find overripe bananas in the fruit bowl and want to try something a bit different, this creative take on a couple of classics is the perfect option! They are gluten free, soft, gooey and deliciously sweet, as well as being super quick and easy to whip up!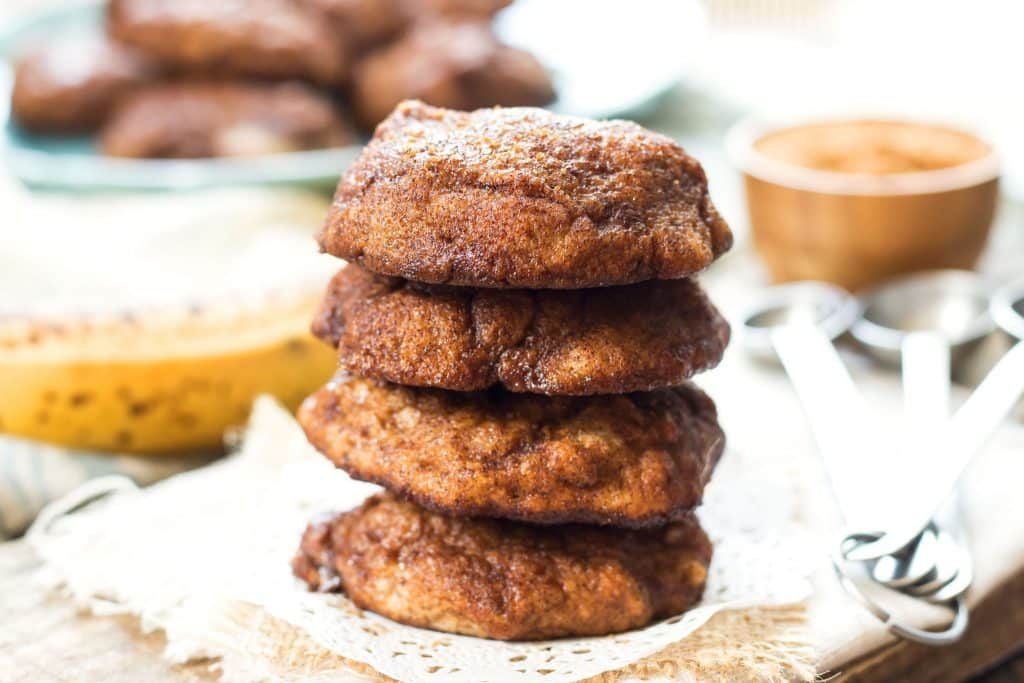 21. Flourless Banana Bread – This gluten-free banana bread smells and tastes so delicious, it's hard to believe how healthy it is. And, with just 5 ingredients, it's so quick and simple to create as well! Just oatmeal, bananas, eggs, maple syrup and baking soda blended together and baked for less than half-an-hour. Enjoy!
22. Applesauce Banana Loaf – This dairy-free banana bread uses apples as a substitute for butter and milk, and, instead of using all flour, it is half substituted with ground almonds, reducing the carb factor. It is a yummy, moist take on banana bread, and the apples actually work extremely well with the bananas!
23. Chocolate Banana Babka – This recipe looks extremely indulgent, but it is actually quite healthy, vegan and free from refined sugars. It is a very soft bread that resembles babka extremely well, despite being plant-based. There's no oil and it is low in fat, with bananas and a little maple syrup providing the sweetness.
24. Zucchini Banana Bread – The secret to hidden nutrients, fiber and perfect moisture in this recipe is zucchini – who'd have thought? A great way to eat one of your fruits and one of your vegetables for the day, while getting something quite wholesome and filling into you!
Smoothies
25. Strawberry Banana Beet Smoothie – Let's be honest – you can't beat the scrumptious taste of strawberries and bananas together! This is another way versatile bananas come in very handy – substituting cream and ice-cream to make a milkshake or smoothie thick and creamy. And with the beetroot, you get an added boost of nutrients as well as a show-stopping mouth-watering rich pink color that is sure to tempt any palette!
26. Bloat-Busting Banana Smoothie – This recipe was created by Dr. Oz to help blast belly bloat and improve digestive health. Plus, it's extremely delicious! Along with bananas, the recipe calls for protein-packed Greek yogurt, sweet dates, and some almond milk.
27. Tropical Smoothie – If you like pina coladas… then you'll love this healthy tropical-inspired smoothie. With coconut milk, banana, pineapple and mango, it is a healthy, refreshing and filling beverage for a warm day.
28. Creamy Blueberry Smoothie – This energy-boosting vegan smoothie has just 5 ingredients, and each one of them is bursting with nutritious fiber, antioxidants and vitamins – almond milk, blueberries, avocado, chia seeds, and, of course, banana! Together, they create one big power smoothie that is creamy and satisfying, with plenty of fiber to keep you going for the day.
29. Strawberry, Banana and Spirulina Smoothie – Looking for a hardcore health boost, but want it to taste good, too? We hear you, which is why we've found this strawberry and banana smoothie that is boosted with healthy ingredients, including spirulina, spinach and chia seeds.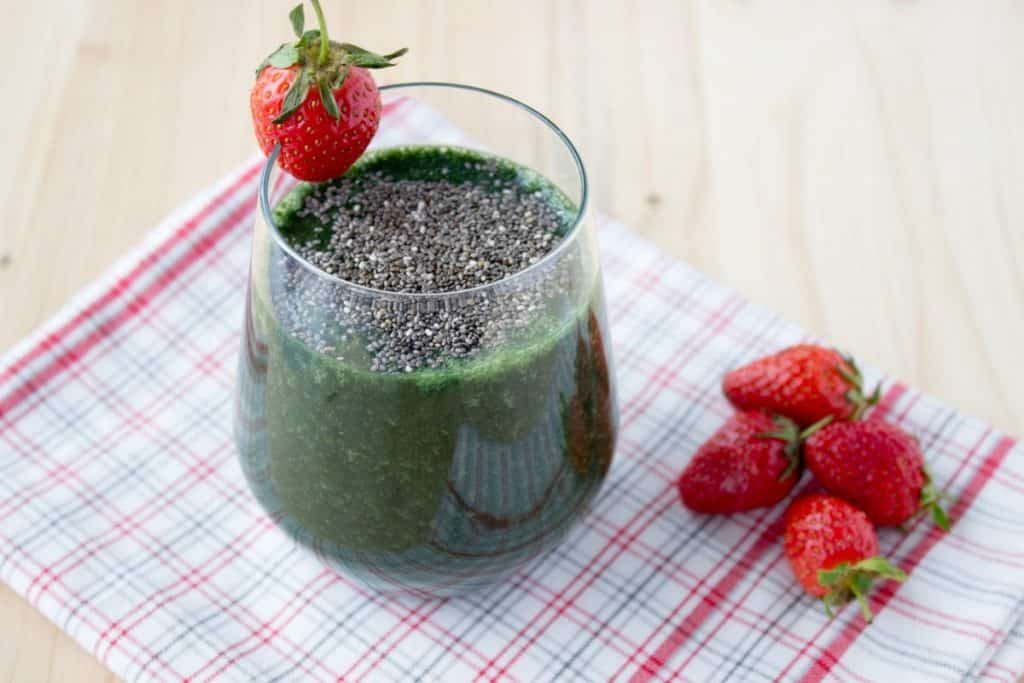 30. Kale, Coffee & Almond Butter Recovery Smoothie – This might be the ultimate post-workout smoothie when your body is craving nutrients, healthy fats, caffeine and, well, deliciousness! Maca powder, hemp seeds, chia seeds, cinnamon, kale, dates, almond butter and bananas make for a fiber-rich, antioxidant-dense recovery meal-in-a-cup that you can whip up and enjoy!
31. Green Smoothie – Is this the best green smoothie ever invented? Maybe… Packed with essential nutrients and micronutrients, it is great for the liver and digestive system. Best of all, you can choose your greens, with suggestions including spinach, Swiss chard and beet greens. Simply added to frozen bananas, avocado, peanut butter powder, vanilla and water, it makes for the perfect nutrient-boosting beverage!
32. Creamy Turmeric Smoothie – Nutritious and energy boosting, this vibrant colored smoothie will give you an energy kick for the day. It is absolutely bursting with energizing flavors, including pineapple, ginger, lime and turmeric, along with the creamier flavors of banana, almond milk and coconut, creating the perfect cocktail of tastes!
33. Dreamy Banana Tahini Smoothies – Using creamy bananas, rich tahini and filling oats, you can trick your body into thinking you're indulging in a decadent dessert, when, really, you're nourishing your body with healthy, nutritious ingredients! And this tasty smoothie takes just 5 minutes to prepare.
34. Mint Chocolate Smoothie Bowl – Rich, sweet, creamy and yet refreshing, this healthy bowl is full of goodness and natural ingredients, including bananas, avocado, almond milk, mint leaves, chia seeds, granola and berries. It makes a great throw-together breakfast, or afternoon snack!
35. Dairy-Free Strawberry Milkshake – Easy to prepare and healthy, this dairy-free milkshake is deliciously creamy, without having to add milk or ice-cream! Frozen strawberries and bananas give the milkshake its thick, creamy texture, and the natural sugars in the fruit means you don't have to add any refined sugar. Just blend and enjoy!
Ice-Creams
36. Strawberry, Mango And Banana Swirl Ice Cream – One of the many uses of bananas is in no-churn ice-cream, and in this case, healthy vegan ice-cream. The base of this delicious, summery ice-cream is purely bananas – no refined sugar, heavy cream or eggs. And all you need is a few fruits and a food processor! Blended bananas create a similar texture to traditional ice-cream, and, in this case flavoured with strawberries and mangoes, and sweetened with honey.
37. Frozen Chocolate Covered Banana Pops – During the hot summer months, it just feels natural to indulge in a bowl of ice-cream or reach for an ice pop. Instead of stocking up the freezer with processed ice-creams, full of refined sugar, try your hand at these homemade frozen banana pops. They're covered in dark chocolate and have an ideal ice-cream-like texture. If you aren't in the mood for dark chocolate, you can dip the banana in yogurt and then homemade granola instead. Yummy!
38. Banana Mango Sorbet – No ice-cream machine needed and just two ingredients – this recipe couldn't be simpler. And on top of that, it's super healthy and scrumptious! By blending bananas and mangos together and then freezing them, you can create an ice-cream-like texture, thanks to the effect freezing has on the bananas.
39. Mint Chocolate Chunk Nice-Cream – Using banana again to create that beautiful ice-cream texture and creaminess, along with non-dairy milk, mint, greens (for a health kick) and chocolate chunks, this is a delicious, refreshing summer treat, but a guilt-free one!
40. Banana Peanut Butter Ice Cream – I know we're focusing heavily on ice-cream, but come on, it's hard not to! Bananas create the perfect alternative frozen treat, and if you're looking for something guilt-free, then look no further. With only two ingredients (frozen bananas and peanut butter), this homemade ice cream is dairy-free, gluten-free, and refined sugar-free!
Snacks & Desserts
41. Guilt-Free Raspberry Chocolate Brownies – These soft, moist brownies are rich and sweet, but with avocadoes and bananas as the base, they are as guilt-free as you could get in an indulgent dessert! The raspberries create a sweet, tangy 'pop' to the creamy, chocolatey ingredients for the ultimate comfort food on a cold winter's day (or, let's face it – a warm summer's day!).
42. No Bake Chocolate Banana Energy Balls – If you're looking for a treat that will satisfy your sweet tooth but won't make you feel guilty, then these tasty energy balls are just the ticket! Loaded with chocolate chips, banana, coconut, oats, flaxseed, chia seeds and cinnamon, they are the perfect pre or post-workout snack, and they are also great for a hard day at work if your job is laborious.
43. Chocolate Banana Brownies – So quick, so easy and just four ingredients – bananas, nut butter, cocoa powder and coconut flour! Sweetened by the bananas, these easy-to-make brownies are perfect for people who don't like their desserts too sickly sweet.
44. Banana Peanut Butter – Okay, we may have stumbled upon the most delicious thing ever invented: banana peanut butter. That's peanut butter flavored with banana. It's so simple and genius, you have to ask yourself why you haven't thought of it before! Simply blend bananas and peanuts or peanut butter together to make a mouthwatering spread that is perfect for muffins, pancakes, smoothies and oatmeal.
45. Coconut Cream Date Caramel Banoffee – Love banoffee pie but can't justify the serious cream and sugar overload? This healthier alternative will be your best friend when you feel like indulging! Using dates instead of caramel, sugar-free biscuits, coconut oil and nuts instead of the buttery, sugary crust, and coconut cream instead of regular cream, this will not have you questioning your choices for the rest of the day, with a bloated belly!
46. Chewy Banana Chocolate Chip Cookies – These may look and sound indulgent, but they are vegan and gluten-free, with no refined sugar and plenty of healthy, wholesome ingredients, including oats, chia seeds and, of course, bananas!
47. Cherry Garcia Paleo Banana Bread Bars – These paleo, vegan bars are packed with wholesome, natural energy-boosting ingredients, for the ideal healthy snack. If you're trying to curb your hunger or sweet cravings, then this is the ticket!
48. Hazelnut, Banana & Chocolate Chip Granola Bars – These sweet, nutty, chewy bars are so handy for work, picnics and school lunches. Hazelnut, chocolate and bananas were all made for each other, and this easily prepared slice that can be cut up into individual bars is a super handy breakfast, morning tea or afternoon snack!
49. Healthy Banana & Chocolate Pudding – Using just a few natural ingredients, this gluten-free, dairy-free dessert can be enjoyed completely guilt-free! But the healthy ingredients don't make it any less moist, decadent and mouthwatering, so it will work for dinner parties and date nights!
50. Coconut, Strawberry & Banana Cream Pie – This lavish vegan dessert is sweetened with dates, meaning there's no refined sugar, filled with bananas and strawberries for a vitamin and potassium boost, and spiced with cinnamon and cardamom. It's a dessert to impress guests at any dinner party or afternoon tea!