It's that time of year again — the kiddos are back to school. As your little ones strap on their backpacks and head off to class, they need proper nourishment for their hard-working brains! So rather than loading them up on sugar-filled cookies and greasy potato chips that offer practically no nutrients, give your kids some healthy snack options. I know what you're thinking, "But my kids would much prefer chocolate cake over a kale salad any day of the week." With a little planning and creativity, though, getting children to eat healthy doesn't have to be a challenge. Check out this list of 35 delicious and healthy snacks for kids to nourish their bodies and brains. The majority of these recipes are gluten-free, dairy-free and vegan, so there's something for everyone! These creative snack ideas are great to pack in a school lunch box for a mid-day brain boost, or have them waiting at home for when your famished bunch comes busting through the doors.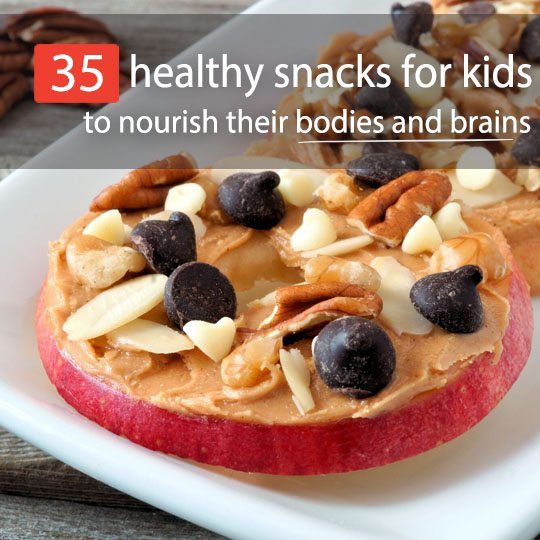 FRUIT
You know what they say – an apple a day keeps the doctor away! That's because the popular fruit is rich in beneficial antioxidants, flavonoids, vitamins, minerals, and dietary fiber. They benefit heart health, brain health, and have cancer-fighting properties. Plus, I can't forget to mention how delicious they are! While apples on their own make for a great kid snack, peak your child's interest by transforming them into "cookies!" By simply slicing the apples into thin rounds and smearing a little peanut butter or almond butter on top, you are not only increasing the nutritional value of the snack, but you're also making it look more appealing!
Say goodbye to greasy chips that make you feel sluggish and hello to brain-boosting apple chips! These apple chips are way healthier than the snack bag chips kids usually eat, but just as delicious. Plus, they're easy to make. Simply slice some apples, sprinkle them with ground cinnamon and a little sugar (I would recommend using either Stevia or coconut sugar), and dehydrate. Don't have a fancy dehydrator? Don't worry! You can simply pop them in your oven at a low temperature. Check out this recipe.
Kids love fruit roll ups, but the store bought ones are typically loaded with refined sugar and other dangerous food additives, like artificial coloring. Did you know research actually links certain food dyes to behavioral problems in children? That's the bad news. Now, for some good news. Your kids don't have to give up their beloved snack for good. You can easily make healthy homemade fruit roll ups by pureeing your child's favorite fruit, spreading it onto a baking sheet, and then popping it in the oven for a few hours. Sounds pretty simple, right? Watch for yourself:
If you tell your kids they can eat a banana split when they get home from school, I'm pretty sure they will jump for joy and call you their hero. As a mom, there's nothing better than feeling appreciated by your children. There's also nothing worse than caring for kids on a sugar-high. That's why if you're going to feed your little ones a banana split after school, try this healthified recipe!
This recipe swaps out ice cream for strawberry Greek yogurt. The treat is then topped with berries and granola. Keep in mind, granola is on our list of 17 foods you think are healthy, but really aren't. That's because most store-bought granolas are loaded with sugar, high fructose corn syrup, and preservatives. So if you're taking the time to make this healthy banana split, why not take a few more minutes to make your own gluten-free granola?
Researchers show a little dark chocolate a day can actually benefit health. It can help improve brain function, fight fatigue, reduce stress, and promote good gut health. Unlike most candy, dark chocolate is also said to be good for teeth. That's because it contains theobromine, which has been proven to harden tooth enamel. So if your kids enjoy indulging in chocolate from time to time, they will probably love these chocolate covered banana pops!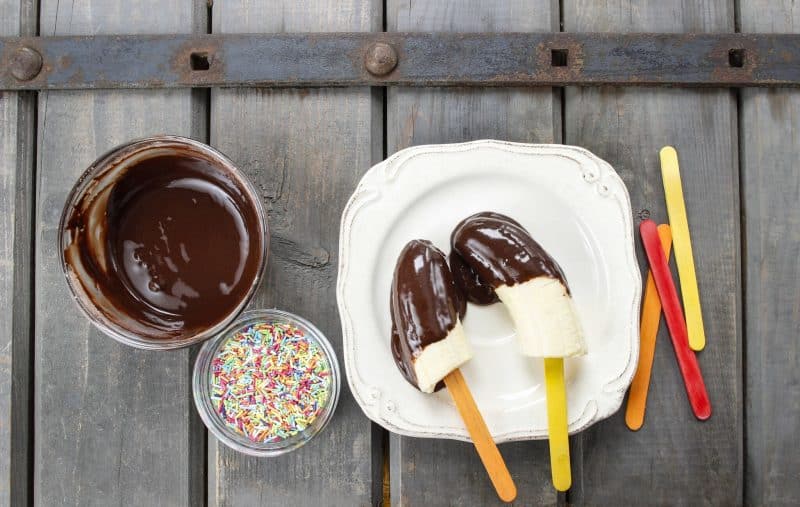 When shopping for the best dark chocolate to use in your recipe, make sure to read the ingredient label carefully. You see, when biting into dark chocolate for the first time, you may be surprised by the rather bitter taste. The higher the cacao content, the more bitter it is (also, the healthier it is). For this reason, manufacturers sweeten their dark chocolate. If you're looking to reap those potential health benefits, though, choose a dark chocolate that isn't sweetened with refined sugar and high fructose corn syrup. Rather, look for brands that use either Stevia, Lou Han Guo, or Honey as their natural sweetener. Also, go organic whenever possible. This will ensure your chocolate is GMO-free.
Gummy snacks are fun to eat and delicious. But like many of the other treats on this list, if you buy them from the store, they will more than likely be filled with ingredients that you're better off avoiding. That's where this recipe comes in handy. It's made from just real fruit (berries to be exact) and a gelatin-like powder supplement! If you are vegan, then check out the linked recipe for their recommended "gelatin." If your family eats meat then you can use pretty much any gelatin supplement.
Gelatin, which originates from dehydrated animal bones and tissue, is sold in the form of a powder. While it may not sound that appetizing, it's virtually colorless, tasteless, and it's actually very healthy. Gelatin provides the body with amino acids that strengthen the gut lining, lower inflammation, support brain health, benefit bone health, and help maintain a healthy heart. So, when you feed your kids homemade gummy snacks, you are actually giving them a healthy treat.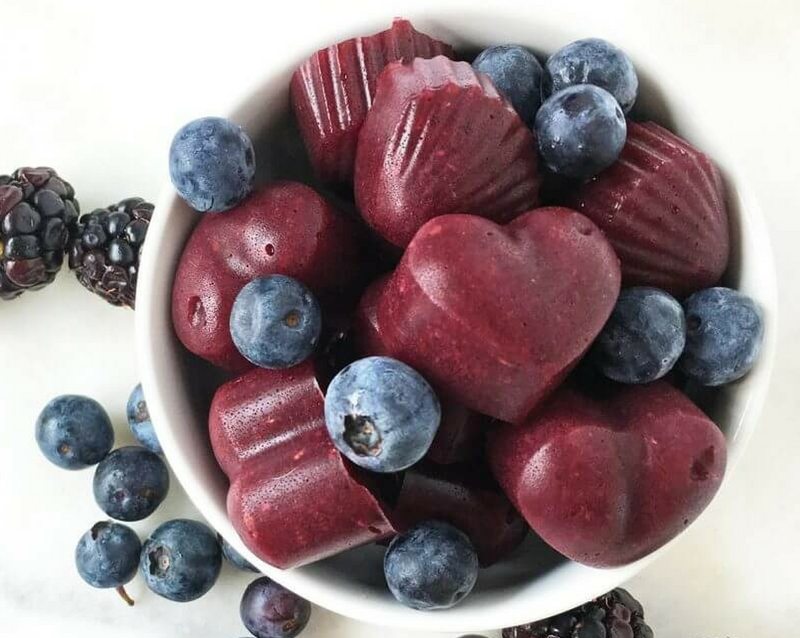 I know we teach our kids from a young age that they shouldn't play with their food. But sometimes it's fun to get your hands a little messy! Slicing and arranging nutrient-dense berries to make them look like little ladybugs will make the snack a whole lot more fun to eat in your kid's eyes!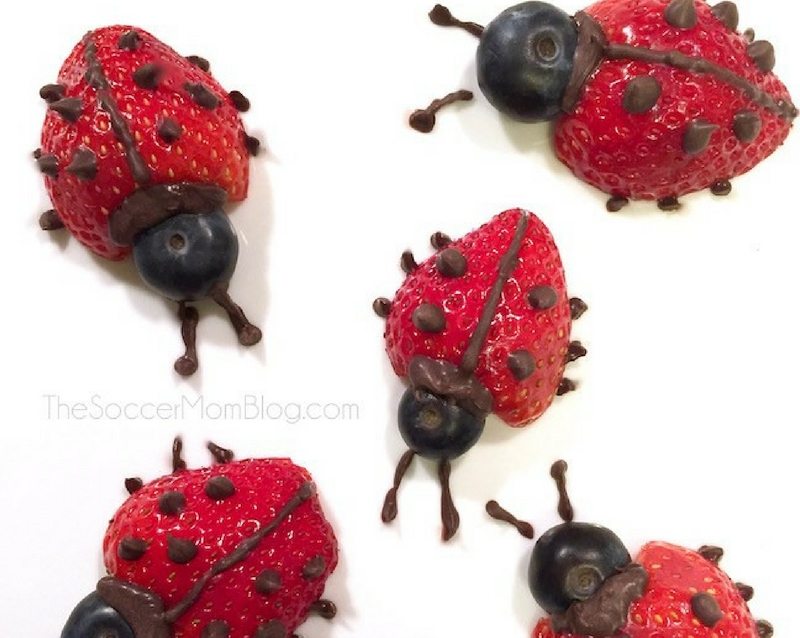 If you have a son, he may be a little more impressed with a fruit race car than the fruity ladybugs in number eight! This fun kids snack is made from an apple slice for the car body and four grapes for the wheels. Like apples, grapes are also loaded with antioxidants and a long list of vitamins and minerals, making this a guilt-free snack option.
While these silly apple bites are meant to be a healthy Halloween snack, you can make them any time of the year. All you need is an apple, sunflower butter (you can use peanut or almond butter instead), sunflower seeds, and strawberries. Altogether, you have an incredibly nourishing snack that your kids will get a huge kick out of!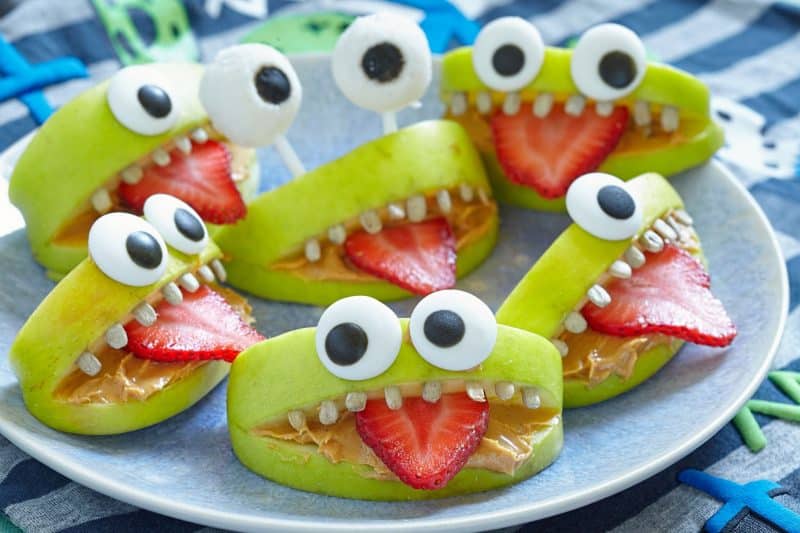 It's all about presentation. Swing by your local craft store and pick up a few cute cookie cutters so you can easily transform regular fruit (in this case blueberries and watermelon) into a masterpiece. Better yet, have your kids help you make these fruit sparklers!
*Note: If watermelon isn't in season when you make these, you can easily swap it out for a different fruit. Get creative and have fun.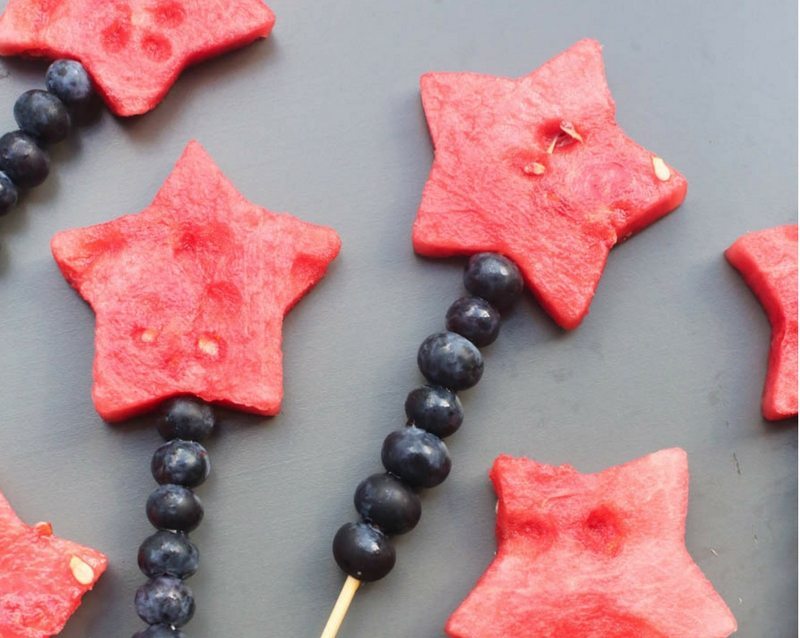 Do your kids enjoy Twizzler's long licorice candy? Growing up, the strawberry twists were always my favorite. Those were the times I didn't know to look at the nutritional label or ingredient list. Sure, they are a low-fat treat, but that doesn't mean the packaged stuff is healthy by any means. In reality, they are loaded with sugar and artificial ingredients that researchers warn are better to avoid. If you're looking for a healthier alternative, then check out this recipe. These raw strawberry "Twizzler" snacks only have three ingredients – none of which are sugar, artificial sweeteners, or artificial colors. Rather, they are made from date paste (a healthy natural sweetener), beet juice, and strawberries. They may taste a bit different than Hershey's product, but they are a great replacement.
YOGURT
Your kids are going to have a blast with this one. Coat a banana in Greek yogurt and your child's favorite cereal. Then, cut it into slices that resemble sushi rolls. Serve this healthy snack with chopsticks! While your son and/or daughter digs into the fun treat, you can feel good knowing they are loading up on healthy fats, protein, key vitamins, minerals, and fiber. Just be careful which cereal you use for the topping. A lot of kid's cereals are loaded with sugar and that's exactly what we're trying to avoid here.
It doesn't get much easier than yogurt bark. Just spread some Greek yogurt on a baking pan, sprinkle a bit of sliced fruit on top, and freeze for several hours. This isn't a lunch box snack since the yogurt melts fast. But it's perfect for when the kiddos get home from school or after they eat dinner.
When shopping for yogurt, look for products that say they contain "live cultures" or "active cultures." This means that the yogurt contains probiotics, which are good, living bacteria that can greatly improve health. By feeding your body a daily dose of probiotics, you are promoting good gut health. This is crucial since the gut is tied to everything from digestion to immunity, weight, mood, skin condition, and nearly every other function in the body.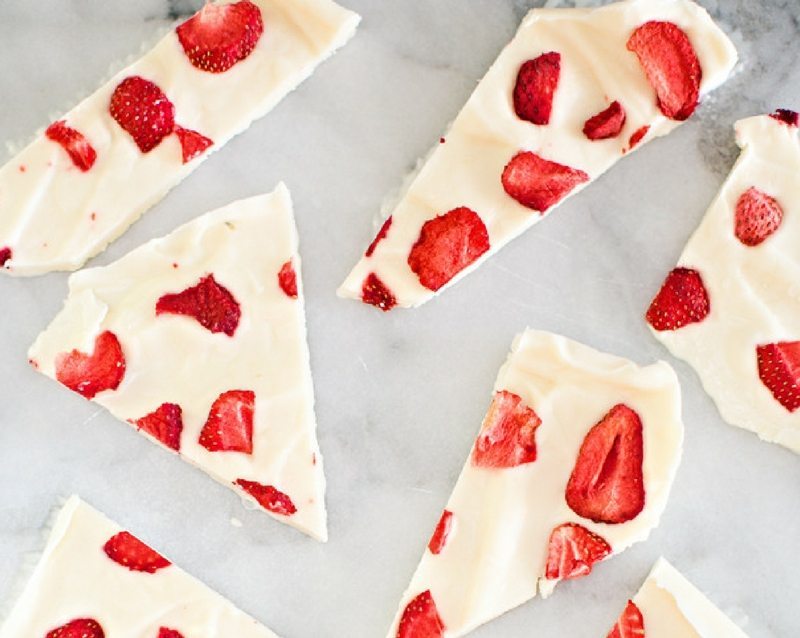 This healthy kids snack idea is simply yogurt shaped like a cupcake. Add some antioxidant-rich berries to the top and you have one nutritious snack! If you want to make this snack even more filling, add some homemade granola to the mix!
Blueberries are one of the healthiest fruits you can eat. They're loaded with antioxidants such as resveratrol and lutein. They also contain fiber, key vitamins, and minerals that the body needs to thrive. Blueberries are commonly referred to as a "brain food" since they contain a high amount of neuro-protective agents.
While it's easy to sit down and enjoy a big bowl of plain blueberries since they're so sweet, you can bump up the nutritional value (and fun) by coating the small berries with yogurt!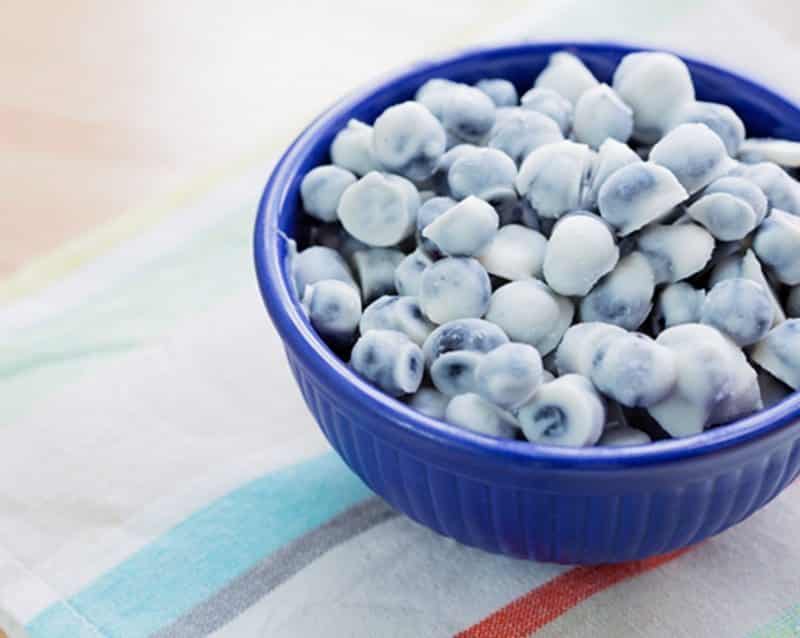 While store-bought popsicles are typically loaded with sugar and other unhealthy ingredients, they don't have to be. This recipe calls for just three ingredients — yogurt, fruit, and honey. Honey is a great natural sweetener IF you get natural honey. Unfortunately, many of the honey bottles that line the shelves of your local grocery store are highly processed. So if you choose to add honey as your natural sweetener, make sure to go with a raw, organic honey. If possible, buy your honey at your local farmers market.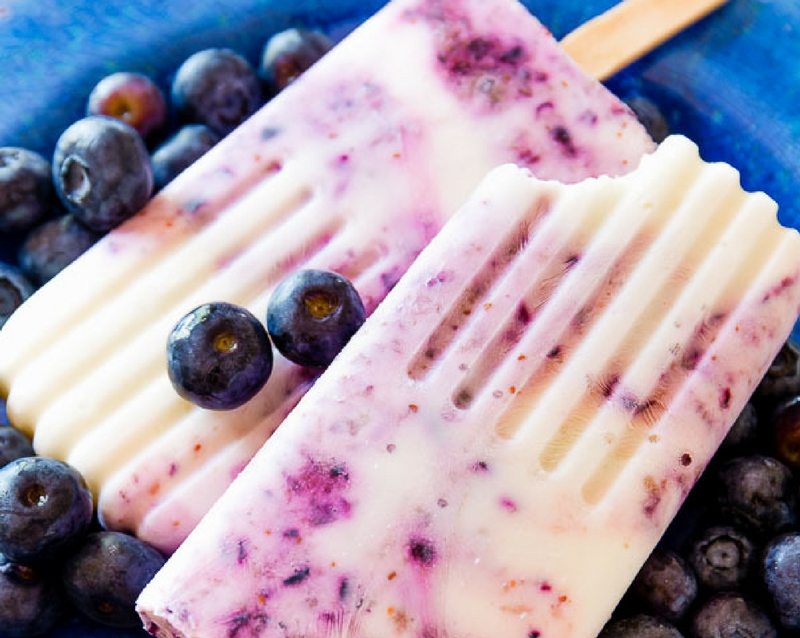 VEGETABLES
Chips are an easy snack because they aren't messy, you don't need any plates or utensils, and they can help satisfy a person's craving to crunch. The problem with chips is they're so greasy and make you feel "blah" after. Even kids get sluggish and tired after a few handfuls of chips, meaning they will be even less enthusiastic about doing their homework. A great alternative to processed chips is to make these healthy salt and vinegar zucchini chips. They provide a great crunch, loads of flavor, and are low-calorie. Additionally, eating zucchini chips will provide your child's growing body with essential antioxidants and vitamins, like immune-boosting vitamin C. You definitely want to keep that immune system in tip top shape so you don't use up all of your sick days!
There is a lot of hype surrounding the superfood kale, and rightfully so. This leafy green is loaded with key nutrients that help our body thrive. While some people love kale raw, you can transform the humble veggie into something extraordinary. Take these kale chips, for example.
20) Spiralized Salad
I know that salad isn't the most "fun" meal in a child's eyes, but presenting them with a plate of spiralized vegetables may be a different story. You can pick up a spiralizer for pretty cheap at places like Bed Bath and Beyond, Target, or Amazon. Spiralizers transform just about any vegetable (like squash, zucchinis, cucumbers, and carrots) into noodles. Choose a variety of colorful vegetables and run them through the spiralizer to create a pretty and healthy salad. Not only are the colors fun for your child, but the more colors that fill their plate, the more vitamins they are eating.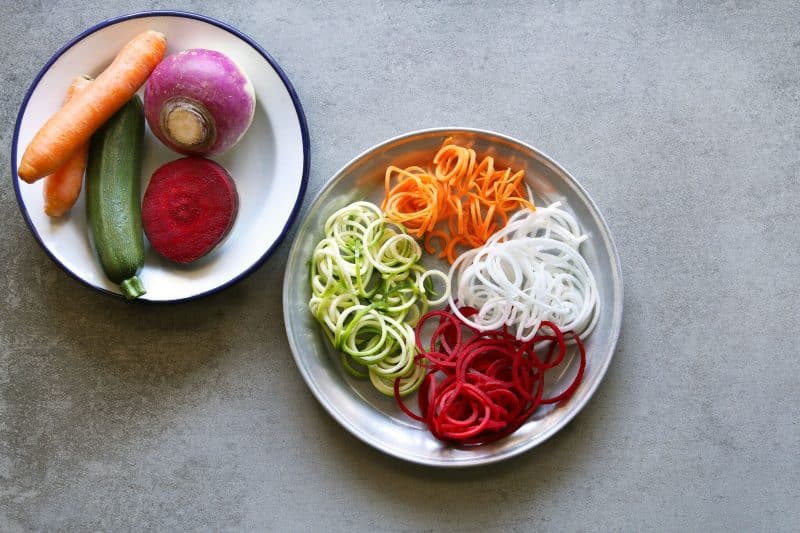 Celery sticks and carrots make for a great, healthy kid snack. But without a little something to dip the veggies into, your kid may not agree. This homemade salad dressing is slightly sweet and designed to please a kid's palate. It's also designed to please a mother's hope for her kids to eat well. There isn't any refined sugar or artificial sweeteners added to this dressing. It's simply vinegar, vegetables, and some healthy sauces/pastes.
Ants on a log is a popular healthy kids snack that's made from celery (the log), peanut or almond butter, and raisins (the ants)! While it's a simple snack, it's extremely nourishing. Celery is 98 percent water, making it great for keeping your young one hydrated. Also, the nut butter is loaded with healthy fats and protein. This is an all-around well-balanced treat.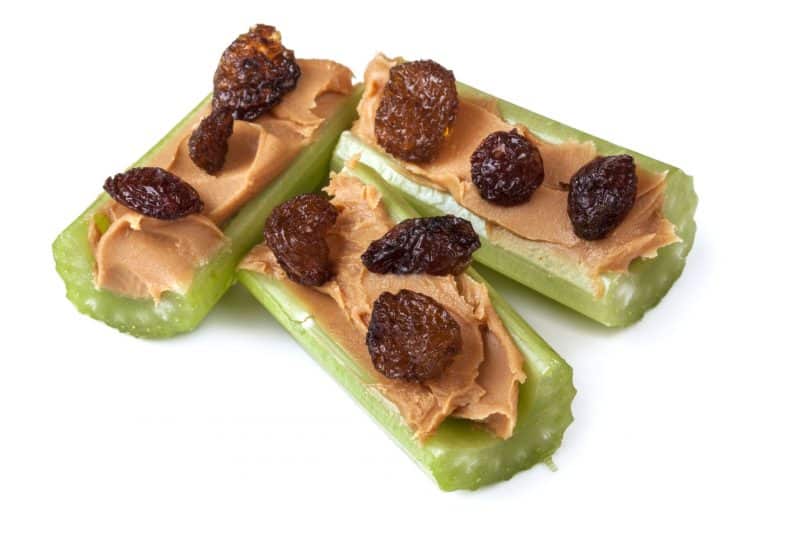 Bell peppers are loaded with vitamin C. In fact, they have more vitamin C than an orange. So it's a great vegetable to help boost your child's immune system. Additionally, bell peppers have a high water content, meaning they can help keep your child hydrated (for the times he/she forgets to drink enough water)! While kids may not go crazy over plain bell peppers, who doesn't love pizza? By swapping out carb heavy crust with a bell pepper, you've created a nourishing and fun snack your kids will gobble right up.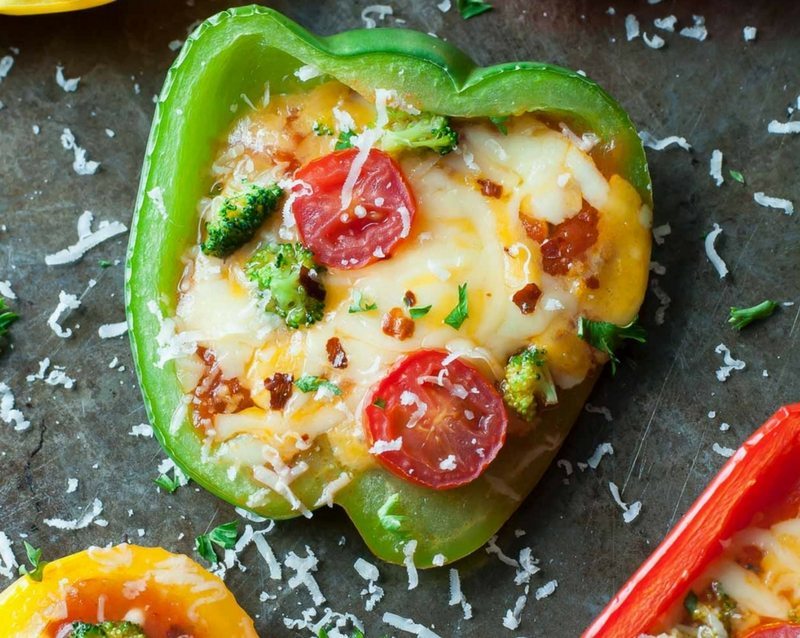 OATS/ SEEDS
Energy bites are a great after-school pick me up. They're small bites loaded with nutrient dense ingredients, like peanut butter, oats, flax seeds, honey, and chocolate chips. Everything included in these no-bake energy bites are intended to fight that afternoon sluggish feeling and leave you with a natural boost of energy. Pack one in your child's lunch box for a quick snack to sneak between math and science classes!
Made with only 5 ingredients, these homemade granola bars are simple to make and easy to customize. Almond butter and honey work together to bind the oats, chopped almonds, and chocolate chips. There's no need to bake the granola mixture. Just pop it in the freezer for about an hour. When it's firm, cut the granola sheet into bars and enjoy!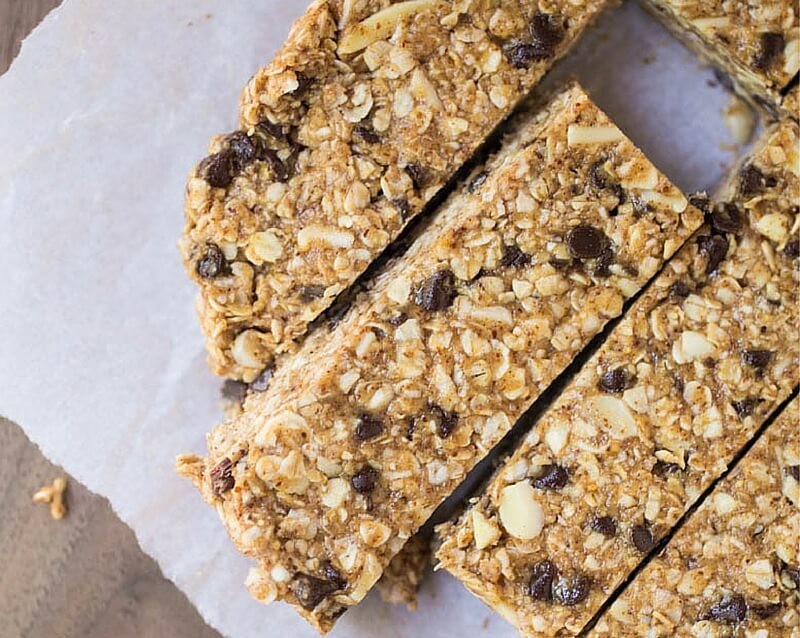 Most kids (and adults for that matter) love the combination of chocolate and protein-packed peanut butter. There is something satisfying about the flavors. Luckily, this recipe puts those two ingredients on display in a healthy way! While I've focused on the peanut butter and chocolate, we can't ignore the chia seeds. Chia seeds may be small, but they are nutritionally mighty. They're rich in fiber, Omega-3 fatty acids, protein, vitamins, and minerals such as calcium, phosphorus, potassium, zinc, and magnesium. These nutrients make chia seeds extremely healthy. In fact, researchers say this nutrient-dense superfood can fight free radicals, boost energy, support heart health, support healthy digestion, help build muscle, and aid weight loss.
If your little one is a chocoholic then this is the perfect recipe for you. With just a few ingredients that you probably have in your kitchen right now, you can transform regular oats into a chocolate delight! The rich chocolate taste comes from both cocoa powder and some dark chocolate chips. Plus, this recipe also calls for tiny but mighty chia seeds. Did you know that just one tablespoon of chia seeds contains three grams of fiber, two grams of protein, and four grams of healthy fats?!
Trail mix is a great grab-and-go snack, but the store bought stuff is usually a disappointment when it comes to nutritional value. Instead, make it at home and control every ingredient that goes into your kid's healthy snack. While this recipe is a great starting point (it includes various nuts, seeds, toasted coconut, and dark chocolate), get creative and play around with the ingredients to customize it the way your child will love.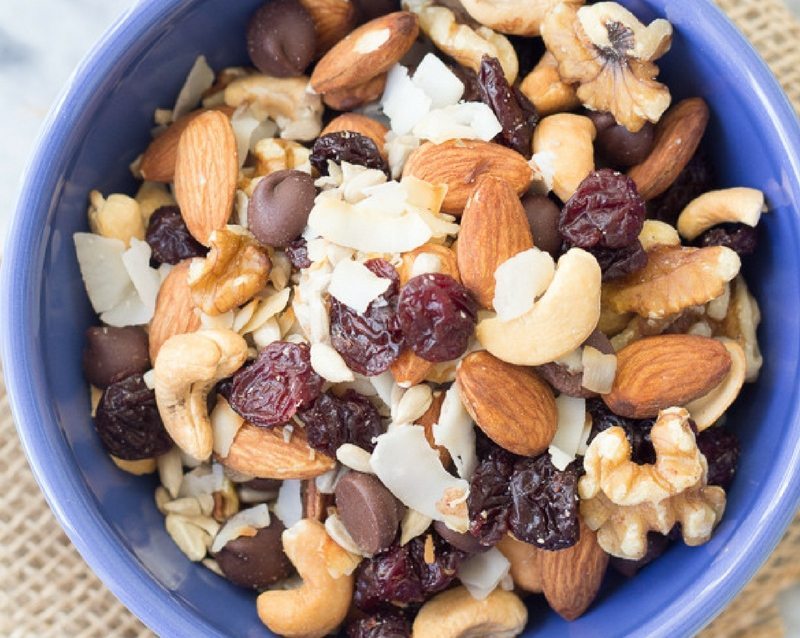 HUMMUS
Is it a challenge to get your kids to eat their peas? While it may sound like an impossible task, getting kids to eat peas doesn't have to be difficult. You just have to disguise them by mixing them in with something else. Take this kid-friendly pea hummus, for example. Watch how easy it is to make:
Another wonderful hummus recipe that you can easily make at home is avocado hummus. Avocados are loaded with healthy fats and protein, making them an extremely nourishing food.
This hummus recipe is similar to the others I just mentioned. The only difference is it calls for tomato sauce, oregano, and fresh basil. These few add-ins will give it that delicious pizza taste. It's basically pizza without a lot of unnecessary carbs and calories.
SMOOTHIES
Kids may not go so crazy over the word "smoothie," but they certainly jump for joy when it comes to sipping on a thick and creamy milkshake! This recipe offers the best of both worlds. The consistency is more toward the milkshake side, but the ingredients are nothing but healthy. This "milkshake" calls for kale, bananas, almond butter, seeds, honey, and a little almond milk. It takes just a few minutes to create and will fill your child's belly up with all good stuff.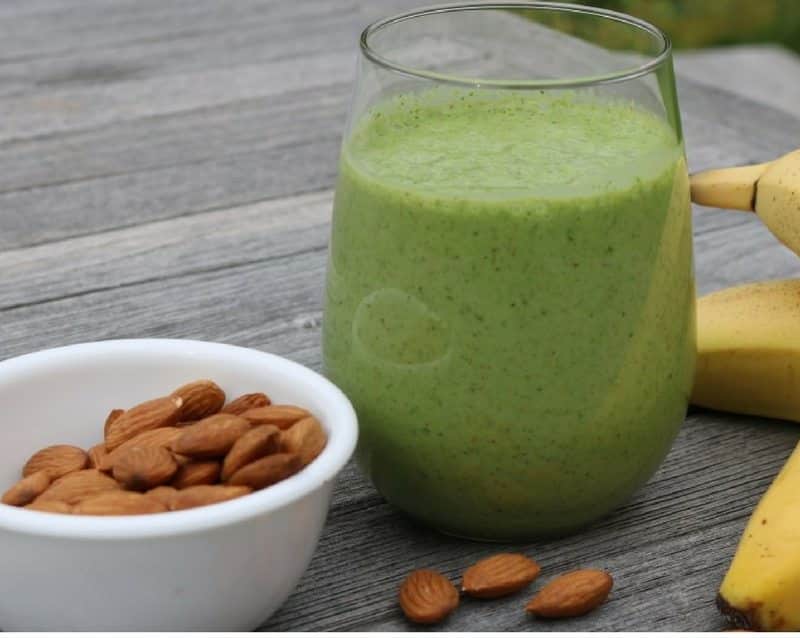 Perhaps you have to work your way up to a green smoothie. You can give a child the most delicious treat in the world, but if they don't like the way it looks then they still won't eat it! That's where this gorgeous and nutritious raspberry mango smoothie comes in handy. The raspberries provide a boost of antioxidants. Plus, it's dairy-free!
Okay, so we don't usually think about inflammation in our kid's bodies. When it comes to maintaining proper health, though, it's better to be proactive than reactive. That's why filling your child's diet up with blueberries and other ingredients that fight inflammation is only a positive.
If you have a little girl, chances are she loves everything pink. So why not make her a smoothie that's pink? This smoothie has strawberries, raspberries, beets, and carrots. These four ingredients alone contain nutrients that help protect the entire body. So as you watch your young one sip on this pretty pink smoothie, take a big sigh of relief that you've tackled the challenging task of getting your child to eat something healthy!