If you think tahini is just for homemade hummus recipes, think again! This nutty, caramel-flavored paste is incredibly versatile and easy to use. It can add a serious burst of delicious flavor to a number of sweet and savory dishes. And on top of that, it comes with a number of very impressive health benefits…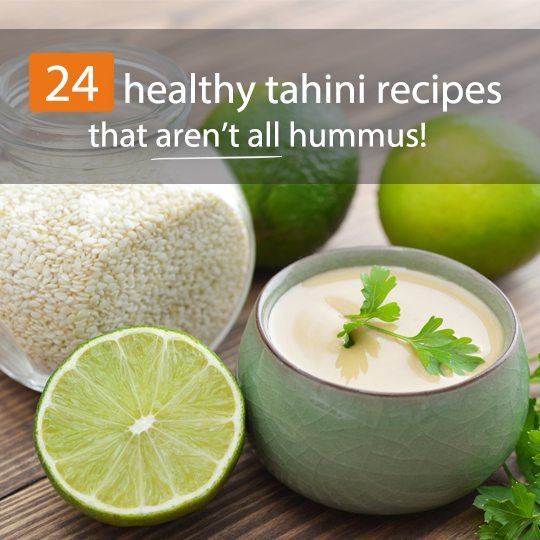 What Is Tahini?
Tahini is an oily Middle Eastern paste made from ground sesame seeds. You can get light or dark tahini – the light one is made out of white sesame seeds, creating a light golden paste and the dark one is made from black sesame seeds and has a much more intense flavor. Both are extremely nutritious. Sesame seeds are an excellent source of essential vitamins and minerals, and are packed full of amino acids, which are important in the development of protein. On top of that, this rich, nutty caramel-flavored paste provides the body with dietary fiber, phytonutrients and essential fats, including omega 3 and 6. Tahini is incredibly versatile as a cooking and baking ingredient, and can be used in both sweet and savory dishes.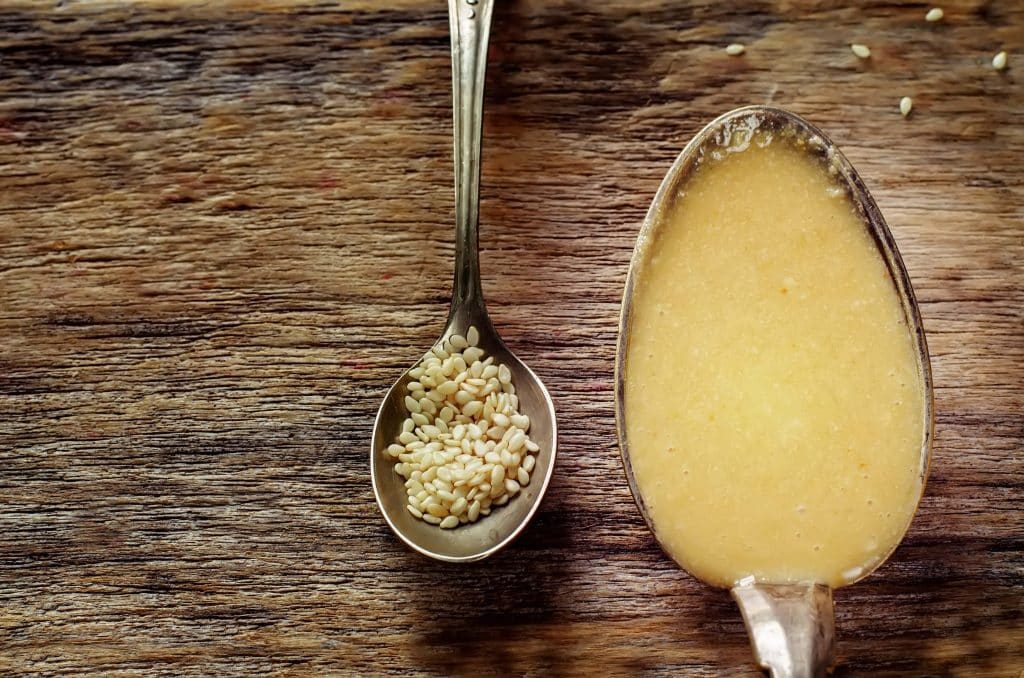 Health Benefits Of Tahini
Besides the fact that tahini is super tasty, it is also extremely nutritious! However, when purchasing tahini, always go for the un-hulled option, which is made from whole sesame seeds, because many of the nutrients are stripped in the hulled version.
Some of the most impressive health benefits of tahini come from its high dosage of healthy fats. Sesame seeds have one of the highest oil content of any nuts and seeds, which is why it's such a smooth paste, compared to other nut butters. With up to 55% healthy oil and 20% protein, tahini provides high amounts of healthy fats and essential amino acids. Amino acids are important building blocks for protein, which also benefits skin health. The fat in sesame seeds are mainly polyunsaturated, which can help lower LDL (bad) cholesterol and contain omega 3 fatty acids. Omega 3 boosts the immune system and brain function. Tahini also contains linoleic acid and oleic acid, which are also important fatty acids. Oleic acid has been shown to increase energy levels while helping to lower LDL cholesterol and increase HDL (good) cholesterol. Linoleic acid improves hair health and natural wound healing.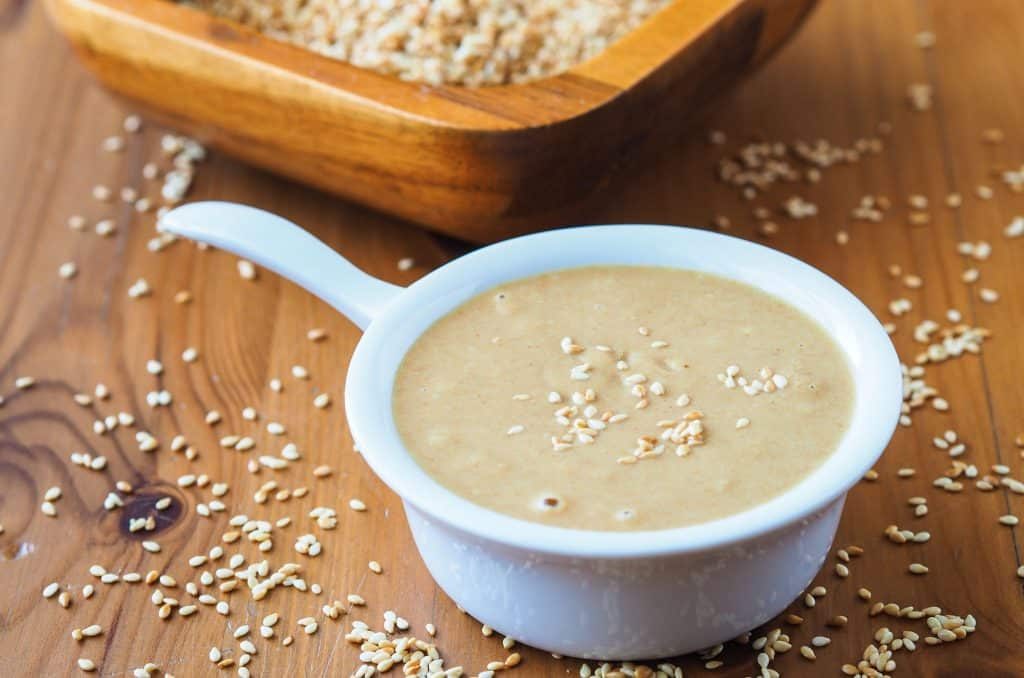 Tahini may even have cardiovascular disease prevention abilities, because of the sesamolin and sesamin found in sesame seeds. Studies have shown these properties might help prevent atherothrombotic diseases, such as acute coronary syndrome.
As well as containing healthy fats, tahini provides essential vitamins and minerals, including magnesium, copper, phosphorus, manganese, iron, zinc and vitamins E and B. A small amount of tahini goes a long way in boosting your essential nutrient needs for the day, giving you a significant dose of copper and iron.
How To Make Your Own Tahini
Because of the high oil content in sesame seeds, it is actually quite easy to make your own tahini. It is just a matter of blending toasted sesame seeds and extra virgin olive oil in a food processor! Here's a video guide…
Tahini Recipes
Tahini has rich, distinctive caramel and nut flavors, and is most well-known as an ingredient in hummus. However, there are so many more creative ways you can use tahini, in both sweet and savory recipes, including smoothies, cakes, protein balls, stir fries and salad dressings.
Savory Recipes
Roasted Carrot & Cauliflower Quinoa Salad – This salad is packed full of nutrient-dense ingredients, including quinoa, kale, carrots of all colors, cauliflower, olive oil, avocado, parsley, onion and lemon, tahini. With it, you get a beautiful, colorful meal, with lots of textures, and just about every nutrient your body needs in a day!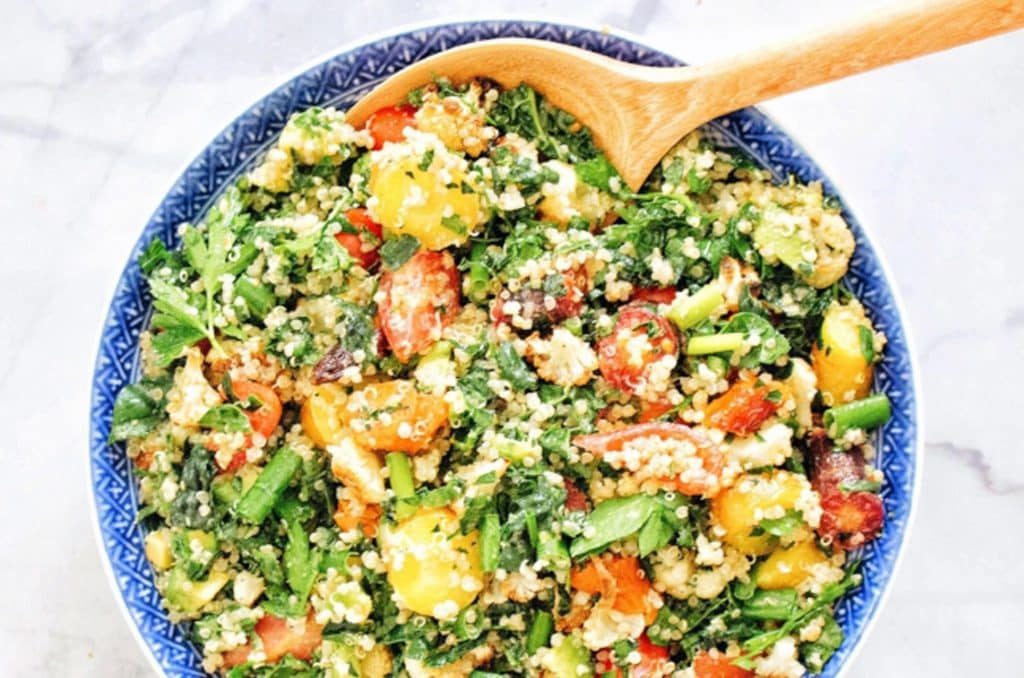 Falafel Bowl With Avocado, Sriracha & Tahini – This colorful, textural bowl of goodness is filling and satisfying, but will leave you feeling light and healthy. It comes jam-packed with nutrients, including fiber, protein, vitamins, minerals, antioxidants and important flavonoids for a seriously powerful health kick. The recipe calls for chickpeas, parsley, cilantro, lemon, coriander, cumin, paprika, turmeric, garlic, cardamom, olive oil, tahini, lemon, lettuce, radishes, beets, carrots, tomatoes, avocados and sriracha.
Grilled Eggplant With Tahini Yogurt Sauce – Eggplant, also known as aubergine, is a delicious and nutritious vegetable. And you can't beat that melt-in-your-mouth effect grilling has on it! Add to that rich, nutty tahini, olive oil, almond yogurt, garlic, cumin, lemon, tomatoes and basil, and you have an irresistible light meal or starter that is sure to impress your guests.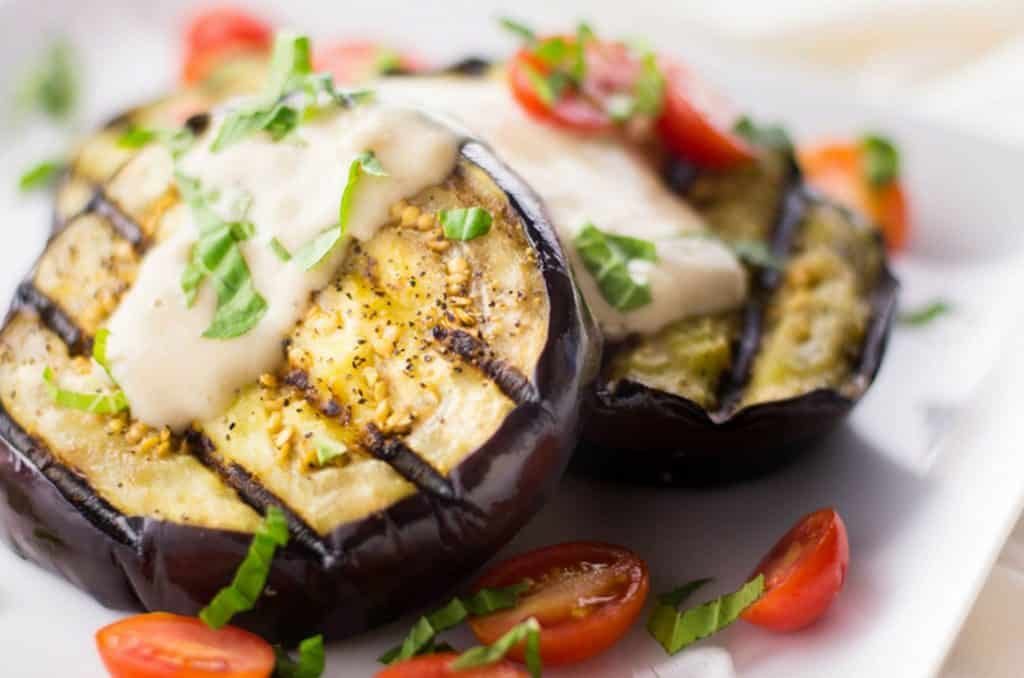 Quinoa Chickpea Buddha Bowl – This recipe is quick and easy to make, incredibly nutritious, full of vegetables, protein and fiber, and, most importantly, delicious! It is filling and tasty enough on cold days and light and refreshing enough for hot weather as well. Ingredients include chickpeas, tahini, quinoa, olive oil, kale, garlic and lemon.
Baked Sweet Potato Fries With Tahini Dip – Sweet potato fries are such a winner! They are a low-carb and highly nutritious option compared to the usual potato fries, especially when you cook them in healthy oil and spices. This recipe calls for olive oil, cumin, salt and pepper, and the tahini dip includes Greek yogurt, garlic, lemon, olive oil, and, of course, tahini.
Tzimmes With Tahini Pesto & Pomegranate – This is a perfect option on its own, as a side, or as finger food at a get together. Made with carrots, sweet potatoes, russet potatoes, olive oil, cinnamon, cayenne, lemon, pomegranate, tahini, basil, cilantro and garlic, it is bursting with perfectly paired sweet and savory flavors, while tasting fresh and light!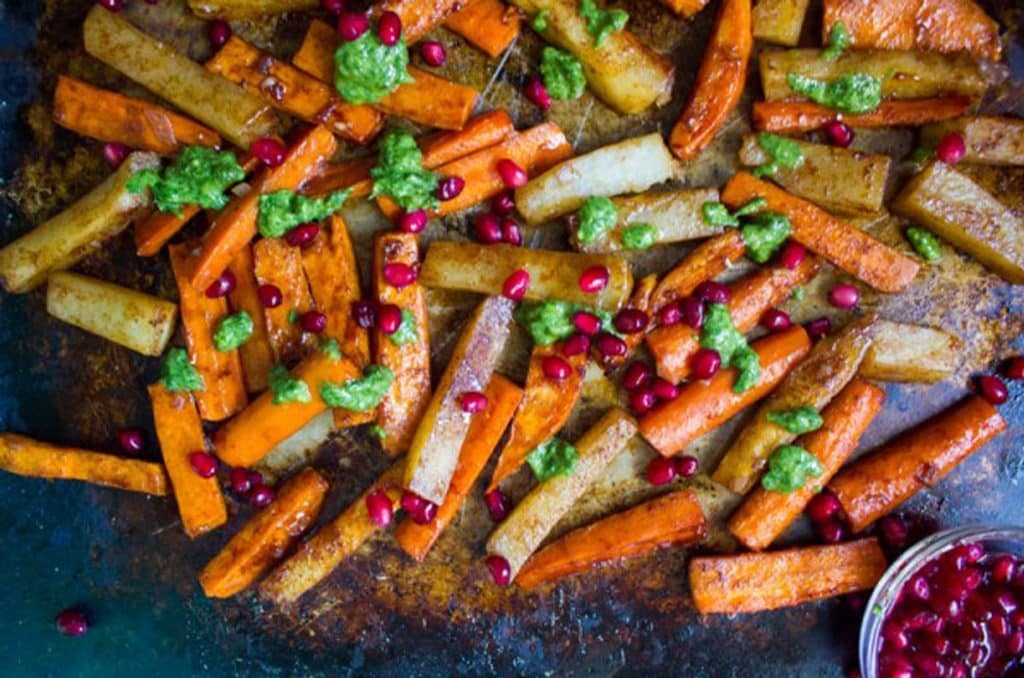 Vegan Asian Cucumber Ribbon Salad With Ginger & Carrot Dressing – This light vegan salad is made with thin slivers of cucumbers, avocados and carrots, and topped with a creamy homemade ginger, carrot and tahini dressing, toasted sesame seeds and Sriracha. Fresh, healthy, vegan and gluten free! It is a perfect light lunch or side salad option.
Barbecue Lentil Stuffed Sweet Potatoes – Hearty, warming and super healthy – this stuffed sweet potato meal would rival any baked potato! The recipe calls for sweet potatoes, onion, garlic, lentils, crushed tomatoes, maple syrup, yellow mustard, liquid smoke (fancy!), smoked paprika, olive oil, tahini and non-dairy yogurt. Delicious and packed full of flavor and nutrients!
Portobello Bowl With Tahini & Miso Dressing – This is a delicious, nutritious dinner or starter option that is easy to prepare but looks very fancy if you're trying to impress! The recipe calls for Portobello mushrooms, toasted sesame oil, tamari sauce, tahini, miso, honey, rice wine vinegar, kale, orange or grapefruit juice, carrots, quinoa, avocado and sunflower seeds.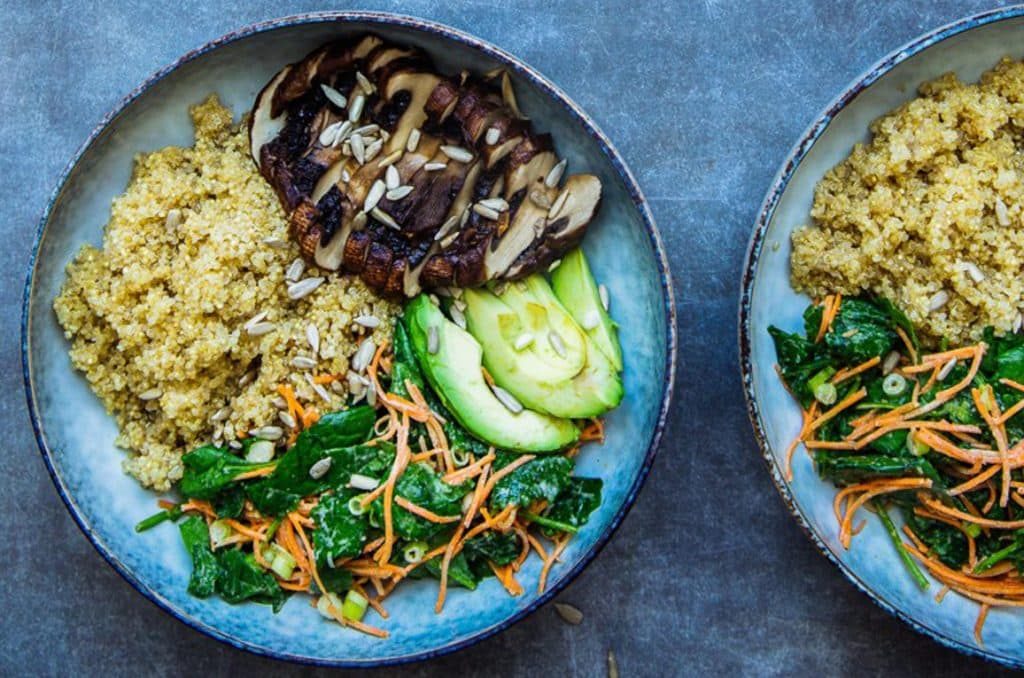 Middle Eastern Sweet Potatoast – This is such a brilliant idea, we can't believe we didn't think of it first! Sweet potato toast is taking the internet by storm with all sorts of fantastic topping ideas. We love this tahini, pomegranate molasses and ginger flavored option. And then it's just a matter of toasting it three or four times and preparing the topping!
Baba Ganoush – This classic Middle Eastern dip made with eggplants is always a party pleaser, and can be enjoyed along with a salad, on toast, or as a dip for corn chips or root vegetable chips. This recipe calls for eggplants, garlic, tahini, lemon and cumin.
Humshuka – This healthy, tasty and filling meal includes shakshuka, along with chickpeas, lemon juice, tahini, parsley, pita and onion wedges. The shakshuka calls for olive oil, onion, garlic, cumin, harissa, paprika, tomato paste, red pepper, tomatoes and eggs. It's the perfect mid-week or weekend option, and can be whipped up in no time!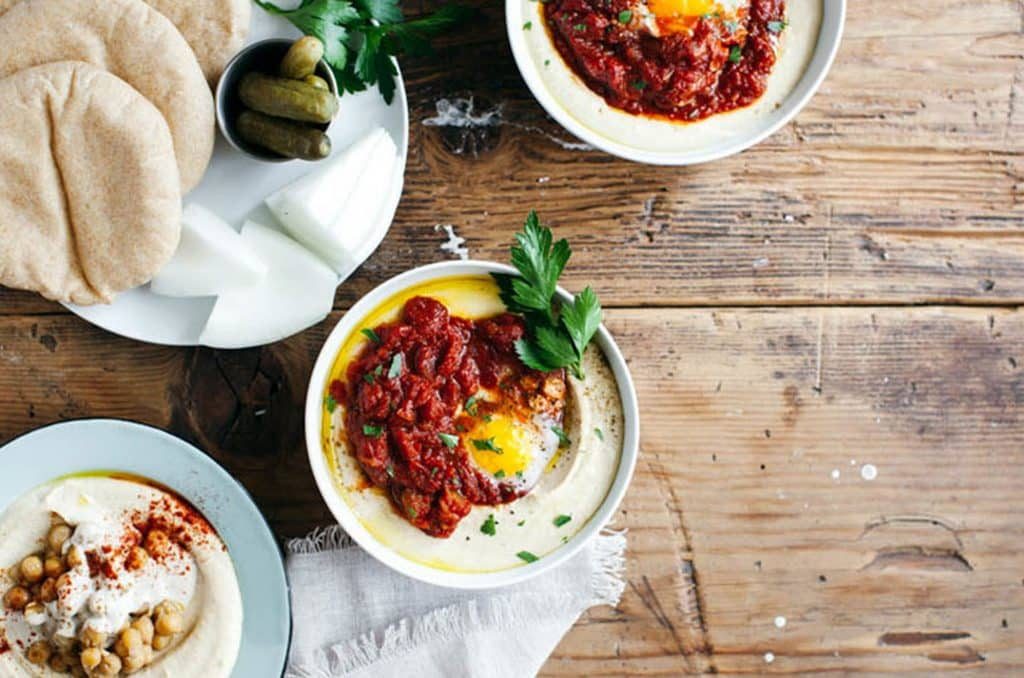 Tahini Pasta Salad – This sesame-flavored pasta is delicious and perfect as a side salad for a summer barbecue or get-together. The blogger suggests using gluten free pasta or zucchini noodles, which is a great option if you are cutting back on carbs. Cucumbers, sesame seeds, basil and scallions are added to the pasta, and then the sauce is made from tahini, soy sauce, rice vinegar, hot sauce, garlic and ginger.
Hummus With Corn Schug – Our recipes aren't all hummus, but we couldn't have a tahini recipe blog without some tasty hummus options! This creative combination of flavors uses an old favorite with some delicious, fresh ingredients, including herbs, spices, chili and corn. The recipe calls for chickpeas, tahini, lemon juice, cumin for the hummus, cilantro, parsley, jalapeno, hot pepper and garlic for the schug, and sweet corn, olive oil and paprika for the smoked paprika corn.
Super Green Edamame Hummus – This is another creative take on an old classic – packed full of protein, vegan, and bursting with nutrients, this green hummus is sure to be a winner at your next get-together. Not only that, but if you make extra, it's great as a toast topper, salad side, or light snack for dipping vegetable sticks in.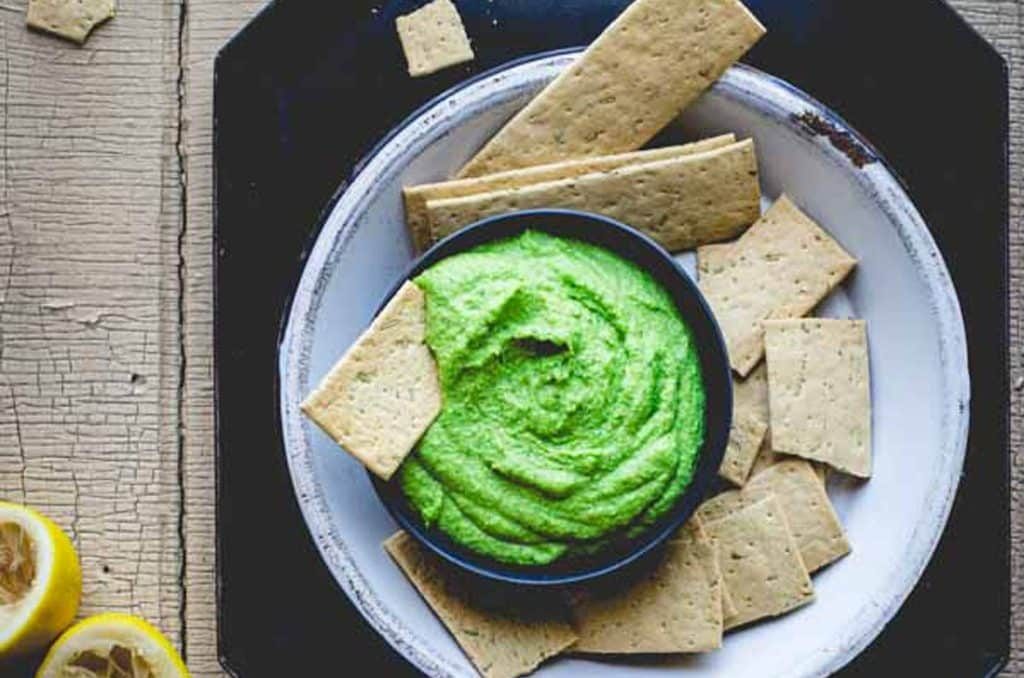 Sweet Recipes
Coconut Tahini Bliss Balls – Now to the good stuff – the sweet recipes! These little bursts of caramel, nutty goodness are soft, chewy and subtly spiced. And on top of that, they are sugar free! The recipe is quick and easy to follow and calls for shredded coconut, ground almonds, coconut oil, tahini, vanilla, cinnamon, almond milk and a sweetener of your choice. (We recommend stevia!)
Vegan Double Chocolate Black Tahini Banana Muffins – The title says it all! How good do these muffins sound? Made with ground flaxseed, bananas, black tahini, oil (go for coconut, avocado or olive), coconut sugar, whole wheat flour, cacao powder, baking soda and powder, and dairy-free chocolate chips, they are sweet, moist, chocolatey, nutty and caramel. What more could you want?
Chocolate Chip Tahini Cookies – You'll be wondering why tahini isn't an ingredient in every chocolate chip cookie recipe ever after you taste these! The recipe calls for butter, tahini, sugar (or you could substitute with maple syrup or stevia), eggs, vanilla, flour, baking soda and powder, and chocolate chips. The result is gooey, satisfying chocolate chip cookie goodness!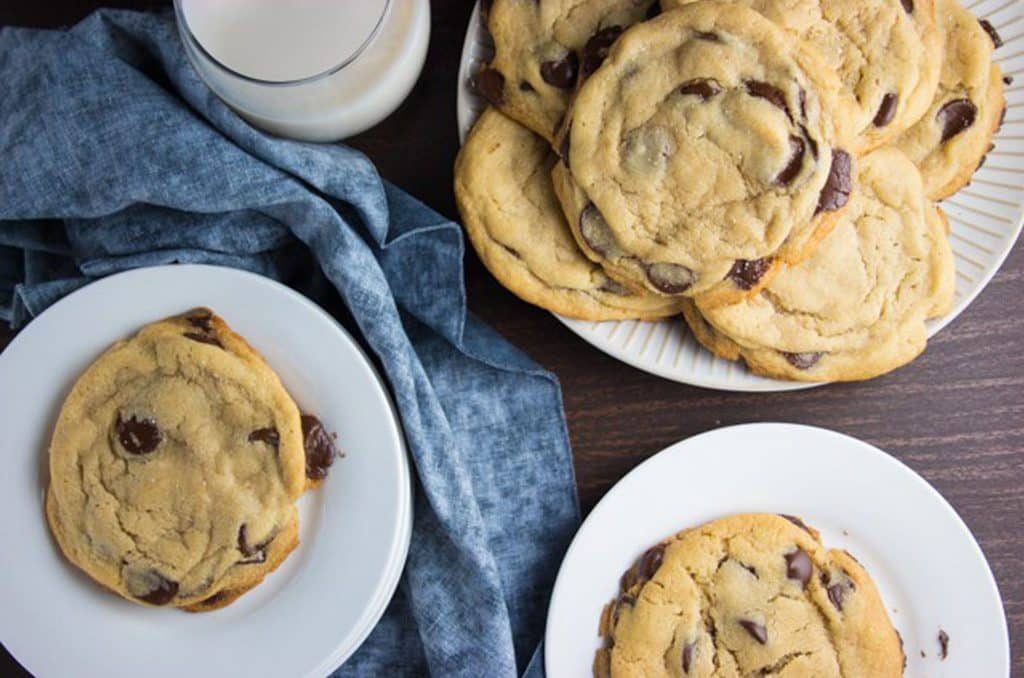 Cookie Jar Tahini Shortbread – These crunchy cookies are made with butter, sugar (or a sugar substitute), tahini, flour and baking powder. While they are not the healthiest option, the tahini adds plenty of nutritional value and you can always substitute the sugar!
Raw Tahini Date Bars – These super energizing, nutritious bars are quick and easy to whip up and enjoy. They are made with dates, tahini, cocoa powder and vanilla. So simple, so delicious and quite nutritious!
Checkered Chocolate Tahini Layer Cake – If you're looking to impress, then this is the recipe for you! It's not technically healthy – it's definitely an indulgence, but when eaten on a special occasion in moderation, then that's totally fine! The recipe calls for egg whites, sugar, butter, oil, vanilla, baking powder, buttermilk, flour, tahini, cocoa powder, whole milk, dark chocolate (go for something like an 80% cocoa – yum!) and heavy whipping cream.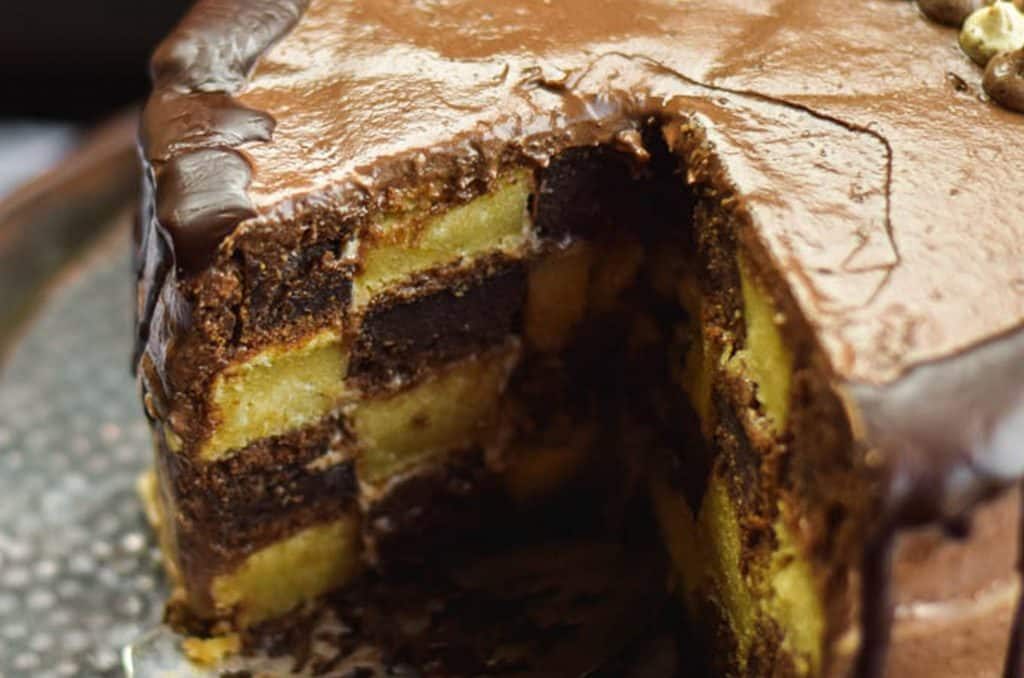 Chocolate Cheesecake With Salted Tahini Caramel Drizzle – This sounds like another super indulgent dessert option, but it actually has far less sugar than a typical cheesecake. The blogger found a clever medium, where she kept that creamy cheesecake taste rather than going for a raw vegan option, but managed to make it that little bit healthier. The trick is to use maple syrup instead of sugar and also cut the quantity back a bit, and swap cream for yogurt. Instead of the regular biscuit base version, she has included a healthy oat and coconut base. The recipe calls for shredded coconut, cinnamon, cacao, maple syrup, coconut oil and vanilla for the base, cream cheese, maple syrup, vanilla, eggs, Greek yogurt and dark chocolate for the cheesecake filling, and maple syrup, tahini, vanilla and salt for the salted tahini drizzle.
Healthy Chocolate Cake With Tahini Chocolate Icing – You wouldn't think this ridiculously decadent, fancy-looking cake could be healthy, but it actually is incredibly healthy and nutritious! The recipe calls for dates, honey, eggs, almond butter, Greek yogurt, bananas, vanilla, whole wheat flour, flaxseed, cocoa powder, chia seeds and baking soda.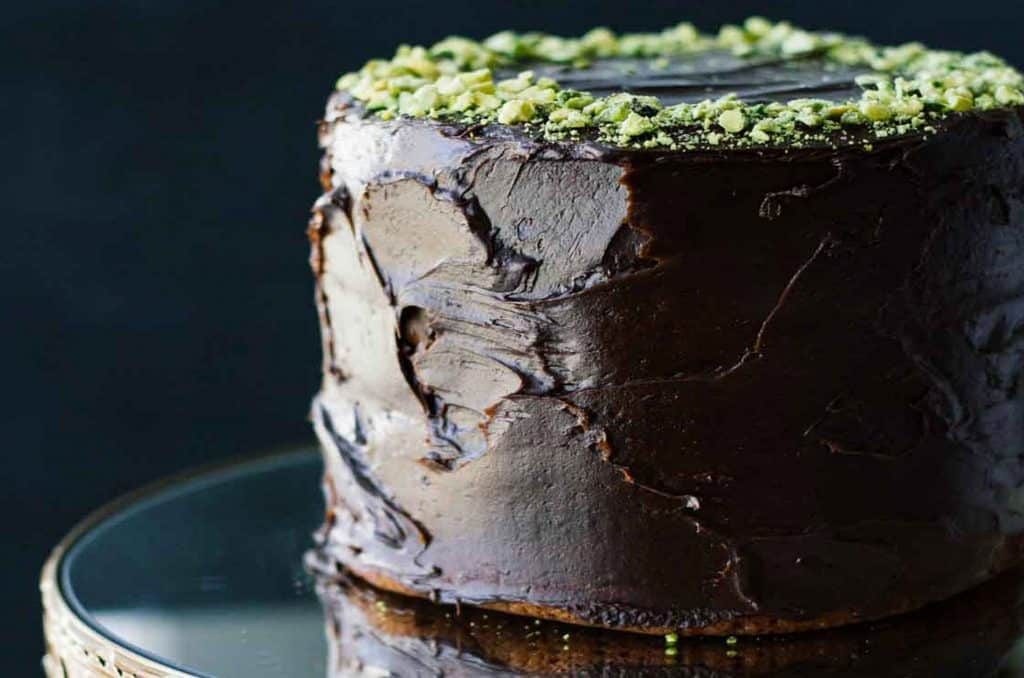 Sesame & Sea Salt Chocolate Brownies – These rich, moist chocolate brownies taste incredibly decadent, but are made with healthy ingredients, packed full of fiber, vitamins, minerals and antioxidants! The recipe calls for rolled oats, cocoa powder, sesame seeds, baking powder, sea salt, ground chia seeds, almond milk, coconut oil, maple syrup and tahini.