For many healthy eaters, granola is viewed as the ultimate go-to breakfast food. It tastes great drenched in almond milk or sprinkled on top of some yogurt. Then, of course, there are those ooey-gooey granola bars that many people stuff in their purse or briefcase for a "healthy" grab-and-go snack. While there's no denying granola is delicious and convenient, there is one problem. Most of the store bought stuff isn't as healthy as you think. In fact, granola is on our list of foods people think are healthy, but actually aren't. The truth is, store-bought granola is loaded with sugar, unhealthy fats, and oils.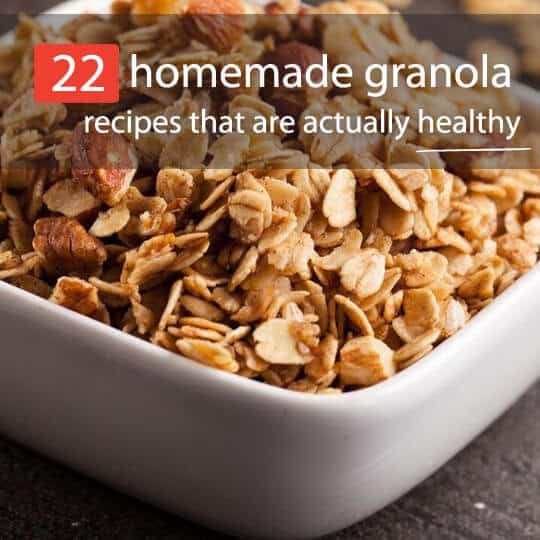 Okay, that's enough with the bad news. Now, for some good news. Granola bits and bars don't have to be loaded with calories and unhealthy fats. Instead, you can make your own granola at home and monitor every ingredient. Check out the following 22 simple-to-make, homemade granola recipes. They're gluten-free and made with nourishing ingredients your body needs.
1. Banana Granola – While this recipe doesn't call for any added sugar or oil, it's still loaded with flavor. The secret weapon in this homemade granola recipe is a ripe banana and flavorful spices like cinnamon and nutmeg. Plus, a little bit of shredded coconut gives it an extra kick (both in taste and nutrition). As far as the texture goes, this granola is a little chewier than most so it may remind you of a banana oatmeal cookie. Sounds good, right?! Along with the savory flavor and delightful texture, a serving of this granola will provide you with beneficial protein, fiber, and vitamins.
2. Vanilla Almond Granola – Sweet, sticky, and crunchy – those are the best words to describe this homemade granola recipe! You only need seven ingredients, none of which are processed sugar. All of the sweetness comes from a little pure maple syrup. The crunch comes from some melted coconut oil. Plus, blasts of flavor comes from a combination of vanilla and almond extracts. There isn't one unhealthy ingredient included in this recipe.
3. Peanut Butter Granola – With only four ingredients and about 10 minutes of prep time, it doesn't get any simpler than this recipe. Thanks to the peanut butter, this granola is loaded with filling protein. If you indulge in a bowl of this peanut butter granola for breakfast, you should be full until lunch time. So no need to grab for a mid-morning snack. Plus, it's gluten-free, sugar-free, and chemical-free.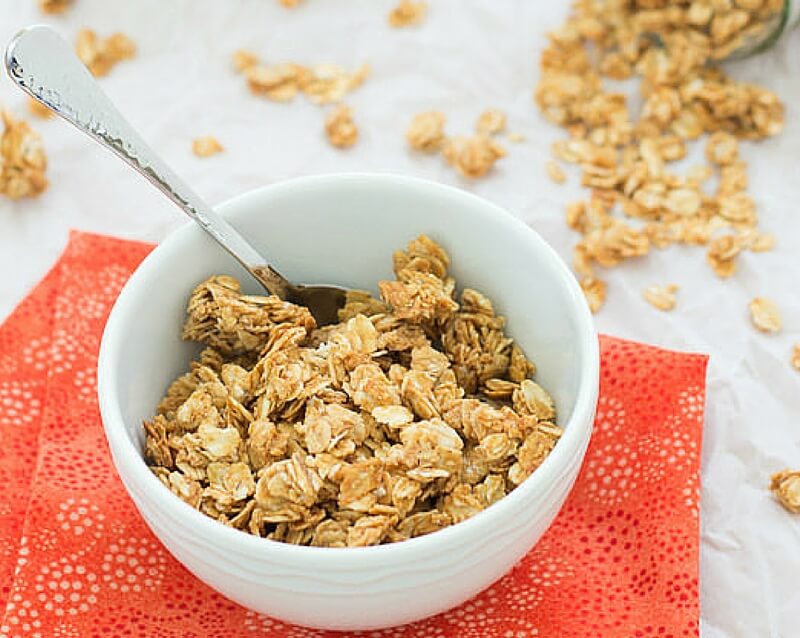 4. Slow Cooker Salted Caramel Almond Granola – This granola tastes sinfully delicious, but is completely guilt-free! Along with healthy and delicious ingredients, what sets this recipe apart from others is how it's cooked. Simply throw the ingredients into a slow cooker for about two hours, remove, and let cool. Before you dig in and enjoy a bowl of this tasty granola, don't forget to add some dark chocolate chips. It may not seem healthy to munch on chocolate chips with your breakfast, but did you know dark chocolate actually has incredible health benefits? The benefits include:
Improves blood flow
Fights stress
Fights fatigue
Helps prevent diabetes
Improves gastrointestinal flora
5. Chai Spiced Granola – If you like chai tea then you'll love this chai-spiced granola recipe. The chai spices definitely kick the flavor up a notch from your usual plain granola without adding any additional calories. Plus, there's no processed sugar in this recipe. All of the sweetness comes from raw honey and extra virgin coconut oil. If you choose to add honey as your natural sweetener, make sure to go with a raw, organic honey. Many of the honey bottles that line the shelves of your local grocery store are highly processed. If possible, buy your honey at your local farmers market.
6. Skinny Dark Chocolate Chia Granola – If you are a chocoholic then this is the perfect recipe for you. With just a few ingredients that you probably have in your kitchen right now, you can transform regular oats into a chocolate delight! The rich chocolate taste comes from both cocoa powder and some dark chocolate chips. Plus, this recipe also calls for tiny but mighty chia seeds. Did you know that just one tablespoon of chia seeds contains three grams of fiber, two grams of protein, and four grams of healthy fats?!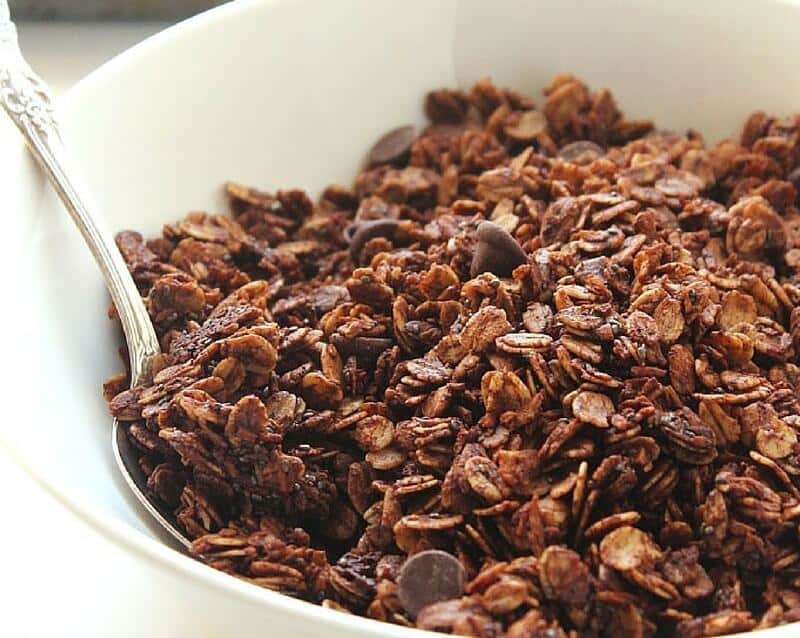 7. Chocolate Granola With Tahini and Honey – This chocolate granola is much different than the last one I included on the list. The cocoa powder and honey used in this granola is paired with slightly bitter tahini (sesame paste). The tahini makes this granola a Middle Eastern-inspired food. It packs seven grams of fiber, making it great for digestive health.
8. Carrot Cake Granola – Don't let the word "cake" fool you, this recipe is loaded with healthy ingredients. Ingredients such as shredded carrots, walnuts, and pecans offer amazing nutrients. Plus, cinnamon, ginger, and nutmeg give this recipe a powerful flavor (in a good way)! This recipe is sweetened with maple syrup. Keep in mind that doesn't mean regular Aunt Jemima. Instead, use a raw maple syrup that hasn't been processed with refined sugar or thickeners. Much like honey, many of the maple syrup bottles stocked on the shelves of your grocery store are loaded with dangerous food additives such as sugar, high fructose corn syrup, artificial flavors, and more.
9. Toasted Coconut and Berry Grain Free Granola – This granola could double for trail mix. It's loaded with mixed nuts, seeds, and dried berries. So if you're looking for a delicious gluten-free snack then this is definitely a great option.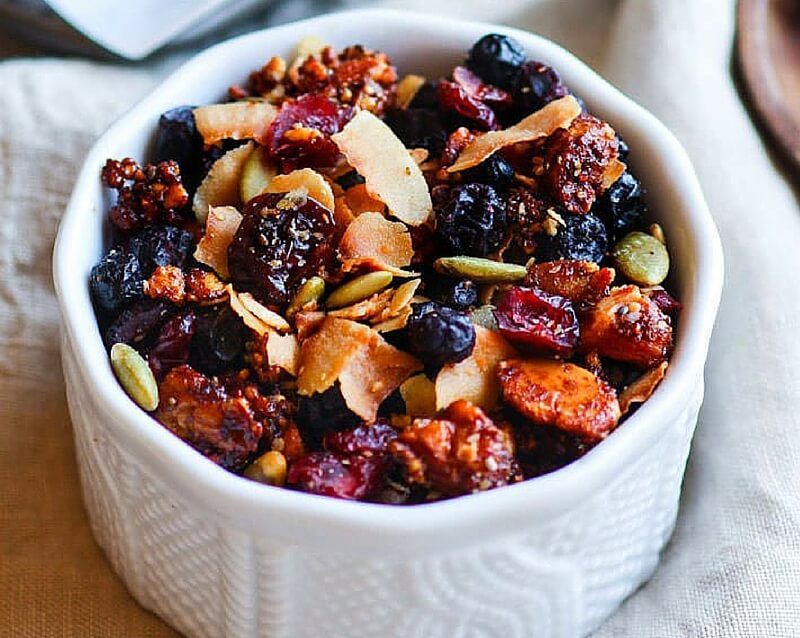 10. Pumpkin Granola – Enjoy the taste of fall all year long with this delicious and healthy pumpkin granola. The recipe calls for pumpkin puree, pumpkin seeds, and pumpkin pie spice. Wow … that's a lot of pumpkin! In case you didn't know, pumpkin is rich in key minerals like copper, calcium, potassium and phosphorus. The seeds are also an excellent source of fiber. In total, this recipe has 5.2 grams of fiber, making it great for digestive health. The health benefits don't end there, though. It also calls for quinoa, meaning it's loaded with belly-filling protein (8.1 grams to be exact).
11. Cranberry Coconut Granola – Almonds, coconut flakes, and dried cranberries. It doesn't get much more delicious and nutritious than this homemade granola. While this recipe calls for good-for-you ingredients, it does give you the option to choose between coconut oil or vegetable oil. While vegetable oil may sound healthy (because it has the word 'vegetable' in it), the reality is, it's far from it. Opt for extra-virgin coconut oil instead. Did you know that coconut oil has antibacterial and anti-fungal properties?
12. Cinnamon Maple Granola – Feed your sweet tooth with this cinnamon maple granola. Along with raw maple syrup, this recipe calls for coconut sugar. Unlike processed granulated sugar, coconut sugar is actually considered a safe natural sweetener. Coconut sugar is made by extracting sap from the blooms of a coconut and then heating it. Through the evaporation process, you get coconut sugar. It's loaded with minerals such as iron, zinc, calcium, potassium and antioxidants that work wonders for health.
13. Orange Chia Granola – Adding a touch of orange zest makes this granola recipe very unique, delicious, and rich in D-limonene. Several studies have found D-limonene to have cancer-fighting properties. While most of the ingredients in this recipe are extremely healthy, there is one thing you can change to bump up the nutritional value. As you read through the recipe, you'll notice it says to combine the orange zest with one tablespoon of granulated sugar. Instead, swap out the refined sugar for coconut sugar.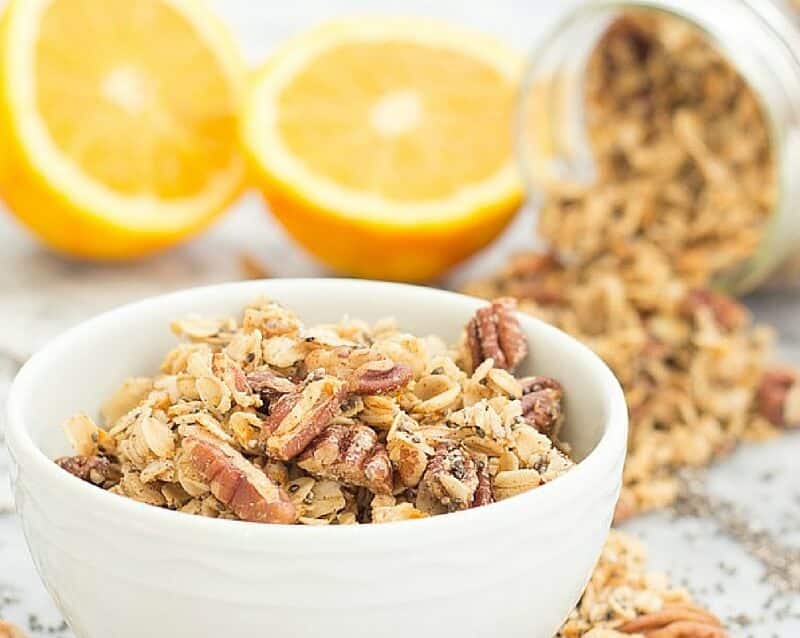 14. Pear Granola – Made with a mashed pear, puffed rice, and chia seeds this homemade granola is extremely nutritious. It's gluten-free, low-fat, chock full of protein, and loaded with heart-healthy omega 3 fatty acids. Plus, did I mention how delicious it is? It's sweetened with Stevia, a natural sweetener that's extracted from the leaves of a South American plant called Stevia rebaudiana. Stevia has zero calories, zero carbohydrates, and none of the negative side effects that artificial sweeteners have. While this recipe calls for one-half pack of Stevia per serving, you may want to start with even less. It's important to note that Stevia is 200 times sweeter than sugar. So a little goes a long way. Remember – you can always add more, but you can't take away.
15. Blueberry Granola – Made with almonds, pecans, sunflower seeds, coconut flakes, and almond butter, this homemade granola recipe is extremely filling. Nutrient-dense honey adds the perfect amount of sweetness. Plus, the blueberries are loaded with immune-boosting antioxidants and heart-protecting flavonoids.
16. Apple Pie Granola – Once again, don't assume this recipe isn't healthy just because of its name (and the fact that it's insanely delicious). The creator calls it "Apple Pie Granola" because of the spices. When you mix oats, unsweetened apple sauce, cinnamon, cardamom, nutmeg, allspice, and ground ginger all together, your granola will taste just like apple pie. Each of the spices included in this recipe have their own amazing health benefits and don't pack on any extra calories. The oats are rich in fiber. Plus, the all-natural applesauce is just as good as eating a whole apple. You know what they say – an apple a day keeps the doctor away!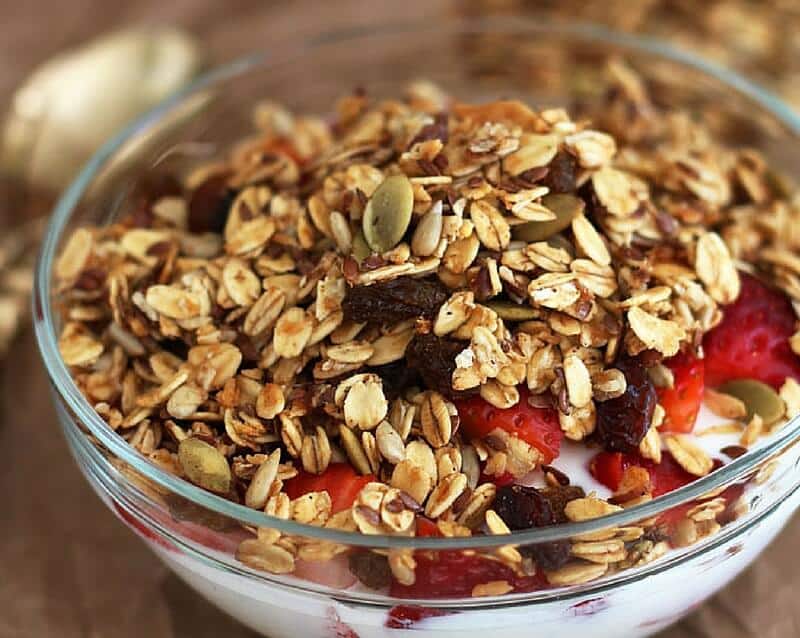 17. Crunchy Quinoa Granola with Goji Berries – Oats are loaded with fiber. Quinoa is rich in protein. Goji berries are among the healthiest and most nutrient-dense berry on the planet. Mix the three of them together and you have one heck of a healthy breakfast.
18. High Protein Granola – On this list, I've included many homemade granola recipes that are high in protein. However, none of them call for protein powder (well, except for this one). Pairing fiber-filled oats with protein powder creates a filling meal that will hold you over until lunch time.
19. Chia Egg Coconut Granola – Despite the name, this recipe is actually egg-free. If you're confused, it's called "chia egg" because soaked chia seeds are actually an egg substitute. In this recipe, chia seeds are soaked in freshly squeezed apple juice and used as a binder. They're mixed with oats, quinoa, and other flavorful ingredients to create a filling and digestion-friendly granola.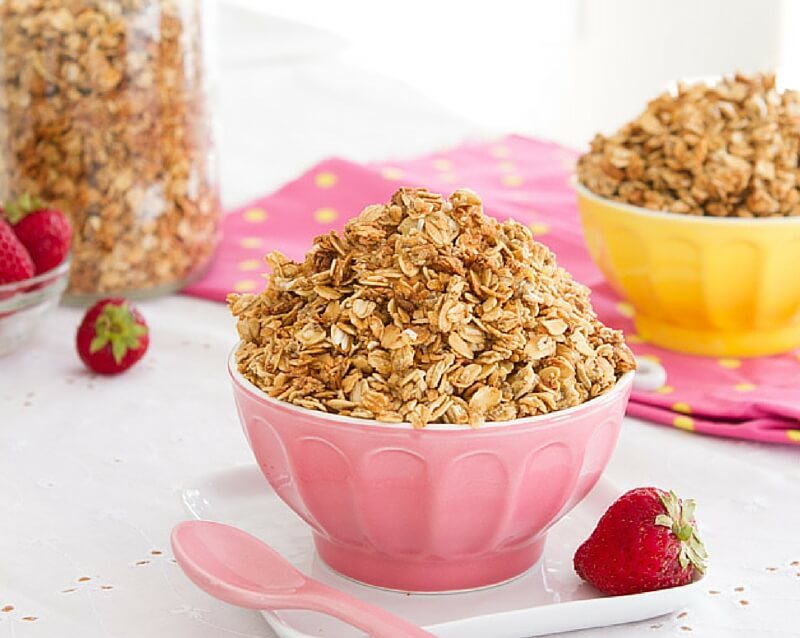 20. No Bake Granola – While granola is already pretty simple to whip up, this no-bake recipe makes it even easier. Just pour some peanut butter and honey over oats, seeds, and nuts. Then, mix it all together. After adding a few spices to bump the flavor up a notch, just put it in the refrigerator. Once it's set, it's good to eat! Along with being simple to make, it's high in protein and healthy fats.
21. Chewy Raspberry Apple Granola Bars – Mix together coconut oil, honey, unsweetened applesauce, oats, and fruit to create this 100-calorie granola bar. Thanks to the raspberries and apples, this grab-and-go breakfast, snack, or dessert is filled with cancer-fighting antioxidants, immune-boosting vitamins, and key minerals. While this recipe calls for a third cup of skim milk, if you live a dairy-free life you can easily use almond milk instead.
22. No-Bake Homemade Granola Bars – Made with only 5 ingredients, these homemade granola bars are simple to make and easy to customize. Almond butter and honey work together to bind the oats, chopped almonds, and chocolate chips. There's no need to bake the granola mixture. Just pop it in the freezer for about an hour. When it's firm, cut the granola sheet into bars and enjoy!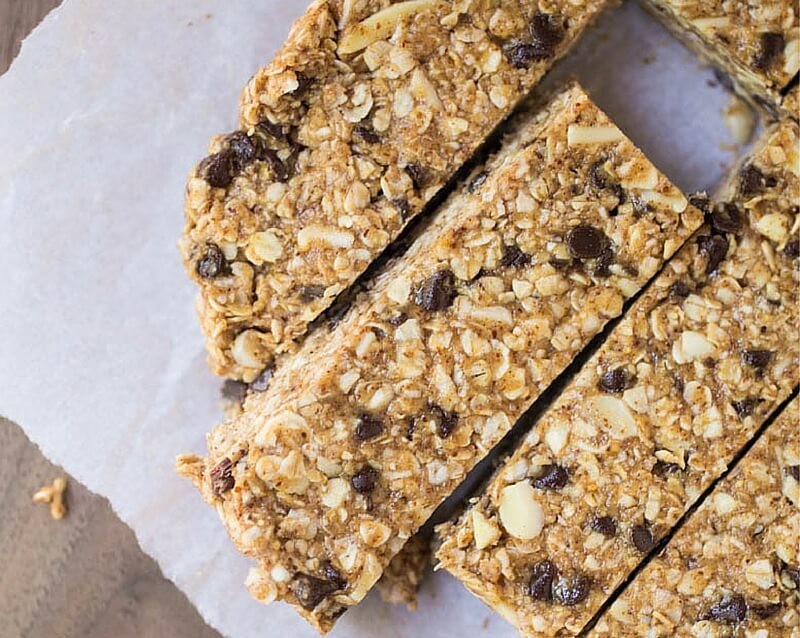 Are Oats Gluten-Free?
Throughout this article, you've heard me say these homemade granola recipes are gluten-free. A question many people ask is: "Do I have to buy gluten-free oats, or are regular oats gluten-free?" While oats are in fact gluten-free, often times they're grown in the same fields as foods that contain gluten. That means, there could be cross-contamination. For that reason, even though oats are gluten-free, people who are gluten-intolerant or suffer from Celiac disease are still urged to buy oats that are labeled gluten-free. When it comes to your health, it's better to be safe than sorry!