Breakfast aficionados, rejoice! Hectic mornings will no longer keep you away from starting the day off on the right foot. Whether you have 5 minutes or 1 hour to spare for your first meal of the day, these simple yet tasty breakfast options have you covered. Just choose the category that suits you best based on your time-constraints and know you'll no longer have to resort to a bowl of Special K eaten while standing up at the kitchen counter. Unless, of course, that's what you want to eat!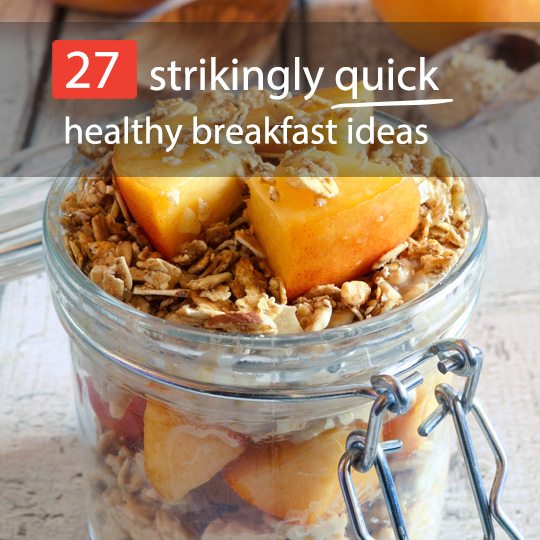 [hr]
Less Than 5 Minutes
Creamy avocado kale smoothie – Let's start this list with an obvious choice for a quick, easy and grab-worthy option; none other than a smoothie! Smoothies are particularly interesting options as they can be consumed at home or on the go. What's interesting about this particular one is it's creaminess and unexpected ingredient mix. The avocados provide a nice dose of vitamins, minerals and heart-healthy fats, whereas the antioxidant-rich kale and polyphenol-rich cacao help keep your heart in top shape. Whip this recipe up in the matter of minutes or prepare it in advance in view of particularly hectic mornings.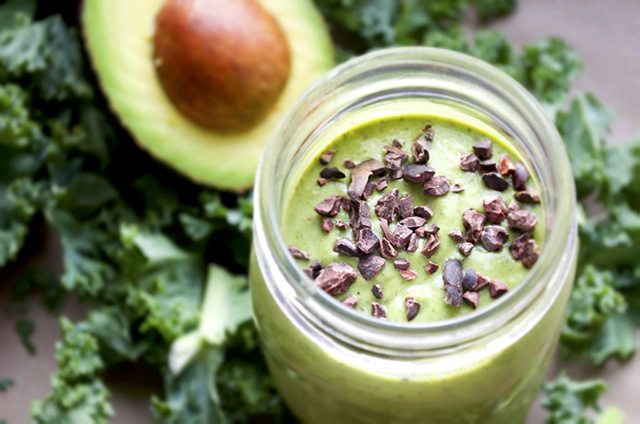 Photo: My Modern Cookery
Chunky monkey overnight oats – The beauty of overnight oats is that they're definitely a grab-and-go option. All this recipe requires from you is to combine the ingredients the previous evening. The chia seeds and peanut butter provide you with a good dose of fibre, protein and healthy fat whereas the complex carbohydrates from the oats help prevent your blood sugar from spiking and keep your cholesterol in check. Customize your toppings and you'll end up with a different version for each day of the week. Now we're talking!
Banana & peanut butter roll-up – Crazy about your PB & J and up for trying a simple and tasty variation? Look no further. These peanut butter and banana roll-ups are not only incredibly simple to make, but also particularly easy to grab and eat on the go. Substituting the usual jam for banana will provide you with a good dose of potassium, manganese, as well as some vitamin B6 and C. And, unlike jam, the lower glycemic load in bananas will prevent your sugar levels from spiking and crashing by mid-morning!
Peanut butter and banana oatmeal smoothie – Prefer your PB and banana in smoothie form? Give this one a try! The dates and cinnamon give it a pleasant twist, whereas the addition of oats will keep you feeling full and energized for hours to come!
The perfect on-the-go parfait – Just like overnight oats, parfaits are not only incredibly simple to make but also portable. You could even call them the perfect breakfast choice…if it wasn't for the soggy mess they turn into when not eaten within minutes of conception. Luckily, this is a non-issue with this recipe as it makes good use of layering based on water content! The recipe also features pomegranate seeds rich in antioxidants, vitamin C and pantothenic acid, the last of which can help are ward off muscle cramps and prevent insulin resistance. Have a big appetite? Opt for greek yoghurt to ramp up the protein content and you're set to go!
Cardamom pistachio rose energy balls – These energy balls definitely live up to their name and are a simple alternative to store-bought granola bars. Full of copper, manganese, calcium, potassium, iron, magnesium, zinc and selenium, pistachios can pack quite a punch when it comes to optimizing the quality of your diet. They're also rich in vitamin E and healthy monounsaturated fats, which help keep your skin healthy and glowing. The unexpected mix of cardamon and rose water will have you wondering why you waited so long to give them a try! Store in your fridge for up to a week.
Less Than 10 Minutes
Red apple & onion grilled cheese – Those of you hoping for a heartier breakfast option are bound to love this one. Consider this variation including gouda cheese, red apple, onion and dijon mustard, served on pumpernickel bread this all-time classic meal's distinguished cousin. Finger-licking good in the matter of minutes!

Photo: My Second Breakfast
Pancake in a jar – In love with pancakes but no so much with the prep time and post-prep cleanup? Then you'll absolutely love this recipe. You can whip up the batter directly in a mason jar (meaning there's basically no clean-up involved) and your baking time is a mere 90 seconds in the microwave. Talk about quick and effective! Get creative and customize this recipe by adding your favorite fruit and a sprinkle of nuts and cinnamon. Eat at home or grab and go.
Chocolate banana protein mug cake – This decadent, microwave-friendly mug cake is definitely not your typical breakfast recipe. And with only 5 ingredients, it sure earns its spot on this easy and tasty on-the-go breakfast recipe list. The cherry on top of the sundae? At only 210kcal, it packs 23g protein and only 0.5g of fat which means you can even have seconds! It will most likely have you feeling full and happy all the way to lunch.
Black bean & avocado toast – How about this for an egg-less option? Black beans are a great source of several nutrients including iron, magnesium, phosphorus and manganese and their fibre and protein content will be keep hunger at bay for hours! Make a sandwich out of two toasts and have a totally transportable egg-less breakfast to munch on on your way to work.
Buttermilk french toast – Here's an interesting variation on the age-old french toast recipe. Buttermilk is a great source of probiotics which can provide you with a wide array of health benefits. Plus, there's no disputing the fact that the tanginess of the buttermilk pairs beautifully well with the the sweetness of maple syrup. Although this recipe lends itself better to a sit-down breakfast, it's limited prep time makes it fit well in this category.
Less Than 20 Minutes
Salted caramel apple crumble bars – This is the type of creative recipe that most people are unlikely to come up with on their own. The caramel is actually made out of applesauce. Talk about a health-conscious twist! Savor the caramel on its own (as a dessert) or mix it with the rest of the yummy ingredients to make up the bars. Eat warm, right out of the oven, or make in advance and refrigerate for sturdier easy to grab home-made bars.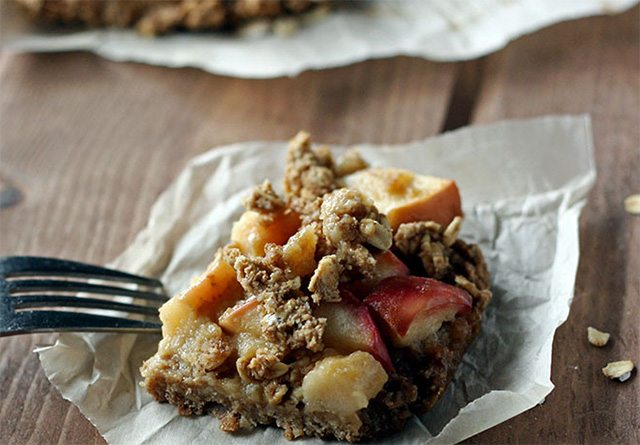 Photo: Love Me Feed Me
Sweet & savory corn cakes – Never tried corncakes? It's never too late to jump on the bandwagon! Cornmeal is a great source of fibre and also contains iron, zinc, potassium, phosphorus and magnesium which will help you stay energized and focussed during the worst snooze-worthy meetings. Top these tasty cakes with a source of protein such as a dollop of greek yoghurt, a handful of nuts or some low-fat cheese, sprinkle some fruit on top and voilà; you've got yourself a tasty, well-balanced, out of the ordinary breakfast in under 20 minutes!
No-bake cocoa mint fruit and nut bars – What's not to love about no-bake bars? They have all the advantages of granola bars or muffins when it comes to portability and convenience, without the hassle and added prep time associated with baking. This particular recipe makes a perfect use of chocolate and mint – a bit like an after eight mint but much healthier! Grab one on mornings where there's no time to sit down and fuel up before work or use to refuel after a particularly strenuous your workout.
Maple coconut energy bites – As the name implies, these bars will definitely boost your energy levels! Use whichever nut butter appeals to you most and readily replace the coconut by the dried fruit of your choice. And don't be shy about getting creative! No matter how much you customize them, these little bites will continue to serve their purpose, even on your busiest days.
Chickpea flour & spinach breakfast omelet – Chickpea flour is not only gluten-free but a higher protein alternative to whole wheat flour. It is also a great source of stomach-filling slow-carbohydrates, which means this recipe will likely keep you well-fuelled well past the mid-morning dip. Just like a regular omelet, this eggless variety can be served or filled with any filling of your choice. Give it a try; you can thank me later!
Prepped In Advance
Turkey sausage & mushroom egg muffins – Bored of the more traditional uses of eggs in breakfast dishes? Why not give this recipe a try! These egg muffins resemble a frittata but are much easier to make (and to transport). Using turkey sausage instead of bacon keeps the artery-clogging saturated fat to an acceptable level. Make the muffins in advance and store in an airtight container in the refrigerator for a day or two. Alternatively, these egg muffins make a great lunch option.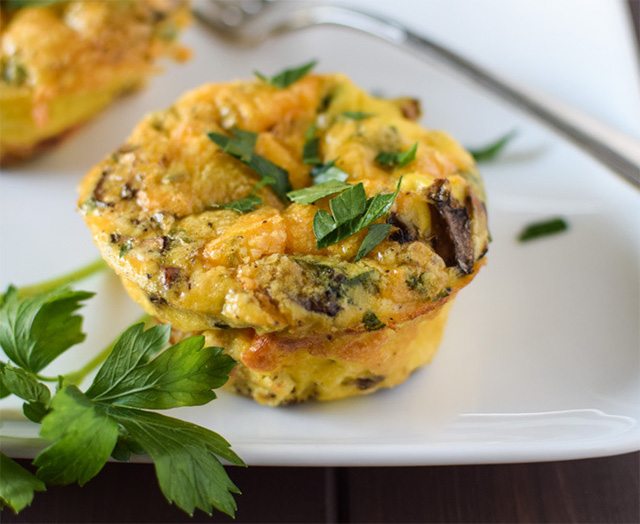 Photo: Foodie Girl Chicago
Breakfast burritos in a jar – If you're an avid fan of mexican-style cuisine, this recipe is a match made in heaven! What's more, if you're short on time, note that it lends itself particularly well to using leftover vegetarian chilli and topping it with freshly scrambled eggs, sliced avocado and salsa. Just remember to rinse the canned beans thoroughly before using to prevent some gassy situations!
Sour cream pumpkin muffins – Did you know that muffins are just as good fresh out of the oven than frozen and re-heated a couple of days later? The ingredients in this particular recipe are especially well-fitted for fall. Interestingly, pumpkin is an often overlooked source of fibre and its high vitamin A content will help keep your eyes sharp, especially in dim lighting. Sprinkle your muffins with pumpkin seeds to up your intake of tryptophan, an amino acid important in the production of serotonin, one of the major players when it comes to your mood. Needless to say, these muffins make it hard to wipe the smile off your face!
Sweet potato blueberry waffles – Here's an interesting variation to the more traditional waffle recipe. Sweet potatoes are high in vitamins A, B5, B6, niacin and riboflavin, in addition to providing a good source of fibre. Most importantly, these waffles freeze well and make a great quick breakfast if you put them in the toaster in the morning. Top with some nut butter or yoghurt, fresh fruit and a little maple syrup and you'll be up and running in no time.
Vegan blueberry corn scones – Scones can't possibly be healthy, right? Think again! This plant-based variety contains no animal-fat and is higher in fibre, vitamins and minerals than it's more traditional counterpart. Bake in advance and freeze for an easy to grab options on those hectic mornings. Accompany with a drinkable yoghurt for and you've got yourself a simple yet balanced breakfast!
Handy Leftovers
Egg casserole with beet greens and goat cheese – This goat cheese egg casserole makes a wonderful lunch or dinner. But why limit yourself to those meals when, reheated, it can also make for a deliciously simple breakfast? Beet greens are a great source of vitamin A and an excellent source of vitamin K, known to keep your blood from clotting, running smoothly through your veins. Enjoy!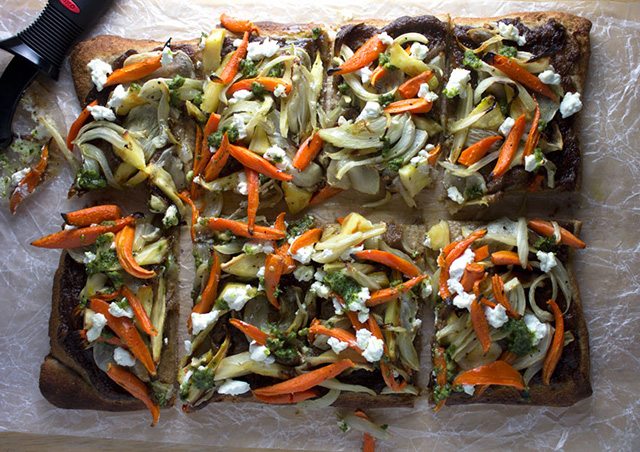 Photo: Well Worn Fork
Winter veggie pizza Here's another easily re-usable meal, well-adapted for those mornings on the run. But unlike the fat-dripping pizzas you might have grown accustomed to during your time in college, this pizza is full of nutrient-rich veggies such as carrots, turnips, parsnips and fennel. Let's call it the pizza 2.0. Enjoy cold or reheat for mouth-watering goodness.
Sweet potato crusted spinach quiche How about this recipe for a fresh take on the classic quiche! And a healthier one at that, seeing that the buttery crust is replaced with sliced sweet potatoes. This quiche makes for a delectable lunch or dinner, but make sure to keep some easily reheatable leftovers for an equally delicious quick yet balanced breakfast.
Carrot zucchini chickpea fritters – This egg-less, meat-less recipe gets two thumbs up. One for practicality. The other for interesting nutrient-packed ingredients. One of such ingredients, cardamom, has several interesting properties, including anti-microbial and anti-cancer effects. What's more, cardamom pods and seeds can be chewed to freshen your breath. Talk about a two-in-one action!
Indian breakfast Uttapam – This delicious indian breakfast dish can be easily made on weekends with leftovers kept for busy week days. Don't be fooled by it's size; this versatile pancake-style patty, made from a combination of rice and lentils, packs quite a punch! Top yours with your favorite toppings, be it grated carrots and cilantro or spicy chutney and yogurt and serve warm or cold.
Zucchini tofu scramble – Last but not least, this list would not be complete without a tofu scramble! Some of you might cringe at the idea of anything with tofu, but hear me out as there are many reasons for you to give this meal a try. First (and foremost), it can be made in large quantities and reheats well. What's more, tofu contains no fat nor cholesterol, making it a dream food for your heart. Finally, tofu has a very similar texture to scrambled eggs which means even those who usually hate anything remotely close to tofu might actually enjoy this recipe. Serve it with oven-roasted potatoes on weekends or paired it with whole grain toast and keep some for the week as well!
[hr]
Thanks to these recipes, there's no longer a need to chose between the snooze button and starting your day well-fuelled. Give them a try – they should keep you feeling full and energized at least until lunchtime!
If you'd like more recipe ideas for a particular meal / time of day, make sure to let me know. I'll happily consider your requests for future posts!