Do you love indulging in a big bowl of spaghetti, but hate the way you feel afterward? All of those carbs can leave you feeling heavy, bloated, and sluggish. That's not to mention, if you are a regular spaghetti eater, the dish isn't so waistline and skinny-jean friendly! Since the meal is simply too delicious and fun to give up, why not try an alternative like spaghetti squash? Sure, it's not exactly the same, but with very little effort, you can transform this ordinary veggie to an extraordinary party in your mouth!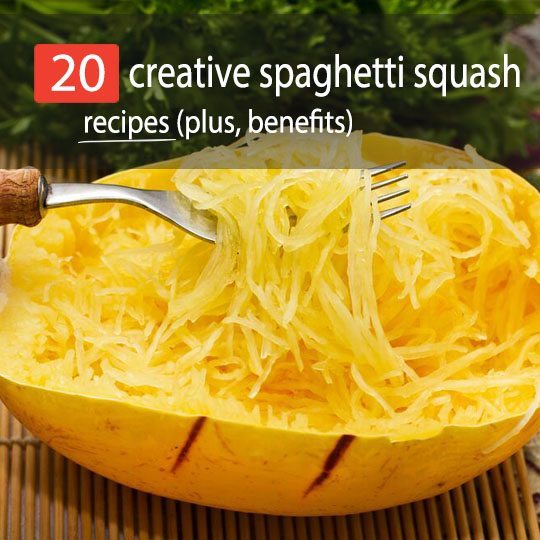 What Is Spaghetti Squash?
Spaghetti squash is an oval-shaped, yellow veggie that originated in China. It's now in grocery stores across the U.S. and has become quite popular. It's a variety of the winter squash and, when cooked, separates into spaghetti-like strands. Hence the name spaghetti squash! While this type of squash can be used in a wide array of dishes -- such as soups, stews, hashbrown, tater tots, and much more -- it's most commonly known as a healthier swap for traditional spaghetti pasta.
---
The Benefits Of Spaghetti Squash
Rich In Vitamins and Minerals
While feasting on a plate of spaghetti squash can definitely make you feel as though you are enjoying a plate of flour-filled pasta, in reality, you're only eating a vegetable. Just like other vegetables, spaghetti squash also contains many key nutrients!
Indulging in a plate of spaghetti squash will provide you with a nice dose of vitamins A, B, and C. Additionally, it contains potassium, thiamin, riboflavin, niacin, folate, magnesium, calcium, iron, phosphorus, and zinc. That's just to name a few. All of these vitamins and minerals help your cells function properly, and various parts of your body thrive. So eat up!
Contains Fiber
Are you worried that spaghetti squash won't fill you up or leave you dealing with painful digestive issues? Well, think again! This veggie contains a decent amount of fiber, which is essential for healthy digestion, heart health, and can help keep you feeling full for longer (which is great for weight loss). There are just over two grams of fiber per cup of spaghetti squash. While it's not the highest fiber content compared to other vegetables, it's still a good amount.
Low-Calorie and Low-Carb
Unlike traditional pasta, spaghetti squash is extremely low-calorie and low-carb, making it a diet-friendly food. Just one cup of this cooked vegetable contains about 42 calories and 10 grams of carbohydrates.
Naturally Gluten-Free
If you suffer from Celiac disease or follow a gluten-free lifestyle then spaghetti squash is perfect for you. Please keep in mind, not all of the following recipes are gluten-free. They may contain some other ingredients that have the controversial sticky protein. Overall, though, the spaghetti squash itself is gluten-free.
---
Spaghetti Squash Recipes
1) Basic Noodles
Before we get into the fancy recipes that can really take the taste of this veggie to the next level, check out this quick video that demonstrates how to cook it! You can either cook spaghetti squash in the oven or the microwave. This video shows you how to cook it in the oven:
Spaghetti squash with red sauce, ground beef, and shredded mozzarella -
it doesn't get much more spaghetti-like than this recipe. Garlic, onions, and a few Italian seasonings compliment the dish. So put on some Frank Sinatra music, close your eyes, dig in, and pretend you're floating down a river on a gondola in Italy!
If you love cheesy pasta then this is a definite must-try. Stuffed inside spaghetti squash is cream cheese, grated parmesan cheese, and mozzarella cheese! Seriously, it's a cheese-lovers dream dish. Enhancing the flavor even more is garlic and sautéed spinach. Those are two extremely healthy ingredients. Garlic has been linked to lowering cholesterol, reducing blood pressure, and fighting cancer. Additionally, spinach is known to aid digestion, protect eye health, and boost immunity. If you want to make this recipe a bit healthier, cut back on some of the cheese.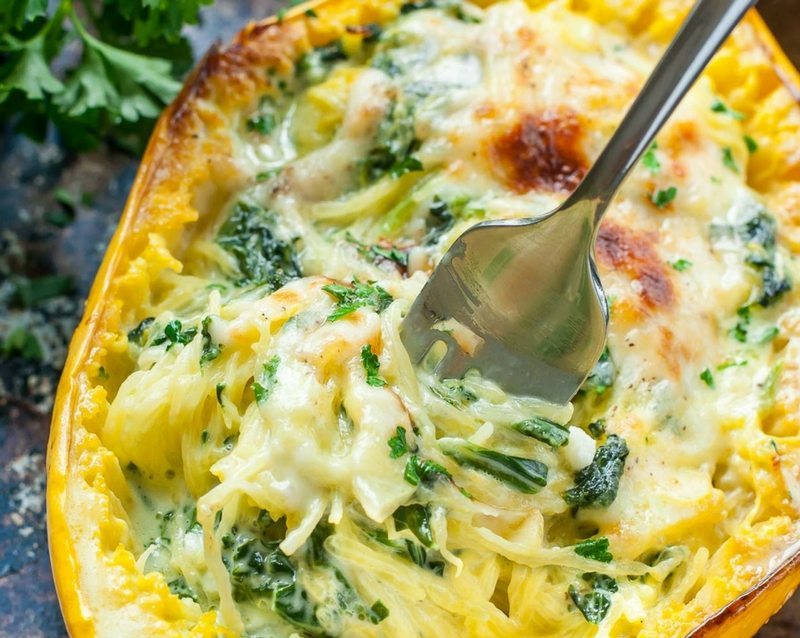 Polishing off a plate of hot wings is perfect for watching a Sunday night football game. The only problem is - hot wings are typically high in unhealthy fats and leave you feeling extremely sluggish the rest of the night. No one likes feeling like there's a tub of grease sitting in their belly. That's where this recipe comes in. It mixes the spaghetti-like squash with famous Frank's Red Hot sauce and protein-packed Greek yogurt to create a healthier spinoff. Of course, you don't have to be a sports fan to enjoy this recipe!
If you are a fan of Alfredo sauce then you're going to love this recipe. It mixes spaghetti squash with protein-packed chicken and the flavorful white sauce. Please note: the Alfredo sauce recipe in this particular recipe is not one that I would label as "healthy." If you're looking to keep this dish gluten-free and scale-friendly then I would recommend opting for a different version.
Who said spaghetti squash could only be used to create healthier Italian-inspired dishes? A spinoff to the popular Chinese dish, this "Chow Mein" recipe is made up of a cooked veggie blend that's topped with a homemade sauce. The sauce contains Tamari (you can use Soy sauce if you don't mind the gluten) and various spices. It's way healthier than your Chinese takeout and just as delicious!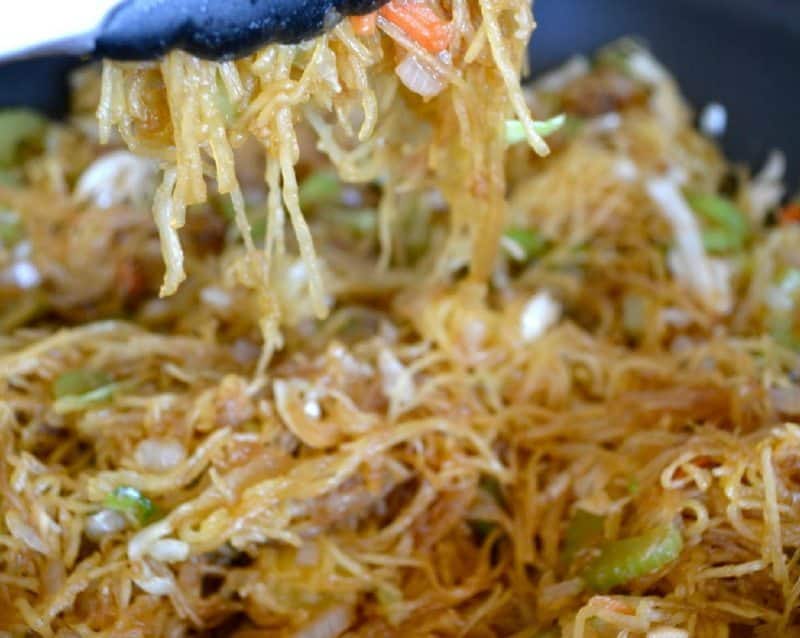 Have you ever tried Pad Thai? It's a stir-fried rice noodle dish that's topped with a delicious peanut sauce. While it tastes great, it's not very good for your health! For those of you who enjoy the Thai meal, I have great news. You can now dine without the guilt! This healthy Thai Spaghetti Squash with delicious peanut sauce is a great alternative. Unlike the traditional, it's gluten-free and refined sugar-free. Instead of using the white stuff that's been linked to obesity, heart disease, tooth decay, and cancer, this peanut sauce is made with coconut milk, natural peanut butter, coconut sugar, and red curry paste!
This dish is filled with flavorful turkey taco meat, cheese and topped with pico de gallo. It contains various spices -- such as cumin, chili powder, and paprika -- that enhance the flavor and improve the nutritional value. Did you know many spices fight inflammation in the body, ward off illnesses, and can act as natural pain relievers?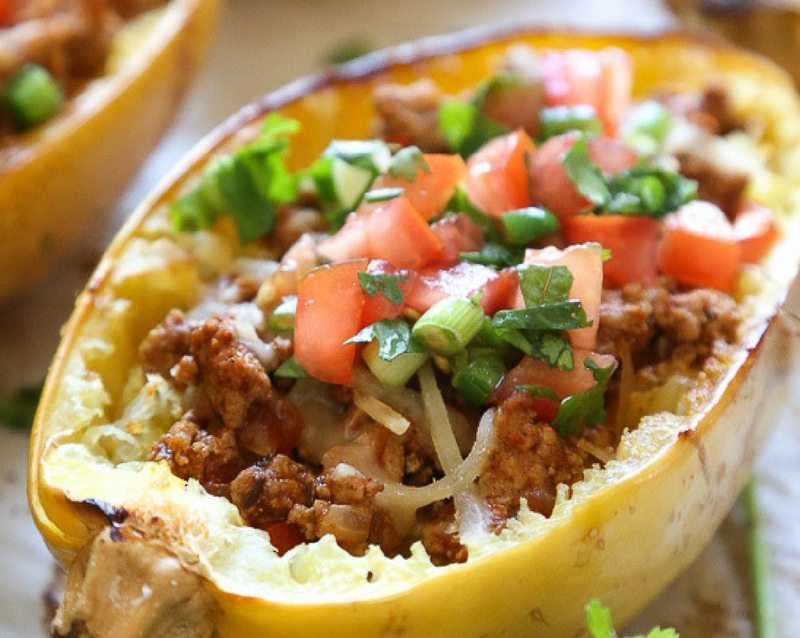 It's a Mexican fiesta with this healthy burrito bowl! Packed with black beans, corn, and various veggies, this recipe is loaded with protein and fiber. That means, if you eat this for dinner you may be too full to indulge in dessert. Plus, there should be no need for a midnight snack, which is great for your weight loss efforts.
Do you like a nice spicy kick to your food? If so, you must try this Mexican-inspired recipe. Typically, enchiladas are made with tortillas, but ditching the gluten-laden wraps for healthy spaghetti squash is just as tasty and leaves you feeling guilt-free. While this recipe calls for grilled chicken as the protein, you can also swap for ground beef, ground turkey, or just leave the meat out altogether if you follow a vegetarian lifestyle.
Garlic, butter, lemons, white wine, and shrimp -- this dish is a healthier version of shrimp scampi! The recipe creator adds a bit of Greek yogurt to her sauce to create a thick topping. Along with the creamy texture and amazing flavor, this dish is high in protein and other key vitamins and minerals.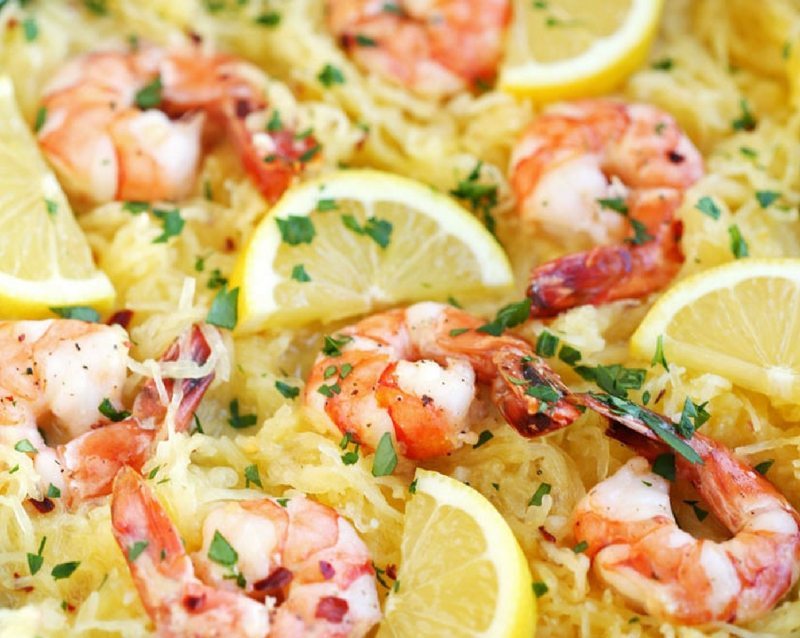 This veggie-packed dish is rich in vitamin C (did you know broccoli has more of the immune boosting vitamin than an orange?) and will definitely fill you up! To make this dish a bit healthier, swap the bacon bits out for leaner turkey bacon bits.
When you go to a restaurant do you immediately scan the menu for spinach and artichoke dip? That's always my go-to appetizer! If you're also a fan of the thick and creamy dish then chances are you are going to like this recipe. Incorporating various cheeses with spinach leaves, artichoke hearts, and a few spices, the taste is quite similar to the popular appetizer.
This impressive meal only takes 30 minutes to make and won't leave you with a ton of dishes to clean. If you follow the recipe as is, you'll spend the first 15 minutes cooking the spaghetti squash in the microwave. The last 15 minutes is spent sauteeing the squash with mushrooms, chickpeas, cheese, red sauce, and spices in a skillet. All of the flavors melt together nicely to create a blast of flavor. This meatless dish is 143 calories so feel free to indulge in a second helping!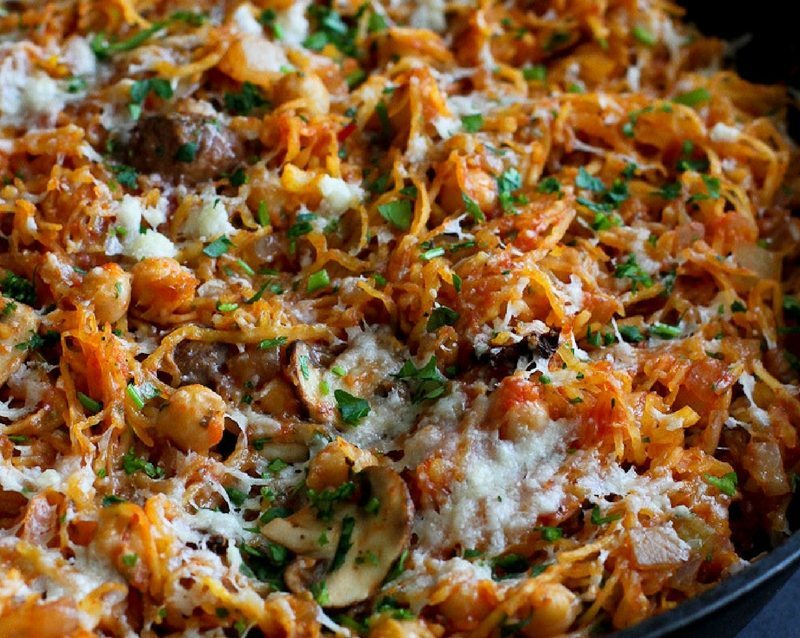 Spice up your life with this cajun chicken spaghetti squash dish.
Have you ever tried zucchini boats? They're made by cutting a zucchini in half, scraping out the center, and filling it with other ingredients (like sauce and cheese)! These spaghetti squash pizza boats are very similar! Cook the squash, fill it with sauce, add a layer of cheese, and then top it with pepperoni (or another one of your favorite pizza toppings). You will feel like you're indulging in pizza without all the digestive issues afterward.
As you can see, this versatile squash easily replaces flour-spaghetti noodles. But did you know you can also swap out starchy potatoes for the veggie? This recipe combines spaghetti squash noodles with a small amount of oil and salt. Form the mixture into little patties, throw them on a skillet and enjoy.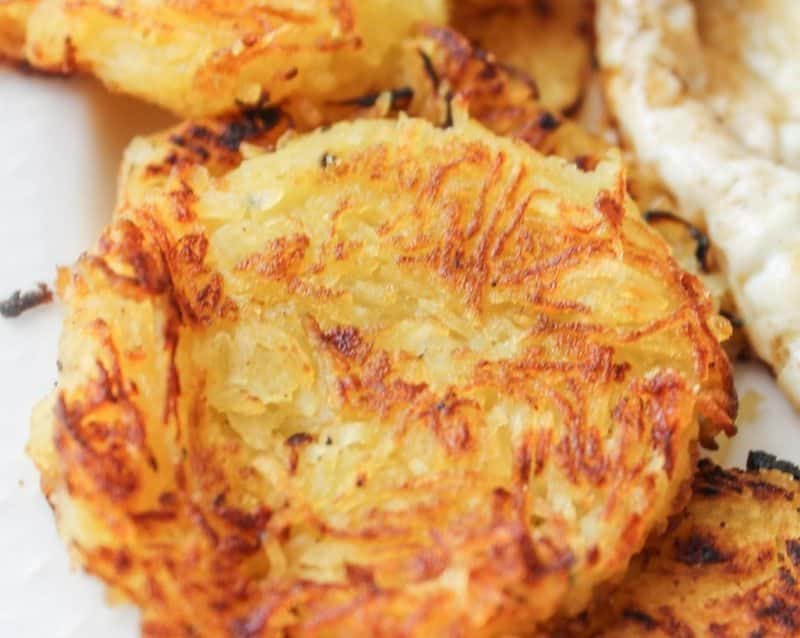 The one thing spaghetti squash lacks is protein. That's where quinoa comes in. Just one cup of cooked quinoa contains 8 grams of quality protein! The benefits of this recipe don't stop there. It also contains vitamin-rich spinach. Top it with some Greek yogurt and you have yourself a healthy and satisfying snack or appetizer.
If you struggle to get enough vegetables into your diet then these are a must-make. While they taste just like the potato classic, they are nothing but a jazzed up vegetable. They combine spaghetti squash with breadcrumbs, parmesan cheese, and an egg. Pop them in the oven and enjoy!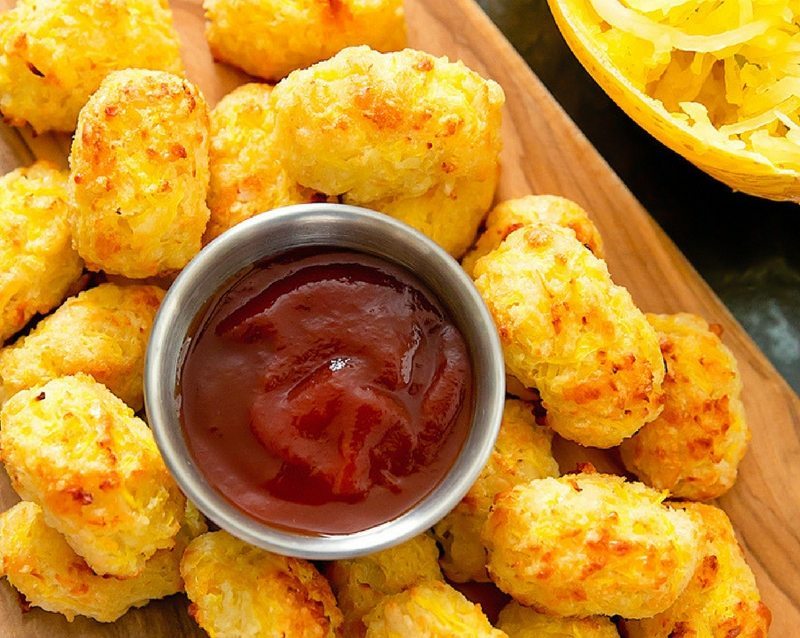 You've heard of cauliflower pizza before, but what about spaghetti squash pizza? The two crusts are made with a similar technique - the vegetable is mixed with egg, cheese, and spices. It takes less than an hour to whip up and tastes great! This alternative pizza crust is gluten-free and refined sugar-free.
---
Bon appetit!