We're not all about calorie counting at Bembu.com, but when you're looking for a snack, it's a great idea to keep the calories to a minimum. And more importantly, make them healthy low calorie snacks. Here are some of our favorite snack and dessert recipes that come in under 100 calories…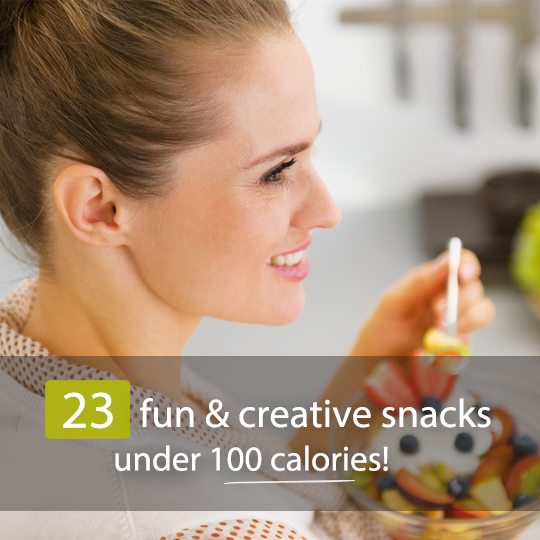 Should You Be Counting Calories?
This is a tricky area because it works for some people, but others get it totally wrong. If you focus on calories and not nutrients and balance in food, then you will most likely end up with deficiencies somewhere. Before we impose a blanket ban on calorie counting, however, there are some benefits to it, if you are doing it right. The problem is, most people don't get it right. It is extremely difficult to understand how many calories and what sorts of calories you are consuming. If you are doing it wrong, it can be detrimental to your weight loss regime, and your overall health and energy.
A study of obese people on a 'low calorie diet' in the US found that participants did not lose weight because they under-reported their energy intake and overestimated their physical activity. Like fad dieting, calorie counting can lead to an unhealthy relationship with food, or a food obsession. And, if people are looking only at the calories they are consuming, instead of choosing food for its nutritional value, it often results in an unhealthy, unbalanced diet.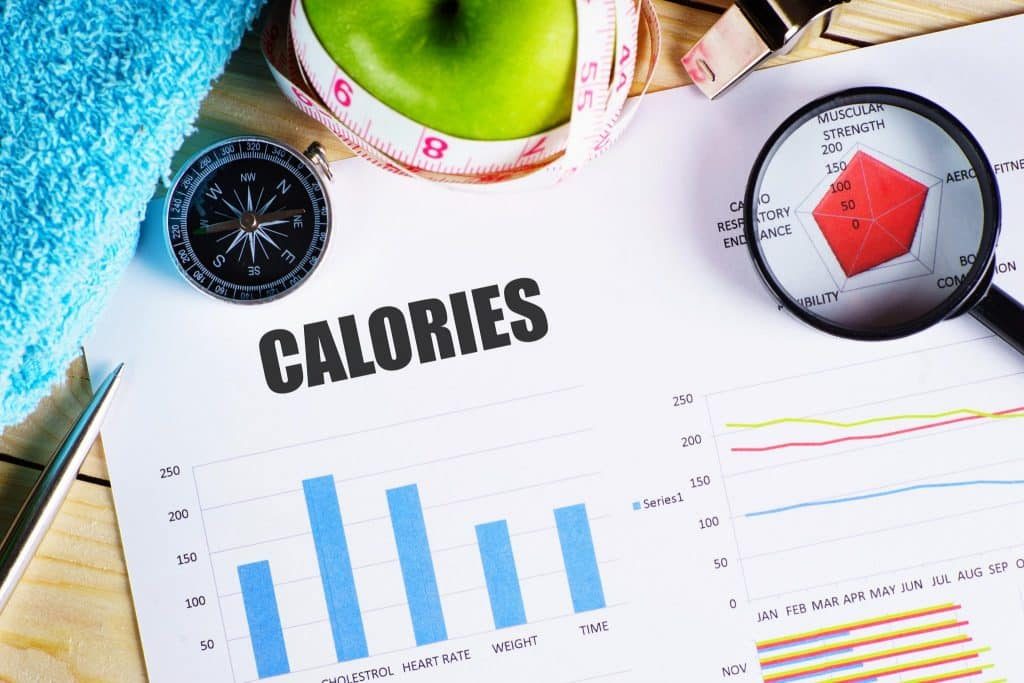 So Why Bother With 'Low Calorie' Snacks?
The important thing to note here is that, if you are trying to lose weight or keep weight off, you do need to be mindful of your calorie intake. That doesn't mean counting them necessarily. Instead it means choosing low calorie options where possible. And snacks are a great place to focus. If you are a 'snacker', you don't want to be consuming mountains of your daily calories through those in-between meal bites. Choosing low calorie snacks lessens your calorie intake throughout the day, which minimizes your overall calorie intake. Similarly, it is important to choose healthy low calorie snacks. That way, you will not be consuming bad calories, like, for example, sugary, processed, refined food that can lead to a blood sugar spike. That, in turn, can lead to sugar cravings and binging during the remainder of the day.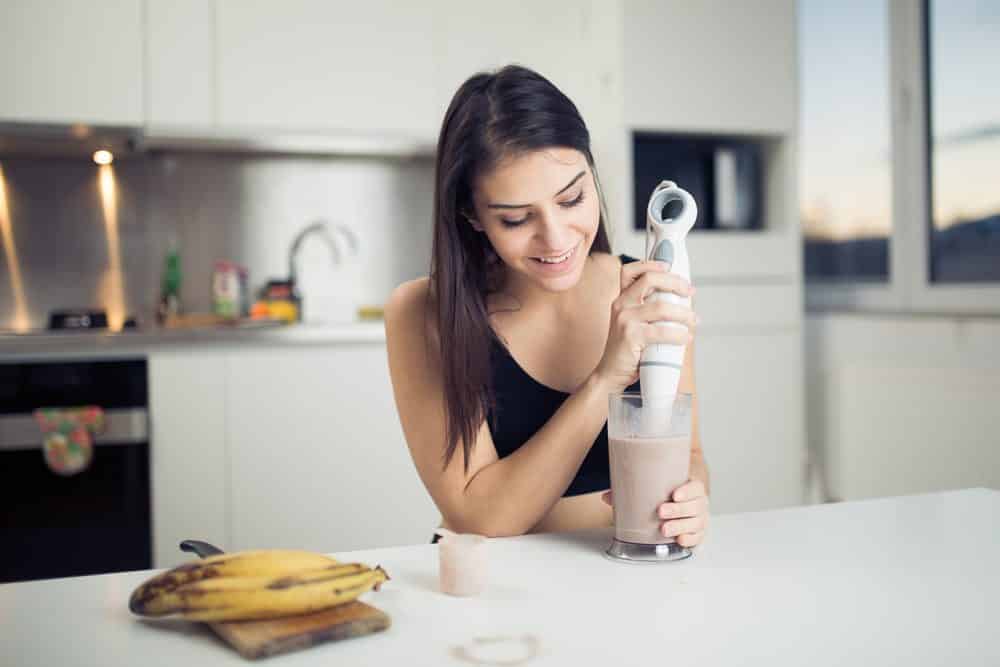 Healthy Low Calorie Snacks (For Under 100 Calories!)
Here are 23 of our favorite sweets and snacks for under 100 calories…
Chocolate Chip Cookies
Healthy Gluten-Free Double Chocolate Chip Cookies – You can't beat a chocolate chip cookie when you're craving a chewy, sweet snack with a coffee at break time. The problem is, traditional chocolate chip cookies are packed full of sugar and refined flour, as well as a fair few calories! This option comes with the added bonus of being double chocolate. It is made with gluten-free flour, cocoa powder, baking powder, cornstarch, vanilla, honey, peanut butter (choose 100% stuff), unsweetened applesauce and mini chocolate chips. Choose good quality dark chocolate chips!
Low Fat Chocolate Chip Cookies – This low calorie take on a classic break-time favorite trades in some traditionally unhealthy, refined ingredients for some slightly healthier ones! The recipe calls for flour (you can always trade all-purpose flour with whole wheat for some added fiber), baking soda, coconut sugar, granulated sugar, whipped butter, egg whites, vanilla extract, almond milk and semi-sweet chocolate chips.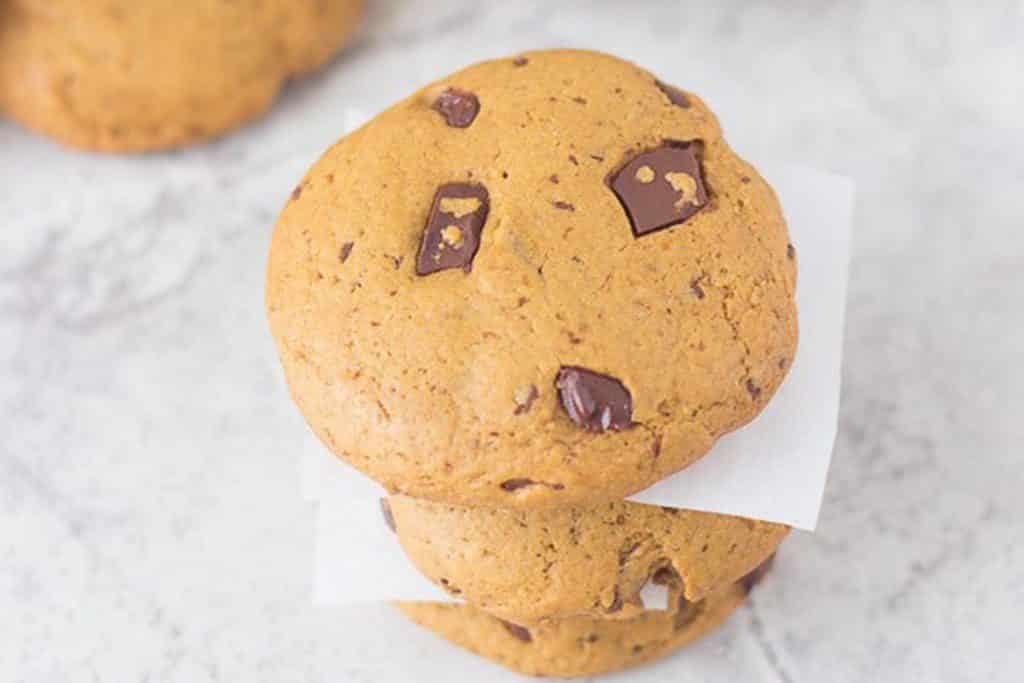 Oatmeal Dark Chocolate Chip Cookies (With Flax) – These chewy, sweet cookies are just as tasty as sugar, refined floury chocolate chip cookies, but with ingredients that are full of nutrients, like fiber, vitamins and minerals. The recipe calls for whole wheat flour, ground flaxseed, oats, baking soda, cinnamon, allspice, ginger, butter, light brown sugar, egg, vanilla extract and dark chocolate chips.
Other Cookies
Healthy Oatmeal Raisin Cookies – These low sugar cookies will curb any cookie craving, with a nutritious mix of healthy ingredients. The recipe calls for oat flour, oats, baking powder, cinnamon, coconut sugar, coconut oil, vanilla, milk and raisins. They come in at 81 calories per cookie.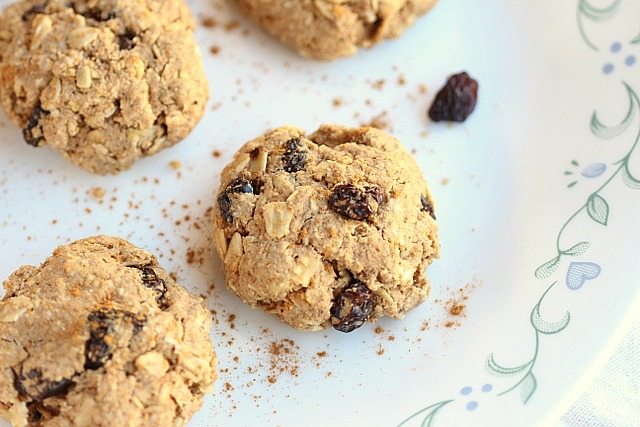 Healthy Nut, Carrot & Raisin Cookies – These nutrient-rich cookies curb a sweet craving, while packing you full of healthy ingredients, including nuts, carrots, oats, cinnamon, nutmeg, egg, applesauce and coconut oil. There's no sweetener added (the carrots and apples do the trick) and no refined sugar! They have 83 calories, just over 5 grams of fat, 8 grams of carbohydrates, just over 2 grams of sugar, 81mg of sodium, 1.5 grams of cholesterol and 14mg of cholesterol.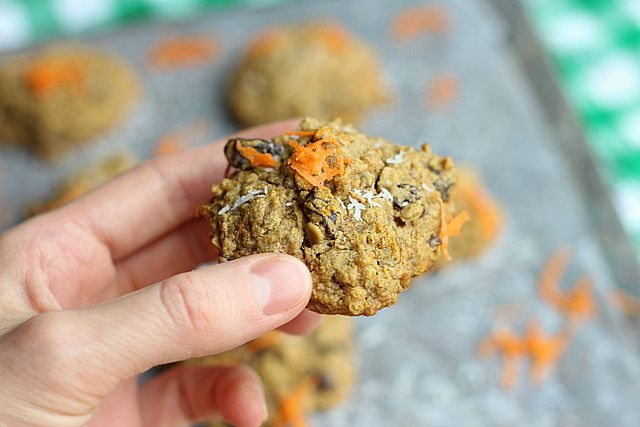 Gluten-Free Peanut Butter Cookie Buttons – These cute little cookies come with 94 calories each and make a tasty little snack when you're in the mood for a small sweet treat! They are made with sorghum flour, coconut flour, brown rice flour, baking powder, butter, peanut butter (go for 100%), maple sugar, egg, vanilla extract and dark chocolate.
Skinny Sugar Cookies – There's sugar in the title of these tasty Christmas-inspired cookies, but there is actually no refined sugar in the ingredients. These cookies each have 98 calories, less than 4 grams of fat, 14.2 grams of carbohydrates, less than 5 grams of sugar, 1.4 grams of fiber and 16 grams of protein. They are made with whole wheat flour, baking powder, coconut oil, maple syrup, vanilla extract, butter extract and cinnamon.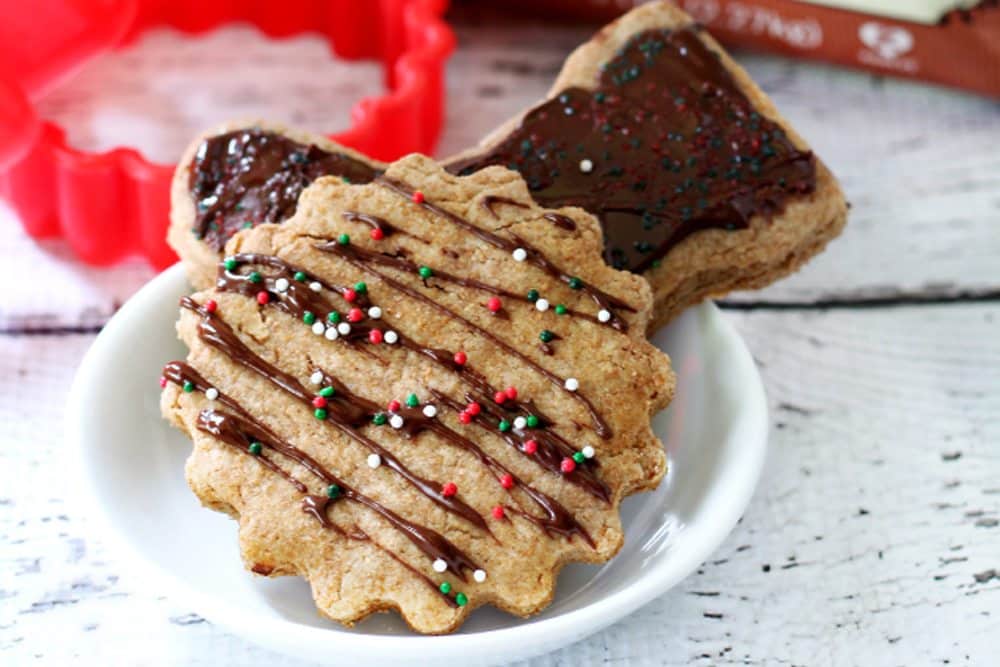 Pancakes
Gluten-Free Cinnamon Apple Pancakes – These delicious, moist pancakes are made with gluten-free baking flour, baking powder and soda, sugar, eggs, unsweetened almond milk, apple cider vinegar, vanilla extract, ground cinnamon, and apple. One pancake equals 90 calories. They also come with 2 grams of fat, 31mg of cholesterol, 67mg of sodium, 18 grams of carbohydrates, 2 grams of dietary fiber, 5 grams of sugar and 3 grams of protein.
Salad
Fresh Corn And Mango Salad – This fresh, tasty salad is a great low calorie snack option if you are not craving a sweet or dessert. It calls for corn, mangoes, yellow bell pepper, orange bell pepper, cherry tomatoes, chili, red onion, cilantro, rice vinegar, lime zest, lime juice and avocado oil or olive oil. One serving equals just under 78 calories, with less than 3 grams of fat, 2 grams of fiber, just over 7 grams of sugar and no cholesterol.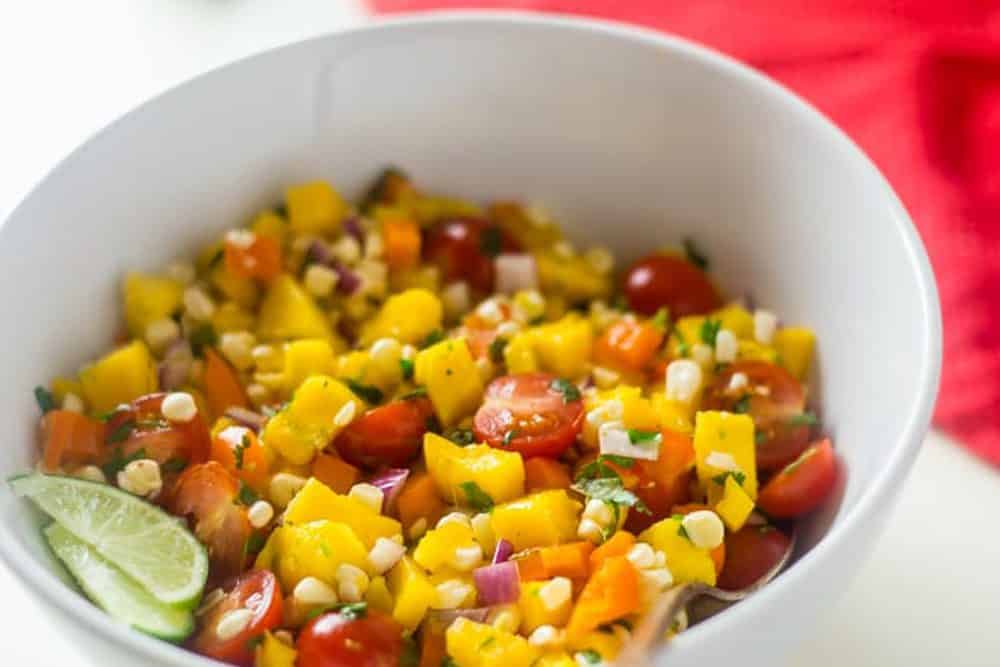 Muffins
Flourless Blueberry Banana Blender Muffins – There's nothing better than blending a batter to save time and dishes! These moist, delicious little bites are made with banana, egg, almond butter, honey, vanilla, baking soda and powder, and blueberries. One muffin comes with 75 calories, no refined sugar, no refined flour and plenty of nutrients!
Brownies & Bites
Pumpkin Pie Fudge – You can't beat fudge for a delicious, indulgent coffee break snack! This one not only has the scrumptious flavor of pumpkin pie, but also comes in at just 93 calories. But be aware that it also comes with a decent kick of sugar, so enjoy in moderation. Other than sugar, the recipe includes butter, evaporated milk, pumpkin puree and corn syrup. Dry ingredients include pumpkin pie spice, white chocolate chips, marshmallow fluff and vanilla.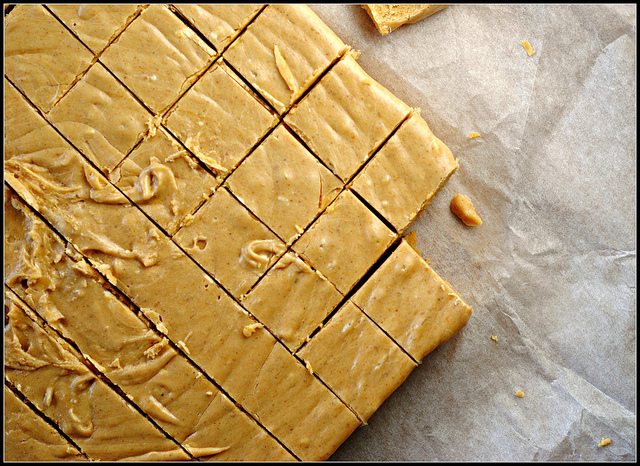 Coconut Rum Energy Balls – These are a fantastic low calorie Christmas option when you are in the mood for a good rum ball! They take just 10 minutes to prepare. The recipe calls for almonds, ground almonds or coconut flour, shredded coconut, protein powder, raisins, rum extract, cinnamon, nut butter, honey or maple syrup and vanilla.
The Ultimate One-Minute Protein Brownie – This delicious, rich but fluffy, protein-packed brownie takes just one minute to whip up. It is naturally gluten-free and can be vegan. One serving comes in at 150 calories, which means you can easily serve yourself a slightly smaller size (it's rich, so you don't need a regular serving size), and bring it down to 100 calories or under! The recipe includes protein powder, coconut flour, sweetener of choice (try stevia powder), baking powder and cocoa powder. It also calls for an egg (or flax egg for vegan option), nut milk (try almond or hazelnut), and dairy-free chocolate chips and peanut butter chips.
Zucchini Brownies – These indulgent-looking brownies are rich, moist and secretly healthy! They are packed full of fiber and other powerful nutrients. The recipe calls for zucchini, brown sugar, unsweetened applesauce, eggs, vanilla and oat flour. Add to that cocoa powder, baking soda and powder and cinnamon, and you're done!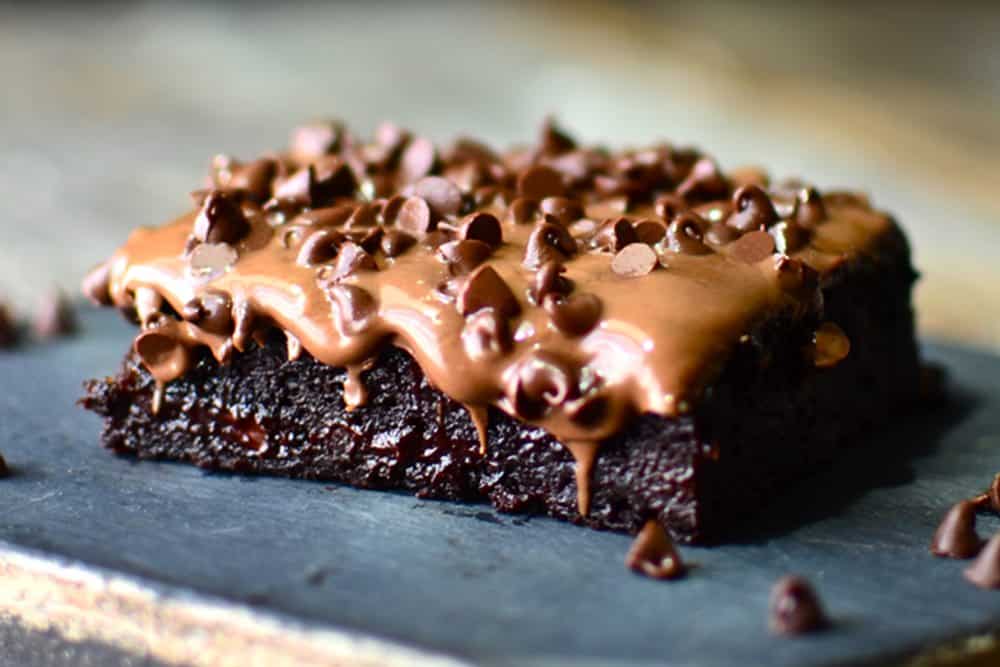 37 Calorie Brownies – Now we're getting serious, with some rich, moist, delicious chocolately brownies that come with just 37 calories! They take less than 30 minutes to prepare. Ingredients include Greek yogurt, milk, cocoa powder and rolled oats. They also call for Truvia (natural stevia-based sweetener), egg and baking powder.
Samoa Banana Bites – Made with bananas, caramel, cocoa powder, coconut oil, agave syrup, coconut flakes and salt, these yummy little snack bites are quick and easy to make. They come with 93 calories, 12.5 grams of carbohydrates, 5.3 grams of fat, 5 grams of protein, 1.8 grams of fiber and 8.7 grams of sugar.
Fruity Treats
Skinny Peach Pie Popsicles – These popsicles are made with peaches, soy milk (or nut milk of your choice) and graham crackers. They make delicious, energizing, cooling post-workout snacks, especially in summer.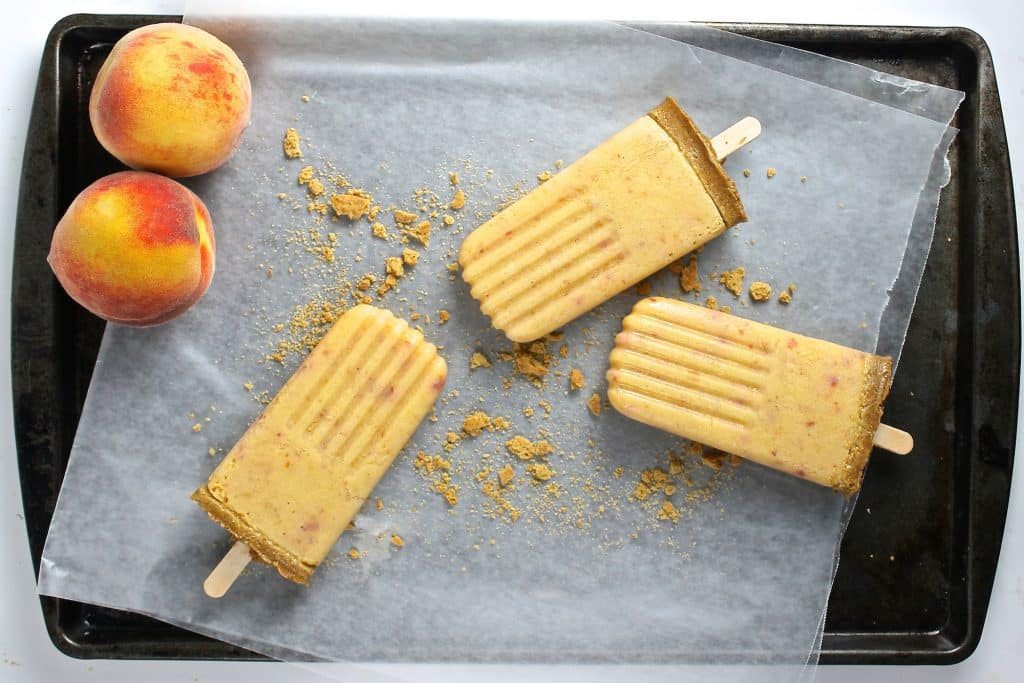 Baked Peaches With Cherries & Pecans – This fancy-looking snack or dessert is enough to impress any dinner guest and comes in at just 70 calories. One serving also has 12 grams of carbohydrates, 11 grams of sugar, 0mg of sodium and 1 gram of protein. However, there are no refined carbs in it, or refined sugar. The recipe calls for peaches, cherries, pecans, cinnamon, nutmeg and honey.
Berry Wine Sherbet – This creative beautifully-colored iced treat is perfect for a hot summer's day. It is quick and easy to whip up (as long as you leave time for it to freeze!). The recipe calls for dry red wine, sugar, fresh blackberries, lemon juice and milk.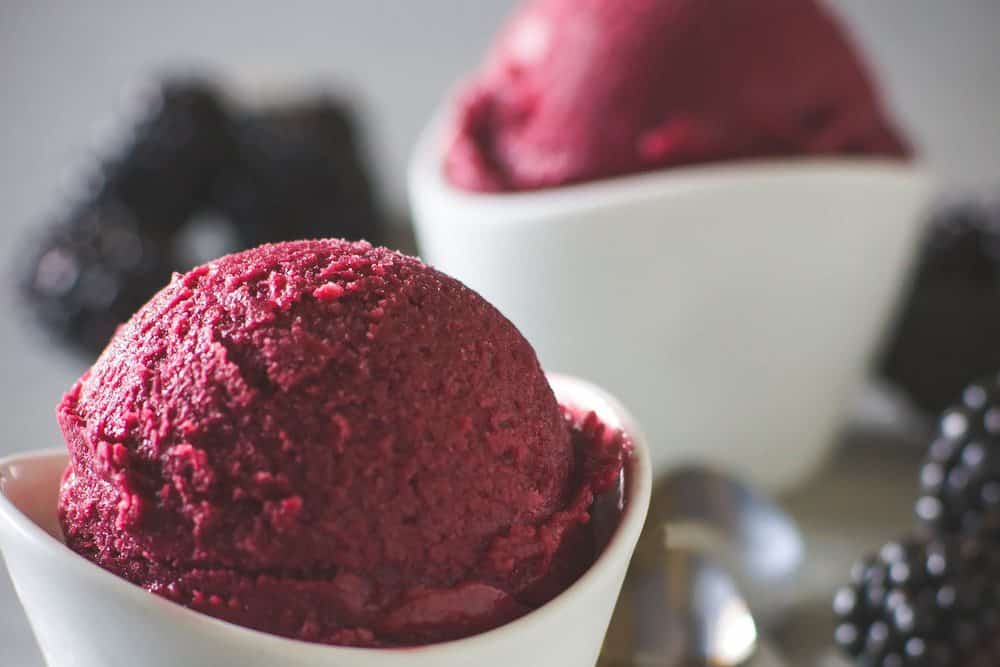 Skinny Tropical Pudding Cups – If you're a fan of tropical-flavored desserts or sweet treats, then these pudding cups are for you! Coming in at 75 calories per serving, with less than 2 grams of fat and 14.5 grams of carbohydrates, they have some light, refreshing ingredients that will satisfy your sweet craving. The cups are made with milk, sugar-free, fat-free instant vanilla pudding mix, coconut extract, rum extract, lime juice, pineapple juice, fat-free whipped topping and chocolate macadamia nut cookies.
Raspberry Cheesecake Popsicles – These pretty popsicles make a delicious dessert-inspired summer treat. They come with just 93 calories each, and plenty of tasty ingredients! The recipe calls for fresh raspberries, water, cream cheese, milk, vanilla extract and sugar.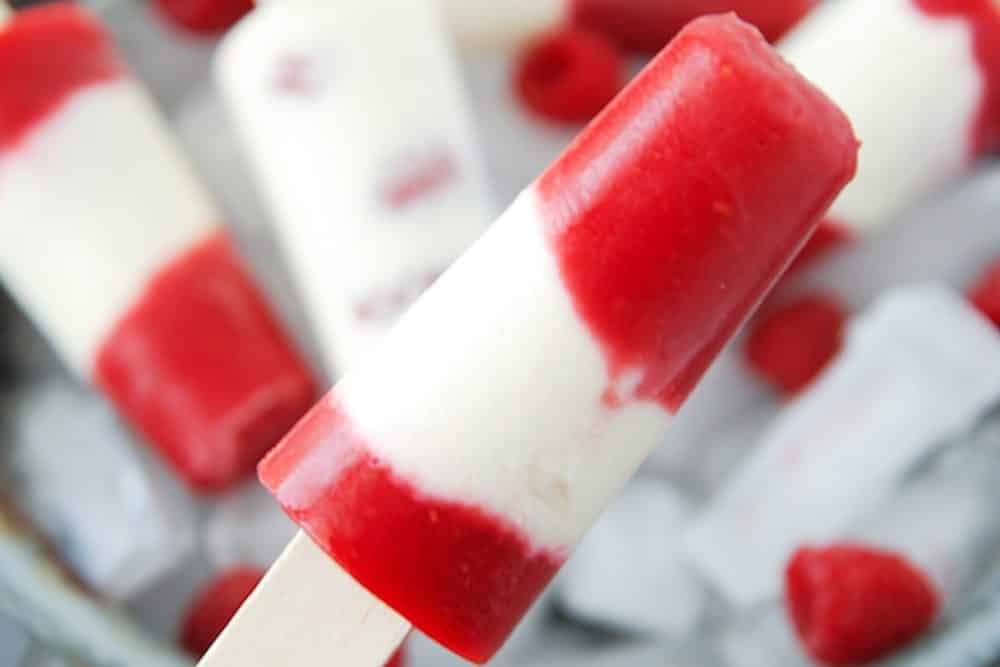 Cakes
Healthy One-Minute Vanilla Cake – This light, fluffy, moist vanilla cake takes just one minute to throw together and microwave! It is low calorie, gluten-free, with vegan, high protein and paleo versions on the blog. Not only that, but if you don't have a microwave, or prefer not to use a microwave, there's an oven version too. The recipe calls for coconut flour, ground almonds, cinnamon, baking powder, granulated sweetener (try stevia), egg white or flax egg, dairy-free milk and sprinkles.
Pumpkin Cake – Dubbed 'single gal' pumpkin cake, this gluten-free, paleo friendly, vegan, refined sugar-free treat can be whipped up in just three minutes. It is made with coconut flour, pumpkin puree, cinnamon, vanilla extract, maple syrup, unsweetened vanilla almond milk, Truvia, and nut butter or coconut butter as frosting. It comes with 86 calories, 3 grams of fat, 12 grams of carbohydrates, 64mg of sodium, 2 grams of sugar and 3 grams of protein.