Big congratulations to avocados because they've reached superfood status! The unique green fruit is rich in beneficial fats, protein, key vitamins, and minerals, making it one of the healthiest foods you can eat. Along with being extremely good for you, avocados are also delicious and versatile. You can throw them on a salad, stuff them with eggs, use them to thicken a smoothie, or whip up some avocado toast.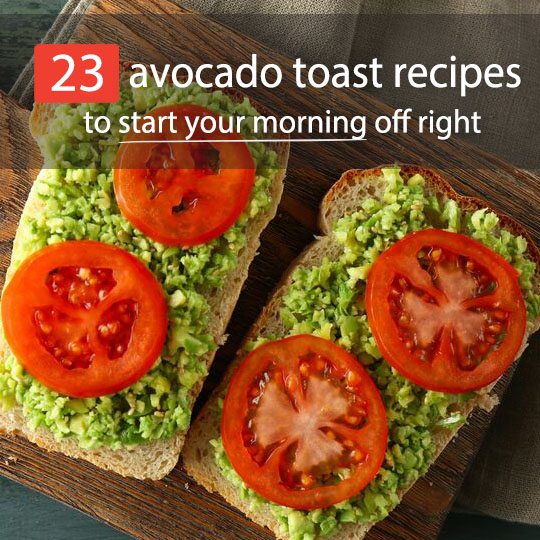 Avocado toast is one of the easiest meals you can throw together in a pinch. It's basically just a slice of bread with avocado mashed on top. The avocado makes a great replacement to butter since it's thick and creamy. Unlike plain toast with butter, though, recipe creators are getting quite creative with their avocado toast recipes. They're transforming simple toast into an entire meal. The following avocado toast recipes are perfect for breakfast or lunch. Worried it won't fill you up, though? Think again! Since they're rich in filling nutrients — like fiber and protein — they're bound to keep you satisfied for hours.
Note: If you follow a gluten-free diet, just swap out the recommended bread in each recipe for a gluten-free slice.
Have you ever tried a Caprese salad? Rather than mixing fresh leafy greens with various veggies, a Caprese salad is made with fresh mozzarella cheese, tomatoes, and basil leaves. Often times, people drizzle a little olive oil and balsamic vinegar on top to enhance the flavor even more. If you're a fan of this Italian-inspired salad, then you must try this Caprese avocado toast recipe! Placed on top of toasted bread and mashed avocado is fresh mozzarella, tomato, basil, lemon juice, vinegar, sea salt, and pepper. The whole thing takes about 10 minutes to throw together and offers you a well-balanced meal.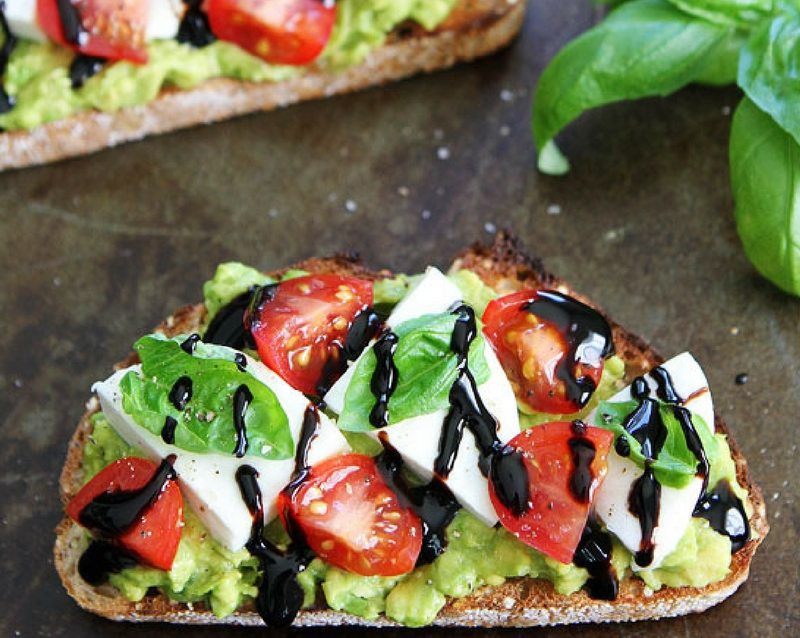 If you like the idea of Caprese toast, but avoid cheese in your diet, then give this recipe a try. It incorporates roasted tomatoes, Italian seasoning, balsamic vinegar, and parsley leaves. The parsley adds a lot in terms of nutritional value since the flavorful herb is packed with antioxidants and essential oils. Historically, parsley has been used as a powerful detox remedy, diuretic, and anti-inflammatory agent. Sure, this recipe doesn't call for a lot of parsley. But that's ok. A little bit of this herb goes a long way!
You can easily throw together a slice or two of avocado toast and top it with scrambled, sunny side, or hard boiled eggs. If you want to turn your toast into a more nutritious omelette, though, you need this recipe in your life. Mixing protein-packed eggs, with vitamin-rich spinach, and juicy tomatoes, this avocado toast recipe is well-balanced and delicious!
Lemons are a powerful detoxing food and kale is high in fiber. Both of these superfoods are used in this avocado toast recipe, making it extremely good for your health. Cumin and radishes are added to enhance the flavor. Plus, a spoonful of chia seeds sprinkled on top bumps up the nutritional value even more.
Chia seeds may be small, but they're nutritionally mighty. They're rich in fiber, Omega-3 fatty acids, protein, vitamins, and minerals such as calcium, phosphorus, potassium, zinc, and magnesium. These nutrients make chia seeds extremely healthy. In fact, researchers say this nutrient-dense superfood can fight free radicals, boost energy, support heart health, support healthy digestion, help build muscle, and aid weight loss. Since chia seeds are tasteless, you can add them to any of the recipes mentioned on this list!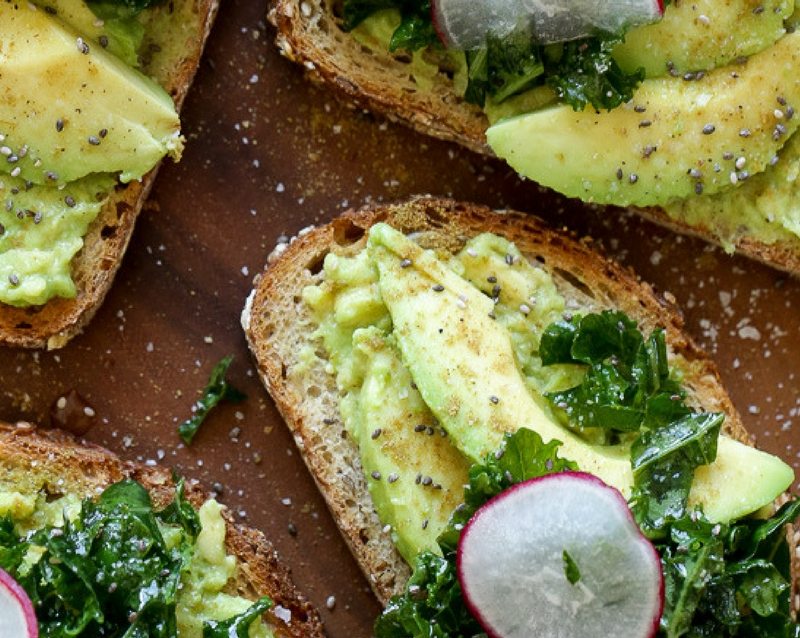 A bagel with lox and cream cheese is perhaps one of my favorite breakfasts. While my taste buds certainly love it, what my waistline thinks about the meal is a different story. If you enjoy the creaminess of the cream cheese and rich flavors of the smoked salmon then this recipe is a great alternative. The avocado works as a healthier, thick and creamy base. No need to replace the smoked salmon since it's already healthy. In fact, the fatty fish is a nutritional powerhouse that's loaded with Omega-3 fatty acids, protein, vitamins, and minerals. Various studies link salmon to improved heart, digestive, and mental health!
The Departments of Agriculture and Health and Human Services recommends people eat nine servings of fruits and veggies every day. That translates to about 2 cups of fruit and 2 1/2 cups of vegetables daily. Now, let me ask you a question: Do you eat that many veggies in a day? Chances are the answer is no! To help bump up your veggie intake, why not incorporate some into your breakfast? In this recipe, laid on top of smashed avocado is a healthy mixture of asparagus and peppers. Put an egg on top to bump up the protein content!
Whenever I see a recipe with artichokes in it, I immediately think of delicious and creamy spinach and artichoke dip. It's oh-so-good but oh-so-not-healthy! If you enjoy artichokes, though, this dish is a must try. It has avocado, garlic, scallions, radishes, hemp seeds, and artichoke. While the recipe creator didn't add any spinach into this recipe, if you are a fan of the popular appetizer then you may enjoy some sautéed spinach with this meal too! Get creative and play around to make this dish your own.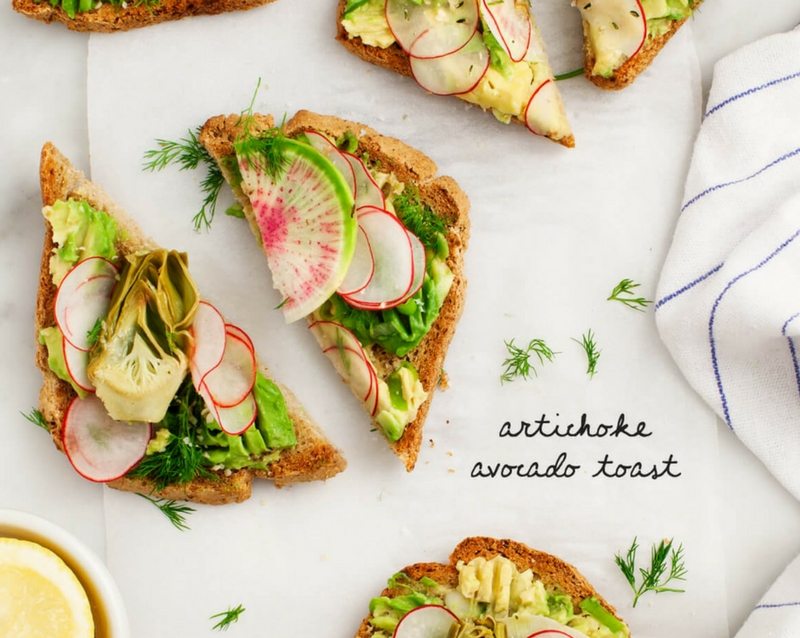 Talk about flavor! This dish is loaded with spices that are bound to make your taste buds dance! Plus, the cumin offers many health benefits such as improved digestion and boosted immunity. Try this for a light lunch or nourishing afternoon snack.
This avocado toast is very different than the others mentioned on this list. If you enjoy a sweet treat for breakfast, this is perfect! First, Greek yogurt is layered on top of a slice of bread. Then, there's a layer of sliced avocado. The whole thing is topped with a drizzle of honey. Sounds delicious, right? Well, the taste is not the only benefit to this dish. Let's break down the benefits.
Greek yogurt is full of healthy fats, protein, and probiotics. In case you're unfamiliar with probiotics, they're friendly bacteria that help keep our gut healthy (a healthy gut is essential for a healthy you)!
Honey is a wonderful natural sweetener that is loaded with vitamins. Please note, when selecting your honey always opt for one that says raw and organic. Most of the honey that lines the shelves of your local grocery stores are altered — sugar is added and the beneficial nutrients are destroyed. You want to buy unrefined honey — one that's found at your local farmers market.
As you bite into this toast, close your eyes and pretend you are sitting next to the ocean. The blend of flavors is perfect for summer! The recipe creator mixes fatty avocado with protein-packed lobster, metabolism-boosting jalapeno peppers, detoxing lemon juice, and a little olive oil. Yummy!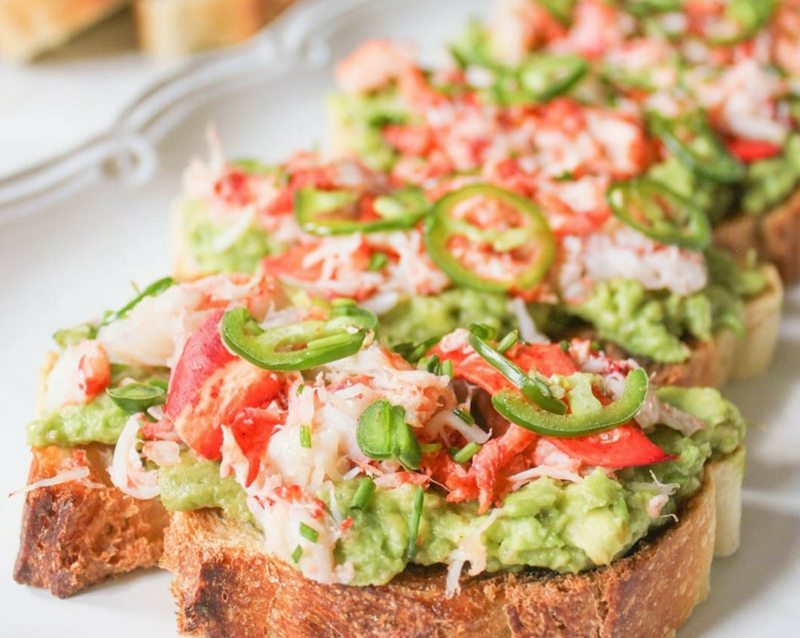 More jalapenos! Have you ever tried a jalapeno popper (it's a jalapeno pepper that's stuffed with cheese and coated with breadcrumbs)? If you're a fan of the Mexican-inspired appetizer then you're going to love this recipe. You will use the same ingredients, but there is no need to fry or bake! This meal takes about 10 minutes to prepare and will leave you satisfied for hours.
Protein, healthy fats, and fiber — this dish has it all. If you don't have turkey on hand, you can always swap it out for wholesome chicken breast instead.
Buffalo wings are fun to eat, but often times leave you feeling bloated and sluggish. Plus, not everyone's diet allows them to eat chicken. That's where this recipe comes in. Piled on top of the bread and mashed avocado is a layer of cauliflower florets coated with buffalo sauce. It's super healthy, incredibly delicious, and amazingly simple to make.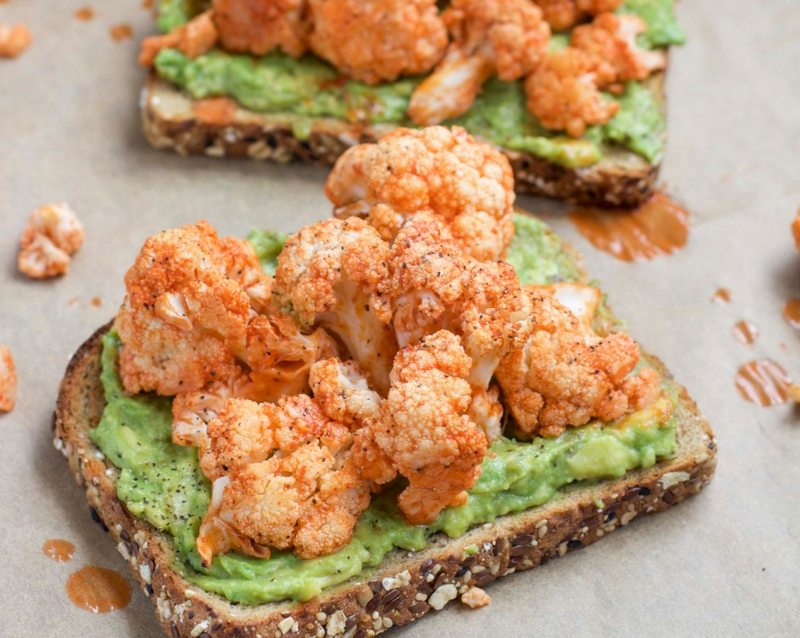 This recipe is simply bread, avocado, and black beans. Since black beans are rich in fiber and protein (39 grams in one cup), this meal is very filling and weight-loss friendly.
Not only is this dish high in protein and fiber, it's also hydrating. Did you know that cucumbers are 96 percent water? This popular summer vegetable has the highest water content of any solid food, meaning it can help keep you hydrated when you're doing outdoor activities under the strong sunshine. After taking a look at a cucumber's nutritional value, though, you'll definitely want to add them to your diet year-round. Cucumbers are loaded with vitamin C, K, and B. They also contain minerals such as copper, potassium, and manganese. For this reason, cucumbers can also help you to avoid nutrient deficiencies! This recipe is an all around winner.
Avocados, asparagus, and peas — this recipe is filled with a lot of green goodness. Not only do the flavors blend together well, all of the ingredients used in this dish are loaded with good-for-you nutrients that benefit total-body health.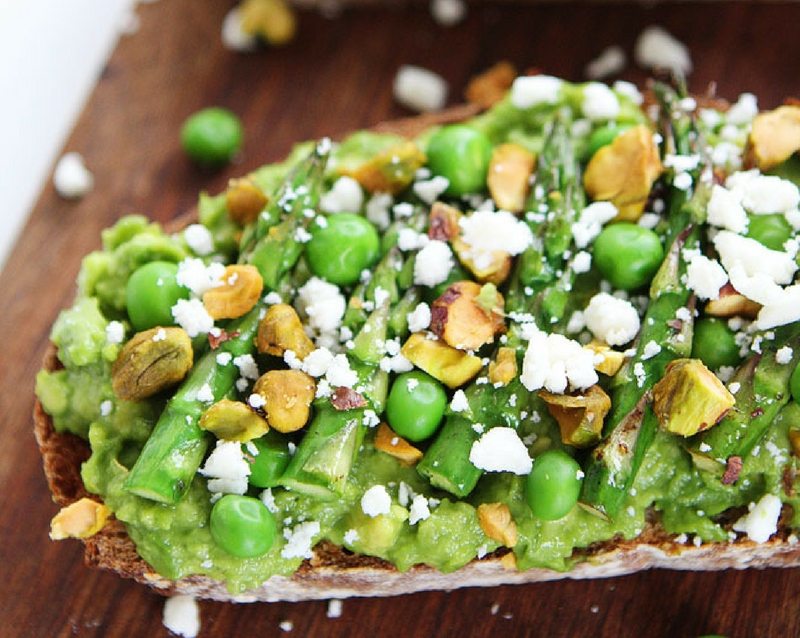 This is a great Fall recipe. It mixes creamy avocado with juicy pomegranate seeds. Plus, the recipe creator also adds hemp seeds for extra nutrients and red pepper flakes to bump the flavor up a notch.
Mangos have been known to lower high blood sugar levels, fight cancer, improve immunity, relieve constipation, and boost brain health (just to name a few benefits). In this recipe, the beneficial fruit is paired with radicchio, which is sort of like cabbage. It adds a nice crunch to the dish. Overall, this recipe is a bit sweet, a bit savory, and a whole lot of healthy!
This Japanese-inspired avocado toast recipe tastes somewhat like sushi! A nori wrap placed on top of bread and topped with baby arugula and avocado. Bump up the Omega-3s and protein content by adding some fresh fish.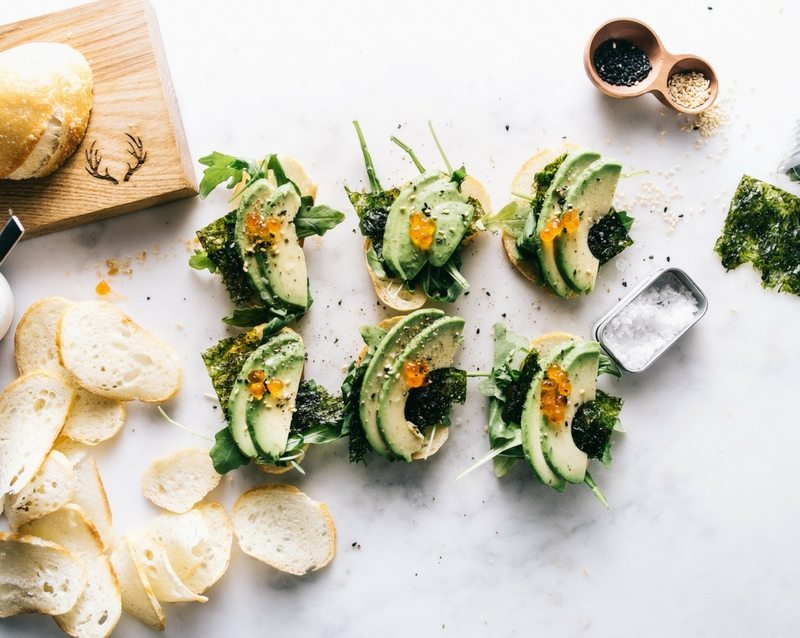 If you follow the Paleo Diet, that means your plate is filled with fruits, vegetables, lean meats, seafood, and nuts. You avoid boxed and bagged "fake foods." You also stay away from grains and dairy. It's all about eating unprocessed foods straight from the Earth, just like our ancestors did. In other words – no bread. But that doesn't have to mean – no avocado toast! In this recipe, bread is replaced by a thick slice of sweet potato and then covered in avocado and seeds. Not only are sweet potatoes delicious, they're packed with potassium, vitamin A, vitamin C, vitamin B6, and fiber. They rank much lower on the glycemic index than regular potatoes. Plus, they're naturally gluten-free!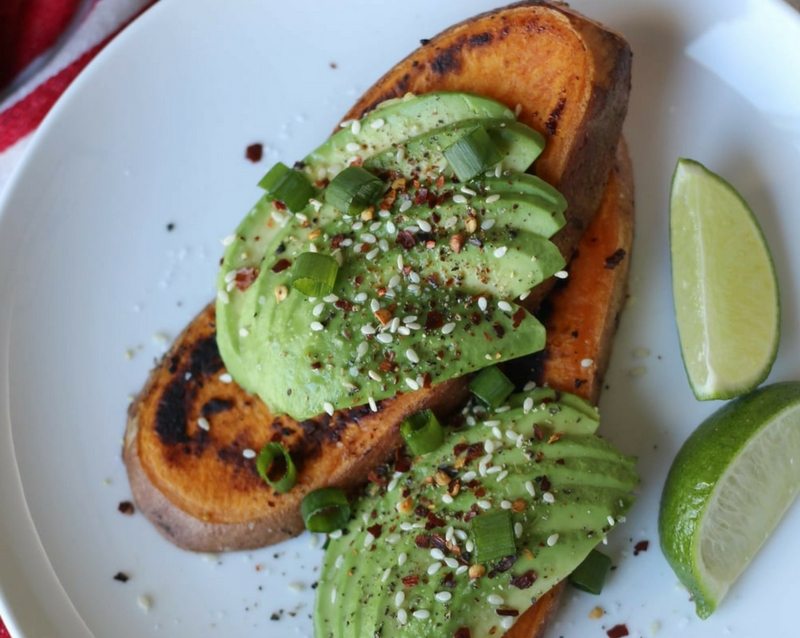 Avocado, walnuts, pears, and gorgonzola cheese drizzled with honey – doesn't that sound amazing?! The flavors of this dish are rather addicting. But, don't worry! Since all of the ingredients are healthy, there's no reason not to indulge in two slices!
Ditch the mayo and butter in this recipe and you have yourself a healthy and delicious Mexican-inspired meal! The bread is first covered with a mixture of avocado, jalapeno, green onion, cilantro, lime juice, salt, and pepper. Then, it's covered with a heaping pile of corn. This dish could get a bit messy to eat, but your taste buds will certainly be doing a little salsa dance!
Rather than a BLT, you can refer to this recipe as a BBAT. That stands for bacon, bruschetta, avocado, and tomato! As if those flavors aren't prominent enough, the recipe also calls for olive oil and balsamic vinegar drizzled on top. To make this dish healthier, opt for low-fat turkey bacon!