Do you love throwing dinner parties for your close friends and family? Perhaps you've never been a host before and a special occasion is quickly approaching. Whatever the case may be, when feeding guests, it's important to consider everyone's dietary needs. Some of your diners may avoid meat or dairy. Other's may stay away from gluten. That's a pretty common one today. Over the last few years, the demand for gluten-free foods has skyrocketed. In fact, an estimated one in five Americans actively tries to include gluten-free foods in their diet. For some, eating gluten-free is a medical necessity. For others, it's viewed as a ticket to better digestion and possibly weight loss. If you're serving gluten-free diners, and you're in search of some delicious new appetizer ideas, you've come to the right place. We've got you covered!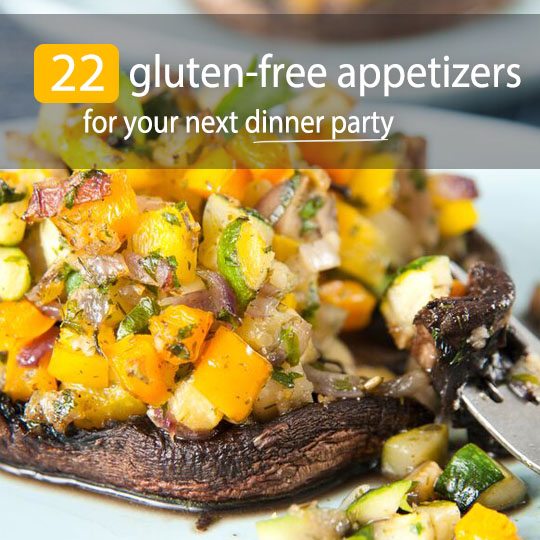 DIPS
Nothing says party appetizer quite like chips and dip. It's easy to throw together and it satisfies people's craving to crunch on something. Rather than buying a store-bought dip that's loaded with added sugar, unhealthy fats, and other food additives you're better off avoiding, why not take a few minutes to whip up something homemade? It will be way healthier and your guests will be able to tell the difference in quality.
When serving these appetizers to your party guests, remember that you can easily swap regular greasy chips for gluten-free tortillas, homemade sweet potato fries, or veggie sticks.
Hummus is extremely delicious and nutritious. Plus, you may be surprised how easy it is to make. All you have to do is throw a few ingredients in a blender and voilá – you have yourself a tasty dip! So what the heck is in it? Well, the main ingredients are chickpeas and Tahini, an oily Middle Eastern paste made from ground sesame seeds. Tahini is loaded with dietary fiber, phytonutrients, and essential fats. But that's not the only beneficial ingredient included in this recipe. Detoxing lemons and cancer-fighting garlic are also used to bump up the flavor. If you want to make regular hummus, that's really all you'll need. This particular recipe uses sun dried tomatoes, though, to transform plain hummus into something more gourmet.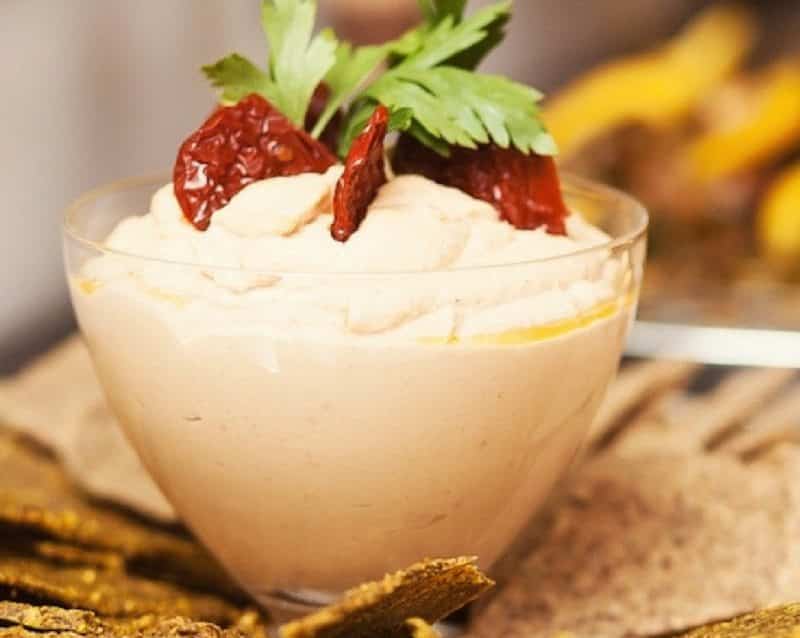 This dish has a similar taste and texture to hummus, but the base is white beans. Beans, in general, are a great source of fiber and protein. So don't eat too much of this appetizer or you'll be too full to dig into the main course meal! Along with lemons and garlic, this dish also incorporates fresh rosemary for added flavor. This herb has both antibacterial and antioxidant properties, making it beneficial for more than just its pleasant taste.
Guacamole is full of flavor, healthy fats, protein, vitamins, and minerals. That's thanks to the main ingredient — avocados. This unique green fruit is linked to improved heart health, lower cholesterol levels, digestive health, and eye health. They're also said to aid weight loss and fight cancer. Watch this video to see how you can make a guacamole super flavorful and chunky!
There are a bunch of ways you can jazz up traditional guacamole to make it fit your taste preferences. In this recipe, the creator added vitamin-rich kale and protein-packed Greek yogurt to avocados and a few other mix-ins. If you don't have kale on hand, you can use fiber-filled spinach leaves instead. Or, why not add both? Yum!
Speaking of avocado, there are many different ways you can incorporate this unique green fruit into a healthy dip. This particular recipe mixes creamy avocado with starchy corn, high-fiber black beans, and gut-friendly onions. If you want to add some tang to this dip, squeeze in some fresh limes!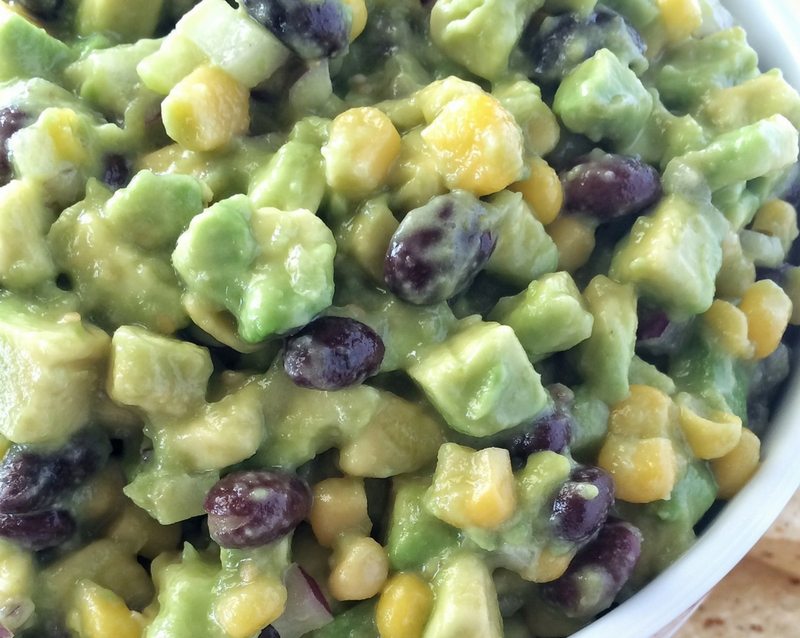 I think it's pretty safe to say that we've all tried regular red salsa before. But have you ever whipped up a serving of mango salsa? Mixing mangos, jalapeno peppers, and olive oil, this naturally gluten-free appetizer is both sweet and savory. Plus, it's loaded with antioxidants that help boost the immune system and ward off cancer. If you prefer to use fresh mangos, make this dish when they're in season. The exact time of year depends on where you live! If you don't mind using frozen mangos, though, that's perfectly fine.
Who doesn't enjoy an Italian-inspired Caprese salad? Unlike a traditional leafy green salad, a Caprese salad uses slices of fresh mozzarella cheese, tomatoes, and basil. Top the whole thing off with a little balsamic vinegar, oil, salt, and pepper. If you're a fan of the salad then you are going to love this dip. Mozzarella cheese, cherry tomatoes, and basil pesto are baked in the oven until the cheese is melted and bubbling. Are you drooling yet? Serve this gluten-free appetizer with some celery sticks (or just a spoon)!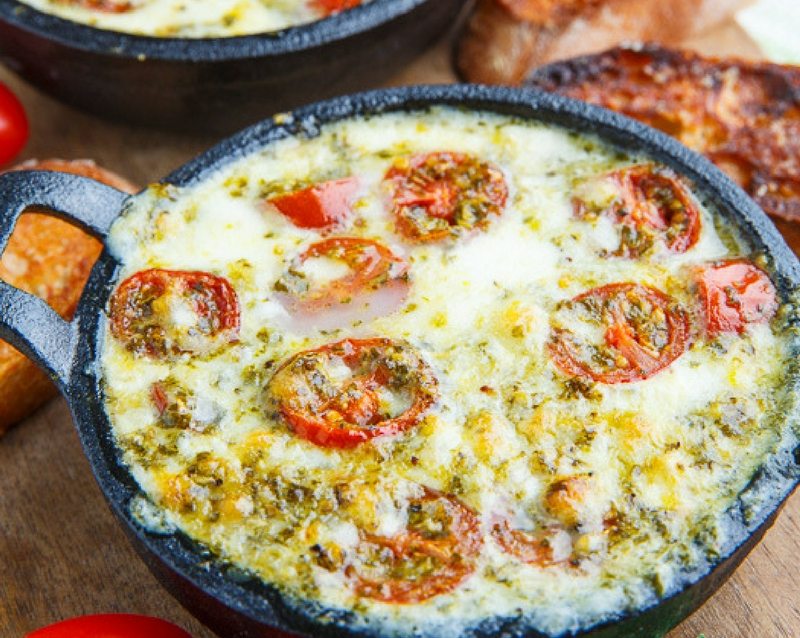 Traditional ranch dip is delicious, but it's far from healthy. It's loaded with unhealthy fat and leaves you feeling guilty after too many bites. If you're looking for a healthier alternative, this is the perfect recipe for you! The base is thick, creamy, and protein-packed Greek yogurt. Nothing to feel guilty about there. In fact, Greek yogurt is actually great for your gut since it contains live cultures (AKA probiotics). To transform plain Greek yogurt into ranch dip, all you have to do is mix in a bunch of different herbs and spices. It takes less than five minutes to whip up and will leave your taste buds satisfied!
If you're hosting a sports watch party then buffalo chicken dip is a must have. Something about hot sauce just puts you in the football, basketball (or whatever you're watching) mood, don't you think? Much like ranch dip, the traditional buffalo chicken dip recipe is far from healthy. Enter this skinny version! Rather than cream cheese, the base is Greek yogurt, hot sauce, and shredded chicken. While this recipe calls for crumbled blue cheese, you can make the dish even healthier by simply leaving it out!
This naturally gluten-free appetizer recipe just makes you feel warm inside. It's perfect for the colder months. The base is creamy butternut squash, which is then mixed with a little cheese, olive oil, garlic, and cayenne pepper. Did you know that cayenne pepper helps to rev the metabolism?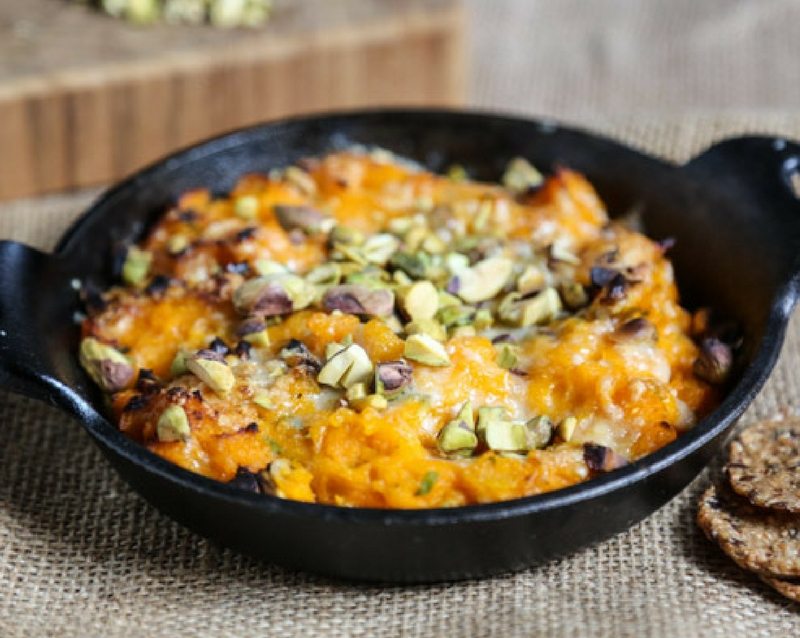 When you go out to eat at a restaurant, do you skim the appetizer menu for spinach and artichoke dip? I'm totally guilty of that! It's so creamy and delicious. But most people assume that it's healthy because of the two name ingredients — spinach and artichoke. Sure, these veggies are beneficial to your health, but not when they're drenched in fatty, processed cheese. While this recipe does still call for low-fat cream cheese, it replaces half the unhealthy fat with creamy Greek yogurt. If you enjoy spinach and artichoke dip then this is a great alternative!
---
FINGER FOODS
Along with dips, it's fun to have finger foods at a dinner party. Pop these on pretty plates and let your guests graze while they chit chat and wait for the main dinner course to be served. While the following recipes are rather eclectic, there's a little something to accompany any type of food.
Throwing a Mexican fiesta? These mini taco stuffed peppers are a great way to get your guests in the mood. Rather than using a gluten-filled taco shell, this recipe uses vitamin-packed mini bell peppers as the shell. You can follow the recipe as is and stuff your peppers with ground beef, or you can use ground turkey or chicken. To make this dish a bit healthier, ditch the canola oil. The recipe creator uses oil to coat her skillet before cooking the ground beef, however, since moisture is released from beef as it cooks there is really no reason to use oil at all.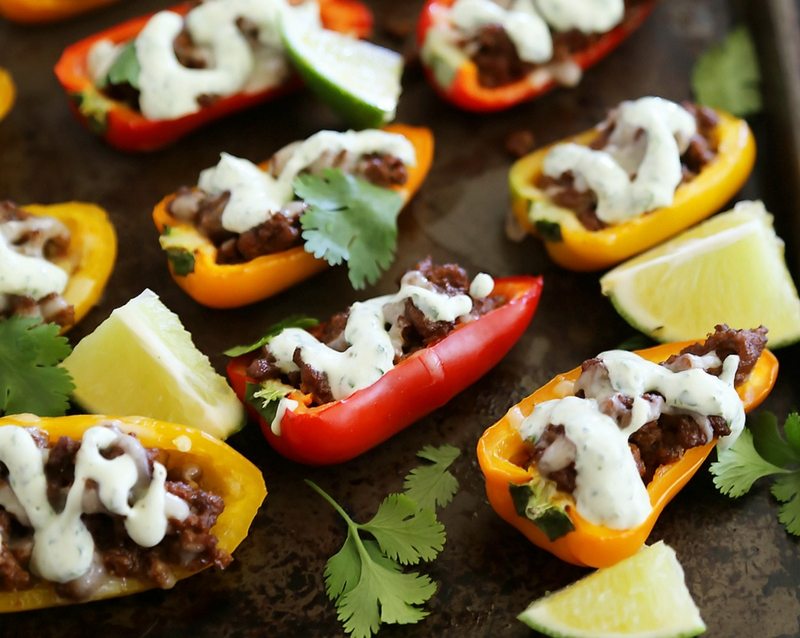 If you like to get creative with simple recipes then you are going to have some fun with this one. Rather than using rice paper rolls for the wrap, this recipe has you whip up your own wrap from scratch. It's made out of dehydrated mangos, avocado, and cilantro. Inside, a homemade almond sauce that features various super foods – such as garlic, lemons, and ginger – is paired with a mixture of veggies. This recipe is 100 percent delicious and 100 percent healthy!
Your guests are sure to be wowed by these homemade rice-less salmon sushi rolls. Inside are various veggies and salmon. The protein is then wrapped in seaweed paper (AKA nori) and rice paper. Once this dish is cooked, the rice paper gets a bit crunchy, making it extremely satisfying. Along with being a fun appetizer to eat, it's also extremely good for you. The salmon is rich in Omega-3 fatty acids, which have been linked to improved heart health, digestion, and brain function.
These mini gluten-free pizza bites are perfect for a Superbowl party or casual dinner event. They're also a cinch to whip up. Unlike many gluten-free pizza crusts, the crust in this recipe is just made from gluten-free bread. After you roll a slice of bread as flat as it can possibly get, stuff it into a mini muffin tin and fill with sauce and cheese. After 15 minutes in the oven, these bad boys are ready to be served.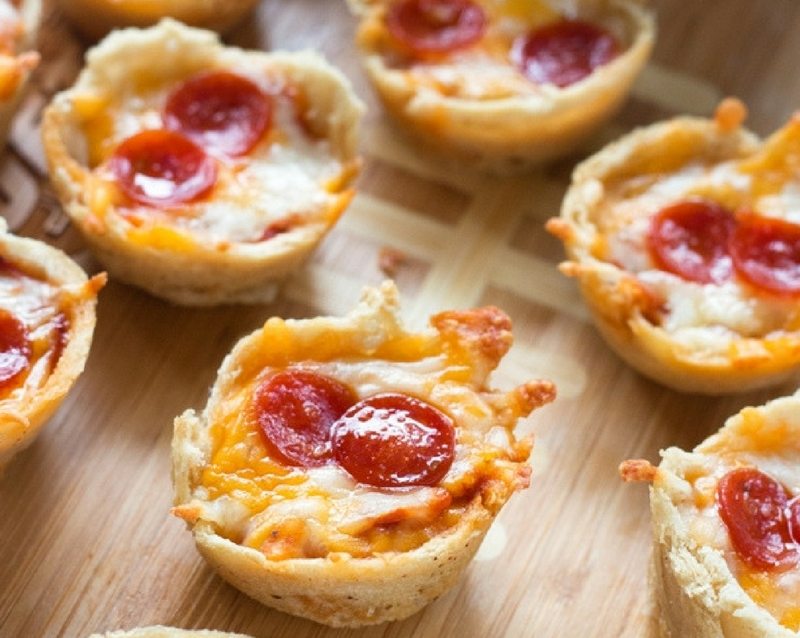 Earlier in this article, I linked to a hot Caprese dip. If you are really in a pinch for time, or would just prefer a chilled appetizer, why not make these Caprese pops? I make these for guests all the time and they are always a big hit. Just put a mini mozzarella cheese ball, cherry tomato, and one basil leaf on a toothpick or skewer and serve. It doesn't get any easier than this.
Who said French fries only works as a side dish? These healthier fries make a wonderful appetizer since they won't fill you up and are sort of like a salad disguised as a fry. As the name implies, these fries are made out of vitamin-rich zucchini rather than a starchy potato. They're also coated with Parmesan cheese and serve well alongside a dipping sauce. Serve these with one of the dips mentioned above or just place them around a bowl of Italian dressing or marinara sauce.
This dish is perfect for a family gathering during the winter time. The fusion of garlic, rosemary, and mushroom flavors make this appetizer perfect for warming up your insides on a cold day. It just has a homey flavor. Along with being yummy, it's loaded with various vitamins and minerals that benefit the body in more ways than one.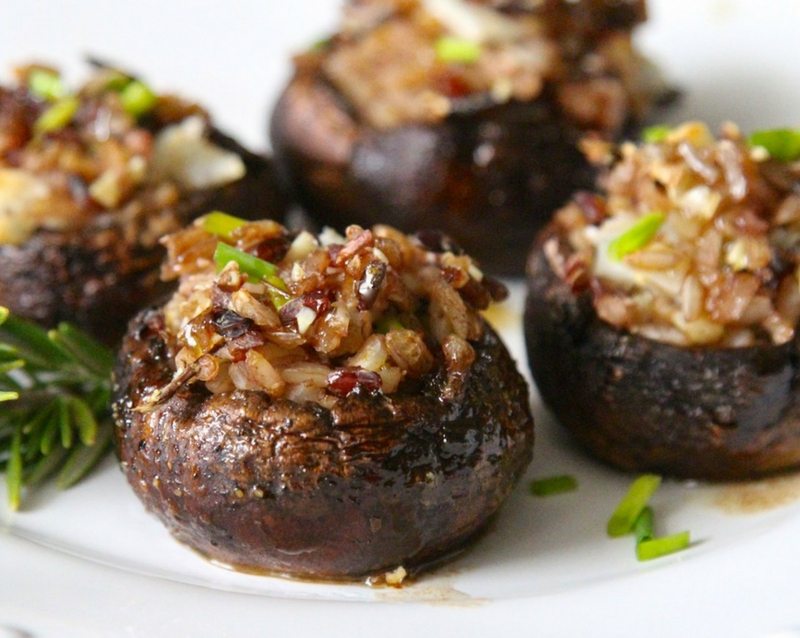 This appetizer will take you about five minutes to throw together and is sure to please your diners. Simply slice a cucumber into thin rounds and top them with a small helping of smoked salmon. Enhance the flavor with a few capers and fresh dill. This gluten-free appetizer is hydrating thanks to the cucumber, and great for your heart thanks to the smoked salmon.
More fun fries! This time around the base is creamy avocado. The unique green fruit is rich in beneficial fats, protein, key vitamins, and minerals, making it one of the healthiest foods you can eat. Along with being extremely good for you, avocados are also delicious and versatile. Bet you never thought to turn them into fries, have you?! To keep the coating gluten-free, the recipe creator used chickpea flour as the coating.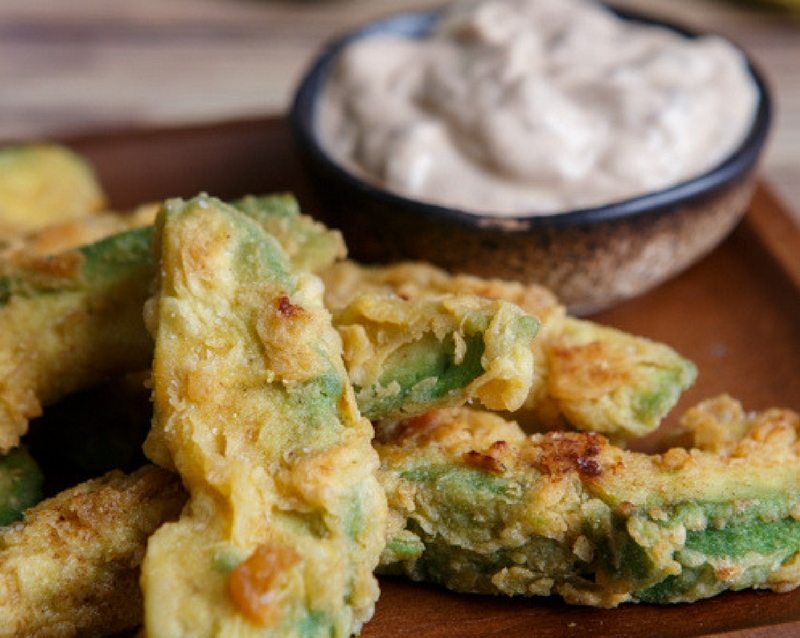 Wine and cheese, anyone? This certainly isn't a low-fat appetizer option, but it's still better than fried fake foods. Plus, did I mention it's delicious? Creamy brie cheese fills a gluten-free pie crust. Then, the whole thing is topped off with blueberry jam and blackberries. While the brie cheese may not be the most waist-line friendly, the berries are loaded with antioxidants.
These cucumber avocado rolls sort of look like sushi, but they don't have any rice or fish. First, you slice a cucumber into thin, long strips. Then, you mash an avocado on one side of the cucumber (think of avocado toast here). Lastly, roll the cucumber into a sushi-like roll. Viola! It's fun, simple, and healthy. To bump up the flavor, the recipe creator added a little garlic to the avocado and then sprinkled paprika on top of the appetizer.
---
Enjoy!