Workday lunches are one of the hardest meals to figure out, don't you think? You need to find a meal that will boost your energy, satisfy your taste buds, and won't take too much time to scarf down (after all, you can't miss that afternoon work meeting you've been dreading since last week). Sometimes we turn to greasy, processed fast food because it's convenient. Other times, we'll stop by a restaurant in an attempt to eat something more nutritious. Regardless, you're still wasting money on food you probably didn't even want in the first place. Instead of going through the hassle of finding a mediocre meal, why not pack a lunch? Check out these 20 quick and healthy lunch ideas for work!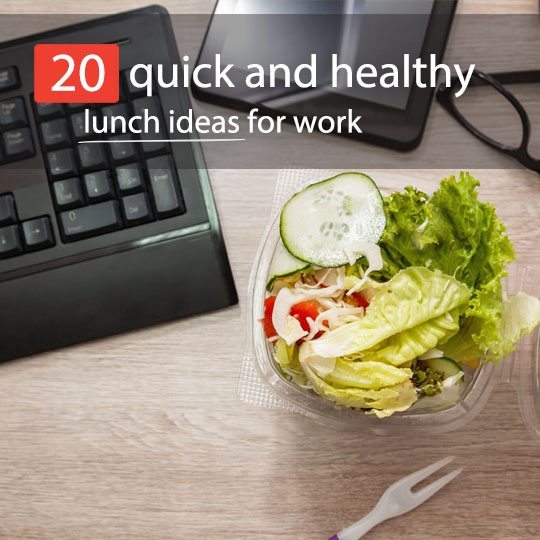 Salad Jars
Packing a to-go salad in a jar is always a great idea. They're easy to throw together on a Sunday afternoon and put away for the rest of the work week. They're healthy, delicious, and beautiful! Plus, you can easily customize them to fit your taste buds. Here are some fun salad jar ideas: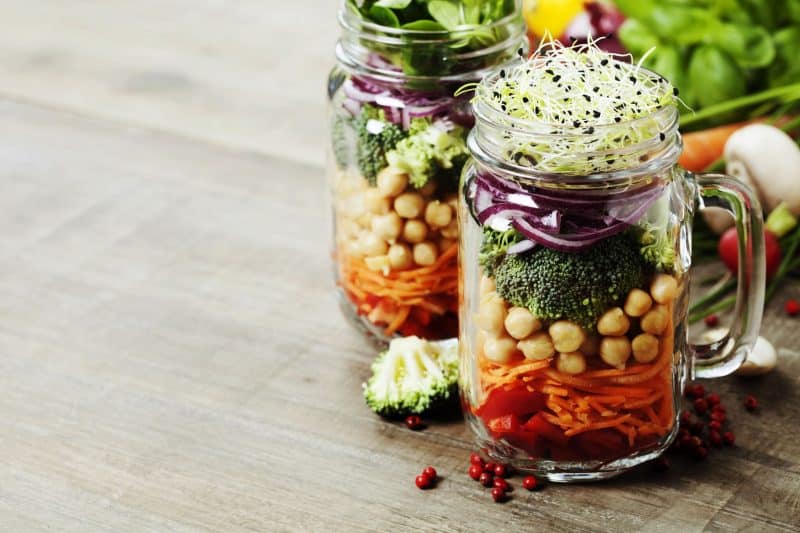 Quinoa Salad Jar – This recipe is jam packed with protein thanks to a hearty serving of cooked quinoa. Did you know there are a whopping 8 grams of protein in just one cup of quinoa? The ancient seed is also high in fiber and magnesium! Along with quinoa, this recipe also calls for plenty of detoxing vegetables and a healthy homemade dressing that only takes a few minutes to whip up!
Buffalo Chicken Salad Jar – Indulging in a big plate of buffalo wings is certainly fun, but all that grease and fat can leave you feeling bloated and sluggish. That is definitely not a feeling you want to deal with in the middle of a work day. Don't you agree? If you still want to enjoy the flavor of wings, though, make one of these buffalo chicken salad jars! The combination of buffalo sauce-coated chicken, blue cheese, and celery is sure to make your taste buds happy. You can easily make this recipe even healthier by ditching the blue cheese.
Taco Salad Jar – Craving Mexican food? This taco salad jar will hit the spot. It has everything a real taco does — salsa, lettuce, tomatoes, black beans, meat, and cheese. Ditch the processed taco shell and chips, though, and you've instantly created a healthified Mexican meal that will keep you full for hours.
7 Layer Bean Salad – This salad doesn't have any lettuce or leafy greens, however, it's still extremely healthy and filling. Simply add the dressing and layer your different types of beans and peppers. This salad jar is loaded with protein and dietary fiber, which means it's great for your digestive health and can help aid weight loss.
Strawberry Spinach Mason Jar Salad with Citrus Poppy Seed Dressing – Protein, healthy fats, and antioxidants – this salad jar has it all. It's loaded with roasted asparagus, grilled chicken, crunchy cucumber slices, avocado, red onion, toasted almond slivers and a citrus poppy seed dressing. Not only will the nutrients leave you with a boost of energy, it's delicious.
*Get creative and play around with what ingredients you add to your salad jar. Check out this quick video for 6 tips to making the best salad jar:
---
Stir-Fry
Stir-frying is a quick cooking method where meats and vegetables are seared over a high heat. It requires little oil, doesn't take much time to cook, and it's typically loaded with vegetables. Make your stir-fry on Sunday and store in an airtight container for when you're ready to enjoy!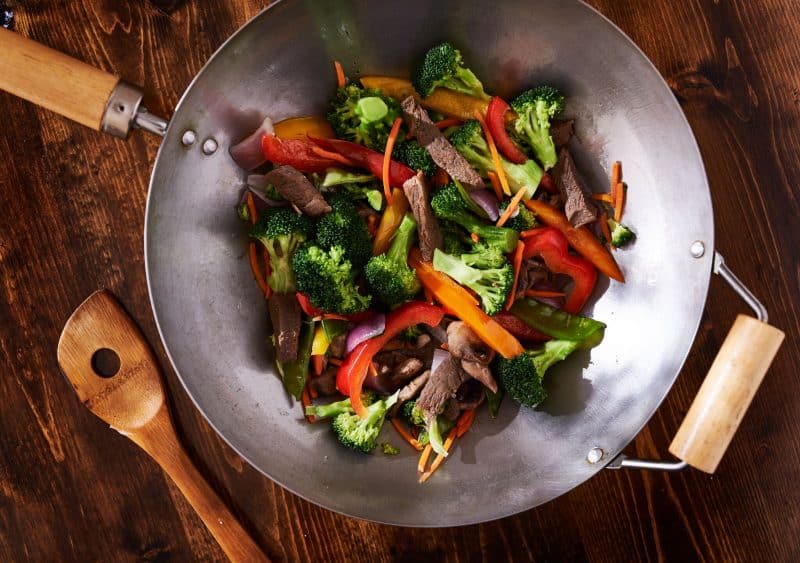 Shrimp and Broccoli Stir-Fry – This dish calls for detoxing green beans, vitamin C packed broccoli, and protein filled shrimp (there are 24 grams of protein in every 100 gram serving). It's also flavored with ginger, one of the healthiest spices on the planet. Along with aiding digestion, ginger has cancer-fighting properties. Sounds good to me! If you want to make this dish Paleo-friendly, simply use coconut aminos in place of the miso, and apple cider vinegar rather than rice wine vinegar.
Asian Zucchini Stir Fry Noodles – This dish is the ultimate takeout fake-out! The sauce tastes just like a healthier version of the one served at your local Chinese restaurant. The biggest difference is this recipe ditches the rice noodles and uses zucchini noodles instead. Making this swap means you're slashing calories and increasing nutrients! Overall, this meal is incredibly healthy and incredibly delicious.
One-Skillet Chicken and Broccoli Dinner – Another great thing about making stir-fries is you only have to use one pot to make an entire meal, which makes clean-up quick and easy (after all, who has time to wash a gazillion dishes)! To make this dish, simply toss some chicken and broccoli florets into a pan with some olive oil and spices. In just a few minutes you'll be left with a protein-packed dish that will keep you full until dinner time.
Cauliflower Rice Stir Fry – Have you tried cauliflower rice yet? If not, you're missing out! This stir-fry looks like rice and has the same texture as rice, but is really nothing more than a plate of healthy vegetables! This stir-fry has only 57 calories and 3 grams of carbohydrates per each one cup serving (so feel free to pack two servings)!
Skinny Quinoa Stir Fry – This vegetarian meal is high in fiber, protein, vitamins, minerals, and antioxidants! That's thanks to the quinoa and various veggies. This particular recipe yields six servings so just a few minutes of cooking will offer you several meals!
---
Lettuce Wraps
Wraps are easy to throw together, cover in some foil, and take to the office. While you can easily use a whole wheat wrap, why not slash the calories in half and use a lettuce leaf to wrap all of your add-ins instead? If you don't have time to make the individual wraps in the morning, just pack the stuffing in an airtight container and bring along a few pieces of lettuce.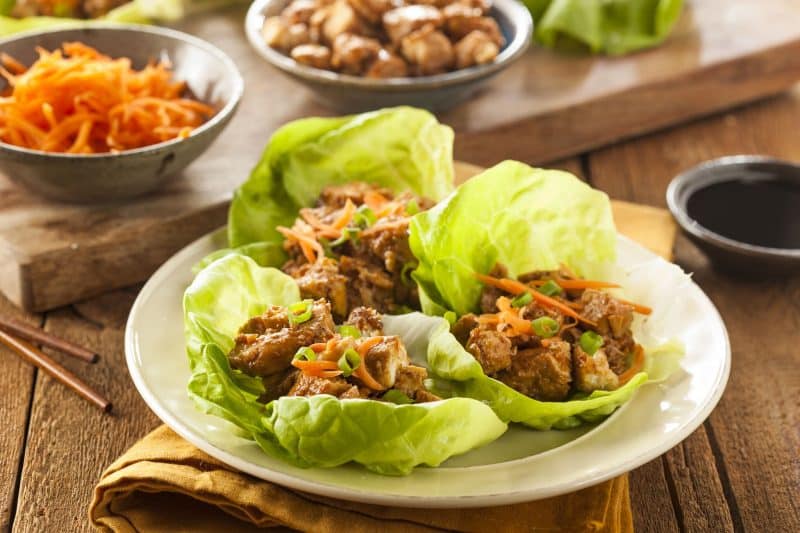 Healthy Thai Chicken Lettuce Wraps – Carrots, cucumbers, bell peppers, and grilled chicken wrapped in lettuce and smothered in a sweet chili sauce and Sriracha — doesn't that sound delicious? A quick health tip – red bell peppers are loaded with vitamin C and contain more nutrients than the green ones. So opt for red peppers! While this recipe uses soy sauce, you can simply swap it out for gluten-free Tamari (if you follow a gluten-free diet).
Turkey and Cucumber Lettuce Wraps – Along with protein-packed sliced turkey and hydrating cucumbers, this wrap also has hummus and paprika (which really kicks the flavor up a notch). Additionally, by simply adding hummus to your wrap, you are immediately bumping up the nutritional value. It offers healthy fats, protein, and potassium.
Turkey Lettuce Wraps – If you're a fan of P.F. Changs' famous lettuce wraps then you will love these. While they're way healthier than the restaurant classic, the flavor is just as insane. This recipe calls for ground turkey, but you can also use ground chicken or ground beef if you prefer. You can also throw in some chopped shiitake mushrooms for added texture and flavor!
Sesame Salmon Lettuce Wraps – This dish features soft, flavorful salmon wrapped in lettuce and topped with a sweet, savory sauce. If you like fish then this is one of the healthiest meals you can make. Salmon is rich in Omega-3 fatty acids that benefit heart health and brain health. What's better than a little extra brain power when you're sitting at your desk trying to finish up your day's work? This meal is also rich in protein to help keep you feeling full throughout the second half of your workday. It's just a great dish all around!
Vegan Lentil Lettuce Cups – If you follow a vegan diet then it's extra important to make meals that offer a nice serving of protein. This lettuce wrap calls for a helping of lentils, which is a great source!
---
Muffin Tin Meals
Do you struggle with portion control? If so, muffin tin meals are going to be your new best friend! Another great thing about muffin tin meals is they don't require any utensils. So if you forget to bring along a fork, knife, or spoon, don't sweat it! You didn't need it anyway.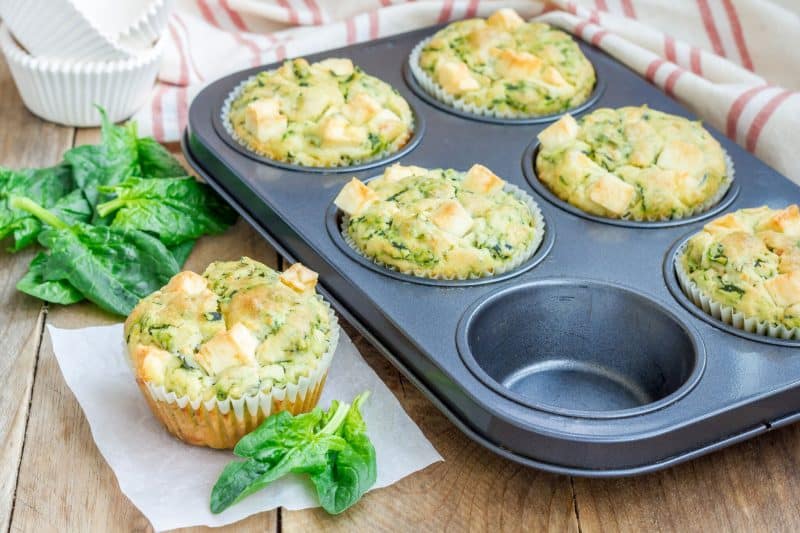 Baked Oatmeal Muffin Tin Meals – While oatmeal is traditionally thought of as a breakfast meal, it also makes for a healthy and convenient lunch. Along with oats, this muffin meal contains peanut butter, seeds, and spices. Since it's high in fiber and protein, this little muffin will keep you feeling full until dinner time.
Vegetable Frittatas – So this is another meal that is viewed as the perfect breakfast, but can also make for a filling lunch. Just mix eggs with your favorite vegetables, pour the mixture in a muffin tin, pop the tray in the oven, and voila! You are left with a hearty meal that contains protein, healthy fats, key vitamins, and minerals. While you should store your frittatas in the fridge to keep them fresh, all you have to do is reheat your meal in the microwave when you're ready to dig in.
BBQ Turkey Meatloaf Cups With Mashed Cauliflower – If you're looking to escape the breakfast taste and munch on something more filling then you must try this meaty muffin tin meal recipe! It's basically a healthy, portion sized meatloaf with a little mashed cauliflower "potatoes" on top! Mashed cauliflower has a similar consistency to regular mashed potatoes, but isn't nearly as heavy. So don't worry about feeling bloated or sluggish after indulging in one of these meatloaf muffins.
Kale Cups – Looking for a lighter meal? Kale cups are a great choice. That's because kale is a superfood that provides the body with powerful nutrients, like vitamins A, C, and B, potassium, and magnesium.
Muffin Tin Soups – Soup is such a great meal, especially when you're under the weather. The only thing about soup is that it can be a pain to transport from your home to the office. To help prevent spills and messes, make your soup, pour it into muffin tins, and pop it in the freezer. When you get to work, keep your "muffin soup" in the freezer until you're ready to eat. Then, just heat it up in the microwave and enjoy!
---
Follow these recipes exactly as they are or use them as springboards to make your own lunch creations!