'Oatmeal and cereals are NOT  healthy breakfast foods?' gasped Magda, her eyes nearly popping out of her head. 'Then should the audience stick with toast and margarine? Or fruit smoothies? Or granola bars?' the radio host asked.
If you've read my previous article about which breakfast foods to avoid, you know the answers to these questions.
'But… But… What's left to eat then?' Magda asked (secretly hating my guts).
If, like Magda, you're wondering the same thing, you'll be surprised at how many healthy breakfast foods you can try. And no, these don't require you to become (or hire) a chef. Nor will you need to spend hours in the kitchen to get a meal that will disappear as soon as it's ready. Bonus: There's something for everyone.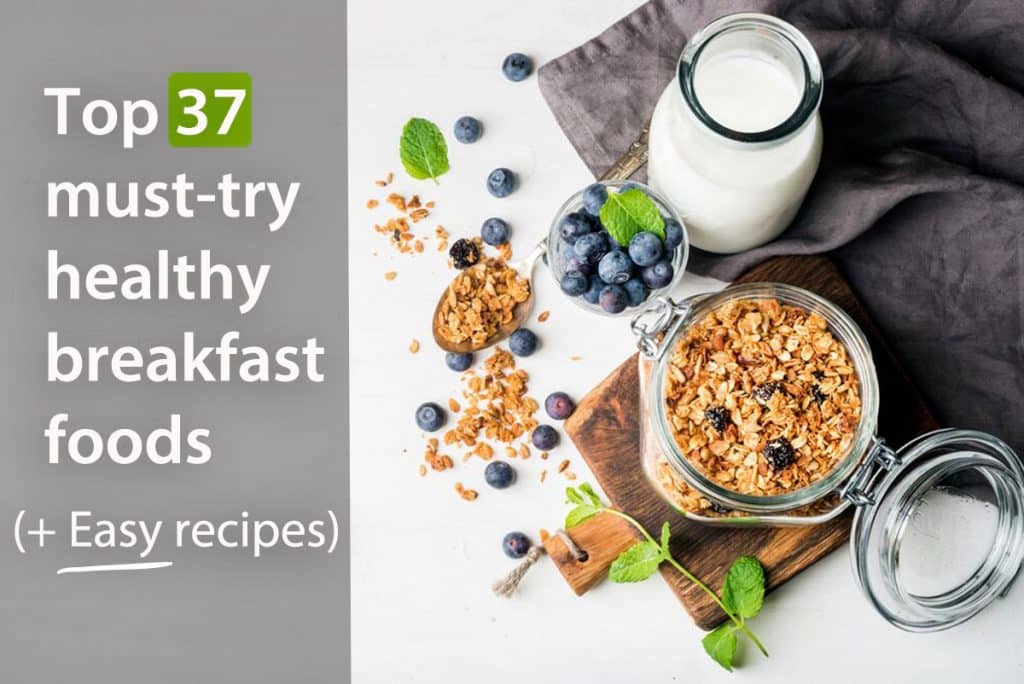 A. EASY HOME-MADE CEREALS
Crunchy, healthy cereals in a bowl of cold milk – that's my sister's dream come true. If you're a huge cereal lover like her and adopted a real food diet, cereals are probably high on the list of breakfast foods you miss. But thanks to this easy peasy recipe, you'll be able to enjoy cereals again.
Suggested modifications:
Are you a honey lover? How about crunchy cereals that taste like honey? In a bowl of cold, creamy coconut milk? Sounds like a treat, right? The best part is that all these honey bunches are absolutely free from unhealthy additives.
Suggested modifications:
Not a fan of sunflower seeds? Just use pine nuts, pumpkin seeds or any other nuts such as almonds and cashew nuts.
For a chocolate version, add about 1/3 cup of raw, organic cocoa powder when mixing your ingredients.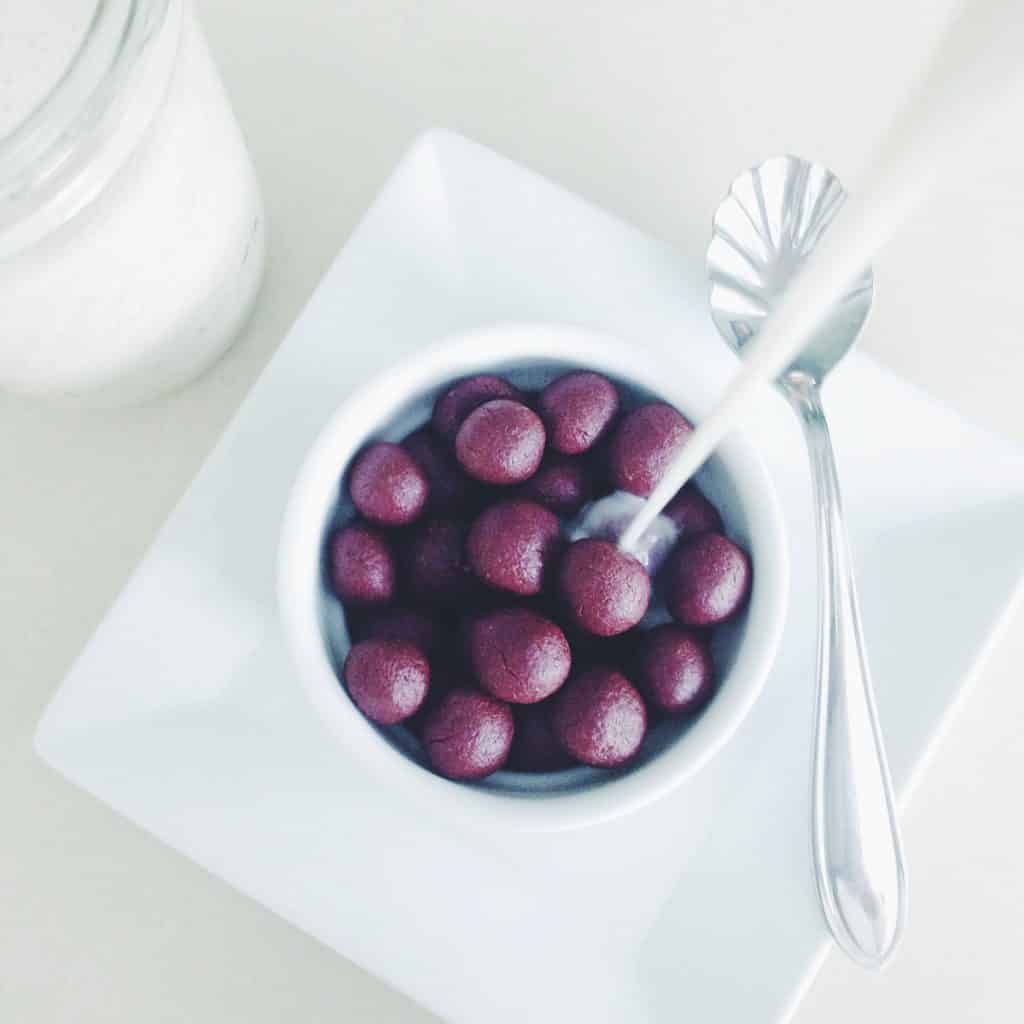 Feel like a trip down memory lane? Then add these puffs to your list – the recipe calls for sunflower seed butter but, as indicated, you can also use any nut butter you fancy. My only beef with this recipe is that it lists baking powder in the ingredient list.
The issue with baking powder is that it contains corn starch which, even in tiny amounts, can cause issues for people with autoimmune conditions. Plus, many brands contain aluminum which can worsen autoimmune flares.
Suggested modification:
Instead of baking powder, use baking soda and lemon juice or vinegar instead. As a rule of thumb, for every teaspoon of baking powder, use 1/4 teaspoon of baking soda plus 1 ½ teaspoon of lemon juice or vinegar. So, since this recipe calls for 1/2 teaspoon of baking powder, use 1/8 teaspoon of baking soda plus 3/4 teaspoon of lemon juice or vinegar.
Nope, that's not some weird egg mix or coconut flour mixed in coconut milk. This porridge will actually count towards your daily vegetable portion! Just check it out to see what I mean. And make sure to watch the video below – proper baking will ensure that you don't end up with a mush.
Suggested modification:
If I were to make this porridge, I'd add ground beef or chicken instead of the peptides. I have nothing against peptides – I just need my food to have some texture.
Paleo cocoa puffs. Yep, you heard that right! And they're gluten-free! You can now enjoy chocolaty cereal without fearing that your blood sugar levels will go haywire. This is a must try breakfast recipe for all chocolate lovers.
 Suggested modifications:
Can't tolerate almonds? Use coconut flakes instead.
If you have some dried berries on hand, chop them finely and add to the ground almonds when making the dough.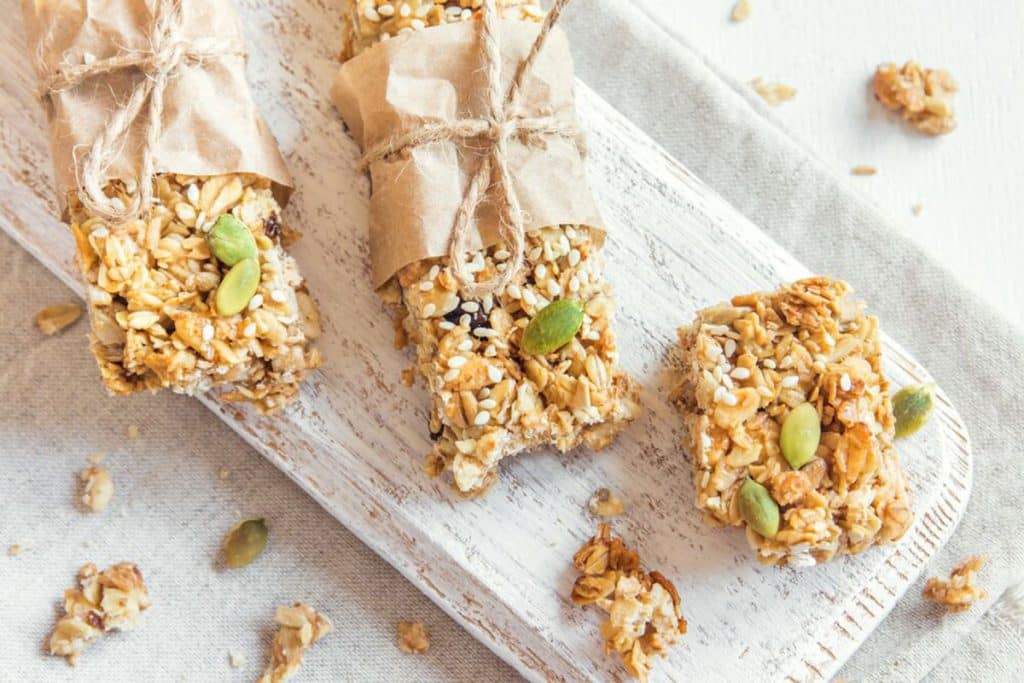 B. GRANOLA THAT IS ACTUALLY GOOD FOR YOU

Eggs are probably the easiest healthy breakfast foods ever. But they can get monotonous fast. Plus, there are days when you just don't want to cook anything, right? Instead of starving yourself until lunch (or, worse, buying a donut on your way to work), why not make granola bars in advance and store them in an airtight container? They're the perfect, healthy grab and go food.
If you decide to use canned pumpkin puree, make sure that it is free from chemical additives.
Suggested modification:
Got some extra time? Why not make your own pumpkin puree? To do so, simply chop and peel a piece of pumpkin and steam it. Allow the pumpkin to cool down before blending it. Simple, right?
Apricots are one of my favorite fruits. Unfortunately, many dried versions contain lots of chemical food preservatives that can cause nasty symptoms like itching or swelling. If you can't find any chemical-free apricot, you can add dates.
Suggested modification:
Why not try a plain granola bar and accompany it with a piece of fresh fruit?
No flaxseed meal on hand? Use almond meal or coconut flour instead.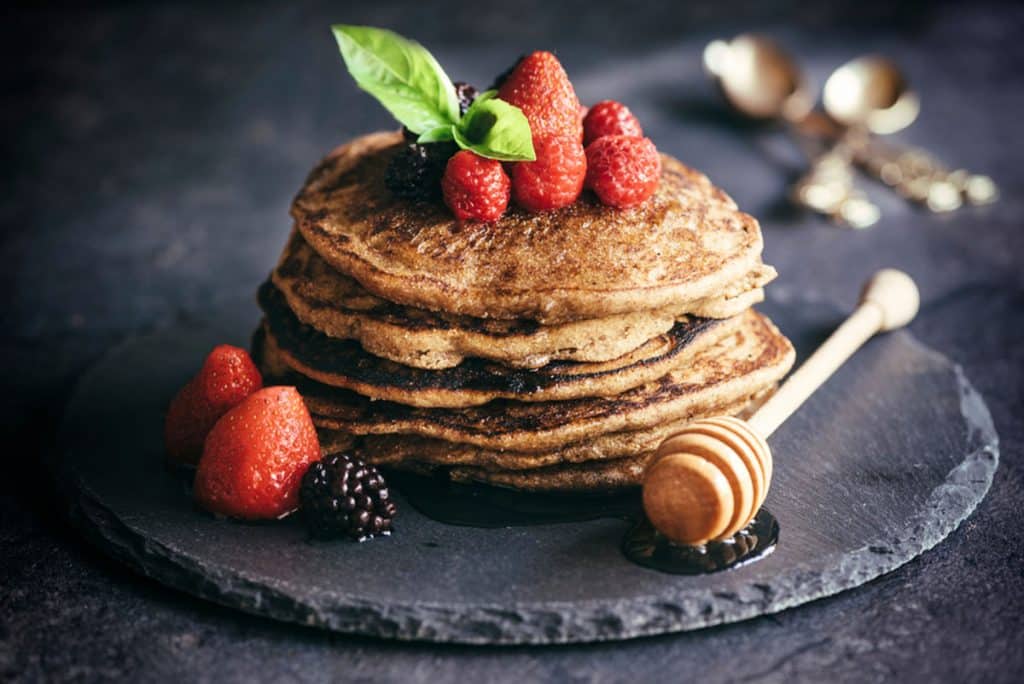 C. WHEAT FREE PANCAKES AND WAFFLES
Have you ever felt a craving for healthy pancakes or waffles but just couldn't mix up something that met your expectations? For a long time, pancakes were off the menu for me. That is until I came across the following recipes. Try them out and let me know which one is your favorite. I also made sure to include some savory pancakes since there are people (like me) who aren't fans of sweet healthy breakfast foods.
We all need at least one staple pancake recipe that's easy to whip in a jiffy. And will keep you energized the whole morning. Well, this is my go-to recipe when I don't feel like having savory eggs for breakfast.
Whether you have guests over or just want to have dessert for breakfast, these carrot cake inspired pancakes might just do the trick. Plus, they're an easy way to get some veggies in first thing in the morning. And there's no need to add 'lots of maple syrup' – doing so might zap your energy levels.
Suggested modifications:
Skip the baking powder and use an extra 1/8 teaspoon of baking soda plus 3/4 teaspoon of vinegar or fresh lemon juice.
Instead of canned coconut milk, make a big batch of homemade coconut milk keep it in the freezer for when you'll need it.
Allergic to nuts? Then this nut-free recipe will make your day. But be forewarned: although they're yummy, these pancakes are not very fluffy. Top with some fruits of your choice if desired.
Suggested modifications:
Skip the baking powder altogether. Or add 1/16 teaspoon of baking soda with 1/4 teaspoon of lemon juice or vinegar.
There's no need to add maple syrup – the bananas will sweeten things up nicely on their own.
If you can tolerate coconut, add some coconut flakes to the eggs before cooking.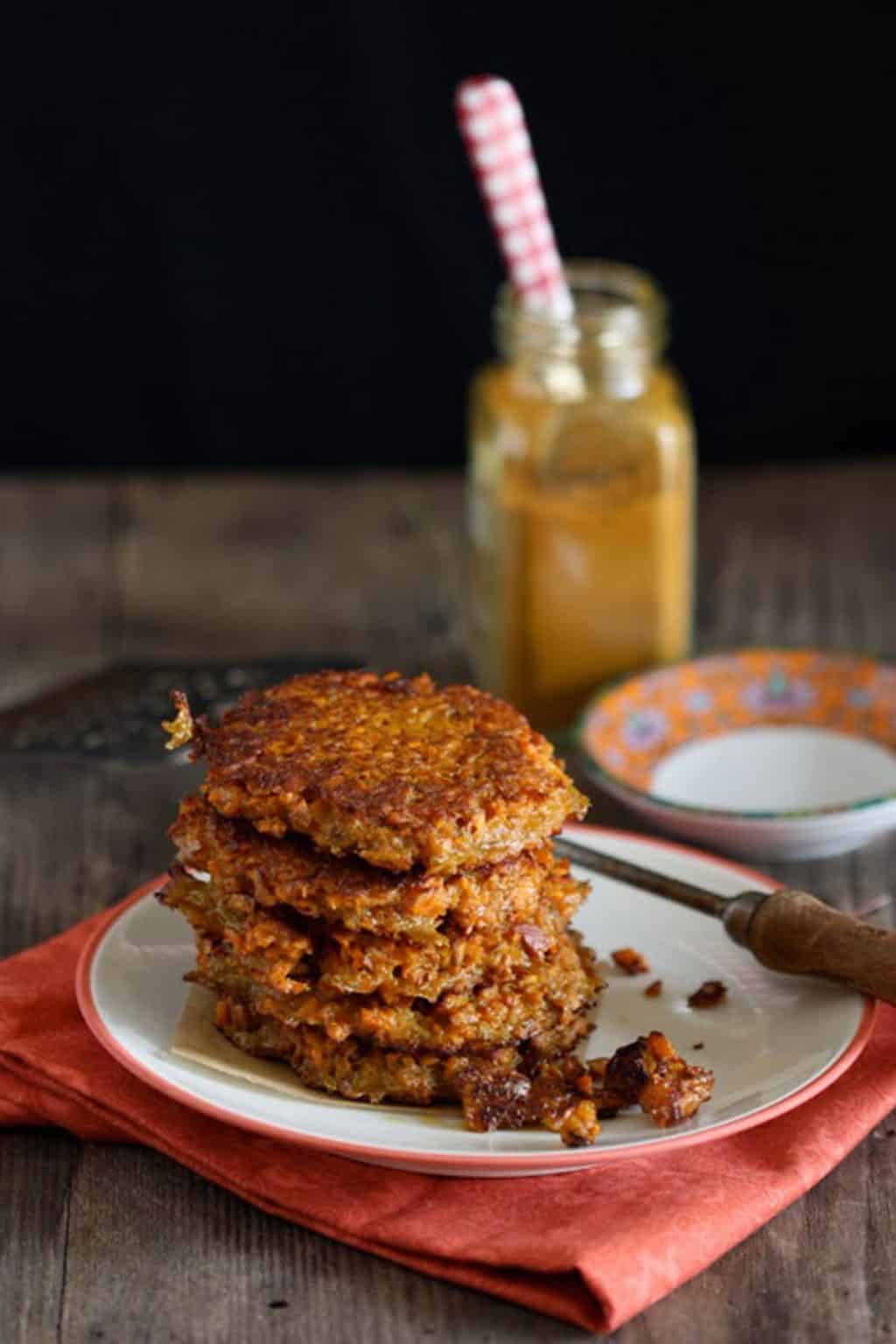 Pair these sweet potato pancakes with some grilled chicken or sautéed beef and you've got yourself a very fulfilling breakfast.
Suggested modifications:
There's no need to use any fancy salt – simply use sea salt and add some dried herbs like thyme, parsley and marjoram to the mix before cooking.
Don't have any curry powder on hand? Just mix some cardamom powder with turmeric powder. Or leave out the spices for a plain version of these pancakes.
These waffles are tasty and fluffy. And they're healthy! Who could ask for more? Well, me – the only way I'd eat these waffles were if they were stevia-free. You see, I'm not a fan of stevia liquid since stevia gets its sweet taste from steviol glycosides which have a hormone structure. And when you have an autoimmune disease, hormones can have a dramatic impact on disease progression.
Suggested modifications:
You probably guessed it: instead of using baking powder, try using 1/4 teaspoon of baking soda plus 1 ½ teaspoon of lemon juice or vinegar.
Use organic, unbleached, raw sugar instead of stevia liquid if you really want the waffles to taste sweet. Otherwise, just pair them up with some mixed berries.
These waffles alone are delicious, but throwing blueberries in the mix puts this recipe over the top! And the best thing is that this a-ma-zing healthy breakfast food can be ready in 15 minutes!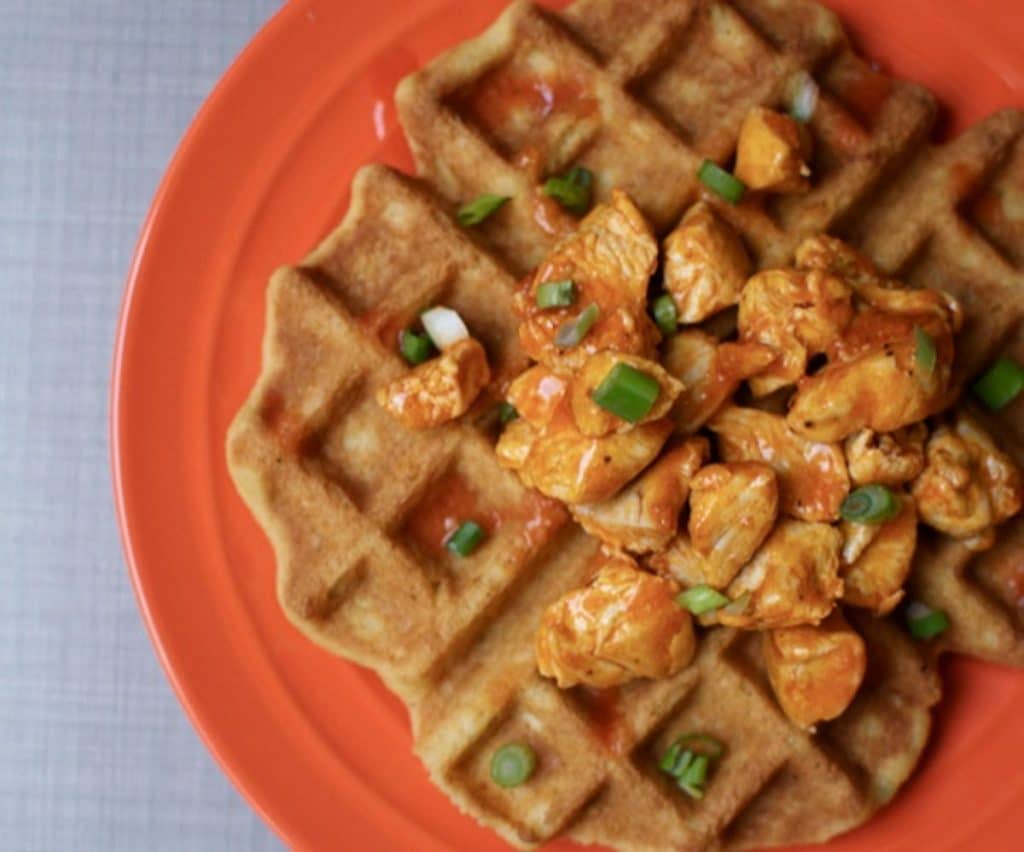 If you don't have any cooked chicken on hand (or don't want to get sauce all over your waffle iron pan), follow the recipe but don't add the hot sauce, chicken (obviously) and green onions to your batter. While the waffles are cooking, sauté the onions in some butter, add some garlic and sauté until golden brown before throwing in the chicken. Once the chicken is golden, add in the hot sauce. Serve the plain waffles with the chicken on a bed of baby greens.
Who said waffles have to be sweet? I totally dig this recipe which is why I saved the best for last. The one thing I wouldn't use is the mayonnaise. Not for health reasons but because it might tone down the avocado's taste.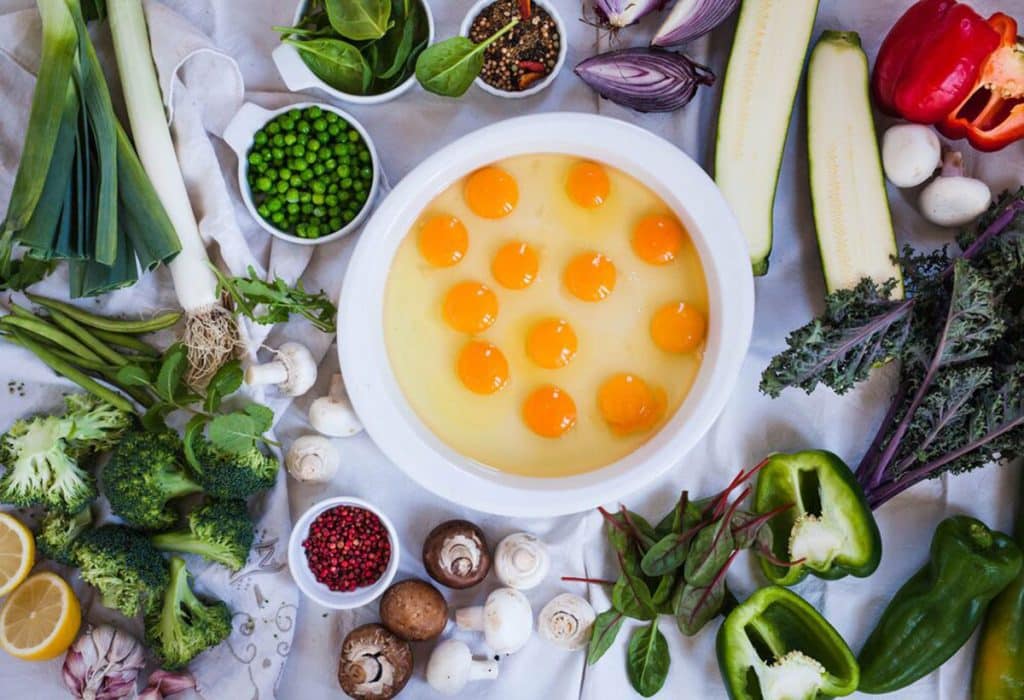 D. ORIGINAL EGG RECIPES
Eggs are an almost perfect healthy breakfast food in SO many ways! But omelets, scrambled eggs and hard-boiled eggs get old. Fast. If you feel like having a delicious and different egg-based breakfast, this list is for you.
Do you know what attracted me to this recipe? The fact that 'even the cat thought they smelled good'. A recipe that makes me chuckle is worth checking out!
Basically, a quiche is an omelet with a pie crust. These mini quiches are the perfect foods when you don't really feel like having a super heavy breakfast. But don't get me wrong – they will keep you full!
Got leftover taco meat? Then you really should try these breakfast burritos. For some added crunch and creaminess, top with some chopped English cucumber and a few avocado slices.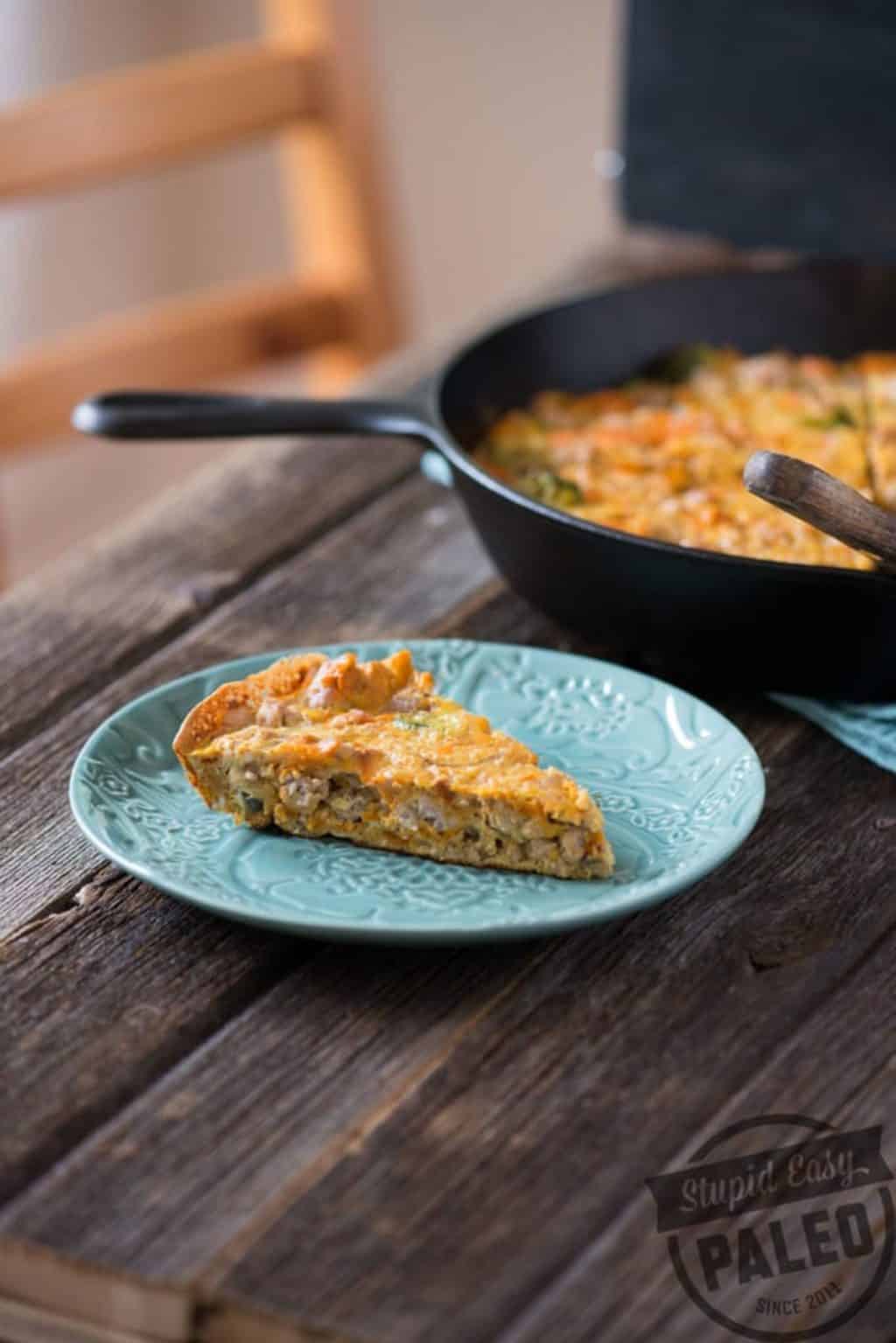 This sweet potato frittata is perfect for those of you who need to start the with a carb boost. And the best part is that you get your greens, protein, healthy fats and whole carbs in a single dish.
Nope, that's not the 'sweet' and 'dessert' kind of cake you're probably expecting. This loaf is actually packed with vegetables and is like a very thick frittata.
Suggested modification:
Instead of using half teaspoon of baking powder, try using 1/8 teaspoon of baking soda plus 3/4 teaspoon of lemon juice or vinegar.
Instead of lining the baking sheet with aluminum foil, simply grease the sheet with some coconut oil or butter.
What goes together like peanut butter and jelly? (Besides PB & J, of course.) Eggs and avocado, of course! I have to admit that my version is way simpler (but probably not as tasty). I simply cut an avocado in half, take out the pit and season it with some salt, pepper and cayenne pepper. Then I add a sliced egg in the pit. And my healthy breakfast food is ready to eat.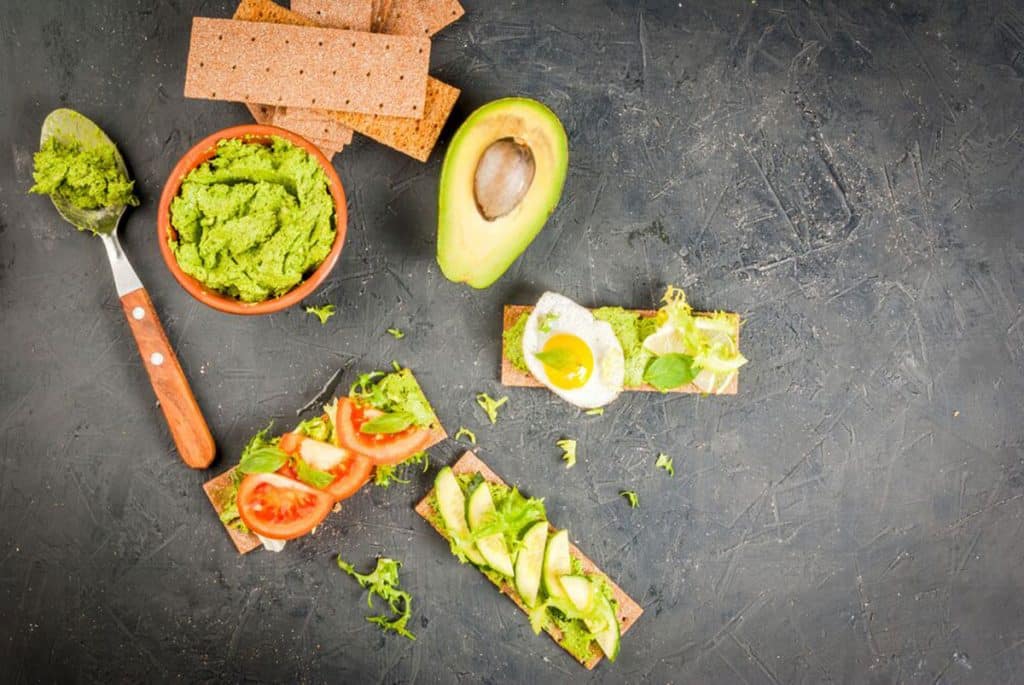 E. HEALTHY TOASTS
You don't have to give up bread just because you care for your health and decided not to eat traditional wheat-based breads anymore. To prove my point, here's a list of scrumptious, healthy breads you can use for toasts, sandwiches, or just to enjoy on their own.
A slice of avocado on a piece of toast – what's so special about this? I mean, it's like everyone is going on and on about avocado toasts online. Well, think of a buttered toast. Now think of a heftier, silkier and even creamier version of a buttered toast – that's what an avocado toast is all about. In this recipe, the traditional wheat toast is replaced by a butternut flatbread.
The ingredients list in this recipe calls for nothing but real wholesome ingredients. Coconut flour is used instead of wheat so the end-product will be slightly denser than regular French toast.
This colorful toast calls for five ingredients: eggs, broccoli, almond meal and ground linseed. The broccoli taste is quite mild so feel free to jazz up your toasts with some peanut butter and banana slices.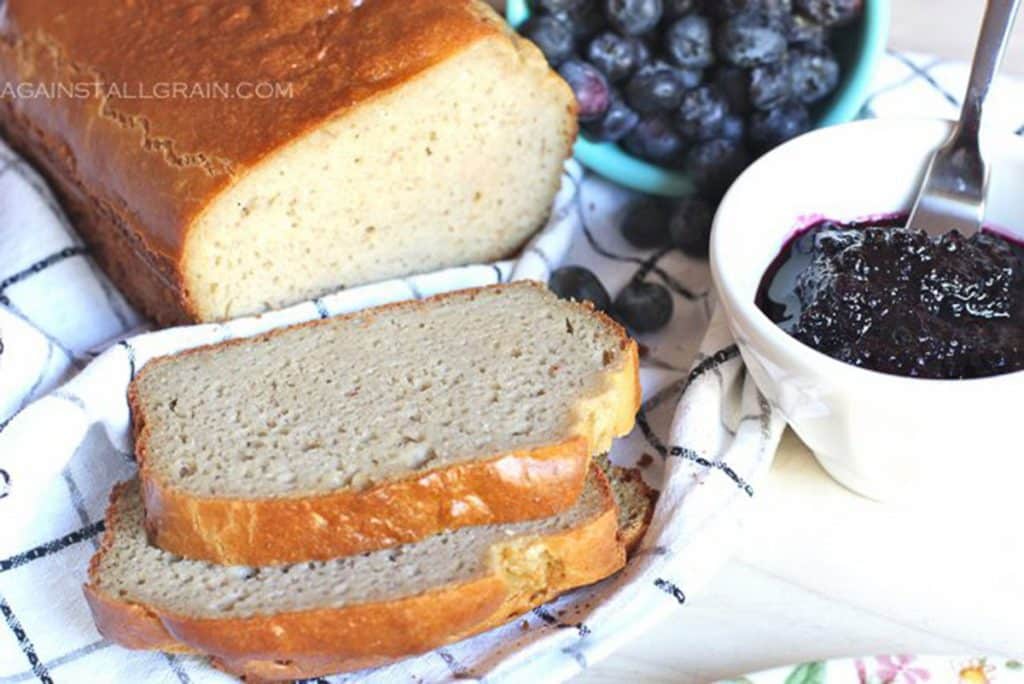 This bread looks exactly like the kind I had growing up. But I must admit that the texture is more like that of a cake.
The only real issue I had with this cake-bread is that the middle collapsed a few minutes after I took the bread out of the oven. Turns out my loaf pan was too large. And according to the site's moderator, other reasons that could cause this to happen is if you used baking powder instead of baking soda or if your baking soda has expired. Over-mixing the egg whites will also cause the middle to collapse.
This being said, this bread lives for its toppings so make sure to try your favorites.
This recipe really open the doors for a lot of gourmet sandwiches. For instance, picture some nice grass-fed beef slices topped with some mango salsa, and some grilled veggies between two slices of this bread. Mouth-watering, right? Or how about a grilled cheese sandwich if you tolerate dairy products?
This bread tastes delicious but it just doesn't come close to what my mum used to make. So why would I even list this recipe? Simple: because you can tweak it.
Follow the recipe to a T. While the bread is baking, add (lots of) grass-fed butter, some cilantro and some garlic (depends on your taste preferences) to a blender; blend well until you get a smooth paste. Once the bread has cooled down, slice it and spread a generous amount of this garlic-butter paste on each slice. Top with some real cheese if desired before grilling for two to three minutes or until the bread is golden.
Sweet potatoes, coconut flour, eggs, butter, and raisins – you can't really go wrong with these ingredients, right? If you feel like having something crunchier, just add some roughly chopped almonds to the dough.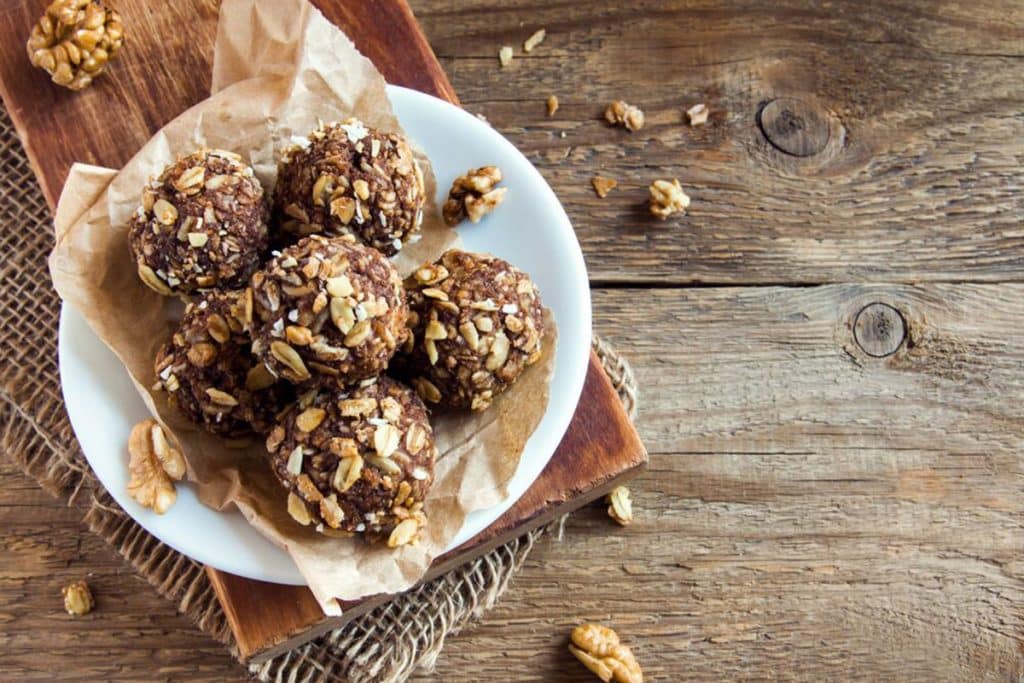 F. BREAKFAST TREATS (MUFFINS, BISCUITS AND PASTRIES)
One of the first things you see when you walk in most coffee shops are huge, bakery-style pastries, muffins and biscuits. While these are often mouth-watering, most of these baked goods can wreak havoc on your blood sugar levels and cause you to crash within a few hours. So instead of caving in and ordering an unhealthy option, why not satisfy your cravings with one of the following recipes? Your body will thank you!
But just keep in mind that although the following recipes call for healthy ingredients, they are treats – eating them daily is a bad idea.
Feel like having a breakfast cake that has a crumbly sweet cinnamon infused topping on top? Then look no further – these coffee crumb cake muffins will start your day with a bang of flavor. The best part is that these muffins are naturally sweet and contain lots of healthy fats from coconut flour, almond flour and grass-fed butter. In other words, your blood sugar won't go on a roller-coaster and you'll feel energized the whole morning.
Naturally rich in beta-carotene, these tangy and colorful carrot muffins will brighten up any morning with their rich and fluffy texture. And if you're not a coconut lover; don't worry: the almond flour, ginger, and cinnamon balance out the taste of the shredded coconut.
But again, remember that, like all healthy baked goods, these muffins are to be consumed in moderation. Firstly, that's because flour skews our ability to perceive how much food we are eating. It is physically easier to chew and swallow (and thus eat more of) any flour or flour substitute compared to the whole food source of that flour.
Secondly, almond flour is very rich in omega-6 fatty acids which are pro-inflammatory. This is one of the reasons why nuts are excluded on the autoimmune paleo diet. However, should you choose to eat baked goods containing almond flour, just make sure to get enough anti-inflammatory omega-3 fatty acids from seafood.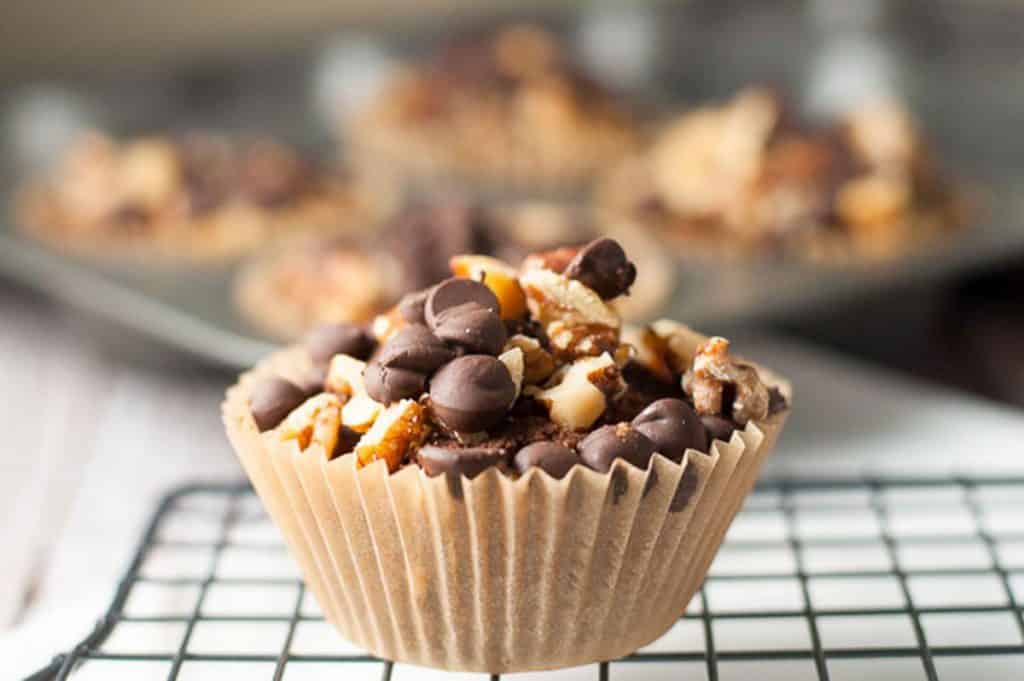 Every single bite of this muffin is sheer grain-free, dairy-free and refined sugar-free pleasure. And the banana, almond butter, dates and cocoa combo is delightful. Serve this healthy breakfast food and you'll be surprised at how fast they disappear!
Okay, these may not actually be a breakfast food per se. But let's say you felt like having some hot soup or bone broth in the morning, wouldn't some crunchy biscuits be the perfect accompaniment? Just a heads-up though: make sure to use hard butter or ghee cut into small pieces. If you use melted butter or ghee, your batter may remain very soft.
Don't like onions? Then try these Irish soda bread biscuits. These quick breads, traditionally used in various cuisines, contain baking soda instead of yeast as well as buttermilk. The acidity of the buttermilk is what reacts with the baking soda to help the bread rise – you'll see nice bubbles as you mix the ingredients. So, if you don't have any buttermilk on hand, just use coconut milk with lemon juice, as indicated in the recipe.
Suggested modification:
There's no need to add baking powder – simply add an extra 1/8 teaspoon of baking soda plus 3/4 teaspoon of lemon juice or vinegar.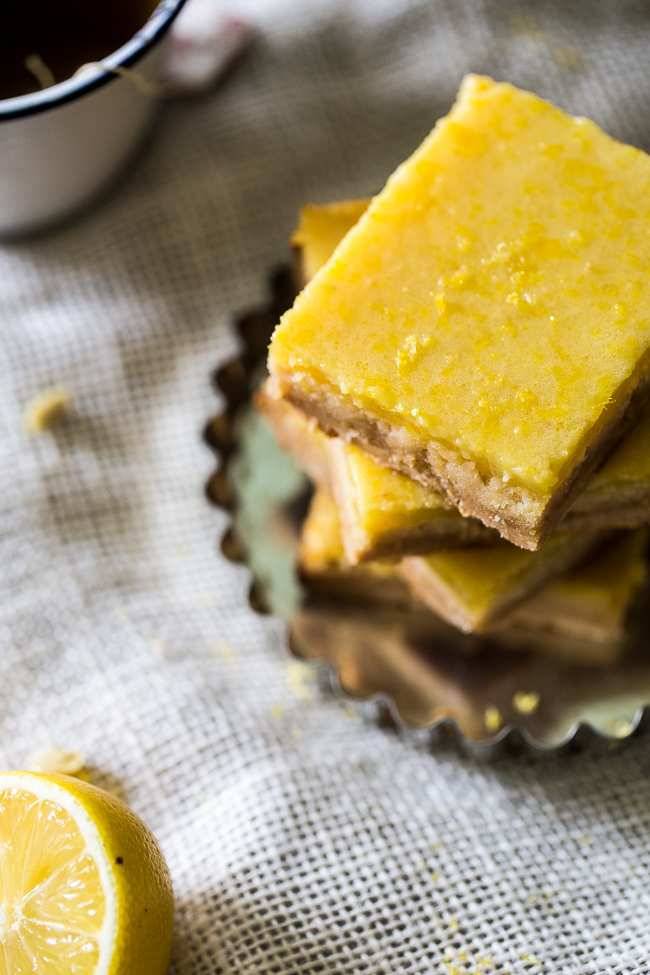 A soft and slightly chewy topping made from lemon juice, coconut flour, eggs and honey on a oh-so-crunchy honey-coconut flour crust… This recipe is number one on my (very long and getting longer) 'To Bake' list. Make sure to follow the recipe to a T unless you want some lemon crumble.
I have yet to eat a Paleo donut that lives up to expectations. But hey, I know this list wouldn't be complete if there wasn't at least one wheat-free donut recipe.
Suggested modification:
Instead of baking powder, use 1/4 teaspoon of baking soda plus 1 ½ teaspoon of lemon juice or vinegar.
What are your favorite healthy breakfast foods? Share in the comments below.