As the Paleo Diet (AKA the caveman diet) rises in popularity, more followers are on the hunt for delicious and nutritious recipes. While it may seem simple to follow the Paleo Diet, which mimics the meals our hunter-gather ancestors are believed to have eaten, cutting out all processed foods can be difficult in a world filled with refined sugar, iodized salt, preservatives, artificial ingredients, pesticides, antibiotics, and other chemicals that didn't exist back then. Whether you currently follow the Paleo diet or you're just considering it, check out these 30 breakfasts, lunches, dinners, and snack ideas to help make the lifestyle a breeze.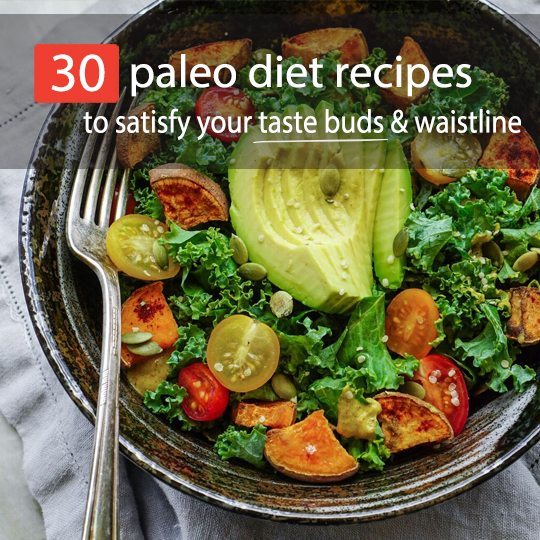 If you follow the Paleo Diet, that means your plate is filled with fruits, vegetables, lean meats, seafood, and nuts. You avoid boxed and bagged "fake foods." You also stay away from grains and dairy. It's all about eating unprocessed foods straight from the Earth, just like our ancestors did.
While there haven't been many scientific studies conducted on the benefits of Paleo, scientists say, the little evidence we have so far look promising. The paleolithic diet has been shown to lower the body's glycemic index and reduce waist circumference. It can also increase the number of vitamins and minerals a person consumes, and balance out nutrients such as proteins, fats, and carbohydrates.
---
Breakfast Paleo Diet Recipes
1) Paleo Pancakes – Who says pancakes have to include bleached flour, refined sugar, milk/ heavy cream, and all those other bad-for-you ingredients? This Paleo pancake recipe uses mashed bananas, eggs, and coconut flour as the base, with a few other mix-ins to boost flavor. It's simple, healthy, and delicious.
2) Dairy-Free Frittata – Frittatas are an easy-to-make breakfast dish that's loaded with healthy fats, protein, key vitamins, and minerals. The only problem is, many frittata recipes include dairy to make the texture a bit fluffier. In this dairy-free version, though, you have the choice of using coconut milk or skipping the creamy liquid altogether. While this frittata is definitely a healthier option, it doesn't skimp on amazing flavors!
3) Sweet Potato Hash Browns – This is comfort food at its finest! Made with sweet potatoes, eggs, and almond flour, these hash browns may become your next favorite breakfast dish. Let's talk about the health benefits:
Sweet potatoes are packed with potassium, vitamin A, vitamin C, vitamin B6, and fiber. They also rank much lower on the glycemic index than regular potatoes. Plus, they're naturally gluten-free.
Almond flour is nothing more than ground up almonds, meaning they contain the same beneficial nutrients that a handful of almonds has.
Then we have eggs. Eggs are a powerhouse when it comes to protein and healthy fats. While they are high in cholesterol, scientists call eggs an incredibly healthy food!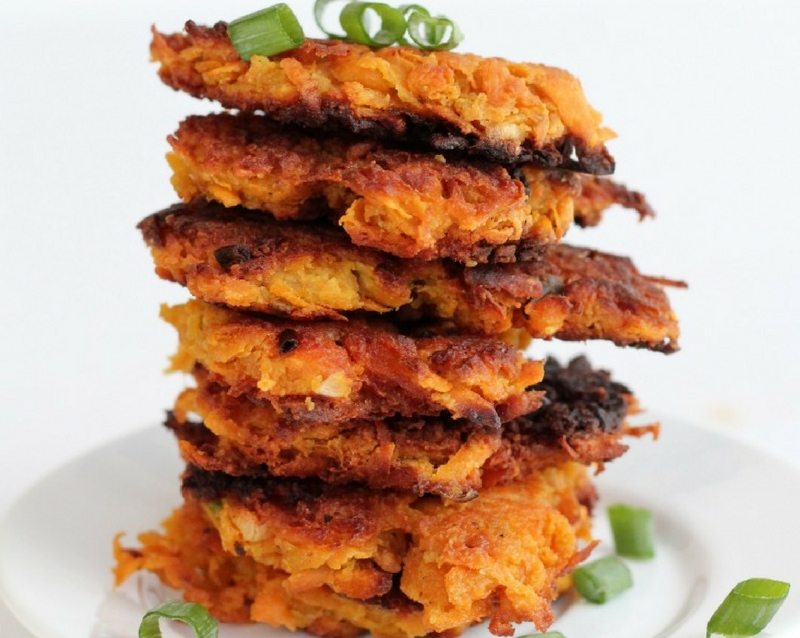 4) Sweet Potato Paleo Muffins – More sweet potato recipes for you! These flourless muffins may have a long ingredient list — including apples, carrots, figs, walnuts, and spices — but don't let that keep you from whipping up a batch! Please note: This recipe calls for baking powder. While baking powder is allowed on the Paleo diet, commercial baking powders are not. That's because they often contain gluten and cornstarch. So what can you do? Why not make your own! Simply mix together 1 part baking soda to 2 parts cream of tartar and voila – you have Paleo-friendly baking powder.
5) Almond Butter Blueberry Paleo Waffles – Watch how easy this recipe is to make!
6) Apple Cinnamon Quinoa Breakfast Bake – Who doesn't love waking up to a big piece of cake? This hearty breakfast bake calls for one cup of quinoa, meaning it's rich in protein and can help keep you feeling full for longer. Just one cup of cooked quinoa packs 8 grams of protein. It's also one of the few plant foods that contain all nine essential amino acids. That's not to mention, quinoa is high in fiber, magnesium, B-vitamins, iron, zinc, potassium, calcium, and antioxidants. So dig into this cake-like dish without the guilt!
7) Paleo Breakfast Casserole – When you think of breakfast, what's the first thing that comes to your mind? For me, it's eggs and bacon. While the processed bacon that fills many grocery store shelves should stay off your breakfast table, certified organic, sugar-free, nitrate-free, and all natural bacon is Paleo-friendly. In this breakfast casserole, you get to enjoy the rich bacon flavors, a dose of protein-packed turkey, and lots of vitamin-rich veggies.
8) Creamy Avocado Lime Parfaits – This no-bake parfait is incredibly easy to make and gives your taste buds a good zing. The creamy avocado, honey, and coconut oil balance out the sourness of the lime juice. Along with being yummy, this breakfast dish also offers many health benefits. That's because the avocado provides healthy fats and protein. Plus, the lime juice packs many powerful nutrients. In fact, the juice of just one lime is made up of 20 calories, 7 grams of carbohydrate, 2 grams of dietary fiber, and 32% of your daily recommended vitamin C intake.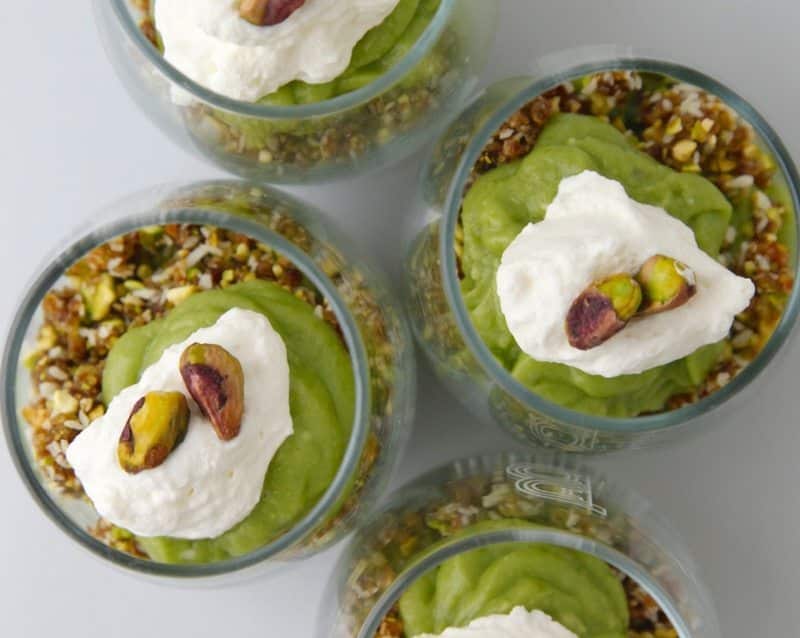 9) Avocado Banana Smoothie – Some mornings call for a thick and creamy smoothie and if you enjoy sipping your breakfast meals then this is a definite must try. The nutrients in this smoothie promote heart health, boost energy, improve digestion, and aid weight loss.
10) Paleo Peach Parfait – This Paleo Peach Parfait is dairy-free, grain-free, and nut-free. So it's perfect for even the most restrictive eaters. In this recipe, a homemade blueberry "yogurt" is layered in between cooked peaches with basil. Then, the whole thing is topped with crunchy Paleo-friendly granola. Yummm!
---
Lunch/ Dinner Paleo Diet Recipes
11) Bunless Chicken BLT – This healthified spin on the classic deli sandwich turns grilled chicken into "bread." The protein-packed and lean grilled chicken breasts are sliced down the middle to become little pockets for the bacon, tomatoes, spinach, and basil. If you don't have spinach or basil on hand, any leafy greens will work. This healthy meal works great for lunch or dinner. It only takes about 20 minutes to make and is sure to please your taste buds!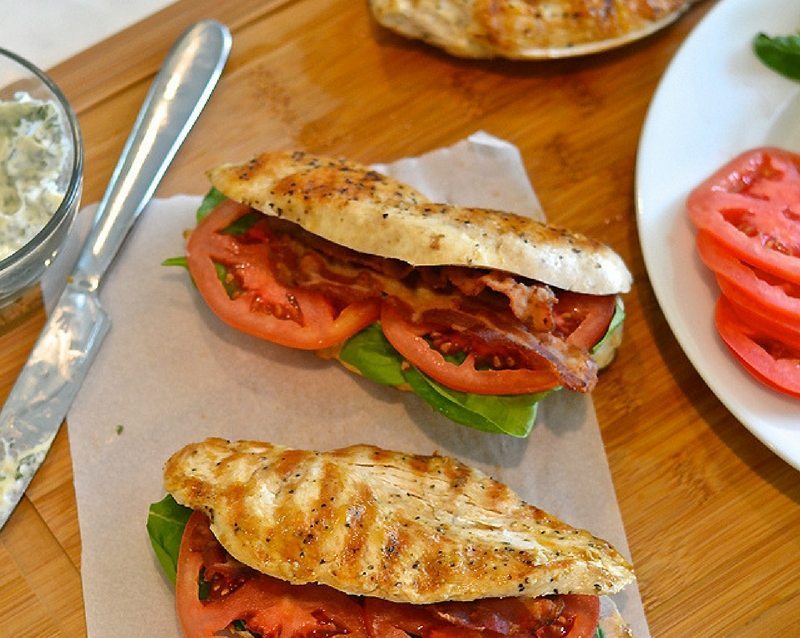 12) Paleo Egg Roll in a Bowl – If you're a fan of Chinese cuisine then this is a definite must try. Cabbage, carrots, onions, and garlic are all sautéed together to create a Paleo-friendly, low-carb, flavorful version of the traditional dish. If you read through the ingredient list, you'll see the recipe creator recommends sesame oil for the frying. While a small amount of sesame oil is considered acceptable on the Paleo Diet, I would recommend swapping it out for extra virgin olive oil (cold-pressed).
13) Paleo Avocado Tuna Salad – Simply cut an avocado in half, stuff it with tuna, and enjoy. Yes, it's really that simple! Along with blasts of flavor, this dish is loaded with healthy fats and protein, meaning it will help keep you feeling full for longer. You know what that means, right? There's no need for a pre-dinner snack, which could help lower your total calorie consumption and aid weight loss!
14) Paleo Salmon Salad Power Bowl – This salad is anything but ordinary. It calls for nutrient-dense zucchini, fat-friendly avocado, antioxidant-rich raspberries, protein-packed salmon, and detox-worthy lemon juice. Everything from the nutrients to the flavors are powerful in this dish, hence the name "power bowl!"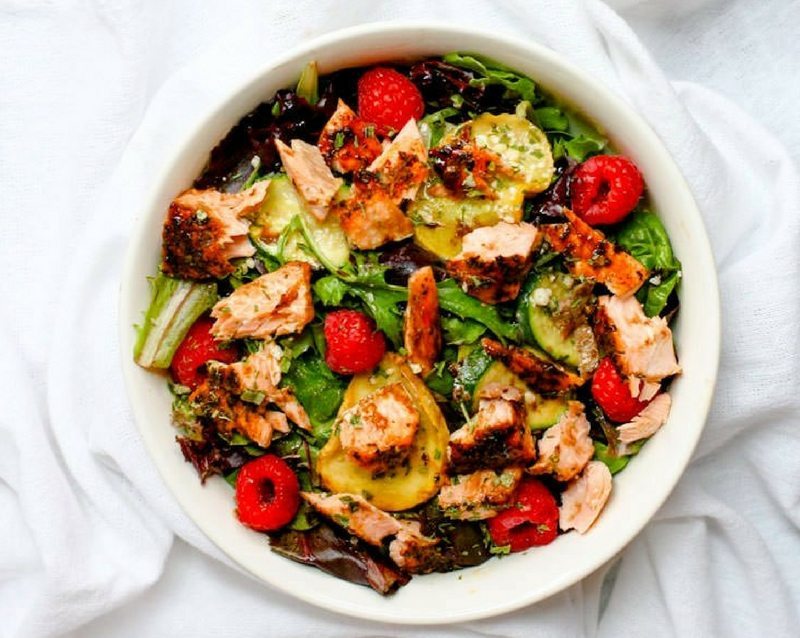 15) Low-Fat Paleo Meatloaf Muffins – These vegetable-packed meatloaf muffins are made with ground turkey and ground pork. They are also topped with a flavorful sugar-free tomato sauce. Aside from the good-for-you ingredients, what I love about this recipe is the immediate portion control. So if you tend to overfill your plate and eat until you're too stuffed to move, then these meatloaf muffins may be exactly what you need to keep things under control!
16) Paleo Pizza – From cauliflower pizza to eggplant pizza and everything in between, there are so many ways to re-create the traditional and popular Italian dish. This particular pizza uses a mixture of tapioca flour, coconut flour, eggs, and water to create the crust. The texture is somewhat like a flatbread or tortilla. Get creative and play around with toppings to make this Paleo pizza fit your taste preferences.
17) Paleo-Friendly Beef Bolognese and Spaghetti Squash – Have you ever swapped out carb-heavy spaghetti for lightened up spaghetti squash? Sure, you can clearly tell there's a difference in texture and taste. But when it's all jazzed up, spaghetti squash can be just as delicious. In this Paleo-friendly beef bolognese dish, this humble veggie is topped with a flavorful beef sauce and garnished with basil. A quick fun fact on basil: Studies show this aromatic herb can lower inflammation, work as a natural pain reliever, boost the immune system, and fight cancer.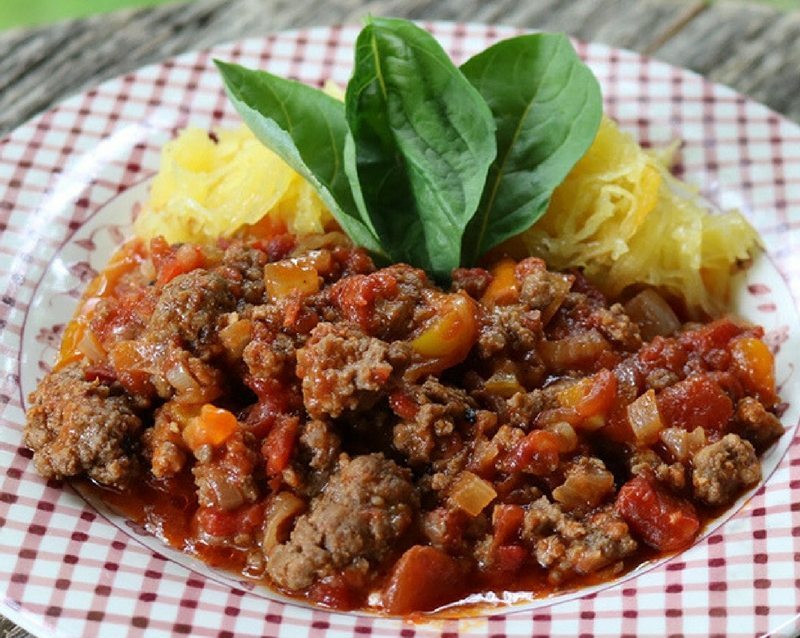 18) Zucchini Latkes – This zucchini version of the old potato classic is loaded with potassium, vitamin C, vitamin B6, magnesium, fiber, and protein. To make this recipe Paleo-friendly, just swap out the flour for 1/2 a sweet potato – baked, peeled, and mashed. The sweet potato will act as a binder in the latkes, much like flour does. Plus, it adds a touch of sweetness!
19) Avocado + Dijon Turkey Burger Wrap – When it comes to burgers, why not ditch the carb-loaded bun and replace it with nutrient-dense crunchy greens? In this recipe, a homemade, veggie-filled turkey burger is paired with avocado slices and wrapped in collard greens. If you're looking for a more filling meal, the recipe creator has also included a recipe for white sweet potato fries. Don't worry, though. While you dig into this burger and fries combo you can rest assured you're eating a nutritious meal that's skinny-jean friendly!
20) Cajun Garlic Shrimp Noodle Bowls – Spiralized anything is all the rage right now. So whip out your favorite kitchen gadget because this recipe calls for spiralized zucchini. Those low-carb, vitamin-packed "noodles" are then topped with jumbo shrimp. Did you know just 100 grams of cooked shrimp has a whopping 24 grams of protein?! Plus, who can forget the Cajun spices, which really give this dish a great flavor kick. If you like Cajun food then this may become one of your go-to meals.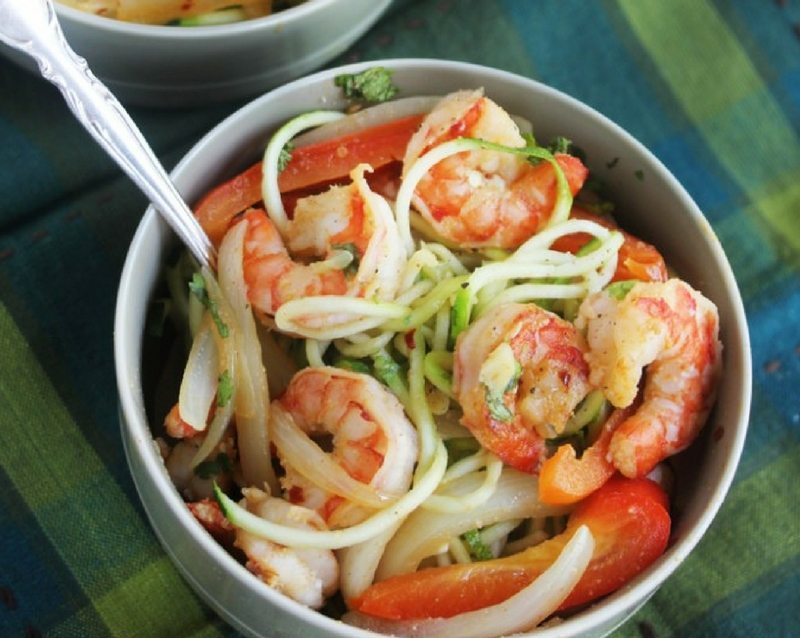 ---
Snack Paleo Diet Recipes
21) Loaded Paleo Nachos – Forget greasy nachos drenched in fake cheese because this snack is just as delicious and won't leave you feeling bloated and sluggish afterward. Instead of bagged tortilla chips, this recipe calls for homemade sweet potato chips. Then, instead of the cheese, you top the chips with Paleo-friendly guacamole and salsa. This dish is perfect for your next party!
22) Paleo Buffalo Ranch Dip – Buffalo dips are perfect for tailgates and sporting watch parties. Most of them aren't Paleo-friendly, though. If you follow the caveman diet and want to indulge in the Buffalo ranch dipping experience, try this recipe. I guarantee, no one will ever know it is Paleo! Pair it with celery sticks and carrots to complete the wing experience!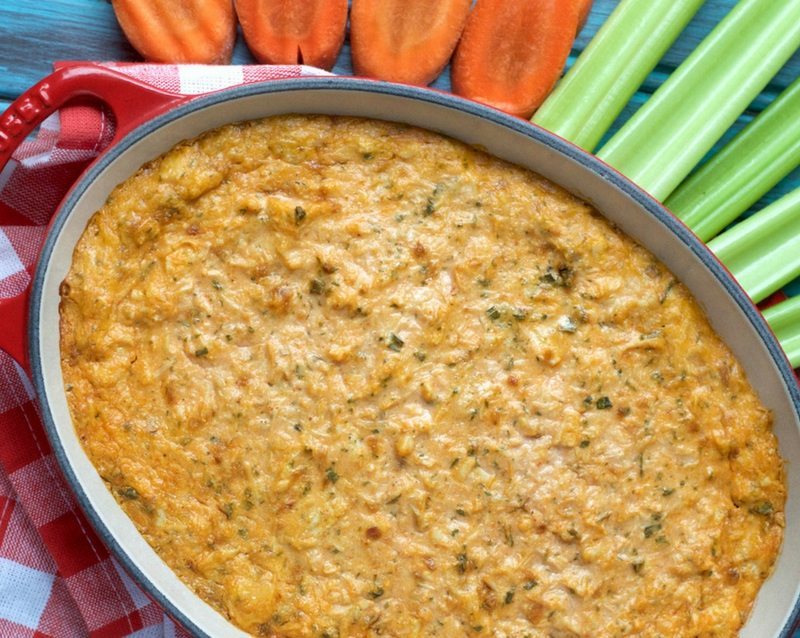 23) Paleo Snack Mix – Most of the trail/nut mixes in the grocery store are loaded with salt, sugar, unhealthy oils, and preservatives/chemicals that we're all better off avoiding. That's where this recipe comes in handy. Grab three cups of mixed nuts (have fun and use your favorite nuts), top them with garlic and paprika, and pop them in the oven to bake for about 20 minutes. It's a quick snack to make, they won't drive up your daily calorie count, and they're delicious!
24) Curried, Baked Zucchini Chips Recipe – Chips are such a fun snack, but who wants to eat all that grease? Plus, most chips are loaded with dangerous food additives. Instead of shopping for bags of potato chips, try making your own veggie chips. You can turn pretty much any veggie into a chip. Some of the most popular include kale chips, sweet potato chips, eggplant chips, and zucchini chips. In this curried zucchini chip recipe, there's no need for a fancy dehydrator. Just slice your zucchini into thin rounds, spread them onto a baking sheet, coat them with olive oil and a few spices, then bake!
25) Two Ingredient Banana Coconut Cookies – Typically, cookie recipes call for processed flour, sugar, butter, milk, and eggs. Not this recipe, though! With just two ingredients — a banana and shredded coconut — these cookies are gluten-free, wheat-free, sugar-free, dairy-free, and nut-free!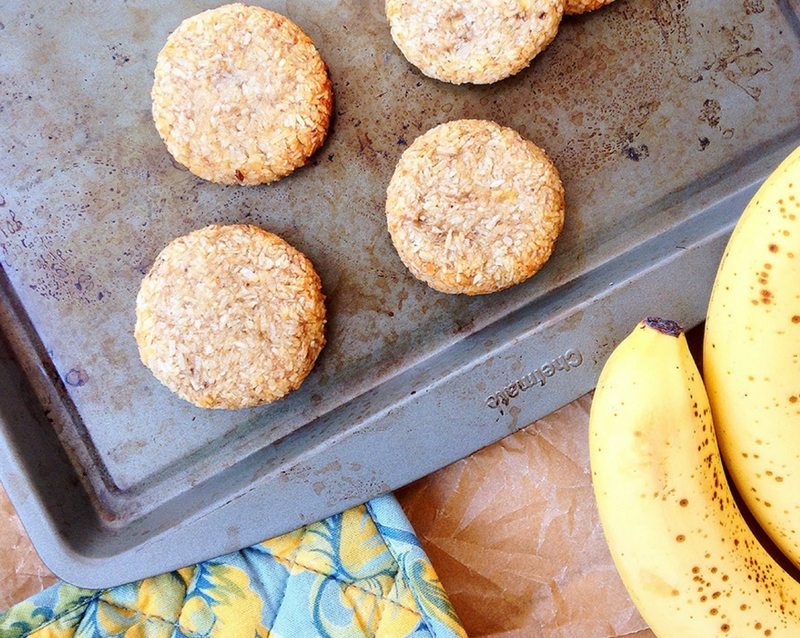 26) Homemade Blackberry Paleo Fruit Rollups – Fruit rollups (AKA fruit leather) are a popular snack among both kids and adults. They have a rich fruity flavor and a fun gummy texture that make them enjoyable and satisfying. The only problem is store-bought fruit rollups are far from healthy. They're usually loaded with sugar, corn syrup, and a bunch of other ingredients you probably can't pronounce. That's why it's better to make them at home! Homemade fruit leather is made by pureeing fruit, spreading it onto a baking sheet, and popping it into the oven at a low temperature for a long amount of time. You're basically dehydrating the fruit – not cooking it! While you can use pretty much any fruit, this recipe uses blackberries mixed with mint leaves and honey.
27) Paleo Dark Chocolate Ice Cream – Since dairy is off limits on the Paleo diet, you may be wondering how in the world you can make Paleo-friendly ice cream! The answer? Coconut milk! This recipe says to mix full fat unsweetened coconut milk with dark cocoa powder and natural sweeteners. If you have an ice cream machine … great! If not, you can simply pop your mixture into the freezer for a few hours and then enjoy.
28) Snack Clusters – Are you ever hit with a craving to crunch? You know … an overwhelming need to chew on something crunchy? Next time that crunch craving hits, try whipping up a batch of these Paleo snack clusters. These snack clusters have the same taste and feel of granola, but the "clusters" are a bit bigger. They're made with all humble ingredients — coconut flakes, almonds, chia seeds, and coconut oil. So dig in!
29) Paleo Coconut Oil Fudge – So this is less of a "snack" and more like "dessert," but it's way too good not to include on this list. While fudge is typically loaded with refined sugar, this recipe is naturally sweetened with raw maple syrup. It's also packed with healthy fats from the coconut oil and protein from the almond butter.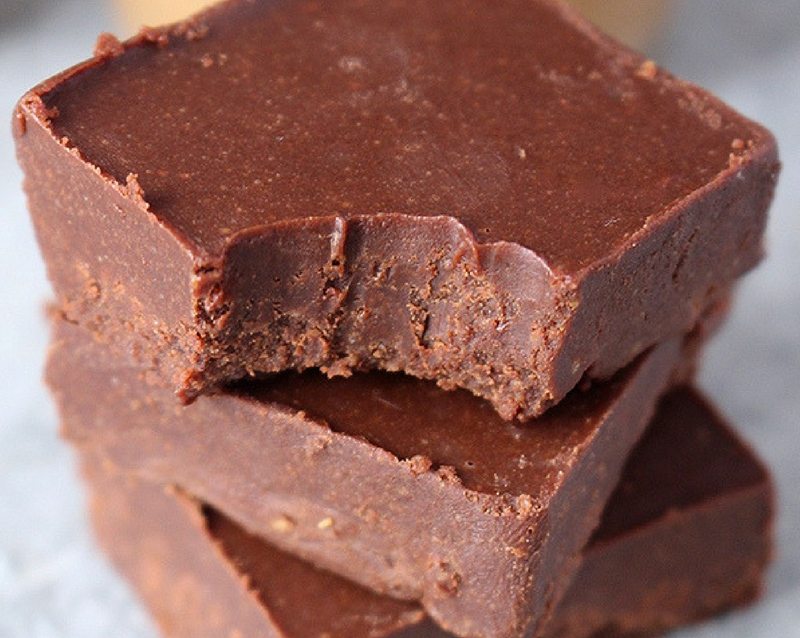 30) Pumpkin Cinnamon Raisin Balls – Even when it's not Fall, I'm one of those people who loves to eat Fall flavors. Are you the same way? There's something comforting about pumpkin and cinnamon, don't you think? These energy bites are made with fiber-rich pumpkin, brain boosting cinnamon, nuts, and coconut flour. These balls are the perfect pick-me-up snack and easy to eat on the go.
Enjoy!