Want to impress your pals with an elegant yet simple and nutrient-packed meal? Look no further than these 31 mouth-watering salmon recipes. And don't worry: none of these salmon recipes will leave your kitchen smelling like a sea harbor afterwards.
I'll also 'equip' you with evidence-based facts regarding the remarkable health benefits of salmon. This way, you might be able to inspire your friends to get on the health bandwagon with you.
And if you don't know how to choose the best fish for your salmon recipes, don't fret. This article also features a video that will teach everything you need to know about how to select this wild fish.
Ready to discover how to make your salmon recipes taste A-MA-ZING? Keep on reading!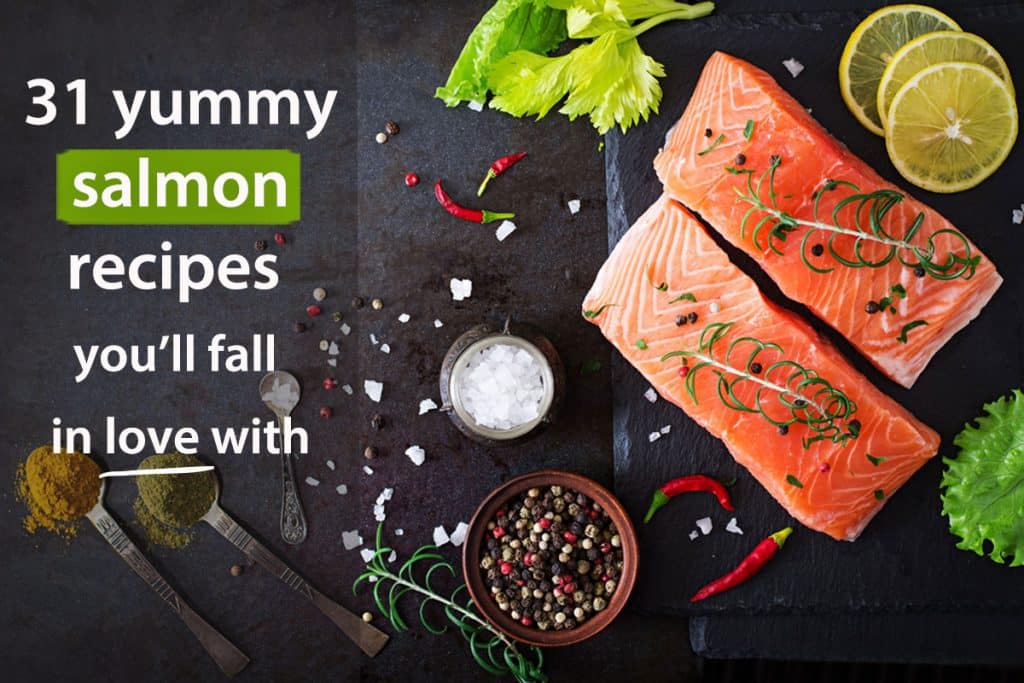 A potential ice breaker?
So, let's say today is the big day and all your friends are here. How would you tell them that it's time to eat?
Maybe you'd say something like 'Dinner is served!'. Or 'Let's eat, shall we?'
Great.
But how about spicing things up? Adding some mystery to those scrumptious salmon recipes you just tried?
You could, for instance, surprise your guests by having them guess what's on the menu.
Start with something like 'Guess what you're about to delight your taste buds with, tonight? What if I told you that the star of tonight's main course:
Returns to its birth place to spawn once it becomes an adult?
Swims out and migrates in salty water after hatching in rivers?
Is super famous thanks to its impressive health benefits [see below]?
Comes from the ocean because its farmed cousins are fed coloring chemicals to make them look more appealing?
What's in salmon?
According to the USDA National Nutrient Database, 85g (3oz) of wild, raw salmon contains:
121 calories
89g of protein
39g of fat
0g of carbohydrates
0g of fiber
416mg of potassium
25mg of magnesium
10mg of calcium
695mg vitamin B-6
68mg of iron
21µg folate
70µg vitamin B-12
34IU vitamin A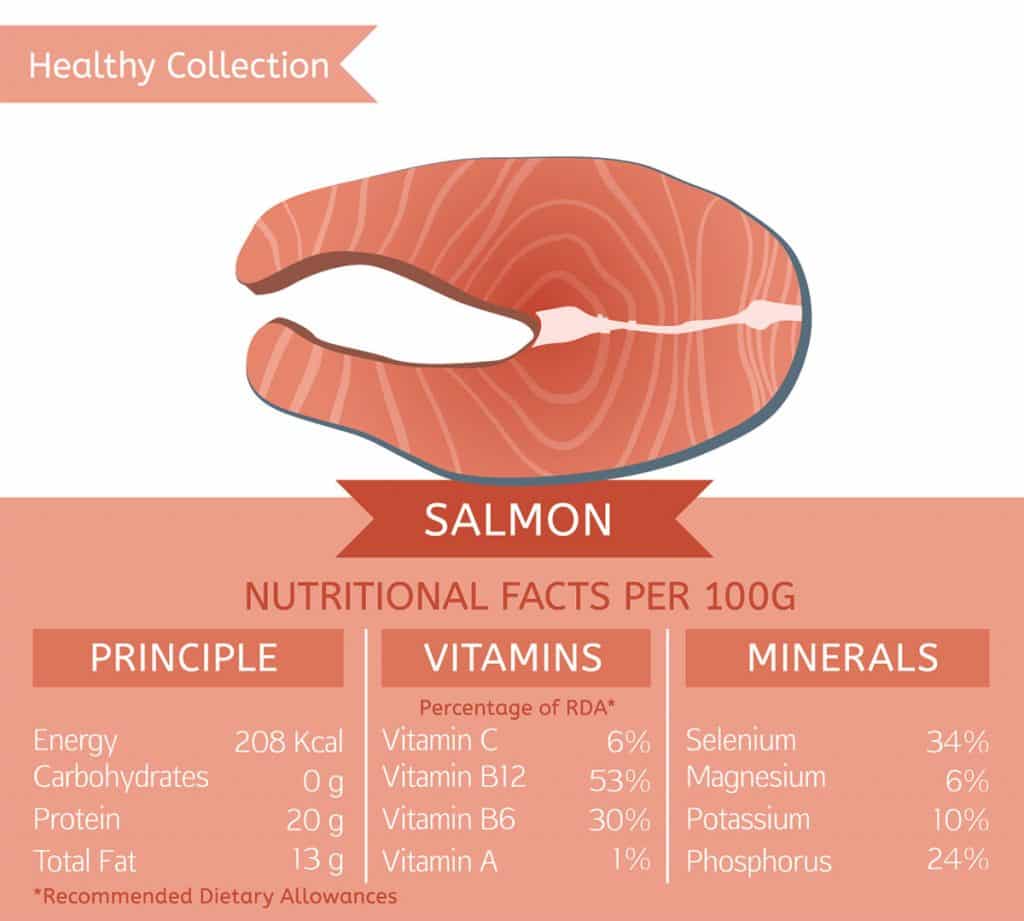 So, why should you add salmon recipes to your 'to-try' recipe list?
Are you scared of eating salmon and fish in general because of all the toxicity scares? I'm talking about all these talks about how fish is loaded with mercury, dioxins, and PCBs that can cause cancer and lead to neurological damage.
Well, eating fish is safer than not eating fish! And the concerns about toxins in fish have been overblown.
Here's why:
Fish is not the only 'source' of mercury. But it is one of the best sources of selenium, a mineral that protects against mercury toxicity. Good to know: 16 of the 25 highest dietary sources of selenium are ocean fish!
Fish contain much less PCBs and dioxins than dairy and vegetables.
Salmon is one of the richest source of the omega-3 fatty acids EPA (eicosapentanaenoic acid) and DHA (docosahexaenoic acid). As you're probably aware, omega-3 fatty acids have been linked to numerous health benefits such as:
A reduction in depression – A lack of DHA can increase corticotropin-releasing hormone which moderates emotionality. This, in turn, contributes to hyperactivity within the system that regulates mood and leads to anxiety and depression.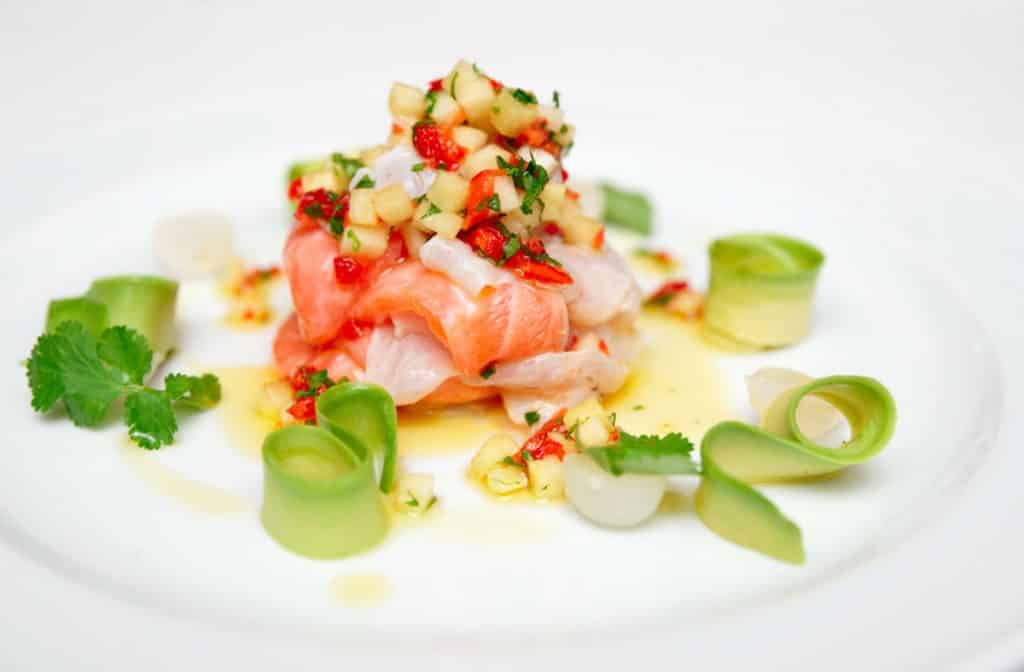 Improved thinking ability – Brain tissue is very rich in omega-3 fatty acids: these make up the connections between nerves. In fact, low intakes of omega-3 fatty can lead to poorer performance on cognitive and memory tests, and faster cognitive decline with age.
Protecting the heart – Omega-3 fatty acids have been found to stabilize heart rhythms and normalize blood pressure. These fatty acids also decrease inflammation.
Salmon contains vitamin D – Besides bone growth and mineralization, this vitamin is also involved in immune regulation. It also helps keep depression at bay and could reduce inflammation.
If you're thinking that you could get your omega-3s from flaxseeds or other plant supplements, think again.
Research indicates that less than 5% of ALA gets converted to EPA. And less than 0.5% (yes, that's less than one-half of one percent!) of ALA is converted to DHA.
Did I manage to convince you to eat more salmon? Great! Let's now see how to prep this fish.
Tips & tricks for prepping a whole salmon
Do you buy salmon once in a blue moon?
Is it because you don't like its 'fishy' taste? Or maybe, because it takes a whole lot of time to clean and cut?
Don't worry, I've got you covered here.  In the video below, you'll learn how to ensure your salmon is fresh and how to clean it in no time. Get ready to filet, bone and skin your wild salmon like a pro.
Tips for cooking the tastiest salmon
When you cook salmon, does it remain nicely moist and tender?
Or is it always a bit dry and hard to swallow?
When moist, salmon retains more of its nutritious properties. So, next time you plan on trying new salmon recipes, don't forget to keep an eye on the clock.
One way to prepare salmon is to quickly broil it. Here's how you could do this:
Preheat your broiler on high.
In the meantime, heat a cast iron pan until it becomes very hot. This usually takes about 10 minutes.
Gently place your salmon on the pan and let it broil for about 7-10 minutes or more, depending on its thickness.
Ready to discover some salmon recipes that will make you feel like you're eating at a gourmet restaurant? Then just click on the recipe's name – this will take you to the website where the recipe is posted.
A. Pilaf and Cauliflower Rice
Missing the traditional rice? Then this grain-free pilaf is for you. Prepared within 30 minutes, this simple dish involves sautéing a cauliflower head in some coconut oil, minced garlic and onions. Top this tasty pilaf with salmon filet, baked in coconut oil and seasoning, for an out of this world flavor.
For those of you who are wondering what 'safflower' is, it's an orange flower from which saffron is obtained. The petals of this special flower, known as safflower, are used to produce red and yellow dyes.
Did you know?
Saffron, the pollen of safflower, shares the same floral properties as the safflower petals. The difference? Saffron is more expensive.
Suggested modification:
Don't have apricots on hand? No problem. Just sub it with some organic dried raisins.
Running late for dinner? And you have absolutely no idea what to cook?  How about trying these taco bowls? You'll be done in less than 1 hour.
Bonus: You'll be getting a nice amount of vitamin C from the cauliflower, plenty of fiber, as well as potent anti-cancer substances like sulforaphane from the broccoli florets.
Suggested modification:
Not a fan of bell peppers? Use carrots instead.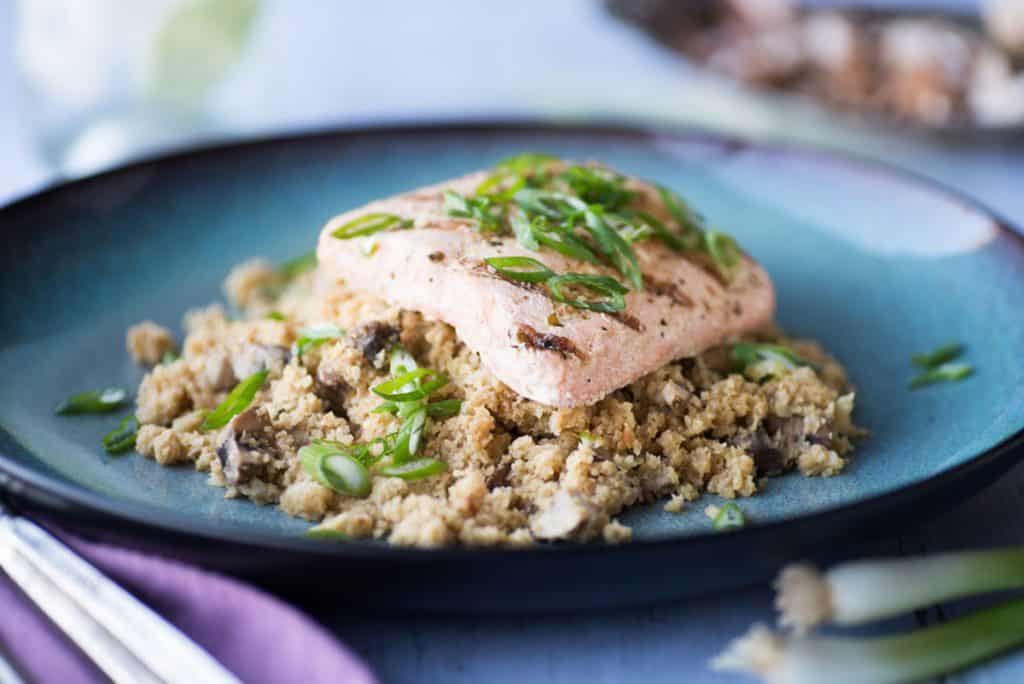 B. Sauces
The terrific thing with salmon is that it always tastes delicious. No matter how you cook it. Or what ingredient you decide to pair it with.
For this dish, you'll be combining the salmon with a punchy sauce made using lemon juice, egg yolks, and shallots.
Suggested modification:
Give your crispy salmon a kick by adding some red pepper flakes. And, if possible, choose what's organic since these spices tend to be heavily contaminated with pesticides.
Among the many salmon recipes that I've tried, this is by far the easiest. Hands down. All you need to do is combine your wild salmon with some lemon and dill and pop it in the oven. Et voilà, you've got yourself an hors d'oeuvre.
Seriously, who can ask for more?
Suggested modifications:
Want some extra crunch? Sprinkle some coconut flakes or some toasted sesame seeds on your salmon.
Use thyme or rosemary instead of dill for a completely different twist on this dish.
Do you often crave for meals that contain coconut? If that's the case, you'll surely want to add this dish to your favorite salmon recipes.
To make the coconut cream sauce, you'll only need some full-fat coconut milk, garlic, basil, and a large shallot.
Suggested modification:
Instead of canned coconut milk, make a big batch of homemade coconut milk. Keep it in the freezer for when you'll need it.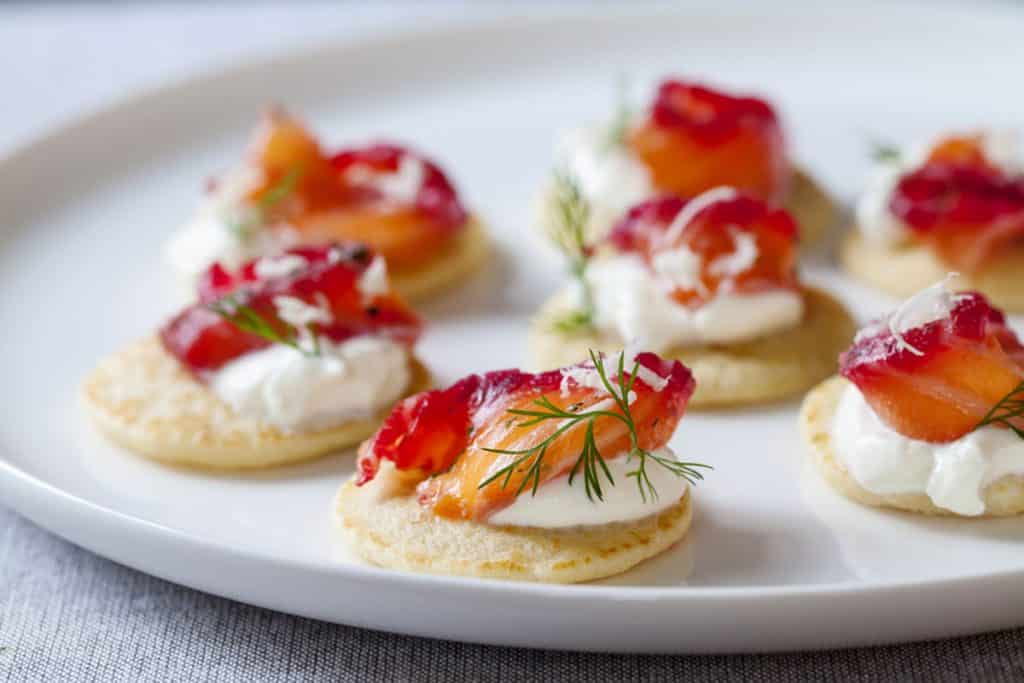 The salmon on its own tastes just superb! But pair it with that light green watercress sauce made using cashew cream, lemon juice and plain ol' water and you've got yourself an out-of-this-world meal.
Suggested modifications:
For a different sauce, replace the cashew cream with some raw, peanut butter.
You can also use coconut butter or coconut cream instead of cashew sauce.
C. Noodles
Feel like having wheat-based noodles? But you know these aren't good for you?
Say no more. With this original dish, you can once again enjoy noodles without fearing the after-meal bloat.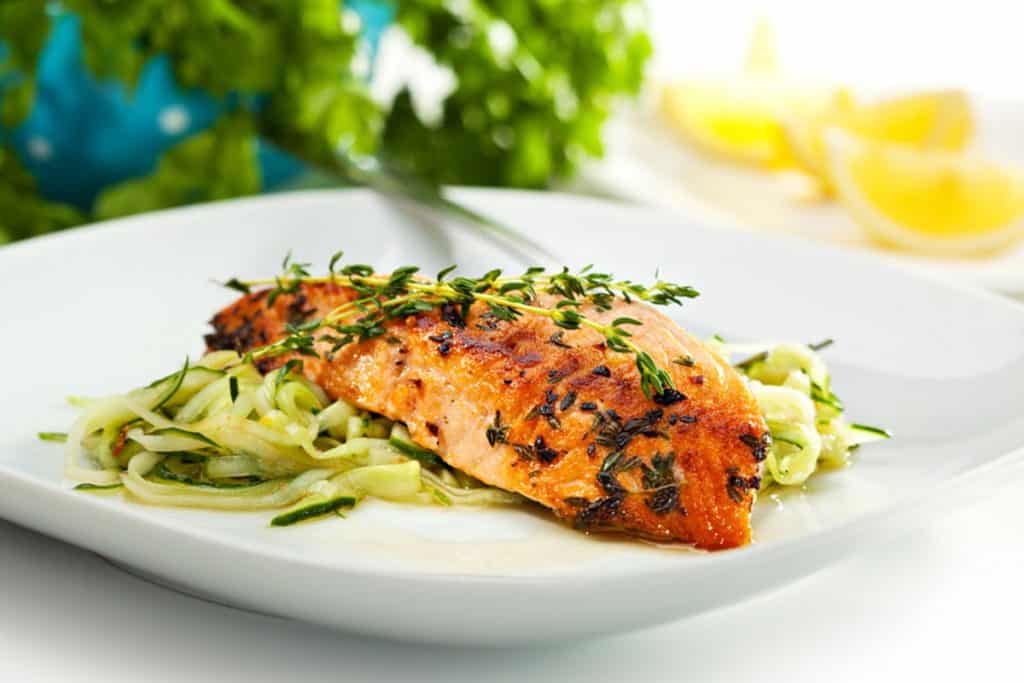 D. Crepes and Wraps
Craving for some healthy crepes? Have a look at these salmon crepes with dill aioli. Prepared in only 20 minutes, these cute mini crepes are a life saver for those days when you're running against the clock in the morning. Save this dish among your salmon recipes. You won't regret it!
Suggested modifications:
Make sure to use large eggs – regular ones will cause your crepes to fall apart when cooking.
Instead of using canned coconut milk, prepare your own homemade coconut milk and keep it in the freezer for later.
Instead of gluten-free flour which often contains a weird mix of ingredients, use almond flour.
Wraps come in handy whenever you don't feel like cooking. They're super easy to make, taste delish and are filling.
Suggested modification:
Instead of buying ready-made wraps, why not prepare your own? Here's how I make mine:
Mix together ¼ cup of coconut flour, 2 ½ large eggs, ⅝ cup of almond milk, some salt, ground black pepper and dried oregano.
Let the batter sit for a few minutes. In the meantime, melt some ghee or butter on a skillet over medium heat.
Gently pour ¼ cup of your batter, making sure that it is evenly distributed. Cover it and let it cook for 2 minutes. Once the edges are nicely golden, just flip over your wrap and let it cook for another 2 minutes.

What's great about these wraps is that you can prepare them ahead and they still taste lovely two days later. This is why they're a perfect lunch. Just don't forget to refrigerate any leftovers!
Suggested modification:
For the paleo folks out there, sub the crème fraiche with some coconut cream for the same rich texture.
E. Burgers
This isn't your ordinary burger. Or your ordinary salmon filet either. These salmon burgers can make a fantastic breakfast or lunch, as they are ready within minutes, and contain ingredients that you probably use every day.
Suggested modification:
To make these burgers paleo, replace the bread crumbs with some almond meal.
Here's another simple, yet understated salmon burger recipe that will surely be a winner among your family and friends. The fresh cilantro, lime juice and wasabi powder infuse the wild fish with a spectacular flavor.
Suggested modification:
If you don't like spicy food, then I'd recommend you try another burger recipe. However, if you still want to bite into one of these wasabi burgers, then feel free to omit the wasabi altogether.
Fancy a unique way of eating your burger? Accompanied with sweet potato buns, this no-fuss salmon burger will make you discover flavors you didn't know existed. With its creamy Tzatziki sauce made from cucumber, garlic, lemon juice and apple cider vinegar, this fish burger will surely find an easy way among your salmon recipes.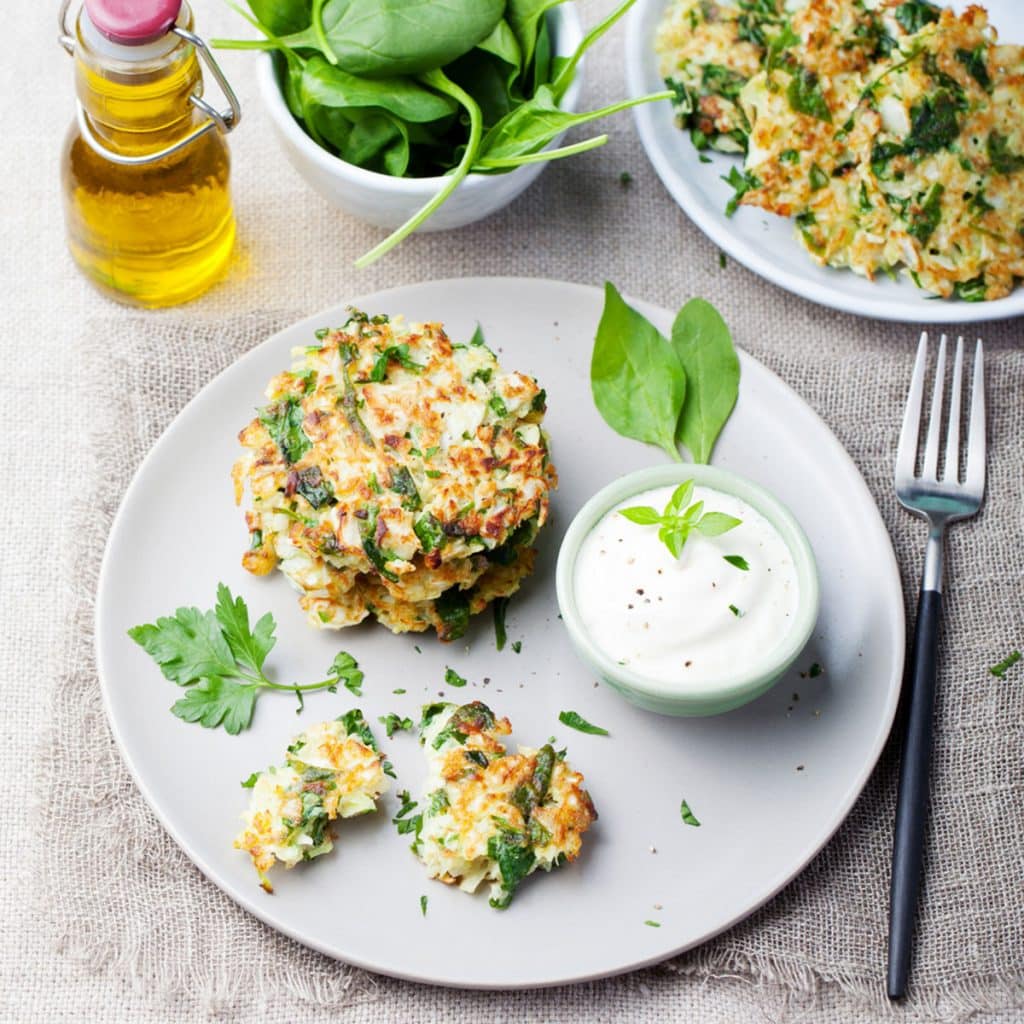 F. Bites
Hunting for a new way of eating salmon? How about these tiny bites? The smoked paprika and Tabasco give it a kick while the mayonnaise and tomatoes give it a lovely creamy touch.
Tip: That's one of the salmon recipes you just can't make too far in advance. I strongly suggest you prep these bites just before serving otherwise the sliced cucumber will get all mushy.
Suggested modifications:
If you can't tolerate Tabasco, just leave it out altogether. Or you could use cayenne pepper instead.
For a tropical twist, omit the cherry tomatoes and use finely chopped pineapple or a medium ripe mango.
Don't need to impress anyone? There's no need to make bites – simply chop the cucumber and mix everything in the salmon mixture.
Seriously, who doesn't have a weakness for salmon covered with a crispy crust?  These beautiful bites are so delicious that you could eat all of them by yourself.  Coated with egg and coconut flour, you'd never realize that these bites are a healthy snack.
The sweet chili sauce, made of agar agar, Thai red chilis and honey, is the ideal complement to the savory taste of this salmon dish.
Suggested modifications:
Make these beauties paleo compliant and add them to your salmon recipes by using coconut flour instead of all-purpose flour.
Don't have any white vinegar left? Just use some apple cider vinegar instead.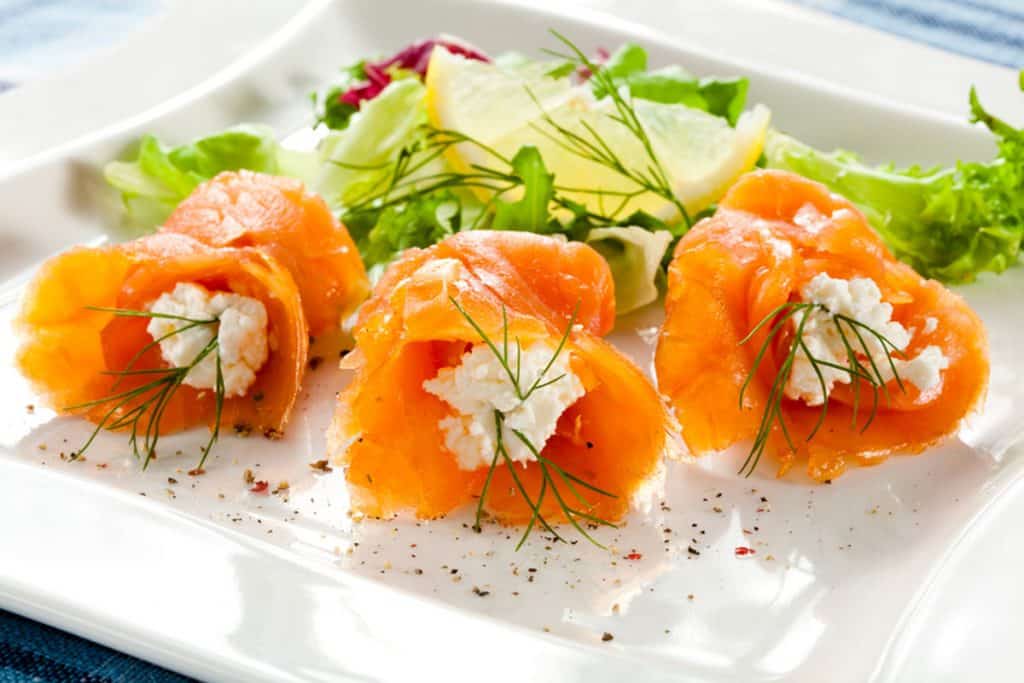 G. Foil-Grilled, Marinated, Glazed and Coated Salmon
This perfectly grilled salmon can turn a simple weeknight meal into something extraordinary. The honey and garlic flavor is infused in every single bite of this dish, leaving you with an out of this world taste.
Suggested modification:
To make this dish a complete meal, you can serve it with some sautéed carrot and cabbage.
The simplicity of this dish means you can get it all together in no time whenever you don't really feel like cooking. The lemon juice, chili flakes and smoked paprika give this marinated salmon such a delicate taste that you'll be left craving for more. Get ready for a simple dish, packed with flavors!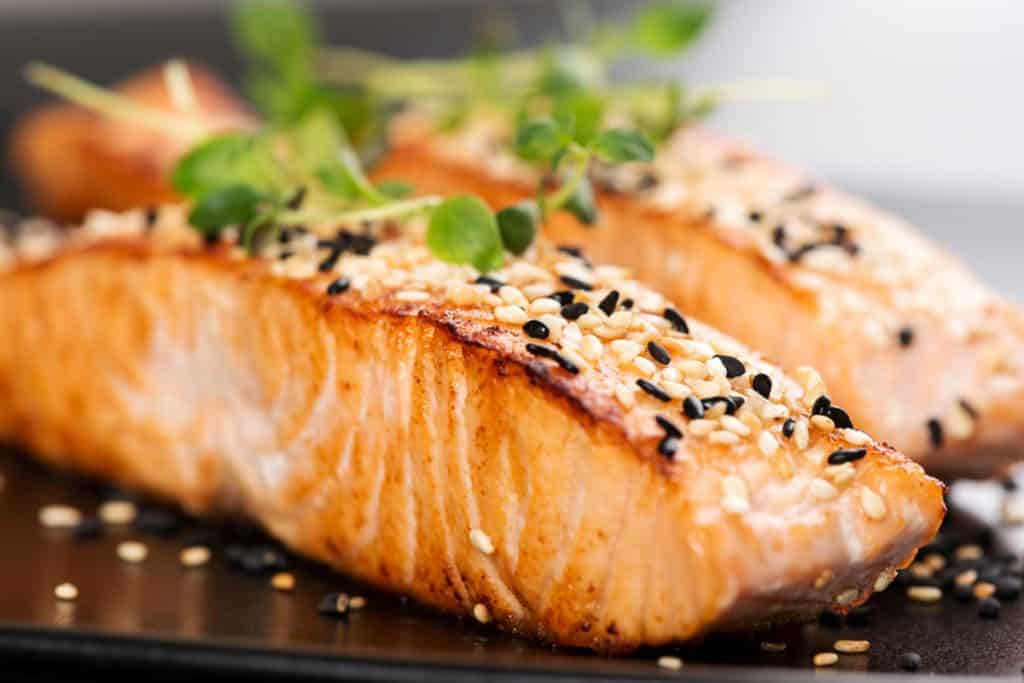 Here's a terrific way of including some seafood in your diet.  The roasted broccolini and asparagus in this recipe give the salmon an exciting flavor. As for the addition of some coconut aminos to this glazed salmon, it's a stroke of brilliance!
The coco crust in this recipe provides you with just the right crisp. Serve this and see how quickly it becomes a family favorite!
Suggested modification:
For an even tastier meal, sprinkle the salmon with some dried oregano, ground black pepper and cayenne pepper.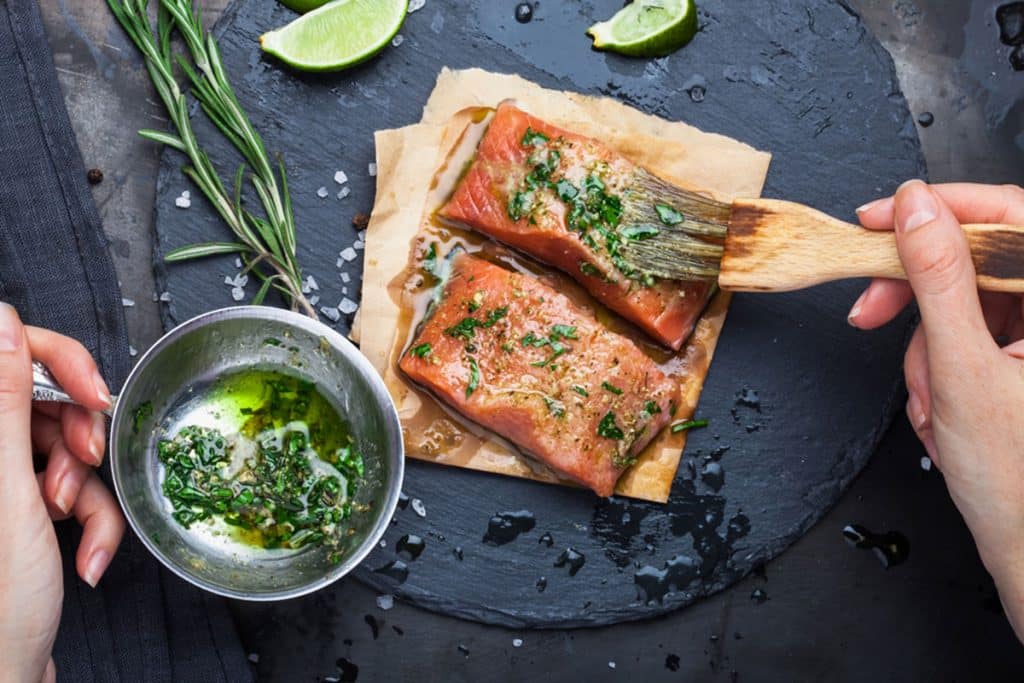 H. Dips
How about a dip? One that's free from starches and conservatives? Accompanied with your favorite fish? Sounds like a treat, right? If you haven't yet tried this smoked salmon dip, you're missing big time!
Suggested modifications:
Make several different dips by simply replacing the smoked salmon with some sautéed meat or chicken.
Add a dash of ground black pepper and cayenne pepper for a tangy taste.
With this recipe, you thankfully don't need any fancy equipment. Mayonnaise, coconut cream, lemon juice, mustard and some sauce – just the perfect appetizer for any weekend.
I. Tomato Salsa, Avocado and Teriyaki
There's nothing quite like salmon topped with some salsa, right? This healthy, light summer recipe calls for avocado, Roma tomatoes and lime juice.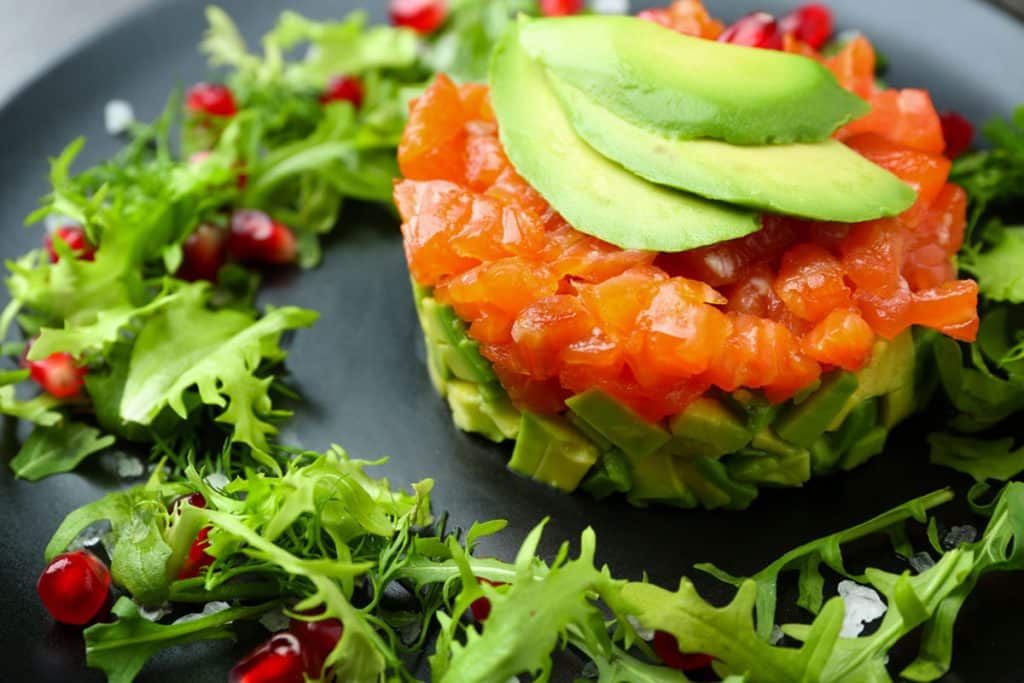 The roasted beets and broccoli along with the avocado make the salmon so yummy that your guests will clean their plates within minutes.
It's no surprise that this Teriyaki salmon dish is among the top ten salmon recipes that have left many of my patients completely baffled. You'd never imagine that salmon could taste so amazing with just coconut aminos, honey, oranges and rice vinegar as ingredients.
J. Frittata, Tartare and Soup
Tired of eating the same boring eggs every day? Give this frittata a try – it's (practically) to die for. Take this dish next time you attend a family reunion. Everyone will think that you put a whole lot of effort in making it.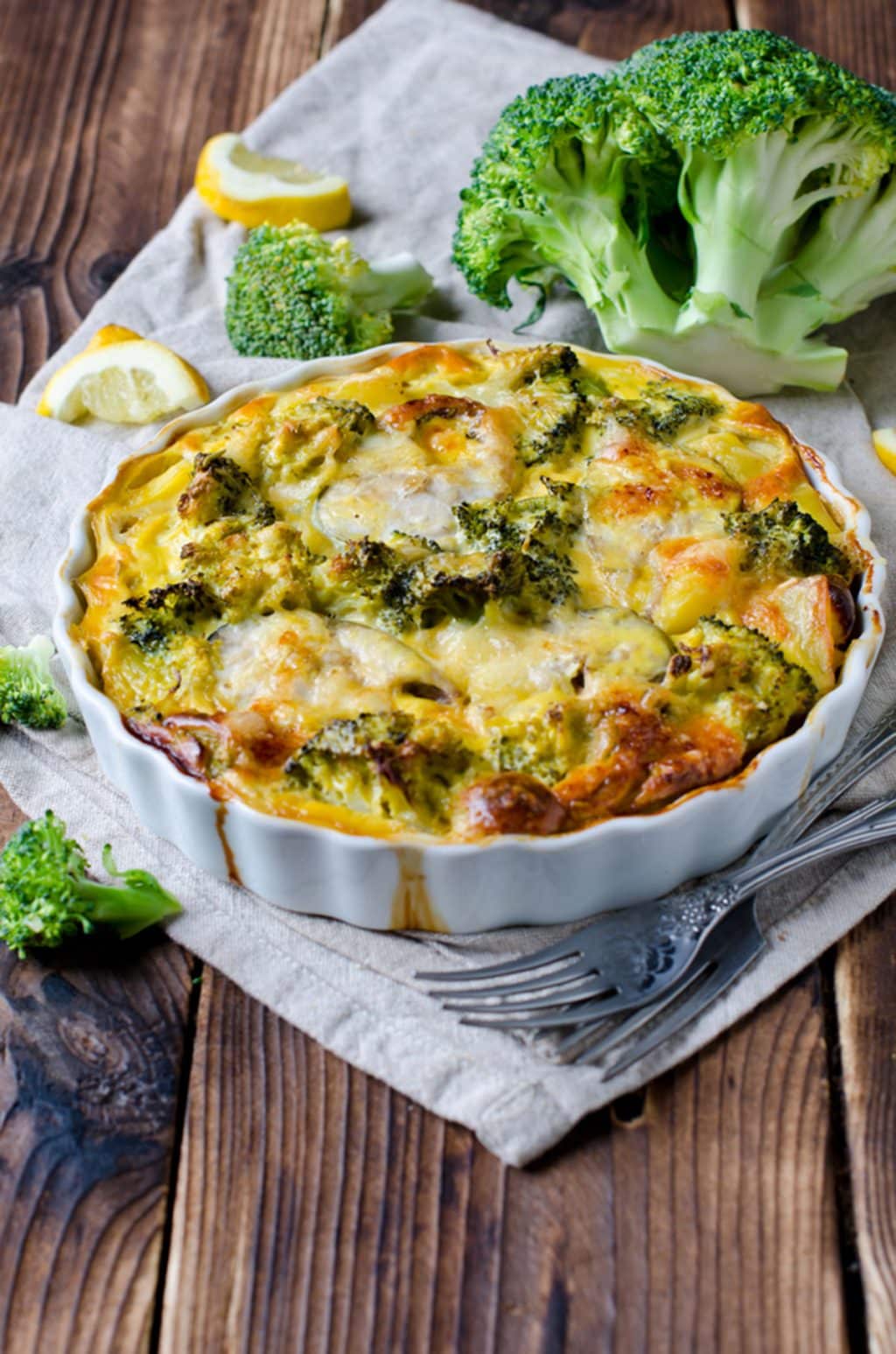 This tartare looks really fancy when, in fact, it's crazy easy to make. However, keep in mind that for this two-salmon dish, you'll have to use the freshest salmon you can buy as you'll be eating it raw. Also, removing the skin of your salmon filet is a must.
Tip for success: Make sure to cut your fish as explained in the recipe. If your cubes are too small, your tartare will lose its beautiful aspect and if they're too big, you'll be left with a not so pleasing taste.
When a regular soup does not feel enough, whip yourself some of this leak and salmon soup. This hearty soup will keep you full for hours thanks to the protein and the healthy coconut fats it contains.
K. Salads
I don't know about you, but I simply love salads. With its arugula, olives and artichoke hearts, this is one of those salmon recipes you wouldn't want to miss. And the lemon juice, dried dill and fine sea salt dressing is simply a must-try.
Suggested modification:
Add some color and crunch to this mini salad by accompanying it with some sliced red bell peppers.

Looking for a light summer salad that's not drenched in vinaigrette? This healthy salmon salad is exactly what you need.
Filled with all sorts of nutritious foods, this salad can be on your table in 10 minutes.  This salad looks so elegant with its toasted pecans and avocado that you'd think it's coming straight out of a fancy restaurant.
Here's an original way of including some salmon into your meals. In this recipe, the salmon is beautifully married to some zucchini and raspberries. And, it's filled with a delicious balsamic glaze, thyme and seasonal greens.
Have you ever eaten a baked salmon loaf? Never? Then, you're missing on something awesomely delicious! Although you'll need to spare about 45 minutes to prep this salad, it's worth it all.
The cucumbers, dills, green onions, baby capers, mayonnaise and lemon juice add some tangy crunch to the soft salmon.
Now, I'd like to hear from you. Do you like salmon? What's your favorite recipe? Share in the comments below or on our Facebook page.