You know what they say … Breakfast is the most important meal of the day so you better make it a good one! Eating a nutritious breakfast will help kickstart your metabolism, fuel your energy, and improve your productivity throughout the day. There's only one major problem with breakfast. Most people are in such a rush in the mornings that they don't have time to make a healthy meal. That's where overnight oats come in handy!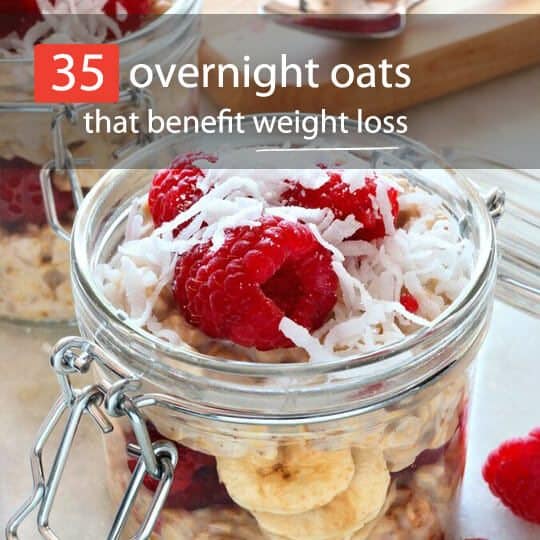 Overnight oats are extremely easy to prepare, you can eat them on the go, and they're loaded with healthy ingredients. Get gluten-free oats to make it a gluten-free meal. Also, use a nut milk if you're trying to eat dairy-free. Did I mention overnight oats are also inexpensive and totally delicious? To make your own, all you have to do is fill a Mason jar with oats, liquid, some add-ins, and toppings. Pop it in the refrigerator overnight and the flavors will fuse together by the morning. No cooking required. Really … it's that simple!
Fruit-Filled Recipes
1. Blueberry Cashew-Cream – Both your taste buds and your waistline will love this overnight oats recipe. It's loaded with superfoods such as blueberries, bananas, flax seeds, and chia seeds. Since chia seeds can absorb up to 10-times their own weight in water, they will help keep you feeling full for longer. That means they're great for weight loss!
2. Overnight Oats With Figs and Honey – This recipe may taste sweet, but there is absolutely no added refined sugar. All of the sweetness comes from the raw honey. Plus, the figs offer additional vitamins and minerals your body loves.
3. Raspberry Almond Overnight Oats – One serving of this raspberry almond overnight oats is 11 grams of fiber and 7 grams of protein. So this jar of oats is sure to keep your tummy feeling full until lunch time. That means you won't be loading up on extra calories from a mid-morning snack. Note: Whenever possible, use organic fruit in these recipes. Organic fruit will assure you that you aren't ingesting dangerous pesticides, chemicals, or GMOs. This is extremely important when it comes to weight loss. Did you know going organic can help boost your metabolism? Fruits grown without pesticides don't expose the thyroid to toxins, allowing your fat-burning system to work better!
4. Strawberry Chia Overnight Oats – Like I just mentioned above, chia seeds are great for weight loss. Add in some almonds and you've just created a belly-filling breakfast. Along with their protein and magnesium, the almonds give this jar of oats a nice crunch. The only thing to avoid in this recipe is the agave syrup (opt for raw honey or raw maple syrup instead)! While agave is often touted as healthy, health professionals are learning more and more about the sweetener. Dr. Oz wrote, "We used to think that because agave has a low-glycemic index and doesn't spike your blood sugar like regular sugar does, it would be a good alternative for diabetics. But it turns out that although agave doesn't contain a lot of glucose, it contains more fructose than any other common sweetener, including high-fructose corn syrup."
5. Chilled Plum-Oatmeal Pudding – Made with one fresh plum, ground cinnamon, and pure maple syrup, this recipe is loaded with beneficial vitamins, minerals, and antioxidants. Both the plums and the cinnamon are great for digestive health. The list of their health benefits doesn't end there, though.
6. Tropical Overnight Oats – This recipe is topped with fresh kiwi and pineapple. Both fruits have amazing health benefits. They are both loaded with immune-boosting vitamin C, have cancer-fighting properties, and help naturally detox the body.
7. Banana Bread Overnight Oats – Bananas are a healthy source of dietary fiber, making this breakfast meal easy to digest. Bananas are also a great food for athletes. So indulge in a bowl of this banana bread overnight oats either before you workout or after!
8. Apple Cinnamon Overnight Oats – Cinnamon, nutmeg, and vanilla extract — enjoy the taste of fall all year long with this healthy overnight oats recipe.
9. Cherry Chia Overnight Oats – Love the flavor of cherry? Then you'll love this oats recipe! With protein powder and almond butter on the ingredient list, this thing is chock full of protein and healthy fats. It's also low-sugar, making it an incredibly healthy breakfast option.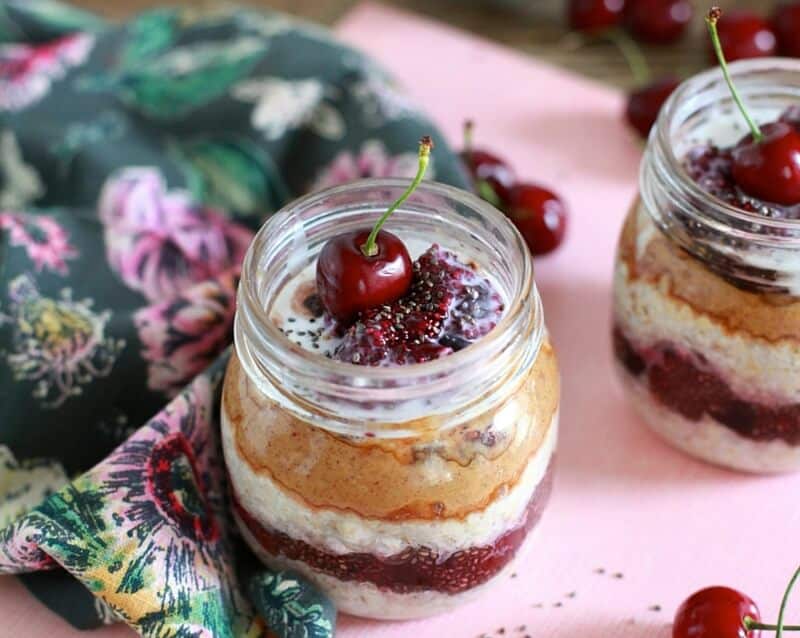 10. Orange, Coconut, and Vanilla Overnight Oats – Who doesn't love a good dose of immune-boosting vitamin C? I sure do! Along with the health benefits, this orange oats jar is bound to please your taste buds. It's tangy, yet sweet. Note: This recipe calls for yogurt. When choosing the right yogurt to add, make sure it's not loaded with added sugar. Instead, opt for a plain, natural yogurt. You may even want reach for a live-cultured yogurt that has probiotics and will help improve your gut health.
11. Peach Pie Overnight Oats – One tablespoon of honey is all it takes to make this peach pie overnight oats recipe sweet. Along with the pleasant flavor, diced peaches and whole raw almonds add a nice crunch.
12. Banana Foster Overnight Oats – This recipe takes a little more time to make, but it's definitely worth it. First you need to sauté bananas in vanilla, cinnamon, and raw maple syrup (sounds great already, right?). Then you'll add the bananas to the oats and milk. You can also make this recipe dairy-free by swapping out regular cow's milk for almond milk!
13. Cocoa Nibs & Pomegranate Overnight Oats – It will only take you about five minutes to whip up this breakfast meal. It's gluten-free, dairy-free, and downright delicious. While many people don't think to add pomegranates to their breakfast meals, the sweet seeds pair nicely with the bittersweet cocoa nibs. That's not to mention, pomegranates have some serious health benefits, including:
Fight cancer
Help lower bad cholesterol
Reduce risk of stroke
Aid weight loss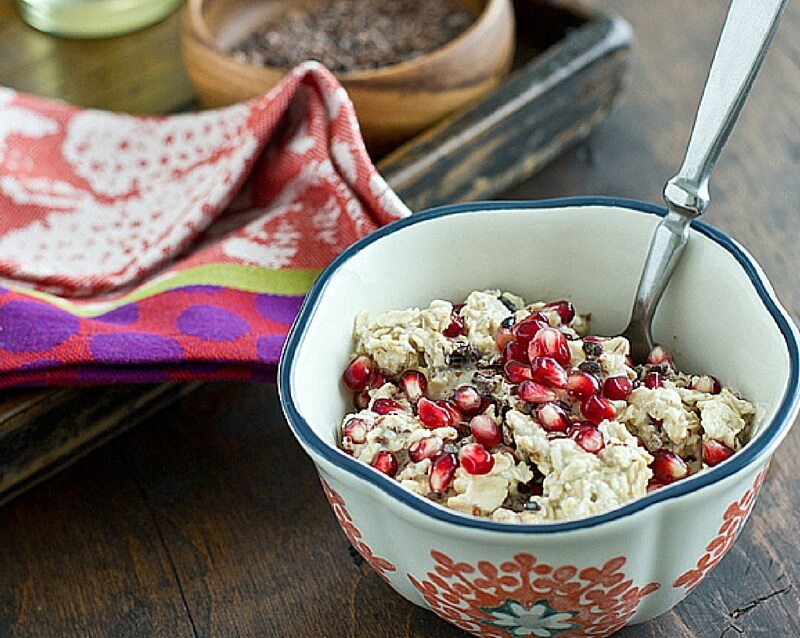 Coconut Recipes
14. Coconut Pomegranate Overnight Oats – If you're a coconut lover, get ready to go coco-nuts for your new favorite breakfast. The combination of coconut extract, coconut milk, and shredded coconut flakes make you think you're eating a tropical meal (just close your eyes and imagine you're laying on a beach). Plus, coconut is extremely healthy. Since coconuts are loaded with fiber, healthy fat, key vitamins, and minerals, they help:
Improve digestion
Lower bad cholesterol
Stabilize glucose levels
Fight off viruses/ infections
Kill bad bacteria
Regulate hormones
Aid weight loss
Natural energy booster
Anti-aging
As far as the taste of this breakfast recipe, the coconut pairs perfectly with the juicy, nutrient-dense pomegranate seeds!
15. Coconut Strawberry Overnight Oats – With just seven ingredients, you probably have everything you need to make this recipe in your kitchen right now. All you need is almond milk, strawberries, chia seeds, shredded coconut, vanilla extract, and raw maple syrup. It's important to note that when I say a recipe calls for maple syrup, I'm not talking about good ol' Aunt Jemima. Instead, look for a raw maple syrup that hasn't been processed with refined sugar or thickeners. Many of the maple syrups stocked on the shelves of your grocery store are loaded with dangerous food additives such as sugar, high fructose corn syrup, artificial flavors, and more.
16. Coconut-Cardamom Vegan Overnight Oat Parfait with Blueberry Chia Seed Jam – Coconut milk, oats, and chia seeds are mixed with ground cardamom, cinnamon, and raw maple syrup to create a yummy base. An antioxidant-rich, homemade blueberry chia seed jam and sliced pear are used as toppings. This is another oat jar that's loaded with healthy fats, vitamins, minerals, and antioxidants.
17. Coconut Latte Overnight Oats – Move over Starbucks, there's a healthier breakfast latte in town! Judging by the name, you may be able to guess this recipe has coffee in it. It is spiked with a quarter-cup of brewed coffee. For that reason, this overnight oats recipe is bound to wake you up and get you ready for the day ahead. Note: Since the enzymes in coffee can trigger cramping, gas, and diarrhea, this may not be the best recipe for people who suffer from IBS or other gastrointestinal issues.
Chocolate Recipes
18. Chocolate Coconut Overnight Oats – Who says you can't have chocolate for breakfast? Add in some shredded coconut and it truly feels like you're eating dessert! This healthy breakfast in disguise has unsweetened cocoa powder, shredded coconut, almond extract, chia seeds, and raw maple syrup. Plus, it's dairy-free!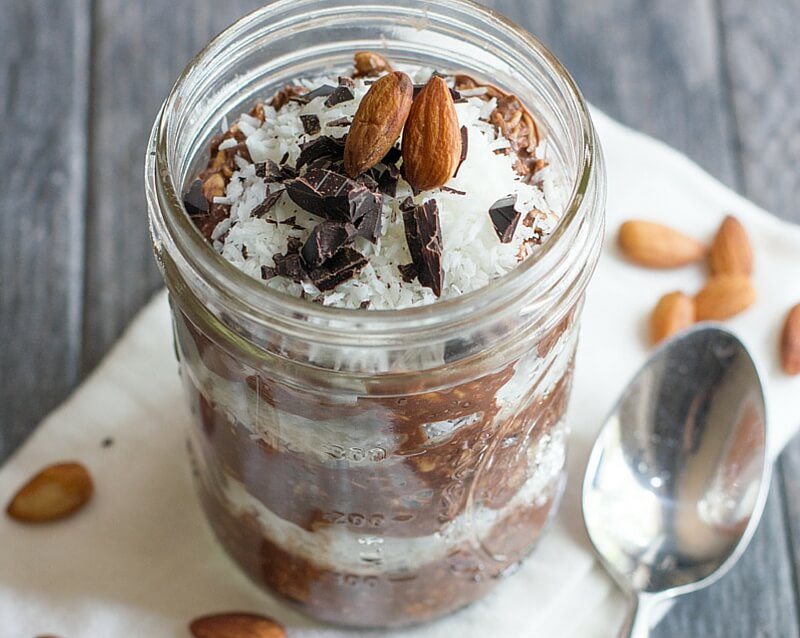 19. Chocolate Peanut Butter Fudge Oats – This one is for the person with a major sweet tooth. Made with chocolate, peanut butter, pumpkin puree and banana, you may be surprised to hear this creamy low-calorie oats recipe is only 308 calories. Many dietitians recommend eating anywhere from 250-500 calories for breakfast. If you eat fewer than 250, you may not get enough energy to boost your metabolism and carry you through to the next meal. This meal should definitely tide you over until lunch.
20. Chocolate Chia Oat Pudding – Made with cacao powder, berries, banana, and coconut milk, this meal is loaded with healthy fats and antioxidants. You'll notice that this recipe lets you choose between several different natural sweeteners. I would recommend using raw honey. Honey is considered a superfood that packs a strong nutritional punch. Along with its many vitamins and minerals, raw honey also promotes good gut bacteria. Did you know a healthy gut microbiome promotes a healthier you?
21. Salted Turtle Overnight Oats – Unsweetened chocolate, dates, and raw maple syrup give this breakfast recipe the right amount of sweetness. Combine the sweet with some sea salt and you've just bumped the flavor up another notch. All of the ingredients in this recipe are nutrient-dense, creating the perfect guilt-free meal.
22. Gingerbread Chocolate Oats – The chocolate flavor in this recipe comes from chocolate protein powder. When the protein powder is mixed with cinnamon, ginger, vanilla extract, and raw maple syrup, it creates a sinfully delicious taste (although, all of these ingredients are guilt-free)!
23. Healthy Cookie Dough Overnight Oats – This dairy-free recipe is the perfect balance between sweet and healthy. With a base of oats, chia seeds, and cashew butter, it's loaded with healthy protein and fiber. A little raw maple syrup makes it sweet. Then, top it all off with cacao nibs for a crunch.
Protein-Packed Recipes
24. Fruit-Filled Overnight Oats and Quinoa – This guilt-free recipe is loaded with protein from quinoa and protein powder. It's also rich in healthy fats, fiber, vitamins, minerals, and antioxidants. No need to grab a mid-morning snack when you eat this because it's definitely a meal that will keep you feeling full until lunch time. Note: Quinoa is also gluten-free. So if you're avoiding gluten, you can still indulge in a jar of this oats recipe.
25. Peanut Butter and Jelly Oats – Between Greek yogurt, peanut butter, chia seeds, and oats, this recipe is packed with protein. There isn't technically any jelly in this recipe. Instead, it calls for one cup of fresh strawberries. Note: When choosing which peanut butter to include in this recipe, opt for an all-natural peanut butter. If you prefer almond butter, that will work too.
26. Peanut Butter and Banana Overnight Oats – Packed with protein and dietary fiber, this recipe promotes healthy digestion, helps boost energy, and is perfect for people trying to lose weight. While this recipe calls for peanut butter, any nut butter will work!

Green Recipes
27. Matcha Overnight Oats – The powdered Matcha green tea in this recipe is loaded with EGCG, a compound that blasts belly fat and helps to prevent the formation of fat cells. Another ingredient in this recipe that benefits weight loss is chia seeds. That's not to mention, there are antioxidant-rich blueberries and strawberries that help to sweeten up this dish!
28. Green Monster Vegan Overnight Oats – Tired of the usual green smoothie for breakfast? Change it up and try this overnight oats recipe instead. It's pretty much like a green smoothie mixed with oats. The recipe calls for nutritious spinach or kale, a banana, chia seeds, almond milk, and, of course, the oats. Bump up the protein value by adding nut butter as a topping.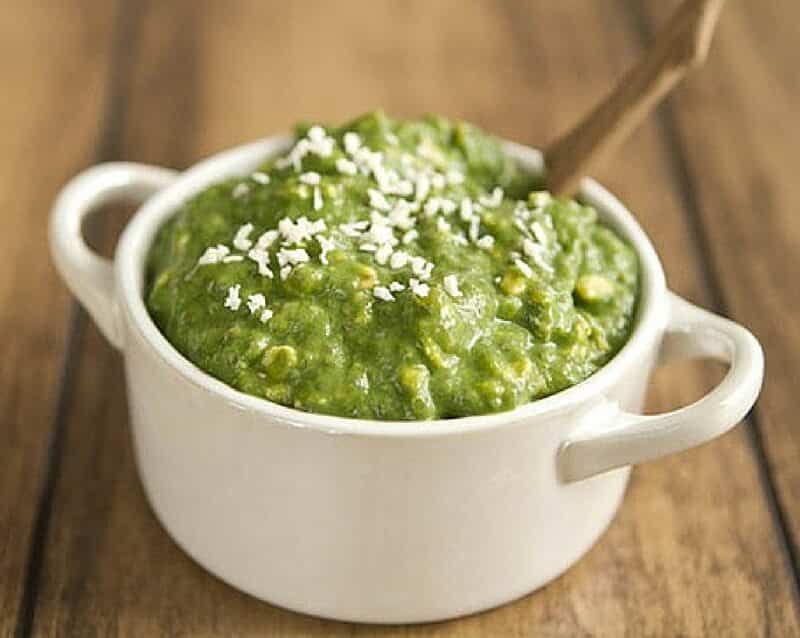 Misc.
29. Vegan Overnight Oats – When you mix together rolled oats, chia seeds, almond milk, and vanilla extract, you get a rather addicting chilled porridge. This recipe includes several suggested toppings such as fruit, coconut flakes, and cinnamon. You can either load up on all of these toppings or simply add one. There's really no right or wrong when it comes to these healthy ingredients. Just have fun with it!
30. Sweet Potato Pie Overnight Oats – While sweet potatoes aren't a traditional breakfast food, they certainly bump up the nutritional value of this recipe. High in fiber and low on the glycemic index, they're absorbed slowly and keep you feeling full longer! That means you won't feel the urge to reach for a mid-morning snack.
31. Maple French Toast Overnight Oats – Love the taste of French toast, but hate the calories? Try this French toast overnight oats recipe instead! With only 254 calories, this recipe calls for half of a banana, cinnamon, vanilla extract, flax seeds, and raw maple syrup.
32. Lemon, Thyme, and Honey Overnight Oats – Lemons are one of the healthiest foods you can eat. Plus, if you mix them with honey they're also delicious. This overnight oats recipe calls for oats, milk (you can swap cow's milk for a nut milk), Greek yogurt, thyme, honey, and lemon. Nothing bad for you here!
33. Raw Buckwheat, Apple, Walnut Porridge – This recipe replaces oats with buckwheat, which is another gluten-free option. It also calls for an apple, freshly squeezed juice from one orange, and cardamom. Top your porridge with berries and cocoa nibs for some extra flavor.
34. Carrot Cake Overnight Oats – Using a collection of spices, this recipe is loaded with flavor. Don't let the dessert-like flavor (or the name) fool you, though, there isn't one unhealthy ingredient included in this recipe.
35. Blackberry Mojito Overnight Oats – I have saved the most fun recipe for last. Using blackberries, fresh mint leaves, and a little rum, it's like breakfast has become happy hour with this one! This recipe definitely isn't for everyone, but if you like mojitos then you should give it a try. It's low-calorie and loaded with antioxidants! The only thing I would recommend changing in this recipe is the agave nectar. Instead of agave, try raw honey!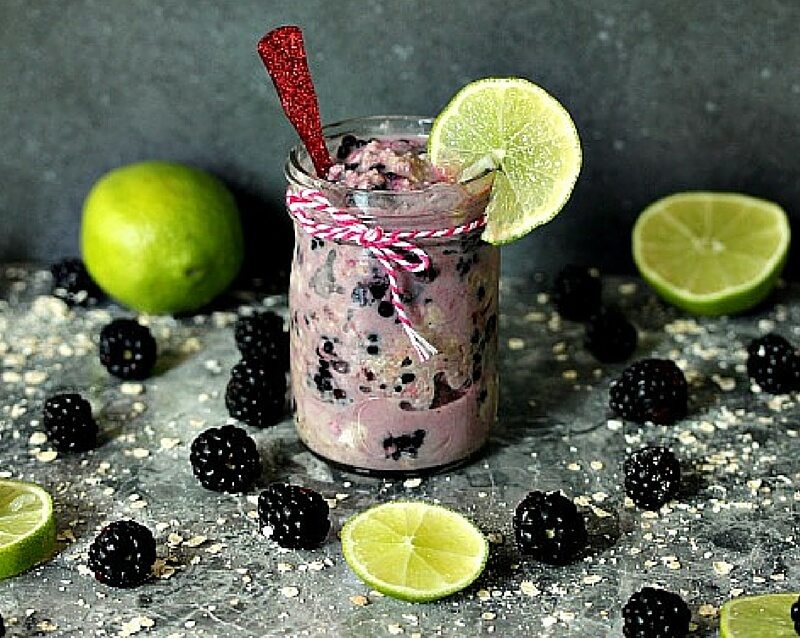 Have Fun With It
As you click through these overnight oats recipes, you'll notice that many of them start with a similar base. They all have oats and liquid (usually almond milk). From there, you just add some fruit and fun toppings. Once you get the hang of creating these overnight oats, don't just stick to the recipe. It's easy to play around and swap out ingredients. Add in your favorite fruits, or whatever healthy ingredients you already have in your kitchen. There's really no right or wrong here.
How Long Will My Overnight Oats Last?
When it comes to making overnight oats, a popular question is: How long will they last? While it's best to make them the night before you plan to eat them, overnight oats will stay fresh for up to three days in the refrigerator.
Happy cooking!