Whether you call it gorp, scroggin or studenterhavre, trail mix is a quick, easy, non-perishable and portable snack that can be made to be very healthy, filling and energizing! Here are 22 creative takes on the classic hiking snack…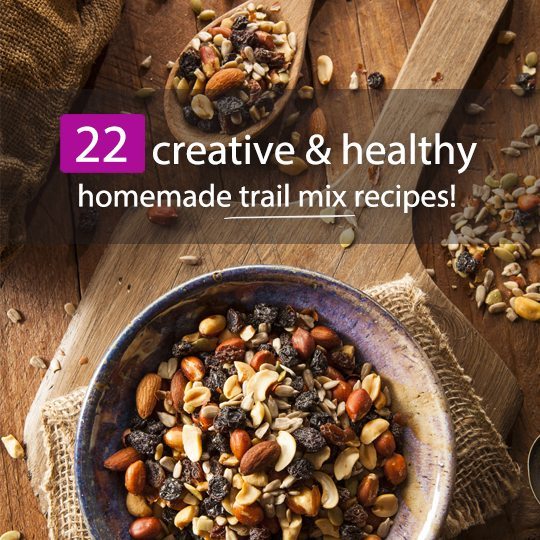 Is Trail Mix Healthy?
This classic hiking snack tends to get a bad rap health-wise these days. There are elements of it that you do need to be aware of. Dried fruit, for example, sounds super healthy, but it really is a powerhouse of sugar, and nuts, while extremely nutritious, are also very fatty. Yes, they are full of healthy fats, but even healthy fats should be eaten in moderation, and it is easy to mindlessly snack on trail mix all day! Then, there is the issue with certain ready-made trail mixes, in relation to what they are made out of. Sugared nuts, for example, or 'yogurt bites', which are hardly yogurt and largely artificial flavors and sugar, might be part of the mix. Then there are banana chips, which are deep-fried in, most likely, cheap and unhealthy oil, and often coated in sugar. Sometimes chocolate chunks are added, which, again, are ok in moderation, and actually have some health benefits if they are good quality dark chocolate. But, certain mixes will come with milk or white chocolate that are full of cheap, artificial ingredients and sugar. The list goes on!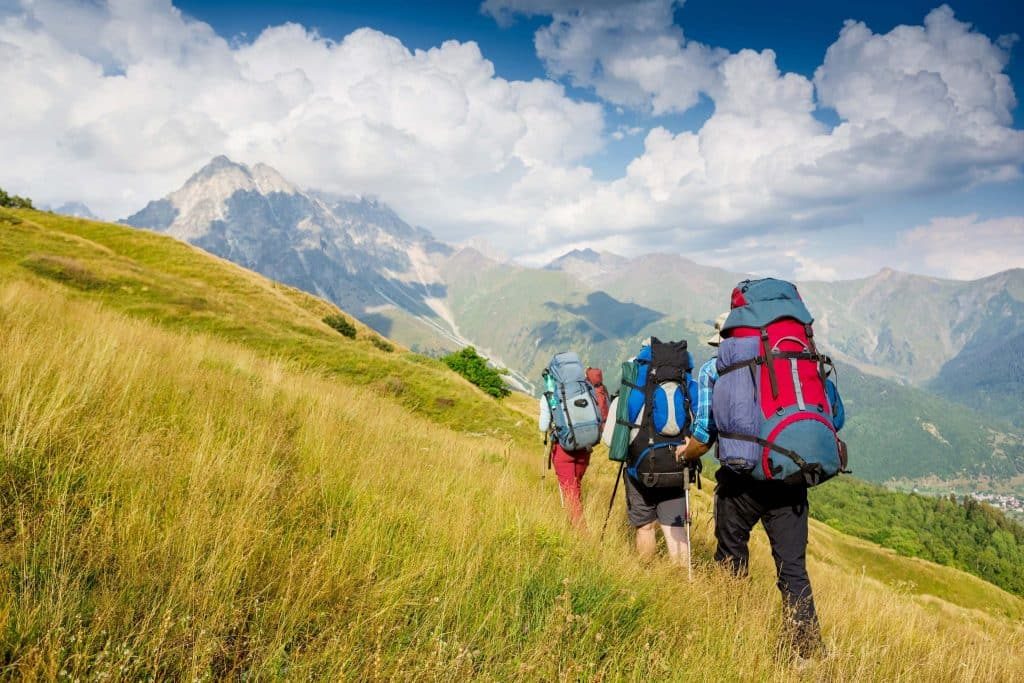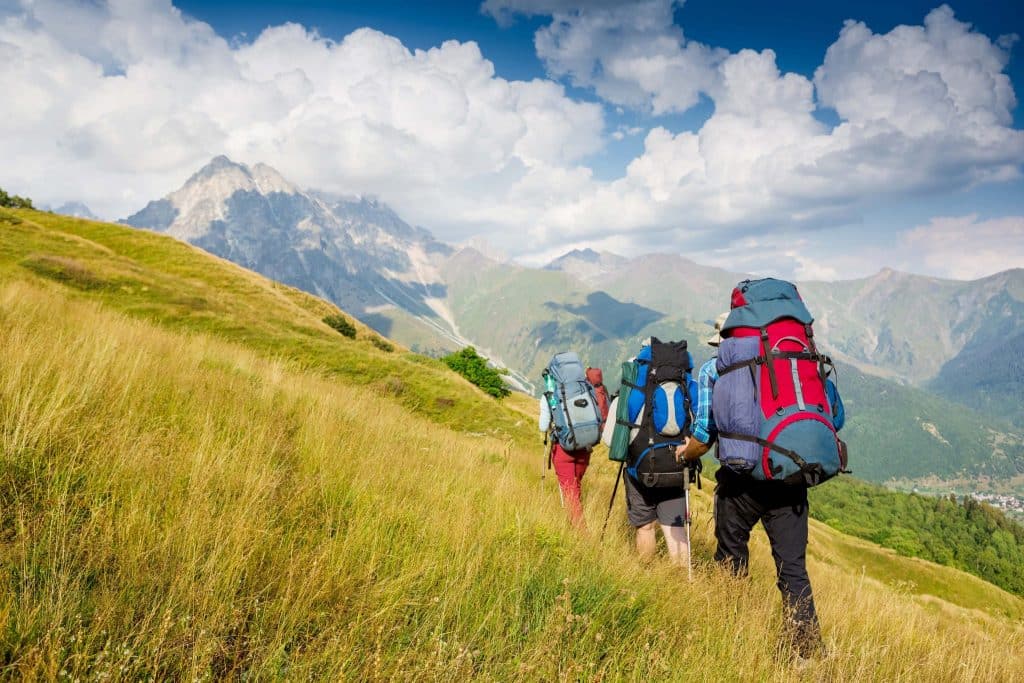 Having said all that though, you can find good quality whole food trail mixes, and you can make your own. If eaten in moderation and when you are doing a lot of exercise, like a long-haul hike, they can be healthy, beneficial and well-worth a go! It is also important to be aware of what you are eating for the rest of the day, including breakfast, lunch and dinner, because nutrition should be looked at in 24-hour cycles (and even weekly cycles for that matter). In order to maintain a balanced diet, you need to eat all the essential nutrients in a day and ensure you fast, either overnight or intermittently. For example, if you eat oats for breakfast and a vegetable soup for lunch, then you should make sure you eat a protein-packed dinner. If you snack on trail mix throughout the day, you should reduce the amount of sugar you consume alongside it, and slightly reduce your fat intake in your other meals. Again, this is all dependent on the type of trail mix you choose, how much of it you eat, and how strenuous your exercise is (how many calories you are burning).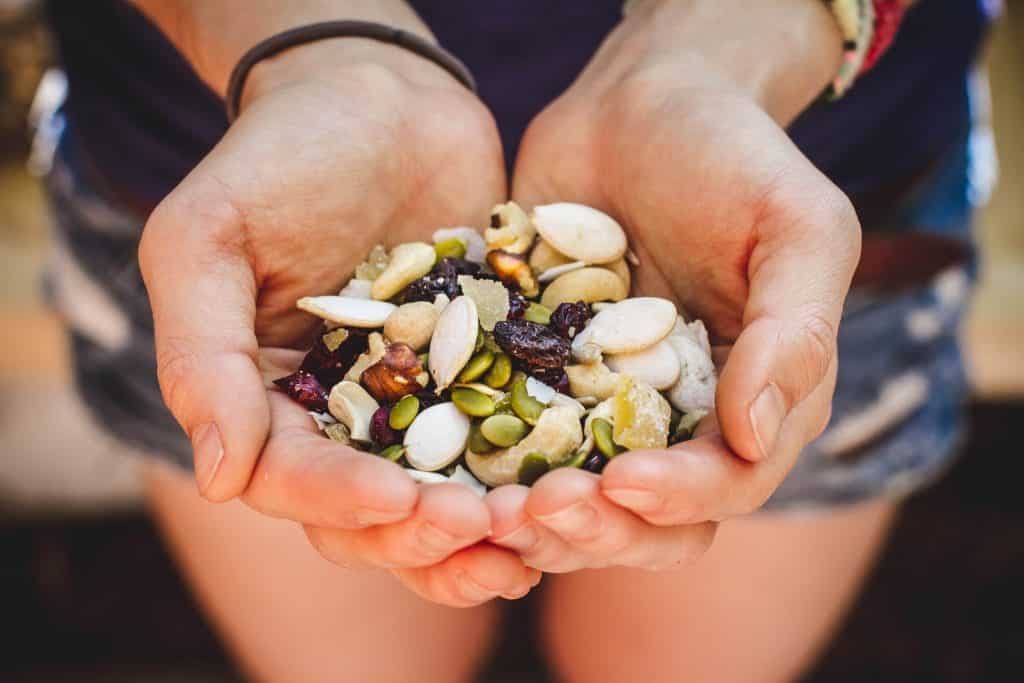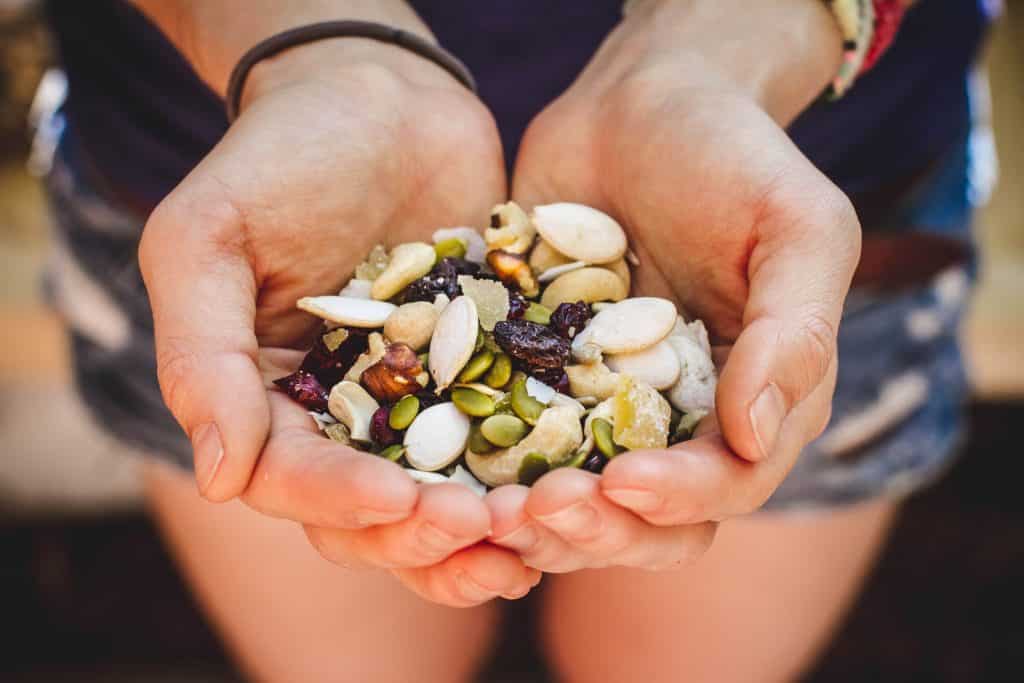 Uses For Trail Mix
The classic one here is, of course, hiking. Long-haul hikes, especially hilly or mountainous ones in hot weather and with a pack on burn a serious amount of calories, and you need to be hydrating and refueling if you're going for several hours. Trail mix is perfect for this, especially if it is full of nuts, because they provide slow-burning energy.
For the same reason, trail mix can be a handy snack for any kind of prolonged physical activity like hiking, such as cycling. Another option, if you work in an office and find yourself hitting the vending machine around 'tired o'clock' in the afternoon, you can bring a healthy trail mix option instead. It is sure to keep you awake, energized and focused! Be careful not to over-indulge though, especially in a stationary job like office work! If you have a physical job, on the other hand, it can be the perfect handy, portable snack for work to keep you fueled and strong between meals. Because it is such a portable and fairly non-perishable snack option, it's also a great one for camping.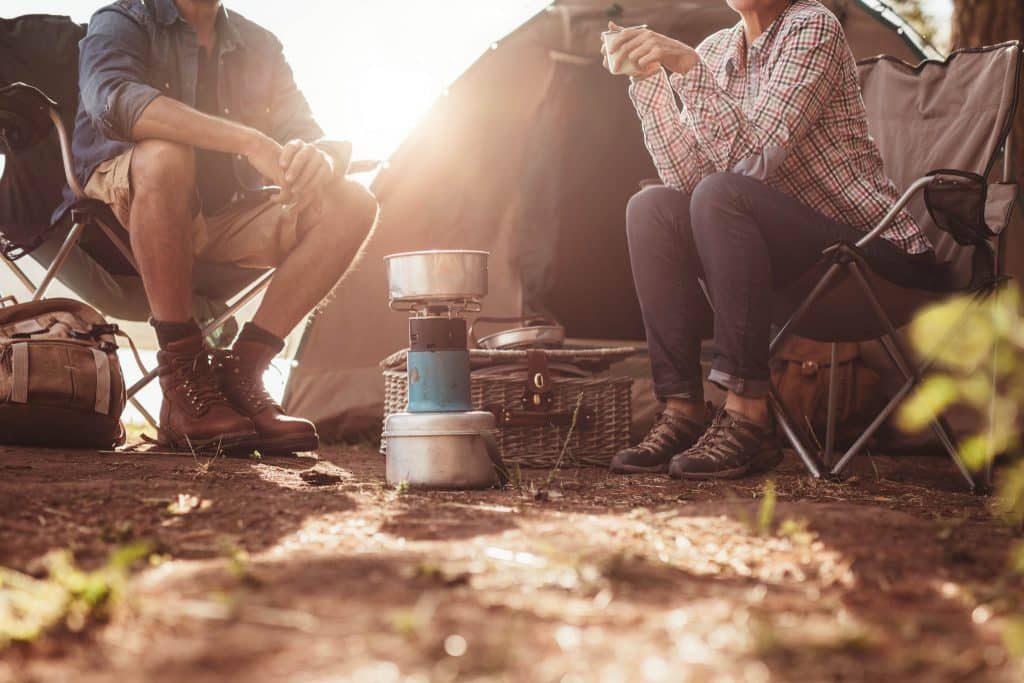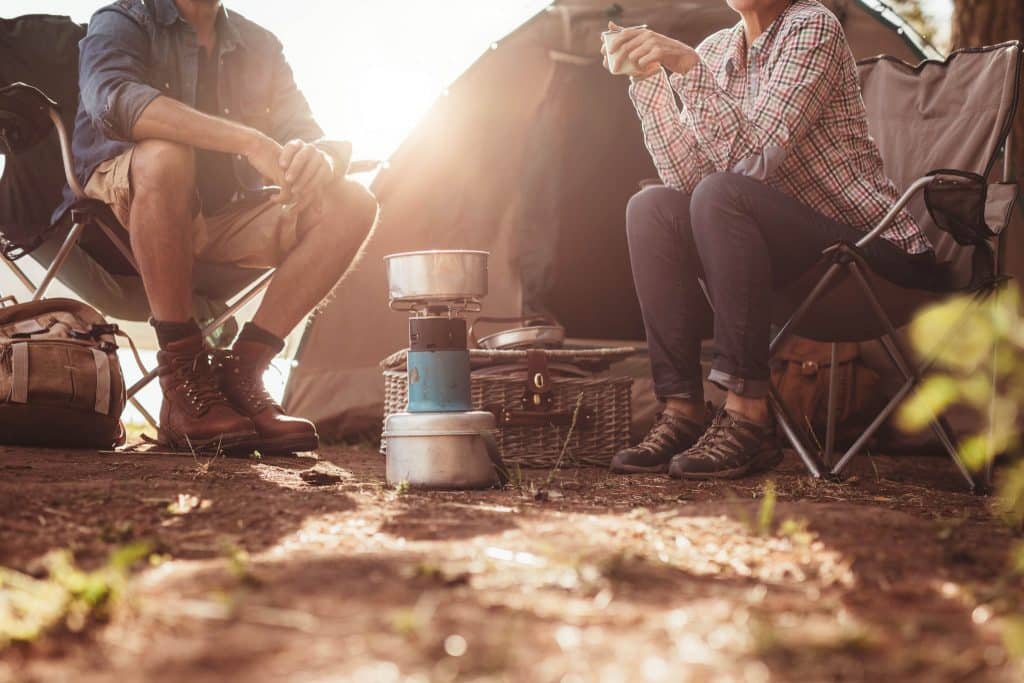 Building A Classic Trail Mix (To Your Liking!)
The simple trail mix recipe consists of some or all of the following, and you can add in or leave out whatever you want, to your liking! But be aware, nuts, seeds or oats should be the base – we wouldn't recommend leaving them out and just making a mix of dried fruit and chocolate! That will most likely lead to a very quick sugar crash and food craving. Go for a nice mixture of some of these ingredients:
Nuts – You can use any nuts you like. Raw nuts that are unseasoned and unsalted are the best options, but if you can't find raw, go for roasted. If you can find raw but prefer roasted, buy the raw ones and dry roast them at home, either on a tray in the oven, or on an unoiled non-grease pan over the hob. Some of our favorites are almonds, hazelnuts, cashews, brazil nuts and pistachios.
Seeds – Again, go for any type you like – sunflower, pumpkin, linseed (flaxseed), sesame – the list goes on! Seeds are little powerhouses of nutrition, and, although oily and fatty, are extremely high quality and good for you. You will get a great dose of protein, magnesium, iron, and a great number of other vitamins and minerals. They are best raw, like nuts, and unsalted.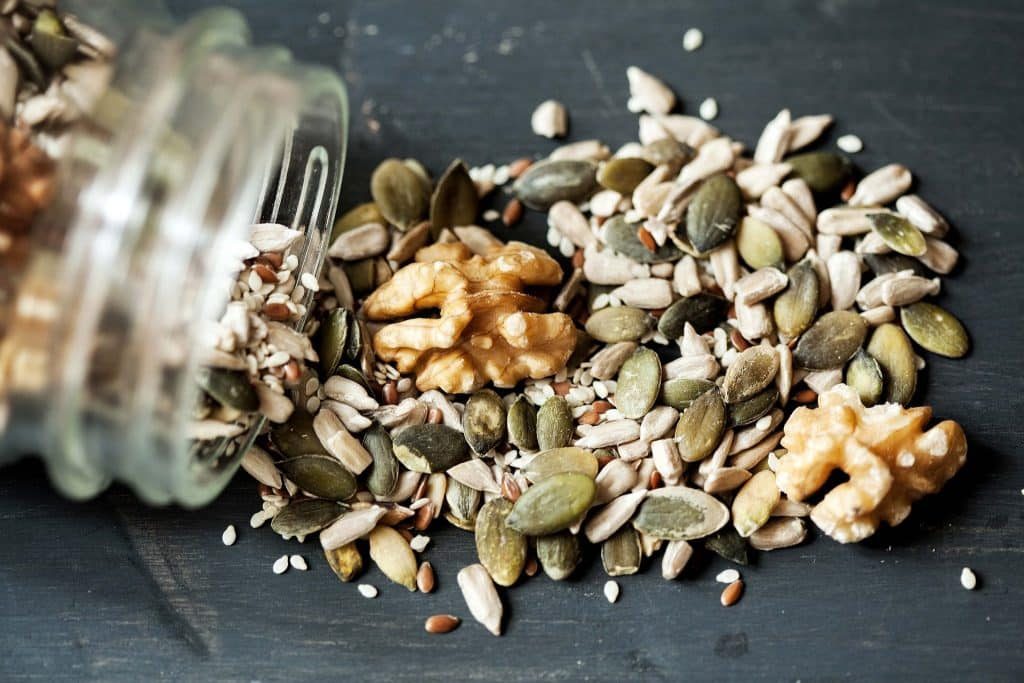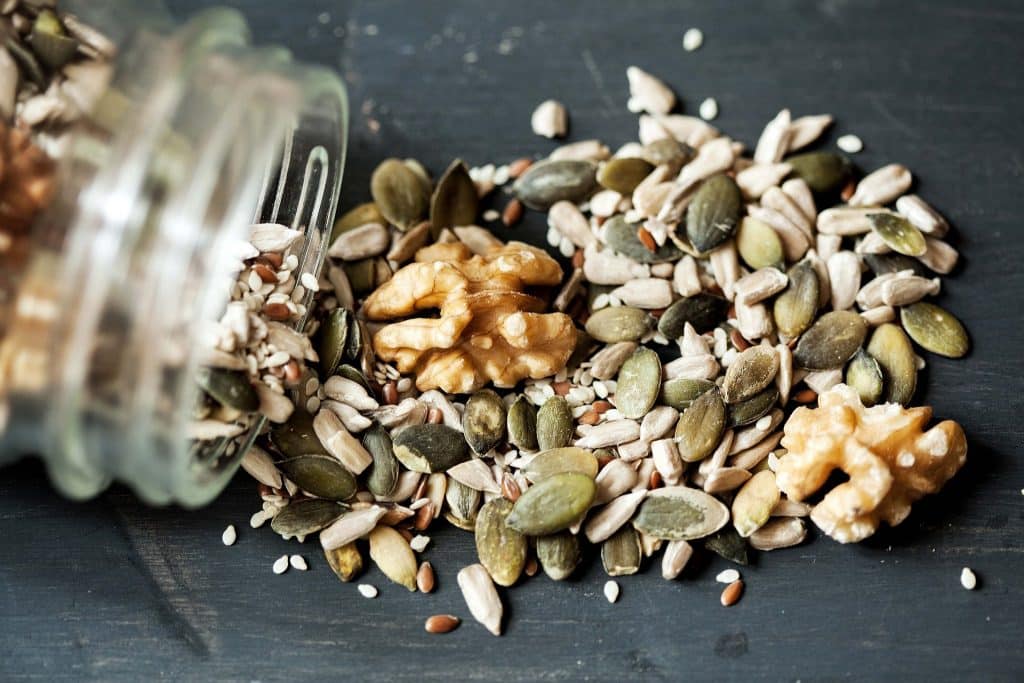 Dried Fruit – We always try to include less fruit and more nuts and seeds into our trail mixes, but that's not to say dried fruit doesn't have its benefits. If you are using trail mix as an energy snack on a physically difficult hike, or during an intense physical job, then you can actually suffer from low blood sugar, which means you need a sugar boost. Dried fruit is great for that, but, when choosing it, you need to be careful not to get the stuff that's coated in refined sugar. Go for sun dried fruit that's as natural as possible.
Extras – Don't be afraid to change it up a bit each time and add some fun or decadent options (in moderation!). After all, if it's the same every time, you'll soon get bored of it! Good quality dark chocolate chunks are great little additions that taste so good with nuts! You can also add popcorn, oats, granola or natural yogurt balls. These recipes will give you some more ideas…
Trail Mix Recipes
Healthy Popcorn Trail Mix – Let's kick the recipes off with this easy-to-prepare concoction! This one includes popcorn, dried apricots, dried cranberries, cashews and sunflower seeds. That's a bit out of each of the groups mentioned above – nice and balanced, tasty and full of different flavors.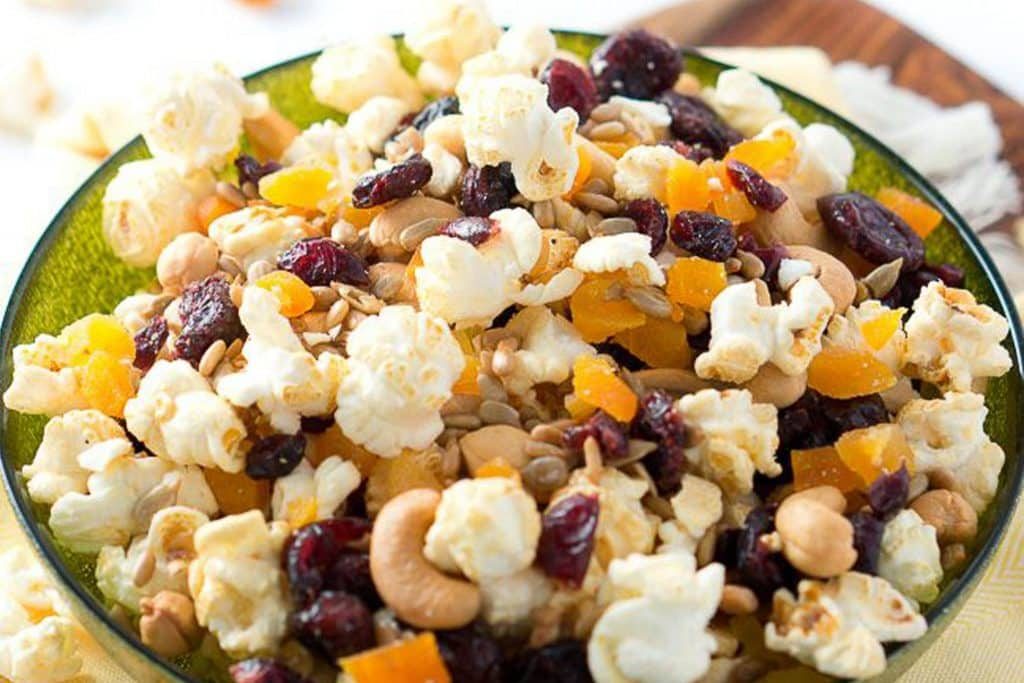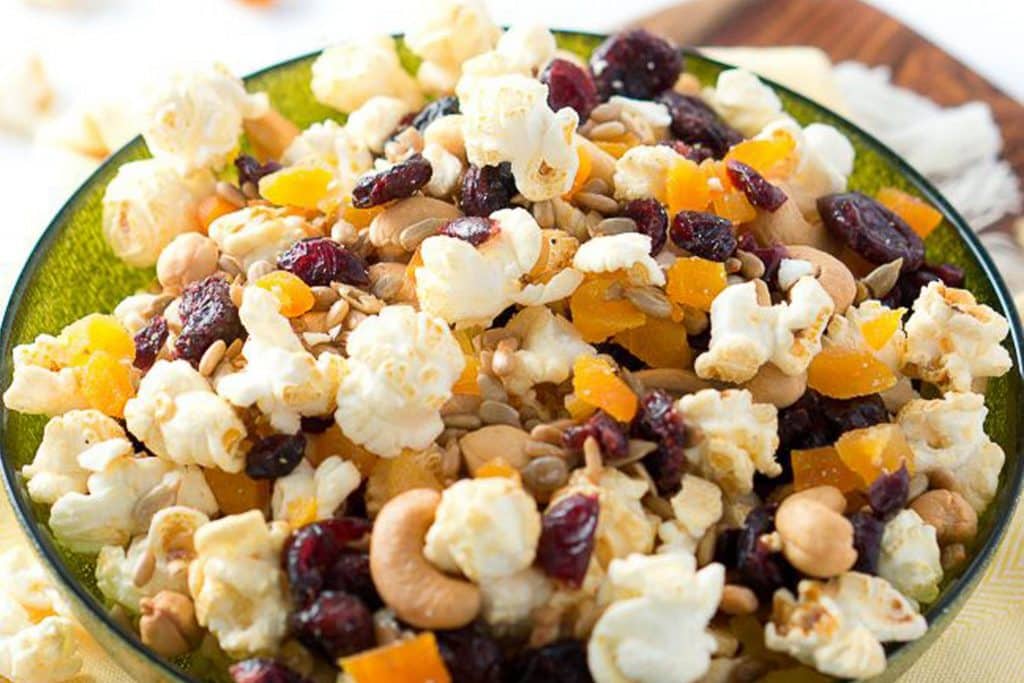 Breakfast Oatmeal Trail Mix Bars – This is a bit of a different take on trail mix, and can be enjoyed for breakfast, or as a bar option out on a trail or cycle. They are packed full of nutrient-dense foods, providing protein, fiber, vitamin, minerals and antioxidants. The recipe calls for coconut oil, ground flaxseed, banana, honey, egg, butter, whole wheat flour, baking powder, baking soda, oats, semi-sweet chocolate chips, walnuts, cranberries and shredded coconut.
Trail Mix Energy Bites – This is another creative take on traditional trail mix. This snack is an excellent source of energy and is wholesome and filling. It includes peanut butter, honey, quinoa, oats, almonds, pistachios, peanuts and cranberries.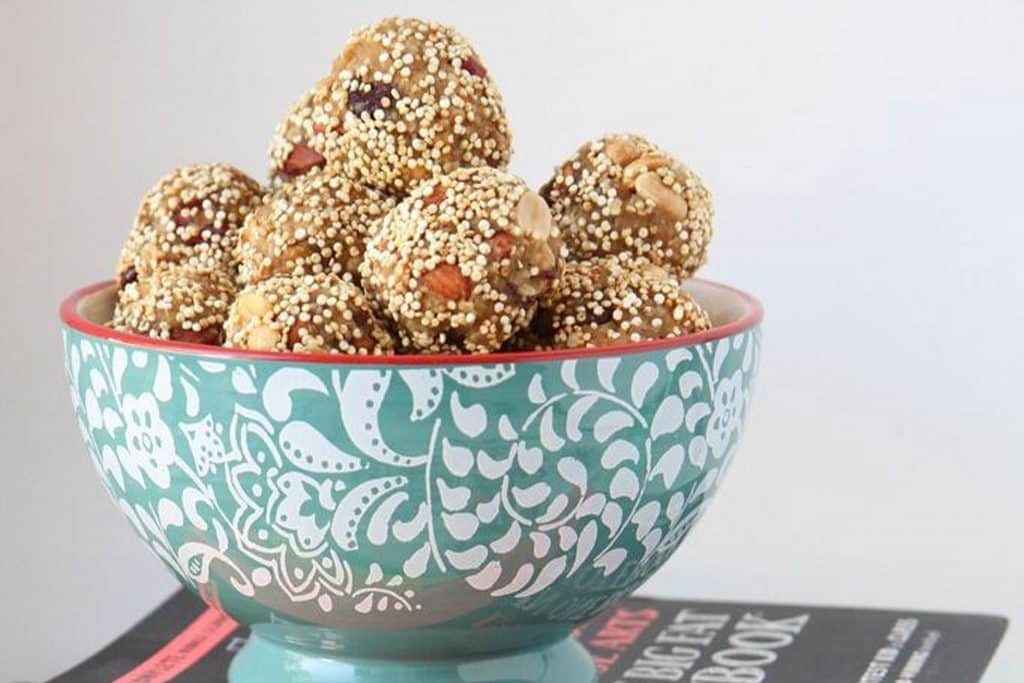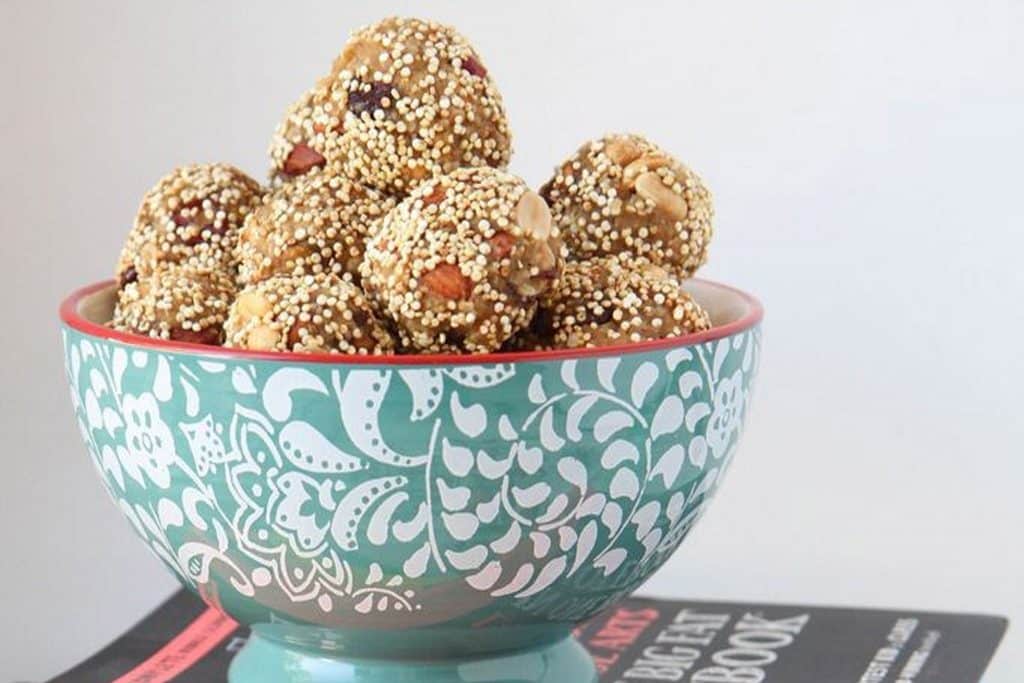 Chocolatey Coconut GORP – GORP, or, 'Good Old Fashioned Raisins and Peanuts', is a classic trail mix option, but this one includes chocolate chips and coconut flakes as well. Go for good quality dark chocolate if possible, and that's about it!
Five-Ingredient Banana Chip Tuxedo Trail Mix – This fancy-sounding trail mix recipe is actually very easy to throw together. It calls for banana chips, roughly chopped, peanuts, white chocolate chips, semi-sweet chocolate chips and pecans. You are probably already aware that white chocolate is not a healthy or natural option, but, as with every indulgence, eat in moderation!
Blueberry, Cranberry, Coco Nutty Trail Mix – This vegan, gluten-free and paleo-friendly trail mix is full of natural whole foods with plenty of nutrients. It includes raw almonds, raw cashews, sunflower seeds, pepitas, oven-roasted coconut chips, dried cranberries, dried blueberries and mini vegan dark chocolate chips or cacao nibs.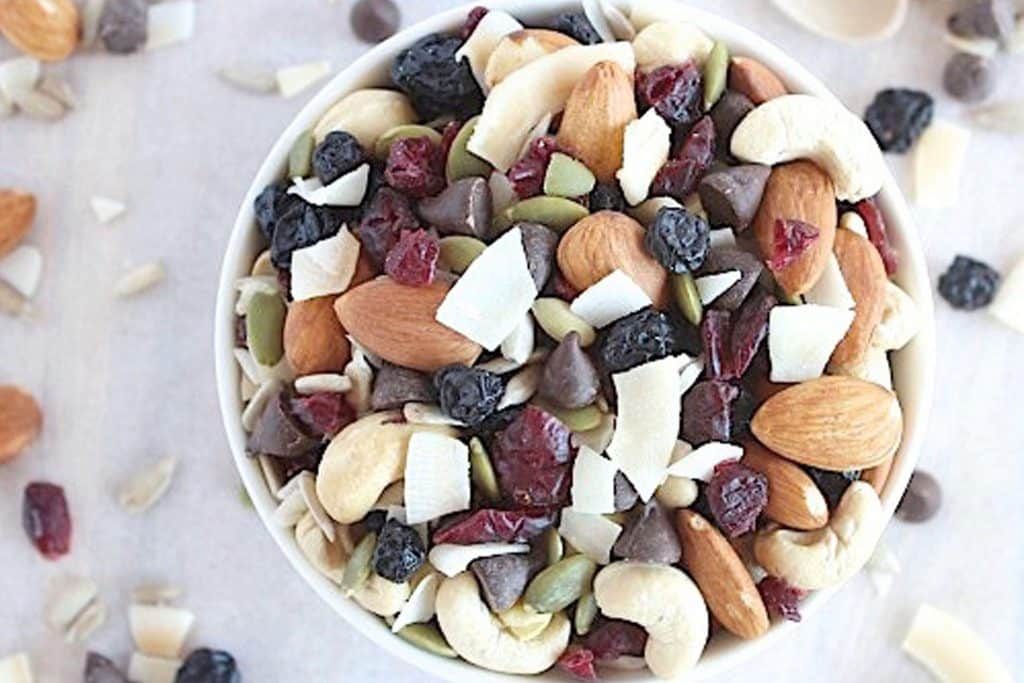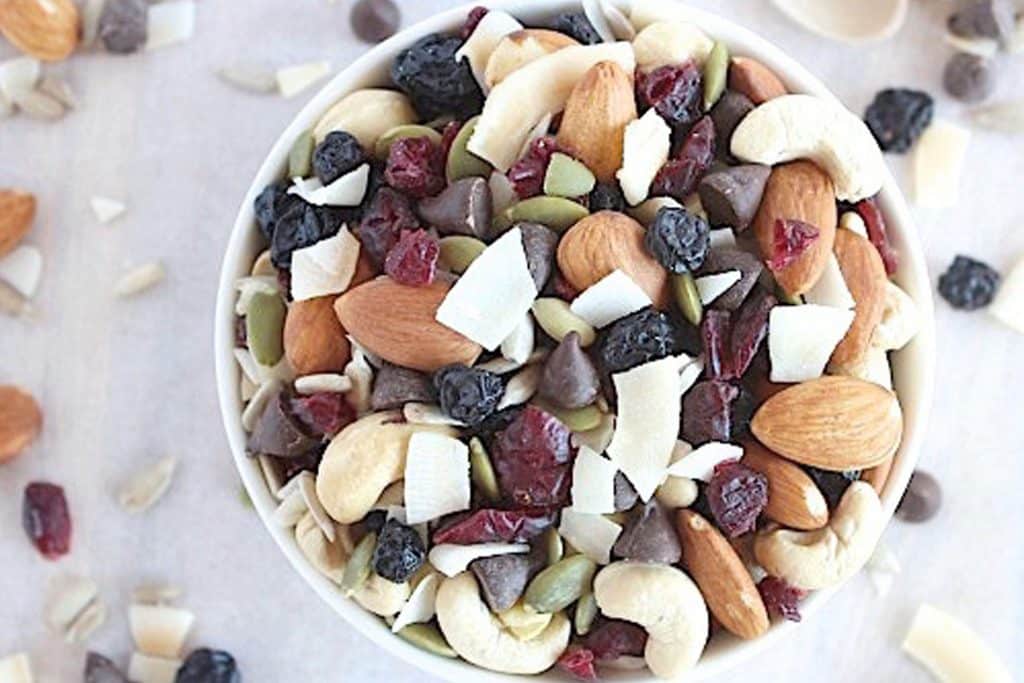 Easy Homemade Trail Mix – This trail mix is super simple, but bursting with colors and flavors! It is made up of almonds, pistachios, pumpkin seeds, goji berries and chocolate chips.
Pistachio Trail Mix – These beautiful green nuts have made a bit of an appearance in this blog already, but this is one that focuses quite heavily on them. Alongside goji berries, macadamia nuts and cacao nibs, the exciting-looking mix is green, red, white and dark brown.
Organic Greek Vanilla Yogurt Bar With Fruit & Nut Trail Mix – This impressive looking snack seems far more complicated to make than it is! It includes just two ingredients – organic Greek vanilla yogurt and fruit and nut trail mix (you can use one of the basic ones above, or make your own with your choice of nuts and dried fruit!). Simply mix, spread on a tray, and freeze.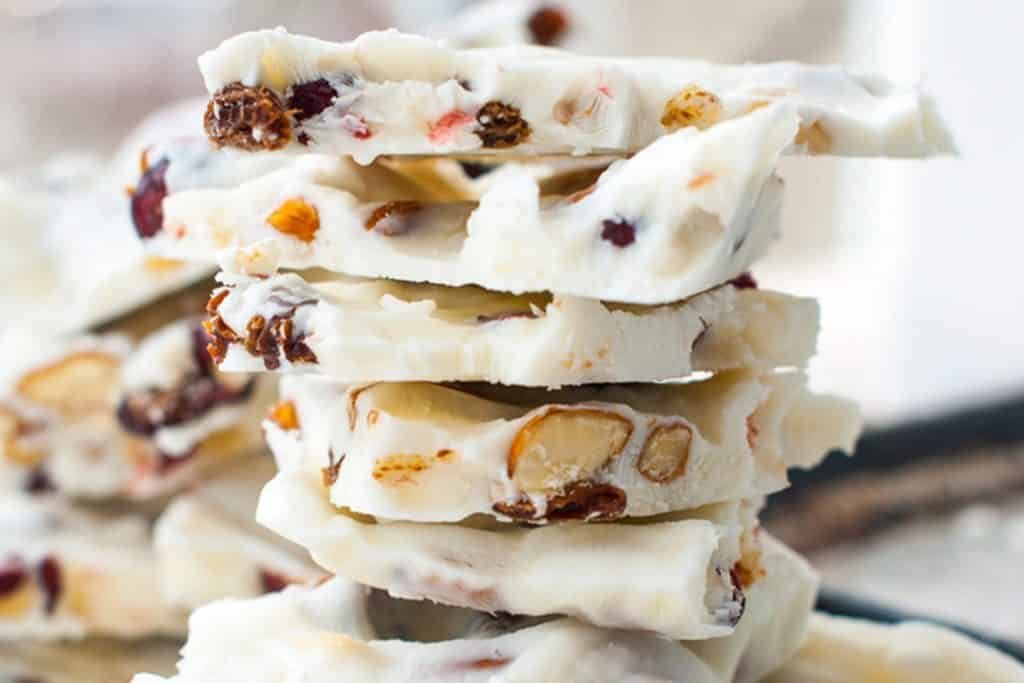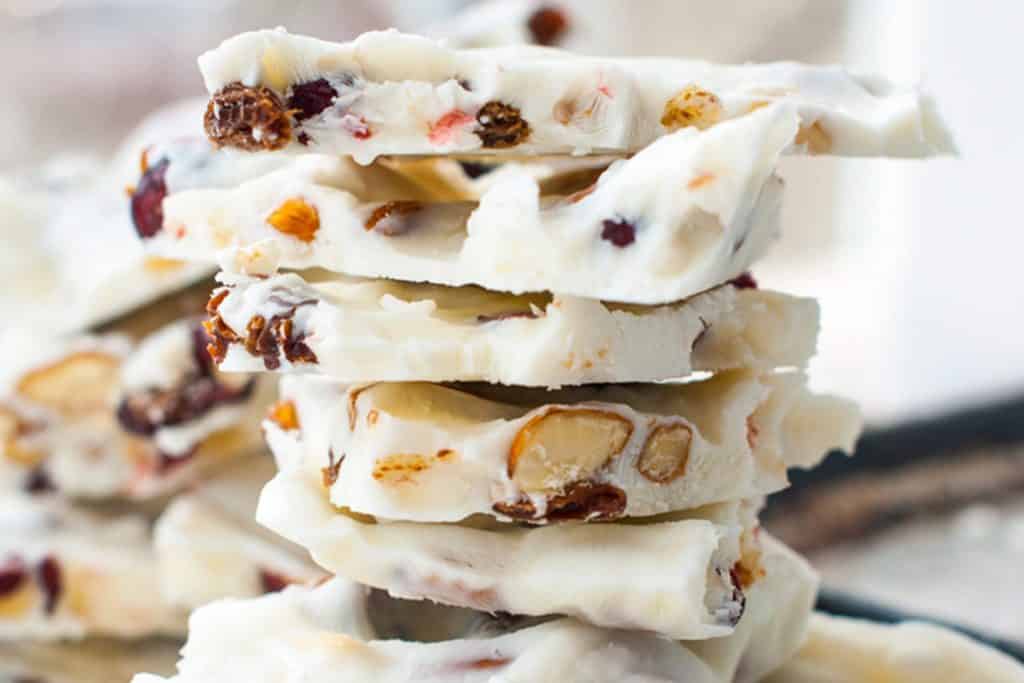 Fall Trail Mix – This is a Fall (Autumn) themed recipe, but can definitely be enjoyed any time of the year! The recipe calls for apple pie granola, macadamia nuts, pistachios, butterscotch chips, pumpkin seeds, butter toffee peanuts and cranberries. You can, of course, make it a more health-conscious choice by leaving out or replacing the butterscotch chips and butter toffee peanuts for a more natural option, like honeyed nuts, but, as always, moderation is key!
Tropical Trail Mix – This is another very basic, but very effective and tasty trail mix recipe. It includes raw almonds, raw pecans, dried fruit of your choice (maybe go for pineapple, mango and papaya to stick to the tropical theme!), and unsweetened coconut chips.
Healthy Homemade Tropical Trail Mix – This vegan, gluten-free and paleo-friendly trail mix is another tropical-inspired recipe. This one calls for a few more ingredients than the previous one, including raw almonds, raw cashews, macadamia nuts, sunflower seeds, pepitas, oven roasted coconut chips, dried cranberries, dried blueberries, dried pineapple and dried mango.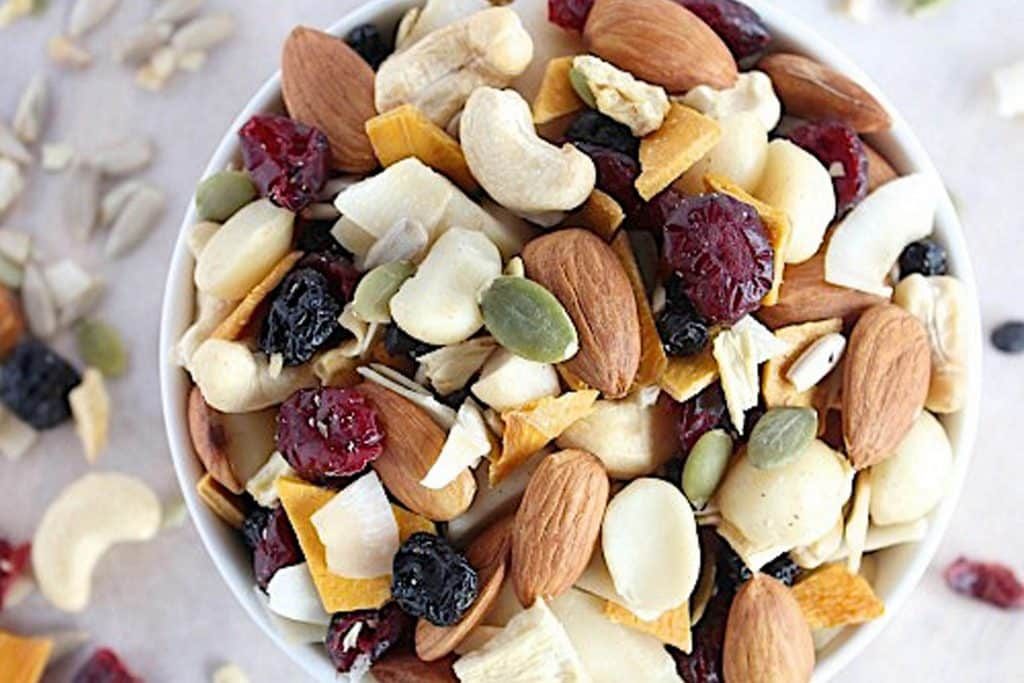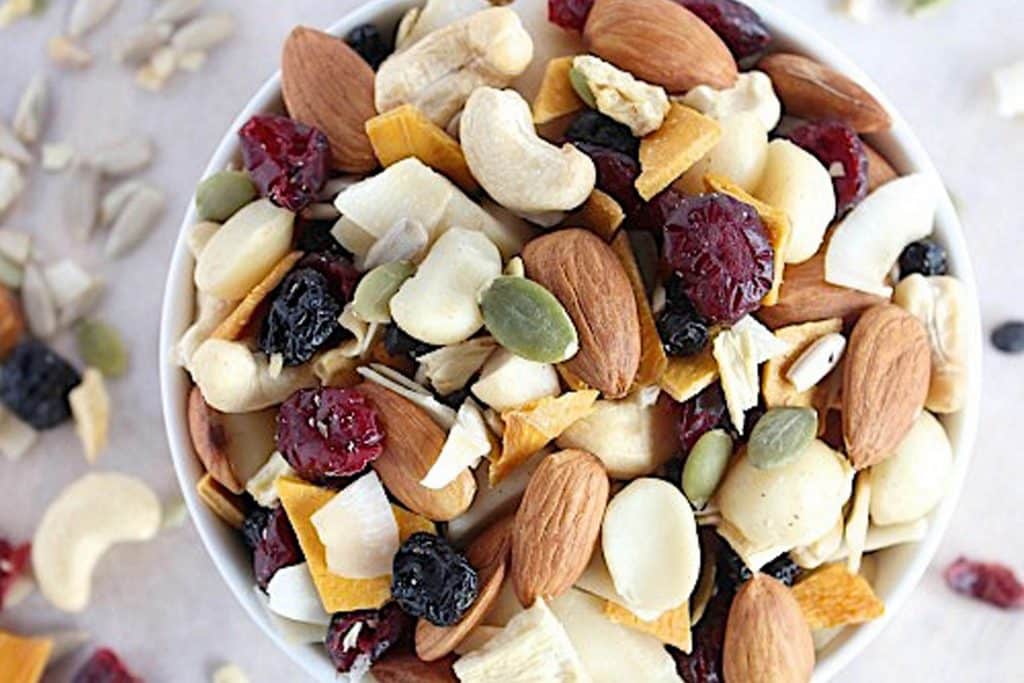 Roasted Chickpea Trail Mix – This is something a little different, with roasted chickpeas as the base. The recipe includes, as well as chickpeas; cashews, cranberries, chocolate chips, dried tart cherries, sunflower seeds, puffed brown rice and dried apricots.
Travel Trail Mix – This is another pretty classic trail mix recipe, comprising of mixed nuts (like cashews, almonds and macadamias), dried cranberries, chocolate buttons, coconut chips, dried apricots, dried cherries and pepitas.
Crockpot Chunky Monkey Paleo Trail Mix – This healthy, gluten-free trail mix is a great on-the-go energy booster. It is easy and full of flavor, and, unlike a number of others that are raw, it can be prepared in your crockpot! The recipe includes walnuts, cashews, unsweetened coconut flakes, coconut sugar, butter (or coconut oil for vegans), vanilla extract, unsweetened banana chips, and dark chocolate.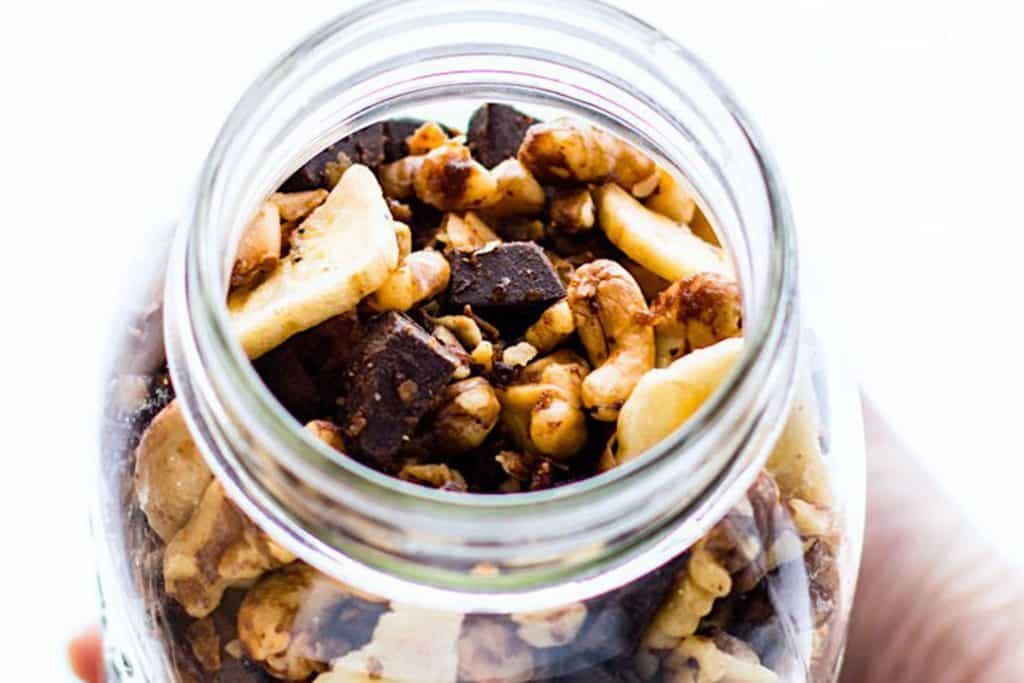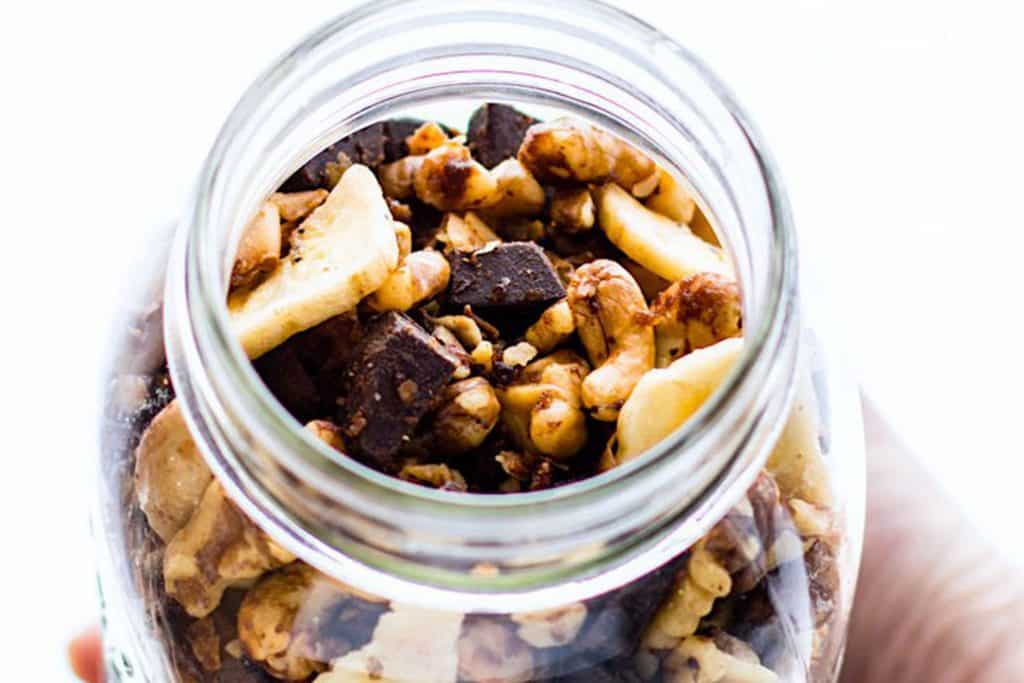 Wisconsin Trail Mix – This is a very simple, straight-forward, but colorful and flavorful, trail mix. And since Wisconsin is America's leading cranberry-producing state, it's no surprise the recipe starts with dried cranberries! Alongside that, the mix calls for dried cherries, semi-sweet chocolate chips, candied pecans and dry roasted peanuts. You can always use plain pecans if you'd rather not have the added sugar content.
Moroccan Spiced Nuts Trail Mix – This is a bit of an interesting different trail mix recipe, made in the oven. The mix includes grapeseed oil, preserved lemon rind and its brine, raw unsalted almonds, raw unsalted cashews, dried apricots, golden raisins, cumin, cinnamon, coriander, chili powder, turmeric, smoked paprika, cayenne pepper, allspice and ground mustard seeds.
Healthy Trail Mix – This is another easy, handy idea for a nice mix of fruit, nuts and fun stuff! The recipe calls for dried blueberries, dried cherries, dark chocolate chips and raw almonds. Pure and simple, because sometimes less is more!
Maple Pumpkin Fall Harvest Trail Mix – Having said that, sometimes more is more! This seasonal recipe uses the perfect mix of irresistible flavors for a very tasty trail mix treat. It can, of course, be enjoyed all-year-round as well as Fall (Autumn)! The recipe calls for 100% pure maple syrup, pumpkin pie spice, sea salt, pecans, pepitas, sunflower seeds, sliced almonds, dried cherries, dried apricots, golden raisins and cinnamon chips.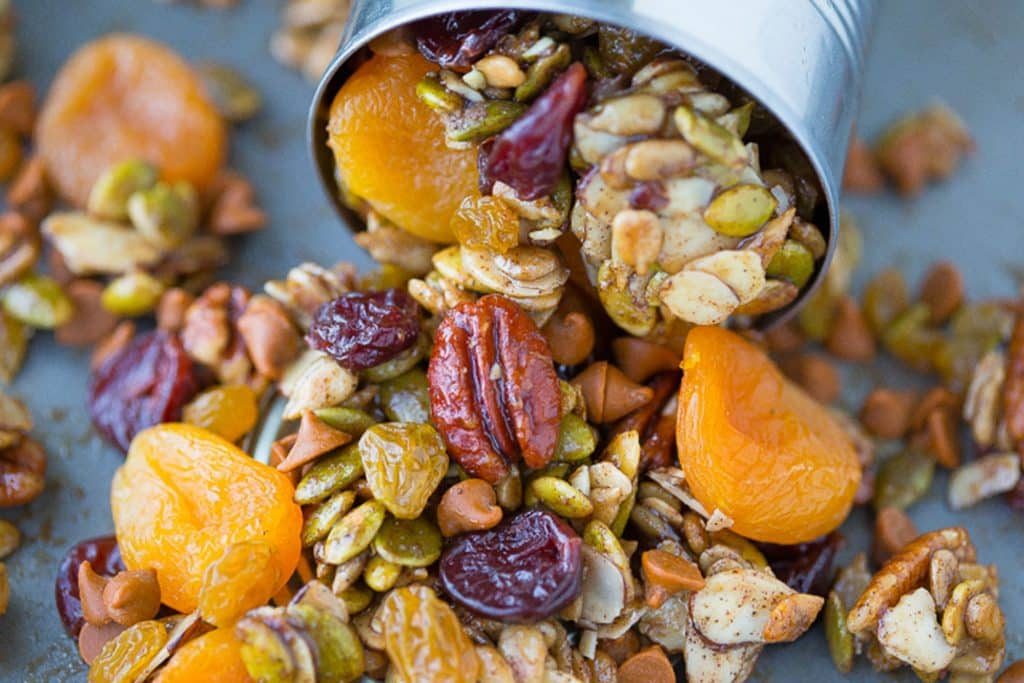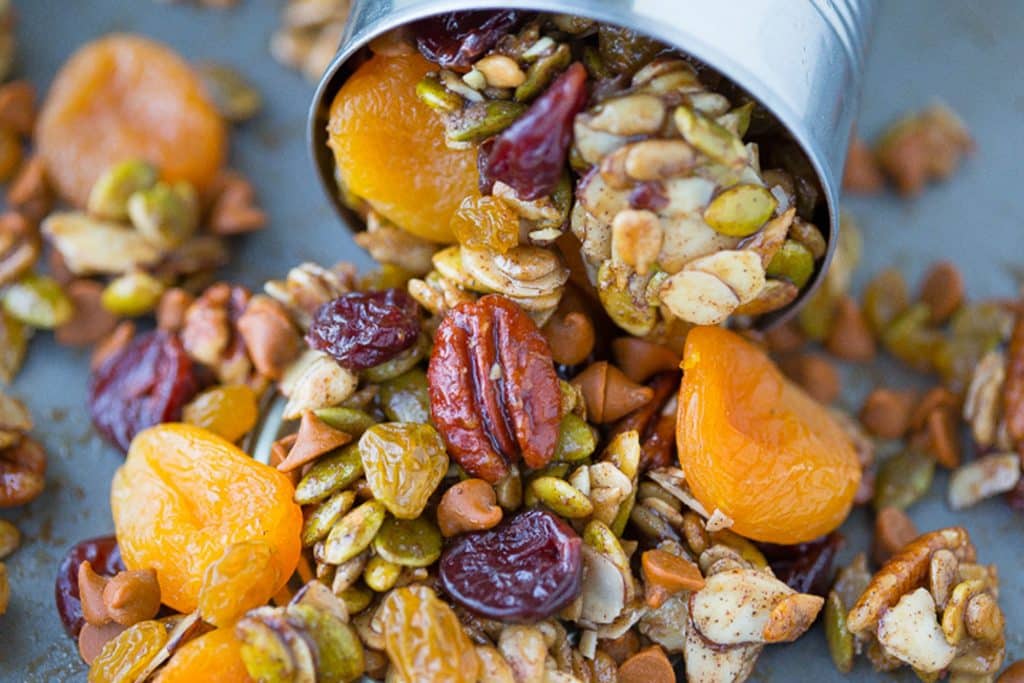 Peanut Butter Chocolate Trail Mix Granola Bars – Another creative, fun option for trail mix! These can be taken on a hike, on a cycle, or anywhere for a snack. They are tasty, filling and absolutely bursting with fiber and other nutrients. The recipe calls for almonds, cashews, oats, flaxseed, semi-sweet chocolate chips, dried cranberries, raisins, peanut butter and honey.
Granola Trail Mix – Granola is a great addition to trail mix, and this recipe uses protein granola, slivered almonds, mini chocolate chips, raisins, roasted peanuts and cashews. You can always make your own granola if you have time, but, if not, try to choose a brand in the store with the least amount of sugar.
Cranberry & Walnut Trail Mix – And lucky last is this cute little trail mix with a yummy, naughty ingredient – m&ms! Alongside that, the recipe calls for walnuts, peanuts and dried cranberries. Quick, simple and fun!