Getting your protein in pancake form is an easy and delicious way to help meet your daily needs. Some of them use protein powder for the added protein, others use yogurt or other protein-rich components to give them more protein than your average flapjack. Many of these pancakes are well-balanced because they'll have carb content and protein content all in one package. Go easy on the syrup if you're trying to lose weight.
A little goes a long way, and there are some recipes that show you how to make a doctored up syrup to add plenty of flavor without a lot of calories.
[hr]
1. Pina Colada Protein Pancakes
Pina coladas have a unique flavor combination of pineapple and coconut, and so do these pancakes. Hidden within this mix is protein thanks to half a scoop of vanilla whey powder. The coconut flavor comes from a combination of coconut flour, coconut flavored Greek yogurt, and coconut extract to really make sure you'll taste the coconut.
The pineapple flavor comes from diced fresh pineapple which will not only add flavor but also a different texture than the rest of the pancake to improve its overall appeal. The use of rolled out flour will add more protein, but it already contains plenty from the protein powder.
[hr]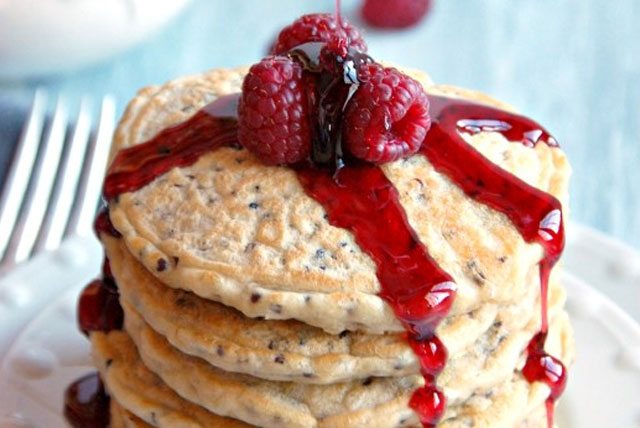 Photo: The Kitchen McCabe
2. Red Quinoa Pancakes
Red quinoa will bring you protein as well as flavor in these pancakes, and it makes a great way to start your day and feel satisfied until lunch. The protein content is helped out by the use of coconut milk and eggs. They say you can serve these up with the syrup of your choice, and this is where you can have a lot of say as to their final flavor and overall nutritional value. Our recommendation would be to go with 100% maple syrup or molasses, or even some raw, organic honey to sweeten them up. These pancakes are dairy-free thanks to the use of coconut milk instead of regular milk.
[hr]
3. Healthy Blueberry Buttermilk Pancake Bites
These mini pancakes are just the right size to make a fun novelty breakfast and will keep you satisfied, you just have to eat as many as it takes to fill you up. Almost all of the protein these contain comes from Greek yogurt, and this is the yogurt of choice when it comes to protein, since it has one and a half times the protein of regular yogurt. This not only makes it a good choice for things like protein pancakes, but also for use in a smoothie, as it will add instant flavor and protein at the same time. Aside from that these are a pretty basic pancake using whole wheat flour instead of all-purpose flour.
4. Apple Pie Protein Pancakes
Apple pie may not be the healthiest dessert, but these apple pie protein pancakes will give you a protein boost as well as all of the taste you'd expect from a slice of apple pie. What a fruity way to start the day, and the end result is a nutrient-dense pancake breakfast that will also help maintain healthy protein levels. Vanilla whey protein has the honor of gracing these pancakes with plenty of protein, all in a very attractive presentation. You'll be eating healthy without feeling like you are.
5. Chocolate Protein Banana Pancakes
Chocolate and bananas go really well together, and when you include them in a pancake mix you are onto something good. Chocolate protein powder gives these instant chocolate flavor, as well as an instant protein upgrade so they go from being normal chocolate banana pancakes into something you can eat post-workout to help fuel your muscles. The simplicity of this recipe should be admired, especially on mornings when you only have one eye open but still want to have a nutritious breakfast without a lot of thinking involved. For added chocolate flavor he's using chocolate chips, and we approve of this decision as sometimes chocolate protein powder flavor leaves something to be desired and doesn't quite satisfy a chocolate craving.
[hr]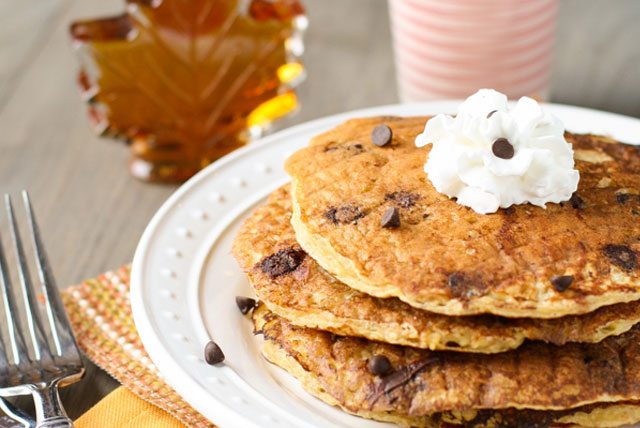 Photo: Garnish with Lemon
6. Oatmeal Chocolate Chip Pancakes
Here are protein pancakes with the distinct flavor of oatmeal chocolate chip cookies. Oat bran and chocolate chips give them the necessary ingredients for the advertised flavors, but what's really special about these is that they also have a fair amount of protein when compared to other pancake recipes. The protein comes in the form of Greek yogurt, but if you wanted to add some protein powder you could really up the protein content in no time. As it stands these are still a very good way to start your day off on the right foot and help contribute to your overall protein needs for the day.
[hr]
7. Carrot Cake Protein Pancakes
If you love carrot cake and want a healthy way to have it without ruining your diet plans, this is the way to go. Not only will it act as a perfect substitute for carrot cake, it will help you get your protein intake up thanks to vanilla whey protein. Heather is the self-professed Pancake Queen and we'd have to agree, as she consistently comes up with amazing pancake recipes that have to be tasted to be believed. Some of our favorite that aren't protein pancakes, but deserve a try are her Girl Scout themed Thin Mint and Samoa pancake recipes.
8. Raspberry Yogurt Pancakes
The tart taste of raspberries is prevalent in these pancakes, and it also adds antioxidants to the pancakes, much like blueberries do. Greek yogurt is being used, primarily for its protein content, but it also has a way of smoothing out the batter and giving it just the right consistency to make a perfect fluffy pancake. These are the pancakes you'd want to make up when you are in the mood for a meal that tastes like it isn't health food, but actually is. The ingredients have all been hand-picked for quality and for the way they'll make these taste.
9. Chocolate Pumpkin Gingerbread Pancakes
Chocolate pancakes are good enough on their own, and the same can be said for pumpkin pancakes. Even gingerbread pancakes can be an occasional treat, but when you combine these three together there's a lot going on with these pancakes, and your taste buds will have quite the experience. What's nice about this recipe is that they've sourced everything from natural ingredients, so the items list is a bit long, but it's all worth it, and once you have all of them assembled you can make these again that much easier. These would taste best in the fall, or all winter long when the body has extra protein requirements.
[hr]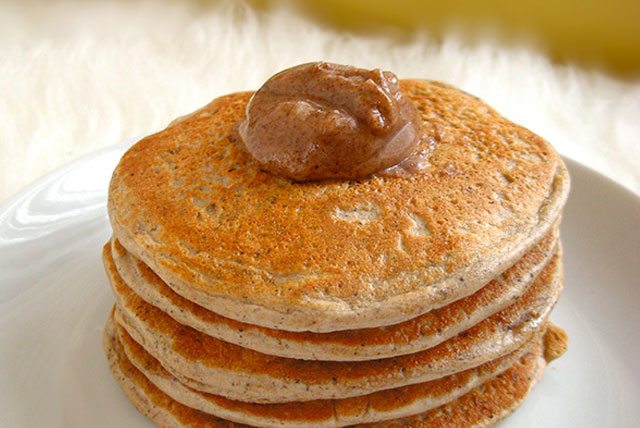 Photo: Now You're Cookin'
10. Pumpkin Spice Latte Protein Pancakes
Here's a way to have a pumpkin spice latte, only it's loaded with protein and in brought to you as a pancake. It's easy enough to add the pumpkin spice to these, as all it is is pumpkin pie spice. But the interesting part is that she's using a flavored whey protein to give you most of the protein you'll be getting in these. You can choose between a cinnamon swirl flavor or a vanilla flavor, and each one will give these a unique flavor, so you may want to try them both if you find that you like one. These will even give you a morning jolt because they include ground coffee for added flavor and some caffeine.
[hr]
11. Fluffy Greek Yogurt Blueberry Pancakes
These blueberry pancakes have undergone a Greek yogurt makeover to give them extra protein that you don't normally see in a regular batch of blueberry pancakes. Greek yogurt, almond milk, and eggs combine for the protein content, and blueberries give you antioxidants which will help the body take prevent damage being done by free radicals. Overall these are pancakes that are pretty classic, but at the same time give you something more in the way of nutrition. Take the time to make the strawberry syrup recipe they include with this, as it makes them that much yummier and you'll be glad you did.
12. Blueberry Buckwheat Pancakes
Here they're using buckwheat to give these blueberry pancakes a different texture and flavor. You'll notice that they've gone with Greek yogurt, a popular way to turn ordinary pancakes into protein-charged pancakes. We've also seen that it's possible to add whey protein powder and other varieties of protein powder into pancake batter to give it an extra load of protein. By making up pancakes like these you are making it tasty, which increases the likelihood of enjoying it and using it more to help develop a lean physique.