Wondering why anyone would need 30 collagen and gelatin recipes?
Well, if you've read my previous article, you know that collagen and gelatin have impressive health benefits. But how do you get more gelatin or collagen in your daily diet?
Because let's face it adding a scoop of collagen in your smoothies or shakes gets boring. Fast.
So, if you're at loss about how to use gelatin and collagen, this article is for you. Go through these 30 collagen and gelatin recipes; I'm sure you'll find a few that'll call your name. And nope, they're not all wiggly, jiggly recipes or smoothies – keep reading to find out what I mean.
Common misconceptions regarding collagen & gelatin recipes
1. Collagen can be used in gelatin recipes.
Yes, you can use collagen in recipes that call for gelatin. But you'll have an epic fail. And that would be a shame considering that collagen and gelatin aren't exactly cheap.
'Don't you get gelatin when you heat collagen???' you're probably wondering.
Yes, the structure of collagen changes when you heat it and the end-product is known as gelatin. But collagen and protein have very different properties:
Adding one teaspoon of gelatin to two cups of fluid will cause the fluid to gel. On the other hand, collagen does not congeal liquids at all! [In other words, if you use collagen in a gummy recipe that requires gelatin, you'll end up with a soup and zero gummies…]
Collagen will dissolve in both hot and cold liquids. Gelatin dissolves only in hot liquids.
To learn more about collagen and gelatin, check out this evidence-based article.
2. Collagen and gelatin recipes are as unhealthy store-bought gelatin products.
It depends on the ingredients.
Commercial Jell-O, gum drops, gummy bears, and marshmallows don't just contain gelatin. They're also little sugar bombs with all the high-fructose corn syrup, dextrose, and sugar they contain. And their lovely colors come from food dyes which are anything but natural.
But don't worry; the collagen and gelatin recipes listed in this article do not contain any of these nasty ingredients.
3. Collagen and gelatin recipes are marketing scams.
I agree: the following collagen and gelatin recipes are irresistible. But they'll also keep your body happy. Research suggests that collagen and gelatin can help:
Protect your heart
Improve sleep quality
Improve your digestion
Give your gut some love
Repair damaged connective tissues
Keep your skin, nails, and hair healthy
Reduce fibromyalgia symptoms and joint pain
Wondering how collagen can do all that? Check out this article on the benefits of collagen. You'll also learn about factors that mess with the body's collagen production.
Let's (finally) have a look at those collagen and gelatin recipes! As usual, you simply have to click on the recipe's name to access it.
A. Pancakes, Rolls, Breadsticks, and Pizza crusts
There's something extraordinary about these Paleo, AIP, and GAPS compliant pancakes. Can you guess what it is? Although they're egg-free, they still contain eggs. Gelatin eggs to be precise.  
To make gelatin eggs, you only need gelatin, cold, and hot water. [Check out the recipe for directions.]
And for the pancakes, you'll require green plantains, coconut flour, applesauce, and melted coconut oil.
Can't wrap your head around how to peel a plantain? Check out the video below – it's not a 'new' way but it is fast.
Craving for a fluffy and slightly chewy bread roll that's grain-free, egg-free, and nut-free? Then, you might want to try these rolls which contain nothing but coconut flour, coconut oil, gelatin, some Italian seasoning, and a dash of sea salt.
Don't worry about leftovers – these rolls are perfect even after a couple of hours.
Read this before trying this recipe: Working with coconut flour can be pretty tricky. So keep in mind to gradually add in the gelatin eggs to give the coconut flour enough time to absorb the liquid. Otherwise, you'll end up with rocks instead of fluffy rolls.
Serving suggestions:
Jazz up your dinner rolls by sprinkling some poppy seeds or sesame seeds on top of them just before baking.
These dinner rolls are also great as snacks – if you eat dairy products, you could mix some garlic paste with some grass-fed butter and use this as a spread.
These breadsticks are the perfect healthy snacks for special occasions. While they taste great on their own, they taste even better with a sauce or a dip like the cashew-coconut milk dip below.
For this cashew-coconut milk dip, you will need:
Full-fat coconut milk (½ cup)
Virgin coconut oil (½ cup)
Raw cashews (¼ cup)
Sea salt (to taste)
Italian seasoning (¼ teaspoon)
To make this dip, simply follow the instructions below:
For about 2 minutes, on high speed, blend together all the ingredients.
Once you obtain a smooth and creamy sauce, throw in 2 tablespoons of olive oil and 3½ tablespoons of apple cider vinegar. Blend for another minute.
Refrigerate for at least 2 hours before serving.
Great to know: This dip can be stored up to one week in the fridge. (Yay!)
This pizza crust is not only nut-free, dairy-free, and grain-free. It also does not contain a yeast dough. Amazing, isn't it? As a result, you get to enjoy a thin, crispy crust.
Great to know: You can make as many of these crusts as you want and freeze them for later. Once you remove the crusts from the oven, let them cool down completely and separate them with parchment papers. Then, gently place them in gallon sized Ziplock bags. When you feel like eating pizza, you'll just have to pull one crust out of the freezer, sprinkle some of your favorite toppings on top and reheat it in the oven.
This ready-in-30-minute flatbread can be served for breakfast, as a late afternoon snack, and even a pizza crust! Pretty cool, right?
But make sure to adhere to the amounts of flour listed in the recipe strictly. Not using enough flour or adding too much will substantially alter the texture of this flatbread.
With this kind of recipe, you'll notice that, as the crust cools down, the texture improves. So, you'll want to wait a little bit before digging in. Also, be sure to add the sauce before adding the toppings. Otherwise, the toppings won't stick to the crust.
Suggested modifications:
• To boost the flavor of the flatbread, sub the unrefined salt with some truffle salt.
• Instead of using an oven to bake this flatbread pizza, you can also use a preheated pizza stone or a cast iron skillet. As a safety measure, use a large spatula under the parchment paper to transfer your flatbread to the hot pizza stone in the oven.
• Don't have tapioca starch? Just use some arrowroot flour.
B. Soups
I know, I know. Bone broths don't look very appetizing.
But they're nutrient powerhouses that can help:
• Heal your gut and provide relief against digestive distress.
• Nourish your skin, hair, and nails from the inside out – Hello shiny hair and glowing skin!
• Strengthen your joints, ligaments, tendons – bone broth is ideal for individuals suffering from painful joints.
Cabbage, fennel, and Brazil nuts – while these ingredients may not sound super appetizing on their own, they really add a kick to this soup.
You can serve this soup on its own or serve with some sautéed sweet potatoes which you can prep while your soup is cooking.
How to get crispy sweet potato chips within minutes:
1. Dice the sweet potatoes as small as you can (for a crispier finish).
2. Brush a saucepan with some olive oil, and throw in the diced sweet potatoes.
3. Sprinkle some salt, pepper, and ground oregano and let the sweet potatoes cook for about 15 minutes on low heat (or until they've become golden).
Suggested modifications:
• Mix some shredded carrots in your soup to make it more colorful.
• To make this soup more fulfilling, add in some shredded chicken or beef.
• Add some roughly chopped mushrooms if you feel like chewing on something.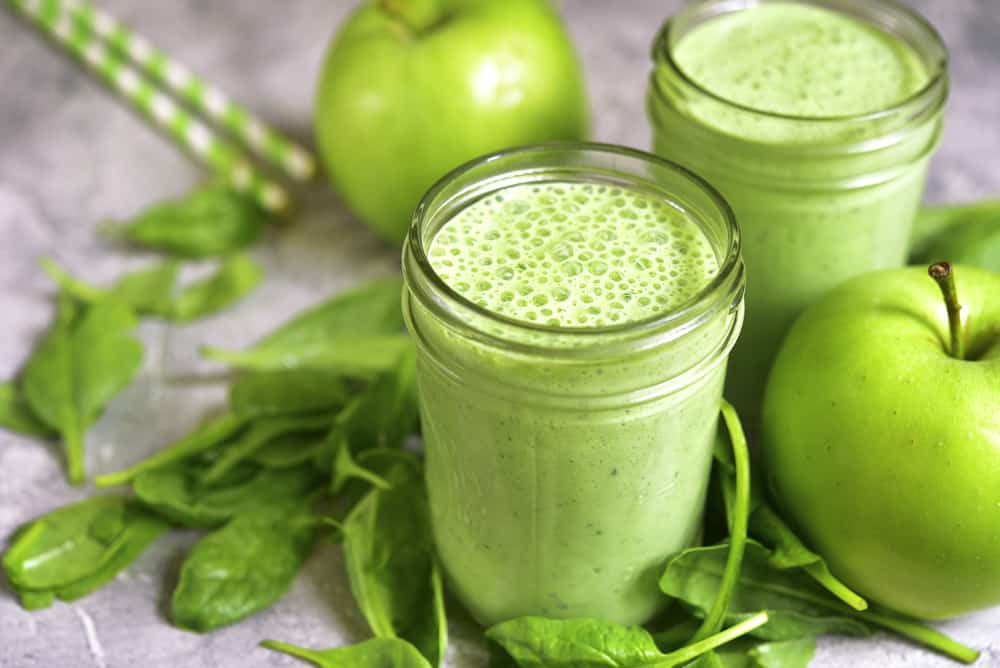 C. Drinks
On the hunt for a new incredibly tasty and deliciously creamy smoothie?
Then, this almond milk, matcha powder, spinach and coconut water smoothie may be just what you need. The strawberries and banana add a nice sweet touch to this smoothie – there's really no need to add honey.
Don't worry! This isn't one of those green-looking smoothies that should be gulped down in one go to avoid getting its taste
A word of advice: If you're lucky enough to get fresh pumpkins, use them to prep your puree. Canned ones are not as sweet and can make your smoothie taste awful.
Suggested modifications:
• Instead of canned coconut milk, make a big batch homemade coconut milk. Keep it in the freezer for when you'll need it.
• If you're dairy-free, skip the cottage cheese and Greek yogurt.
Prepped with coconut sugar, vanilla extract, and gelatin, this refreshing drink made of tapioca pearls can be ready within an hour. Simply perfect for summer parties!
If you don't do well with coconut (or if you just don't have any on hand), you can replace the coconut sugar with some date syrup.
DIY date syrup
Take 7 pitted Medjool dates and let them soak in 1 cup of water overnight.
The next day, add your dates and your water to a high-powered blender. Blend until you get a smooth syrup.
D. Snacks
If you're looking for sugar-free bars bursting with almond flavor, then this recipe is for you.
However, since this recipe calls for stevia, I suggest you use raw honey instead. Why? Well, stevia gets its sweet taste from steviol glycosides which have a hormone structure. As such, stevia can have contraceptive effects in both women and men.
Moreover, stevia can spell big trouble in individuals with autoimmune diseases.
Everyone loves fruit bars. And if you don't, I'm pretty sure that this recipe will make you change your mind. These bars have a thick crust made from coconut flour, coconut oil, and maple syrup. To obtain the creamy filling on top, make sure you have fresh rhubarb, honey, gelatin, and some agar powder. And that's it!
Who'd have thought that homemade marshmallows could be a healthy way of adding some collagen to your diet?
Once you bite into these yummy marshmallows, you won't go back to the store-bought ones. A perfect treat for kids and adults alike.
Fluffy marshmallows with a hint of cinnamon. Who's in? Arrowroot powder, honey, maple syrup, pure vanilla extract, cinnamon, and gelatin. You really can't go wrong with these simple ingredients now, can you?
Whatever you like to call them, I'm pretty sure your love for gummies has not decreased over the years. And with this recipe, you'll be going down memory lane once again.
The organic orange extract and grass-fed gelatin powder make these cute little gummies so delicious and bouncy that you won't be able to resist chewing on them.
Note: This recipe calls for vitamin C powder. As highlighted in the recipe, you want to avoid ascorbic acid, the type of vitamin C typically found in pills. This synthetic form of vitamin C is typically derived from GMO-corn.
Running short of healthy treats? How about giving this recipe a try? The mixture of berries, fresh orange and lemon juices make these fruit snacks perfect for littles ones (or even yourself!).
Suggested modification:
Change the flavor of these fruity squares by using different juices that you love.
Who said that Jell-O should be filled with dyes and all sorts of artificial flavors?
This finger Jell-O recipe is a healthy alternative for those of you who crave for bouncy and chewy snacks. This two-ingredient version of Jell-O is so simple to make that it's sure to become a family favorite.
E. Treats
These little bites of goodness featuring coconut flour, coconut milk powder, coconut oil and honey have a secret: they do not contain any lemon! That's right, the recipe creator got creative and decided to use some lemon essential oil instead.
Important notes when using essential oils in foods:
You want to use high quality lemon essential oil.
Never more than 2 teaspoons at a time.
Mix the essential oil in a liquid first – this will ensure that the oil (and flavor!) get evenly distributed in whatever you're cooking.
Suggested modification:
For a variety of cookies with the same basic recipe, you can use cloves, cinnamon and ginger for gingerbreads. And if you're a chocolate lover, all you have to do is sub the coconut milk with some cocoa powder and leave out the essential oil.
The beauty of these lemon tarts is that they are made with only a few simple ingredients yet taste absolutely delish! Plus, they're so pretty to look at.
Whisk some eggs, then mix some coconut oil, honey, vanilla, coconut flour and salt. And allow them to bake for less than 15 minutes in the oven. Ta-dah! You now have cute little tarts that will revolutionize the way your guests think about eating healthier.
Made with frozen blackberries, vanilla, gelatin, honey and sea salt, this jam can be prepped in under an hour.
Unlike many other jams that are far too sweet, this recipe contains just the right dose of honey. Amazingly, this blackberry jam does not contain pectin yet it is thick and rich. Just like any jam you'd find in supermarkets.
I don't really understand the craze for cupcakes but hey, if that's your thing, you might as well indulge in healthy cupcakes. Yep, these are grain-free, nut-free, egg-free, and refined sugar free.
This being said, remember that these cupcakes are treats so don't go too crazy with them. Especially if you have any form of hormonal imbalance.
Suggested modifications:
If you are dairy free, sub the organic cream with some coconut milk and the butter with some full-fat coconut cream.
Sprinkle some roasted hazelnuts or almonds on top of each cupcake for an added crunchiness.
This isn't your usual cupcake recipe. These yummy maple-sweetened chocolate cupcakes are flavored with some vanilla extract and fluffed with marshmallows.
Suggested modifications:
Baking powder contains corn starch which, even in tiny amounts, can cause issues for people with autoimmune conditions. Plus, many brands contain aluminum which can worsen autoimmune flares. So, sub the baking powder with 1/8 teaspoon of baking soda and 3/4 teaspoon of vinegar or lemon juice.
Sprinkle some flaked coconuts on top for a beautiful finishing touch.
F. Desserts
Seriously, who doesn't love ice cream? Since store bought ice cream is full of sugar and harmful additives, you'll want to try your best to avoid them. Once you've tasted this blackberry ice cream, you'll be glad that you whipped up a batch of your own!
Full fat coconut milk married to some lemon juice, really take this ice cream to a completely new level. So, get that coconut milk in there!
This simple popsicle has only 6 main ingredients. Full-fat coconut milk, gelatin, vanilla extract, and honey are gently combined on low-medium heat. As for the coating, coconut oil, carob powder, honey and vanilla are blended together, leaving you with a yummy chocolatey paste.
Suggested modification:
If you can tolerate cocoa powder, you can use it instead of carob powder.
Looking for a healthy refreshing treat during these scorching summer days? This peach and ginger concoction is so creamy and heart satisfying that it will surely disappear in an instant!
Coconut milk, cloves, alcohol-free vanilla and of course, fresh grated ginger and diced peaches are what makes this ice cream so irresistible.
Suggested modification:
Granny smith apples and mangoes are great alternatives for when you don't have any peaches on hand.

Four ingredients. That's all you need to whip up a batch of this mouth-watering pudding. The dark chocolate combines with the full-fat coconut milk, leaving this pudding with an amazing creaminess. Chocolate lovers, you don't want to miss that!
Suggested modifications:
Add a little crunch to this delicacy by sprinkling some coconut flakes or chopped hazelnuts on top.
Don't like the strong flavor of coconut? No problem. Just mix some almond milk with the coconut milk.
Yes, apple pie can be healthy. The coconut milk, avocado, and gelatin combo make this pudding both nutrient-rich and fulfilling. Plus, these ingredients will also help prevent your blood sugar levels from spiking. The gelatin also helps set the pudding and gives it a silky texture.
Here's an easy peasy panna cotta recipe you'll definitely want to add to your recipe list. This dairy free panna cotta calls for only six ingredients. And that's if you count a dash of salt as an ingredient on its own!
Throw together some coffee, coconut milk, coconut sugar and unflavored gelatin. Et voilà! A sumptuous coffee panna cotta!
Here's a fruity version of panna cotta for those of you who don't like coffee. This elegant dessert is sublime in every way!  It celebrates the flavor of white nectarines and vanilla powder. And on top of that, the coconut milk gives it a rich and creamy taste. Need I say anything about the plums that have been roasted in maple sugar, laying on top?
This chocolate mousse is a classic dessert consisting of coconut milk, dark chocolate, cocoa powder and some pure vanilla extract.
What makes it stand apart from other mousses? Strawberries, chia seeds and orange juice are combined, giving you a beautiful sauce to top your mousse. The best part of this dessert is the cocoa nibs resting on top. Yum!
Now I'd like to hear from you. Which of these gelatin recipes do you think you'll try? Share in the comments below or on Bembu's facebook page.