I am aware I might be late to the party, but is it ever really too late when it comes to Mason jar meals? I personally believe there's way too much to love for them to ever get old. Portable? Check! Heatable? Check! Freezable? Check! A great way to get your fill of healthy foods despite the terribly hectic day lying ahead? Double check!
If you're as excited about Mason jar meals as I am, you'll absolutely love the collection of fabulous recipes included below. And if you're still on the fence, the mouth-watering pictures included might just make you jump and join the fan side!
[hr]
Breakfast
Hash Brown Nest Eggs With Avocado

If you're into eggs, this recipe is for you. The original suggests using a muffin pan to make this interesting take on the traditional egg & hash browns but a smaller glass jar such as this one is a great (portable & aesthetically pleasing) alternative. Now that's a recipe well-suited for Sunday morning brunch!
[hr]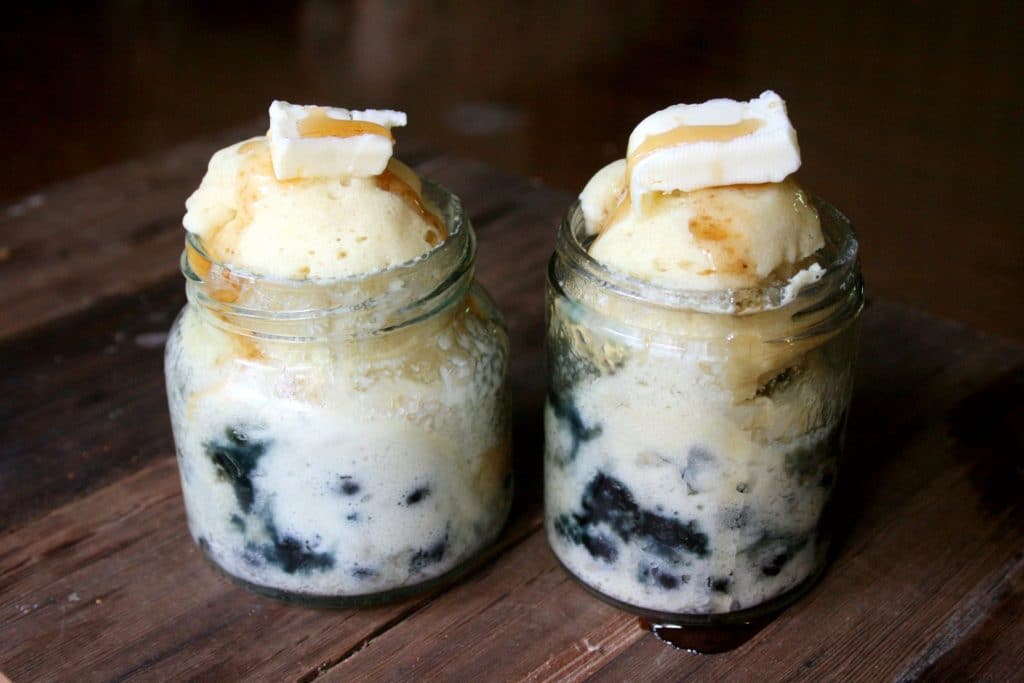 Photo: Boy & The Rabbit
Blueberry Pancakes In A Jar

Who said pancakes had to be reserved for weekends? With this simple recipe, not only will they be ready to savor in less than 5 minutes, but will also be transportable (a.k.a easily eaten at work to fuel up before the first of a set of long meetings on incredibly busy Mondays).
The blueberries can, of course, be substituted for the fruit of your choice. Serve with a sprinkle of maple syrup or a doll-up of yogurt / coconut yogurt and you'll be set to start your morning off on the right foot!
[hr]
Vegan Mango Lassi

One of the number one complaints I hear from my clients is the lack of time they have in the morning. Between getting themselves (and perhaps the kids) ready and walking the dog, time is limited when it comes to eating, let alone preparing said healthy and fuelling meal. I get it!
Luckily, this recipe can help take a load off. Simply combine the ingredients the night before. This will allow them to magically evolve into a glorious and flavorful concoction that will be ready to grab-and-go once morning rolls around.
As an added bonus, the mango provide nearly 100% of your daily vitamin C needs whereas the chia seeds add protein, fiber, good fats and a bunch of other healthy nutrients to the mix.
[hr]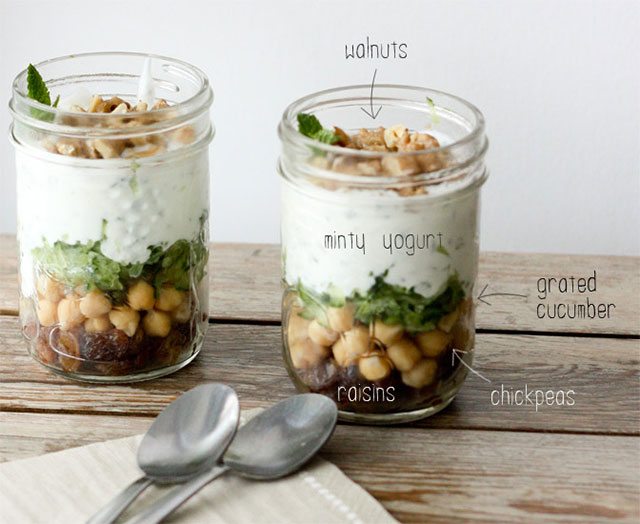 Photo: Betacyanin
Minty Yogurt Parfaits

Here's an interesting recipe for those of you preferring more savory options in the morning. It consists of an unusual take on the original fruit parfait. The chickpeas and nuts will provide you with a great source of plant protein whereas the raisins will add energy-boosting carbohydrates to the mix. The mint adds the final touch of flavor giving this interesting recipe a definite spot on my list of must-trys. Does it gain a spot on yours?
[hr]
Banana Bread In A Jar

Here's a deliciously satisfying recipe, easily prepared in advance, or on weekends, when you've got a little more time to spare. Bananas contain, as you probably know, a great deal of potassium, but a little less-known fact is that they are also great sources of brain-boosting vitamin B6 and bone-forming manganese.
And, just in case you needed any more reasons to give this gluten-free delight a try, this recipe can also easily be made vegan by swapping the egg for a "chia egg" (a.k.a. 1 tablespoon chia seeds soaked in 3 tablespoons of water). Fill your jars a little less than half-way and add a doll-up of yogurt (or coconut yogurt) and some fruit for a well-balanced and filling breakfast!
[hr]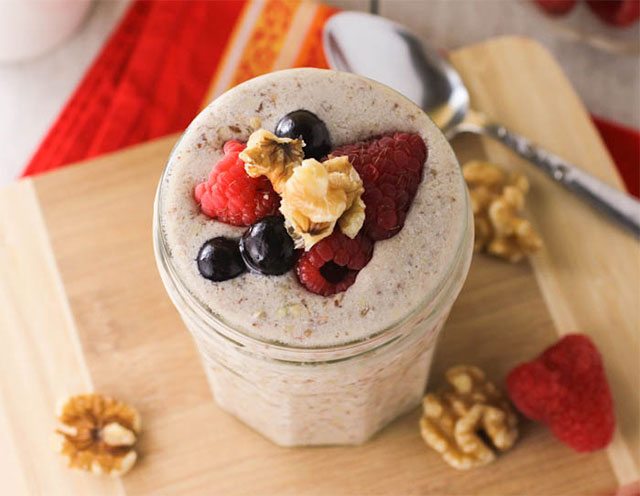 Photo: Citronlimette
Overnight Maple Buckwheat

This recipe brings a nice twist to the good old overnight oats. For one, buckwheat (despite the name) does not contain any wheat. Believe it or not, buckwheat is in fact closely related to rhubarb and sorel, making it a perfectly suitable for those of you with Celiac disease, wheat allergy or non-Celiac gluten sensitivity. What's more, this recipe is loaded with magnesium, potassium, zinc, iron and B-vitamins, is easily made in advance and remains totally portable. What else is there to say?
[hr]
Lunch
Tex-Mex Quinoa Salad

One common downfall of meal salads is their lack of fiber-rich carbohydrates, meaning hunger is likely to point its nose a mere mere 1 1/2 – 2 hours post lunch. That's luckily not the case with this salad.
Quinoa, in addition to being a great source of magnesium, iron and potassium, will also provide you with a good dose of plant-protein and slowly digestible carbohydrates. This will keep you well fuelled throughout the afternoon, preventing that dreaded mid-afternoon dip.
And thanks to this easy salad layering technique, you'll even avoid the typical soggy mess involved with bringing a home-made meal salad to work. Now that's what I call a two for one!
[hr]

Photo: Fat Girl Trapped In A Skinny Body
Wild Rice Salad

This nutty, fruity, yummy-looking salad is likely as much of a treat to the eyes as it is a treat to your palate. And before you dismiss it because of your dislike for rice, it's worth knowing that wild rice has a completely different flavor and texture than your average, run of the mill white or brown rice. Plus, it's a great source of energy-boosting B-vitamins. Give it a try; you might be pleasantly surprised!
[hr]
Asian Stir-Fry Noodles

Here's another easily prepared and totally transportable lunch idea. In addition to being rich in folate and manganese, the edamame beans are also a great source of plant-protein. The shiitake and brown rice vermicelli, for their part, add a nice dose of fiber and energy-boosting B-vitamins. As a final touch, the sesame seeds help you get your fill of calcium and magnesium, making this recipe somewhat of a nutrition powerhouse!
[hr]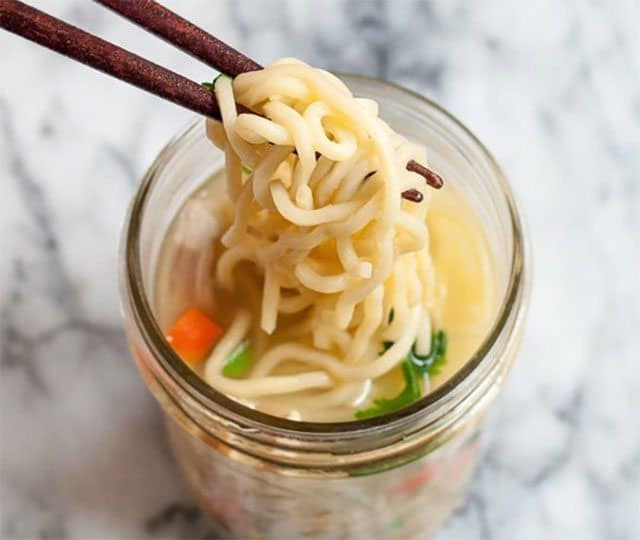 Photo: The Kitchn
DIY Instant Noodle Cup

I must confess, I've always been fond of the warm comforting taste of instant noodle cups. And I'm an especially big fan of how quick they can be prepared. What I'm not so enamored with is the long list of less-than-healthy ingredients, which is why I sadly had to bid farewell to the once beloved noodle cup. That's until I recently came across this recipe with absolutely no preservatives in sight. Let's just say the love affair has been reignited!
[hr]
Zucchini Noodle Salad With Farro And Mozzarella

Zucchini pasta and farro; what a lovely combination. In case you're not familiar with it, farro is an ancient whole grain with about twice the fiber and protein content of modern wheat. What's more, it's rich in niacin, a B-vitamin shown to help lower cholesterol levels and risk of heart disease. This grain, combined with the antioxidant-rich zucchini, makes this recipe a powerful disease-preventing combination.
[hr]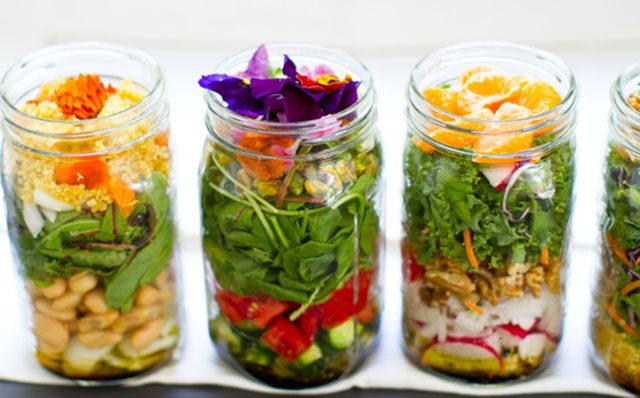 Photo: Healthy Happy Life.com
Sunny Kale Kruncher

Kale requires no introduction, but, just in case you've somehow missed all the positive press this veggie has gotten, you can read all about it's many health benefits right here.
This particular recipe uses the leafy green as a base for a nutrient-rich salad. And for those of you that are not so fond of kale, the Sunny Kale Kruncher recipe post is followed by 3 similarly creative and nutrient-rich salads, one of which even includes edible flowers. Accompany with a whole grain roll and you'll be set to go.
Dinner
Chilli With Cornbread Topping

Not many foods are more satisfying than a hearty chilli after a gruelling day at work and this recipe makes a creative use of said chilli by toping it with cornbread batter. The result is a tasty twist on a family favorite. Plus, what's not to like about a recipe that can go directly from fridge, to oven to table, without dirtying a ton of tableware?
[hr]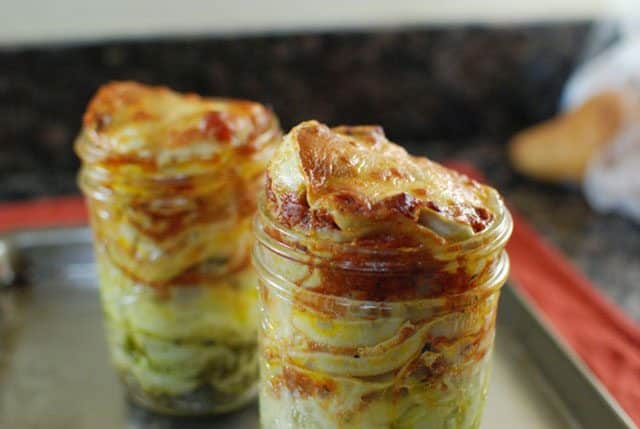 Photo: The Food In My Beard
Lasagna In A Jar

If you're looking for a recipe that will wow your dinner party guests, without having to slave in the kitchen for hours on end, look no further. This inventive recipe has got you covered!
Not only is it simpler than expected to make a lasagna in a jar, it's not too bad on the eyes either! Plus, the format makes it incredibly simple to grab leftovers and bring them to the office the next day. Or, if you're feeling generous, gift them to relatives feeling under the weather. The choice is yours!
[hr]
Sushi In A Jar

Are you a fan of sushi, but not a fan of the cost or prep-work required to make your own DIY versions? Then this recipe will be a treat! And there's also loads to love when it comes to its ingredients.
The seaweed, for one, is rich in nigh vision-enhancing vitamin A and disease-fighting vitamin C. Interestingly, it's also one of the rare plant sources of vitamin B12. Pickled ginger, on the other hand, may help reduce digestive ailments like gas and nausea. Simply add some fatty fish or edamame beans for protein and you'll find yourself with a fuss-free, homemade, deconstructed sushi meal that's as portable as the store bought version at a fraction of the cost!
[hr]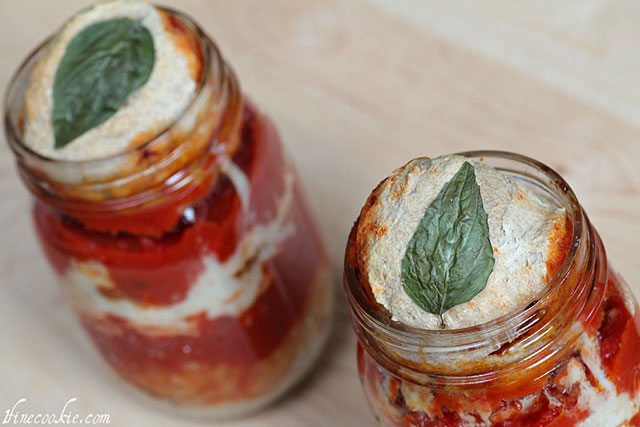 Photo: 1 Fine Cookie
Pizza In A Jar

You probably already knew that the average pizza had the potential to be healthified, but did you know it could also be made directly in a jar (a.k.a. ready to be grabbed for an effortless and delicious on-the-go meal)? If you're as surprised as me, you should definitely check this recipe out. It might just redefine the way you see Friday pizza nights!
[hr]
Vegetarian Shepherd's Pie

Here's yet another healthified family favorite. The veggie sausage provides you with heart healthy plant protein (and can easily be substituted for seitan) while the kale and baked potatoes help you get your fill of blood-pressure lowering potassium and disease-fighting vitamin C. Tasty and healthy!
[hr]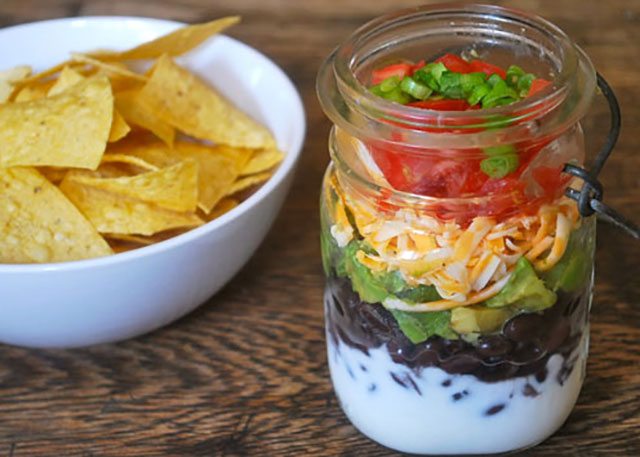 Photo: Savvy Mom
Simple 5-Layer Dip

This final recipe is particularly well-suited for busy nights, on which you don't feel like cooking or simply want to eat something that's a bit lighter. Accompany it with some home-made whole grain pita chips such as these and you're in for an easy breezy simple & healthy dinner alternative.
Not into dairy? No need to despair; this delicious looking recipe can easily be turned into a dairy-free version by swapping the sour cream with this cashew cream alternative and the cheese with this dairy-free parmesan cheese recipe.
[hr]
Have any of these recipes turned you into a mason jar fan (if you weren't already)? Let me know! And If you'd like more recipe ideas for a particular meal / time of day, make sure to share them below. I'd love to receive your ideas for future recipe posts!