Let's get real for a second … eating healthy all the time can be a real challenge. Between work, kids, errands, and the few hobbies you schedule into your week, you don't have time to cook extravagant lunches. In the middle of the work day, it may seem easier to just swing by your local fast food drive thru and pick up something quick and cheap. After you scarf down your fatty burger, though, you're left feeling sluggish and unsatisfied. That's not to mention, if you keep up this relationship with fast food, your skinny jeans are going to break up with you. That's where salad jars come in handy!
Packing a to-go salad in a jar is always a great idea. They're easy to throw together on a Sunday afternoon and put away for the rest of the work week. They're healthy, delicious, and beautiful! The only problem? They can be a real mess if you don't make them just right. Seriously, who wants to eat soggy lettuce? What about an undressed, dry salad? No, and no! That's why I've put together a step-by-step guide to help you create the best salad in a jar that will stay fresh all week long and taste delicious.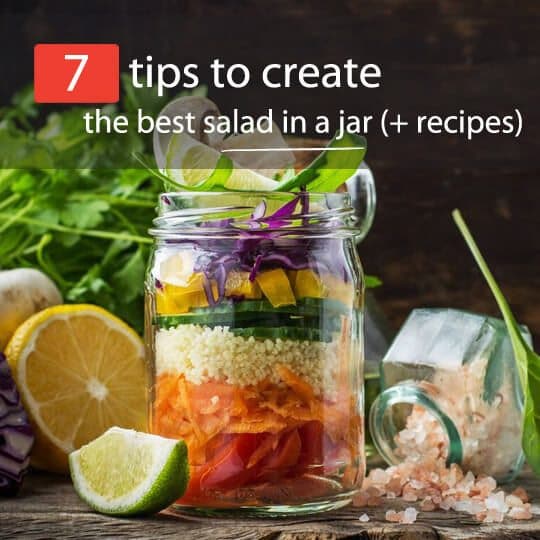 1) Dressing First
When it comes to creating a long-lasting salad in a jar, it's all about the layering technique. The biggest piece of advice I can give you is to always make sure you start with the dressing. That means the dressing should be on the bottom of your jar. How much dressing you use will vary depending on the size Mason Jar you use. If you're using a quart size jar, add about 3 to 4 tablespoons of dressing. For a pint size jar, add about 2 tablespoons.
2) Harty, Non-Absorbable Vegetables
The base layer should consist of firm vegetables. That means you should use an ingredient that won't soak up the dressing. For example, carrots, uncut cherry tomatoes, or sugar snap peas, would all be great options. You don't want fruit, lettuce, or other leafy greens anywhere near the dressing (unless you enjoy eating soggy salads)!
NOTE: Not all salads include non-absorbable vegetables. If you simply want lettuce, fruit, and nuts, you could run into a layering problem. Don't worry, though, there is a solution for this. I will talk more about this below under the "soft salads" section.
3) Pack Layers As Tight As Possible
Once you have your base layer in place, keep layering. Your next few layers can include ingredients such as chopped bell peppers, cucumbers, broccoli, corn, peas, radishes, beans, etc. As you layer, though, make sure you're packing each ingredient as tight as possible. The less air you have in between layers, the longer your salad will last.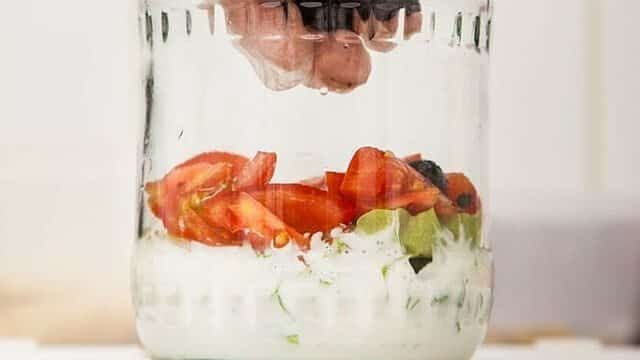 4) Pasta/ Grains
Some people like to add cooked pasta, quinoa, rice, or another grain to their salad. If you are one of those people, this is where you should add your grains! At this point, the other layers should keep the dressing away from this layer. However if a little dressing does creep up to the grain level, your salad will be fine!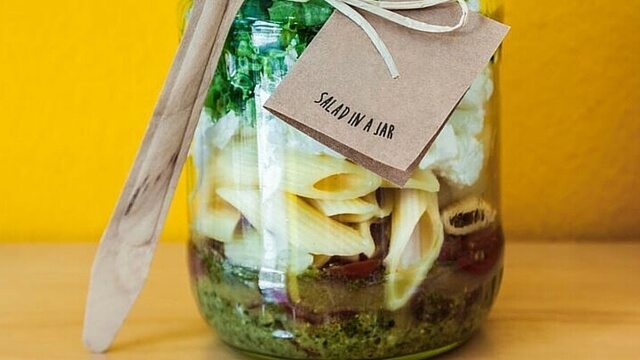 5) Leafy Greens On Top
When it comes to layering your salad jar, again, make sure to keep the dressing and any leafy greens as far away from each other as possible. By ending with the greens at the top, you'll prevent the entire salad from becoming soggy.
If you are adding any shredded cheese or nuts to your salad, add them last.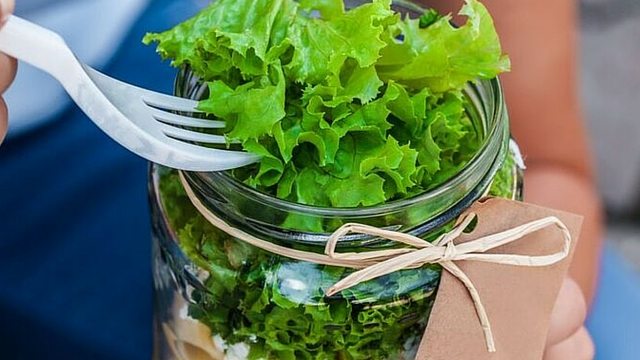 6) Seal jar and refrigerate
Once you are happy with your creation, seal it up and put it in the refrigerator. A tightly-packed salad jar should last you a week. So if you make five salads on Sunday afternoon, you will be taken care of for the rest of the work week. This gives a whole new meaning to "fast food!"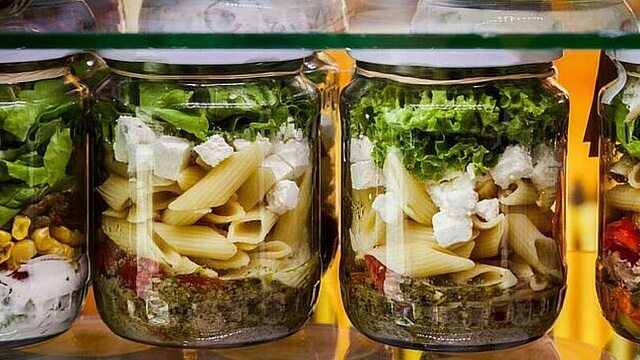 7) Day Of Add Ons
While some people add their protein (chicken, beef, or tuna) before the lettuce layer, I recommend adding it the day you eat the salad. There is no right or wrong. It's really personal preference. If you have a few extra minutes in the morning, before you leave your house, quickly open up your salad jar and add the protein. Then, once you get to work, open up the salad jar, pour all of the ingredients into a bowl, toss to mix the dressing, and enjoy!
Soft Salads
If you are not using any hardy, firm vegetables, you cannot start with the dressing. In this case, you should start with step #3 (just add your ingredients). Then, once you've completed your masterpiece, loosely place a piece of plastic wrap over the top and push down to create a cup. Add your dressing to the "cup" and then screw on the jar's lid. You should not experience any leakage.
FAQs
Can I use a plastic container vs a mason jar?
While you can technically create a salad jar in a plastic container, a glass Mason jar is preferred. The salad will actually stay fresher in the glass jar. That's because you get a better seal with a Mason jar than with a plastic container.
Do I need to vacuum-seal my salad?
Nope! Just make sure you pack your ingredients as tight as possible so little air is trapped in the jar.
How long will my salad jar last?
As long as you follow the 7-step guide above (or one of the recipes below) your salad should stay fresh for up to five days. Some people even enjoy their salad jars a full seven days after they make it.
Won't my avocado brown?
If you use avocado in your salad jar you can do one of the following two things.
Squirt either lime or lemon juice on it before you use it in a layer. The juice acts as a natural preservative. Plus, once it's tightly packed in a layer, avocados seem to stay green.
You can always add the avocado the day you plan to eat the salad.
Do I eat my salad right from the jar?
There's really no right or wrong. A lot of people prefer to bring a second bowl with them and dump the salad ingredients out of the jar and into the bowl. This will allow you to easily toss your salad.
If you are going to eat right out of the jar then use a wide mouth Mason jar. This will allow more room for your hand when it's time to poke at the ingredients at the bottom.
11 Healthy Salad Jar Recipes
By following the 7-step guide I outlined above, you can really get creative and use any of your favorite ingredients. Salad jars are actually a lot of fun to create. However, if you are new to salad jars (or just looking for some good ideas) check out the following 11 healthy recipes.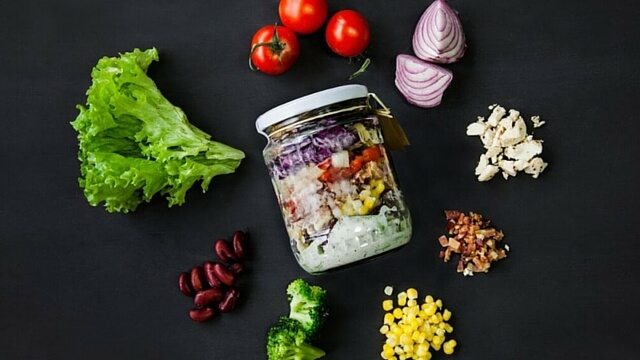 Mason Jar Carrot Noodle Salad – Grab your spiralizer and have some fun! This salad jar has carrot noodles, red bell peppers, hemp seeds, and a slew of other delicious ingredients that will help fill you up and keep you energized all afternoon.
Zucchini Noodle Salad – This is another fun spiralizer recipe. It's loaded with nutrient-dense superfoods and packed with plant-based protein. This salad is perfect for vegans.
Beef and Cheddar Mason Jar Salad – This salad jar is extremely simple to make. Starting with thousand island dressing then layered with tomatoes, cucumbers, and onions. The beef and cheddar cheese really give this salad a powerful flavor you're bound to love.
Southwest Mason Jar Salad with Creamy Cilantro-Lime Dressing – This loaded salad jar is packed with tons of vegetables and chicken. If you like creamy salad dressing, this healthy Southwest salad is perfect for you!
7 Layer Bean Salad – This salad doesn't have any lettuce or leafy greens. Simply add the dressing and layer your favorite different types of beans and peppers.
Greek Quinoa Mason Jar Salad – This is a protein-packed vegetarian salad. Plus, the quinoa is gluten free so it's suitable for anyone who suffers from Celiac disease or gluten intolerance.
Tropical Sriracha Chicken Salad – This salad includes pineapples, avocado, tasty chicken, and healthy veggies. This is the perfect salad to eat on a warm day. Better yet, indulge in this tropical salad on a cold day to help you pretend it's warm out!
Thai Chopped Chicken Salad with Chili Vinaigrette – O.M.G. this salad is delicious. If you like chili, the dressing will make your taste buds want to do a little dance. It's hard to believe this tasty salad is healthy.
Strawberry Spinach Mason Jar Salad with Citrus Poppy Seed Dressing – This salad is loaded with roasted asparagus, grilled chicken, crunchy cucumber slices, avocado, red onion, toasted almond slivers and a citrus poppy seed dressing…. yummy!
Buffalo Chicken Salad – If you love the taste of buffalo wings, then you will love this buffalo chicken salad jar! The best part of all — it will take you about 25 minutes to whip up 5 of these salad jars!
Asian Noodle Salad Jar – Asian noodles, edamame, and other healthy vegetables are packed into the addicting Asian noodle salad. This salad recipe also includes a homemade spicy peanut dressing recipe.
Bon Appétit!