Getting your two to three servings of vegetables in every single day is tough. Especially when you aren't a huge fan of vegetables, whether raw or cooked. One way to train yourself to eat more vegetables every day — during all meals and snacks — is to incorporate veggies into other foods to mask their more earthy flavors. Spinach is the perfect example. It's so versatile that it can almost go with anything.
Still, you have to at least try to get creative with your veggies if you really want to absorb all their health benefits. So we've put together a few suggestions for things you can prepare that include spinach as a main ingredient. Try them all and see how easy it is to eat more vegetables every day of the week.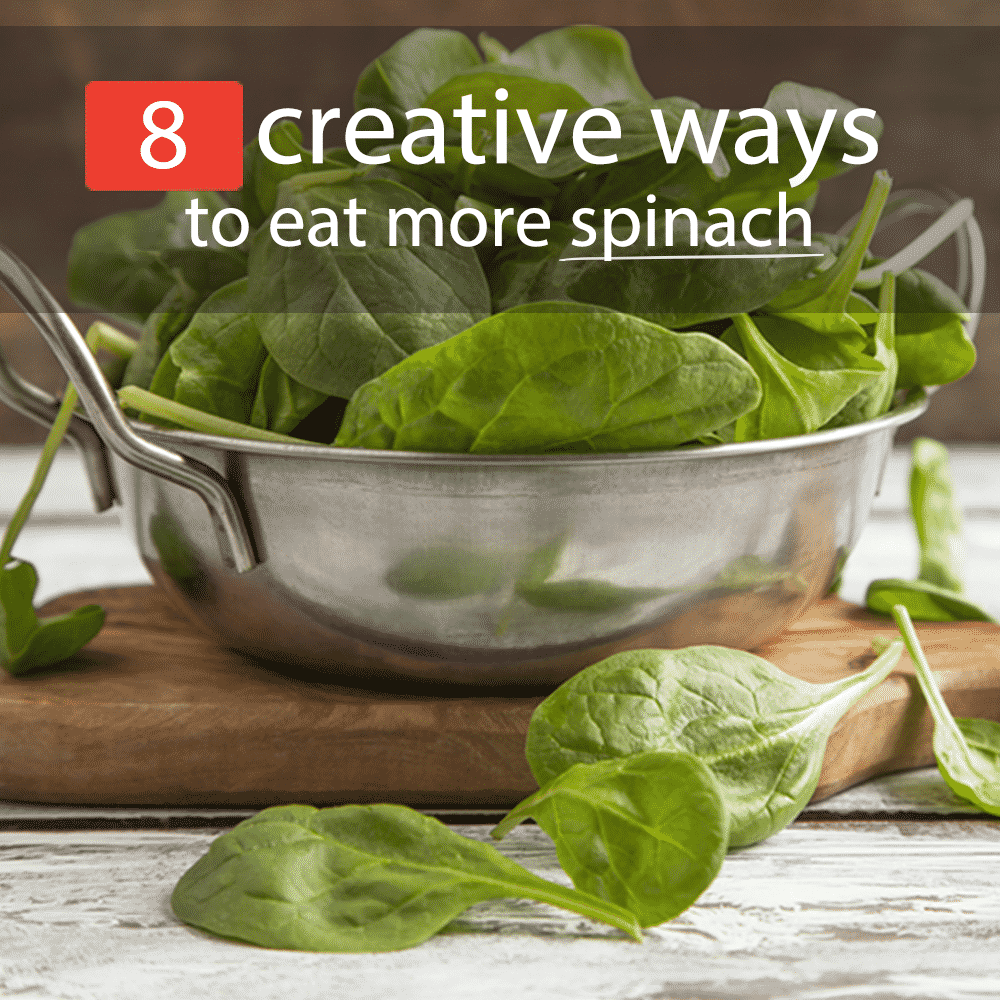 1. Toss together a spinach-based salad
One of the easiest and most traditional ways to introduce more spinach into your diet is to use it as a salad base. You can create vegetable salads with a verity of dark green leafy vegetables, such as spinach or kale, but can also use lettuce — though it's much less nutritious.
Spinach leaves, baby spinach in particular, are small and easy to work with. Eating them fresh, and topping them with vegetables, grains, and a light vinegar-based dressing, can turn a bowl of leaves into something truly delightful.
Think salads are painfully boring? You clearly haven't taken the time to experiment with the right food combinations, textures, colors, and flavors. Below is the recipe for a spinach-based salad you won't believe is actually good for you — and extremely simple to make.
Protein-Packed Spinach Salad (Dinner size — serves 1)
Add the following ingredients to a large bowl, toss with dressing, and enjoy!
2 cups fresh spinach, rinsed, torn into pieces
1/2 hard-cooked egg
1/2 cup sliced strawberries
1/4 cup onion, thinly sliced
1/4 cup almonds
1 slice turkey bacon, crumbled
1/4 cup seasoned croutons
Olive oil and vinegar dressing
If you want, you can leave the fruit out, or substitute with a different fruit or vegetable, such as raspberries, mandarin oranges, or carrots.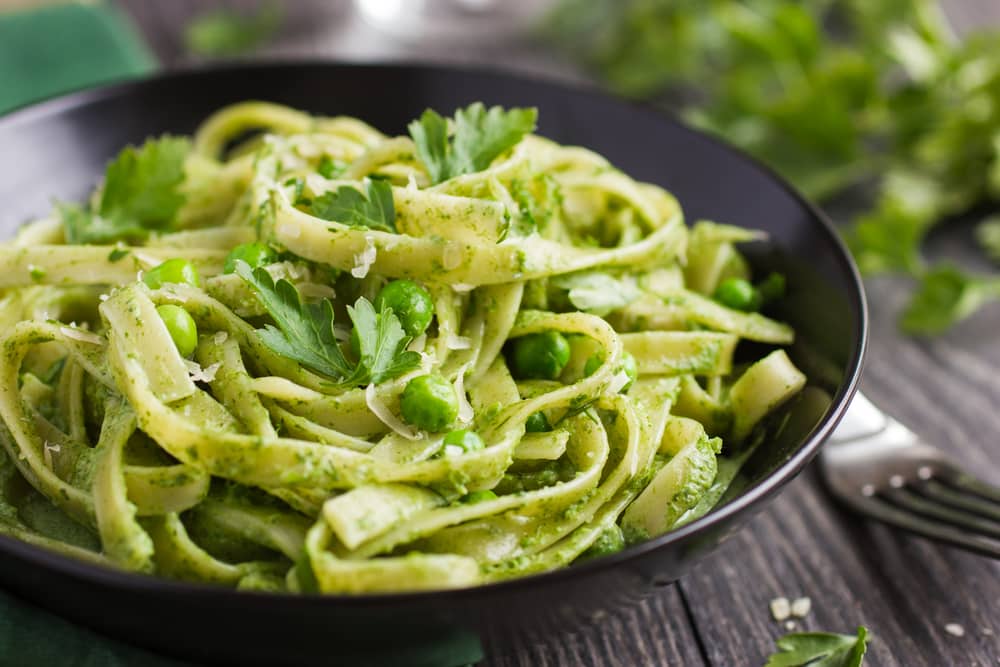 2. Put it in your pasta
The problem with many pasta dishes is that they come loaded with sauce. Usually, there aren't many vegetables involved. Even if there's animal protein mixed in, you're still missing out on essential nutrition — and you're getting a lot of extra salt in the process. Try this sauce-free, tasty spinach and garlic pasta. There's a little butter, but a tablespoon won't hurt.
Parmesan Spinach Pasta (Serves 4)
8 oz. whole grain pasta, uncooked
1 tablespoon butter, unsalted
1 clove garlic, minced
6 cups baby spinach
1/2 cup parmesan cheese, shredded
Boil water in a large pot. Add pasta, cook until al dante, and drain. Save 1 cup of the pasta water.
In the same pot, melt butter, add garlic and cook 3 minutes. Add pasta and spinach, toss, and cook until the spinach wilts. Add 1/2 cup of leftover pasta water if the pasta begins to dry out. Mix in 1/4 cup cheese and stir until combined.
Add pasta mixture to a large bowl, garnish with leftover 1/4 cheese, and serve hot.
3. Create a spinach-based hummus
Hummus, made from chickpeas, is a protein-rich and healthy alternative to high-fat and high-salt dips like Ranch or sour cream-based vegetable dips. As long as you don't eat the whole container in one sitting — it's quite filling, so that's highly unlikely — you'll actually benefit from dunking your veggies. Adding spinach packs even more fiber, protein, and essential vitamins into the mix.
Spinach and Basil Hummus Dip (yields about 2 cups)
One 15-ounce can garbanzo beans [chickpeas], drained
2 cups fresh spinach leaves, washed
1 cup fresh basil leaves
1 tablespoon olive oil
2 tablespoons water (to start)
1 1/2 teaspoons lemon juice
1 tablespoon tahini
Salt and pepper to taste (optional)
Add all ingredients to food processor and blend until smooth, about 2-3 minutes. Scrape down sides of the food processor and add an additional tablespoon of water if the hummus is thicker than you desire. Process again and then transfer into a bowl.
Serve your spinach-rich hummus with fresh vegetables, French bread slices, or whole grain crackers.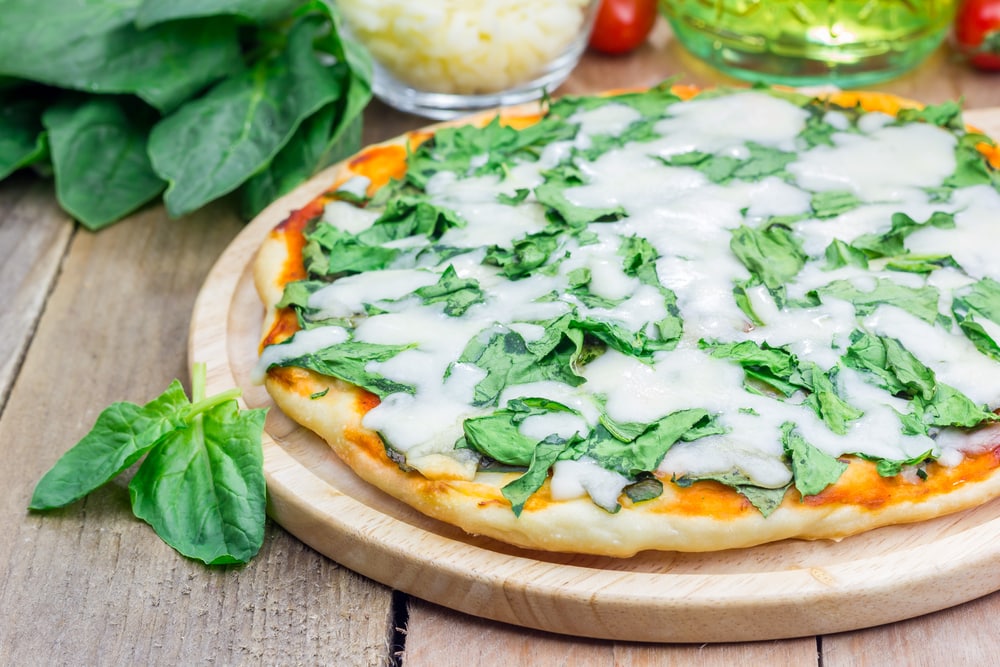 4. Add it to your pizza
Craving pizza, but need something that's actually healthy? Skip the salty, larger than life delivery pizza and make your own small, fresh, and delicious pizzas at home.
Spinach and Artichoke Flatbread Pizza (Serves 4 — don't forget to share!)
1 garlic clove, minced
1 tablespoon fresh parsley, minced
6 tablespoons olive oil (divided)
Two 8-inch flatbreads, round
1/2 cup shredded mozzarella cheese
4 tablespoons shredded parmesan cheese (divided)
One 14-ounce can of artichokes, drained
1/2 cup cherry tomatoes, halved
2 cups fresh baby spinach leaves, chopped
1/2 teaspoon dried basil leaves
Salt and pepper to taste
Preheat oven to 425 degrees (F). Line a baking sheet with parchment paper. In a large bowl, combine garlic, parsley, and 4 out of 6 tablespoons of olive oil. Evenly spread the mixture over the top surface of both flatbreads. Sprinkle mozzarella and 2 tablespoons of parmesan cheese over both.
Toss artichokes, tomatoes, and basil with remaining 2 tablespoons olive oil. Add mixture to the top of the cheese on both flatbreads. Add the rest of the parmesan cheese to the top of the flatbreads to cover the mixture.
Arrange loaded flatbreads onto baking sheet and bake 10 to 12 minutes or until the flatbread pizzas look golden and crispy. Serve warm for optimal flavor.
5. Sprinkle it into an omelette
There is no better way to start the day than with a vegetable and protein filled omelette. This egg white omelette is a lighter version of the traditional omelette. The spinach and feta cheese enhance its flavor while providing extra nutritional value. Eat this omelette for breakfast, and there is no way you will be hungry again until it's time for lunch.
---