Who says busy people can't dine like kings? From soups and salads to Asian-inspired curries and stir fries, these 29 recipes are perfect for no-fuss home cooking. They all take 15 minutes or less, so you can throw them together, even on weekdays!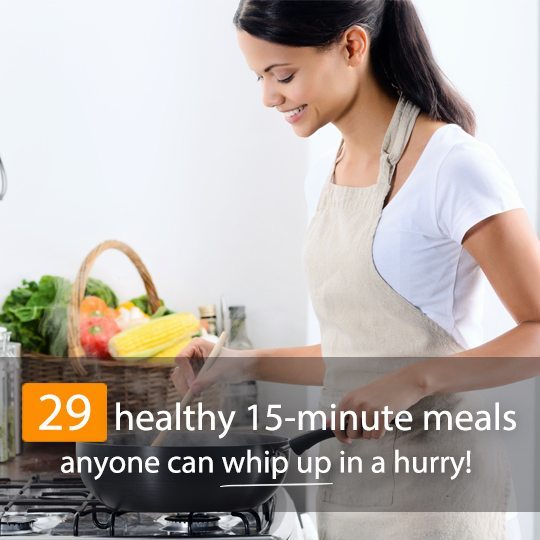 Peppered Beef Salad With Horseradish Mayonnaise – Splash out on some fillet steak and enjoy this refreshing but filling salad, full of nutrient-rich ingredients. With avocado, alfalfa onion sprouts, watercress, cucumber and red onion, you'll get a good hit of vitamins and minerals, as well as iron and protein from the steak. The mayonnaise and horseradish cream give the salad a nice creamy finishing touch!
Sautéed Zucchini & Tomatoes With Basil – This gorgeous medley of sautéed zucchini (courgette) and tomatoes with the herby taste of basil and a hearty fried egg is perfect for lunch or dinner. It smells and tastes delicious! As a meal, it is quick to prepare, lovely and fresh, as well as filling.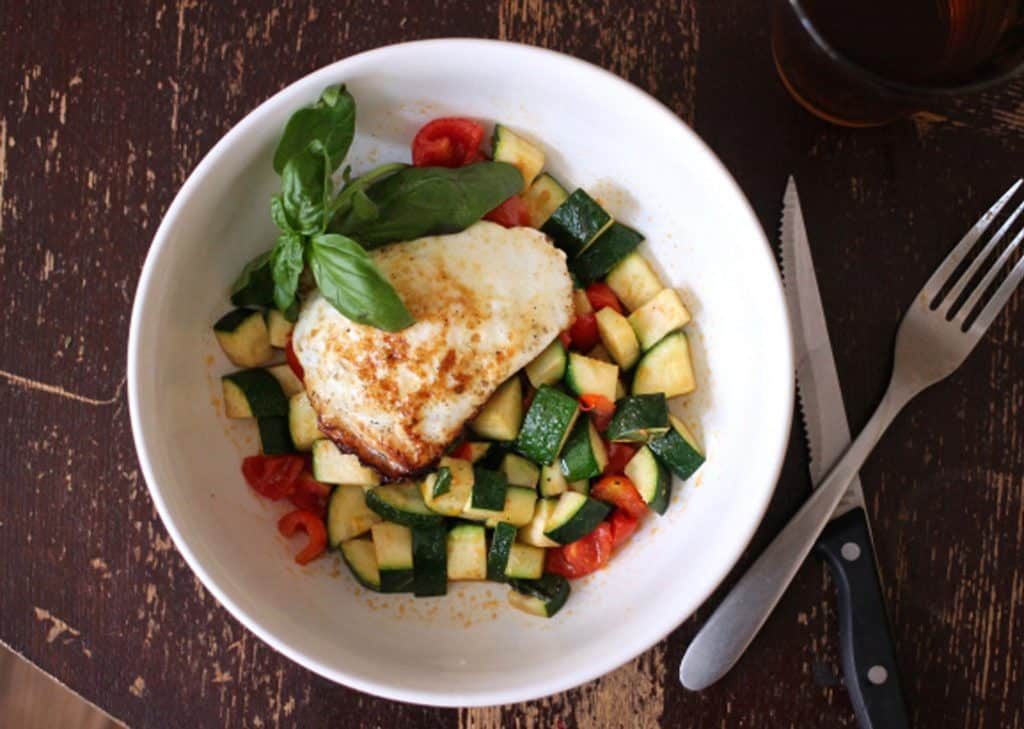 Homemade Frozen Pizza – This one might sound a little crazy, and, if we're being honest, it is cheating the 15-minute rule a little bit, but for that perfect, mouth-watering homemade pizza, this blogger suggest letting the dough prove slowly, which means you can't make it from scratch in 15 minutes. What you can do though, is make it on a rainy weekend when you haven't got much on, and pop it in the freezer for those nights when you only have 15 minutes to cook! Instead of buying a processed frozen pizza, you have your homemade frozen pizza full of natural ingredients that you can whip out and chuck in the oven for 15 minutes. Genius!
Rawkin' Noodle Bowl – Raw noodle bowl? Heck yes! On hot summer days when you're sick of salad, this is an amazing throw-together 15-minute meal. No-cook noodles, creamy sauce and crisp vegetables make this dish raw, tasty and satisfying. But not only that, it is also incredibly healthy, bursting with vitamins, minerals and antioxidants, leaving you feeling satisfied, but light.
Pasta With Summer Vegetables – This hearty but summery pasta is packed full of nutritious vegetables, making it a colorful, tasty treat. Onions, garlic, bell peppers, zucchini, yellow squash, herbs, tomatoes, olives and capers create all sorts of sweet, savory, bitter, astringent and spicy flavors to enjoy.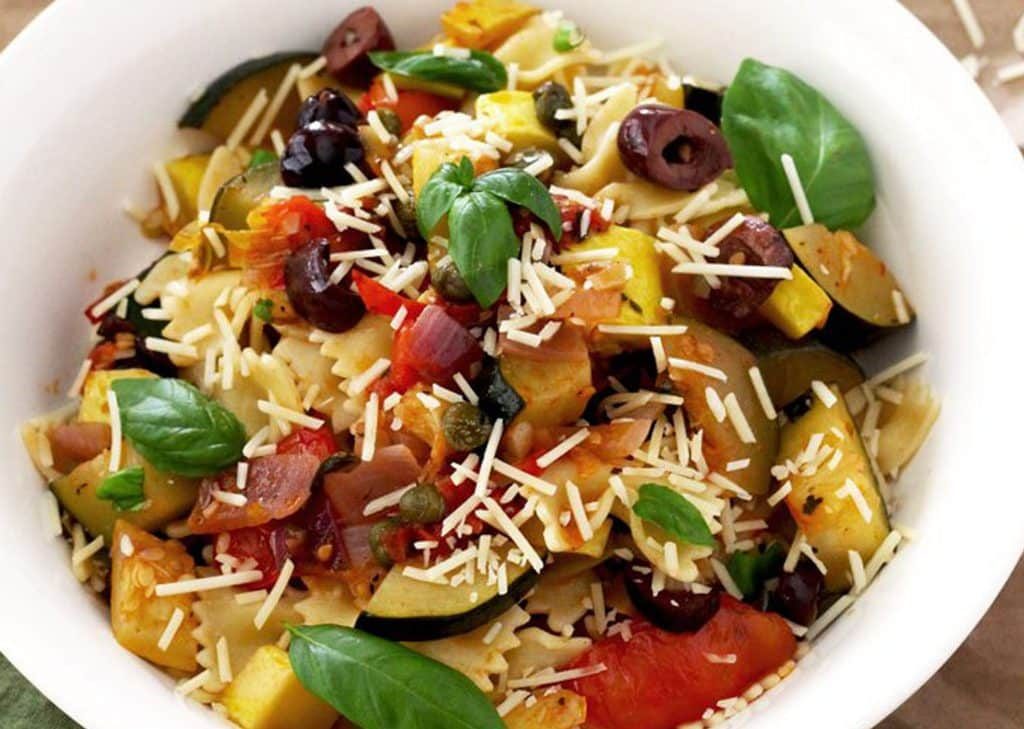 Couscous With Aubergine & Summer Savory – This tasty couscous dish with aubergine, which is another name for eggplant, and summer savory, which is an aromatic herb in the mint family, is a healthy, satisfying 15-minute meal to whip up on busy evenings. When fried, aubergines melt into a delicious, creamy substance that is to die for, and is perfect when accompanied by the savory couscous, which includes garlic, onion, tomato paste, chili, vegetable stock and summer savory.
Low Carb Tuna Cakes – You can't beat real tuna steaks, compared to canned tuna, and this tuna cake recipe is a brilliant meal option for them, taking just 15 minutes to prepare! It's simply a matter of sautéing red pepper, sweet onion and garlic in extra virgin olive oil and adding them into a bowl of chopped tuna steaks, with egg, salt, pepper, soy sauce, ground flaxseed meal, red pepper flakes, olive oil and lemon juice! Check out the full recipe for details.
Grilled Peach Panzanella Salad – With a huge variety of flavors, from sweet fruits and fresh herbs to creamy almonds and sharp goat's cheese, you certainly can't say this salad is boring! And with a delicious bread baguette ripped up and added in, it's a tasty treat too!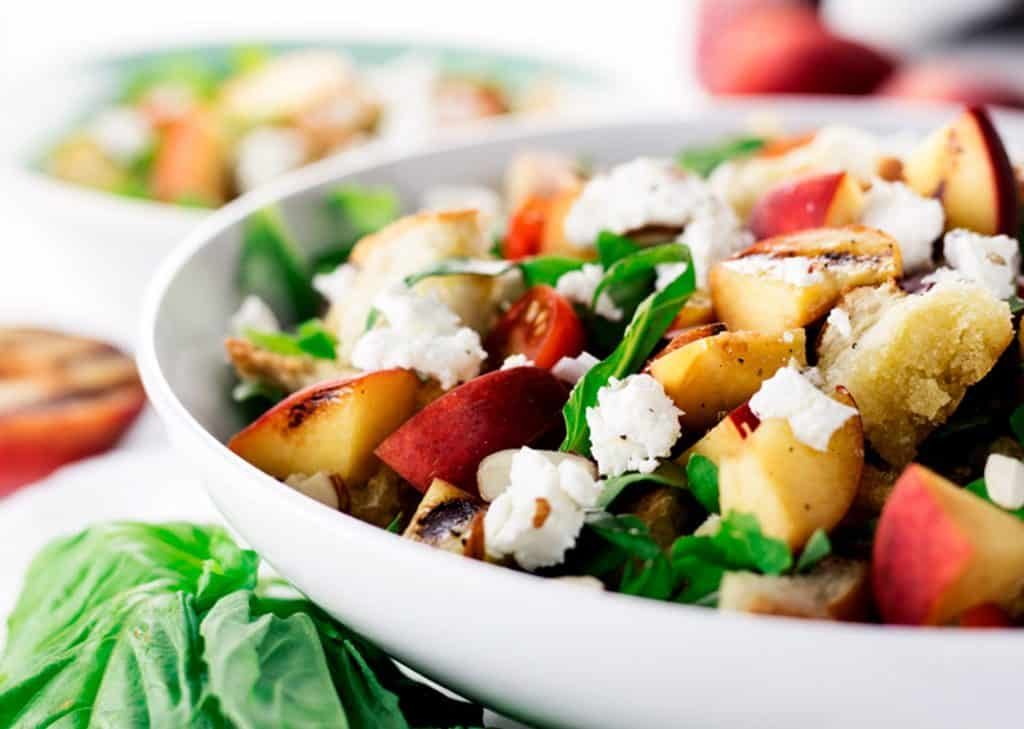 Vegan Avocado Cream Pasta – This beautiful green pasta is satisfying but fresh – bright and summery, but creamy and comforting all at the same time! The sauce, despite its impressive taste and appearance, is prepared in a matter of minutes and is as easy as putting everything in the blender and blending while the pasta boils away. Quick, easy, nutritious, delicious and vegan – what more could you want?
Thai Chicken Zucchini Noodle Salad With Sesame Vinaigrette – This beautifully colorful restaurant-quality salad may look fiddly to prepare, but it, along with its homemade dressing, will be ready in just 15 minutes, and with only 324 calories! The raw zucchini noodles are refreshing and light – perfect for summer.
Creamy Sundried Tomato Soup – This bold, creamy soup is another quick, easy dinner or lunch to prepare using fresh tomatoes, sundried tomatoes, coconut milk, garlic and water. It takes just 15 minutes to cook on the stovetop and dirties just one pot and a knife!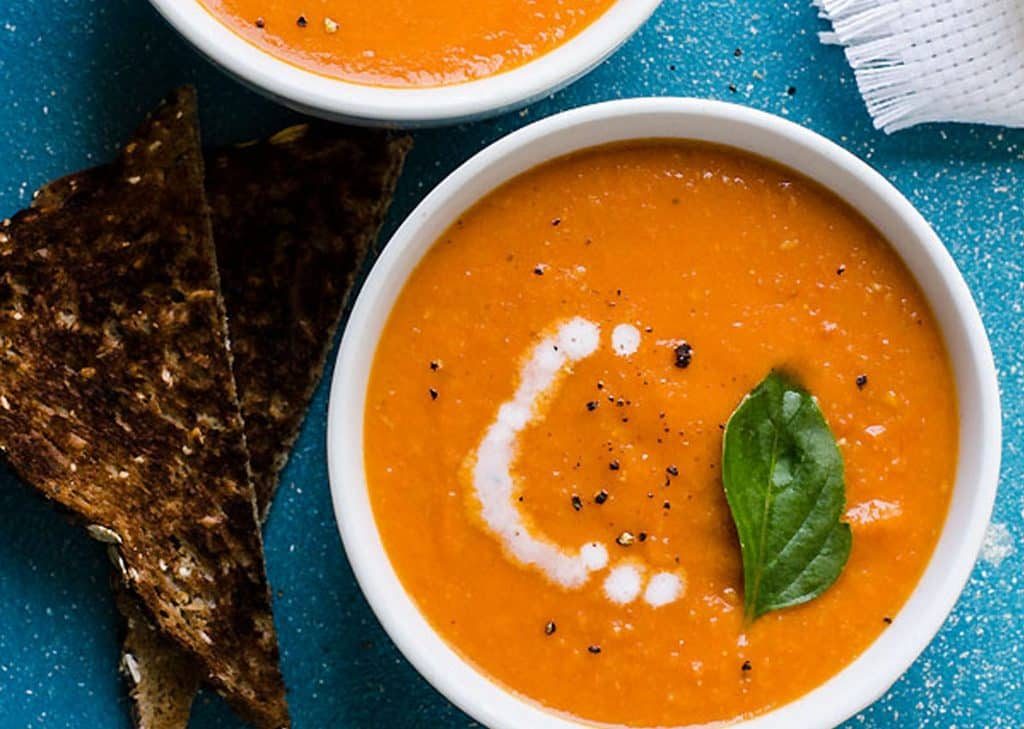 Riced Cauliflower With Vegetables – Worried about getting too many carbs? This is an ideal vegetable dish that makes you feel like you're eating a rice dish! All you need is cauliflower, coconut oil, garlic, onion, bell pepper, cumin, salt and pepper. It's the perfect low-carb, quick and easy meal if you're not feeling too ravenous!
Quick Orecchiette Pasta With Kale Pesto – With kale, fresh basil, fresh sage, garlic and pine nuts, this 15-minute meal will give you a strong hit of powerful nutrients. The orrechiette, which means 'little ears' look lovely as a summer pasta, and they absorb the liquid and flavors of the fresh, healthy pesto.
No-Cook Zucchini Noodles With Pesto – These spiralized zucchini noodles look stunning, taste delicious, and are super healthy! The pesto adds a gorgeous savory, fresh summer flavor, and the tomatoes add a touch of sweetness. And, did we mention, this is a raw dish, so no need to even turn on the oven!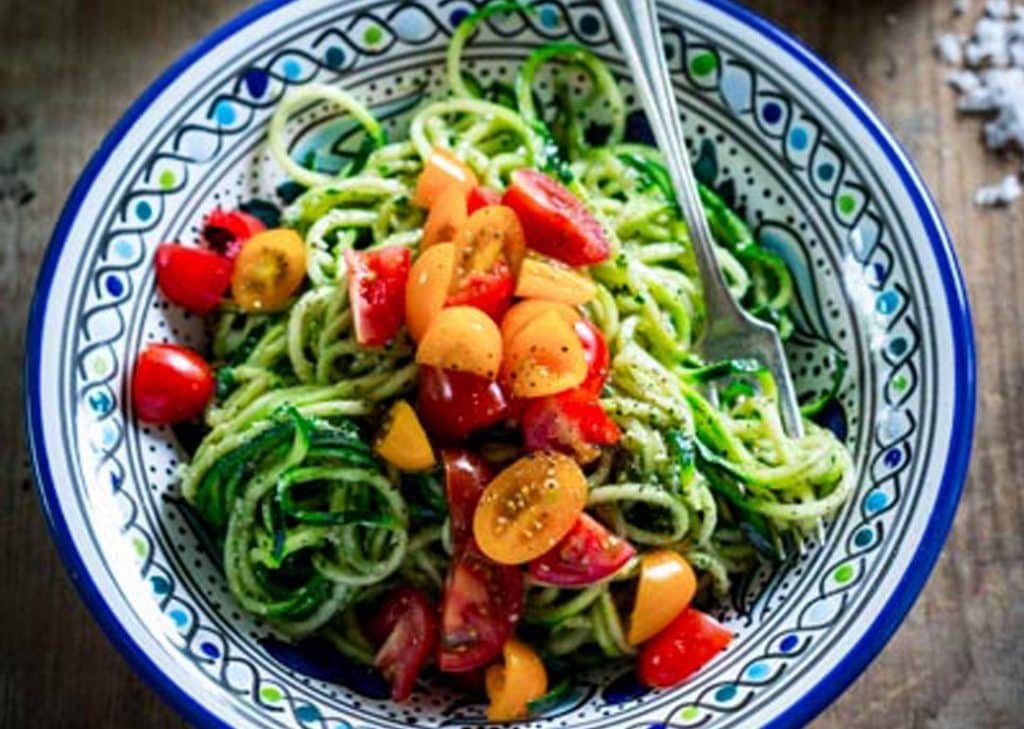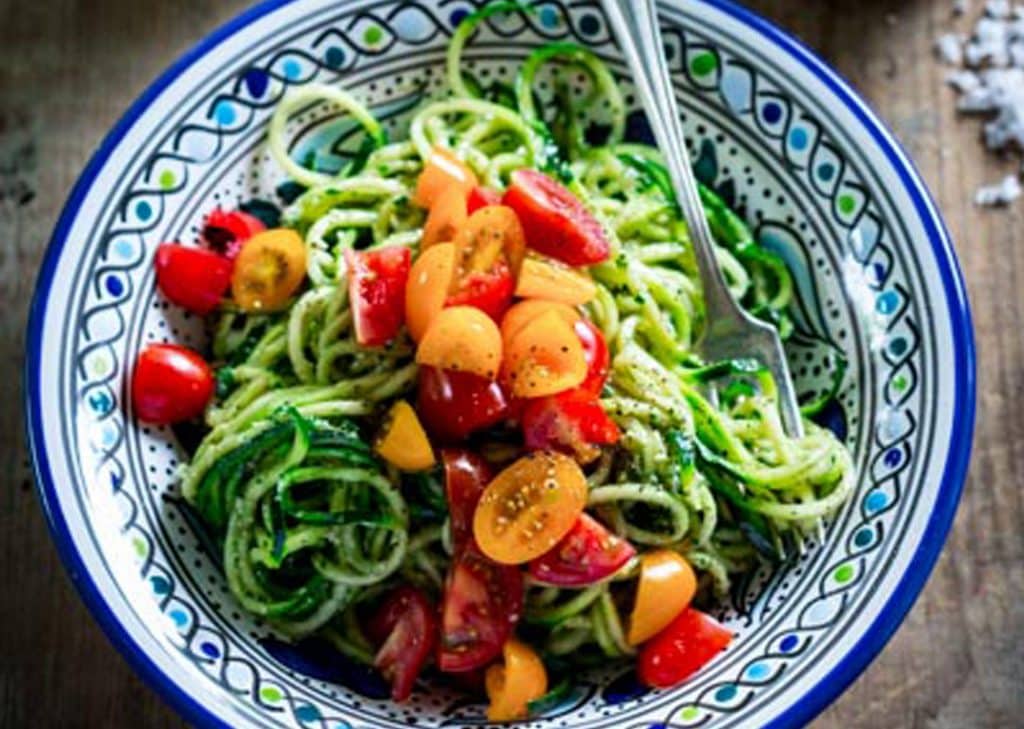 Thai Green Curry With Shrimps & Asparagus – If you're a fan of Thai curries, then this 15-minute version will be a godsend when you don't have time to slave over the stove for hours and wait for the curry to simmer! Using green curry paste, coconut milk, onion, garlic, zucchini, asparagus, green peas, spinach, shrimp, rice noodles, chili, lime and coriander leaves, it is packed with veggie goodness and flavor.
5-Ingredient Pressure Cooker Cheesy Egg Bake – As the name suggests, this dish has just five ingredients and is super quick to make because it is prepared in a pressure cooker. This bake is warming, comforting and filling, with eggs, hash browns, cheese, bacon and milk. The recipe suggests adding optional vegetables, like onion, red peppers spinach and mushrooms. It's a good idea to get some veggies in every meal, so pretty much whatever's in the fridge can be chopped up and added in!
15-Minute Coconut Curry Soup – This tasty soup has got it going on as far as perfectly matched flavors! With coconut oil, garlic, ginger, red curry, chicken broth, fish sauce, coconut milk, rice noodles, mushrooms, green onions, bean sprouts, peppers, herbs and lime, there are plenty of different tastes, vitamins, minerals and antioxidants to enjoy.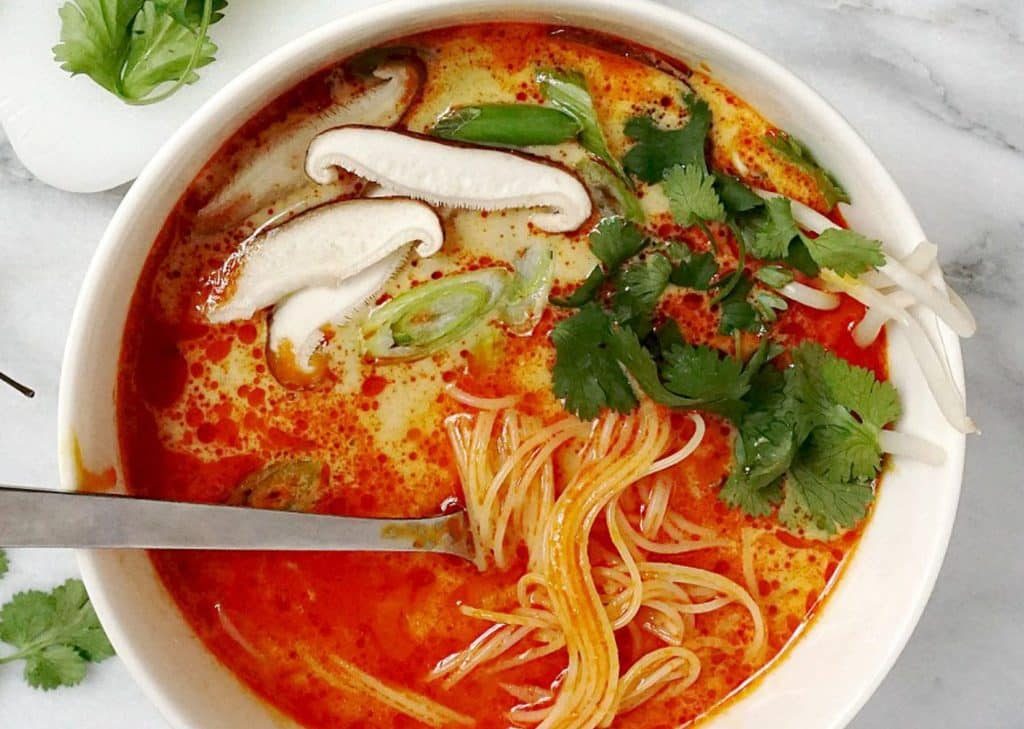 Shakshuka – Also known as 'eggs in purgatory', this is the perfect quick, easy, midweek one-pan dinner. It includes a spicy tomato sauce with eggs poached in it, which you can dip toast into. This take on shakshuka includes diced tomatoes, harissa seasoning, eggs, salt and pepper, feta chest, baby spinach and bread for dipping.
15-Minute Thai Basil Pork Stir Fry – Another quick, easy Thai dish to enjoy when you need to cook in a hurry. This stir fry includes rich, delicious flavors, including fish sauce, soy sauce, oyster sauce, chili, garlic and basil with green beans, pork, rice and egg.
Easy Veggie Greek Pitas – Do warm pitas stuffed with fresh tomatoes, cucumbers, caramelized onions and tangy, herby tzatziki sauce sound appetizing? Well, all you need is 15 minutes to warm the pita, chop the veggies, prepare the sauce and put them all together. It's the perfect Mediterranean-inspired lunch or dinner option!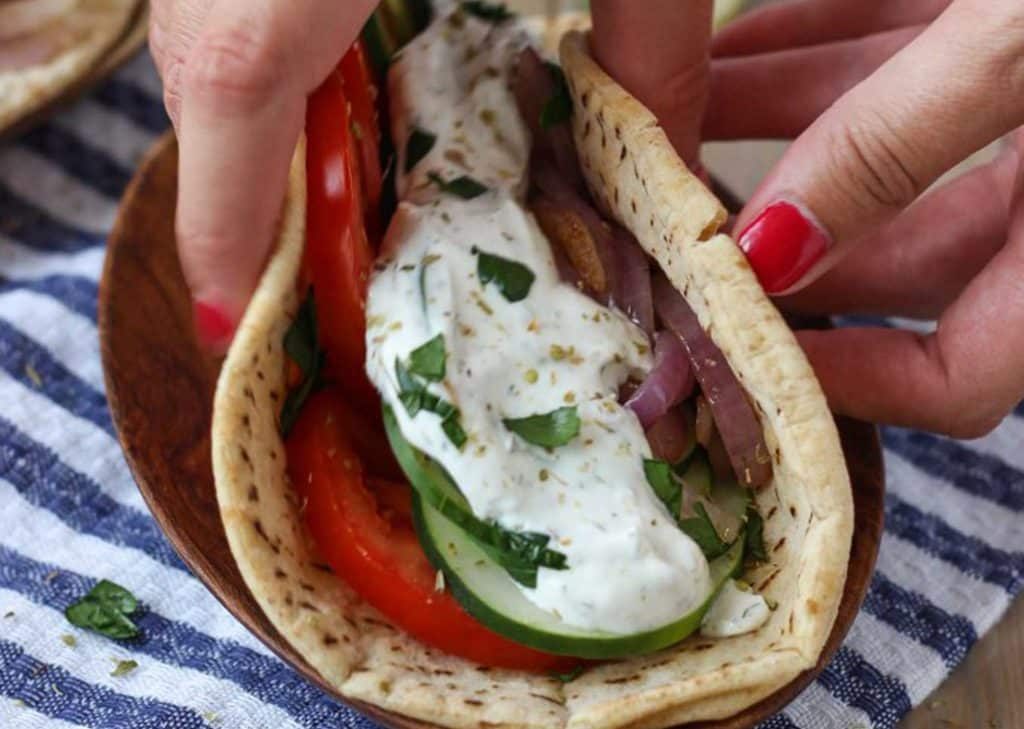 Richard's 15-Minute Paleo Chicken Curry – This authentic tasting aromatic Indian curry takes just 15 minutes, despite tasting like it's been simmering on a hot stove for hours! The curry powder can be made from scratch with coriander, cumin, turmeric, ground mustard, ginger, cayenne and cloves, and then turned into a mouth-watering curry with onion, garlic, tomato paste, chicken broth, your premade curry powder, ginger and chicken.
Mediterranean Three Bean Salad – Packed with flavor, this hearty, filling three bean salad is full of fiber, protein, vitamins, minerals and antioxidants for a super healthy, low carb meal. This salad is bursting with tasty vegetables and ingredients, including red wine vinegar, olive oil, lemon juice, honey, paprika, onion, garlic, green beans, chickpeas, red kidney beans, cucumber, parsley, feta, olives and tomatoes.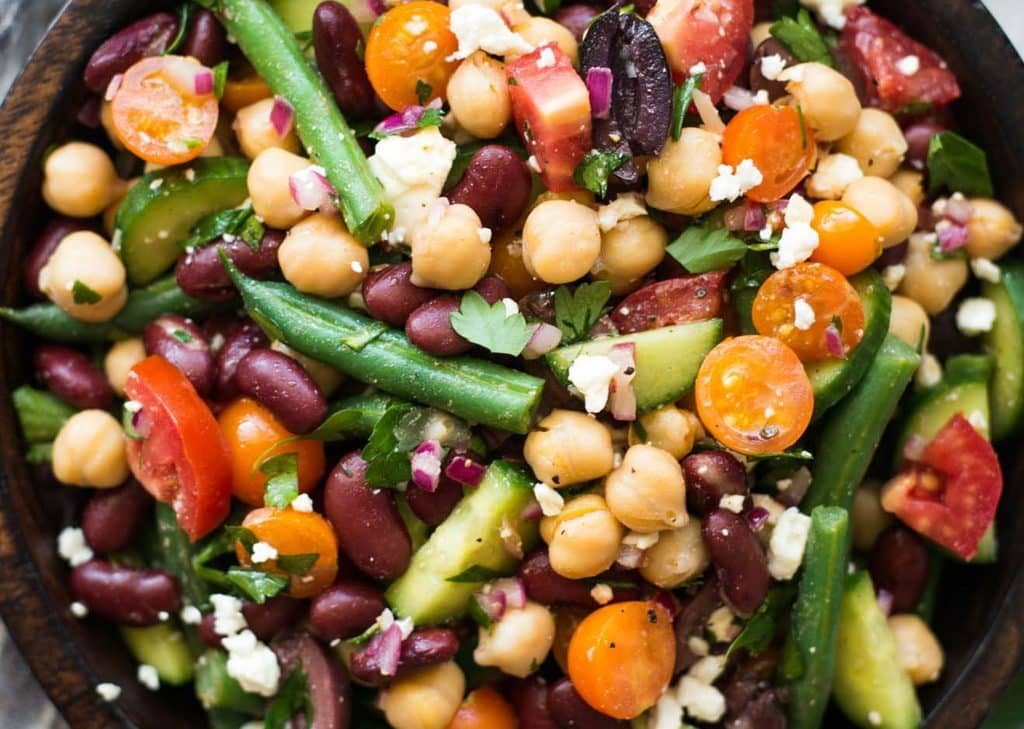 Tahini Garlic Noodles – Hot, garlicy and nutty – this tahini flavored pasta dish is a very clever invention. And it couldn't be easier! Just cook pasta and fry garlic, olive oil and red chili flakes, then add tahini and the cooked pasta, and garnish with some spring onions.
Cheesy Mexican Frittata – Frittatas make a great 15-minute meal option, using just one pan, and giving you the ability to add whatever vegetables are in season. This recipe calls for green chilies, fresh jalapeno, cheese, eggs and onion. And then it's just a matter of sautéing, mixing and cooking in the oven!
Drunken Noodles – Intrigued? This is the winning recipe title anyway! This fiery and fragrant noodle dish tastes like it's straight out of a street food stall in Bangkok, and takes just 15 minutes to prepare! This is the blogger's version of Thai Pad Kee Mao, and calls for garlic, chili, shrimp, fish sauce, sweet dark soy sauce, egg, Kaffir lime leaves, tomato, rice stick noodles and fresh basil leaves.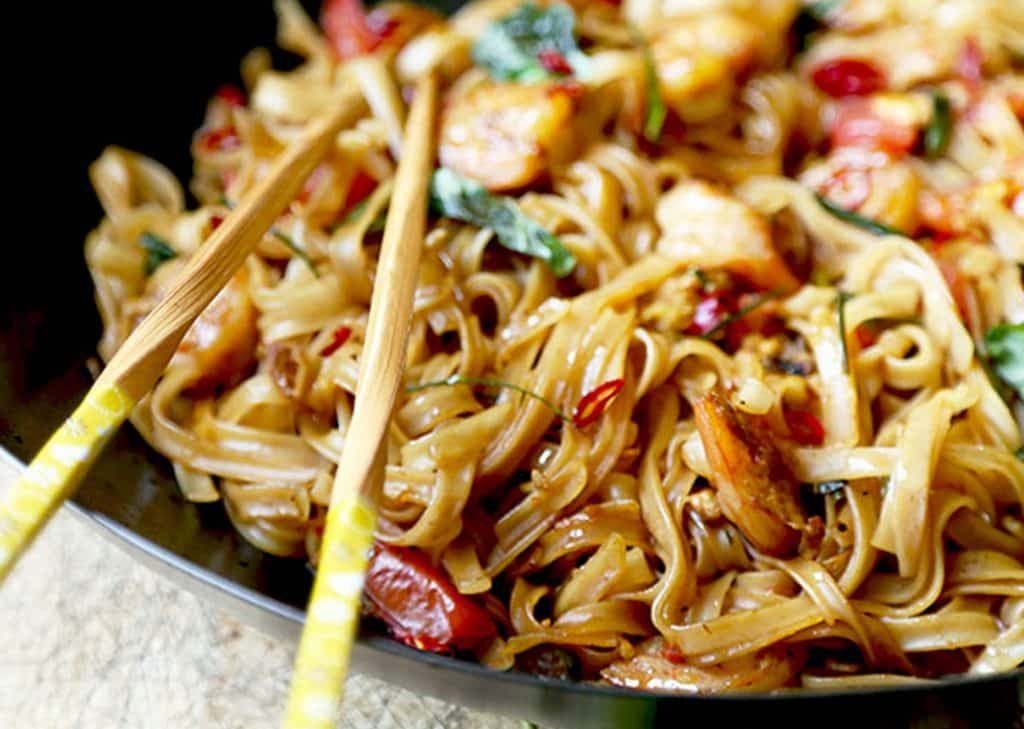 15-Minute Sesame Ginger Noodles – Sesame, ginger, bok choy and noodles… You definitely can't go wrong with that! All you need for this recipe is brown rice noodles, baby bok choy, green onion, sesame seeds, garlic, ginger, soy sauce, maple syrup, sesame oil and chili. It only takes a matter of minutes to cook and serve, giving you a fresh but filling and savory Asian-inspired meal!
Early Summer Green Minestrone – Why not change things up and have a minestrone-inspired soup in the summertime? This green minestrone recipe is the perfect option if you want to give it a try, using early summer green vegetables, including asparagus, zucchini and peas, along with spinach, garlic, onion, white beans, vegetable stock, hot pepper flakes and lemon juice. And, of course, it takes just 15 minutes to whip up!
Thai Basil Shrimp – This satisfying, yet light stir fry is full of flavor and so quick to toss together in the wok. Shrimp is an excellent source of protein and is super quick to cook, making it the perfect feature in a mid-week dinner. This delicious dish includes bell peppers, soy sauce, fish sauce, garlic, ginger, chili, lime, Thai basil, scallions and shrimp.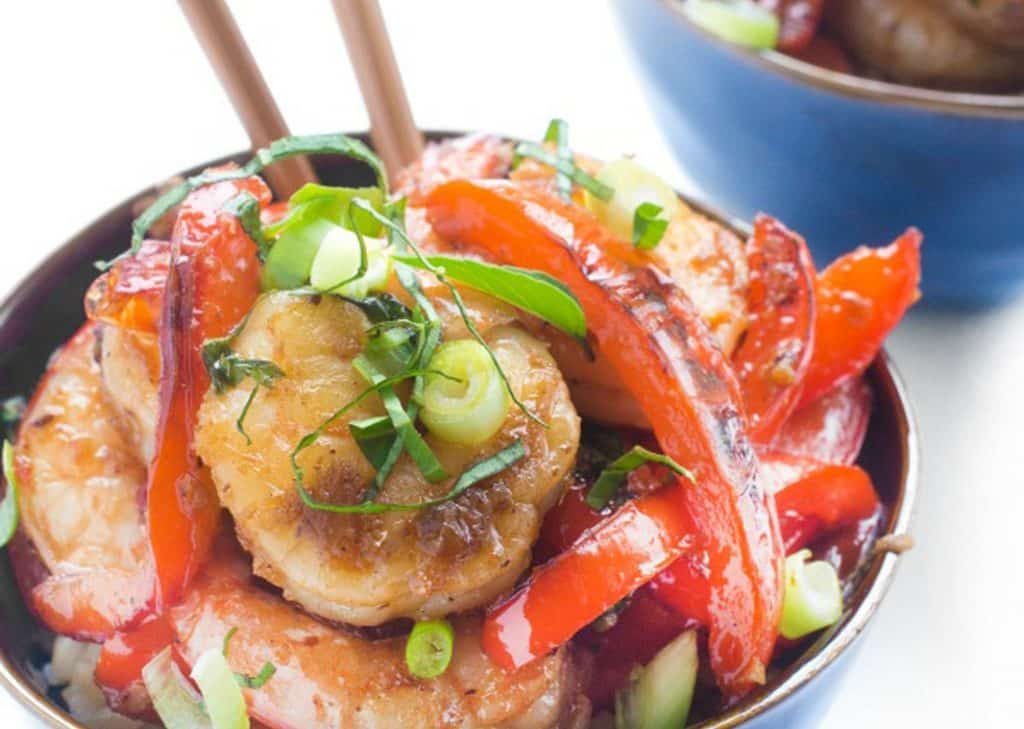 Zucchini Salad – This makes a fantastic summer salad option for a light lunch or dinner. The recipe calls for zucchini, balsamic vinegar, lime juice, lemon zest, chilies, garlic, olive oil, basil leaves and pickled onions. Super quick, super simple – it's just a matter of chopping and mixing!
Eating alone? Check out our quick, easy meals for one article with links to 32 recipes, including breakfast, lunch, dinner and dessert!