When you think of broccoli recipes, what comes to your mind?
Mini trees that can only be eaten with lots of cheese? Or drenched in Ranch dressing?
I get it – overcooked, mushy, soggy broccoli is gross. BUT when prepared properly, broccoli can turn simple dishes into mouth-watering creations.
Still skeptical? Then, check out the following impressive broccoli recipes. And be prepared to change the way you think about this spectacular green nutritious beast.
Bonus: I'll also briefly cover the evidence-based health benefits broccoli and how to get the most out of it.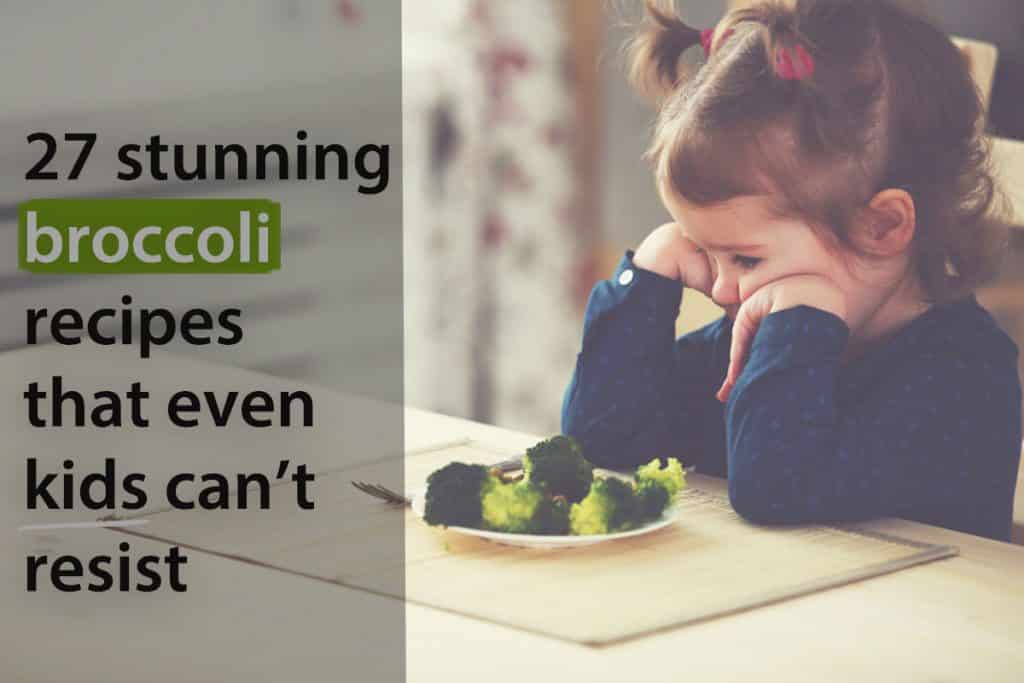 What's in the broccoli?
Did you know that the broccoli was already famous for its longevity and health promoting properties since the sixth century BC?
And that's no surprise considering how nutrient-packed this veggie is! According to the USDA National Nutrient Database, 1 cup of chopped broccoli (about 91g) contains:
31 calories
2.57g of protein
0.34g of fat
6.04g of carbohydrates
2.4g of fiber
19mg of magnesium
288mg of potassium
81.2mg of vitamin C
567IU vitamin A
0.71mg vitamin E
92.5µg vitamin K
57µg folate

So, why exactly should you try more broccoli recipes?
Well, firstly because who wouldn't like to jazz up what they eat?
And, of course, this cruciferous veggie is super healthy.
In fact, research suggests that the various nutrients in the broccoli could help protect you against:
Cancer – Scientists have discovered that broccoli contains sulforaphane, indole-3-carbinol (I3C), and phenethyl isothiocyanate (PEITC). In a nutshell, these hard-to-pronounce substances have been shown to force cancer cells to commit cellular suicide. For instance, PEITC prevents tumors from getting access to blood while I3C prevents cancer cells from reproducing.
Liver disorders – Compounds in broccoli have been shown to support detoxification. And guess what? If your body's innate detox mechanisms are optimal, your skin and hair will also look healthier.
Heart disease – Rich in magnesium and calcium, broccoli can help normalize blood pressure and keep strokes at bay. Moreover, magnesium can decrease inflammation which, if left unchecked, could raise cholesterol levels and favor the development of plaque in the arteries.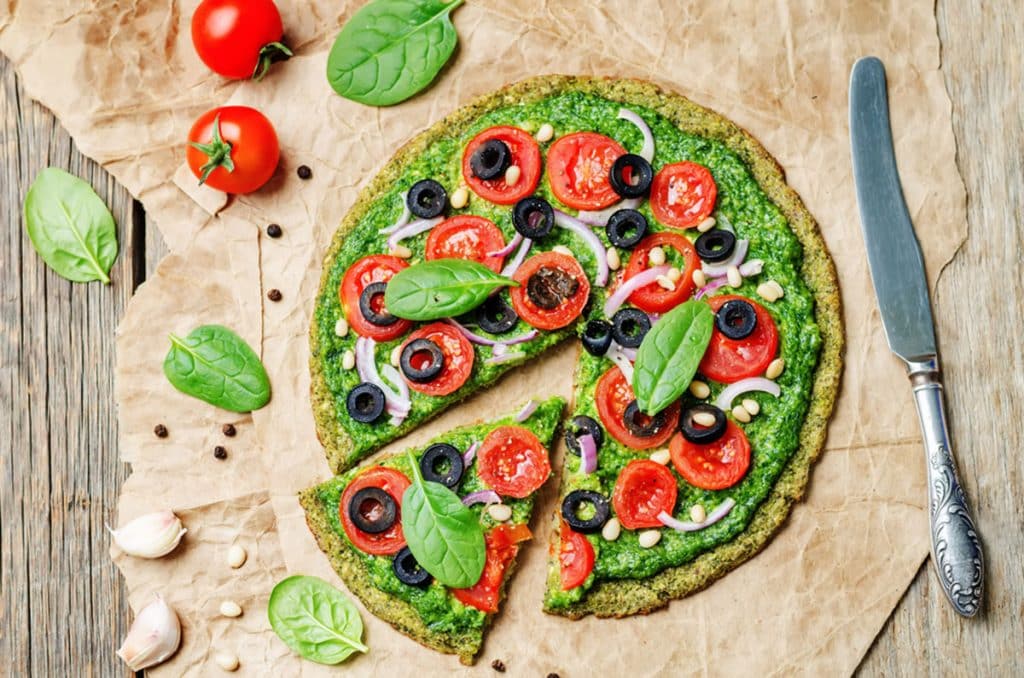 Chronic inflammation – An increasing number of studies are showing that chronic inflammation is at the root of most chronic diseases such as heart disease, diabetes, and autoimmune conditions. As mentioned earlier, magnesium can tone down inflammation.
HPA-axis dysfunction (more commonly referred to as 'adrenal fatigue') – Broccoli is naturally rich in vitamin C and magnesium, two nutrients that get depleted in cases of stress.
Macular degeneration which is the major cause of blindness in older adults – Vitamin C possesses antioxidant properties and can thus protect our eyes against oxidative damage caused by our environment. Moreover, broccoli is also a terrific source of lutein and zeaxanthin, two carotenoids (antioxidant substances) that have been found to maintain eye health and vision.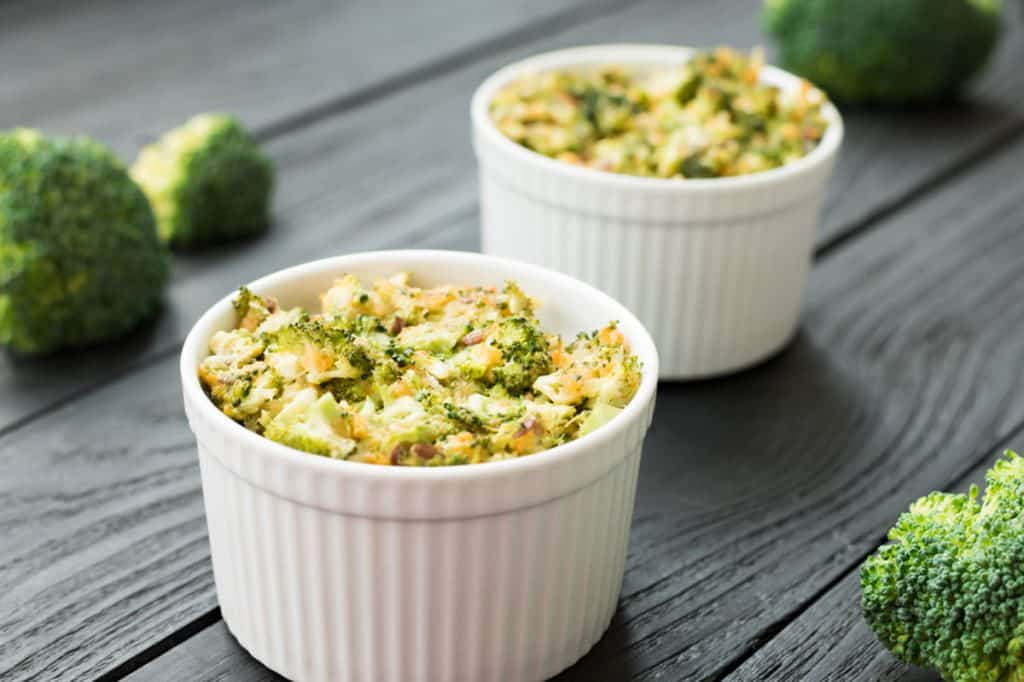 How to get the most of your broccoli
Do you usually throw away the broccoli stem? That's a huge waste, right?
Well, here's some good news: you can actually use all the broccoli. That is, the stem, the florets, and the leaves!
I usually simply chop the stem in small pieces and add them to soups, curries, sauces, gravies, and stir-fries.
And don't worry – check out the video below and you'll be cleaning and cutting the entire broccoli head like a pro in no time.
What's the right way to cook broccoli?
Want to reap the most of the cancer-fighting properties of the broccoli?
Then make sure to avoid cooking the little green shrubs for more than two to three minutes. You see, prolonged cooking destroys glucosinolates, the cancer-fighting agents in the broccoli.
If you don't like eating crisp vegetables, simply cut the broccoli head in smaller pieces.
Note: Broccoli can also be consumed raw.
Now that I have hopefully convinced you to give broccoli some extra love, let's discover 27 impressive ways to get more of this underappreciated veggie in your diet.
Just click on the recipe's name – this will take you to the website where the recipe is posted.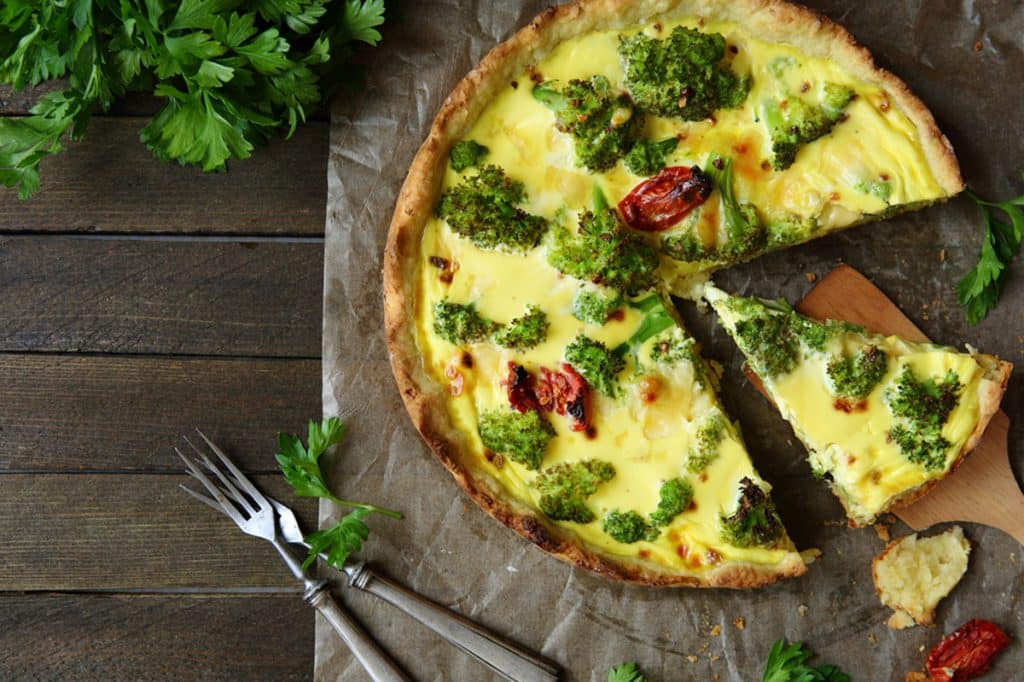 A. Breakfast
Did you know that omelets and frittatas are not the same thing? Whip a few eggs, cook them in some butter, gently fold them and, here you are: a sumptuous French omelet!
Frittatas, on the other hand, have that little extra flavor to them. Italians enjoy mixing different ingredients to their eggs. And, after frying them, they grill them. That's how you obtain super crunchy frittatas, which are kind of like pies.
Suggested modifications:
The milk and cheese are optional – you can omit them or use coconut milk in lieu of dairy milk.
Not a huge fan of meat-free recipes? Just add 2 cups of cooked, chopped chicken and you're ready to go.
Avoid using non-stick cooking sprays. Just use one or two tablespoons of grass-fed butter – healthy fats will NOT make you gain weight or clog your arteries.
I would add garlic (chopped or minced) to that frittata. That would add a big bang of flavor.
Looking for a delicious dish that can be prepared in a jiffy? Then, why not give this broccoli recipe a try? This broccoli recipe may become one of your favorites as you can combine all the ingredients the night before and store it in the fridge to be baked the next day. Don't worry about the leftovers. They taste as good as if they just popped out of the oven.
Get ready for a burst of flavors with this easy broccoli recipe. Compared to most quiches, this quiche contains a nice amount of protein and won't leave you feeling hungry within a few hours. This is a go-to recipe whenever you're running late: it contains only 3 ingredients and can feed up to 12 persons.
Suggested modifications:
Calories aren't the enemy and low-fat products are very unhealthy. So, when I make that recipe, I usually use full-fat cheese and the whole egg because the egg yolk is so nutritious. Plus, food needs to be tasty, right?
As mentioned earlier, you want to avoid using oil sprays. Simply use grass-fed butter or ghee instead.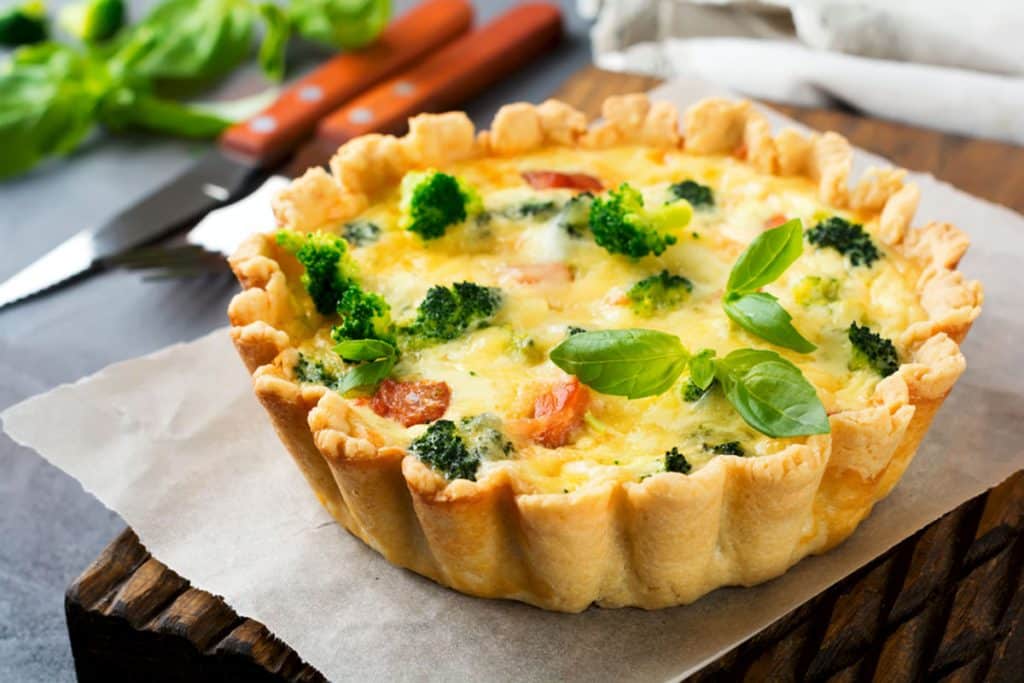 Who doesn't have a weakness for pancakes? Unlike regular ones, these pancakes won't 'instantly' make your eyelids heavy when you eat them. Ready within minutes, these tasty pancakes are healthy, rich in protein, packed with veggies and come with a nice dose of omega-3s.
Suggested modifications:
If possible, select organic turmeric, garam masala, and dried red chili flakes since these spices tend to be heavily contaminated with pesticides.
Garam masala isn't really your thing? Use oregano and ground pepper instead.
Need to get more veggies in your diet? Then this broccoli recipe is just for you: besides the little green shrubs, you'll also be enjoying zucchini.
Suggested modifications:
To make this more filling, accompany your egg bake with some sautéed meat or grilled chicken.
If this recipe is too 'green' for you, you might want to add some yellow and red bell peppers. This will transform your broccoli bake into a more colorful meal.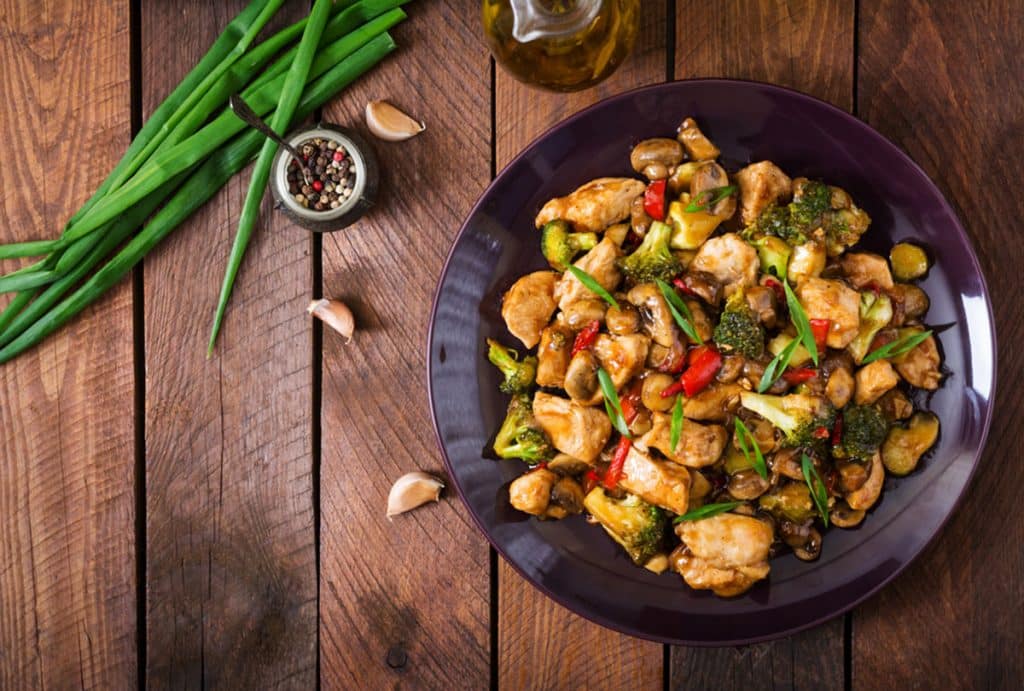 B. Lunch
Chicken and broccoli. Best match ever. This recipe calls for simple ingredients, is quick to make and is super tasty. Sesame oil, coconut aminos, tapioca starch, grated ginger, salt, garlic powder, red pepper flakes and, of course, broccoli and chicken. These are all you'll need to whip up your lunch.
Suggested modifications:
To make this recipe even tastier, you can use some fresh garlic, a few onions and some sliced mushrooms.
And, instead of using 2 pounds of chicken, use 1 pound of chicken and 1 pound of shrimp.
Who'd have thought that broccoli fritters could be so addicting? And so easy to make as well! Next time you wonder what to do with your extra broccoli stems, remember to give this recipe a try. Prepared within minutes, these fritters are truly one of the tastiest snack around.
Suggested modifications:
Add a little zing to your fritters with a pinch of paprika and oregano.
To make this meal more filling, feel free to add your favorite source of protein. A delicious way of doing so would be to munch your fritters with some steak and avocado.
This broccoli soup may soon become your favorite soup. Especially in the freezing winter or when you catch a cold. Not only does it taste like heaven but it's also packed with healthy fats from the coconut milk and butter. Plus, the bone broth will help boost your immune system.
Suggested modifications:
If curry doesn't appeal to you, just use cumin and coriander instead.
Got some leftover turkey or beef strips on hand? Just toss them in the soup before serving.
This salad is a great meal for those days when you want to whip up something quick and healthy. Loaded with fiber and vitamin C from the broccoli, carrots, pepper, and radishes, this broccoli recipe will keep you full for several hours. Plus, it will also help your body deal better with stress.
Suggested modifications:
Allergic to almonds? Use coconut flakes or chia seeds instead.
Can't tolerate or don't like ginger? No problem! Just sub it with a tablespoon of nut butter.
Feel like to impressing your family or colleagues with a super healthy lunch? Then, try this recipe. The vibrant green of the broccoli pairs amazingly well with the red cranberries and shredded carrots. And the almonds and poppy add some very welcome crunch to this broccoli recipe.
Suggested modification:
To transform this salad into a balanced meal, just add some sliced boiled egg, shrimps sautéed in garlic butter, or beef strips marinated with ginger and coconut aminos.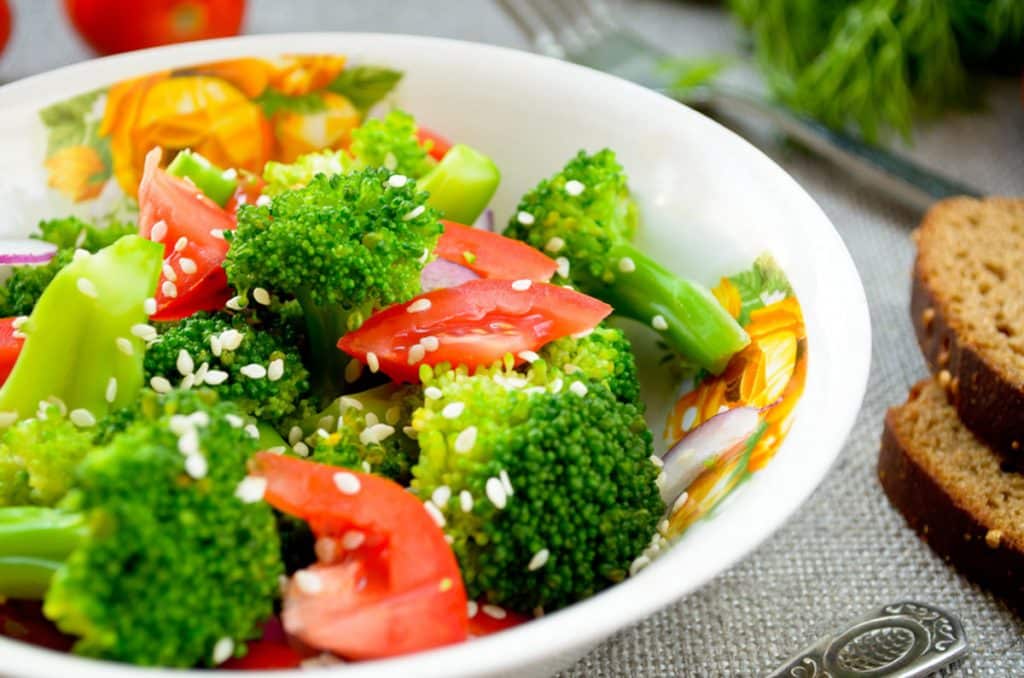 C. Dinner
The thing I like the most about this recipe is that it is super simple to make but tastes like you're eating something from a gourmet restaurant. Plus, you can make a larger portion and bring some to work the next day. And you don't have to spend hours cleaning afterwards. Who could ask for more?
Suggested modification:
Feel like having a creamy bake? Then add some coconut milk mixed with one or two teaspoons of tapioca starch or arrowroot flour.
Pecans, coconut milk, broccoli, honey, onions and some seasoning – you can't really go wrong with these ingredients, right? This creamy broccoli casserole is the perfect side dish to serve with dinner any time of the year. This dinner casserole gets its super creamy texture from coconut milk. It not only tastes good – it is satisfying and hearty.
Suggested modifications:
Instead of canned coconut milk, make a big batch of homemade coconut milk, keep it in the freezer for when you'll need it.
Add some more texture and color to this broccoli recipe by adding chopped mushrooms and shredded carrots.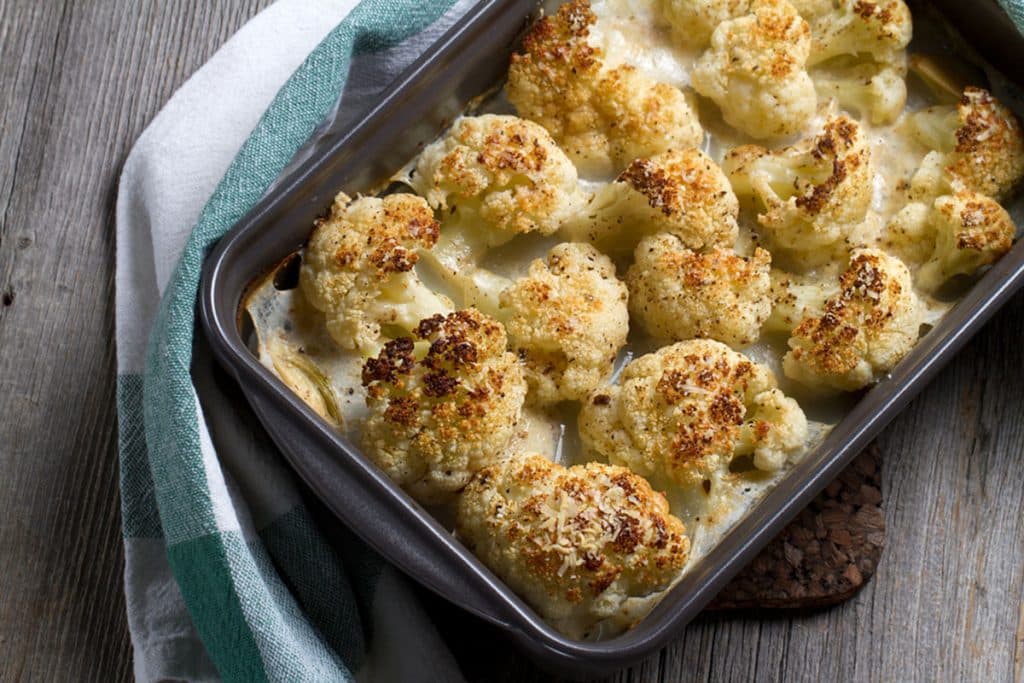 Are you a coleslaw lover? How about broccoli slaw with some homemade mayo? Accompanied with some grilled chicken? Sounds like a treat, right? The best part is that it's done in 10 minutes and is totally refreshing.
Suggested modifications:
Not a fan of mayo? Just use some coconut yoghurt.
This recipe wouldn't taste the same without granny smith apples. Just dice 2 apples and toss them in your slaw.
Preparing this garlic roasted broccoli is as easy as pie. Seriously! Plus, it has such an out of this world taste that one of my patient's kids and her die-hard husband broccoli hater went back for fourths!
Broccoli goes through such an amazing transformation when cooked in the oven. The heat in there caramelizes it, thus giving it just the perfect taste.
When placing the broccoli on the baking sheet, don't forget to spread it out evenly without overcrowding the pan. This will allow the florets to brown properly.
Serving suggestions: With meat loaf, grilled fish, roasted chicken, baked turkey – you can't really go wrong here.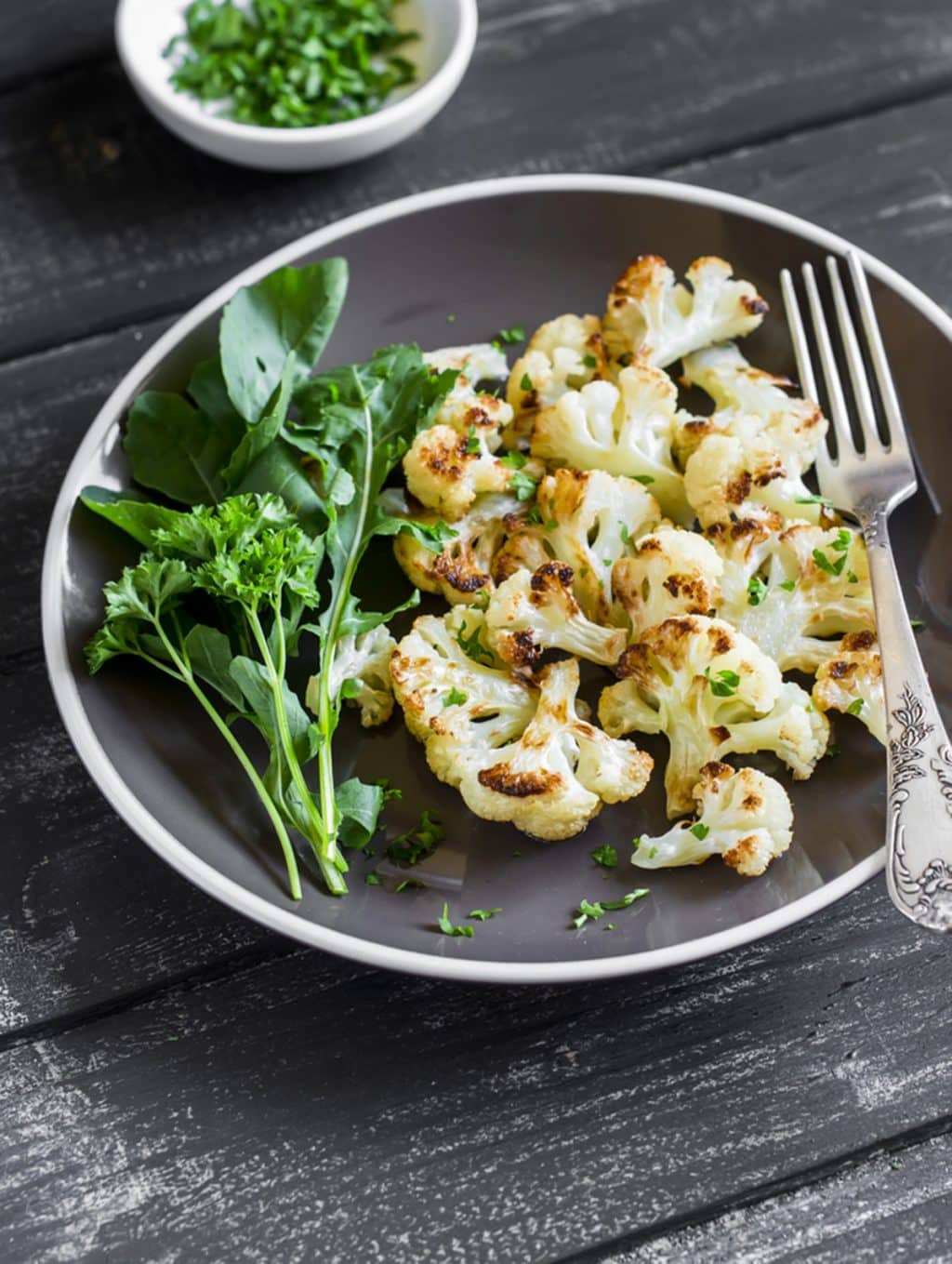 Can't spend more than 30 minutes near the stove tonight? You're in luck – this spicy roasted broccoli can be prepped in under 15 mins. It's full of flavor and is so good that you might end up eating all of it by yourself.
Suggested modification:
If mayonnaise isn't really your thing, just use coconut yoghurt instead.
D. Snacks
Have you ever felt a craving for healthy veggie pancakes but just couldn't come up with something that met your expectations? Look no further: this broccoli pancake recipe might just be what you were looking for.
Suggested modifications:
Baking powder contains corn starch which, even in tiny amounts, can cause issues for people with autoimmune conditions. Plus, many brands contain aluminum which can worsen autoimmune flares. So, sub the baking powder with 1/8 teaspoon of baking soda and 3/4 teaspoon of vinegar or lemon juice.
Instead of using only broccoli, try mixing 3 cups of medium broccolis with 3 cups of cauliflowers.
Want a variety of pancakes? Simply add different veggies such as carrots, sweet potatoes or beetroots to your mixture.
Do you have a thing for savory bites? If that's the case, then these teeny-weeny bites are just for you! This is a simple recipe that can be prepped for lunch or kept as a snack for those days when you're working overtime. To prep a batch of these crunchy bites, make sure you have the following ingredients on hand: almond flour, coconut oil, eggs, one shallot, grass-fed cheddar cheese, fresh parsley and broccoli heads.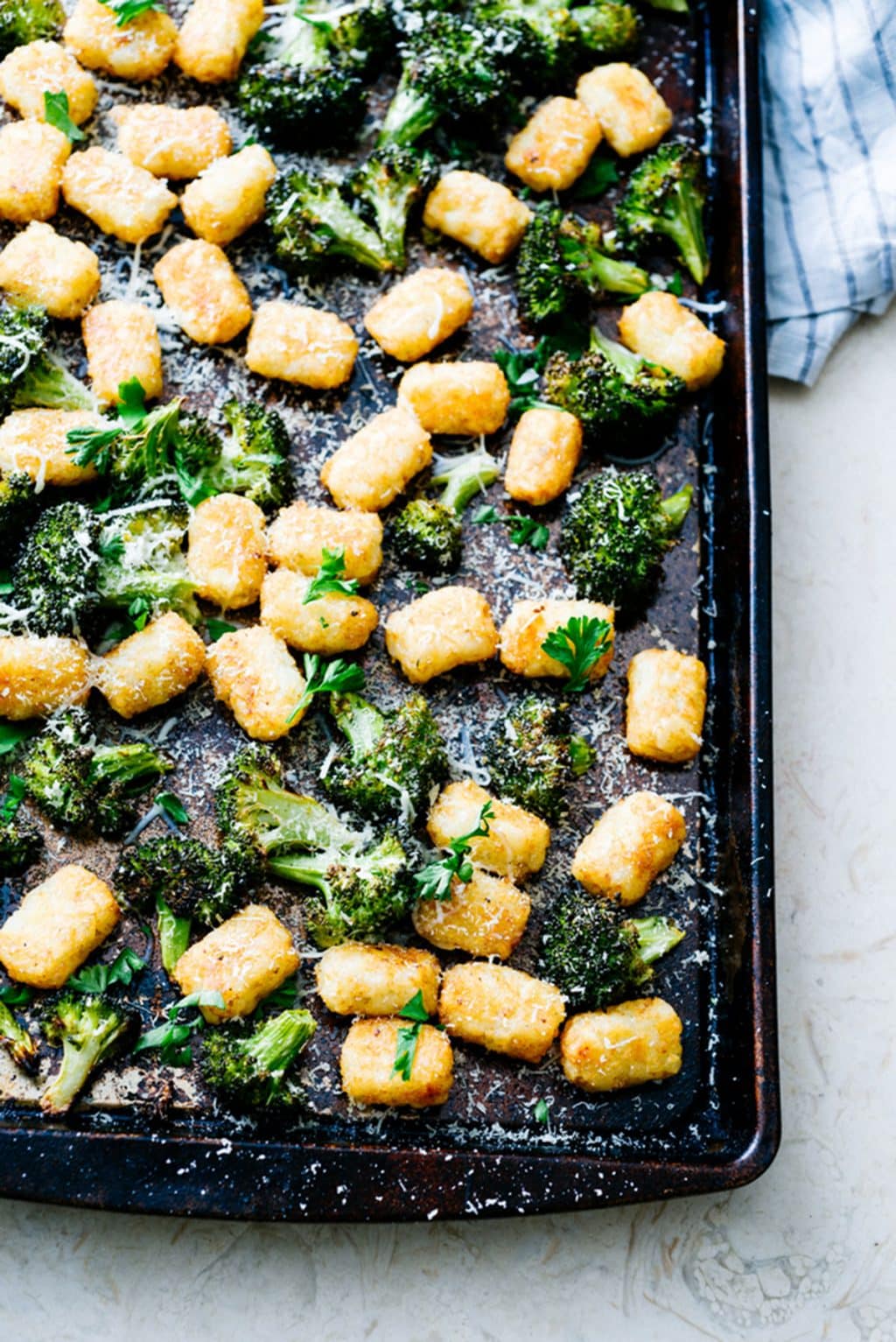 Missing tots ever since you jumped on the paleo wagon? Thanks to these cute tots, you can now enjoy them once again like the good ol' days. Serve this healthy snack and you'll be surprised at how fast they disappear!
Serving suggestion: Fancy some ketchup to go with your tots? This ketchup tastes so good that you'll want to eat it off the spoon.
Cheesy sticks! Who on earth doesn't love cheesy sticks?! This broccoli recipe is absolutely yummy, dairy-free and a very fun way to sneak in a few extra veggies.
Wondering how 'cheesy' sticks can be dairy-free? The nutritional yeast incorporated in them is what give them that nutty, cheesy-like taste.
You'll need almond flour and coconut flour to make everything stick together
Suggested modification:
This recipe calls for 1/2 teaspoon of baking powder. Use 1/8 teaspoon of baking soda and 3/4 teaspoon of vinegar or lemon juice instead.
Although these crunchy chips call for only two ingredients, you'll be amazed at how much time this broccoli recipe can save you when you're at a loss at what to cook. Once you give it a 'roast', you're sure that your snack list will grow longer.
Suggested modifications:
When I prep a batch of these chips, I love accompanying them with a creamy dip. Here's the recipe: stir the following ingredients together until you get a smooth texture – ½ cup home-made mayonnaise, ⅓ cup full-fat coconut milk, 1 tablespoon of fresh lemon juice, some fresh thyme, minced parsley, salt and cayenne pepper. Refrigerate before serving.
When refrigerated, these chips tend to lose some of its crunchiness but still taste awesome.
Missing the traditional wheat-based breads? Then add these muffins to your list – just double the ingredients to get a scrumptious loaf. My only beef with this recipe is that it lists baking powder in the ingredient list.
Suggested modification:
This recipe calls for 1 ½ teaspoon of baking powder. Use ⅜ teaspoon of baking soda plus 2 ⅟4 teaspoon of lemon juice or vinegar.
Using broccoli to make biscuits is a fantastic way of adding a serving of vegetables to your diet. These biscuits are for those of you who can have cheeses like cheddar and parmesan – these varieties are more easily digested since they contain less lactose. The cheese is optional but these biscuits won't taste the same.
Suggested modification:
To top up the protein content of this broccoli recipe, add some minced chicken to the batter.
E. Desserts
Who'd have thought that these bliss balls only contain cooked broccoli florets, raw almonds, sea salt and tamari sauce? Prepped in about 30 minutes, these treats are so delicious that even those kids for whom broccoli is a 'torture food', will come asking for more! Serve these balls with some fresh, creamy coconut-flavored dip and watch them all disappear!
Suggested modification:
Want to refrigerate your tahini dip for a few days? Make sure to omit the garlic for it to taste as good as the first day.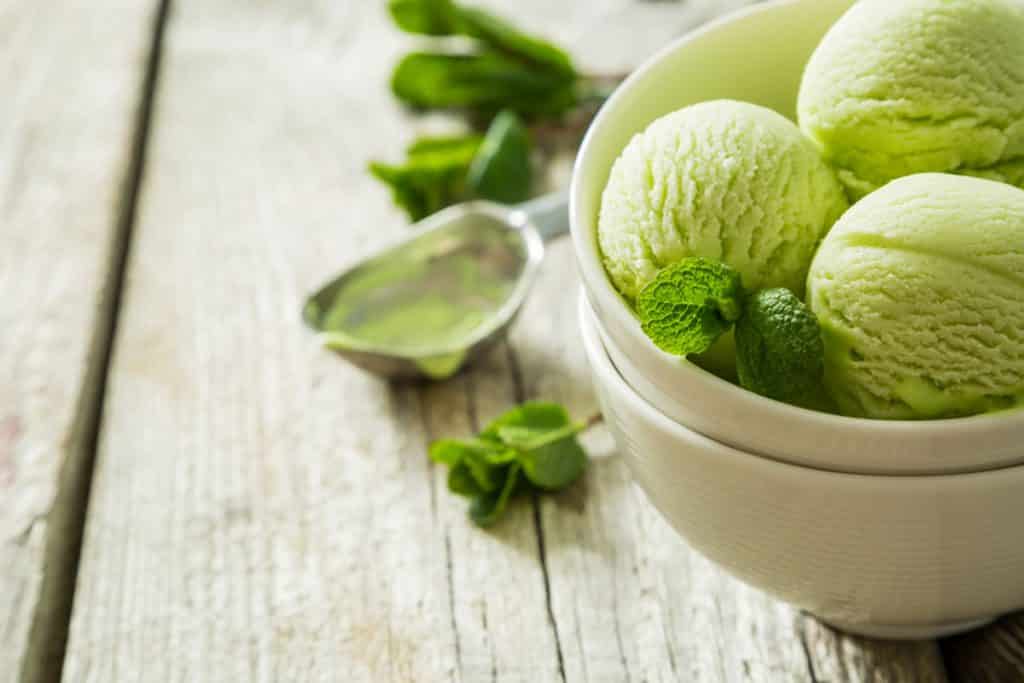 'Who the heck makes sorbet with veggies, ESPECIALLY broccoli?'
I know. I know – many of my patients have this reaction when I talk about broccoli sorbet.
However, once they try this broccoli recipe, they must admit that this veggie sorbet is a blissful option whenever they're craving something sweet.
Plus, this broccoli recipe is also a fun way to show kids that veggies are tasty. But you might want to wait until they try it to announce that it's a broccoli sorbet
Suggested modification:
Skip the maple syrup – the bananas and strawberries will sweeten things up nicely on their own.
F. Drinks
Sounds scary? I know but give it a try – the banana, apple, and lime juice really tone down the broccoli's flavor.
Suggested modifications:
If you really can't stomach the idea of drinking broccoli, then use only 1/2 cup of broccoli florets and 1 cup of a mild tasting green veggie, lettuce for instance. Once you get used to the taste, simply increase the amount of broccoli you use.
For extra sweetness (although that's not necessary), you can use 2-3 pitted medjool dates.
Sprinkle some toasted coconut nuts, almonds or dried cashews on top for some extra crunch.
If you love extra thick smoothies with a variety of toppings, then this broccoli recipe is for you. This is the tastiest smoothie I've ever tasted. Hands down.
The best part? The broccoli taste is inexistent, leaving this smoothie bursting with fruity flavors.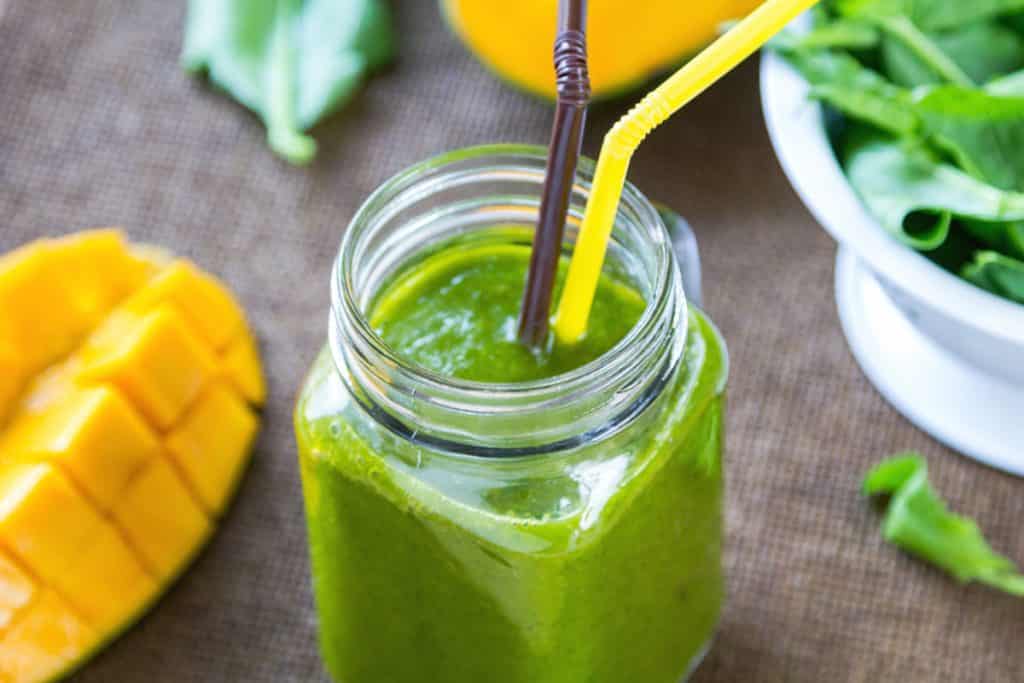 Got a little bit carried away with that vanilla cake recently? Or maybe you couldn't resist munching into (a lot of) muffins? That's okay – don't beat yourself up because it's totally normal (and healthy) to 'fall off' the bandwagon.
But if you want to feel healthy again, fast, try this shake. It contains various anti-inflammatory ingredients such as broccoli, lemon, ginger, and apple cider vinegar that will also help boost your liver's innate detox mechanisms.
Have you tried other broccoli recipes you'd like to share? Why not drop a comment below or on our Facebook page?