It may be hard to beat peanut butter when it comes to popularity, but does almond butter have any claim to fame when it comes to nutrition? We take a comparative look at the two popular nut butter pantry staples…
First Thing's First
Peanut butter is a particularly popular kitchen cabinet staple, with 90 per cent of American homes stocking it. One of the problems when considering the health status of peanut butter is that traditional jars of the spread include additives, like processed vegetable oil, salt or sugar. So, the first thing you need to do if you are buying peanut butter, or almond butter for that matter, is to make sure it's 100 per cent peanuts or almonds ground up into the paste. These can be found in some supermarkets and most health food stores.
Almond Butter vs Peanut Butter
There are plenty of similarities and differences when it comes to the taste and nutrition of peanut butter and almond butter. Let's take a look…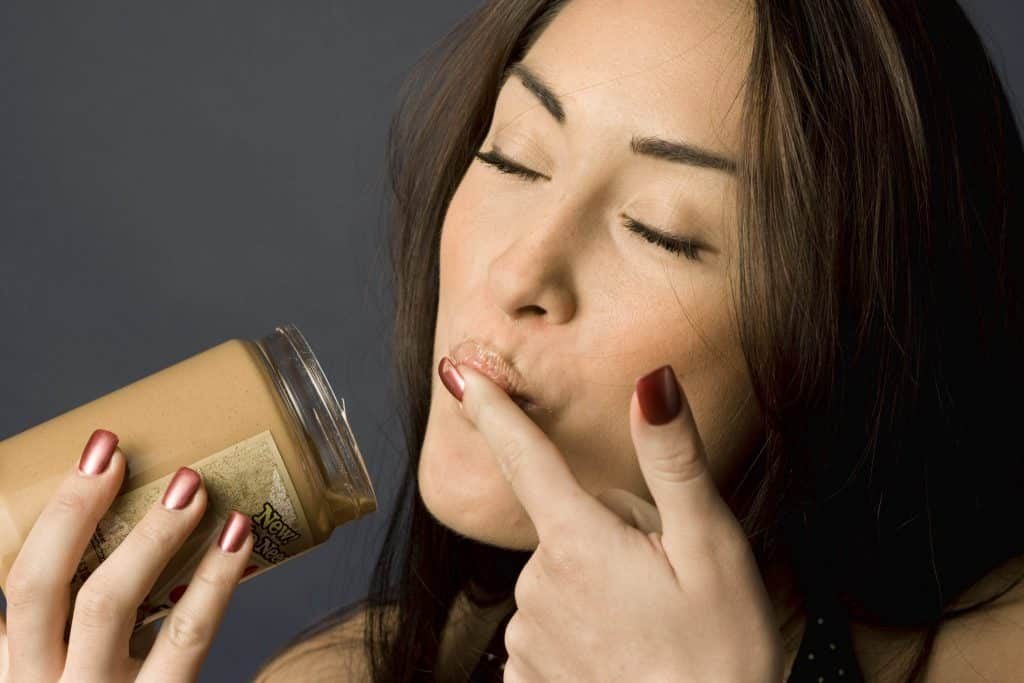 As Sources Of Heart-Healthy Fats
Both spreads are rich in heart-healthy monounsaturated fats, which are good fats that can help reduce bad cholesterol levels in the blood and lower the risk of heart disease and stroke. These healthy fats provide nutrients that help develop and maintain the body's cells and help your body absorb certain vitamins. While both almond butter and peanut butter are good sources of monounsaturated fats, almond butter is slightly richer, with 5 grams per tablespoon, compared to 3.3 grams in a tablespoon of peanut butter.
Verdict: Almond butter and peanut butter are pretty much tied when it comes to heart-healthy fats, with almond butter being slightly higher.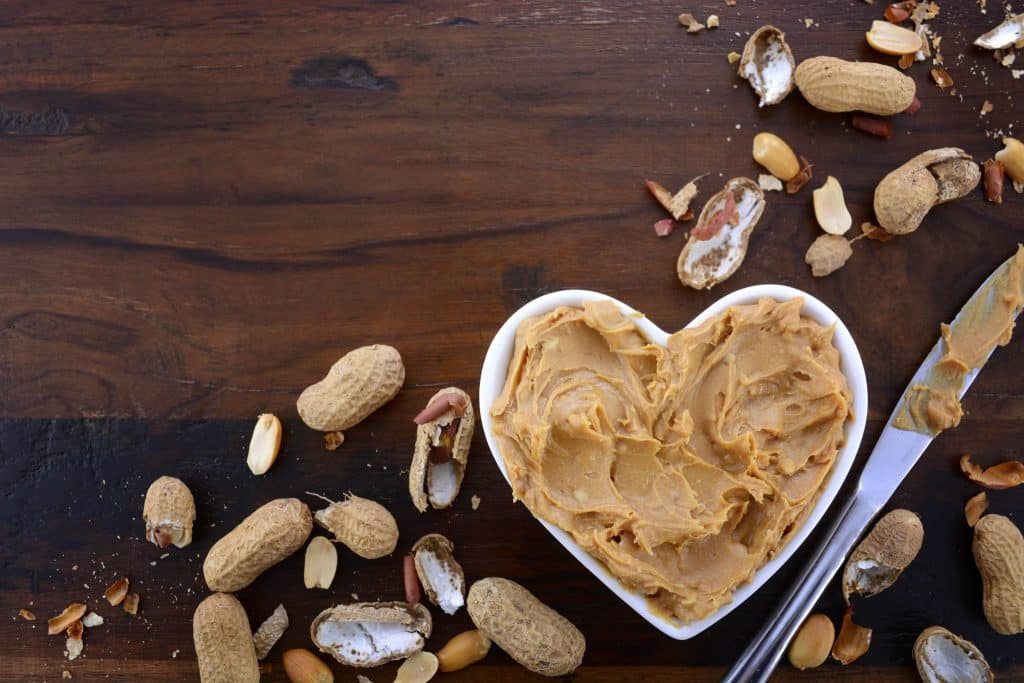 As Sources of Fiber
Most Americans, like many other countries around the world, don't consume enough fiber. Peanut butter and almond butter are good sources of both soluble and insoluble fiber, with one tablespoon of peanut butter containing 1 gram of fiber, 0.3 grams of which is soluble fiber. Almond butter has quite a bit more fiber, with 1.6 grams in a tablespoon, 0.1 grams of that being soluble fiber. That means almond butter has more insoluble fiber than peanut butter, which passes through the digestive system almost completely unchanged, reducing the risk of hemorrhoids and constipation. Both soluble and insoluble fibers are good for you, and they can help regulate blood sugar levels, minimizing the likelihood of sugar crashes and cravings. While you'd have to eat far more peanut or almond butter to meet your daily recommended intake of fiber (21 to 38 grams per day), every little ounce of fiber you take in is beneficial and adds to your overall intake. Vegetables are some of the best options, along with whole grains, to meet most of your daily requirements.
Verdict: Again, this is pretty much a tie, with almond butter only just taking the win. But the overall intake is so minimal that either could be enjoyed in this case, depending on personal preference!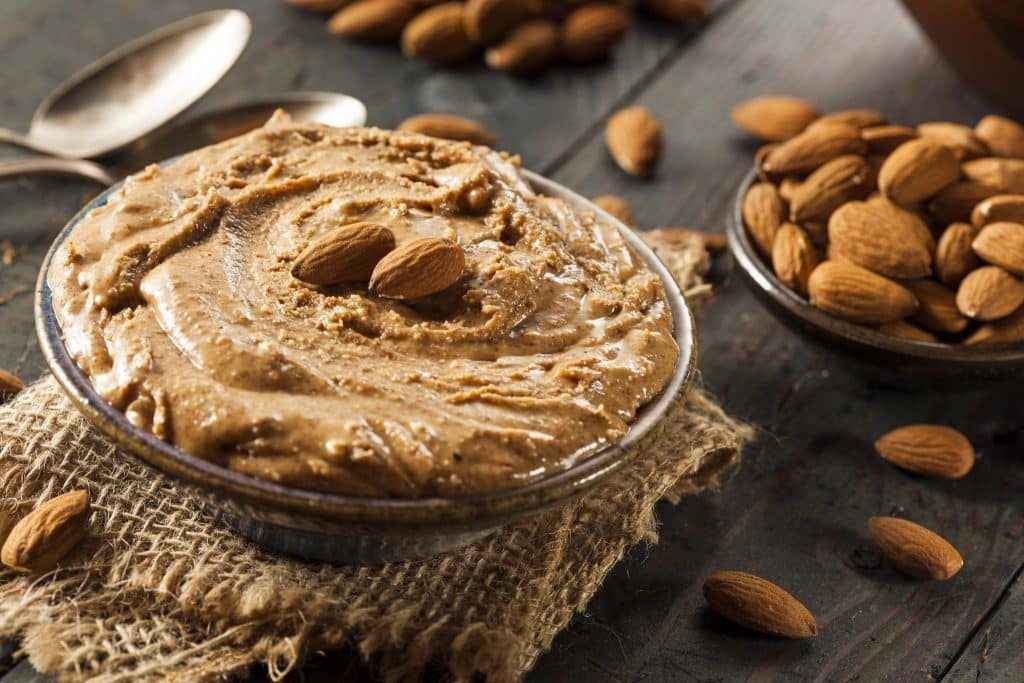 As A Source Of Protein
Almond butter and peanut butter are incredibly close when it comes to protein, with peanut butter just trumping almond butter. Peanut butter provides 4 grams of protein in a serving of one tablespoon, while almond butter provides 3.4 grams, so it really is very close! Protein is important for strength and muscle building, but it is also beneficial in aiding weight loss, especially when eaten with fiber, which both almond butter and peanut butter provide as well! When combined, protein and fiber fill you up and keep you fuller for longer, reducing the risk of a sugar crash or cravings.
Verdict: Peanut butter just beats almond butter in protein content, but only just! Both nut butters are good sources of protein.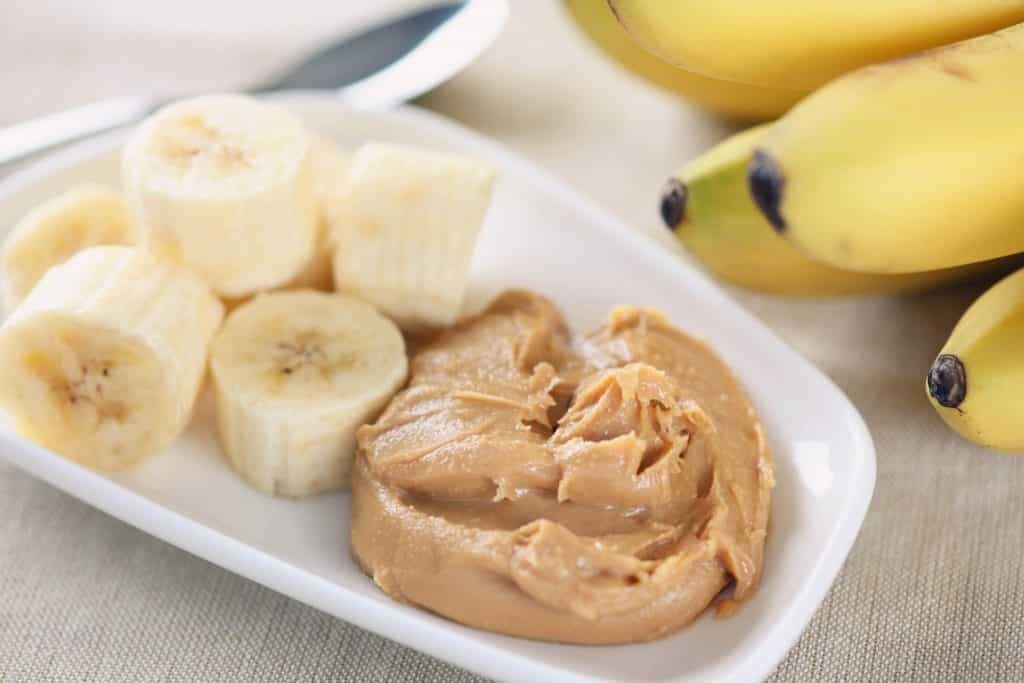 As Sources Of Vitamin E
There is a clear winner when it comes to vitamin E, with almond butter providing four times as much as peanut butter. The fat-soluble vitamin occurs naturally in foods, like nuts, seeds and leafy greens, and is best known for its powerful antioxidant properties. It is important for a number of bodily processes, and helps protect cells from free radical molecules. Vitamin E is important for immune health, and, because of its protection at a cellular level, may reduce the risk of heart disease and cancer development in the body.
Verdict: Almond butter wins this one by a landslide, providing four times as much of the fat-soluble vitamin. Peanut butter does, however, provide a decent dose of vitamin E, so you can still enjoy it instead of almond butter if desired.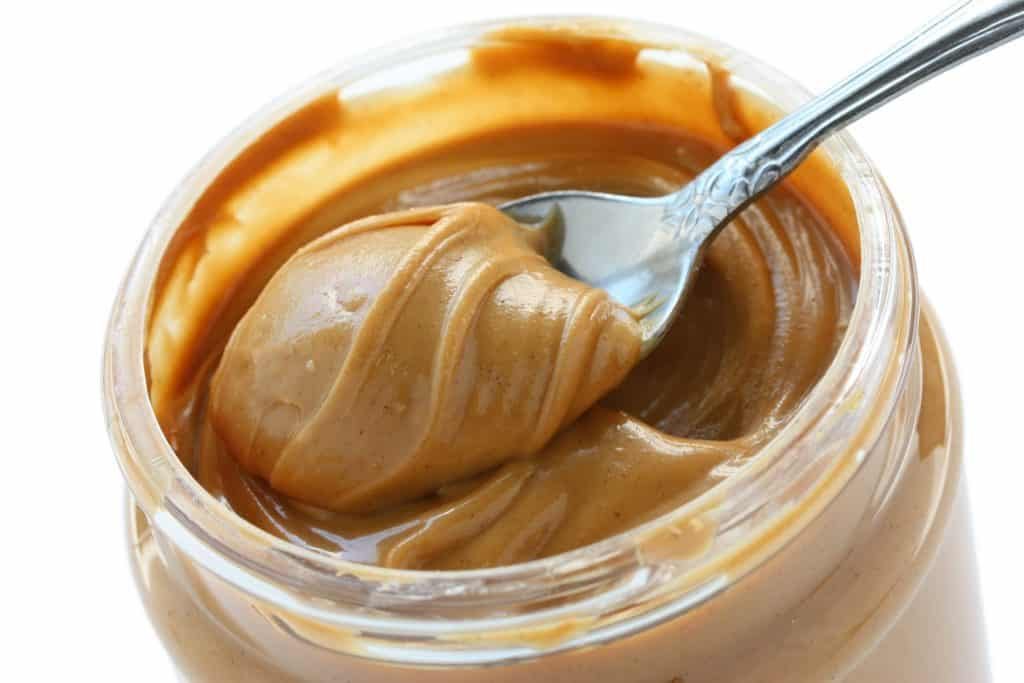 As Sources Of Essential Minerals
Essential minerals are nutrients that the body needs to function properly, but cannot produce itself, meaning they have to be consumed. They include calcium, iron, potassium, zinc, copper, phosphorus, selenium, manganese, sodium and fluoride. A tablespoon of almond butter contains 12% of your daily magnesium needs, 19% of your manganese needs, 4% of calcium, 3% of iron, potassium and zinc, 8% of phosphorus and 7% of copper. Peanut butter provides 0.5% of your daily calcium needs, 1.5% of iron and selenium, 6% of magnesium, nearly 5% of phosphorus, 3% of potassium and zinc, 4% of copper, and 11% of manganese. Calcium, magnesium and potassium are extremely important for bone health, development and maintenance, and both nut butters provide these three essential minerals.
Verdict: Almond butter wins again here, but only just. It provides more of your daily recommended intake of each essential mineral, but peanut butter does still provide them, and you only need them in small amounts each day.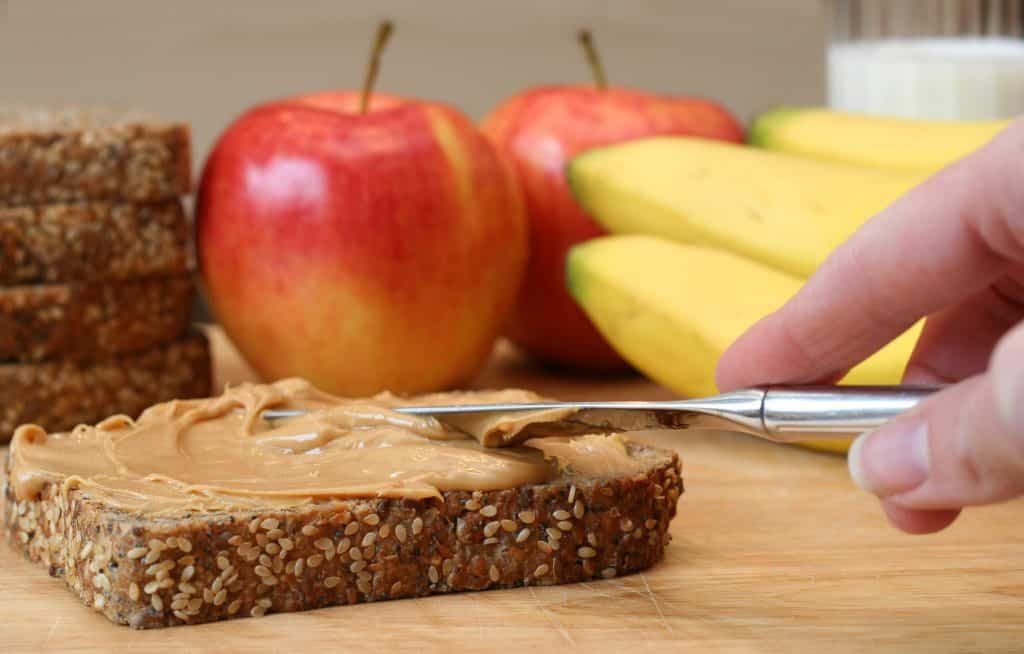 And The Winner Is…
Okay, looking purely from a nutritional standpoint, almond butter is technically the winner, but we're not going to take sides! That's because, although almond butter does provide denser amounts of nutrients in fewer calories, the difference is so minuscule that it is not really necessary to choose. It's not like we eat cups and cups of nut butters during the day, or have them as a major features in meals (if you do, then, don't!!). Generally nut butters should be enjoyed in moderation, or used as ingredients or smaller features alongside other foods. In that case, you are still enjoying those nutritional benefits from either one! When it comes to price, peanut butter is generally cheaper, however, you do need to remember to go for the 100% stuff, not the supermarket salty, oily ones! When comparing the two from a calorie point-of-view, if that is important to you, they both have about 95 calories in one tablespoon, making them equal.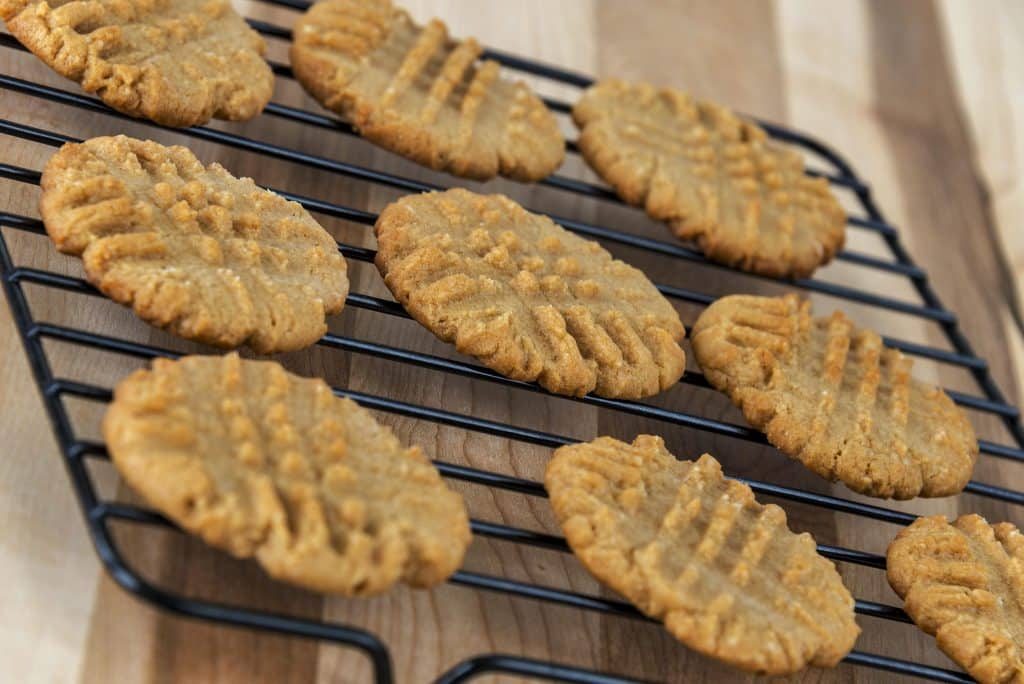 Peanut Butter And Almond Butter Uses
Everyone's familiar with the usual peanut butter and jelly sandwiches, but, that's really not the best option when adding peanut butter or almond butter to your diet for their nutritional value. There is so much more you can enjoy them with!
Vegetable & Fruit Dip: Why not dip celery and carrot sticks in your choice of almond butter or peanut butter? Or fruit, like banana and apple? Don't go overboard though! It's easy to over-indulge with dips, so just take out a teaspoon or two and use it sparingly on the vegetables or fruit.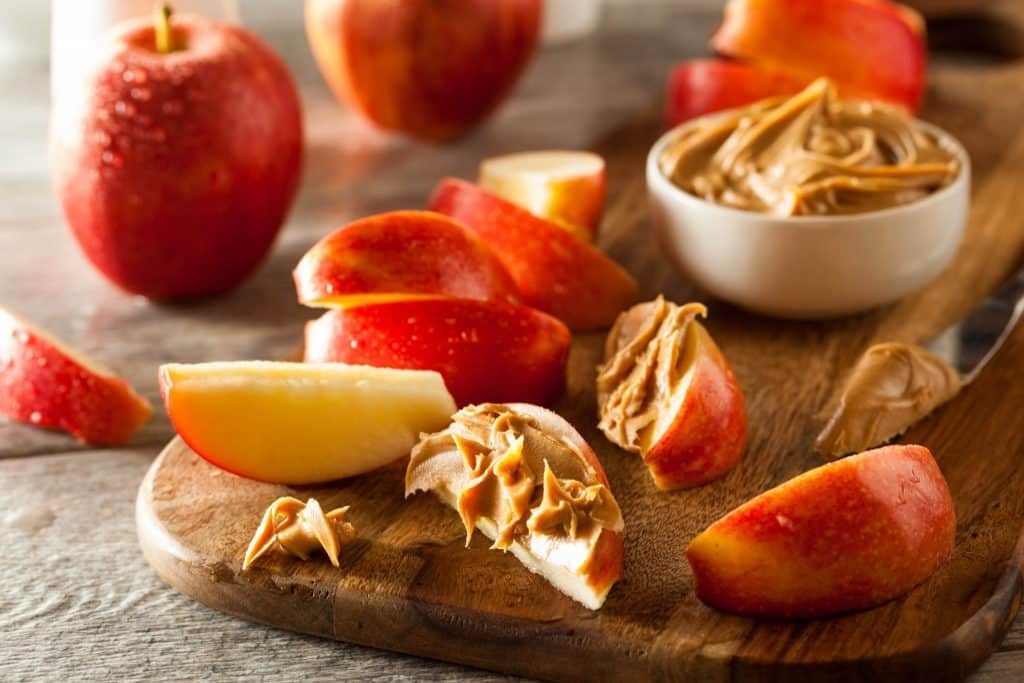 Smoothies: A teaspoon of peanut butter or almond butter is a great addition to any breakfast or post-workout smoothie. It adds a little bit of thickness and taste, as well as a little hit of protein and fiber.
Baking Ingredients: These two spreads make excellent ingredients and alternative ingredients when baking. Check out these recipes…
Nut Butter Recipes
The great thing with almond butter and peanut butter is you can always substitute one for the other in recipes. So, now that you know all that you need to about their nutritional values and their differences, you can take your pick, and swap and change, depending on your mood or what's in your pantry at the time! Try these tasty options…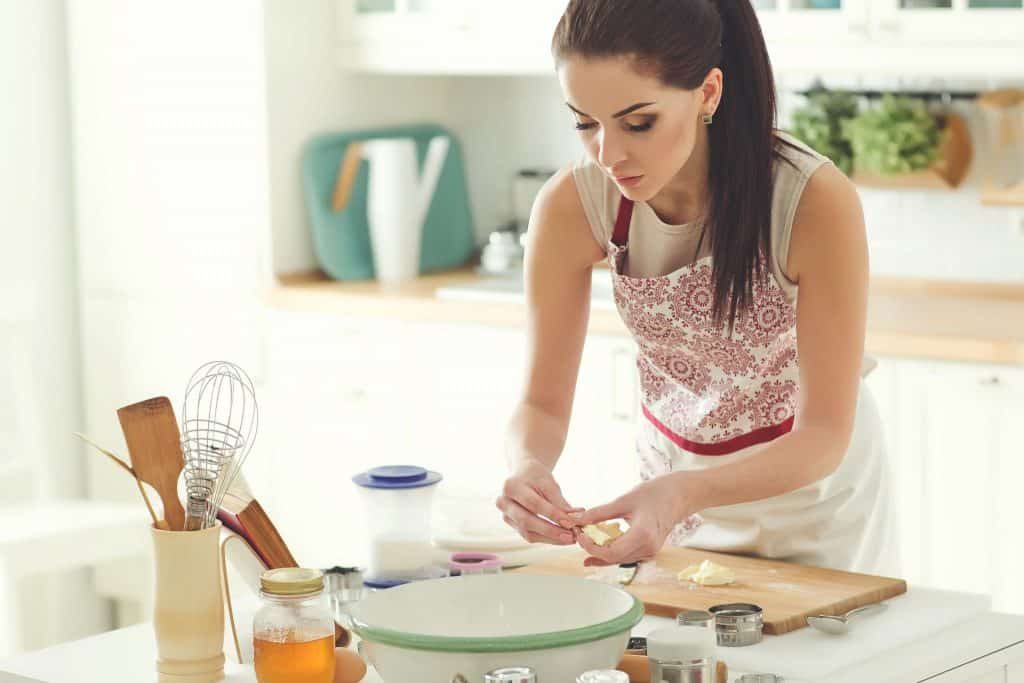 Almond Butter Recipes
Lean, Green Almond Butter & Red Berry Smoothie – This green and red smoothie makes for a happy morning, packed full of nutritious ingredients to fuel your day. With almond milk, baby spinach, banana, almond butter, flaxseed and berry coulis, it has protein, fiber, vitamins, minerals and antioxidants.
Chai Poached Apples With Almond Butter – This simple but decadent dessert option is full of tasty and light but nourishing ingredients, including spiced chai tea, almond butter, cinnamon and apple. You could even put it in the category of 'fancy' desserts, and without any unhealthy ingredients!
Vanilla Espresso Almond Butter Energy Balls – As well as almond butter, these hearty, healthy filling balls are full of energizing ingredients, including oats, coffee and protein powder or flaxseed. On top of that, they are sweet and delicious, and full of protein and fiber, with no refined sugar or simple carbs!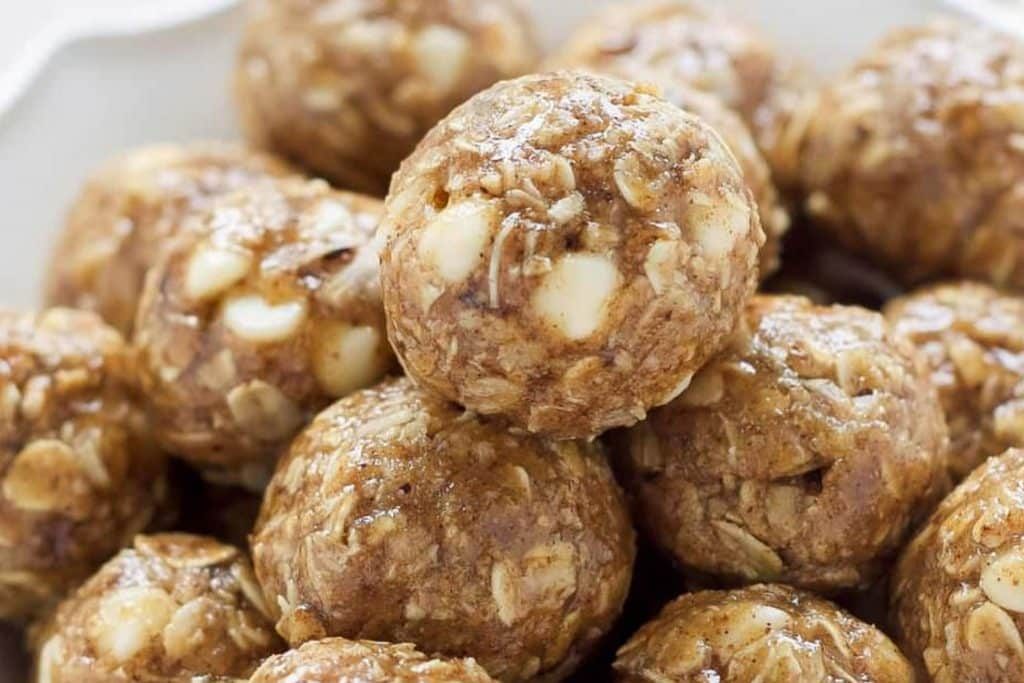 Dairy-Free Almond Butter Smoothie – You can never have too many go-to smoothie recipes, and this one is dairy-free, but creamy and satisfying. With coconut milk, almond butter, ice, maple syrup, vanilla extract and stevia, it is vegan and free from refined sugar, but so indulgent and delicious, it will satisfy any sweet or creamy craving!
Healthy Banana Bread – You can't beat a healthy banana bread recipe, especially one that hits the mark on taste as well! Traditional banana bread recipes, although thought of as healthy options, are often full of sugar and simple carbohydrates, which can cause spikes in blood sugar and food cravings. This recipe doesn't sacrifice taste, but uses more filling fiber and protein-rich ingredients to make it a truly healthy and filling option. Ingredients include sorghum flour, oat flour, dry sweetener (we'd suggest natural stevia powder), cinnamon, almond milk, bananas, almond butter, eggs and vanilla.
Flourless Almond Butter Cookies – This easy cookie recipe is very low-carb and includes just five no-hassle ingredients, including almond butter, muscuvado sugar, egg, sea salt and vanilla extract. It is a nice filling cookie with a delicious nutty taste, meaning you will be satisfied with less and it won't cause crashes the way refined flour-based cookies do.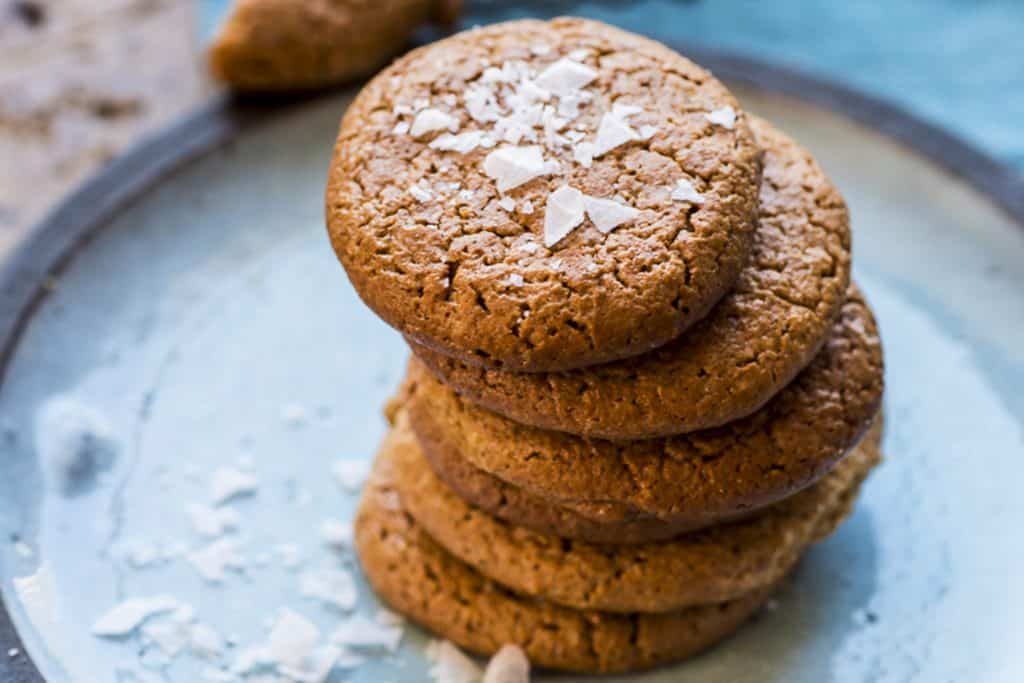 Almond Butter Chocolate Chip Cookie Bars – This recipe is so chewy, so moist and just plain delicious! The cookie bars call for flour (although you could half-substitute with ground oats, which will make it more dense but healthier and more filling and healthy enough for breakfast!), baking powder, vanilla extract, almond butter, coconut sugar, almond milk and vegan chocolate chips.
Four-Ingredient Almond Coconut Cookie Balls – These tasty treats are paleo and vegan, and, did we mention, healthy! This recipe makes for a tasty guilt-free treat, with just four ingredients – maple syrup, almond butter, ground almonds and shredded coconut.
Peanut Butter Recipes
Healthy Breakfast Cookies – These are as healthy as they look, but as tasty as you'd imagine! With creamy peanut butter, honey, vanilla extract, bananas, cinnamon, oats, cranberries or raisins, and chopped nuts, they are full of fiber, protein and other essential nutrients. They are also low-carb and free from refined sugar, meaning they will fill you up, and digest slowly, keeping you full for longer and unlikely to sugar crash mid-morning!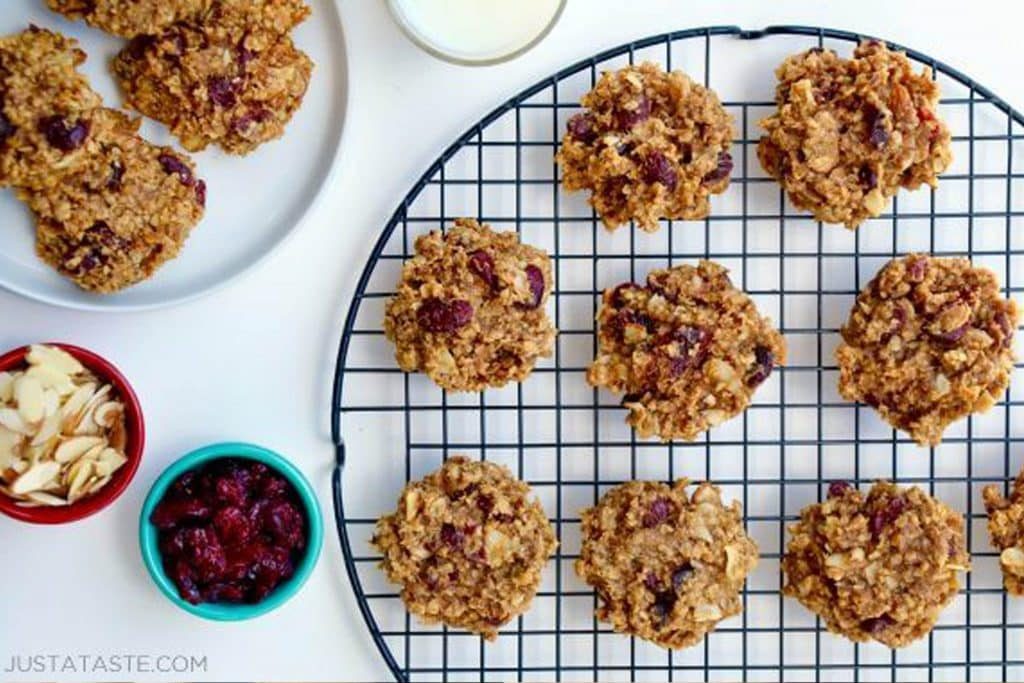 Peanut Butter & Jelly Protein Smoothie – This twist on an old classic flavor combo favorite is far healthier than the traditional duo spread together on white bread! This liquid version calls for milk of your choice (dairy, nut or soy), protein powder, peanut butter, frozen blueberries and agave nectar.
Peanut Butter Chocolate Truffles – These taste as amazing as they look, but you'd be surprised at how nutritious the ingredients are! The recipe calls for peanut butter, vanilla extract, graham crackers, sugar (but you can always substitute), chocolate chips, flaxseed and chia seeds. It's the perfect option for a small snack or party treat.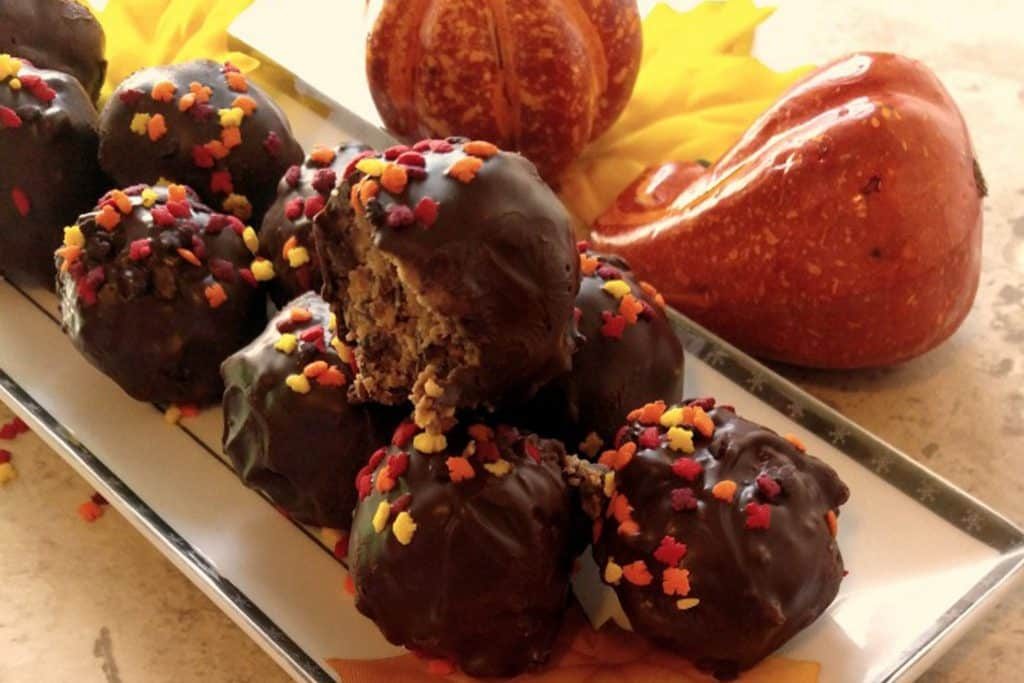 Healthy Peanut Butter Cups – If you're a fan of Reese's Peanut Butter Cups, then these are for you! This recipe uses just four ingredients in total, and includes a recipe to make your own dark vegan chocolate from scratch (which is far easier than you may think!). It calls for 100% peanut butter, raw cacao powder, cocoa butter and maple syrup.
Peanut Butter Banana Pops – For a delicious frozen option on a warm day, try these peanut butter banana popsicles. They are creamy and delicious, just like ice-cream, but are far healthier, made with bananas, peanut butter, frozen whipped dessert topping and lemon juice. And on top of that, they are super quick and easy to whip up!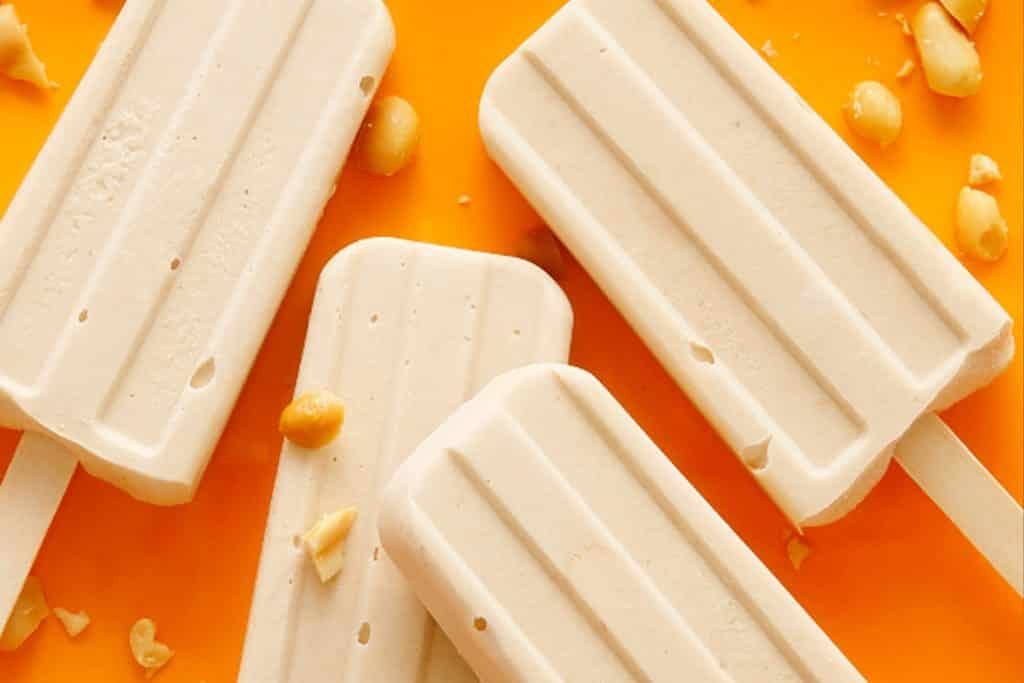 Peanut Butter Pumpkin Muffins – Pumpkin is one of the best, tastiest healthy ingredients to use in desserts, adding a fabulous flavor and keeping it nice and moist. Add peanut butter to the mix, and you have a winner! This recipe calls for ground almonds, sorghum flour, arrowroot, coconut sugar, cinnamon, pumpkin puree, maple syrup, vanilla, apple cider vinegar and peanut butter.
Peanut Butter Cheesecake Cookies – These look so appetizing, and are actually quite healthy! The recipe calls for Greek yogurt and Greek yogurt cream cheese, vanilla crème stevia, vanilla extract, whole wheat flour, egg white, milk, peanut butter and coconut sugar.
Five-Ingredient Peanut Butter Granola – This delicious, creamy breakfast granola recipe is full of fiber, protein and nutrient-rich ingredients, including peanut butter, honey, vanilla, oats, chia seeds, natural Greek yogurt, low-sugar jam, banana and berries.