I am sure you did a double take when you read the title – Cauliflowers for losing weight? Yes, the simple, neglected cauliflowers are slowly getting their due. Always been over shadowed by Broccoli as the Superfood, no one paid much attention to the nutritive value of Cauliflowers. They are packed with nutrients and are surprisingly low in calories. What's best is that they are very versatile and can actually be used in such a way that they help you lose weight!
[hr]
Roasted Cauliflower
Most people will have had the experience of eating steamed cauliflower which does nothing to the palate. But this simple cauliflower recipe will make you reconsider your opinion about this vegetable. Roasting will give it a caramelization which will take its taste to another level. With a hint of acidity from the lemon and spice from pepper, you will end up making this your favorite munching food in no time. You can skip the cheese or use very little of it to ensure you don't pile on the calories.
[hr]
Oven-Roasted Cauliflower Rice
Cauliflower rice is fast gaining popularity because of its unique taste, texture and less amount of calories as compared to same amount of white rice. Getting the perfect cauliflower rice can be a little tricky because it can easily turn to mush. With this recipe you can ensure that you get all the aspects just right and you can make a large batch as well. It is versatile and can be served with a variety of foods, just let your imagination run a little.
[hr]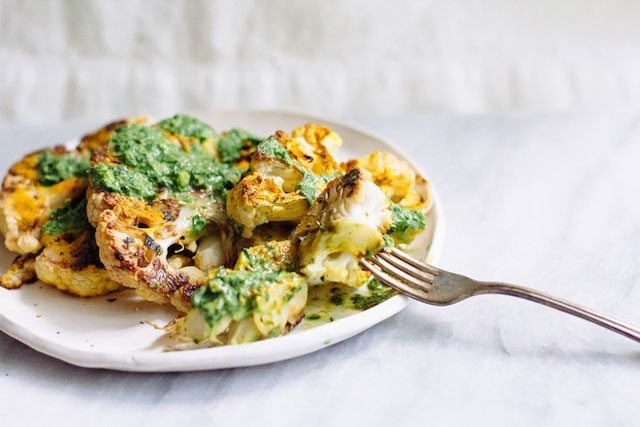 Photo: Nutrition Stripped
Cauliflower Steaks with Mint Chutney
Eating a steak will no longer mean you have to be working out extra to burn those excess calories. Cauliflower steak is here and you are going to love it. Very easy to prepare, this is an Indian take on the steak with so much less calories. The thick slice of the cauliflower will lend it a meaty feel and the roasting will ensure there is caramelization. It is a heaven sent combination with the fresh mint chutney, you will be left wanting more.
[hr]
Cauliflower Alfredo Sauce Recipe
Alfredo sauce is very versatile, can be used along with pasta, chicken and various vegetables as well. In this Alfredo sauce from cauliflower recipe, you will skip the usual butter and cream, making it a very healthy conscious version. You hit the right notes in terms of flavor by using Chicken bouillon and lightly seasoning it with salt & pepper. This creamy sauce can become the comfort food for the entire family, and hey it's good for the waist too!
[hr]
Cauliflower Soup
Soups are meant to bring warmth, comfort and be appetizing or filling. This is one creamy sauce with lot of vegetables added to it. Along with cheese, there is cauliflower which imparts the creaminess to the soup. You can do away with the cheese, if you want a Vegan option or if you want to cut down further calories from the recipe. The vegetables ensure that there is lot of fibre available which will fill your stomach for some time.
[hr]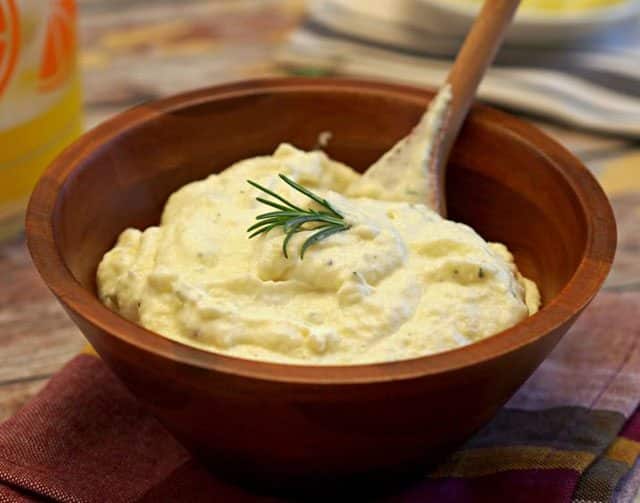 Photo: The Cookie Rookie
Rosemary & Garlic mashed Cauliflower
Mashed Potatoes are an absolute favorite and is one of the best side dishes, however, potatoes end up increasing the number of calories you eat. With this mashed cauliflower recipe, you will get the same creaminess as that of the potatoes but much less calories. The rosemary gives it a distinct flavor and garlic adds to the yumminess of the mash. Although it has butter, you can always adjust the quantity to your liking and requirement. Once you taste this, you might not want to go back to the potato mash again.
[hr]
Cauliflower Lasagne
A complete meal with the perfect blend of ingredients. Using whole wheat lasagne pasta you ensure there is enough fibre in the dish. Using cauliflower as one of the core vegetables to make the filling will help in keeping down the caloric content. Sometimes cauliflower is also considered as a negative caloric food and hence ideal for using in dishes which help you lose weight. Olive oil used also makes it very healthy to eat.
[hr]
Cauliflower Mac & Cheese
Mac and Cheese has been the go to food for many and acts like a comfort food as well. Using cashews for making the sauce, it is an excellent recipe for Vegans. By adjusting the amount of cheese used in the recipe you can make it a really low calorie option as compared to the traditional Mac & Cheese dish. Cauliflower gets highlighted in the dish and using pasta made from brown rice you keep the recipe gluten free as well.
[hr]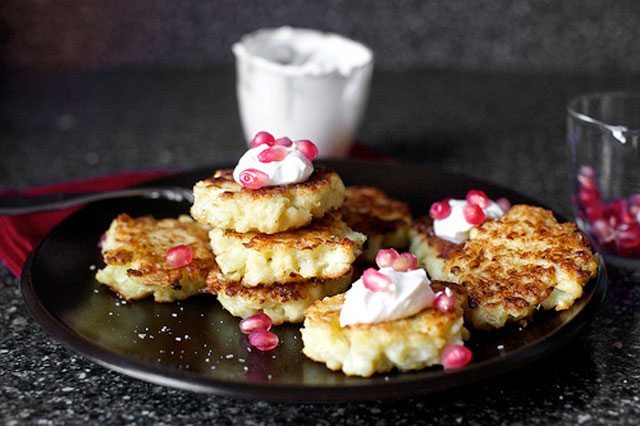 Photo: Smitten Kitchen
Cauliflower Feta Fritters with Pomegranate
Who does not love fritters? No one! These bite sized crispy fritters are perfect as a snack and an even better way of disguising veggies that kids won't eat. This recipe has replaced the traditional potatoes with cauliflower florets to make the fritters, thus making it a good option for healthy eating. Using yogurt for making the dip or sauce, is another clever way of avoiding cream and making this low calorie.
[hr]
Cauliflower Crust Calzone
One serving of a veggie calzone would give something around 500 calories, but in this cauliflower recipe for making a calzone you get only 161 calories! It is less than half of what you would otherwise end up eating and it is hard to restrict yourself to just one serving. The cheese and egg in the recipe will help you get loads of protein as well. And since you have not used any flour to make it, its gluten free as well.
[hr]
Chicken Garlic Pizza on Cauliflower Crust
If you plan to lose weight you would have to say goodbye to a loaded pizza, but not if it is made from cauliflower. The base made from using cauliflower gives you the thin crusts and you can enjoy it with any topping of your choice, healthier the better. You will not believe the number of calories cut down when you have a cauliflower pizza crust instead of the regular flour one. With lots of chicken and vegetables you have a perfectly healthy pizza on your plate to gorge in.
[hr]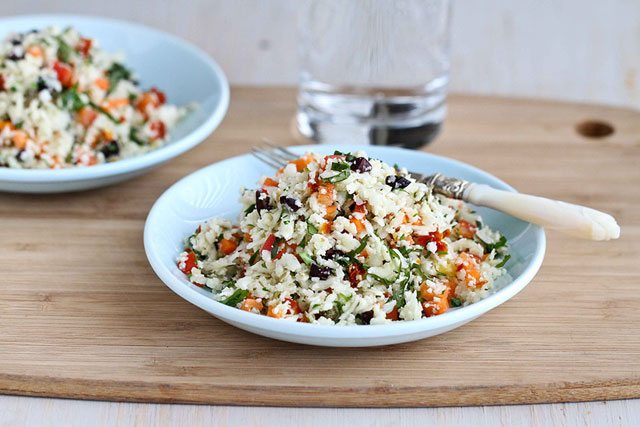 Photo: Tasty Kitchen
Raw Cauliflower Couscous
Couscous is traditionally made from a certain variety of semolina, however, due to its grainy texture, like cauliflower rice, you can make a very interesting dish of cauliflower couscous. It is hard to imagine having raw cauliflower, but when grated and used along with the fresh herbs and vegetables, it is absolutely perfect. Since it is used raw, you get all the Vitamin C that's in the cauliflower – 77% of DV, which is a lot. You could get used to having raw cauliflower salads in your diet for taste and low caloric value.
[hr]
Cauliflower Cakes
If you not yet amazed by the versatility of cauliflower, here is another recipe which will do the job. These savory cakes are made using roasted cauliflower and potatoes and are perfect side dishes. You can have them as snacks with a nice chutney or sauce. You can also serve them with a salad to add that crisp in it. You can have them with less cheese, but either way they are definitely low calorie compared to similar recipe with all potatoes.
[hr]
Cauliflower Brownies
Whoever thought of this must be rewarded for sheer ingenuity. Cauliflower and sinful chocolatey brownies together in one recipe! Although this recipe has chocolate, cream cheese and almond flour it still low in carbohydrates and one brownie will give only 69 calories. Whenever possible the unsweetened ingredients variety is used to keep the total carb content low. This means you can indulge that sweet tooth without guilt.
[hr]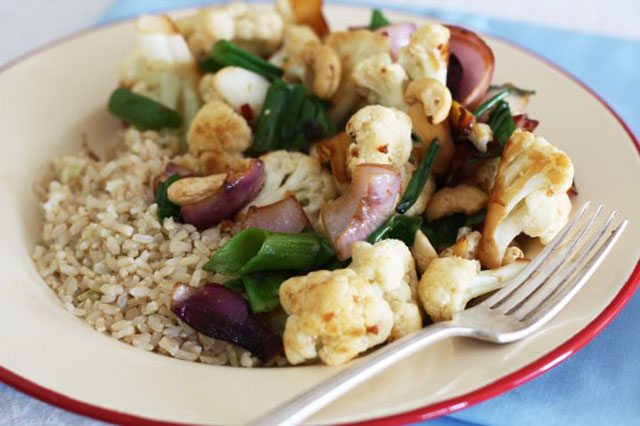 Photo: A Splash of Vanilla
Stir fried cauliflower with soy sauce, ginger and chili
This quick recipe is a perfect accompaniment for a bowl of rice or can be had by itself. Since the cauliflower is stir fried it retains its crispy and crunchy texture with goes well with the soy sauce and chili. The Vitamin C is also retained as it is not completely cooked, thus adding to the nutrient value of the dish. Stir frying also slightly caramelizes the cauliflower imparting a nuttiness to it. With brown rice you cannot have a better meal to help you lose weight.
[hr]
Cauliflower Hummus with Green Olives
Hummus is one of the easiest and healthiest dishes to prepare with very few ingredients. In this recipe the chickpeas are replaced as the core ingredient with cauliflower. It is a perfect substitute imparting its unique flavor and creaminess to the hummus. The carbohydrate content in the dish is less, so you can use this as a salad dressing, a dip or even as a spread. Having this with deviled eggs is the perfect way to get loads of protein with a tasty low calorie spread.
[hr]
Spicy Whole Roasted Cauliflower
Instead of a Roast chicken or turkey, try this interesting dish of a whole roasted cauliflower. No meat, very tasty and super healthy dish. It is a very good looking dish and the roasting gives it a nice charred appearance and flavor. You get a very low calorie main dish with crispy outside and a tender & juicy inside. You can cut up the wedges of the roasted cauliflower and use them to spice up a salad as well. It would not be surprising if you end up making this one regularly for dinner.
[hr]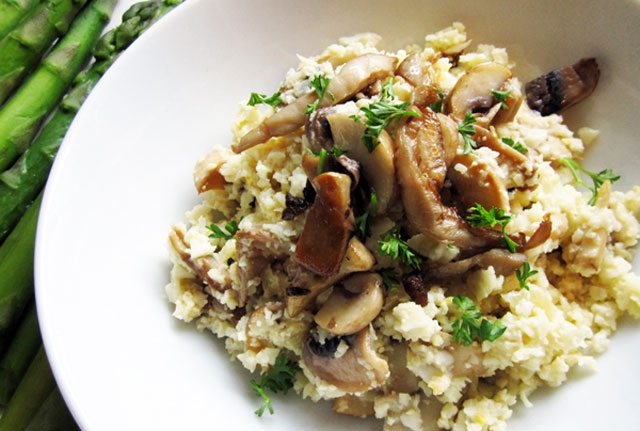 Photo: Vegangela
Vegan Low-Carb Cauliflower Risotto
Traditionally Risotto is prepared from Arborio rice which is not a very healthy choice when it comes to losing weight. Replacing this with cauliflower rice makes absolute sense because of the creamy texture it gives as well as the low caloric content of cauliflower. Packed with more fiber and vitamin C, it definitely is a better choice. Once done it does not taste anywhere like the typical cauliflower, but is light and healthy.