In need of a tofu recipe to replace some of the meat in your diet? Because of its texture and protein content, tofu is often used as a meat substitute, but that's a bit shortsighted because it's really a standalone food that can hold its own, and even be used along with meat in the same dish. If you're new to cooking with tofu it can be a bit tricky to get the hang of how it cooks and what it can withstand. With the help of these recipes you can reduce the learning curve. Here you'll find some of the tastiest healthy tofu recipes around, ones that will give you a whole new appreciation and understanding of this often mis-cooked food.
[hr]
One way to make tofu even healthier is to coat it in a superfood, in this case quinoa. Right away you're getting extra protein in the meal, as well as extra fiber, and enhancing the taste. They're using extra-firm tofu here, so it will stand up to the crusting and cooking process without falling apart. Chopsticks make a great utensil for extra-firm tofu, as it can tend to slide off a fork and is tough to keep rested on a spoon. You can make this as a snack or use it as an appetizer when playing host or hostess. It comes with an accompanying dipping sauce.
[hr]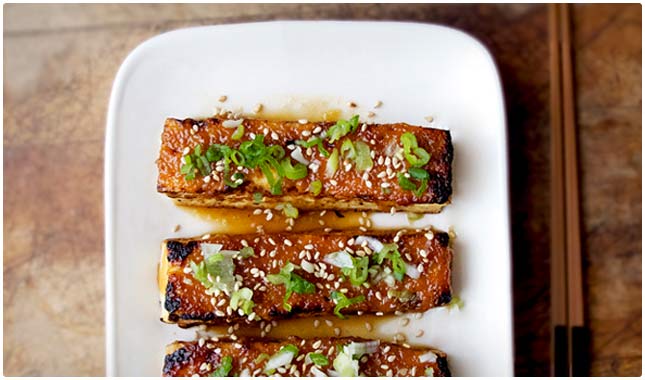 Photo: Pickled Plum
This tofu will have a Japanese-inspired flavor to it thanks to the miso glaze it receives. You start out with sizable slabs of firm tofu, and then apply the miso as directed. They're using two kinds of miso to complete this glaze, and miso paste is a staple in many Japanese recipes. Miso soup, made from the same paste, is a popular accompaniment to many meals, and the health benefits of miso are well-established. That makes this tofu dish extra beneficial, and you can use it as the main feature, pairing it with a soup or a side of stir-fried vegetables for a complete meal.
[hr]
Mushrooms get an upgrade, stuffed with a crumbled tofu mix that is said to win over even those that don't like tofu. The magic really is in the stuffing, as the mushrooms are just mushrooms. The tofu stuffing is an interesting mix of ingredients like garlic, tomatoes, walnuts, and miso paste. It's sure to deliver a taste sensation that goes well with the mushroom. The tofu will be overshadowed by the other ingredients, namely the garlic and oregano which is why this is a great appetizer for those that are tofu-averse.
4. Braised Chinese Stuffed Tofu
The presentation on these Chinese stuffed tofu boxes makes them a great dish to serve up to friends and family. You'll look like a culinary pro when you serve each person their very own tofu box. Inside each one is a mix of pork, use organic lean minced pork, mushrooms, ginger, carrots, and onions. The sauce gives the tofu a nice color and flavor during the brazing process. You could sub out the pork for lean beef or ground chicken breast for a similar effect if you are not eating pork.
5. Pistachio Crusted Tofu Salad
This tofu is infused with the taste of cider thanks to a marinating process involving cider, soy sauce, olive oil and seasonings. That alone would be enough to make this a tasty dish, but then she's crusted it with a mixture of ground pistachios. Talk about a crunchy kick! Your taste buds are in for a treat thanks to the sweet/sour taste of the cider, the peppery crunchiness of the coating, and the tart and cooling sensation of the relish.
[hr]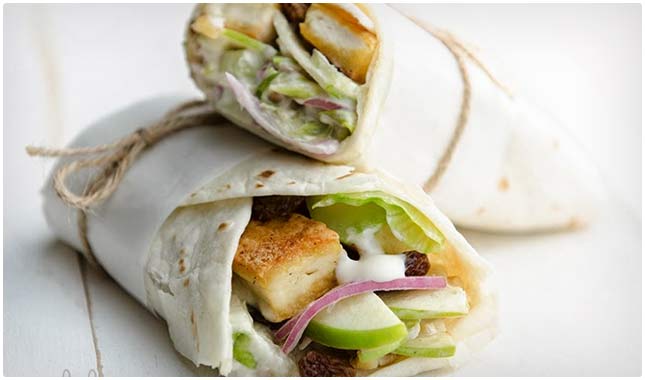 Photo: Veggieful
6. Waldorf Salad and Tofu Wrap
They've managed to stuff the essence of a Waldorf salad into this wrap, and have added tofu for good measure. A traditional Waldorf salad has apples, walnuts, celery, and mayo, and this wrap has all of this and more. The mayonnaise they're using is vegan, so no eggs are used. There's also raisins and red onions for extra flavor, texture, and nutrition. There really is a lot going on in a little wrap, and the tofu adds protein to the wrap, helping to balance it out and make it more complete as a light lunch.
[hr]
While it may not be possible to make fudgesicles completely healthy, this offering is a giant leap forward. It's OK to have a little treat every now and then, and one of these fudgesicles on a hot summer's day is just the ticket. A full pound of silken tofu goes into the batch, as does plenty of dark chocolate. The dark chocolate will provide you with antioxidants that milk chocolate doesn't contain, and cuts out a lot of the sugar. But the taste is still there, and it outdoes the tofu so all you'll taste is fudgesicle, as the silken version of tofu gives it just the right mouthfeel.
8. Scrambled Tofu Breakfast Burrito
This breakfast burrito is made in the slow cooker, and you start on it the night before so that in the morning you won't have to do too much to have a hot and healthy breakfast. Black beans and tofu are a good mix of protein and slow carbohydrates that will keep you satisfied right into lunch, the goal of breakfast. There's plenty of veggies and spices in the burrito mix, and you can serve these up with salsa for even more flavor. A much healthier option than stopping off at a fast food place and getting one of their breakfast burritos.
Lasagna can be a pretty heavy meal when made the traditional way. This tofu zucchini lasagna is a dish that will leave you feeling nourished and satisfied rather than sluggish and stuffed. The noodles have been replaced by strips of zucchini, and tofu takes the place of meat. Cottage cheese stands in for ricotta, providing even more protein and cutting out much of the fat. There's cheese being used but it's a mixture of parmesan and light mozzarella, and you can adjust this to your preference. Every effort has been made to make lasagna a dish you can add back to your regular menu.
[hr]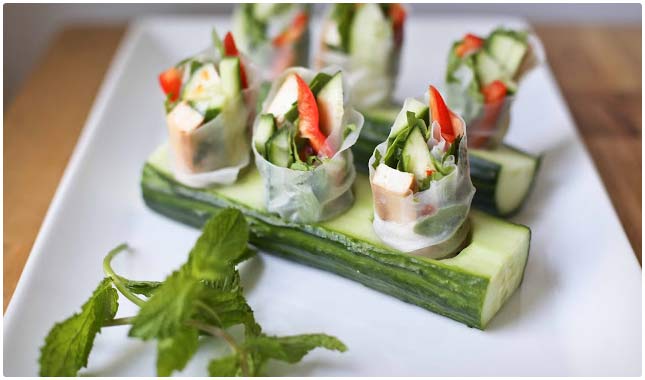 Photo: Feasting at Home
These salad rolls are cute enough by themselves, but they've shown a unique way of serving them up that makes it a great meal starter when you've got company. These are Vietnamese-inspired, and inside the roll is carrot, avocado, cucumber, radish, and tofu. Even though there's no meat used in these rolls, you're still getting protein from the tofu and plenty of vitamins and minerals from the accompanying ingredients. This could even serve as a light lunch for one. Be sure to whip up the dipping sauce that goes with these.
[hr]
This macaroni and cheese comes with a few disclaimers, one is that it's not necessarily entirely vegan, and the other is that it doesn't exactly have any cheese in it. So the title may be a bit of a misnomer, but that shouldn't stop you from enjoying macaroni and cheese made in a healthy way. Silken tofu gives it the texture of melted cheese, and there are some surprising ingredients that you won't generally find in a macaroni and cheese, such as sweet potatoes and miso paste. But stick with this until it's finished and you'll have a mac and "cheese" that satisfies with protein included.
Veggie burgers typically have a stigma around them thanks to the early days when they tasted like sawdust and came nowhere near replacing an actual burger. But over the years they've come a long way, and this burger impersonator takes tofu and adds the superfood quinoa to it to get the job done. Both provide protein, just like beef does, and quinoa is high in other important minerals and provides all of your essential amino acids in one serving. The tofu will help give it texture so it won't seem like you're eating a grain burger. The long list of extra ingredients, spices, and seasonings makes this a burger to be reckoned with.
Here's a well-crusted tofu that is great for use as an appetizer when entertaining, or a the main feature at a meal. The trick is you're using extra-firm tofu. Many a recipe has been ruined because the type of tofu wasn't right. Silken tofu will fall to pieces in a recipe like this and won't hold its shape. Silken is great for making dips and sauces because of its creamy texture. Extra-firm is just that, and takes a bit to bite through it and chew it up. Panko bread crumbs gives this a nice crunch and added flavor and the dipping sauce makes it extra yummy.
[hr]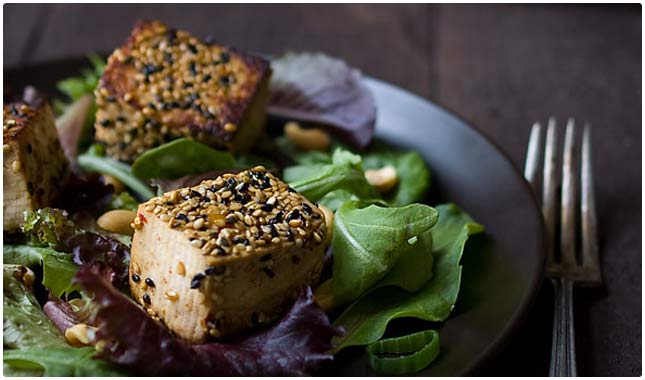 Photo: Savory Simple
Giving tofu a crust is a fun and easy way to improve its taste and make you more likely to want to eat it. In this recipe they've coated cubes of extra-firm tofu with sesame seeds, and properly browned it for an amazing color and flavor. Serving tofu on a salad is a nice way to provide extra nutrients and antioxidants, especially if you use spinach or kale as the base for the salad. They've sprinkled some peanuts on it, so you're getting healthy fats and a bit more protein added. This dish can serve as a quick and satisfying lunch when you're in a hurry but still want a nutritious meal.
[hr]
This is an Italian dish you may not have heard of, and involves rolling up thin slices of eggplant, in this case around tofu. What's great about this dish is that it will give you the classic Italian flavors and seasonings you want, without the noodles and cheese that add to your waistline. The additional ingredients seem hand-picked for health, including plenty of kale, garlic, and brushing of olive oil.
Make tacos a bit healthier with this grilled tofu taco recipe. You'll be taking out the beef or chicken and adding in tofu as a protein and texture replacement. They've gone with thin strips of extra-firm tofu, so your mouth will have something to work on, just like with beef or chicken. The way they've grilled up the tofu means it will have a nice outer crispy coating and extra flavor, so you won't mind that it is the centerpiece to these tacos. There's plenty of seasoning coating these tofu strips as well, which will help if you don't really like the taste of tofu.
17. Soba Noodle Bowl with Tofu
Soba noodles is a popular lunch for busy Japanese businesspeople, and you can use this noodle bowl with tofu as a quick lunch to fuel you through the rest of the day. Soba noodles are made from buckwheat, so while they'll fill you up rather quickly, they won't give you that post-lunch sluggishness that a typical pasta lunch will. When eaten with the tofu there is a good balance of protein and carbohydrates so that you feel content for several hours afterward.
[hr]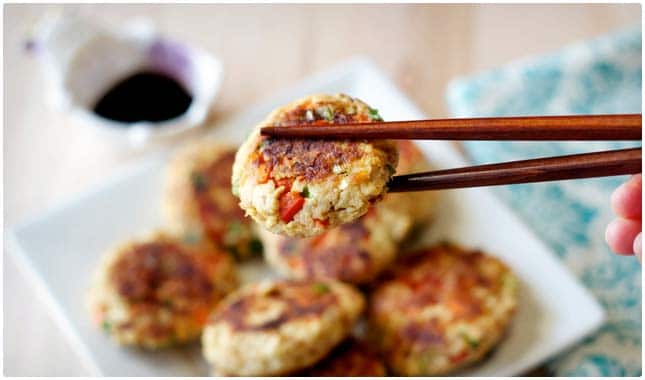 Photo: MJ and Hungry Man
Salmon patties are a great way to get your protein as well as omega-3s, and tofu acts as a way to help give the patties the perfect texture. Added to these patties are a mix of vegetables including carrots, onions, and bell peppers. Serving up these patties with a carbohydrate like a baked sweet potato is a great way to make sure that you are getting all that you need from the meal. Since tofu is so often looked at as a meat replacement, it's nice to see it being used here along with salmon to add even more nutrition to the meal.
[hr]
You can use tofu in your desserts as a way to get protein into items that generally are devoid of any protein at all. In this case the pecans are already bringing healthy fat and protein to the pie, but you are upping the nutritional value of this pie with tofu. This is a vegan pecan pie, which means that there are no animal byproducts used in it. That means no butter or any other dairy. To get around this she's using soy milk and coconut oil, so you'll still get the same buttery taste and textures you'd expect, but from unexpected ingredients.
This Thai curry would taste great on its own, but once you add crispy chunks of tofu to it, it reaches a new level. There are plenty of veggies in this that make it a nutritional powerhouse, and the distinct flavor of Thai curry is accomplished with curry paste and coconut milk. Broccoli and collard greens give you plenty of nutrition, and the tofu also adds to this. Making the tofu crispy is a great idea, as it enhances both the taste and texture for those that are a bit tofu shy.
21. Grilled Stuffed Portobello Mushrooms
Portobello mushrooms are arguably the king of mushrooms with their massive size and meaty texture. Here they've been grilled up and stuffed with a mixture of tofu, chiles, tomatoes, spinach, and tarragon. This is a meal unto itself, with plenty of vegetables thanks to the mushroom serving as the base. The tofu adds the protein, and superstars like spinach and tomatoes bring phytonutrients and antioxidants like lycopene into the picture. Great for a light dinner if you had a big lunch.