When it comes to nutritious sweets, it's hard to go past healthy chocolate desserts. We've searched the internet far and wide, and found 50 of the best original chocolate recipes from food bloggers around the globe that pack a lot of nutritional punch. Get your taste buds ready, because they're in for a treat!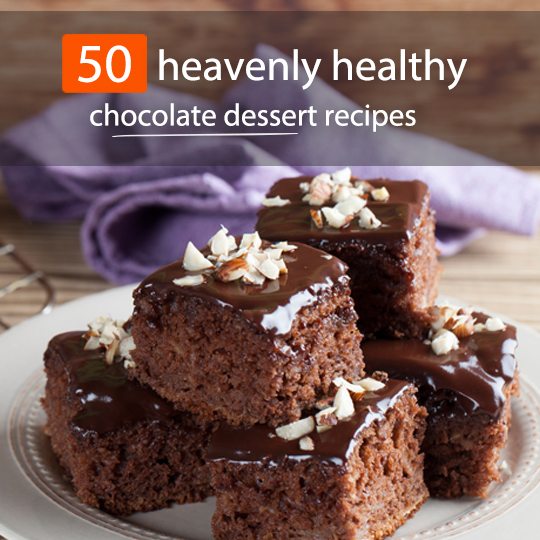 </div align="center">
Dessert For Breakfast (Because, Why Not!)
Chocolate Banana Nut Overnight Oats – You can't beat overnight oats for a filling, nutrient-dense breakfast when you have to race out the door. And what could make them even more satisfying? Chocolate, of course! Give yourself a reason to jump out of bed in the morning with these easy-to-prepare jars of goodness. The mixture of banana and chocolate with crunchy almonds and walnuts provides plenty of healthy fats, antioxidants, potassium, vitamins and essential nutrients to get you through a busy morning.
Chocolate Overnight Oats – Healthy, filling, satisfying and indulgent! This is another overnight chocolate oats recipe that gives you a fantastic grab-and-go option for busy mornings. Made with rich, creamy, filling ingredients, including avocado, almond milk and oats, with delicious chocolate and sweet agave nectar, you'll have something to look forward to when your alarm sounds!
Delicious Chocolate Vanilla Semolina – It's hard to beat warm semolina on a cold winter's morning. This hearty sweet breakfast is traditionally made with dairy milk and sugar as an alternative to porridge oats. This version is made healthier with almond milk and agave nectar, with the added flavors of dark chocolate, vanilla bean paste and delicious toppings of raspberries, pomegranate seed, cocoa nibs and pistachios.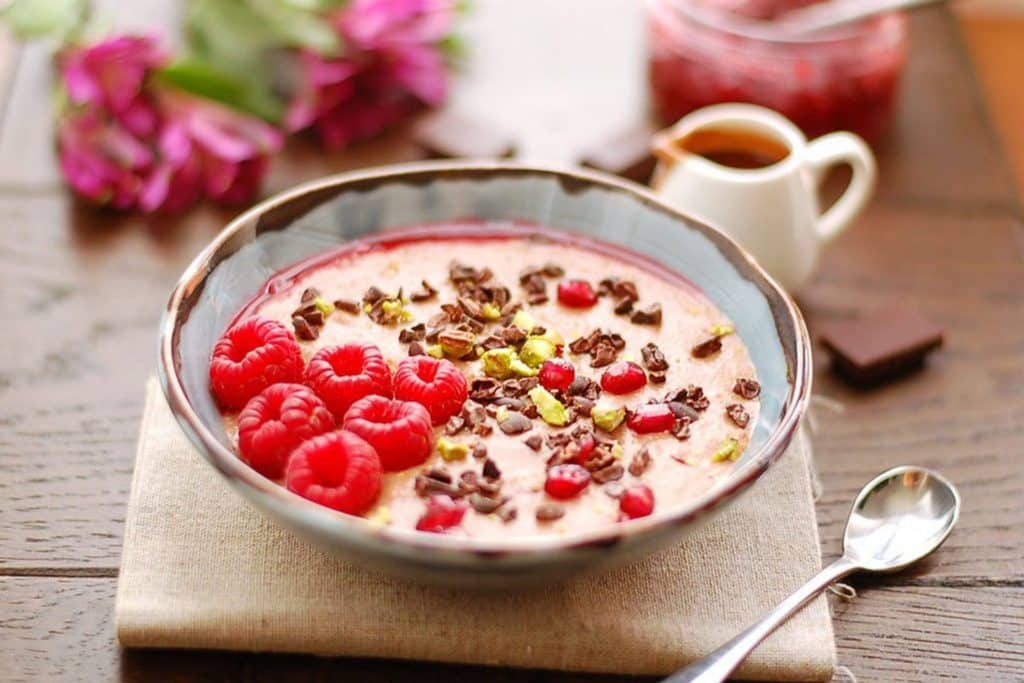 Chunky Monkey Overnight Oats – Easy, filling and extremely tasting, these overnight oats call for protein-rich Greek yogurt, fiber-rich chia seeds, antioxidant-rich cocoa, unsweetened nut milk, honey, banana, nuts and, of course, oats.
Cookies & Slices
Uber Thin Chewy Almond Butter Chocolate Chip Cookies – You can't beat good, old-fashioned choc chip cookies, but this healthy twist on them certainly gives them a serious run for their money. The secret? Oat flour instead of refined white flour, flaxseeds for a fiber hit, coconut oil, almond butter and almond milk instead of dairy, and of course, delicious, antioxidant-rich dark chocolate chunks. To die for!
Peanut Coconut Chocolate Bars – These look and smell irresistible, and they taste unbelievable delicious! Made with peanut butter (use 100% peanuts, if possible), coconut flour, cacao butter, cacao powder and coconut oil, everything is natural and healthy!
Chocolate Covered Paleo Flapjacks – Soft, sweet, chewy, gluten-free and paleo – what more could you want in a flapjack? This tasty treat is filling and a great energy booster when you're hard at work and looking for a satisfying snack.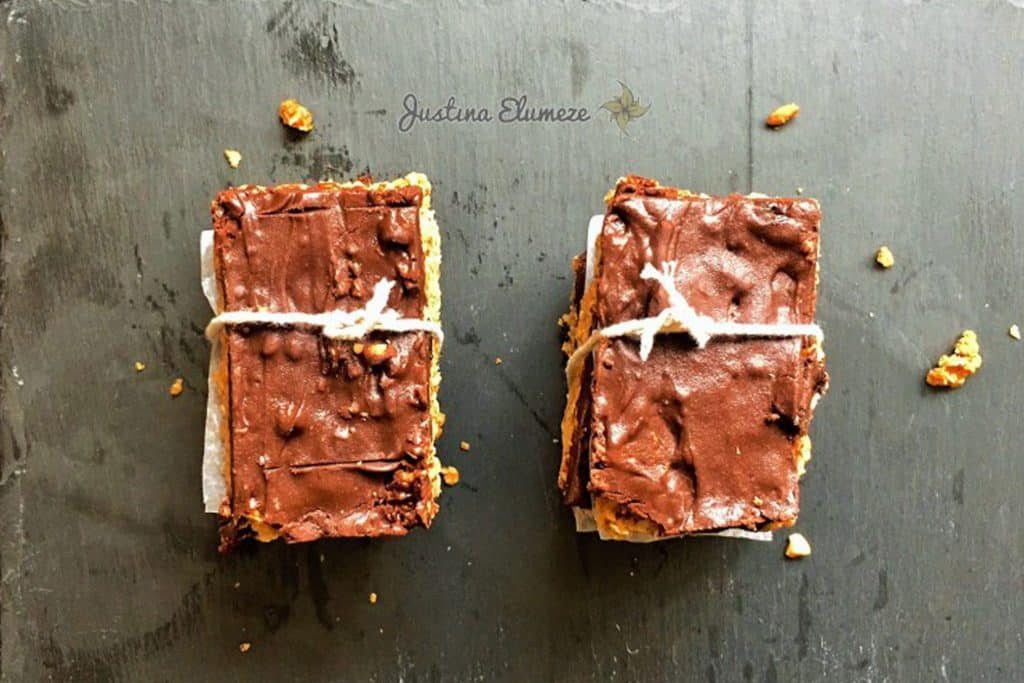 DIY Chocolate Chip Clif Bars – These tasty, healthy snacks are gluten-free, vegan and low in fat with plenty of fiber and protein! The chocolate chips and date paste are the perfect medley, giving them their delicious caramel and chocolate taste. They are crispy, crunchy and gooey all at the same time and are hard to beat for a filling crave-busting snack!
Peppermint Crunch Bites – These look and taste incredibly naughty, but, although they are quite fatty, they are made with natural ingredients, which, when eaten in moderation, are perfectly fine, and actually have some health benefits! Cacao, for example, is packed full of magnesium, flavonoids, vitamins, minerals, protein and heart-healthy fat, and dates have fiber, which slows down the metabolism of sugar.
Deep Dish Paleo Chocolate Chip Cookie – This grain-free, refined sugar-free deep dish of deliciousness is paleo-friendly and full of flavor! The oversized cookie is crispy on the outside, fudgy on the inside and may need a fork to consume, but, if we're being honest, that's always a bonus!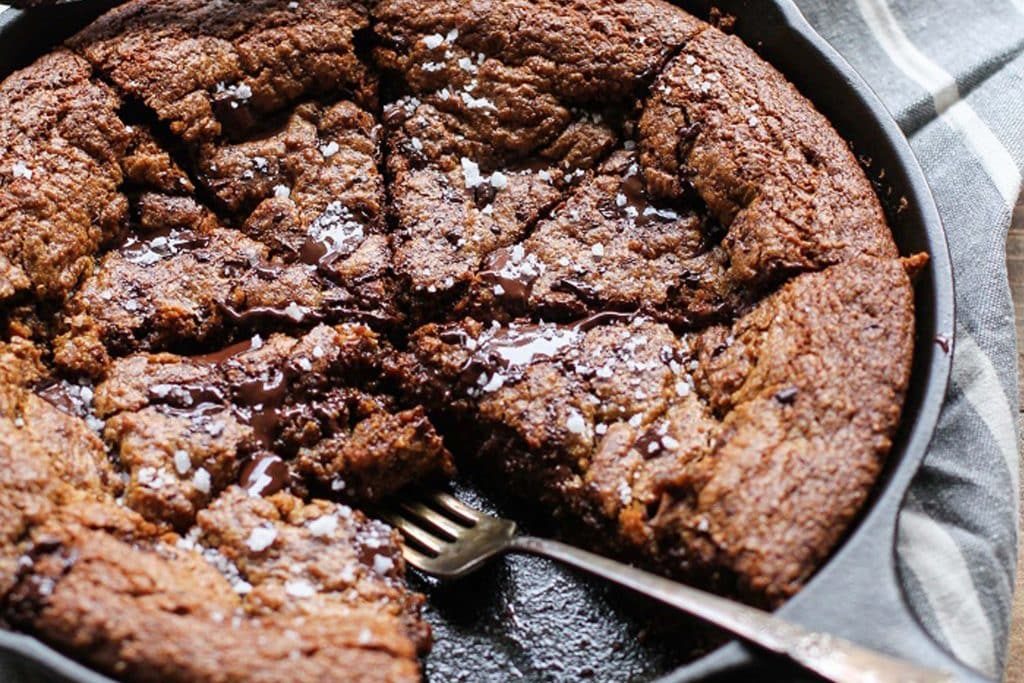 Homemade Twix Bars – If you're a fan of twix bars (and who isn't!?), then this recipe is for you! This secretly healthy homemade twix is gluten, grain, dairy and refined sugar-free, and made with just six ingredients, including coconut oil, honey, coconut flour, dates, almond milk and chocolate.
Beet Cookies – Simple name, simple recipe. These delicious and beautifully pink chocolate chip cookies are made with peanut butter (preferably 100% peanuts), a small amount of brown sugar, pureed beets, tapioca flour, vanilla and delicious dark chocolate chips.
Caramel, Chocolate & Cashew Butter 'Carmelitas' Squares – These squares are perfectly indulgent, with layers of oats, caramel and rich chocolate, for a comforting and quite filling dessert. Made with coconut oil, cashew butter, oats, almond flour, brown rice flour and chocolate chips, it is the perfect sweet tooth snack!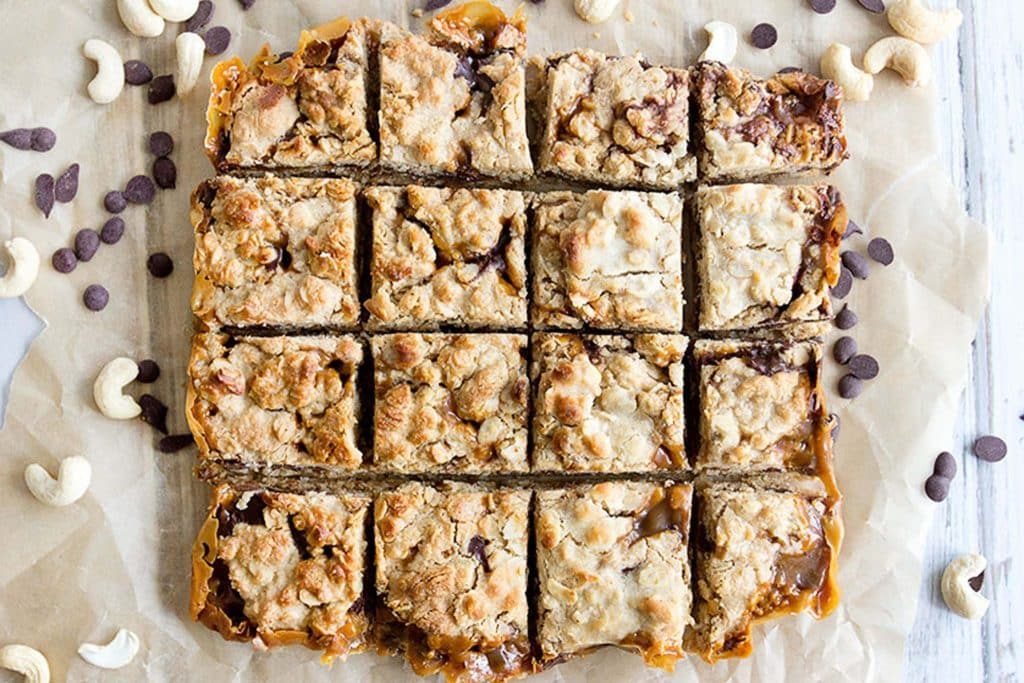 Healthy No-Bake Cookies – These take just 15 minutes to prepare and don't even have to go into the oven! They are healthier than traditional chocolate cookies, with almond or peanut butter, coconut oil, sugar (or a substitute sweetener), dark chocolate chips, honey, coconut and oats.
Chocolate Chunk Protein Cookie Dough – Love cookie dough but can't justify the sugar and carbs? This delicious cookie dough is sugar-free, dairy-free, gluten-free and paleo, packed with a nice hit of protein to curb your hunger! The recipe calls for chocolate protein powder, coconut flour, nut butter, milk and chocolate chunks.
Vegan Thin Mints – You can't beat chocolate mint slice and this healthy vegan, gluten-free, oil-free option will satisfy any choc-mint combination craving! These cute little biscuits are quick and easy to make, using brown rice flour, cacao, maple syrup, mint extract, dates and nut milk.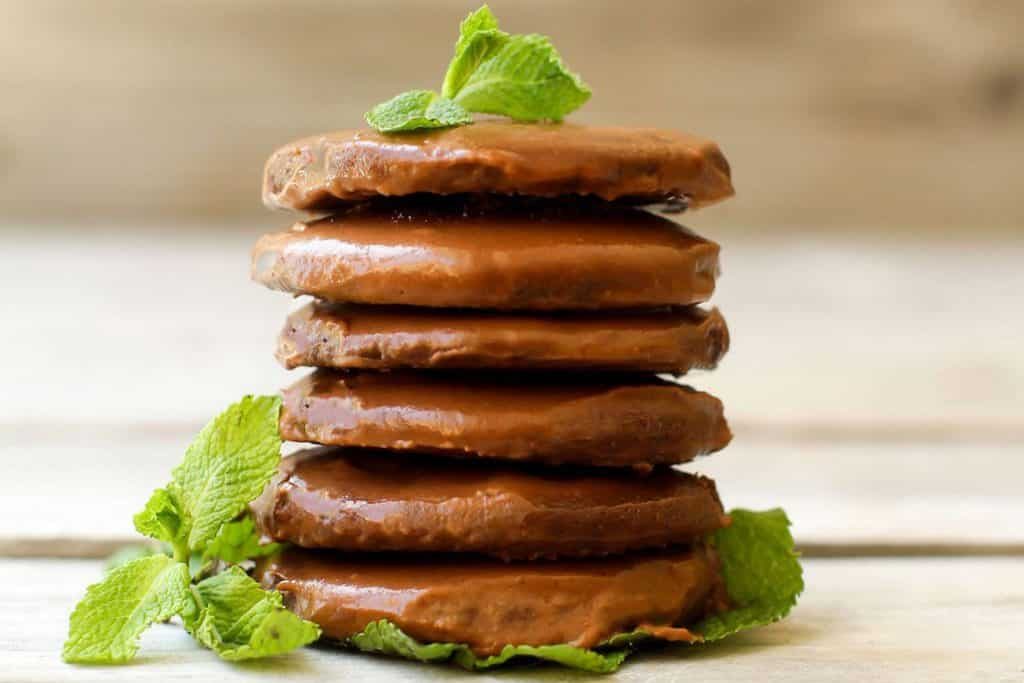 Chocolate Peanut Butter Protein Cookies – Life is good when you can get your protein hit through a chocolatey dessert or snack! These indulgent chocolate peanut butter cookies are moist, sweet, salty and nutty, with 5 grams of protein in every cookie. These filling little bites are full of nutrient-rich foods, including chickpeas, peanut butter, cashews, chocolate and maple syrup.
Dark Chocolate Mocha Goji Cookies – These cookies look and taste absolutely beautiful and have a lot going on in the flavor and texture departments. Crispy on the outside and moist on the inside, with natural ingredients, including butter, coconut oil, eggs, coffee, raw cane sugar, whole wheat flour, goji berries and cacao, they taste like they are fresh out of the bakery!
Cakes & Tarts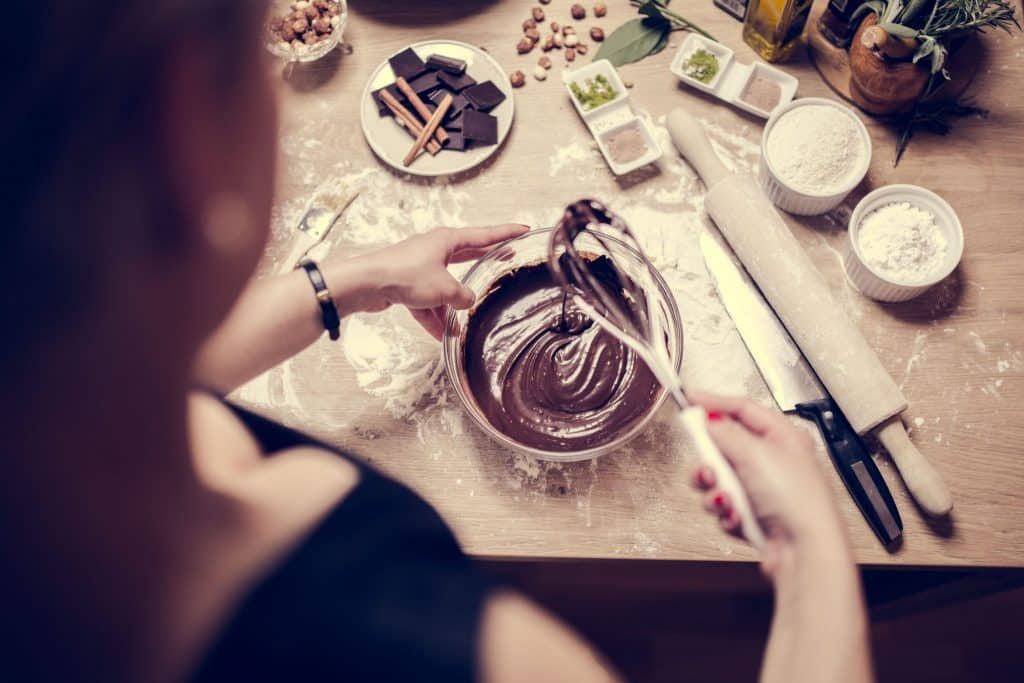 Raw Chocolate Cupcakes – If you haven't heard of nettles, they are something you should definitely become familiar with. Packed full of enough nutrients to be considered a 'super food', these little stinging leaves detoxify the body, improve metabolism, boost the immune system, increase circulation, and boost energy levels, to name just a few! And mixed with walnuts, pumpkin seeds, coconut, cacao and cinnamon, these delicious desserts pack a lot of punch in the health department.
Healthy Avocado Chocolate Tart – You can't get more decadent, rich and chocolatey than this fudgy, creamy dark chocolate-filled tart, but every single ingredient is natural and healthy! With stevia and maple syrup as sweeteners, raw cacao for antioxidants, avocados for their myriad of healthy nutrients, and nuts for their healthy fats, vitamins and minerals, this scrumptious tart is sure to be a crowd pleaser at your next dessert party! Seriously, you couldn't even make it tastier if you used unhealthy, indulgent ingredients!
Chocolate Cherry Cake – If you're a fan of black forest cake, then this chocolate and cherry cake option is the perfect replacement if you're trying to choose healthier desserts. It is rich, moist, chocolatey and cherry-flavored, but is gluten-free and dairy-free with no refined sugar. The perfect afternoon tea or dessert for entertaining guests during cherry season!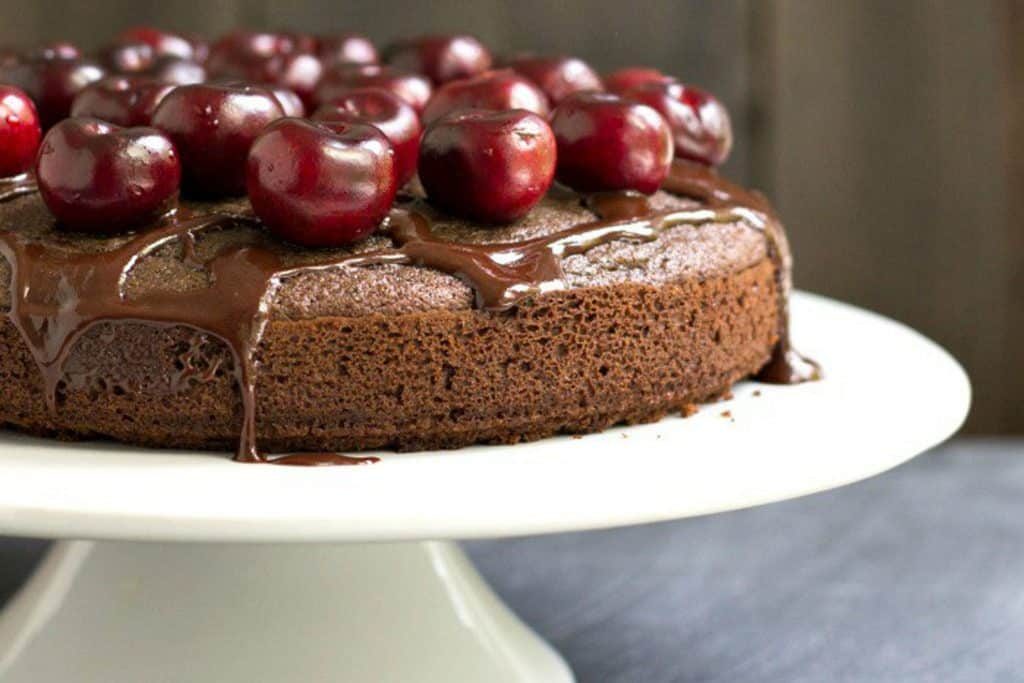 Raw Vegan Blueberry Chocolate Ganache Tart – Sounds untouchable to a health freak, doesn't it? But don't worry, this no-bake chocolate mousse tart with a crunchy crust is actually so easy to make and super healthy! Made with all natural ingredients, including coconut, oats, cacao, dates, maple syrup, and chocolate, you will get a huge nutrient kick while also curbing your sweet craving!
Healthy Flourless Chocolate Cake – Everything you want in a decadent dessert and more! This healthy, flourless chocolate cake is rich, moist, sweet and very, very chocolatey! It is made with nutritious ingredients, including almond meal and olive oil, with no refined sugar or gluten.
Healthy Chocolate Zucchini Muffins – With the bulk of this recipe being zucchini's, which are incredibly healthy, nutritious vegetables, you know you're nourishing your body instead of destroying it. These muffins are moist, deliciously dense, subtly sweet and taste so fresh and decadent on a cold morning!
No-Bake Chocolate Chickpea Cake – You can't beat this quick, simple and healthy cake, made with chickpeas, which are packed full of fiber, protein and essential minerals. Along with chickpeas, this recipe calls for oats, nuts, dates, maple syrup, banana, cacao, goji berries and fresh berries – all healthy, nutrient-rich ingredients for a nice health kick!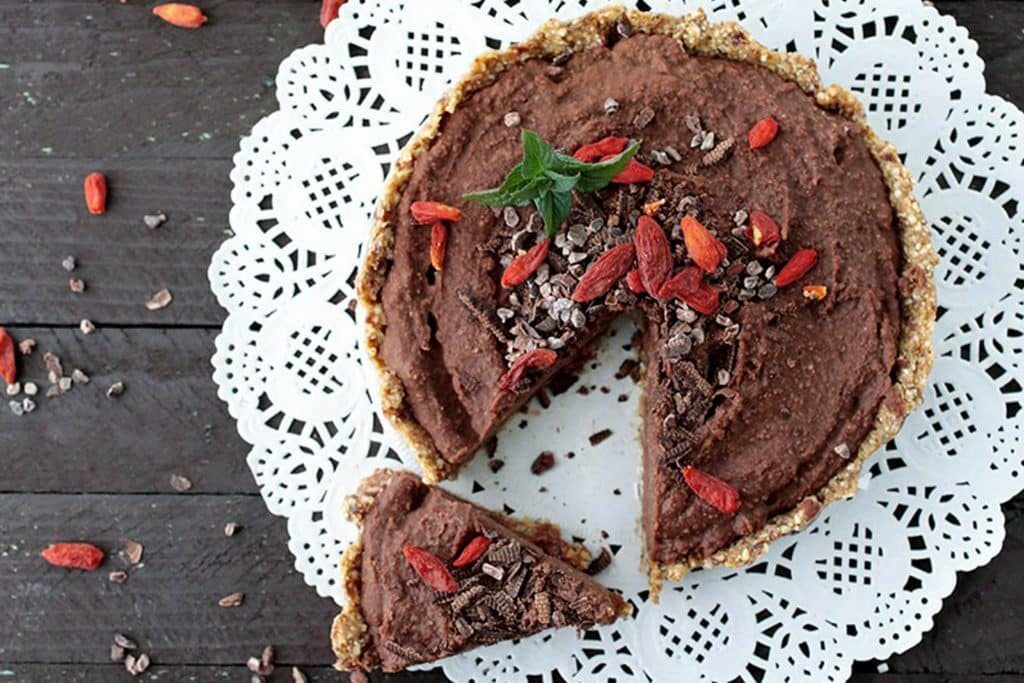 Baked Sweet Potato Donuts With Dark Chocolate & Coconut – Naturally sweetened with sweet potato, and nutrient-rich from the cinnamon, coconut, maple syrup, egg, dark chocolate and sweet potato, these refined sugar-free donuts are perfect guilt-free snacks that will leave you feeling great, not heavy and tired!
Breads, Scones & Brownies
Ultimate Healthy Chocolate Chip Banana Bread – This thick, creamy and chocolatey banana bread is gluten-free, vegan and free from refined sugar, creating the ultimate sweet treat or breakfast option without the guilt! Made with bananas, apples, oat flour, cinnamon, honey, and, of course, chocolate, it is easy to whip up and bake, ready for your next cup of coffee or tea!
Healthy One-Minute Brownie – Craving dessert but no one to bake for tonight? This well-portioned brownie is healthy and won't lead to binging, because it serves one! Made with no butter, oil, grains or refined sugar, this gluten-free, vegan, paleo is the perfect guilt-free chocolate dessert option for a cozy movie night at home!
Clean Triple Chocolate Scones – Not only is this recipe triple chocolate, but it is also incredibly quick and easy to follow. Made with whole wheat flour instead of refined white flour, maple syrup instead of sugar, with Greek yogurt and lots of chocolate – including chocolate chips and dark chocolate drizzle – it is a chocoholic's dream!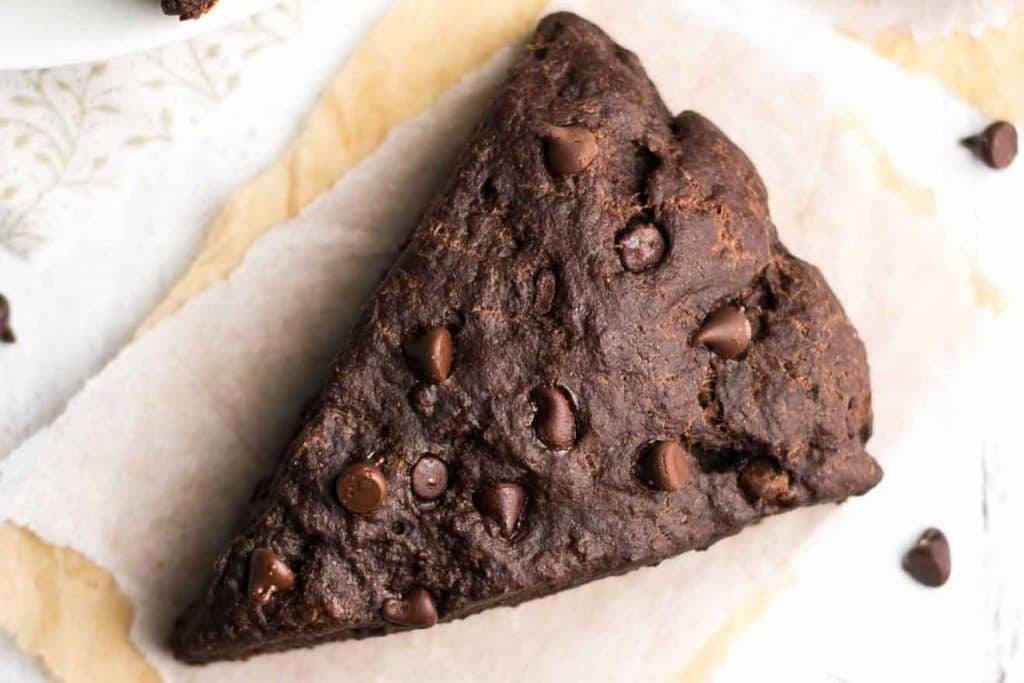 Dark Chocolate Drizzled Zucchini Bread – Despite its delicious chocolatey-ness, this zucchini bread is light enough to enjoy for dessert at a summer barbecue, and is extra delicious when sliced up and grilled! Why not serve with a dollop of coconut ice-cream or frozen yogurt for extra deliciousness?
Sweet Potato Scones – These scones are vegan, gluten-free and grain-free, made with a base of sweet potato, which is an excellent source of beta-carotene (vitamin A), vitamin C, vitamin B6, manganese, copper, potassium, fiber and phosphorus. They are made all-the-better with delicious dark chocolate chips generously spread throughout them.
Flourless Sweet Potato Brownies – These irresistible brownies are paleo, vegan and gluten-free. They are free from refined sugar and will curb your sweet craving, while nourishing your body with healthy ingredients! Made with sweet potato, nut butter, maple syrup, cocoa or cacao powder and chocolate chips, you can whip them up first thing in the morning to take to work, or in the evening ready for the next day!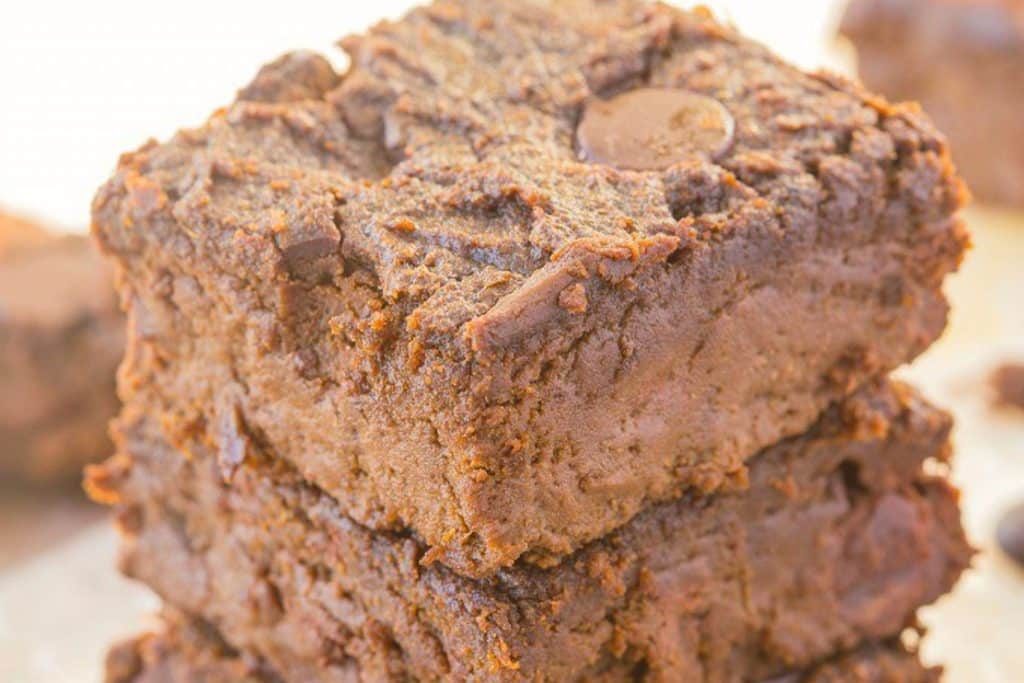 Grain-Free Beet Brownies – These taste as delicious and chocolatey as they look, and nourish your body with healthy beetroot, chocolate, cinnamon, maple syrup and coconut flour, making them free from refined sugar, yet decadent and indulging.
Clean Almond Joy Scones – Made with almonds, coconut and chocolate – the same flavors in the popular almond joy candy bar – this homemade version is healthy and free from refined sugar and artificial ingredients. It calls for whole wheat or gluten-free flour, coconut, yogurt, milk, almond extract, chocolate chips, maple syrup and butter.
Dark Chocolate Beetroot Brownies – This is another take on beetroot brownies that calls for apple puree, dark chocolate, beetroot, flour, butter, sugar and cocoa powder. The result is thick, rich, moist squares of chocolate heaven!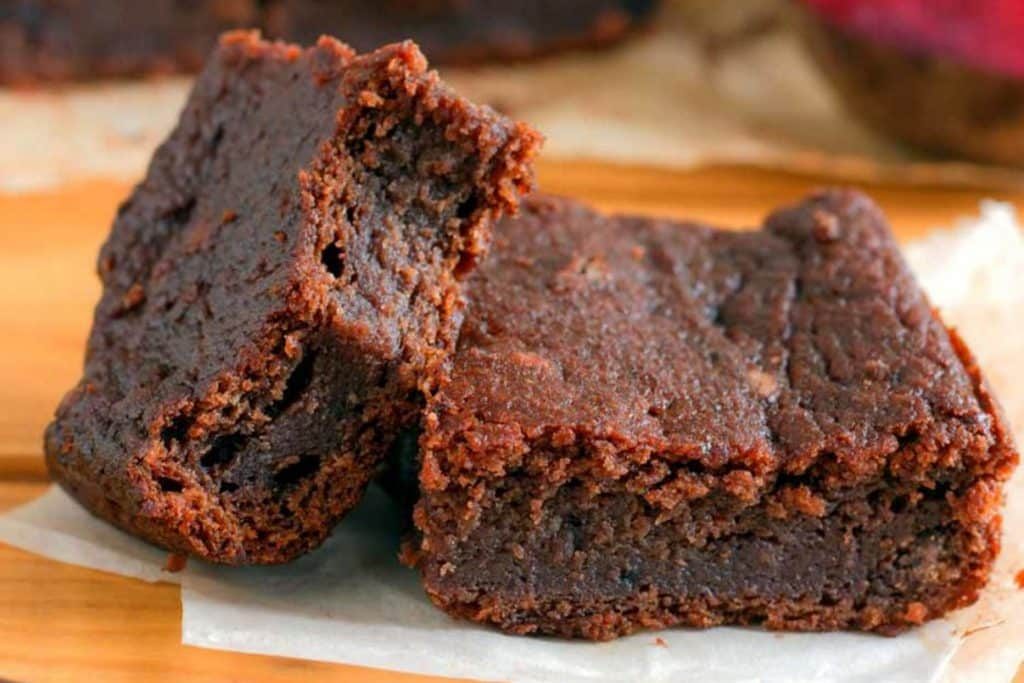 Frozen Desserts
Choco Banana – It's so simple, you'll wonder why you didn't think of it yourself!? You might have tasted one of these at a frozen banana stand, but they are super quick and easy to whip up at home. All you need are bananas, coconut oil, peanut butter, chocolate sauce and crushed nuts and coconut to coat!
Frozen Yogurt Cake – Remember ice-cream cakes at birthday parties? They tasted great, but were less than healthy! This option gives you that same sweet, creamy frozen texture and taste with less cream and more yogurt. It's not a super healthy option, so don't over-indulge, but it's certainly better than the ultra-sugary, cheap ice-creamy option!
Avocado Ice-Cream With Nutella Swirl – Healthy, creamy, and prepared in just five minutes, this delicious ice-cream is churn-free and so irresistible! Made with raw avocados, mint and lemon juice, you're getting plenty of nutrients to make up for the sweetened condensed milk and Nutella that the recipe calls for. But, of course, be aware that it is not made of entirely healthy ingredients, so enjoy in moderation!
Avocado Protein Fudgesicles – How irresistible do these look? And while you're munching on one on a hot summer afternoon, you can enjoy the fact that you are feeding your body incredibly nutritious food, packed full of vitamins, minerals, fiber and protein.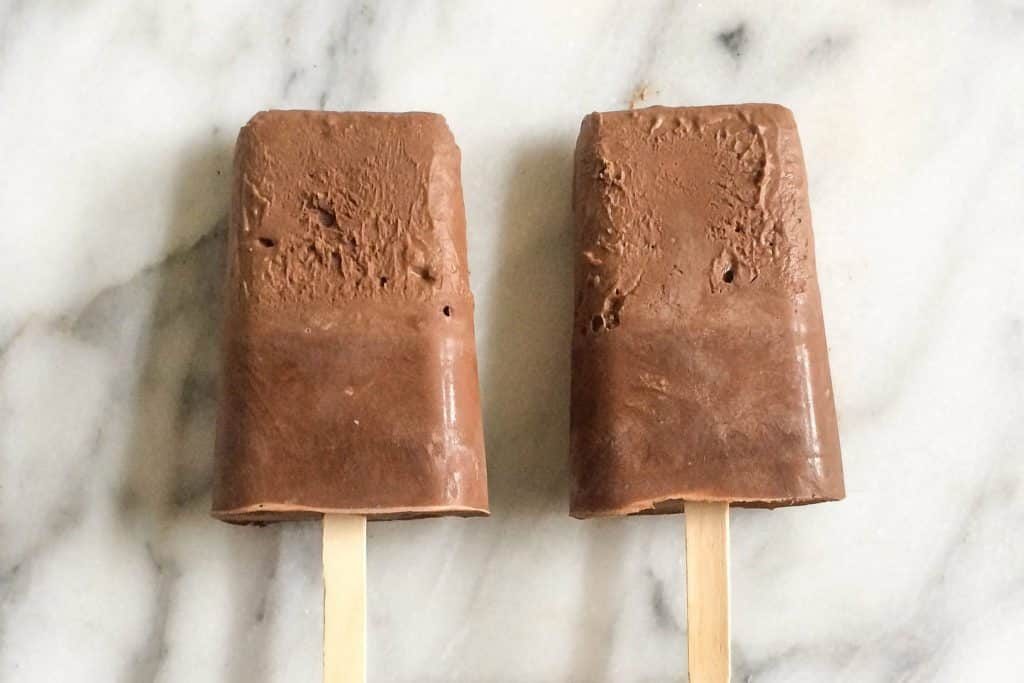 Spreads & Dips
Heavenly Healthy Nutella – Speaking of Nutella, why not make your own healthy version at home? The branded jar of hazelnut chocolate spread is full of sugar and oils, but you can make your own refined sugar free version with hazelnuts, almond or hazelnut milk, raw cacao, vanilla and maple syrup. All you need is a food processor or blender!
Chocolate Hummus Spread – Don't let the word 'hummus' put you off! This delicious dip or spread is full of fiber, healthy fats and nutrient-rich ingredients, including chickpeas, almond butter, coconut oil, almond milk, dates, raw cacao and maple syrup.
Sweet Treats
Healthy Peanut Butter Cups – This handy little recipe is super quick to whip up for the perfect movie snack or entertainment munchie, and you will also learn how to make your own homemade dark chocolate with just four ingredients! Made with cacao, maple syrup, almond butter and cocoa butter, stuffed with peanut butter in the middle, these healthy versions of Reese's Peanut Butter Cups are an ultimate indulgent treat!
Chocolate Tahini Balls – Tahini is traditionally used in savory dishes and dips, like hummus, but some very clever person discovered how delicious the nutty sesame paste tasted in sweets at some stage, and once you experience it, you'll probably find yourself adding it to every dessert and smoothie you ever make! This recipe calls for dates, tahini, cocoa, vanilla and sesame seeds for an energizing ball of goodness.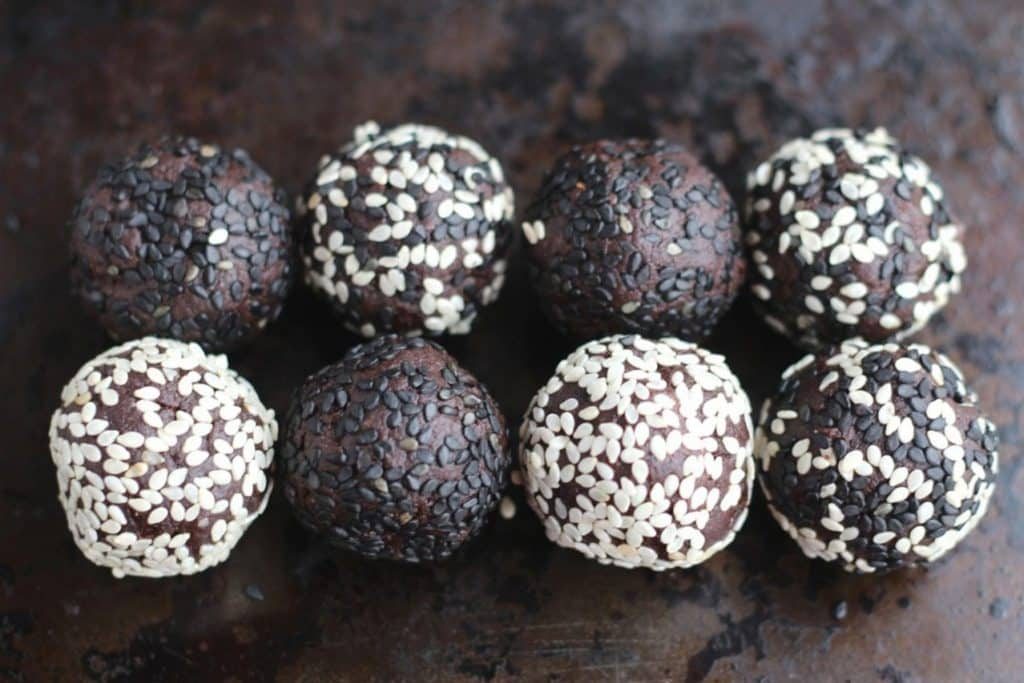 Healthy Banana Smores Bites – Creamy, chocolatey and delicious, these healthy smores are made with bananas, dark chocolate chips, granola and Greek yogurt, so you get a health kick as well as a nice chocolate hit, and you don't even need to roast anything!
Dark Chocolate Fruit & Nut Fudge – This rich dark chocolate textural fudge is gluten-free, dairy-free, paleo, vegan, refined sugar-free and full of fruit and nuts! Made with indulgent but healthy ingredients, including almond butter, coconut sugar, coconut oil, coconut cream, pecans and chocolate, it is the ultimate coffee break treat!
Smoothies
Cherry Cocoa Smoothie – Taking just five minutes to blend up, this forest gateau-flavored smoothie is brimming with healthy, nutritious ingredients, including cherries, bananas, spinach, oats, cocoa and honey! This smoothie will give you a good kick of immune-strengthening vitamins and minerals while cooling you down and filling you up on a hot day.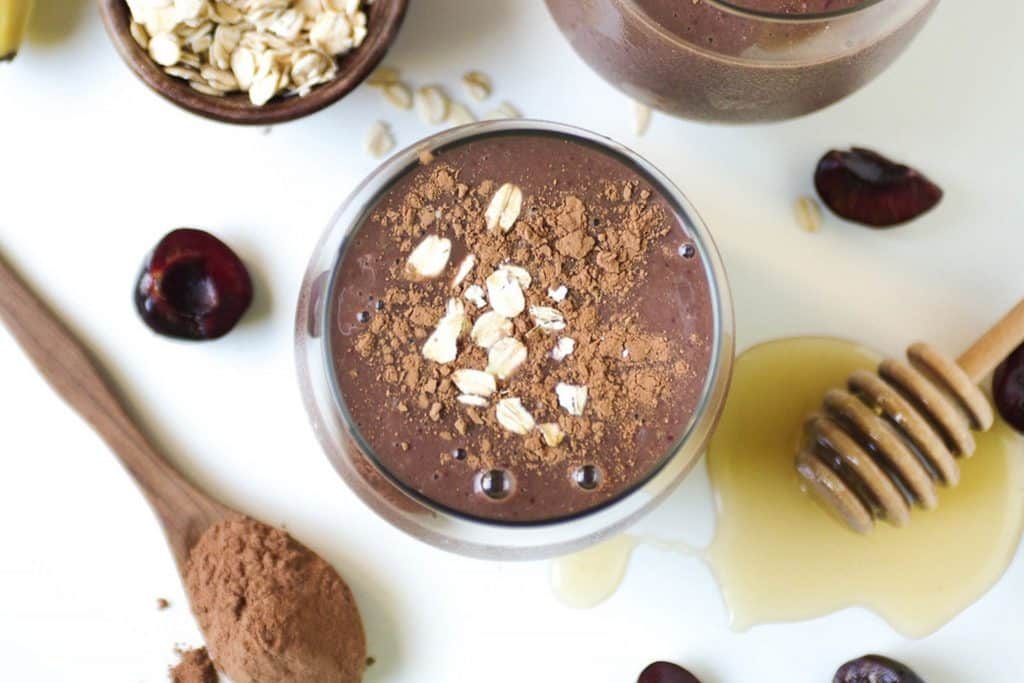 Dark Chocolate Orange Smoothie – An indulgent post-workout or breakfast smoothie that is rich, creamy and velvety, but is actually packed full of vitamin and nutrient-dense ingredients for a fantastic health kick! Dates, orange juice, cacao, chia seeds and orange rind make this dark chocolate and orange smoothie a healthy option to die for!
Morning Pick-Me-Up Espresso Smoothie – This protein-packed smoothie gives you the perfect amount of energy and nutrition for the day, with healthy ingredients, including protein powder, banana, almond milk and an espresso shot! And, on top of that, you get to eat (sip) chocolate for breakfast, which is always a win!
Chocolate Peanut Banana Smoothie – This smoothie is vegan, gluten-free, protein-rich, packed full of nutritious ingredients, including bananas, almond milk, peanut butter, cocoa powder, coconut oil and maple syrup. It tastes like an ice-cream sundae, but it doesn't feel like one when sitting in your stomach! It is perfect for a post-workout treat.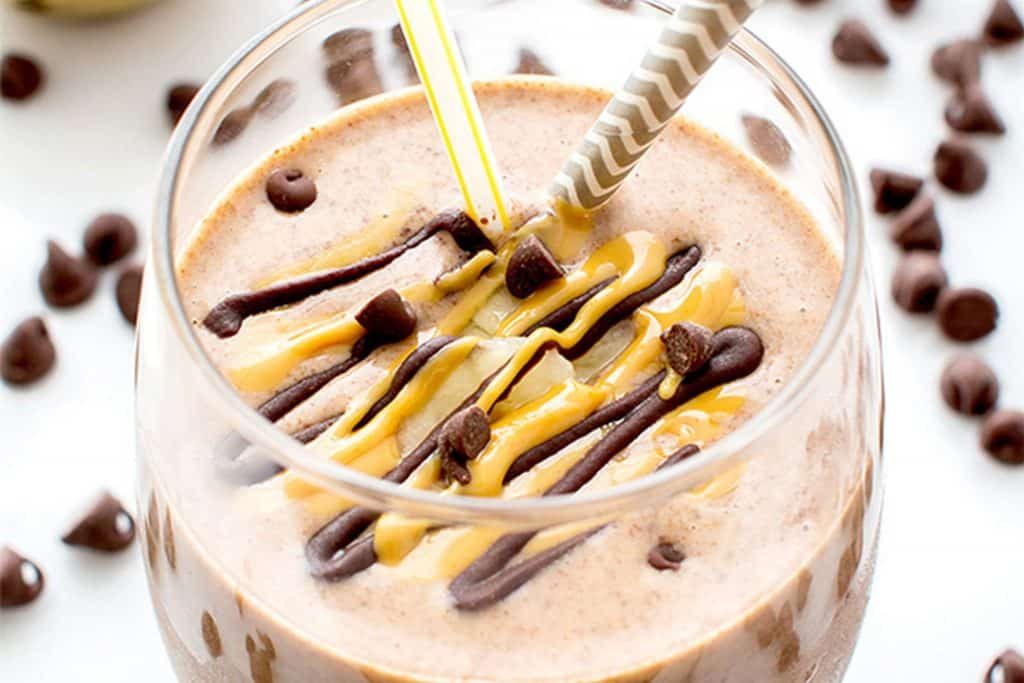 Almond Protein Smoothie – Chocolate and almond is a match made in heaven, and this smoothie is full of protein-rich, delicious, creamy ingredients, including cocoa, almond butter, banana and Greek yogurt. It tastes like dessert but is extremely nutritious and satisfying!