If you're looking for diabetic desserts, then you've come to the right place. All of these desserts deliver massive satisfaction, but won't send your blood sugar soaring. Just be sure to keep portion sizes to a reasonable amount.
[hr]
1. Salted Peanut Caramel Clusters
You won't feel like you're eating a diabetic dessert with these caramel clusters. That's because they're using erythritol as the sweetener, providing plenty of sugary taste without the resultant spike to your blood sugar levels. Peanuts, chocolate, cream and vanilla combine to make these a do-it-yourself answer to all of those store bought goodies that definitely don't keep diabetics in mind. Carolyn does a great job of making these easy to make, but at the same time they come out looking like a fancy dessert or sweet snack. They're perfect as a crunchy after dinner finish, or as a game time treat.
[hr]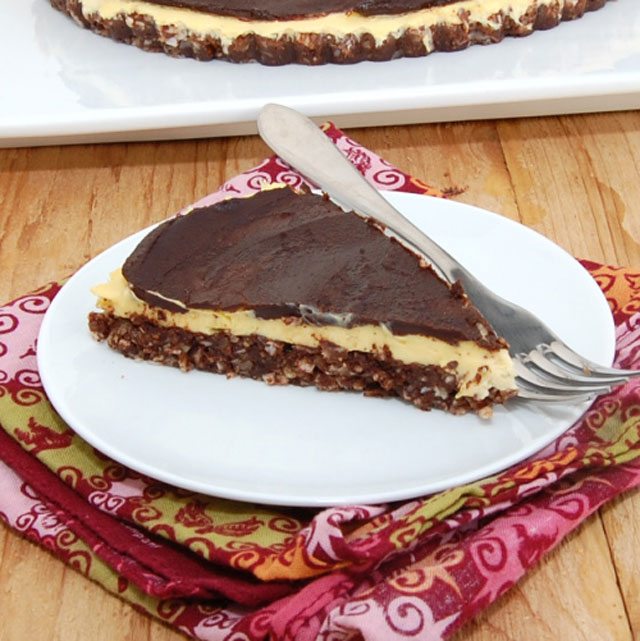 Photo: Sweet Peas Kitchen
2. Vegan No-Bake Nanaimo Bars
If you're familiar with the Canadian Nanaimo bar, you've probably been looking for a way to make it so that it conforms to diabetic standards. Well search no more because here's that delicious bar that keeps things diabetic-friendly, and just like the original there's no baking required. This makes it a great dessert option for hot summer days when you just don't feel like turning the oven on. The use of unsweetened and sugar-free items keeps this one off your diabetic radar, and means you can enjoy the taste without worrying about compromising your health.
[hr]
3. Strawberry Mousse Cake
Dive into this decadent strawberry mousse cake and you'll start to wonder if you really do have diabetes. It's the sort of cake you remember from before, but might have written off as something you just can't have anymore. But this is a tried and true diabetes-friendly recipe with xylitol serving as the source of sweetness, and strawberries and almonds, two foods on our diabetic foods list, used to make this a healthy dessert. You're getting two layers of flavor here, one that's chocolatey and rich, and another that's fruity and a bit lighter. A classic combination that's sure to please the pickiest dessert connoisseur.
4. Blueberry Cobbler
You just can't beat blueberries, packed with antioxidants and bursting with berry flavor, they've been a dessert favorite for centuries. Here you're getting the time-tested cobbler flavor with vanilla extract and lemon zest used to get it just right. There are plenty of blueberries used, and the recipe calls for stevia, but you can adjust this with your favorite diabetic-friendly sweetener. you also have the option of using dairy or nondairy milk depending on your preference, and there's even tips on how you can keep it vegan. This is one cobbler you're going to want to get to know a little better, and it won't put a dent in your blood glucose.
[hr]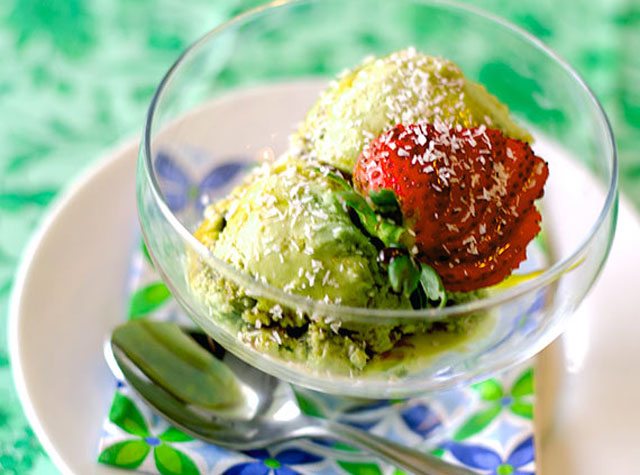 Photo: Inner Harmony Nutrition
5. Green Tea Coconut Milk Ice Cream
Green tea ice cream is a big hit in Japan, and this recipe does a great job of capturing its essence while at the same time keeping it something that diabetics and non-diabetics can enjoy alike. The trick: you simply must use macha, the green tea powder that is still used in a traditional Japanese tea ceremony. It's the only way to get the real flavor of green tea into ice cream form. She's using erythritol for the sweetness, and green tea ice cream is not as sweet as some other flavors, so you don't have to use as much, and she has a wide range of tablespoon options so you can adjust the sweetness as you see fit.
[hr]
6. Baked Apples with Ricotta Cheese
These apples are baked until they reach the proper softness, and then stuffed with ricotta cheese. They come out sweet thanks to the honey used in the recipe. Honey may not be the best sweetener for diabetics, as it has been shown to raise blood sugar levels, but it raises them less than refined sugar, and it also has beneficial qualities like helping with cholesterol levels. You'll have to make a determination as to how you react to honey and whether it's something you can use in your diabetic desserts. Cloves and cinnamon give these apples all the flavor your taste buds can handle.
7. Hibiscus Homemade Gummies
These gummies will make you feel like a kid again, without doing any damage to your blood glucose levels, especially if you leave out the optional raw honey. They'll still taste good without it, or you can decide to reduce the amount stated if you'd like them to be a little sweeter. It's the passion tea that is giving these most of the flavor, and going with grass-fed gelatin makes them a healthy option that is going to provide your body with various benefits like helping with joint health. We love that these are so easy to make and only use a small handful of ingredients.
[hr]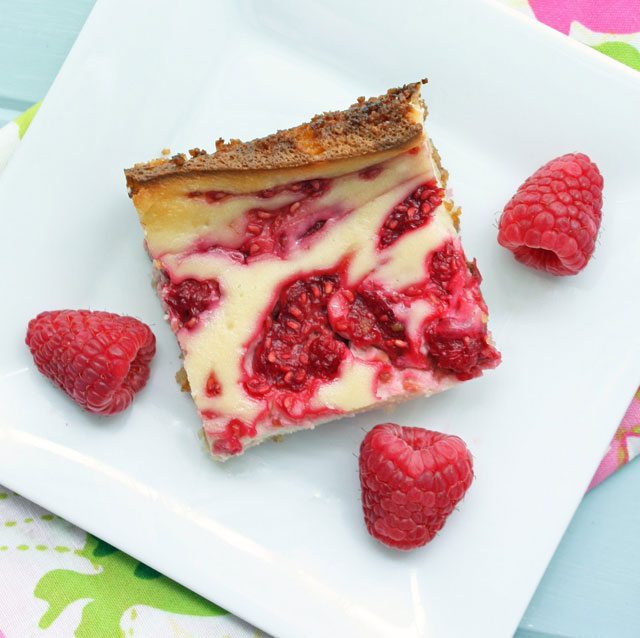 Photo: I breathe… I'm hungry…
8. Raspberry Cheesecake Bars
If you're going for style points these raspberry cheesecake bars are going to take the cake. They're loaded up with raspberries, so you're getting antioxidants and fiber along with a tart and fruity taste. While strawberry cheesecake often gets the most accolades, you've got to give raspberry cheesecake its due credit. You're advised to use your own granulated sugar substitute, so you're able to choose one that you've already found to be a winner. The crust uses coconut flour, so it's grain free and will contain more fiber than all-purpose flour has.
[hr]
9. Delicious Double Berry Ice Cream
What's better than single berry ice cream, you ask? Double berry ice cream, of course. That's what's going on here with the use of both strawberries and raspberries together in one dish. On top of that you'll be getting orange flavor thanks to orange juice concentrate, and this is one ice cream that doesn't contain a lot of carbs. This is a standalone dessert but it also plays nicely with others, and can be used as a side dish to one of the other desserts featured on this page. The antioxidants in this ice cream set it apart from others in its class, with both strawberries and raspberries contributing to the whole.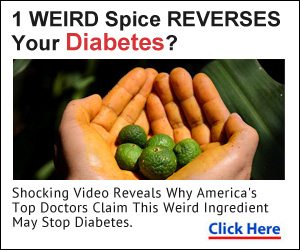 10. Almond Mini Cakes with Mixed-Berry Topping
These almond mini-cakes were pulled right out of a diabetic cookbook, so you know that they're not only going to taste great, but also work for you rather than against you. They're using almond flour, so you'll be getting more fiber from the flour than you do when you use general purpose flour, plus it takes out the gluten that you'll find in regular flour. The berries added to the top give it that extra boost of nutrition that you just don't find in conventional desserts. Part of eating as a diabetic is making sure that you're always helping the body, even if you are just having dessert.
[hr]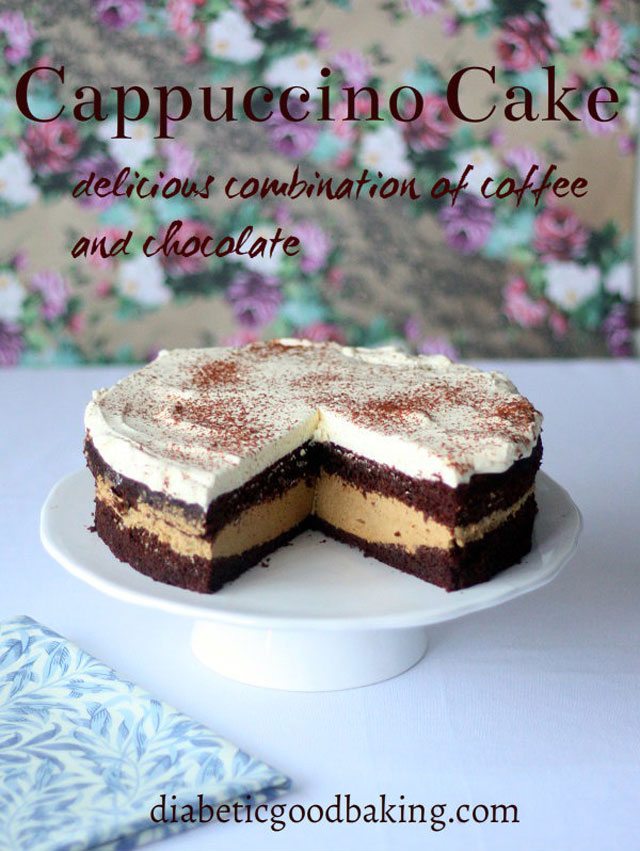 Photo: Diabetic Good Baking
11. Cappuccino Cake
This one goes out to all of the coffee lovers out there. It's a chocolate and coffee combination that will make it hard to believe that it came from a diabetic recipe blog. Dark chocolate provides the requisite rich chocolate flavor while cutting out the sugar found in milk chocolate. Instant coffee grounds give this real coffee flavor as well as some caffeine so this is one cake that will not only taste great, but may help you stay awake for some after dinner conversation with friends and family. Mascarpone cheese and whipped cream give this all the flavor you'd expect from a decadent dessert.
[hr]
12. Flourless Brownies
These are brownies you can serve your non-diabetic friends and they'll go gaga over them. Thick and chunky they have a secret ingredient that we just can't keep to ourselves: instant coffee. That's going to give them the rich taste of coffee as well, so they're double trouble. She's using stevia for the sweetener but also states that you can use your favorite one in place of the stevia, and no matter which way you go these will still end up tasting great. The goal is to replace the brown sugar that's in the original recipe with a more diabetic-friendly option. Add in the chopped hazelnuts if you like your brownies with nuts.
13. Bourbon Chocolate Truffles
These truffles look so amazing that your biggest risk in making them is knowing when to stop. They're infused with bourbon if you decide to go that route, but this is an optional ingredient and can be omitted if you just want them to be delicious chocolate truffles. They've managed to sneak an avocado into these truffles, so you're benefiting from added potassium, fiber, and healthy fats. Pretty much no other truffle out there is going to come close to these on a nutritional level. Chopped pecans give them a nice crunch that will keep you coming back for another one.
[hr]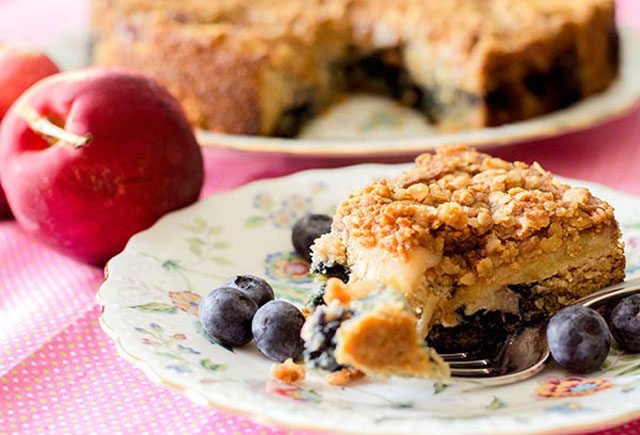 Photo: Inner Harmony Nutrition
14. Nectarine and Blueberry Coffee Cake
Nectarines and blueberries are an interesting combination for a coffee cake, and each comes with their own nutritional profile. The blueberries will provide you with antioxidants and fiber, while the nectarines provide an array of vitamins and minerals, so each fruit complements the other. The cake itself is made up of a mix of almond flour and coconut flour, great alternatives to regular flour, each providing fiber that you wouldn't otherwise get in a coffee cake. They've managed to keep this gluten-free as well, which makes it the perfect dessert for diabetic followers of a gluten-free diet.
[hr]
15. Chocolate Crackles
Make a batch of these chocolate crackles and you're in for a real treat. They were originally made up for a Christmas cookie countdown, but you can enjoy these all year long. Care has been taken to keep out ingredients that would trip up a diabetic, without sacrificing ingredients that just plain taste great. You have to find a good balance when it comes to the ingredients in your desserts, too bland and you won't be satisfied, too sugary and you may run into a problem with your blood sugar levels. Once you find a handful of desserts that you really enjoy and that don't impact your levels, you can return to them again and again.
16. Carrot Cake Towers
Build these carrot cake towers and you will definitely satisfy your carrot cake craving without harming yourself in the process. You get two layers of cake, with frosting in between and on top. All of the required ingredients for carrot cake are making an appearance here, so it's not as if you're eating something that is supposed to taste like carrot cake while missing some important items. However, adjustments have been made so that you can eat these as a diabetic and not have to pay the price for them later.
[hr]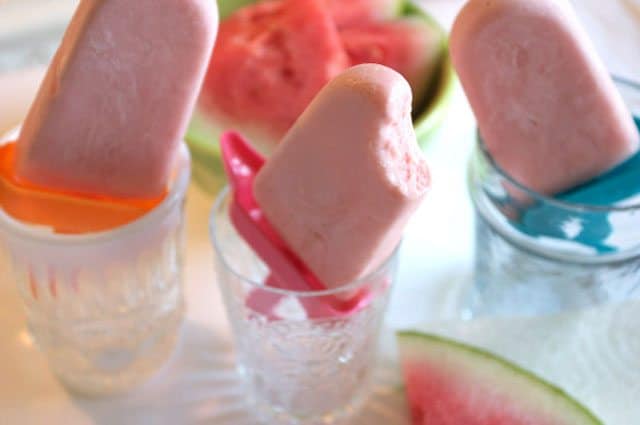 Photo: Family Fresh Cooking
17. Watermelon Frozen Yogurt Popsicles
The perfect cool-down when summer gets out of hand. Watermelon is the quintessential summer fruit, and you're using real watermelon here, as well as yogurt, a diabetic food that provides you with calcium and protein. They come out creamy and dreamy so you will likely want more than one. If you've ever passed by the popsicle section of the grocery store and woefully looked at all the sugar-packed popsicles, or worse, tried one of the sugar-free kinds that just don't taste right, these will fill the void.
[hr]
18. No-Bake Turtle Pumpkin Pie
This pumpkin pie has had some serious upgrades done to it, which isn't something you'd expect if you've been looking at diabetic dessert options for any length of time. It brings with it the flavor of turtles, and requires no baking, so you can simply assemble it and let it cool before having a nice slice. Of course it also delivers on its promise of being a pumpkin pie, with a can of pumpkin puree being used for that unmistakable quality. Sugar-free caramel and pudding keep this on the friendly side and allow you to have a sweet indulgence.
[hr]
You may also like our list of 25 Diabetic Foods for Stable Blood Glucose and Overall Health