Seeing you've come across this post, you're probably looking for delicious alcohol-free refreshment ideas. Let me assure you; you've come to the right place!
Whether you're pregnant, the designated driver, organizing a family-friendly party or simply taking a break after an alcohol-infused holiday season, choosing to forgo the alcohol doesn't have to mean forgoing the taste! The hand-picked list of easy non-alcoholic drink recipes below will definitely attest to this.
Read on to discover 26 superb cocktails that taste as good with a shot of Grey Goose or Patron as they do without!


REFRESHING WATERS
This brunch-appropriate alcohol-free refreshment definitely deserves two thumbs up! The rhubarb adds some calcium, potassium, magnesium and vitamin C and K to the mix while the ginger provides it with its characteristic punch. A great way to start this list of non-alcoholic drinks, don't you think?
[hr]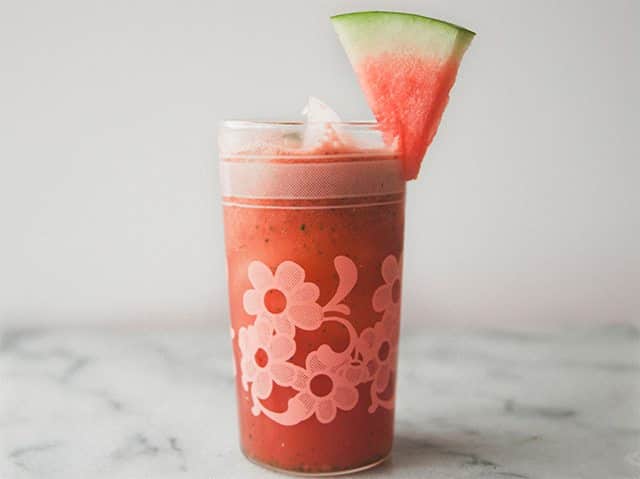 Photo: The Kitchy Kitchen
If you're a little tired of the lemon-based mocktail refreshments, this delicious watermelon-based refreshment is made with you in mind. The water-infused fruit provides a great source of Vitamin C while the mint leaves and chopped jalapeño add an unexpected (and spicy) twist. Serve on the rocks or with crushed ice for a slush-like variation.
[hr]
Here's an interesting twist on the trustiest of all non-alcoholic drinks; the good old lemonade. This tasty version will have you wondering why you didn't come up with the inspiring mix of coconut water and lavender syrup yourself.
The homemade lavender syrup will keep in the refrigerator for several weeks (if well-sealed). Serve in a dried-coconut rimed glass and enjoy it with friends, family, young and old; the more the merrier! The best thing about non-alcohol drinks is that you can drink it with kids whose bodies are still not primed for alcohol in their system.
[hr]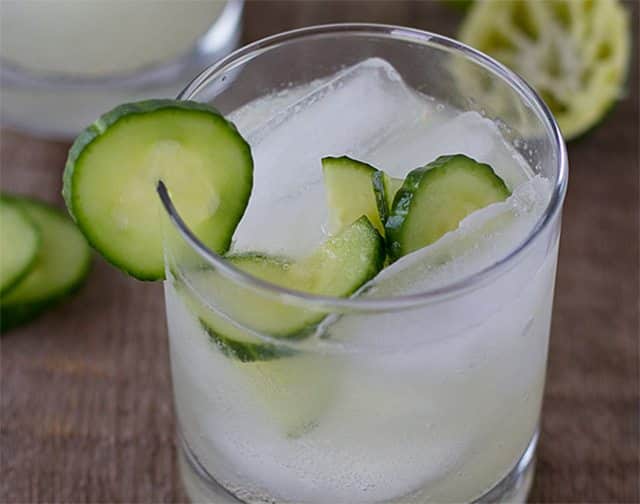 Photo: Taste And Tell
Here's another perfect non-alcoholic refreshment for those blazingly hot days. The delightful mix of lime, mint and cucumbers will leave you feeling hydrated without the undesirable next-morning headache aftermath!
[hr]
This refreshingly tangy drink is perfectly suited for a lazy Sunday brunch. Replace the pre-made lemonade with a homemade variety for less high-fructose corn syrup and a touch of extra vitamins. Enjoy while basking under the mid-morning sun. Repeat as often as you wish!
[hr]
THE EXOTICS

Photo: A Sweet Pea Chef
Who doesn't love a good mojito? It's perfectly suited for a night with the girls, a backyard BBQ or, any other occasion, really! This recipe's combination of ripe raspberries, fresh lime and crisp mint make it particularly tasty. Indulge as much as you want with no risk of hangover in sight! A virgin mojita is just as good, if not better because you don't embarass yourself in front of your friends afterwards.
[hr]
Part Puerto Rican coconut delight, part maple syrup-infused, this eggnog-inspired refreshment tastes as good with the rum as it does without. Enjoy it with a sprinkle of nutmeg in front of a slow burning fire surrounded by family and friends and you have an adorable memory to remember.
[hr]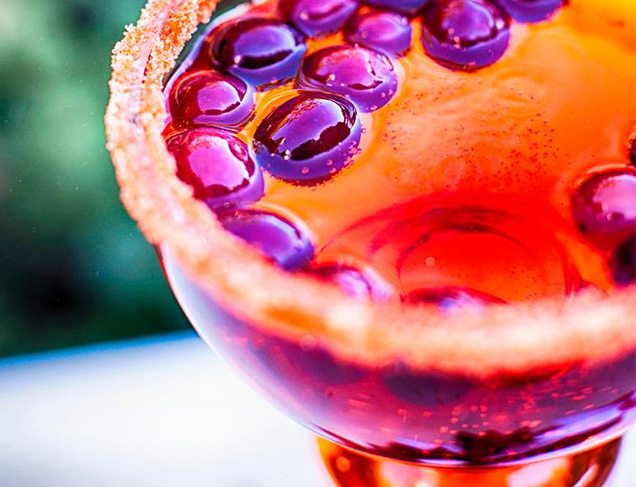 Photo: Kara's Party Ideas
Pineapple, almond and coconut… what's not to like? This recipe will definitely treat your palate to a blast of flavours! Simply replace the food colouring with some frozen cranberries for a more natural alternative and you'll be set to go! The cranberries also provide a nice twist to this non-alcoholic beverage.
[hr]
Brazil's national cocktail consists of a fairly simple recipe. Unfortunately for our purposes, it's heavily reliant on Cachaça, a distilled spirit made from fermented sugar cane, which makes it particularly difficult to come up with a delicious virgin Caipirinha-like alternative.
Difficult…but not impossible, as is proven by this refreshingly delicious alcohol-free recipe. It's so tasty it might even inspire you (and your guests) to try out another Brazilian favourite; the samba!
[hr]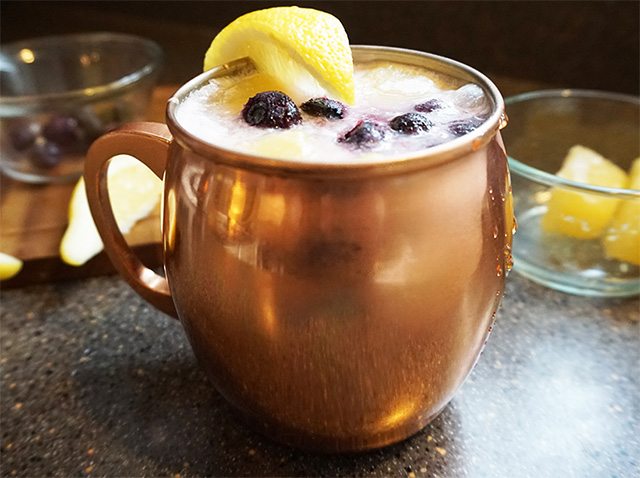 Photo: Foodie With Family
This Piña Colada recipe will definitely make up for getting caught in the rain! Song reference aside, the sweet taste of piña coladas are synonymous with vacations and this one definitely won't disappoint.
So whether you sip it under the sunny skies of an exotic beach or from the comfort of your living room, you're bound to disconnect from reality; at least for the length of the popular Rupert Holmes 70s hit!
[hr]
This next cocktail is designed with the passion fruit lover in mind. The passion fruit not only contributes to the exotic flavour, but it also infuses the drink with a shot of vitamins and minerals specifically vitamins A, C, riboflavin, niacin, iron and magnesium. What's more, the mint-ginger combination definitely adds a little je ne sais quoi.
Enjoy on a sunny balcony in the summer, or sip in front of the fireplace on a chilly winter day, while daydreaming about upcoming plans for fun under the sun.
[hr]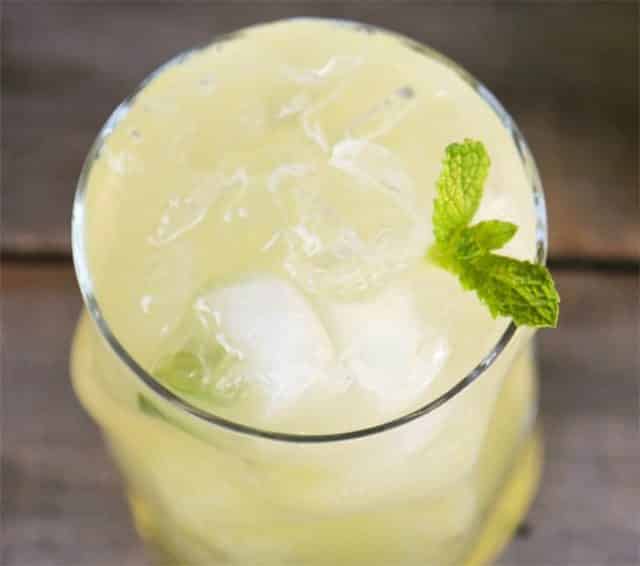 Photo: Foodie With Family
If you love pineapple, you'll love this mocktail. Combine it with fresh mint and ginger ale and you'll have a delicious pineapple mule alcohol-free cocktail on your hands.
For a healthified (a.k.a. high fructose corn syrup-free) version, try making your own ginger ale by simply combining fresh ginger to water, fresh lemon juice, water and active dry yeast such as outlined in this homemade ginger beer recipe. This is a recipe sure to please both young and old generations.
[hr]
THE UNEXPECTED
Feeling a little adventurous? Then this recipe might be just what you're looking for. Kvass is a Russian fermented beverage traditionally made with beets, whey and rye bread. But before you flee at the thought of blending beets with grains, rest assured; this version is whey- and grain-free.
In addition to its delectable taste, this fizzy beverage is also a source of health-promoting probiotics. Just make sure you prepare it 48h ahead of time so it has enough time to ferment (and produce those tongue-tantalizing bubbles that give this drink its particular appeal).
[hr]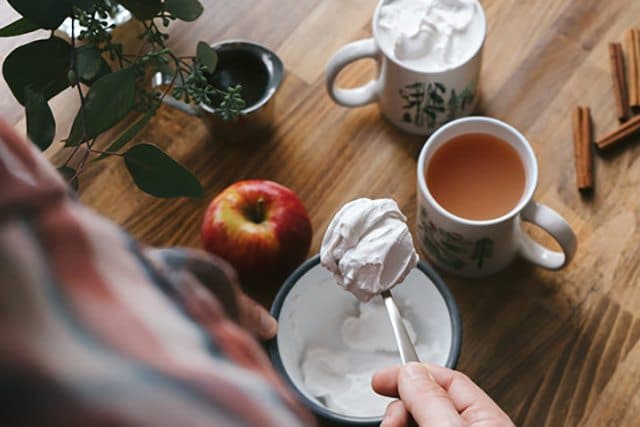 Photo: The Created Co.
Do you love apple cider but never considered yourself kitchen-savvy enough to make your own? This recipe is about to rock your world. Or, at the very least, change your perception! Not only is it super simple to make, but it's also easily prepared in advance and reheated whenever the need arises.
This caramel apple cider can be served as an appetizer or, topped with a dollop of coconut whipped cream for a tasty feature dessert to a holiday party. Yum!
Here's an antioxidant-infused drink you'll be glad to discover. The carrot juice provides night-vision boosting vitamin A whereas the orange juice covers your daily dose of vitamin C. Curious about antioxidants? Make sure to read this post to find out more!
[hr]
From the creators of the delicious cocktail above comes an equally unique fruit-infused and antioxidant-rich concoction. The cumin and fennel seeds provide a small dose of iron, folate, calcium and magnesium whereas the tamarind adds a touch of sweet and sour magic. Serve in a tall glass, garnished with black and green grapes and get ready to impress your guests!
[hr]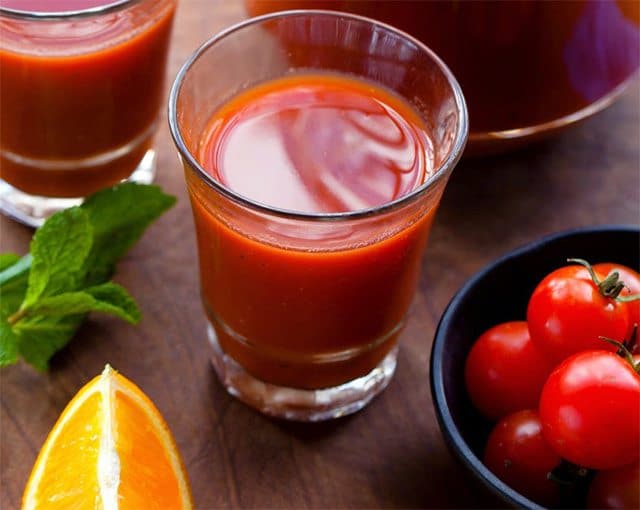 Photo: Paaka-Shaale
Seeking a drink that's on the savoury side? Then give this tomato-based mocktail a try. The paprika, pepper and roasted cumin seed pack some punch, while the orange juice adds just a tad of sweetness.
For a more traditional (virgin Mary-like) alternative, skip the sugar and orange juice and replace the spices with celery salt, Tabasco and Worcestershire sauce. Delightful!
[hr]
THE MARTINIS
Love the simple taste of a martini but at loss on how to turn your fave drink into a non-alcoholic version? You're not the only one! Try out Maria's take on the challenge by asking your bartender for a glass of sparkling water on the rocks garnished with a few fresh green olives.
If you're the dirty martini type of fellow or gal, simply request the above drink with a shot of olive juice. Sometimes, the simplest recipes are the tastiest!
[hr]
If you're interested in additional non-alcoholic martini recipes, make sure to check out this video by Luis Sanchez, food and beverage director of Nic's Martini Lounge in Beverly Hills, California.
In it, Luis outlines three super-simple yet delicious martinis; blackberry/pineapple, fresh ginger and orange / basil / honey. A sure way to impress your dinner-party guests or turn you into the coolest parent on the block at your daughter's sweet sixteen.

[hr]
Mmmm… the chocolate martini. A strong contender amongst the chocolate-loving crowd. This recipe showcases a super easy to turn the alcoholic version into a delicious mocktail. For enhanced health-benefits, opt to melt a dark chocolate (a.k.a. 70% or higher) instead of using the chocolate syrup and pick a seltzer or soda water instead of the sprite.
[hr]
THE MARGARITAS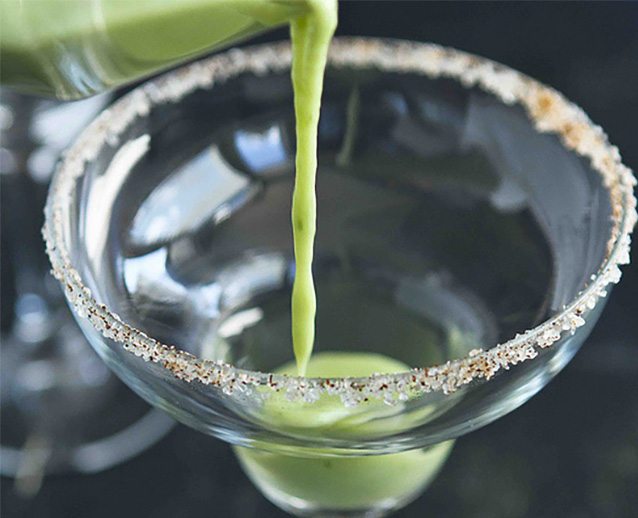 Photo: Cookin Canuck
I must admit; this non-alcoholic recipe took me by surprise. I mean, an avocado margarita? This combination is a little unusual… but once you get over the idea of mashing an avocado into your cocktail, it's well worth the effort!
This recipe is bound to remain a complete standout even when omitting the tequila and triple sec. But don't take my word for it; give it a try and let me know what you think!
Never thought to incorporate this superfood into your margarita repertoire? Well, you ought to. Kale is an incredibly beneficial food when it comes to optimizing your health. Since the tequila is replaced with thirst quenching coconut water, this recipe might just become your favorite breakfast cocktail!
[hr]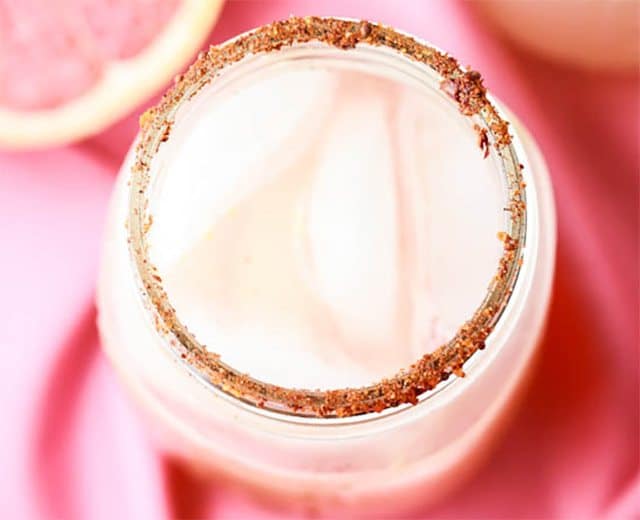 Photo: Eat, Live, Run
Here's another chameleon margarita recipe very easily adaptable into a mocktail version by simply skipping the tequila or replacing it with two shots of coconut water, for a more exotic flavor. The cayenne adds a touch of spiciness while the grapefruit keeps things fresh! Enjoy with your next Mexican-inspired meal.
[hr]
Rich in vitamins C, K and potassium, one pomegranate supplies a little over a quarter of a day's worth of vitamin C and folate. In addition of being nutritious, it's many health benefits makes this fruit a true health powerhouse. This refreshingly delicious virgin margarita recipe is a trendy way to incorporate this nutritious fruit to your diet . Plus, it's very likely to make a splash at your next pool party!
[hr]
Do you have any favorite alcohol-free drink recipes? If so, please share them below so we can all make sure to give them a try!