Iodine Supplement FAQ
If you've been considering taking an Iodine supplement but were unsure of which one to take, or which kind to use, we're here to help. We'll take a look at how important Iodine is for our daily well-being, who needs it, what the risk factors are for Iodine deficiency, and which brands of Iodine supplements have shown to be the best out there.
[hr]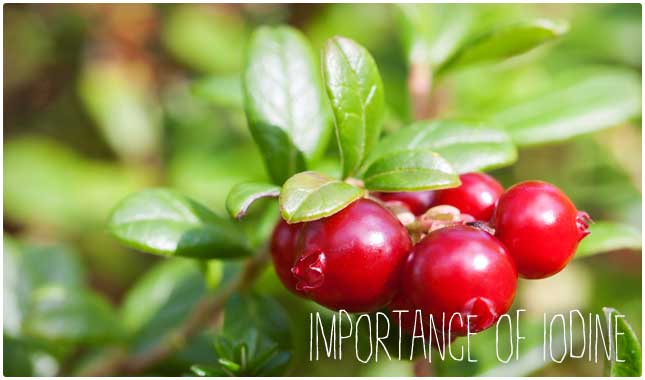 The Importance of Iodine
The body can't make its own Iodine, so the first order of business is to try to get it from the foods you eat. Luckily you don't need a ton of it to meet your daily requirements, and for most it's not going to be an issue. Here are some of the things that Iodine helps with:
Helps the thyroid gland function properly.
Helps detoxify fluoride.
Helps with metabolism.
Helps to ensure a healthy pregnancy.
Balances hormones.
Helps with hair growth.
Provides an energy boost.
Has antiseptic, antibacterial, and anti-fungal properties.
Who Should Take Iodine Supplements?
If you live in America and eat a standard diet, you likely aren't running an Iodine shortage. There are parts of the world where not getting enough Iodine is a serious concern, and even in those places they have seen marked improvement by adding small amounts of iron to salt.
[AdSense-A]
If you find that your particular way of eating means that you're not eating foods that are natural sources of Iodine, you might want to check with your doctor to see if you are running a shortage of Iodine.
Hypothyroidism and Hyperthyroidism
When researching Iodine supplements, you'll likely run into these two terms a lot, and wonder what the difference is. Low levels of Iodine have been linked to hypothyroidism, where the thyroid is sluggish and not living up to its potential. On the contrary, getting too much Iodine has been linked to hyperthyroidism, where the thyroid is overactive. Both conditions are unwanted, which is why it's key to get just the right amount of Iodine, and to have your levels checked by a doctor to see where you stand.
Kelp and Iodine
You'll notice that many of the top Iodine supplements are using kelp as the delivery method. Kelp is a natural source of Iodine, and it helps the body absorb it into the system. When taking mineral supplements like Iodine it's important that you are consuming them in a way that makes them accessible for the body. If you supplement in a synthetic way, the body will have trouble making use of it and most of it will just be flushed from your system unused.
[hr]
Top 10 Iodine Supplements for Proper Thyroid Function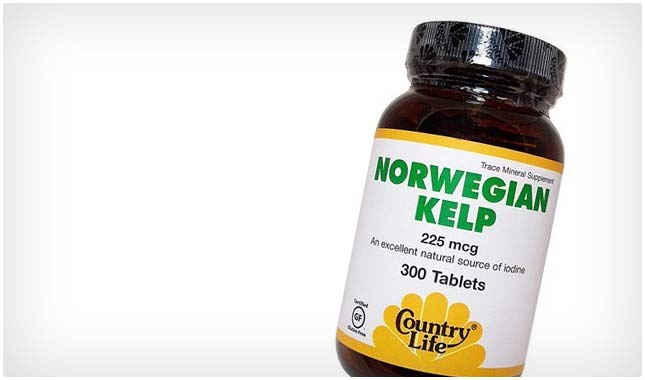 1. Norwegian Kelp
Taking the crown on our list of the best Iodine supplements available is Norwegian Kelp by Country Life. It has garnered the most solid feedback from those that have used it, in addition to containing a high quality, natural source of Iodine without a big price tag. Users report increased amounts of energy, and natural weight loss when taking it, although these have not been corroborated by clinical studies.
It's delivering 225 micrograms of Iodine, which is more than what is needed each day. This makes it a good choice for those that are running a shortage, or those that find that they aren't getting enough Iodine from the foods they eat. Because of the bioavailability of the Iodine within the kelp, your body should be able to use it right away for a fast improvement in any condition caused by Iodine deficiency.
Key Highlights:
Gluten-free
Does not contain salt.
No artificial colors.
Taken with food.
10 month supply is $10
More details: Norwegian Kelp by Country Life
[hr]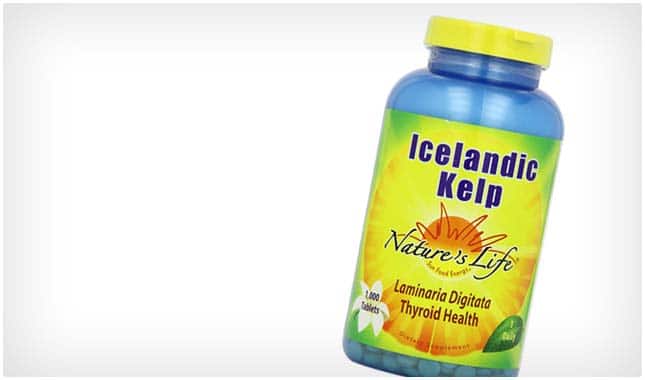 2. Icelandic Kelp
Icelandic Kelp comes in second,but is pretty interchangeable with the top ranking Norwegian Kelp, also delivering 225 micrograms of Iodine. It contains alfalfa, as well as some Calcium so you're getting additional nutrients along with the Iodine. The kelp used for this supplement is said to really come from waters near Iceland. After the kelp has been processed it is then combined with alfalfa leaves.
Nature's life has a strong reputation for putting out quality products, and they offer a wide range of health and nutritional supplements. When it comes to getting a quality Iodine supplement, the ingredients used matter greatly. If you'll be using this daily you don't want to put anything into your body that is made with questionable ingredients. That's why they ranked so highly on our list.
Key Highlights:
Pesticide and herbicide-free.
Dairy-free.
Approved for vegetarians.
One tablet needed per day.
8 month supply for $6
More details: Icelandic Kelp by Nature's Life
[hr]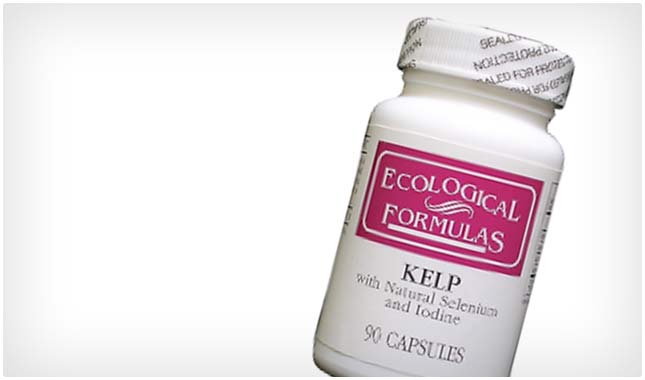 3. Kelp with Natural Selenium and Iodine
Here is an Iodine supplement that provides the recommended daily value of Iodine, 150 mcg per capsule. It also contains selenium, which is associated with healthy thyroid function. It's somewhat unusual to see a kelp supplement contain anything other than Iodine in the way of thyroid benefits, so you are getting a sort of double benefit here, especially if you're concerned with thyroid health.
After doing our due diligence and talking to the folks at Ecological Formulas, we were impressed that they're doing business the old fashioned way. They've been in business for two decades now and still do a bulk of their business through the phone and through other retailers, and don't really have a website of their own to speak of. It may be a little old fashioned, but we found it endearing.
Key Highlights:
One capsule daily for most cases.
Free of common food allergens.
Selenium can help an underactive thyroid.
3 month supply for $9
Ecological Formulas has been in business for 20 years.
More Details: Ecological Formula Kelp with Natural Selenium and Iodine
[hr]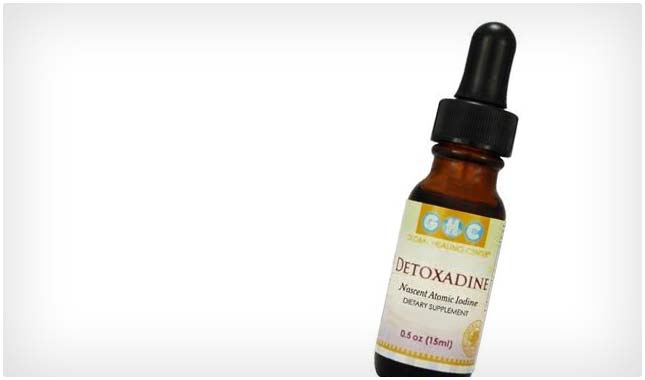 4. Detoxadine
Here's an offering that isn't kelp-based, but still contains enough Iodine to correct any shortage you may be experiencing. This is a nascent Iodine supplement, and in addition to being able to help you with your thyroid, they say it can help to boost your immune system, and even help with radiation exposure, if you feel that this is factor in your life. The production standards behind the product are very high, and justify the higher prices you'll see.
Global Healing Center offers a wide variety of health and detox products, and covers everything they sell with a 180-day money back guarantee. From our experience they produce quality products at reasonable prices, with fast and cheap shipping. This is a good choice for those looking for an alternative to kelp supplements.
Key Highlights:
Not tested on animals.
GMO-free.
Suitable for Vegans.
Gluten-free.
Covered by 180-day money back guarantee.
More Details: Global Healing Center Detoxadine
[hr]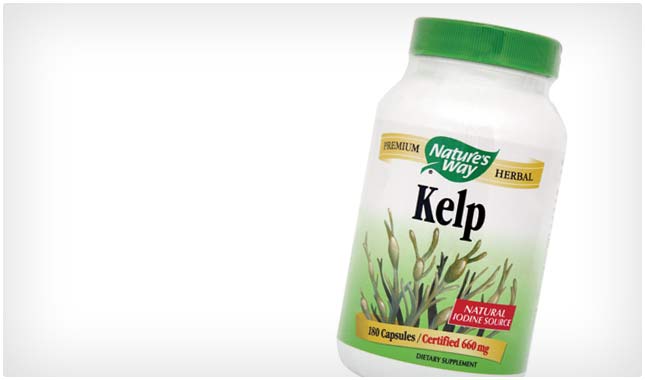 5. Nature's Way Kelp
Nature's Way produces a wide variety of different health and nutrition supplements, and they seem to have nailed it when it comes to a quality Iodine product. It provides plenty of Iodine, while keeping sodium count low, even though this it relies on a sea vegetable as the source. Because of their solid reputation you can be sure this really contains kelp and Iodine.
You can't ignore the high ratings this gets from real users, and it's not just for this product, Nature's Way gets fanatical reviews for most of their product offerings. And it's the kind of high praise that companies dream of, with thousands of customers coming back to give their opinion on it, and most of them saying how great it is. This is important when you are considering a nutritional supplement because you're trusting your health to it.
Key Highlights:
Kelp sourced from deep ocean waters.
Consult with your doctor before using.
6-month supply for $6.
Nature's Way has been in business over 40 years.
More details: Kelp by Nature's Way
[hr]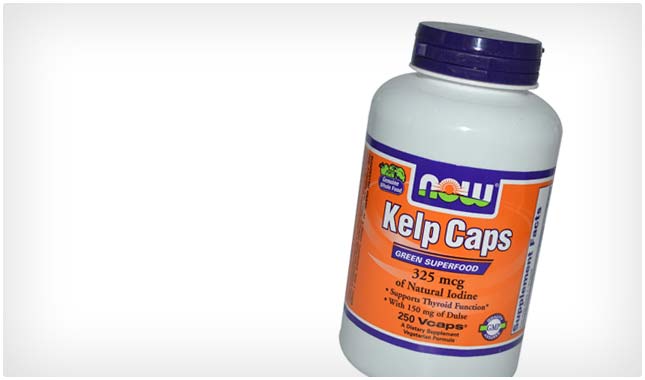 6. Kelp Caps
NOW Foods has a long and steady reputation for putting out quality nutritional supplements, so you'd expect nothing but the best in regards to the type of ingredients being used. Another factor that weighed heavily is that because of their strong track record you don't have to wonder if it contains what they say it contains.
These deliver 325 mcg of natural Iodine per serving, which is more than most people need, especially if the deficit they're experiencing is very slight. In fact, before starting with a supplement like this you'll want to be sure that you indeed are running a shortage, because this can quickly put you over to the surplus side of the equation, which comes with its own share of problems.
Key Highlights:
One pill taken daily.
Suitable for Vegans.
Made with dulse.
8-month supply for $10
NOW Foods has been in business since 1968.
More details: Kelp Caps by NOW Foods
[hr]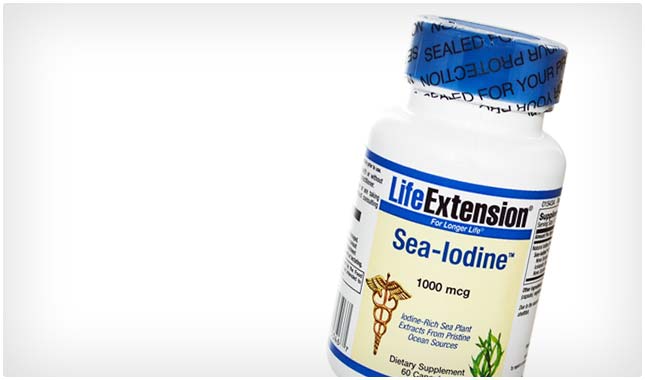 7. Sea Iodine
For those running a severe shortage of Iodine, or who have been told that their body has a hard time absorbing Iodine. With plenty more than the recommended daily value, you'll have more than you need as long as you're processing it correctly. While the ingredients on this are high quality, you'll want to check with your doctor before you begin using this to see if they recommend such higher levels.
You might notice that compared to other Iodine supplements on our list that this one is a bit more pricey. This is one reason why it didn't rank higher, because there are others that have just as good ingredients, but clock in at a better price, and contain reasonable amounts of Iodine. However, for those that require larger doses, this is an excellent choice and get favorable reviews from users.
Key Highlights:
Made with Nova Scotian and Icelandic Kelp.
May contain shellfish, not for use by those with shellfish allergies.
Proprietary formula.
2-month supply for $8.
Life Extension makes a wide assortment of nutritional supplements.
More details: Sea Iodine by Life Extension
[hr]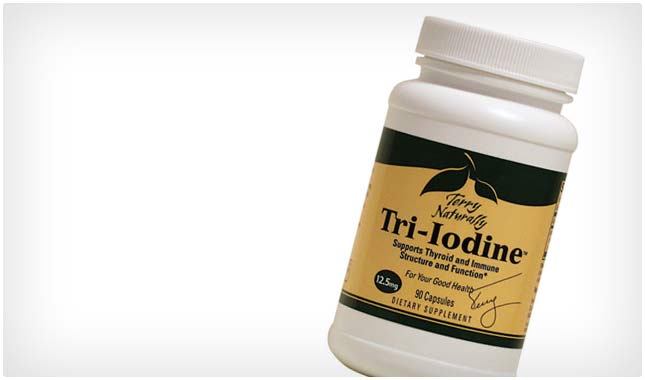 8. Tri-Iodine
The major benefit touted by Tri-Iodine is that you're getting 3 different types of Iodine so your body is benefiting from different forms of this essential trace element. The three sources include potassium iodide, sodium iodide, and molecular iodine. The total dosage is far more than what is typically recommended as a daily requirement, so you'd only want to take these on the advice of your healthcare practitioner.
The reason it made out list is because of the quality of the ingredients, and the fact that it's manufactured with the end user in mind. For this reason, what it doesn't contain is just as important as what it does contain, with no sugar, dairy, corn, or wheat for those looking to avoid these ingredients. It is also free of artificial ingredients.
Key Highlights:
Supports the adrenal system.
Can be used to support weight management.
Helps with metabolism.
Helps the immune system.
EuroPharma is a partner company with EuroMedica.
More details: Terry Naturally Tri-iodine
[hr]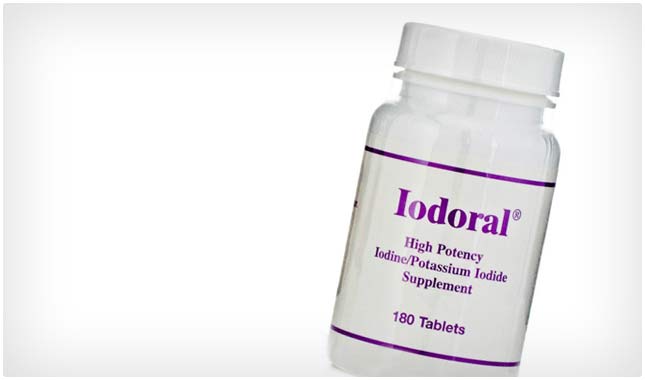 9. Iodoral
Iodoral makes no apologies for containing a massive amount of Iodine. In order to get behind this supplement you'll have to buy into their theory that the human body needs more Iodine than what is commonly thought of as enough. If you can get your mind around the, it makes for a great choice, and is favored by many users.
The makers of Iodoral challenge the idea that the Recommended Daily Value of Iodine is accurate. They state that it was set in order to prevent basic problems with Iodine deficiency like goiter and hypothyroidism, but that we haven't yet determined what healthy levels should be. They point to the Japanese as an example of a healthy society that consumes far more Iodine than many other parts of the world.
Key Highlights:
Contains both Iodine and Potassium Iodide.
Contains far more Iodine than the RDV.
Follows Lugol's Iodine, but in tablet form.
A book is available talking about Iodine and its importance.
More details: Optimox Iodoral
[hr]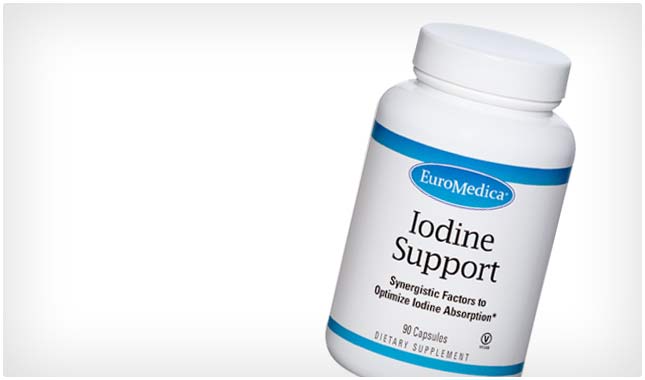 10. Iodine Support
This is an interesting offering, and one that can be taken in conjunction with Tri-Iodine from EuroMedica. Rather than focusing on delivering a bunch of Iodine into the system, it's main purpose is to help your body use and absorb the Iodine you do take. This could make it an important supplement to use with any of the brands on our list here, especially if you have found that you are not absorbing Iodine very well for any number of reasons.
Key Highlights:
3 capsules per day.
Built to help you absorb the Iodine.
1-month supply for $20
EuroMedica
More details: EuroMedica Tri-Iodine
[hr]
With so much contradictory information out there on Iodine supplementation, here are answers to some of the most common questions about supplementing with Iodine.
What do Iodine supplements do?
Iodine supplements are meant to fill in any gaps in how much you're supposed to have each day, and how much you're actually getting from the foods you're eating.
Can I take Iodine supplements while pregnant?
Many prenatal vitamins don't contain Iodine in them, so if your doctor has told you you're running a deficiency, don't assume that you're covered with a prenatal. Be sure to check if yours does, and if not consider supplementing with an Iodine supplement recommended by your doctor.
Do vegans need Iodine supplements?
Vegans stand perhaps the most risk of running a dietary deficiency of iodine because they're avoiding eating foods that typically contain it such as meat. Kelp supplements might not be an option for them since trace amounts of shellfish and other animals could be present. It's best to check the label of any Iodine supplement you're considering to see if it's Vegan-friendly.
Can Iodine supplements be harmful?
The overriding thought is that taking too much Iodine can be just as detrimental as not getting enough. There are some opinions that go against conventional wisdom, and say that the RDVs for Iodine are set too low, and the human body needs much more than what is being recommended. Studies have shown that getting too much Iodine can make your thyroid over productive, which is not wanted, and can be harmful.
Do Iodine supplements increase metabolism?
Some Iodine supplements are marketed as helping with weight loss and supporting the metabolism. A properly functioning thyroid will help you maintain a healthy weight, and give you more energy. If you have been told that you have an under performing thyroid gland due to a deficiency of Iodine, you may notice an improvement in your metabolism by taking Iodine supplements.
Can Iodine supplements cause diarrhea or constipation?
Some of the side effects of taking too much Iodine is that you may experience either constipation or diarrhea. That's why it's best not to start taking them unless you have been specifically told that you are short on this essential trace mineral. It's hard for many to run a shortage, so don't assume that you are low.
Do Iodine supplements raise blood pressure?
Taking too much Iodine to the point of overdosing on it can lead to an increase in blood pressure. It's best to consult with your doctor before starting any Iodine supplementation regimen.
Can Iodine supplements cause hyperthyroidism or hypothyroidism?
Supplementing with Iodine can be tricky business because you want to avoid running an Iodine deficiency, but don't want to get so much Iodine that you're running a surplus. You have to find that "just right" spot where your needs are being met on a daily basis. Too little Iodine for a long period of time and you may experience hypothyroidism. Too much taken over a long period of time and you may find that you have hyperthyroidism. That's why it's a good idea to only supplement with the supervision of your physician.
Should Iodine supplements be taken with food?
In many cases it is recommended to take Iodine supplements with food, as this will be a more natural way to get the minerals into your system. If you are taking a kelp supplement you'll find that it's best to take it with food so that your body can process it along with the meal you're eating.
Do Iodine supplements help you lose weight?
A natural byproduct of a properly functioning thyroid is that you'll be able to get to and stay at your natural weight. If you are currently heavier than what you naturally should be, you may notice that getting the right amount of Iodine will help you naturally get to where you should be. This is all assuming that you haven't been getting enough Iodine on an ongoing basis.
How long do Iodine supplements stay in your system?
Your body has a daily need for Iodine, and it's not something that you can stock up on or store in your system. That's why you want to first try to get it from the foods that you're eating, and only take a supplement if you feel that you haven't consumed enough foods to get you to where you need to be.
How fast do Iodine supplements work?
If you've been running low on Iodine, a supplement will fix that shortage the same day you use it. But the benefits of having proper Iodine levels will be most apparent after several days or even weeks. The body takes time to realize that there is no longer a shortage. You might also not see any visible or noticeable benefits when taking it.
Can taking Iodine be dangerous?
Taking too much Iodine can actually act to worsen your thyroid health, which is why it's vital to make sure that you get your levels checked first to see if you are running a shortage, and not simply assume you are.