An apple a day keeps the doctor away and a big piece of dessert can put a smile on your face! So why not combine the two? While apples certainly make for a delicious snack on their own, a little TLC can transform this popular fruit from ordinary to extraordinary.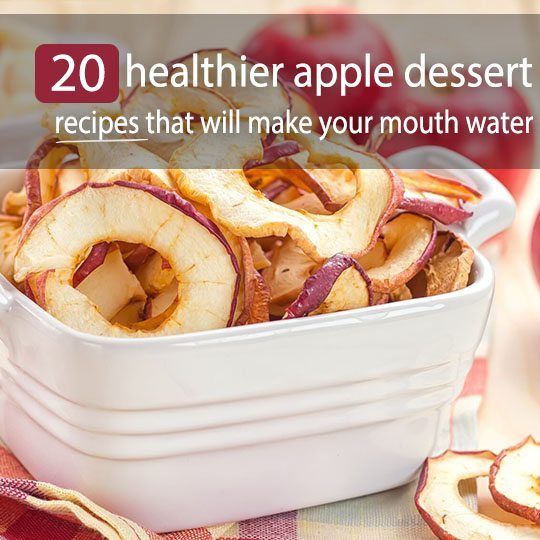 ---
Apple Nutritional Facts
Along with being a tasty and very versatile fruit, researchers have linked apples to some impressive health benefits such as improved heart health, lower risk of diabetes, good gut bacteria, strong bones, boosted brain health, and even weight loss. Apples also contain compounds that have been known to fight cancer and asthma. All of these health benefits are thanks for apple's rich nutrients. Here are some quick facts for you based on one medium apple:
Fat: 0.3 grams
Calories: 95.
Carbs: 25 grams.
Fiber: 4 grams.
Potassium: 195 mg
Protein .5 grams
Vitamin C: 14%
Vitamin K: 5%
Manganese, copper, and vitamins A, B, and E: Under 4%
While we don't typically view dessert as the nutritional part of a meal, snacking on one of these 20 treats is way healthier than a pack of store-bought cookies, processed ice cream, or refined sugar-filled cake.
---
No-Bake Healthier Dessert Recipes
1) Apple Cookies – These crisp apple slices are smothered with nut butter and then topped with shredded coconut, walnuts, and chocolate chips. As is, this recipe is loaded with fiber from the apple, healthy fats and protein from the nut butter, and extra vitamins from the toppings. Get creative and play around with toppings, though, to make this treat your own unique creation. Some other healthy topping ideas include chia seeds, hemp seeds, sunflower seeds, almonds, homemade granola, and sliced strawberries.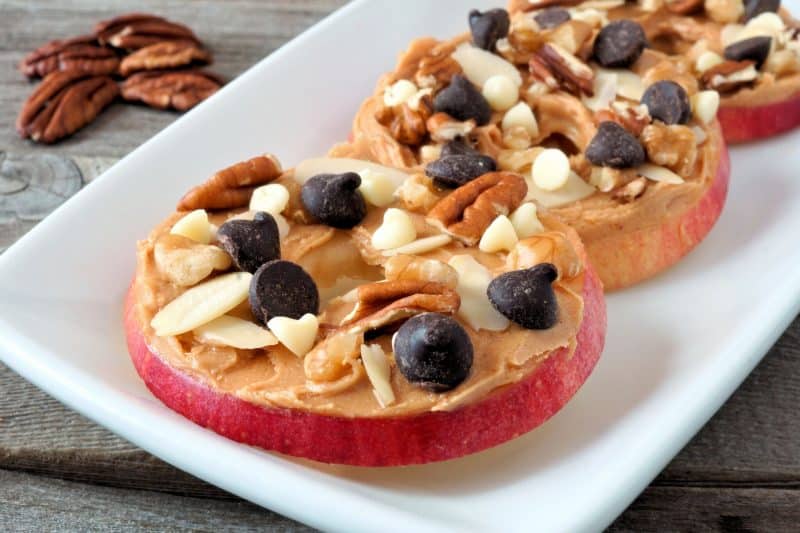 2) Apple Nachos – A plate full of nachos is always fun. Well, except after you're done eating them and you're left with a bloated stomach and sluggish feeling. If you're looking for a healthier nacho alternative for your next tailgate or watch party then try these apple nachos. Rather than greasy chips, the base is nothing but fresh apple wedges. You also replace that fake, processed cheese with melted peanut butter. Then, instead of fatty beef topping, you'll sprinkle a few chocolate chips on top of your "nachos" to bump up the sweet factor! Have some fun and add sliced berries too. Overall, this dessert is super simple to make, delicious, and healthy.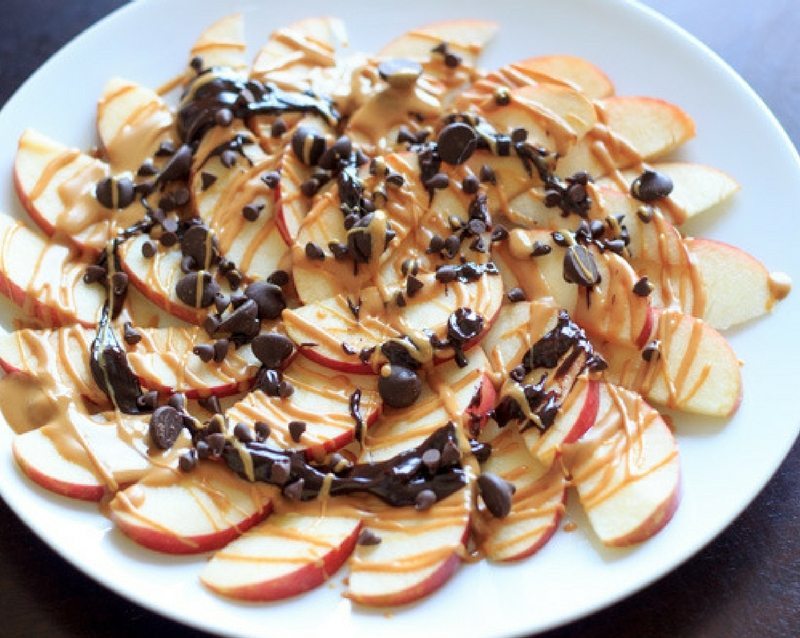 3) Apple Cinnamon Cookie Energy Bites – Energy bites are typically viewed as a wholesome snack idea, but they also make for a great dessert too. This no-bake treat is perfect for all ages. They're made from fiber-rich oats, flaxseeds, cinnamon, protein-packed almond butter, vitamin-rich honey, and vanilla extract. Seriously, that's it! Just mix all of the ingredients together, roll into little balls, and pop them in the refrigerator. Enjoy them when you're ready for a sweet treat!
4) Apple Slice Pops – These chocolate and caramel apple slice lollipops are a fun twist on the fall classic, but they're way easier to eat. One look at this recipe, though, and you'll know it's somewhat high in sugar. For that reason, I wouldn't recommend eating these pops every day, but they definitely made for a healthier every-now-and-then dessert idea.
Make this treat even better for your body ditch the refined-sugar filled milk chocolate and opt for dark chocolate instead. More specifically, look for dark chocolate with at least 70% cacao content. The higher the cacao content, the more likely you are to reap the health benefits such as improves heart health, reduced stress, boosted brain health, and good gut bacteria! Wait … chocolate has health benefits?! YUP! That's mainly because chocolate is rich in two compounds: flavonoids and theobromine. Adding milk, sugar, and butter to chocolate, though, can counterbalance some of the potential positive health effects. That's why opting for dark chocolate is a better idea!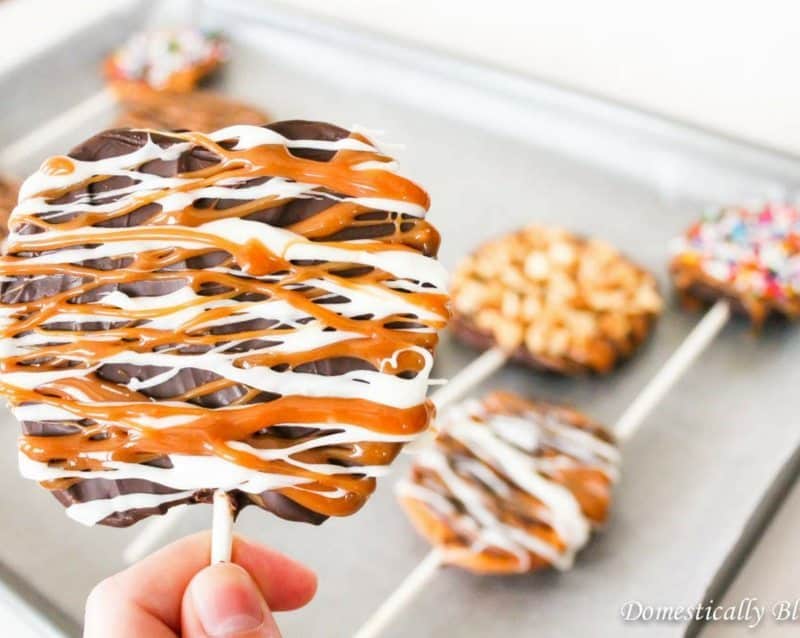 5) Samoa Girl Scout Apple Cookies – Okay, so I wouldn't go so far as calling this recipe "healthy," but it's definitely way better for you than the original girl scout version. It's simply apples cut into rounds, coated with a caramel/coconut chip mixture, and topped with a melted chocolate drizzle (again, opt for dark chocolate to make this recipe a bit healthier). So next time girl scout cookie season comes around and you're yearning for a box of processed Samoas, reach for an apple instead!
6) Apple Pie Chia Seed Pudding – Apple chia seed pudding is not only delicious, but it's also nutritious. We already went over the health benefits of apples, so now let's talk about chia seeds. This superfood is rich in fiber, Omega-3 fatty acids, protein, vitamins, and minerals such as calcium, phosphorus, potassium, zinc, and magnesium. Researchers say, thanks to these nutrients, chia seeds can fight free radicals, boost energy, support heart health, support healthy digestion, help build muscle, and aid weight loss!
7) Sugar-Free Apple Pie Chia Seed Jam and Parfait – This parfait recipe is very similar to number six but way crunchier. So if you're craving a crunch, this recipe is perfect for you. It's also gluten-free, oil-free, refined sugar-free, and soy-free. You know what that means, right? I'll take two, please!
8) Apple Pie Protein Ice Cream – Hands down, ice cream is one of the best desserts of all time. It's one of those foods that bring back childhood memories and always seem to bring a smile to people's faces. The only problem is, ice cream isn't so waistline friendly. That's where "nice-cream" comes in handy! It's basically a homemade, healthier version of ice cream made from frozen fruit. This dairy-free "nice-cream" recipe calls for a banana, unsweetened applesauce, almond butter, protein powder, almond milk, and spices. So dig in without all the guilt.
Note: Since this is not true ice cream, the recipe's creator warns that it will freeze solid if left in the freezer for longer than a few hours. So it's best to eat it a couple hours after you make it.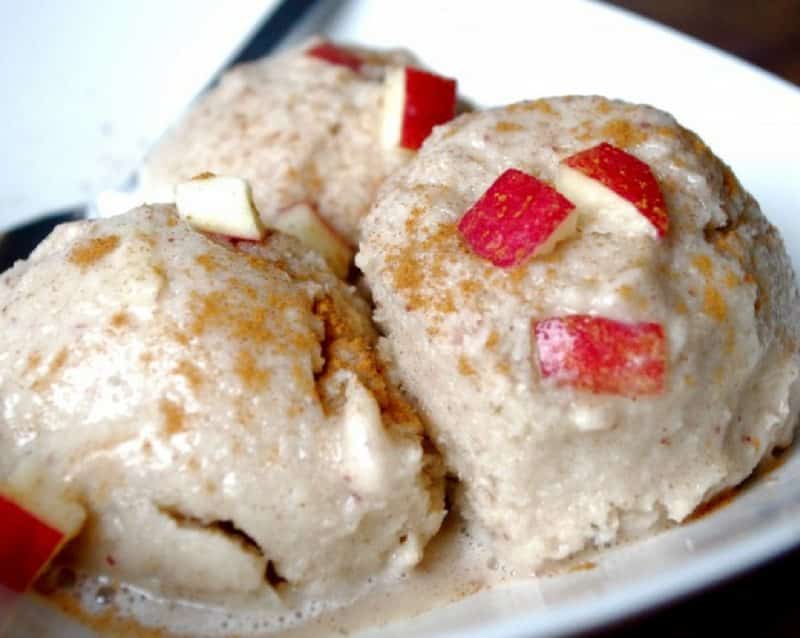 Baked Apple Dessert Recipes
9) Cinnamon Apple Chips – Are you someone who craves a good crunch? You know – the type of person whose pantry is loaded with crispy chips or healthier chip alternatives? If so, you are going to love apple chips. While you can easily make these in a dehydrator, this recipe shows you how to make apple chips right in the oven. So no fancy equipment is needed here.
Note: If you scour the internet, you'll find a bunch of food bloggers who have made apple chips. While some add refined-sugar to their apples before baking, this particular recipe only calls for cinnamon. If you need more sweetness, you can always add a little stevia or coconut sugar.
10) Apple Pie Baked Apples – This dessert definitely deserves a spot on your Thanksgiving table. It's basically a baked apple with apple pie filling. There's even a mini crust on top to cover the apple and make it look just like a mini-apple pie. While this picturesque recipe is downright delicious, it's actually not as bad for you as you may think. First things first, the base is nothing more than a wholesome apple. The filling is made from cooked apple pieces, cornstarch, cinnamon, and sugar. While there's a moderate amount of sugar in this recipe, you can always swap out the refined stuff for coconut sugar (you may even want to experiment with some raw honey)! There is a teaspoon of regular milk in this recipe, but if you're dairy free you can simply swap it out for a dairy-free milk. Even if you decide to follow the recipe exactly as is, though, it's way healthier than your traditional apple pie.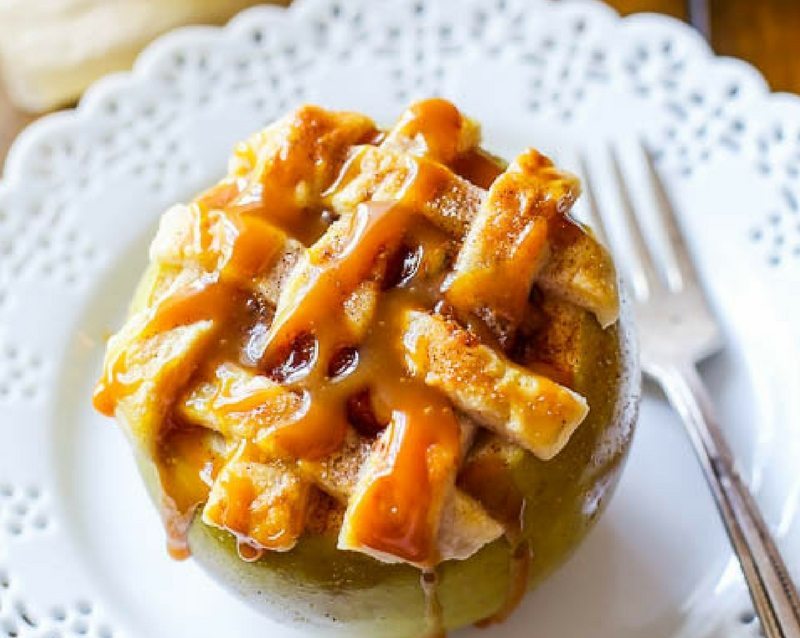 11) Best Baked Apples – Who else grew up eating baked apples in the Fall? I used to love the days when my mother would core, fill, and bake the apples until they turned into mush. I'm drooling just thinking about them. The only problem is – my mother would sometimes fill the apples with cream soda. Did anyone else do that? Since you already know that soda is a drink we're better off avoiding, why not try this recipe that uses pure apple juice instead?!
12) Apple Pie Oatmeal Cookies – If you're okay with gluten, then follow this recipe as is (if not, just swap out the whole wheat flour for a gluten-free flour). This recipe calls for instant oats, whole wheat flour, baking powder, cinnamon, salt, butter, an egg, vanilla extract, agave, and diced apples. Again, the key word here is "healthier" dessert option. You still don't want to sit around eating 10 of these cookies every day and expect to fit into your pants in a few weeks. But, the oats in this recipe provide you with a nice amount of fiber and protein. Cinnamon also offers some impressive benefits such as: improves metabolism, fights inflammation, and helps brain function (just to name a few).
13) Spiralized Apple Crumble – Spiralized anything is all the rage right now and serving a dish of curly apple noodles with a humble crispy crumble layer on top is a huge dessert hit. This dish takes around 10 minutes to prep, 40 minutes to bake, and about 5 minutes to eat and enjoy!
Quick tip: As long as you have an organic apple – one that hasn't been sprayed with pesticides – then leave the skin on before spiralizing. The apple's skin is loaded with fiber and other good-for-you nutrients.
14) Apple Maple Blueberry Crisp – Let me start by saying this crisp is both dairy-free, gluten-free, and refined sugar-free. So it's perfect for the sensitive and healthy eaters in your life! To make this dish even more perfect for Fall, it's sweetened with pure maple syrup, coconut nectar, and coconut oil.
15) Gluten-Free Apple Pie Protein Bars – So these protein bars are a great breakfast replacement or in-between meals snack, but since they're sweet they can also be a nice dessert option (especially if you just finishing eating a meal that was lacking protein). These homemade gluten-free apple pie protein bars are made with coconut flour, protein powder, and almond butter. The top layer is all apple and cinnamon. Doesn't that all sound yummy?!
16) Paleo Apple Muffins – If you follow a Paleo Diet (AKA the Caveman Diet), that means you avoid grains. But just because you eat grain-free doesn't have to mean you have to eat muffin-free! These Paleo Apple Muffins are made with almond/coconut flours and a handful of other wholesome ingredients. Of course, you don't have to be Paleo to dig into this dessert.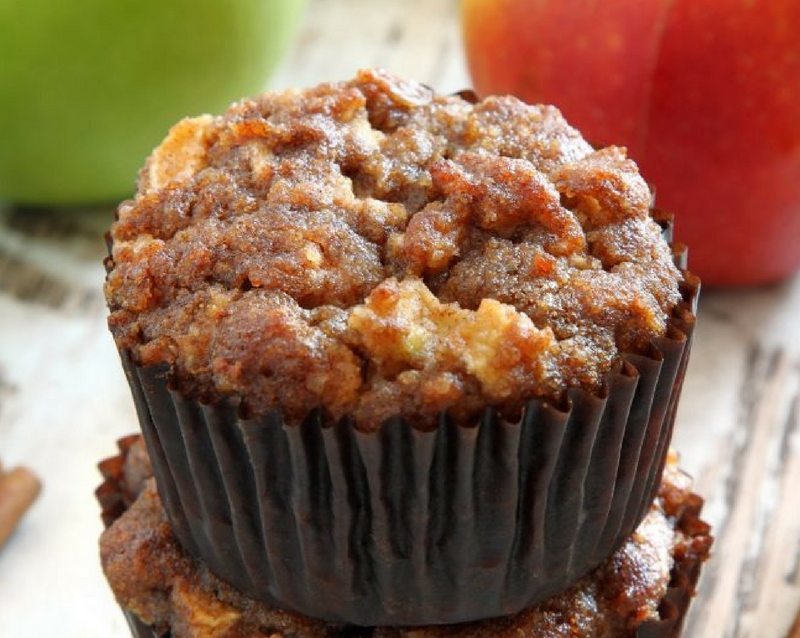 17) Four-Ingredient Apple Pie Blondies – Judging by the name, you can probably guess that you only need four ingredients to make this delicious dessert, and you probably have them in your kitchen right now. Along with being an easy recipe, these blondies are also refined sugar-free, oil-free, and butter-free. A little natural applesauce and nut butter help to make this treat soft and fudgy.
Smoothies
18) Apple Pie Protein Smoothie – This smoothie is perfect any time of year. While the flavors taste like Fall, it's also cool and refreshing for Summer. Simply toss a few apples, some frozen banana slices, Greek yogurt, almond milk, and classic apple pie spices into a blender, and voila. This smoothie is loaded with fiber, healthy fats, and protein!
19) Detoxifying Green Apple Smoothie – Who says a green spinach, kale, lemon, and apple smoothie can't be dessert? Following a heavier dinner, this actually seems like a perfect finish. It's light and refreshing. Also, the recipe calls for honey so there is a tad bit of sweetness to it too.
20) Fruit Smoothie – Since this smoothie is both sweet and thick it acts as a good ice cream replacement. Unlike real store-bought ice cream, though, this smoothie is dairy-free and refined sugar-free. The fruit also offers antioxidants, vitamins, and minerals that help the body thrive. Additionally, a little Greek yogurt bumps up the protein value of this drink.