Desserts often get put on the Do Not Eat list when you're trying to lose weight. But you don't have to forego the occasional sweet treat, especially if you have a sweet tooth. Denying yourself simple pleasures is a sure way to sabotage your efforts. You're not a robot so don't be so hard on yourself and have a sweet yet healthy dessert now and then for your best chance at success.
[hr]
Parfait
Like Donkey says to Shrek, "Parfaits are delicious!" They are, but many times they can also add to the number on the scale. However, these parfait creations are made from wholesome ingredients on each layer. Enjoy!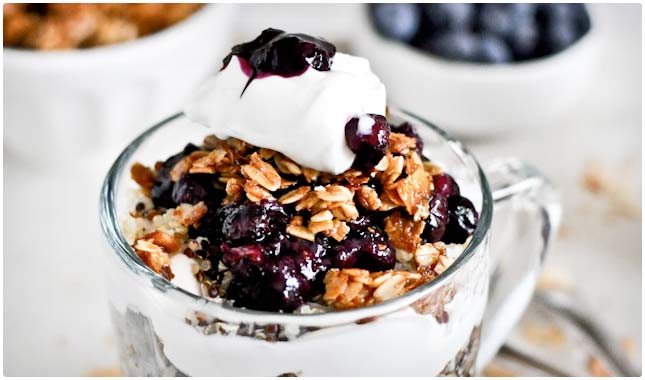 Photo: How Sweet It Is
Roasted Blueberry Coconut Quinoa Parfaits – Blueberries provide enough antioxidants to make this a healthy dessert option, but there's also a nice mixture of other ingredients to make a even stronger case to have this. The quinoa provides texture and additional vitamins and minerals, the coconut milk will provide healthy fat, and there's also Greek yogurt in play here for some added protein.
Orange Chia Pudding Parfait – This parfait uses chia seeds to give it some extra fiber and omega-3. You're also getting a layer of fresh berries which is going to give you plenty of antioxidants. Banana joins the party so you'll have additional fiber as well as a good dose of potassium. Fresh squeezed orange juice means you'll top up on your vitamin C and have nicely balanced dessert.
[AdSense-A]
Two Minute Apple Pie Parfaits – If you want the taste of apple pie without the time it takes to make one from scratch, this will get you there. They're keeping the ingredients simple, and using a microwave to get it under the two minute marker. There's also a recipe to make your own granola so you can have more quality control. They say to serve it with ice cream so consider using one of our ice cream recipes found on this list.
Oatmeal Peach Parfaits – The oatmeal won't have you thinking about breakfast here, and this parfait is a great anytime dessert. They break this up into a few different recipes, showing you how to make spiced peaches, providing a recipe to make healthy granola, and then helping you to layer it all so it looks great and tastes the way it should.
Cherry, Walnut, and Honey Parfait – They recommend using nonfat Greek yogurt here, which is a good idea if you want to keep the taste up while keeping the fat content down. Cherries are a real superfood, and honey will provide the sweet without resorting to artificial sweeteners or sugar. Walnuts are one of those nuts that give you good fat that actually helps you to lose fat rather than make you fat.
[hr]
Peanut Butter
Peanut butter is often used in desserts, and often mixed with chocolate. The nice thing is that peanut butter by itself is pretty much a superfood, so as long as you keep the other ingredients in line you're on your way to a healthy dessert.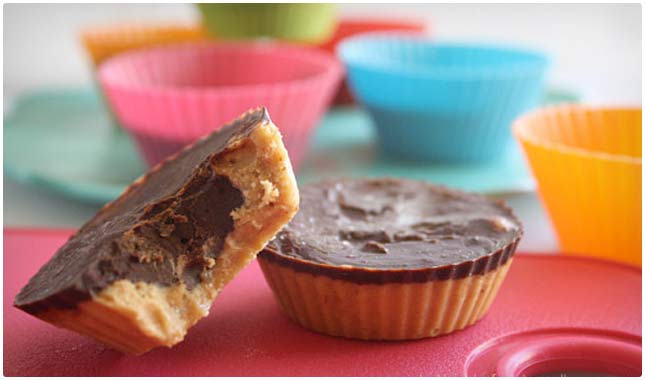 Photo: The Healthy House & Home
Healthy Peanut Butter Cups – Reece's might have a problem if these peanut butter cups catch on. They pack a ton of flavor, but are mindful of your weight loss pursuit. They walk you through the benefits of each ingredient used, and have focus on using organic and all-natural ingredients where possible so you can avoid all of the chemicals and lab-created fats that come in store bought chocolates.
Low Carb Whipped Peanut Butter Fudge Recipe – What's better than fudge? Fudge without the carbs, and with peanut butter added. They've got this whipped up so it has a nice consistency and they're trying to keep it as healthy as they can, even suggesting that you use sea salt instead of regular table salt. It's also pretty flexible, allowing you to add your choice of different ingredients including fruit, nuts, or coconut.
Peanut Butter S'mores Baked Doughnuts – S'mores in doughnut form and without frying? Genius! This is one donut you don't have to walk away from, since it's never seen a fryer, and it's using as many wholesome ingredients as possible. The peanut butter provides a bit of protein and healthy fat, unlike most donuts that contain no protein and large amounts of fat. It's a way to avoid a trip to the local donut shop.
Peanut Butter and Jelly Bars – They might not have the Oreo stamp on them, but these cookies pack a peanut buttery, chocolatey taste that will satisfy your craving for America's favorite cookie. The use of coconut butter and coconut sugar really help to keep these healthy, but you will still want to watch your portion sizes, so make sure you've got plenty of friends and family around to help you eat these. Bonus: no dairy!
Chewy No-Bake Peanut Butter Dark Chocolate Granola Bars – If you want a dessert that doesn't involve firing up the oven, these may be an option for you. Dark chocolate provides you with antioxidants and is becoming more and more of a health food in recent years. The use of peanut butter automatically adds good fat and a bit of protein. And the granola gives this a nice crunchiness so you feel full and satisfied when you're done with this bar.
[hr]
Brownies
What's more desserty than brownies? They're decadent, they're chocolatey, they make the house smell great. The only problem is that traditional brownie recipes will go straight to your hips. These recipes, however, swap out offending ingredients for healthier options.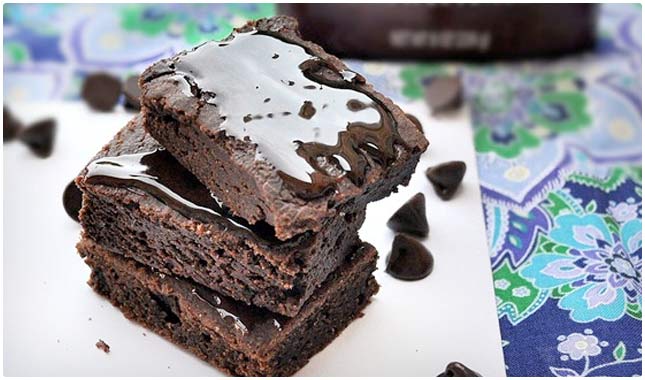 Photo: Chocolate Covered Katie
Healthy Fudge Brownies – Usually you don't see the word healthy paired with fudge brownies, so we had to look more closely at this recipe. She's using tofu to give it that classic brownie consistency, and there's applesauce mixed in there as well for sweetness. It's best to use organic applesauce to make this even better for you. We're pretty confident this will satisfy your brownie craving, and the best part is you won't feel like you're eating diet food.
100% Whole Grain Strawberry Cheesecake Brownies – The interesting feature of this recipe is obviously the cheesecake topping it has. It's using whole grain flour to keep it somewhat healthy, and there's also Greek yogurt in there, so you're getting some added protein. There is cream cheese used, and some sugar, but when you considered that this is spread out between 24 brownies it's not enough to make you lament your choice to partake in a little dessert.
Skinny Fudge Brownies with Butterscotch Drizzle – Eating fudge brownies on the path towards getting skinny sounds like a contradiction, but they pull it off by using a pumpkin puree as the base, and only using enough sweet things to get the right flavor. They say to use Splenda but we'd say swap that out with stevia, an all natural sweetener. The topping is simply melted butterscotch, but you're using it sparingly so it shouldn't be an issue.
Luxurious (nut free) Saffron Brownies – For those with a nut allergy this is the brownie recipe for you. These take a unique approach to brownies, and incorporate a lot of seeds to the mix so you're going to end up with brownies that have a little different texture, but shouldn't be short on taste. This also calls for raw cacao, so you're not using milk chocolate filled with a bunch of preservatives and chemicals. The saffron cream topping is a nice touch.
Raw Brownie Chews – Here's a "brownie" recipe that uses just four ingredients and requires no baking. These are great if you want the taste of a brownie, but don't really care about whether they look like a brownie or not. The cocoa and honey provide chocolate flavor and sweetness, and the use of almonds and dates means this will appeal to Paleo dieters, gluten-free followers, and can even satisfy those that want to feel like they're eating raw cookie dough.
Healthier Double Chocolate Chobani Brownies – The use of vanilla flavored Chobani Greek yogurt means that these brownies will have a bit of protein, as well as plenty of flavor, and may just become your new dessert time favorite. The M&Ms in the picture are optional, so take them out if you're not on a free day, or leave them in if you're not going to make a big deal of it. Overall, you're getting less fat and calories than you would from traditional double chocolate brownies.
[hr]
Cake
Cake is one of those quintessential dessert recipes and is often paired with ice cream at birthday parties. These cakes are sans ice cream, and allow you to indulge without the next-day guilt. Just keep your portions in check.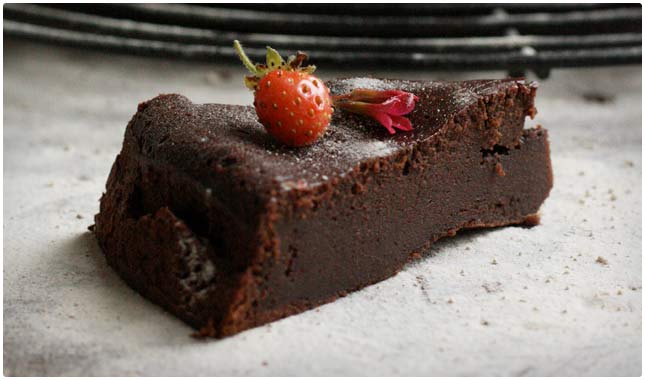 Photo: Cook Republic
Chocolate Fudge Cake – This cake simply looks to decadent for it to be healthy, but it's easy to see by the ingredients list that it fits the bill. It's using brown sugar and dark cocoa powder to provide the right taste, and it also has rice bran oil, so the end result is you'll get a nicely baked cake that comes out just right. The garnishing with figs and grapes only solidifies it's healthy status.
3 Ingredient Lemon Cake – We checked, and there really are only three ingredients. The way they pull this off is to use a cake mix. They say use Pillsbury but we'd recommend going with an organic cake mix so you know there won't be any strange-sounding ingredients in it. Aside from that you're looking at pineapple and some Greek yogurt so you are A-ok and good to go on this cake treat.
Peanut Butter Carrot Cake – The simple and wholesome ingredients that make up this cake will have you coming back to it in the near future. The peanut butter flavoring comes from, you guessed it, peanut butter, and the carrot comes from actual carrots. It's great when you can control the ingredients in your recipe and not be at the mercy of whatever someone wants to put in your cake. Honey provides the sweetness, and whole wheat flour keeps it healthy.
Healthier Chocolate Cake– You might be as surprised as we were to learn that they've figured out how to sneak Greek yogurt into this cake recipe. Overall they're using the right mix of ingredients to give you chocolate cake without the ruing.
Eggless Steamed Chocolate Cake – This is one of the more unique recipes we've seen for cake, taking out a staple of most cake, the egg, and cooking it without baking it. It's neat to be able to create a cake without using the oven, and great for those summer days where you don't really want to heat up the kitchen so much. You're left with a light and fluffy chocolate cake that won't derail your healthy eating efforts.
Sunflower Butter White Chocolate Chip Cookie Cake – If you're a sucker for white chocolate you'll immediately be drawn to this cake. It's part cake, part cookie, so it works on a few different levels. They're also announcing that it uses sunflower butter, so you're getting extra vitamins, extra protein, and a healthier type of fat. The result is you might just have to share more of this cake than you want to, but it's a definite friend-maker.
[hr]
Chocolate
Being on a diet that doesn't allow for chocolate is an equation that is doomed to failure. Whether you have to fit it in as a free meal, or eat it on a free day, chocolate cravings will usually trump will power. These recipes show you how to keep the damage to a minimum.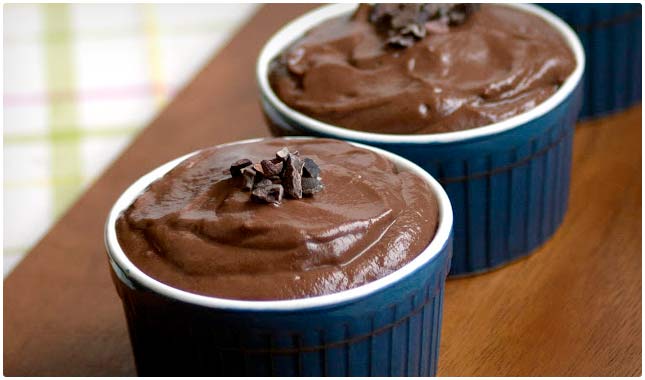 Photo: Almost Skinny Vegan Food
Chocolate Espresso Pots de Creme– This recipe uses six ingredients only, which includes cream, whole milk, and chocolate. The author uses only two tablespoons of sugar, so you'll be saving a lot of unwanted calories compared to other recipes. The result is a creamy and delicious chocolate dish that's easy to make and won't cause you to spend all day in the kitchen!
Honey Sweetened Chocolate Glaze Cookies – The dark chocolate used in these actually provides antioxidants, and more and more studies are showing the benefit of eating more of it. She's also gone to great lengths to keep the sugar count down on this, so you can have a cookie and not freak out, and can even have two if you've been especially good today. Raw honey provides the sweetness, and also provides additional health benefits.
Hot Chocolate Cream Cups – Oats and flax is a good start to these cups, and filling them with a creamy banana-based filling rounds things off. Even though they may look a bit sinful, on closer inspection you'll see that you're getting omega-3 from the flax, potassium and other nutrients from the banana, and fiber from the oatmeal. Vegan yogurt is another healthy ingredient, and you simply garnish with a few mint chips. Winner!
5 Ingredient Strawberry Fudge Truffles – Any time you keep your ingredient list short you're likely keeping things healthy as well. The impressive thing is that truffles usually have several different ingredients, so keeping it to five is quite a feat. They're relying heavily on coconut based products, using coconut milk, coconut butter, and coconut sugar. This gives you a different make-up of fats than with most dessert recipes, and provides a full-bodied flavor.
Healthy Chocolate Cheesecake Pancakes – These aren't just for breakfast, they taste so delightful that they can provide a much needed palate rescue if you've grown resentful of bland diet food. You'll satisfy your chocolate fix, and at the same time have something that's fun to eat. Of course you can still have these for breakfast, and the recipe creator says that it makes a great weekend breakfast. Cottage cheese gives these an added boost of protein.
Fruit and Nut Fudge – Here's a recipe that will catch the eye of gluten-free fanatics. It's also low in carbs, and relies on simple ingredients to get the job done. It may also appeal to many Paleo dieters, if they use dark chocolate and depending on how strict they're following. The use of nuts and fruits makes it easy to love this recipe, and you'll be getting sweetness from the fruit as well as the chocolate.
[hr]
Cookies
If you're a bona fide Cookie Monster you probably have trouble avoiding the impulse to buy them and eat them. If you absolutely must have a cookie a good compromise is to make them from scratch. These recipes will show you tips on how to keep them yummy but healthy.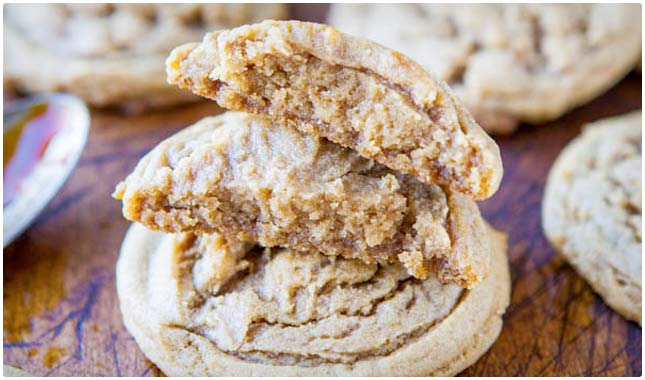 Photo: Averie Cooks
Soft Batch Dark Brown Sugar Coconut Oil Cookies – If you like your cookies soft and not hard and brittle like most of the kinds you find in the store, these are for you. They bake up soft, and they're using brown sugar instead of plain, and coconut oil instead of vegetable oil so you're keeping things on the healthy side of life. They don't contain any butter, which gives them a big advantage over other butter-infused cookies.
Guilt-Free Soft Sugar Cookies – Nearly every ingredient in these cookies has been altered to keep things light on the waistline. They even go so far as to use a replacement for eggs on this one. They weren't kidding when they said guilt-free. The frosting uses almond milk to cut out some dairy, and you're left with sweet and delectable cookies that you can have without spoiling your weight loss plans.
Chewy Cocoa Fudge Cookies – Here are cookies that give you the rich chocolate flavor of fudge, but in cookie form so it's easy to hold onto. Low-fat yogurt helps these come in under the limits, and they're also using coconut oil, not something you see too often in the world of desserts. But as far as flavor goes you'll be able to say you've had some chocolate because they've left that part of the recipe intact. You just can't beat chewy cookies!
Buckwheat Shortbread Hearts – You can keep these cookies gluten-free by just using gluten free flour instead of ordinary flour. The buckwheat does not contain gluten, even though it has what in its name. The chocolate used is dark, so it contains antioxidants, and the end result is cookies that not only look great but taste great as well. Serve with an herbal tea for a nice after-dinner treat or a midday snack between meals.
Healthy Pirate Cookie Copycats – They've removed all of the refined sugar from these cookies, so you're starting off on the right foot. They follow they up with peanut butter and coconut meat, and the sweetness comes in the form of date paste. Coconut oil is used for the oil, and they let you choose what kind of flour you want to use, which is important because many diets out there have an opinion on what type of flour is OK to use or not.
Black Bean Chocolate Cookies – Adding black beans into the mix is genius, and it means you're getting fiber in an otherwise low-fiber food item. You won't notice that these are beany because they simply look like regular chocolate chocolate chip cookies when you're done. The beans also give these a good texture, and the other ingredients like cinnamon and peanut butter contribute to the overall healthiness of this recipe.
3 Ingredient Peanut Butter Cookies – If you've got a peanut butter cookies recipe with only 3 ingredients you know that one of them is going to be peanut butter. The other two in this short list are honey and an egg. They pour a chocolate glaze onto them to make them look even yummier, and that also has 3 ingredients. It's up to you whether you want to add the chocolate on top, and you could simply eat the cookies bare to save some calories, or if you're trying to avoid chocolate.
[hr]
Ice Cream
If you've been dieting and have been missing ice cream that's a recipe for disaster. You've got to satisfy the ice cream urge rather than keep denying it. These recipes let you get the classic ice cream taste without having to start your diet over from square one.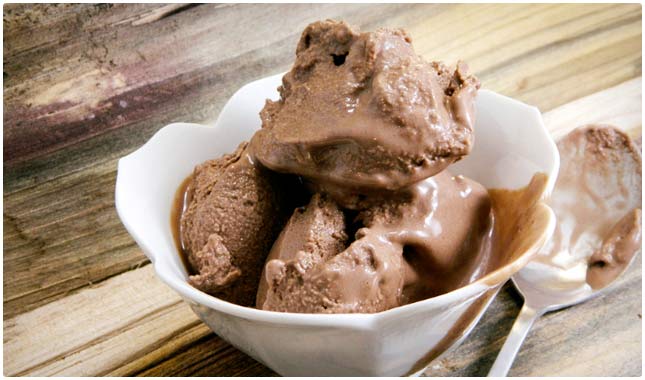 Photo: Eat Healthy
Deliciously Diet-Friendly Chocolate Soy Ice Cream – If you've tried soy ice cream that you bought from the store and you weren't impressed, you should try to make it on your own at home before you give up on it completely. This recipe has you using both soy milk and tofu, and has you keeping it sweet with stevia so you're not wishing that you had something with flavor. They're using a good amount of cocoa powder too so you won't be asking "Where's the chocolate?".
Apple Pie Protein "Ice Cream" – This is a gluten-free way to allow ice cream into your diet, without adding all of the negative ingredients it usually contains. They say that you can easily make this vegan as well, which would involve taking out the whey protein powder and using a vegan-approved powder in its place. You end up with a dish that looks like ice cream, and tastes, like ice cream, but packs more of a protein punch and doesn't use any cream.
Coffee Coconut Ice Cream – Many dieters try to nix coffee from their daily routine for all of the caffeine it contains, and all of the fat and sugar in the form of cream and sugar it has. This recipe is going to appeal to those that want their ice cream fix, and also want to get a buzz from some coffee as well. The simplicity of the steps involved is stressed, and this is using wholesome ingredients like coconut milk and raw sugar, so the quality control is there.
Simple 2 Ingredient Chocolate Banana "Ice Cream" – This is a quick way to make up a dish that gives you all of the features you want in a bowl of ice cream, without veering away from your diet, or loathing yourself later. It involves using a mix of both frozen and fresh bananas, and using cocoa powder for the signature chocolate taste. It's not really ice cream, because you're not using any cream. It's a dairy free way to get a cool and creamy treat, using the goodness of bananas as its base.
Fresh Mint Protein Gelato – If you want a cool and minty treat you don't have to look any further than this protein-filled gelato. The use of skim milk keeps your waistline in mind, and the mint comes from fresh mint leaves, so you're as close to nature as you can get when it comes to mint flavoring. They suggest artificial sweeteners, but you can go with stevia over other kinds since it doesn't contain chemicals like aspartame.
Kiwi Sorbet – Kiwi has a nice sweet natural flavor to it, so it lends itself well to an icy treat. This sorbet is nice because it's simply fruit and some honey with a little lemon juice. They walk you through the steps on how to get this right without the need of an ice cream maker. When you're done you have a smooth, fruity, sweet, and cold treat that's great for those long summer afternoons, and makes a fantastically healthy alternative to ice cream and sorbet you find in stores.
[hr]
Pies
Pie is an all-American favorite, but you don't want to eat the pies at your local diner. They're usually fattening due to all of the sugar and butter used to make them. These pies have a healthy twist, and you can have a slice without feeling bad about it.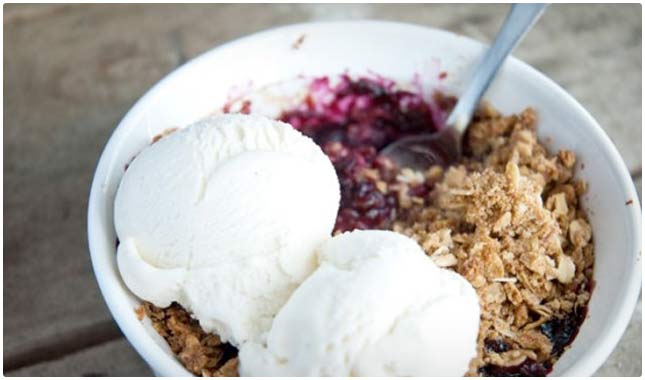 Photo: Knuckle Salad
Berry Oat Crumble – Frozen mixed berries make sure that this dish is swimming in antioxidants. They say you can serve it with ice cream, and we have some homemade ice cream recipes on this list that might pair nicely with it. The use of old fashioned oats means you're getting some extra fiber without adding much to the total number of calories. It's a crustless pie that will not leave you wishing you hadn't indulged.
Vegan Pecan Pie – Here's a gluten free way to make one of the more popular pies out there. No matter how you pronounce pecan the result will be the same: a yummy pie that you can whip up whenever you get the notion. Vegan means you'll be skipping the butter that usually goes into a pecan pie, and in it's place they're using margarine, but you can opt for coconut oil. There's also almond milk in this, for a nice flavor, and keeping it dairy free.
Pumpkin Chocolate Mousse Pie – If you thought desserts like chocolate mousse were out of the equation when you're trying to eat healthy, think again. Here's a pie that incorporates several different flavors and ingredients into one dish, and will surely having you make this more than once. Cinnamon and ginger help to rev up your metabolism, and pumpkin puree adds fiber as well as a bunch of flavor.
Apple Crunch Pie Apple Cups – These cups will win you style points if you serve them to company. They're definitely a novelty and are like an apple pie baked right into an apple. Since there's no crust on this pie you don't have to worry about the added calories and carbs from it, and this is mostly just apples mixed with a bit of butter and sugar to get the taste right.
[hr]
Vegan
The nice thing about vegan desserts is that you immediately know they won't be using cream and butter, as these are made with animal products and a no-no for the vegan lifestyle. You don't have to be a vegan to benefit from these amazing dessert recipes.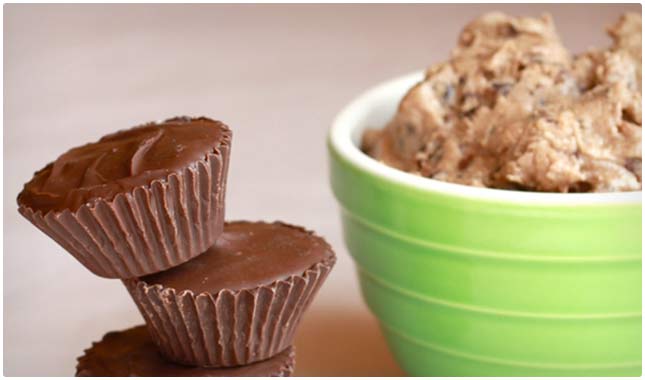 Photo: Half Baked Harvest
Chocolate Chip Cookie Dough Cups – This is a fantastic idea, putting chocolate chip cookie dough inside of a chocolate cup coating. No baking needed, and you're getting a lot of nutritional support from the nuts it contains, both from the cashews and pecans. Use dark chocolate to benefit from the antioxidants, and you'll get even more benefit from these yummy cups.
Chocolate Truffle Energy Bites – Dates are the secret ingredient to these poppable edible bites. They'll provide the energy mentioned in the title as well as keep your calorie count low. The chocolatey taste comes from cocoa powder, so no corners cut there. When it's all said and done these avoid using any butter or butter substitute, and you're left with a hearty bite that isn't bad for your heart.
Healthy No Bake Cookie Dough Bites – These are perfect for those that have been missing chocolate chip cookie dough. No ovens are used in the making of these bites, and they come out looking like little balls of cookie dough. But you don't have to worry about eating anything raw, or eating raw egg, because these don't have eggs in them. Just a short list of ingredients that are wholesome and tasty.
Raw Chocolate Dipped Strawberries – The main chocolate used here is dark chocolate, which contains antioxidants. When you've got a healthy food like strawberries wrapped in another healthy food like dark chocolate, you're going to end up with a winner. The white chocolate isn't chocolate at all so you've got to see this recipe to believe it. It's a tasty alternative to dipping your strawberries in the chocolate you buy at the supermarket.
Chocolate Power Balls – Flaxseed and honey give these the goodness of antioxidants. Chia seeds mean you'll be improving your digestive system without adding to your cholesterol levels and helping you to fly low on the fat radar. This recipe keeps things raw, and you'll be able to have a nice treat without beating yourself up for getting off of your diet plan.
[hr]
So don't give up desserts just because you're watching what you eat. It's simply a matter of switching the ingredients to incorporate more superfoods and wholesome foods that do your body good. It's a safe bet that any dessert here is better for you than what you'll find in the dessert aisle at your local grocery store or supermarket chain. Making them yourself allows you to be picky about what goes in your body.
Pair your healthy dessert with a super healthy dinner or some healthy soup.