The slow cooker can become your best friend if you know how to use it to make healthy and delicious meals. It's one of those things that you can set up before you head to work, and come home to an amazing-smelling kitchen and be ready to eat. Here are dozens of healthy slow cooker recipes that focus on simplicity, nutrition, and deliciousness.
[hr]
Chili
Chili lends itself quite well to a slow cooker, allowing all of the ingredients to get fully cooked and intermingle with each other. Here are some healthy chili recipes you can set and forget.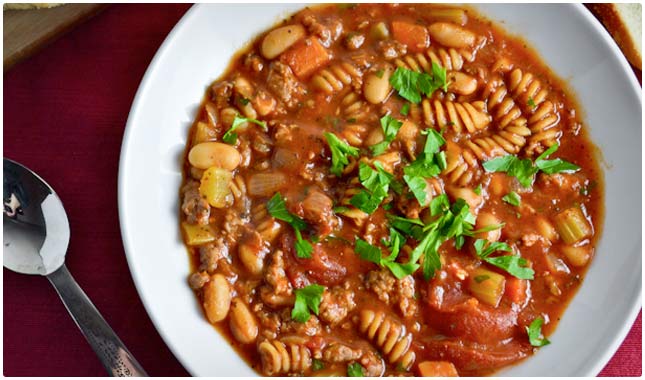 Photo: amyBITES
1. Slow Cooker Italian Chili – Here's a nice Italiano-style chili that gives you plenty of different flavors while respecting your waistline. They've included such classic ingredients as canellini beans, red wine, and garlic. There's also Italian seasoning, and turkey sausage cooked Italian style and spicy. The rotini pasta really puts the finishing touch on this chili that's sure to please.
2. Slow Cooker Quinoa Chicken Chili – Any time you add quinoa and chicken to a chill you're going to end up with a healthier version than if you're using ground beef and cheese. The nice thing is that the quinoa doesn't need to be pre-cooked, which saves time while adding more fiber and providing the other health benefits of quinoa. Corn and bell pepper help round out the meal and provide even more nutrients.
[AdSense-A]
3. Slow-Cooked Black Bean Chili – Black beans are a great food to start adding more of to your diet if you're trying to be more healthy. They add fiber, and help regulate blood sugar levels. They're low in fat, and are very versatile. Adding them to this slow cooker chili works because they'll cook up nice and tender and add a hearty flavor. Portabello mushrooms and tomatoes give it extra health benefits.
4. Slow Cooker Chicken Taco Chili – If you want chicken tacos but with the convenience of everything in one bowl, this recipe is for you. It has all of the things you'd expect from a chili, including plenty of beans, corn, and chili powder, but it also fuses together with all of the things you'd expect from chicken tacos, namely chicken and taco seasoning. They use skinless boneless chicken breast to keep it healthy.
5. Crock-Pot Buffalo Chicken Chili – Here's a taste sensation that's sure to please the men in the house. It gives the taste of buffalo chicken without the messiness of eating wings. It might not have the look of a traditional bowl of chili, but that's because they've added a bit of blue cheese crumbles to the top so you're getting the full wing-eating experience, without all of the fat of deep frying.
6. Mixed Bean Chili – Beans are a staple in most chili recipes, and here they get the main spotlight. Rather than make it hard on you by requiring separate cans of different beans, they say to just pick up a can of mixed beans. The other ingredients are pretty standard chili fare, with an emphasis on healthier options, and they've managed to keep it vegan. A secret ingredient makes it worth trying.
7. Slow Cooker Turkey Chili – By substituting out the typical beef that goes in chili, they're successfully making this more of a healthy option. Just be sure that the ground turkey you choose is lean. It will usually be labeled as such, and will have the American Heart Association sticker on it for the lean variety. The emphasis is on quick and tasty here, so it won't take long to put together this healthy chili masterpiece.
8. A Healthy Version of a Slow Cooker Chili – Here's a recipe that tries to healthify the standard chili we all know and love. They're using ground turkey for the meat, and they've got all of the regular players like pinto beans, onions, and corn. They cheat a bit by using a chili packet, and have opted to go with a two alarm variety for added spiciness. Can't fault them for going the easy route.
9. Slow Cooker Chili – The name might be a bit bland, but the chili won't be. Celery, carrots, and plenty of beans mean that you're getting all of the nutrients and vitamins you could want, and the array of spices insure that this is going to satisfy even the pickiest of palates. The addition of avocado on the top is a great garnish option, adding more flavor and supplying a good dose of healthy fat.
[hr]
Indian
Indian foods are typically easy to make once you get the hang of them, but using the slow cooker means that they're even easier. Here are a handful of healthy Indian recipes with very little work involved on your part.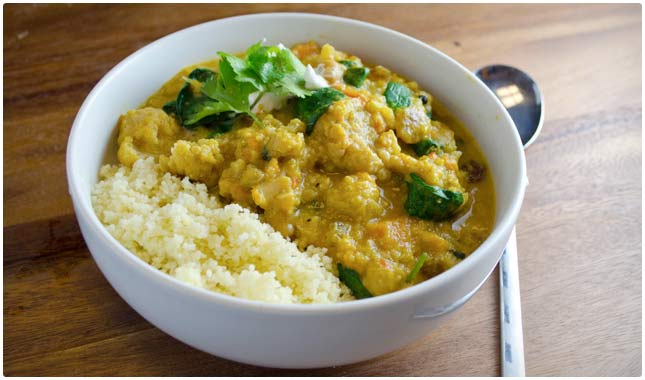 Photo: My Faboulous Recipes
10. New Delhi Vegetable Curry with Couscous – Vegetables do a great job of getting infused with the curry flavor and holding onto it until the last bite. Because it's served with a side of couscous you're getting the benefits from that as well. If you want to add some extra protein to this you can simply add some chicken breast to it. Chicken also works well with curry, and would round out the meal nicely.
11. Indian-Style Curried Eggplant in the Slow Cooker – If you've always thought of trying out Indian food, using the slow cooker might be the best way to get started. And here's a dish that doesn't use any meat, but provides a rich curry flavoring you're sure to come back to again and again. The best part is it doesn't involve using a lot of heavy or fatty ingredients, so it's a great side dish for most diets.
12. Chicken Tikka Masala Pizza – A pizza you can make with a slow cooker? Kinda sorta. The crust you make separately, but the toppings all go into the Crock Pot so that you don't have to fuss with them. Then it just becomes a matter of layering them all on top of the pizza and you're good to go. The best part is this works for Paleo-style diets, since the crust doesn't involve using any grains.
13. Slow-Cooker Goan Chicken Coconut Curry – The wholesomeness and simplicity of the ingredients in this dish helps keep it healthy. You can use chicken breast instead for a higher quality protein. The use of turmeric as a spice helps to get your metabolism revved up. Consider using basmati rice instead of plain white rice. It adds its own subtle flavor to the dish and is better for you.
[hr]
Meatballs
Meatballs work really well in the slow cooker because you can roll them into a ball, drop them in, and then you don't have to worry about them. They're usually not the healthiest thing, but these recipes change that so you can add them to a responsible diet.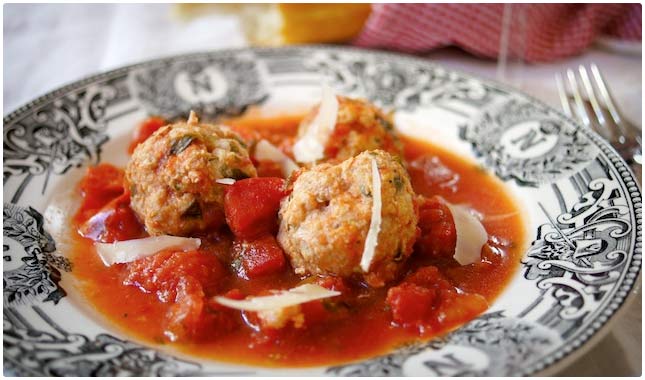 Photo: Mom's Kitchen Handbook
14. Saucy Slow Cooker Turkey Meatballs – One surefire way to make healthier meatballs is to make them out of meat that isn't beef. These are made using ground turkey. When selecting ground turkey it's important to get the lean kind, and avoid any mystery meats that don't let you know what the fat breakdown is. They suggest adding veggies to this, and we couldn't agree more.
15. Healthy Crock-Pot Turkey Meatballs – Here are meatballs that look a lot like beef meatballs when they're done, but aren't. These also use turkey to mimic the flavor and consistency of ordinary meatballs. The sauce they've got these in is very hearty, and they're using ingredients that you'd definitely find on a traditional meatball recipe. Let the slow cooker do the babysitting on these.
16. 5 Ingredient Crock-Pot Rice Meatballs – Keeping your ingredient list to a minimum is one way to reduce the fat and calorie load of a recipe. We counted them just to make sure, and sure enough there's only five ingredients, plus as much salt and pepper as you'd like to use. They use turkey, and to give it some extra consistency they've mixed in brown rice. But don't worry, the flavor will still be there.
[hr]
Mexican
Mexican foods lend themselves nicely to a crock pot, and they're also relatively easy to make wholesome and healthy. Here are enough healthy Mexican recipes to keep your slow cooker humming along, and your weight heading downward.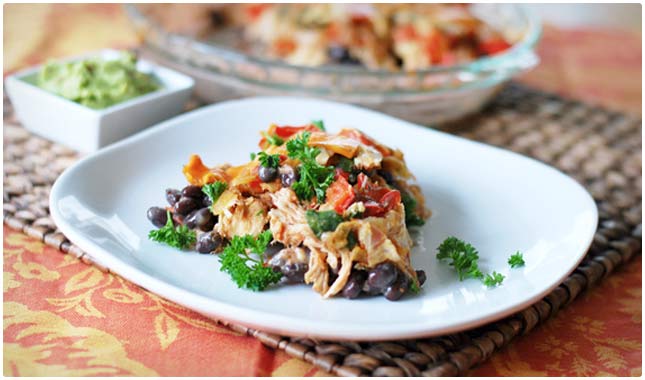 Photo: A Sunshiny Day
17. Shredded Chicken Mexican Pie – Here is a "pie" that covers several bases when it comes to Mexican food. You've got some nice shredded chicken for protein, beans for a slow carb that will keep you feeling satisfied for hours. It's a playful recipe, insisting that you come up with your own concoction of vegetables, giving you plenty of wiggle room to add your favorite. Chicken plus veggies plus beans makes for a healthy dinner.
18. Skinny Beef Enchiladas – It's not often you see skinny and beef in the same recipe, but beef is a food item you don't have to shy away from as long as you keep it lean and keep portion sizes in check. Here they've incorporated it into a lovely enchilada recipe that uses the slow cooker to make the beef nice and tender. It also has plenty of vegetables in it, and just enough cheese for flavor without the guilt.
19. Cheesy Tex-Mex Chicken – Here's a recipe that will let you enjoy a cheesy taste, without all of the fat. All that's required is using a fat-free cream cheese in lieu of the regular kind. You'll still get the creamy, cheesy consistency they describe, without contributing to the fat content of this recipe. This makes a great choice for those that want their Mexican, but don't want to get fat from it.
20. Slow Cooker Chicken Black Bean Tacos – The black beans form a nice base for these tacos and when you combine those carbs with the shell, add the chicken in for protein, and add some veggies as toppings, you're getting a nicely balanced meal that should be very filling. It also packs 8 grams of fiber and 22 grams of protein into 3 tacos, while keeping the calories down to around 300. You gotta love that, unless you're Taco Bell!
21. Crock-Pot Chicken Taco Meat – Here's a way to make sure that you've got the meat ready for your Chicken Taco Night, without having to worry about it coming out just right. You then add the typical fixings, with an emphasis on keeping them healthy, like fresh tomatoes, cubed avocado, and fresh lettuce. It's a healthy way to cook up tacos, while using chicken instead of beef, and the slow cooker instead of a fry pan.
22. Crock-Pot Salsa Verde Chicken Enchiladas – Verde means green, and these chicken enchiladas have a few splashes of green color to earn them the name. The green comes from green salsa that is used, and you don't have to make it, you buy it in the store. They use Greek yogurt rather than sour cream, so they're giving you extra protein while cutting down on fat and calories. Nice job!
23. Crock-Pot Sweet and Spicy Chicken Tacos – Usually when you add sweet with spicy the result is something yummy. The spiciness gets your mouth warmed up, and the sweetness has a cooling effect to say it's all OK. With this recipe the heat comes from chipotles and cayenne pepper as well as some other ingredients. The sweet comes from orange juice and lime juice. A combination that will surely have you adding this to your weekly menu.
24. Not-So-Slow Cooked Chicken Fajitas – Usually when you use the slow cooker it's an all-day affair. Here's a recipe that uses your slow cooker, but speeds things up so you're not waiting around for it to be ready. Fajitas are fun to order in a restaurant, but even better when you can make them at home, especially when it's easy. These make a nice rounded meal when you eat them with a side of rice or wrapped up in a whole wheat tortilla.
[hr]
Oatmeal
We all know oatmeal is a good start to the day, but it's not the easiest thing in the world to make, unless you zap some instant oats in the microwave. Here are healthy ways to make oatmeal that are better for you than instant.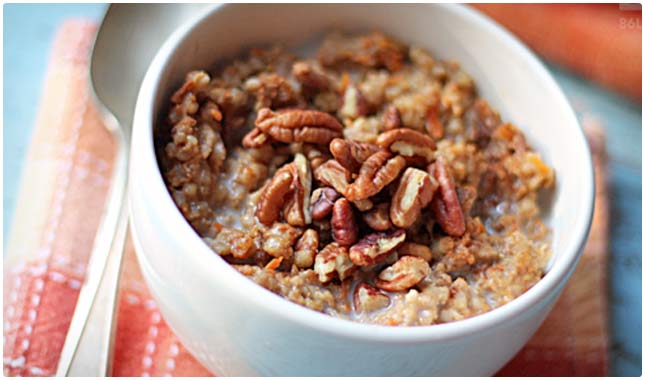 Photo: 86 Lemons
25. Carrot Cake & Zucchini Bread Oatmeal – If you like the taste of carrot cake, but don't want to feel guilty after eating it, here's a recipe that helps you get away with it. The nice part of this is that you get everything prepared the day before, and it's cooking while you're sleeping. It's a nice dish that only needs a few steps in the morning: Serve and eat. This is a gluten-free meal that also manages to stay vegan, so it will appeal to a wide range of dieters and health conscious individuals.
26. Customizable Slow-Cooker Oatmeal – We like it when a recipe gives you the guidelines to make it healthy, and the freedom to choose the exact ingredients you want to eat. This is basically a how-to instructional for making oatmeal using your slow cooker. You're starting off with a healthy base, and can then add your own nutritious toppings or mix-ins, like fresh strawberries or blueberries, fresh ground cinnamon to boost the metabolism, or a nicely ripened banana.
27. Apple Cinnamon Slow Cooker Steel-Cut Oatmeal – This recipe almost has all of its ingredients in the title. This is a great alternative to buying apple cinnamon artificially flavored oatmeals in the store. You can make it from scratch and it won't take forever. There's real cinnamon, a real apple, and wholesome oats in this for a fantastic start to your day. The bit of butter used gives it flavor without making it fattening.
28. Pumpkin Pie Steel Cut Oats in the Crock-Pot – Here's a way to enjoy the flavor of pumpkin pie any time of the year, and without any remorse afterward. The coconut milk adds good fat to your diet, and is not something that needs to be subbed out. By adding a dollop of Greek yogurt to the top you're getting yet another taste sensation while sticking within the boundaries of a healthy breakfast. See more healthy breakfast meals.
[hr]
Pasta
These pasta dishes cook the pasta in the slow cooker so you don't have to go through the process of cooking the noodles in addition to cooking the rest of the dinner. It's a way of multitasking without everything happening all at once.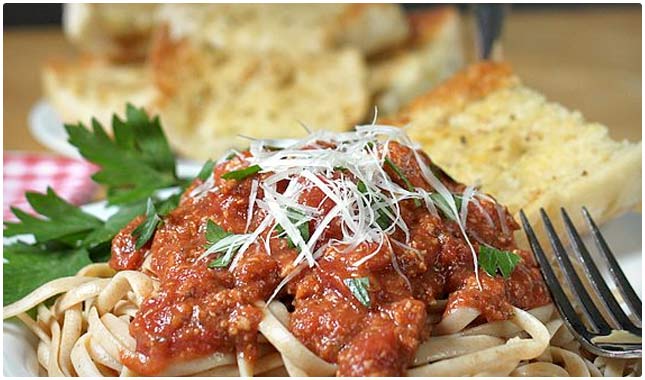 Photo: The Yummy Life
29. Slow Cooker Pasta Meat Sauce – Here's a pasta topper that keeps things healthy by using turkey instead of beef. Most sauce recipes like this will have ground beef for the meat, which adds a lot of saturated fat and can be harder to digest than turkey and other white meat poultry. The best way to go is to use ground turkey breast. This will give you a quality protein, without detracting from the flavor.
30. Slow Cooker Squash Lasagna – Lasagna can be a real pain to make, but not when you use your secret weapon, the slow cooker. This is a way to cook the noodles in the pot with the rest of the dish, so you don't have to worry about trying to layer things with a wet blanket of noodles. You don't even have to use the no-boil kind of noodles, you can use regular ones. The end result is a picture-perfect lasagna made easy.
31. Chicken and Broccoli Sauce – Usually when you see chicken and broccoli put together in a sauce it involves a lot of cream and should send your alarm bells ringing. Here is a way to make sure that you keep things on the healthy side, but also enjoy your meal. Chicken and broccoli go great together, plus provide a nutritional punch that's good for you. The pasta works to balance out this meal.
32. Slow-Cooker Vegetarian Lasagna with Mushrooms & Kale – Kale is a true superfood, and its health benefits can't be overlooked. Using it instead of spinach breaks things up nicely and you're left with a new taste, and additional nutrients if you can believe that. The mushrooms carry their own nutritional weight, and add a nice flavor to this vegetarian dish that won't have you asking where the beef is. See more healthy pasta dishes.
[hr]
Roasts
Nothing says home-cooked meal quite like a roast does. The best way to pull it off is to use your slow cooker. The meat gets so tender, and the vegetables get infused with the juices, that the end result it a winner you can rely on.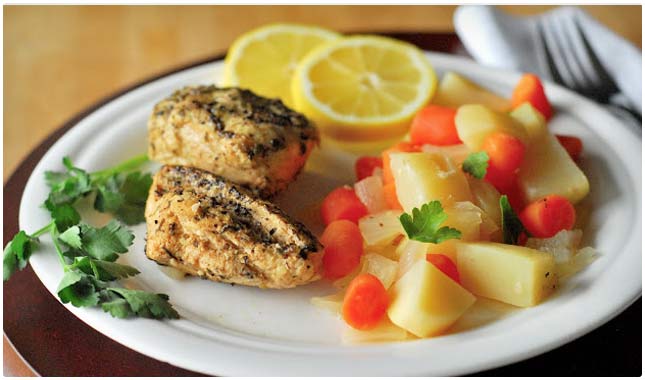 Photo: A Duck's Oven
33. Lemon Crock-Pot Chicken – It's hard to argue that lemon doesn't make chicken taste great. It's also a very health-friendly way to give you chicken a nice flavor. While this does have you using your slow cooker for most of the cooking, she has you browning the chicken before it goes in for extra flavor once it comes out. Served as pictured with veggies makes this a great meal for most dieters.
34. Slow Cooker Roast Beef With Rosemary and Garlic – Rosemary was made for chicken, and this roast has things figured out. It uses freshly ground black pepper to boost your metabolism and help cleanse your body. It also has carrots, onions, plums, and a host of seasonings each with their own unique flavor. You won't be bored while eating this roast, just choose a lean meat and you're all set.
35. Honey Garlic Chicken – You had me at honey. No wait, garlic. The flavor combination of honey and garlic is a proven winner, and this dish uses them well and keeps the number of ingredients to a minimum. They have you using a low sodium soy sauce for the amazing color the chicken has. You might want to switch it to chicken breast if you're working out and strength training for a better protein serving.
36. Slow Cooker Roast Chicken & Potatoes – If you tend to shy away from roasting a whole chicken, here's a recipe that will walk you through the process. The potatoes cooking along with everything else is a nice bonus, since that alone will provide a nicely rounded meal. Of course you can always had a side of steamed veggies of your choice, or add them into the slow cooker for extra flavor.
[hr]
Sandwiches and Wraps
The Crock-Pot takes care of the inside of your sandwich, leaving you with the task of spooning things between a few pieces of bread or a wrap. An easy way to make a nice handheld meal without any extra fat added during the cooking process.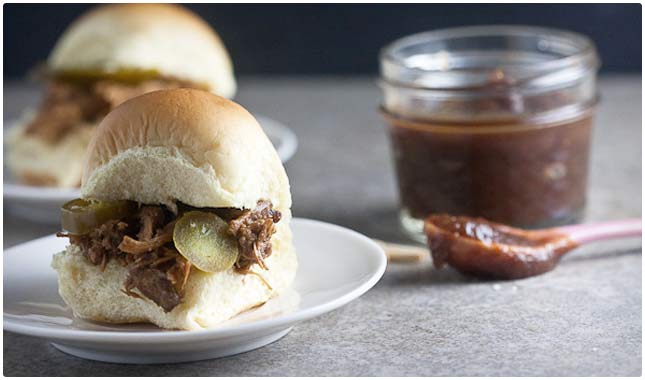 Photo: Healthy. Delicious.
37. Asian Pulled Chicken Sliders – Sliders are usually beef burgers, and are usually something you shouldn't be eating if you're looking to lose weight. These shake things up by using chicken instead of beef, and by giving them an Asian flavor. The use of jalapenos isn't very Asian, but the mix of honey with soy sauce is sure to deliver. Just 6 grams of fat per serving and a whopping 30 grams of protein makes this a winner.
38. Pulled Ginger-Chicken Slider with Cilantro Slaw – Ginger and chicken go really nicely together, and ginger itself is a wonderful superspice that helps to detox the body and can help you lose weight over time. In this recipe it provides a good amount of flavor, and you won't miss the beef that typically makes up a slider. The slaw on top of these uses red cabbage, an amazing superfood that helps make these mini burgers a healthy meal.
39. BBQ Beer Can Shredded Chicken – Don't worry, you won't get a beer belly by following this recipe. The beer adds a good amount of flavor, but during the cooking process all of the alcohol will evaporate. Once this is ready you simply spoon it onto a whole wheat bun and you'll be ready to go. This makes a great dish to bring to a potluck dinner, or a barbecue. It's great summertime food that everyone will enjoy.
40. Crock-Pot Korean Beef Rib Tacos with Asian Slaw – You don't have to use rib meat in this, simply swap that out with sirloin tips and you're good to go. The flavors that this uses are ones you don't want to miss out on, and the way it's served up taco style makes it a nice break from the usual Mexican-style tacos. The end result is a dish that uses red pepper flakes to get the spiciness of Korean cuisine, with a healthy slaw that goes nicely with the meat.
41. Slow Cooker Sloppy Joes – Opening a can of Manwich and mixing it with ground beef is not the healthiest way to serve up Sloppy Joes. Here's a way for you to get all of the flavor while making it a healthy dish. You use lean ground beef, such as ground sirloin. Then you add things like onions, celery, and tomatoes so that there are some yummy vegetables in it. Your kids will beg you to make it again, it can be your little secret that it's healthy. See more healthy lunch meals.
[hr]
Seafood
Seafood can be a delicate food to work with, but when you're using the slow cooker there's a lot of wiggle room, and the pressure is taken off of you. Here's 4 ways to please any seafood lover without making it too hard on the chef.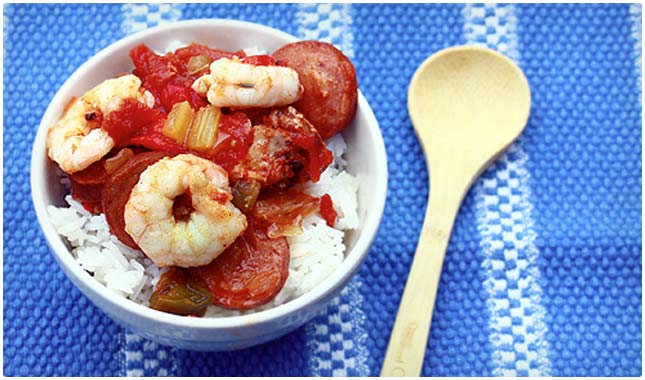 Photo: The Cooking Bride
42. Hearty Slow Cooker Jambalaya – There are plenty of recipes that include shrimp in them, but jambalaya insures that you're going to get a very diverse mix of ingredients, with plenty of flavor to spare. It has plenty of spice, so you may want to play with the recipe a bit if you don't like things to spicy. This is a very meat-heavy dish, which isn't necessarily a bad thing, but you'll want to leave out the sausage to keep fat levels to a minimum. The chicken breast helps boost up the protein.
43. Slow Cooker Shrimp and Artichoke Barley Risotto – The shrimp in this gives you plenty of protein, and the artichokes are a great superfood in their own right. By serving this with risotto you're getting a nice balanced meal, all done in your slow cooker so you don't have a lot of work to do. The lobster base they use gives it a good overall flavor. With 400 calories per serving and over 35 grams of protein the only thing you need to look at is the cholesterol levels.
44. Easy Cioppino in the Slow Cooker – The shrimp make up most of this dish, but there are also tomatoes and onions in it as well. It would be great served over a bed of steamed rice, or served with a slice of bread as shown. The reason you'll want to combine a carb is because you're getting so much protein from the shrimp. You already have a good amount of vegetables here as the tomatoes serve as a vegetable, and not as a carbohydrate.
45. Slow Cooker Lobster Chowder – This recipe uses Half and Half to give it its creamy texture, which makes it half as bad as eating a fully cream-based chowder. To cut out even more fat you can simply leave out the bacon. The remaining ingredients are all great for those on a diet, and you'll be getting a good amount of both protein and carbs from the potatoes, as well as corn and onion for extra nutrients.
[hr]
Stews
Stews are thick soups that typically have more hearty ingredients, and typically fill you up and constitute a meal more than soup does. These healthy stew recipes will have you coming back for seconds, and they don't take a lot of effort to get right.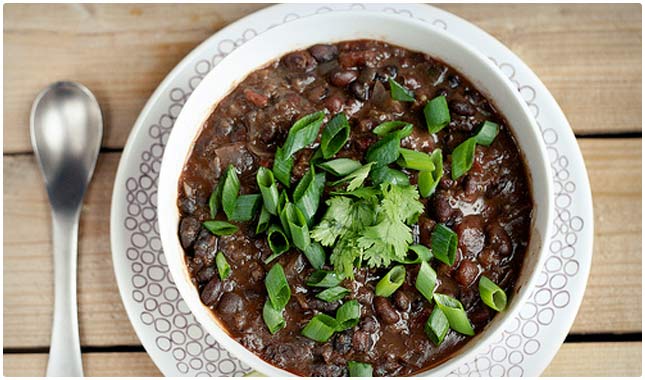 Photo: Tasty Yummies
46. Chipotle Black Bean and Quinoa Crock-Pot Stew – This is a gluten-free vegan meal that is sure to satisfy meat eaters as well. The base of this is the black beans, which have plenty of fiber, and act as a "slow carb" helping to balance out your blood sugar and avoid the post-meal drowsiness that comes with most meals. The quinoa adds more fiber to the mix, as well as all of its added health benefits. You'll definitely be treating your body right with this one – and your taste buds!
47. "1 Million Vegetables" Lentil Stew – So they may be exaggerating a bit here – place pinky on bottom lip like Dr. Evil – but there are still plenty of veggies in this. Plus there's lentils, one of the healthiest foods on the planet that you're probably not eating. There is no sugar in this, and it's gluten-free so it will appeal to a wide range of those looking to cut out certain foods. It's also a vegetarian dish, but with so many veggies crowding the scene you won't even notice.
48. Chickpea Tomato Soup With Rosemary – If you find that you're not using enough chickpeas this recipe will turn that right around for you. The use of tomatoes means you're getting lots of lycopene, a great antioxidant with several health benefits. There are plenty of different spices that combine to make this a dish worth remembering.
49. Mediterranean Beef Stew with Rosemary – One edit to this recipe will make it extra healthy for you. Substitute the chuck steak with bottom round roast and you'll get a leaner cut of beef that still provides all of the flavor with less fat. Although leaving it as is it's still very healthy, and the chuck steak is a lean cut as well. The interesting use of olives and other vegetables and spices make this a tasty stew you can enjoy all year.
50. Irish Beef Stew – Here's an Irish stew that lives up to its name by using Guinness for flavor. It isn't specific about what type of beef to use, so we recommend going with bottom round roast as a healthy, lean beef that supplies big time protein with little fat. With the potatoes you're covered for carbs, and with the carrots you get your veggie so this is a very balanced meal in a bowl.
You'll have a newfound appreciation for your slow cooker after you give these healthy crock pot recipes a go. Most of the recipes above entail dumping the ingredients into the slow cooker, setting the right temperature, and walking away. This makes them great ideas for days when you just don't want to get too involved in the cooking process, but want a healthy and delicious meal you can rely on.
[alert type="success"]
[/alert]