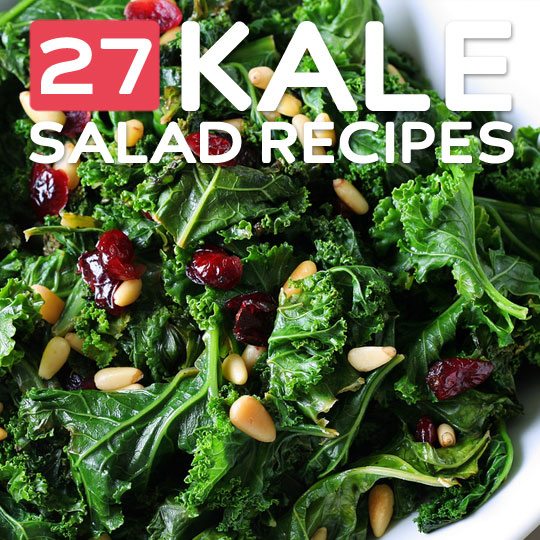 Making a salad with kale instead of lettuce is one way to instantly up your nutrition for the day. But you have to know which ingredients work well with kale, and which don't. It has a unique flavor, and if you try and simply sub out romaine with kale you might not like the results. Here are a hand-selected group of recipes to take into consideration that tastes great when combined with kale, and what sort of dressings make it taste better without adding sugar and calories.
[hr]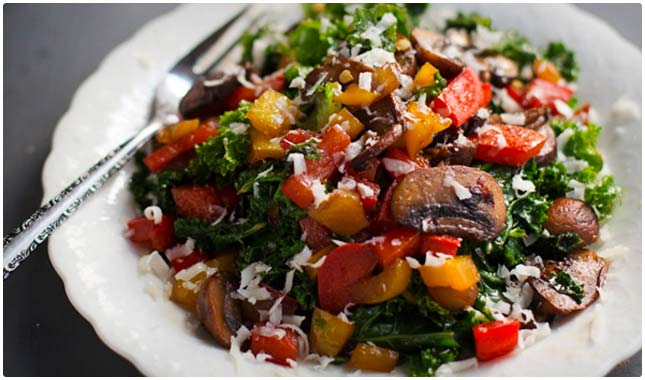 Photo: Pinch of Yum
1. Warm Balsamic Kale Salad
Warming up your kale salad is a good idea because it will make it seem like a comfort food. The kale is added toward the latter part of this recipe so you don't end up overcooking it. The ingredients being used here all go nicely with the kale, and amp up the nutrition factor even further. Red and yellow peppers, portabella mushrooms, and an onion work to give it some strong flavor sources and additional textures. The great part about using kale in your salad is it doesn't really need a lot of backup in the nutrient department, but they are using plenty of good add-ons here.
[hr]
2. Vegan Kale Farro Salad
If you've never used farro in your cooking before, this is a nice way to get introduced to it. The visual explanation of the best way to prepare and chop up kale is worth the trip, and they do a nice job of laying out all the ingredients you need so you can tell at a glance what you have and what you need to pick up from the store. They've piled up the nutrition on this salad, accentuating the kale and farro with items like walnuts and pomegranate seeds. There are also some dried cherries being used to give it a sweet flavor. The lemon and olive oil dressing works well with kale. See more vegetarian recipes here.
[AdSense-A]
3. Steamed Kale and Avocado Salad
Steaming kale is a great way to soften it up without burning up all of it's vitamins and nutrients. Even when you cook kale it still starts from such a nutritionally high place that even with a little loss it still ranks higher than most anything else in the vegetable world. When you pair up kale with another superfood like avocado, you are definitely treating your body right. The healthy fats from the avocado play the biggest role here, and you're getting the potassium dose of two bananas between the kale and the avocado, both of which are high in potassium.
4. Broccoli and Kale Salad with Blueberries and Coconut
Forget the argument of which is healthier, broccoli or kale, and just eat them both. They are so nutritiously similar it's almost like it's the same food in different form. And that's what your body needs, a healthy variety of whole, nutritious foods. So here's you're basically doubling up on the protein, iron, and fiber found in respectable amounts in both broccoli and kale. To help with the taste they've included sweet and yummy things like blueberries and coconut that don't sabotage the inherent healthiness of this recipe.
5. Quinoa, Kale, Cherry, and Apricot Salad
If this were a competition to make the healthiest salad it almost would be considered cheating to put kale and quinoa together. They are both superfoods that have only recently made it into the spotlight for just how good they are. Take the protein and fiber that quinoa provides, and match it with the high amounts of vitamins and minerals that kale provides, and what you're left with is a salad that is bite for bite one of the better meals you can eat. Use it as a light and satisfying lunch, or serve it up along with dinner to cover your nutritional bases.
[hr]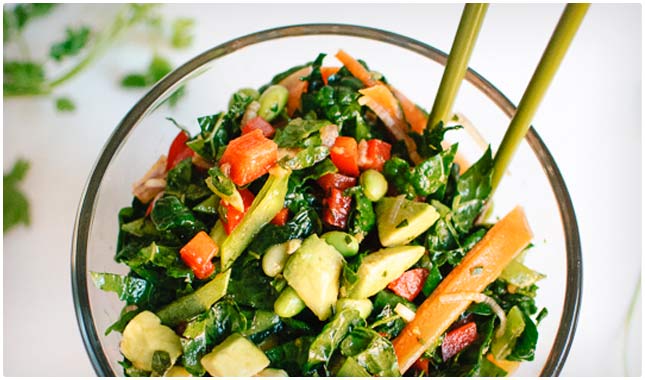 Photo: Cookie and Kate
6. Chopped Kale Salad with Edamame, Carrot and Avocado
This is a fun salad bowl, with plenty of different foods all with varying textures to keep your mouth interested. Since it's all chopped up it's all in bite sized pieces so it's easier to eat, and easier to get several of the ingredients onto one fork so they can all combine in your mouth. Kale and avocado are always a nice combination, since the kale can be pretty hearty, and the avocado comes in with a softer, more delicate flavor, almost like an undertone. The other ingredients are all good for you, and their flavors work to bring about a very tasty salad. Check out the amazing health benefits of avocado here.
[hr]
7. Kale Salad with Creamy Lemon Tahini Dressing and Toasted Seeds
They're using both kale and cabbage in this recipe, which is interesting since these are both in the same vegetable family. The dressing that goes with this is listed as being creamy, but there's no cream used it it, and no dairy either so it's not going to be a heavy dressing, or one that adds unneeded calories to the bottom line. The use of toasted seeds along with this means you're getting extra nutrition and potentially some added antioxidants, depending on which seeds you choose to use.
8. Detox Kale Salad with Lemon Apple Vinaigrette
Here's a simple kale salad that you can use while detoxing the body. Kale is often found in body detox programs because of the dual function it has at providing you with plenty of vitamins, as well as kicking your digestive system into gear. The cranberries can also have a cleansing effect on the body, and they're using apple cider vinegar to make the vinaigrette so they're keeping your best interests in mind and only using items that are commonly used when helping to rid the body of toxins and otherwise clean it out.
9. Kale and Watercress Salad with Apples and Balsamic Vinaigrette
One way to make kale taste better is to combine it with fruit. Here they're using apples to go along with the kale, so you're actually getting a few superfoods on one plate. Kale doesn't need a lot of help in the vitamin or fiber arena, but it doesn't hurt to have an apple along with it to round things off. There's also watercress, garlic, parsley, and other healthy ingredients that make this a salad with a lot going on. The recipe includes how to make the balsamic vinaigrette from scratch so you don't have to worry about buying a bottle of that anymore.
10. Kale Salad with Grapefruit, Avocado & Walnuts
Let's get a count of how many superfoods are in this salad: kale, grapefruit, avocado, walnuts, and olive oil. That's five superfoods, making this basically like the super friends of food teaming up on a mission. The nice part is that they all go nicely together somehow. You're getting the acidic and bitter taste of a grapefruit, the nutty taste from the walnuts, the classic taste of kale love it or hate it, and some nice smooth avocado pieces to level it off. This salad is full of fiber, vitamins, healthy fats, and essential minerals your body needs daily.
[hr]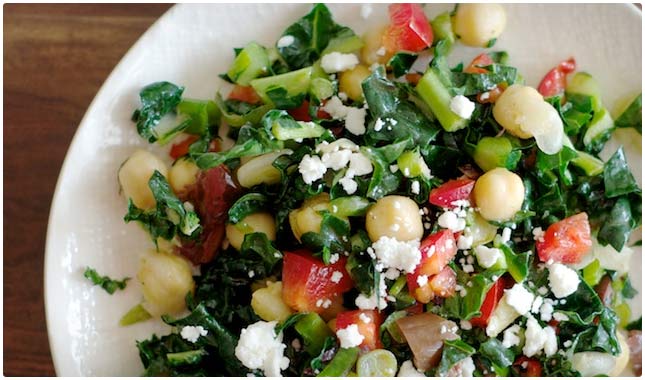 Photo: Pixels and Crumbs
11. Kale Crunch Salad
Kale is crunchy enough on its own, but here they're mixing it together with crisp pieces of bell pepper, cucumbers, and scallions. There's also some non-crunchy items in the form of feta cheese and garbanzo beans. The dressing is a simple mix of olive oil and lemon juice. That makes this a salad you can have whenever the urge strikes. This can be used as a light lunch that will hold you until dinner, or as a nice side with dinner so you can make sure you're getting enough nutrition.
[hr]
12. Mexican Kale Salad
This Mexican-infused salad uses kale as the base, and incorporates just a handful of ingredients to keep things simple, while also making it delicious. They use pepitas, which is the Mexican word for pumpkin seeds. More and more research is showing the virtues of pumpkin seeds, so it's nice that they're being used here along with such a powerful vegetable as kale. Add to the mix radishes and avocados and you've really got something special on your hands. The best part is that even the dressing is health conscious, so there a nice attention to detail here.
13. Strawberry-Avocado Kale Salad with Bacon Poppyseed Dressing
There's something to be said for the use of polar tastes on this one. You've got the sweet and soft taste of strawberries and avocados on one end, mixed with the savory and crunchy taste of bacon on the other. Kale somehow finds itself in the middle of this mix, and provides the bulk of the nutrients, but is not alone. The strawberries provide antioxidants, as does the avocado along with healthy fats you should be getting each day. Make sure your bacon is antibiotic and nitrate free.
14. Kale & Parmesan Salad with Lemon Yogurt Dressing
This recipe dials it back a bit on the complexity meter and keeps things really simple so you can really savor the different items it contains. Of course, kale is the star and serves as the backdrop to ingredients like lemon juice, dijon mustard, and pine nuts. Parmesan gets brought in as the cheese of choice, and has health benefits all its own. In fact, it's one of the healthier cheeses you can use on any of your meals to add that distinctive flavor without a lot of added fat and calories. Just opt for the real thing and avoid the green shaker bottle of parmesan.
15. Kale Salad with Delicata Squash, Almonds and Aged Cheddar
Why does this kale look so funny? It's called dinosaur kale and it has a different taste and texture than plain kale, and is definitely worth trying if you haven't had it already. She's done a great job at picking out foods that complement it nicely, and also contribute to the overall nutritional picture. Take for example the healthy fat you'll be getting from the almonds, not to mention the added protein. The aged cheddar of course fill the flavor out, and the squash is simply yum, no other word for it, well maybe yum-tritious for the added vitamins and minerals it provides.
[hr]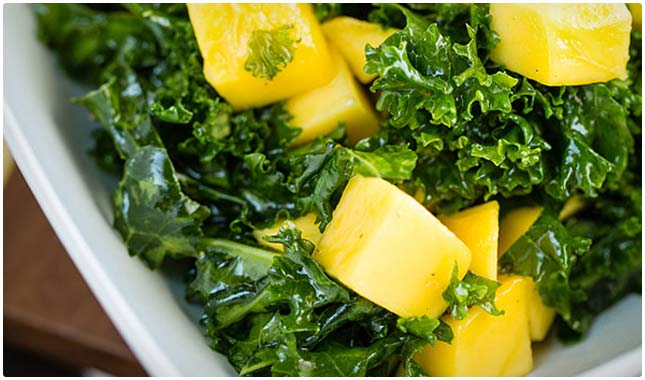 Photo: Just One Cookbook
16. Massaged Kale Salad with Mango
OK, we'll admit we thought it was a bit weird to treat our kale to a massage, until we tried the end result. Turns out it's a great way to soften it up and make it more edible, without cooking it. This preserves the nutrients and minerals it contains, and also make it easier to chew up and digest. They have it served up with simple ingredients like a blood orange and mango. Sweet foods go well with kale, and serve to counter it's not-so-sweet taste. You end up with a basic salad that taste great and tops up your nutrient levels.
[hr]
17. Quinoa Kale and Pomegranate Salad
This recipe is combining three of the trendiest ingredients to hit the tabloids in the last few years. It seems as if the world is discovering just how good quinoa, kale, and pomegranates are, even though they've been go-tos in health food circles for quite some time now. When you put them together in a salad you are really taking a step in the right direction and will surely feel the benefits in increased energy and better digestion. Quinoa and kale both have good amounts of fiber in them, as well as a broad mineral spectrum, so it's a way to make sure you're covered all around.
18. Kale Salad with Almonds and Warm Garlic Golden Raisin Vinaigrette
They're asking you to use a certain type of kale in this recipe, called lacinato kale, aka tuscan kale, black kale, or cavolo nero among others. It's important to follow these sort of directions if you want to capture the exact flavor that the recipe author has devised. Although in a pinch you could sub in plain kale if that's all you have on hand. The salad itself is just kale with some salt to keep its color. The show stealer is the vinaigrette, which they show you how to make from scratch, as well as show you their recommended way to top this off.
19. Sauteed Kale 'Caesar' Salad
If you think Caesar salad is the king of all salads, wait until you try this kale-ified version. It not only does away with the traditional romaine lettuce in favor of something with a stronger nutritional kick, it also make croutons out of pasta shells. Other than that it sticks to a more traditional recipe, with parmesan cheese, garlic, and lemon zest, but also has a few more surprises like pine nuts. It's a creative take on an old salad standby, and manages to make it healthier for you in most regards.
20. Kale Salad with Orange Vinaigrette
This is a nice kale salad because there aren't too many ingredients competing for your attention, and the ones that are included are all good for you. The kale is a default in a kale salad, and then there's hazelnuts, which give you a nice dose of healthy fats and other antioxidants. Apples and cheese always go nicely together, and that completes the base of this salad. The orange dressing is where much of the magic happens for the flavor, and dijon mustard, honey, and orange juice get called upon for their flavorful nature.
[hr]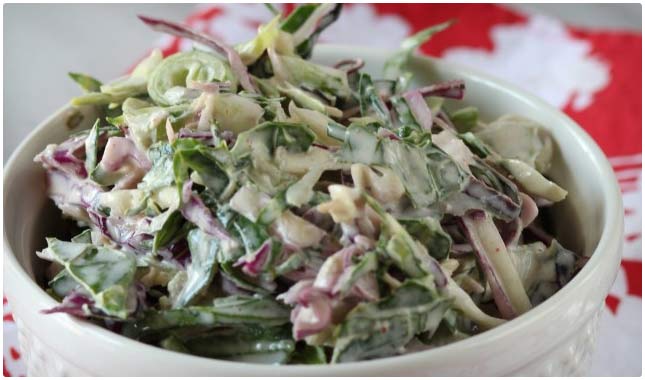 Photo: Pidge's Pantry
21. Kale Slaw
Kale works in slaw because it's part of the cruciferous vegetable family along with the cabbage that you typically find in coleslaw. In fact, they haven't nixed the cabbage on this slaw, two types of it are used in conjunction with kale so you'll really have that traditional taste with a boost of nutrition. Every effort has been made to keep this coleslaw healthy for you, including it using honey, lemon juice and olive oil instead of more traditional ingredients. This makes a great side dish to pass around at a picnic or any time of year.
[hr]
22. Kale Salad with Walnuts and Red Onion
This is a nice salad that will make you feel good while eating it, and won't weigh you down when you're done. One thing kale doesn't have is healthy fats, and that's where the walnuts fill in. The red onion helps to conceal the flavor of the kale for those that like the taste of onions but not so much the taste of kale. We like that they're using a bit of cheese as well, because that pairs nicely with the walnuts, and gives a sort of spinach salad feel to it. They also mention that you can add bacon to it if you'd like.
23. Mango, Avocado, and Jicama Salad with Lime Dressing
If you've never incorporated jicama into your cooking, here's a nice entry-level recipe to get you used to it. It's basically a turnip, and is referred to as a Mexican yam or Mexican turnip. It makes a great addition to the other ingredients being used here, namely mango and avocado. You almost forget that this is a kale salad recipe because of all of the other things going on. The lime dressing that goes on top is a nice blend of four ingredients that tops things nicely.
24. Kale and Red Cabbage Slaw
There are a lot of different things going on in this salad, and the good thing is they all work. First you start with kale which already puts you ahead in the nutritional game we play each day. Then red cabbage is added, which provides a lot of the same things as kale, and gives it an added boost. Carrots play their part and there's also pumpkin seeds and sunflower seeds in here, so you'll have healthy fat, as well as more vitamin E and fiber. You simply can't go wrong with this mix.
[hr]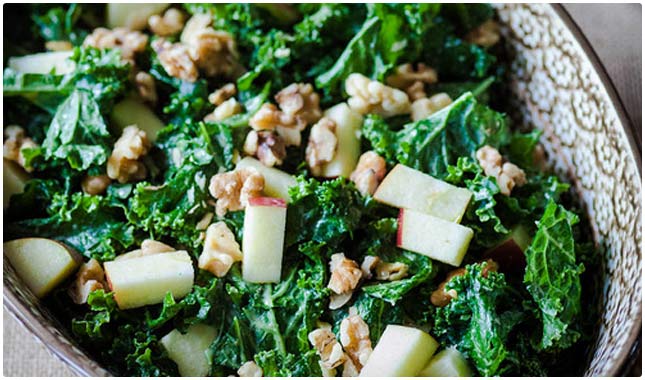 Photo: Crepes of Wrath
25. Miso Kale Salad
Miso soup is a popular dish in Japan, and miso paste can be found in any respectable grocery store in Japan, as well as most Asian food stores in the states. The way they've captured the taste of miso and applied it to a salad is pretty ingenious. and this is going to provide a tart and tangy salad that you won't soon forget. It may even end up in your usual salad rotation and can be enjoyed for both lunch or dinner. That's the beauty of kale, it has protein as well so it almost provides a complete meal when paired with a carb.
[hr]
26. Sauteed Kale Sprouts with New Potatoes and Garlic
They're using kale sprouts and new potatoes to give this a newborn feel. Kale sprouts are a bit easier to manage than the big leaves that come in ordinary kale. And new potatoes have a different taste than ordinary potatoes, so this really does provide a new flavor sensation. To contrast this, imagine making a salad with plain kale and regular potatoes. It just wouldn't taste the same. The remaining ingredients are few, and that means it's relying pretty heavily on this kale potato joining.
27. Kale Salad with Strawberries and Celery
Kale really doesn't need a lot of help in the way of nutrition, but you can't go wrong with piling it on. In this instance they're using celery and strawberries to put you over the top in health. In fact these three ingredients make up the majority of the salad, and aside from a bit of balsamic vinegar to moisten things up, and some feta cheese to make it more delicious, that's all that's going on. It's a salad that you might have thought up on your own, but it's nice to have all of the ingredients laid out for you so you know how to replicate it exactly and you know it's peer tested and approved.
Click here to see more healthy recipes