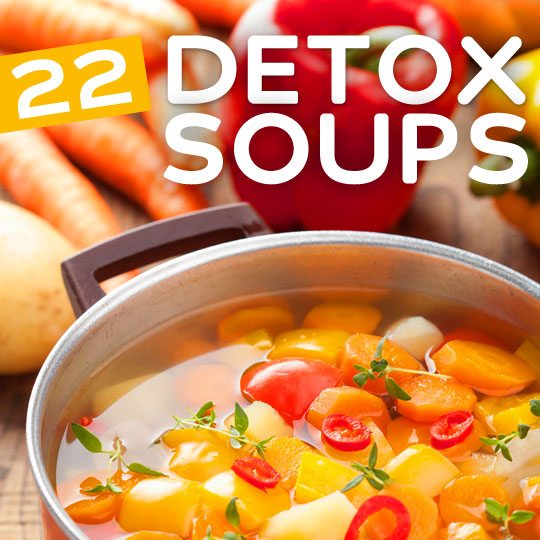 A detox soup takes many of the healthiest ingredients possible and puts them together in one pot. They usually involve pureeing or blending the vegetables up, or at the very least chopping them into bite-sized pieces. This makes the soup easy to digest so your body can absorb and utilize all of the nutrients more easily. The best part about these recipes is that the focus is still on taste, so you're getting a detox dose of vitamins and minerals without having to suffer through it.
[hr]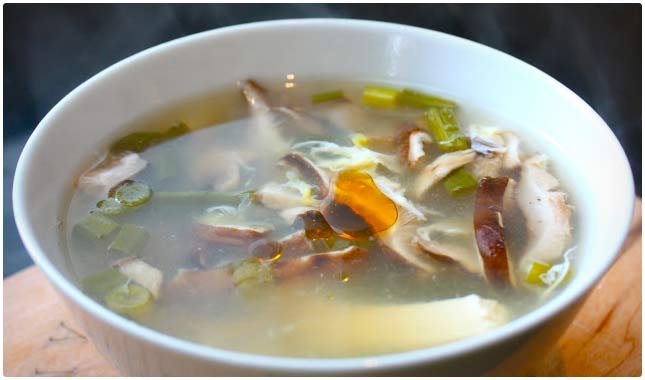 Photo: Cannella Vita
1. Vegetarian Hot and Sour Soup
The apple cider vinegar used to give this soup its sour quality is also working to provide your body with helpful digestive flora. They say to use a mixed mushroom pack and you can do that or you can simply use mushrooms that are known for their detoxing value, like shiitake and reishi. They've done a good job of altering the typical hot and sour soup recipe to not only exclude meat, but also make it so that your body is getting a good dose of detoxing goodness. It's one of those soups that you can feel good about eating, and also enjoy the way it tastes.
[hr]
2. Tender and Spicy Green Soup– You simply can't go wrong when you start off with celery as your foundation. This is one veggie that we know we should be eating more of, but that doesn't typically find its way onto our plate. The stringiness and acquired taste of celery makes it hard to get excited about, but when you combine it with ingredients like peppers, spinach, ginger, and cumin, you are building a taste sensation, while keeping it ultra-healthy and vitamin loaded. Each ingredients seems hand-picked to either give you fiber for digestion, or to provide a cleansing effect with the spices.
3. Radish Leek Soup– Ah, the radish. This little guy doesn't get any respect. He's like the Rodney Dangerfield of the vegetable world. But this recipe pays him some by making it the featured ingredients. Along with leeks you're getting a one-two punch of nutrition here. Potatoes give it the soupy consistency and texture, and the use of sea kelp rounds things off. If you don't use a lot of radishes in your cooking you might be surprised by their subtle taste. They are known for being able to purify the blood and are a cancer-fighting food to boot.
[AdSense-A]
4. Lentil, Kale, and Sweet Potato Stew– One surefire way to get a detox soup, or stew in this instance, is to combine foods that are standalone superfoods. That's just what they've done here. The lentils in this help to keep your digestive system moving, and the kale is an amazing food all on its own. When you add sweet potatoes you're getting a broad nutritional spectrum and additional fiber. The overall effect is a taste sensation that will leave you feeling like you didn't really have a detox soup, but rather a soup at a fancy restaurant.
5. Healthy Detox Soup– If you've got kale, you can generally make a detox soup by adding it to a soup recipe. It's that powerful. But in this one they didn't let it do all of the work by itself, and there are a lot of supporting vegetables in here. For example, tomatoes, carrots, celery, and leeks serve to further help the body and give you a nice spectrum of different vitamins and minerals. You're also getting the cleansing benefits of citrus juice from a lemon, and the benefits of cracked black pepper, which also improves the taste.
[hr]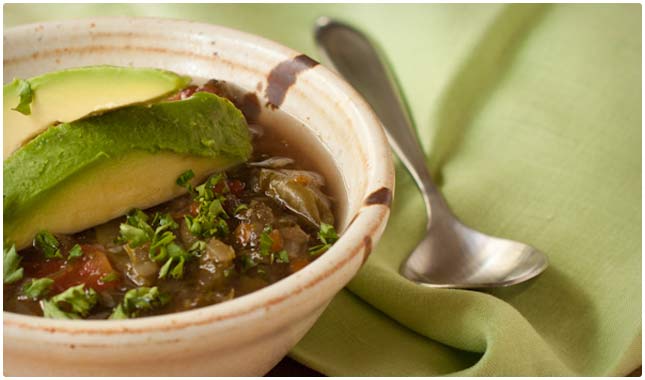 Photo: The Recipe Renovator
6. Potassium-Balancing Detox Soup
Potassium is one nutrient that is both easy to fall behind on, and easy to correct, all you have to do is eat more potassium-rich foods. This detox soup is paying extra attention to it, and has more than a few ways to get you back to good in this area. Consider kale for starters, and the 299 milligrams of potassium per cup it contains. Or the carrots that don't trail too far behind kale. And pass on the optional avocado, as it contains more potassium than a banana, and will help the body with its healthy fat and other nutrients.
[hr]
7. Kale and Lentil Soup– Even though kale and lentils get the top billing on this recipe, there are also a good assortment of other vegetables to help with the detox plan. But combining kale with lentils works on a few different levels, and is worth pointing out. If you were to eat nothing but kale you'd be working to detox your body. When you add lentils you are boosting your fiber intake so that your digestive system gets a boost. Carrots, garlic, and parsley are all known for their cleansing and nutritional benefits, and join the cast here.
8. Gerson's Hippocrates Soup– The focus here is on organic ingredients, and that's really important when you are trying to detox. You wouldn't want pesticides and herbicides or GMOs interfering with the process and acting to toxify you just as fast as you're detoxing. The use of leeks, tomatoes, and celery make it so you're not only getting massive amounts of flavor, but you're sticking to the plan of detoxing and not including anything that might detract from that goal. We especially like that they haven't skimped on the details, opting for sea salt rather than table salt.
9. Broccoli and Pea Potage with Thyme– You simply can't go wrong with broccoli, and anytime you add it to any recipe or as a side dish on your plate, you are adding a detoxing food to your menu. Here it takes center stage as each serving contains a quarter pound of broccoli. This, along with the use of lentils, provides you with a good fiber boost. The lentils also contain protein, and peripheral ingredients like peas, shallots, and green onions make this soup a strong contender for your go-to detox recipe. Potage is a French word meaning thick soup, so don't let it throw you off.
10. Detox Green Machine Soup– Spinach gets called into the game on this recipe, and you can't blame them for using it, as spinach is one of the most nutritious foods available. When using spinach it's a good idea to combine it with other ingredients so that you don't end up with a soup that tastes only like spinach. Here they've done a good job of mixing things up, while still maintaining detoxifying properties. The use of green beans, celery, and zucchini give this an amazing taste while providing additional vitamins and minerals. Garlic, basil, and parsley ensure you'll really enjoy this.
[hr]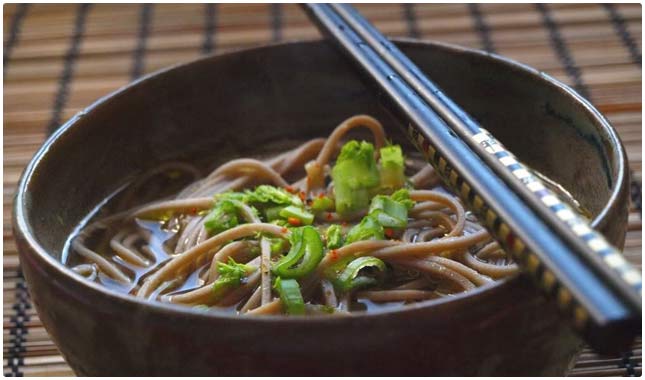 Photo: Mrs. Garlic Head
You might not equate a noodle soup with detoxing, but when you're using ginger, garlic, and fennel, as well as soba noodles made out of buckwheat you have all of the pieces in place for a wonderful soup you'll return to again and again. It also contains miso, which is a popular staple in Japan, and has been lauded for its nutritious properties. Overall, this is a very Japanese-inspired dish, and it's even suggested to eat it Japanese style, using chopsticks to eat the noodles and then drinking the broth right from the bowl.
[hr]
12. Vegetarian Stew with Quinoa– They thicken this soup into a stew with the use of chickpeas and quinoa. Quinoa gives it a heartiness that is hard to replicate using grains. It's also a powerful superfood and has gained in popularity in recent years for all of its positive benefits. When mixed with chickpeas you're getting a good dose of vegetable-based protein, as well as fiber. They use a jalapeno but are careful to remove the spiciest parts. There is also tomatoes, ginger, and butternut squash added to make this soup taste great, while helping to cleanse and nourish the body all at once.
13. Detox Beans & Greens Soup– Many times beans are overlooked as a detox food, because the thought is that only fruits and vegetables can detox the body. But beans have a good amount of fiber and are usually able to aid in digestion if they are cooked properly and eaten in correct portions. In this case they're using cannellini beans, but you could substitute those with whichever beans you happen to have on hand. The other ingredients highlight the subtle flavor of the beans, while providing additional textures and tastes.
14. Pump up your Greens 'Creamed' Soup– The reason creamed is in quotes is because they've managed to produce a creamy soup without the use of any cream. The use of plenty of green vegetables, including the hydrating effects of cucumber, the nutrient-dense nature of spinach, and the healthy fat and potassium of avocado make this one a sure winner. This is a soup that you could serve to your family and they wouldn't even know you're helping them cleanse, aside from the fact that it looks healthy. Chili powder, lemon juice, and black pepper have you covered for spice and flavor and only spur on the detox process.
15. No-Chicken Soup– No chickens were harmed in the making of this "no chicken" soup. It's attempting to capture the wholesome goodness of chicken soup, but without using chicken or any byproducts of chickens. This recipe is a little tricky because you have to plan ahead a few days, but the result will be worth it, and if you make enough of it to last a few days you can continue the detoxing gradually. The number of ingredients is rather simple, proving that you don't need to overdo things as long as you get the basics right.
[hr]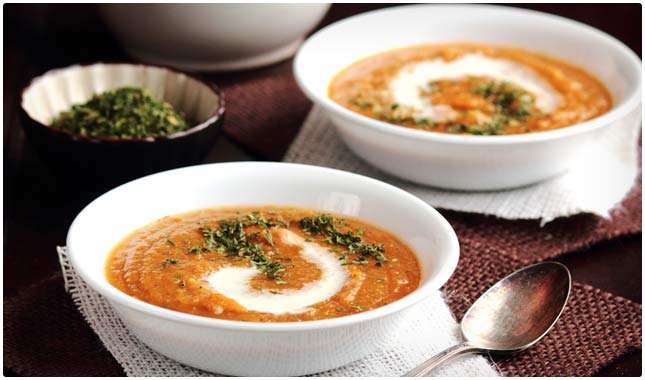 Photo: Pastry Affair
16. Roasted Butternut Squash and Apple Soup
Making your own roasted butternut squash can take a little time, but is so worth it. If you've ever bought pre-made butternut squash soup at the store, you know that it just doesn't cut it, and tastes nothing like when it's freshly prepared. When you combine it with the goodness of apples you are creating a dynamic duo that helps the body in various ways.
[hr]
17. Detox Green Soup– Broccoli is one of the most healthy foods you can eat, and so is spinach, and both get called to the line of duty on this recipe. Just one would be enough to get the detox job done, but when you have them both working in conjunction with each other, it's almost too much of a good thing. Since some struggle with the thought of having to eat either broccoli or spinach, don't fret: there is parsley, garlic, and onions to help with the taste and also to add bonus nutrients, as if it needed any.
18. Cleansing Miso, Beet and Asparagus Soup– Most miso soups have a light brown or tan color, but not this one thanks to the beets being used. What we have here is a collection of three main ingredients that all have been covered in the news as being very good for the body. Miso sometimes gets partial credit for the overall health of the Japanese people. Beets are gaining in popularity due to the fact that they contain phytonutrients that just aren't found in many other places. Asparagus has enough healthy benefits on its own but adds greatly to this soup.
19. Roasted Pumpkin Soup– Pumpkins are just for making jack-o-lanterns or for pumpkin pies. Try adding them more to your cooking by getting comfortable with the idea of roasting them in the oven until they're tender. Save the seeds for other recipes that call for them, as these are extra-healthy as well. There aren't too many other supporting ingredients on this, just some onion and garlic and a few herbs and spices. You'll really taste the pumpkin on this, and get its nutritional value as well. Pumpkin doesn't get a lot of recognition as a detoxing food, but it is.
20. Avocado Cucumber Soup– This is one of the fastest and easiest soups we could find, and it's great for those times that you just need a re-up in the middle of the day and want something that will offer a lot of benefit, but not take a lot of time to prepare and gulp down. This has just a few simple ingredients, and preparation involves tossing everything in the blender and pressing play. Not to be a spoiler but the ingredients are in the title, plus some lime zest and lime juice thrown in for added flavor. Fast, fresh, yum, and detoxifying!
21. Carrot, Cumin and Ginger Detox Soup– Here is a trio of ingredients that is sure to both cleanse the body and satisfy your taste buds. The use of both cumin and ginger in the same recipe is interesting and will provide a flavor you won't' soon forget. The carrots serve as the base for this soup, and aside from the beta-carotene that most of us know about, carrots are a good source of the antioxidant vitamin A as well as a source of fiber. Cumin has long been established as having curative properties, and ginger acts as a cleansing agent in the body.
[hr]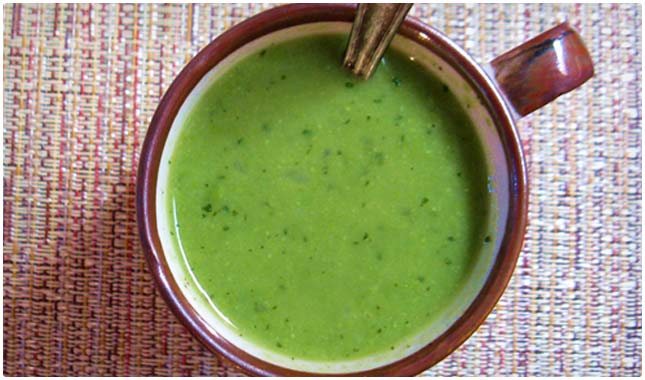 Photo: Budding Lotus Body
Peas are often thought of as a side dish, and nothing more. But they are very nutritious, and their nutrition increases when they are paired with a cleansing herb like mint. They're also using a good amount of ginger here, so you're getting the astringent qualities it possesses, and also the flavor it adds to any dish. The nice part about this recipe is that it calls for frozen peas. It's super easy to find organic peas in the frozen vegetables section of your grocery store or supermarket. Keeping a spare bag of them around is a great way to add them to meals more.
[hr]
Make It Yours
One great thing about all of these recipes is that they're highly customizable. It's easy to stay true to your detoxing mission by adding any superfood to one of these soups. You can also take away an ingredient if you're allergic or otherwise just don't like it. There's really no way to screw up a detox soup unless you add something that the body doesn't respond well to. You can also get creative and make your own recipe using healthy ingredients you may already have in the fridge.
Looking for a detox salad to go with your soup?