They say breakfast is the most important meal of the day, and when you start off with the following healthy breakfast recipes you're going to be starting off on the right foot. The beauty is that many of them are easy to make, so if you've only got one eye open you can still whip together something food for you and tasty too.
[hr]
Eggs
Eggs are definitely near the top of the list for most popular breakfast food. They provide protein, and are a sure sign that morning has begun. Combined with other healthy foods, they make for a well-rounded meal.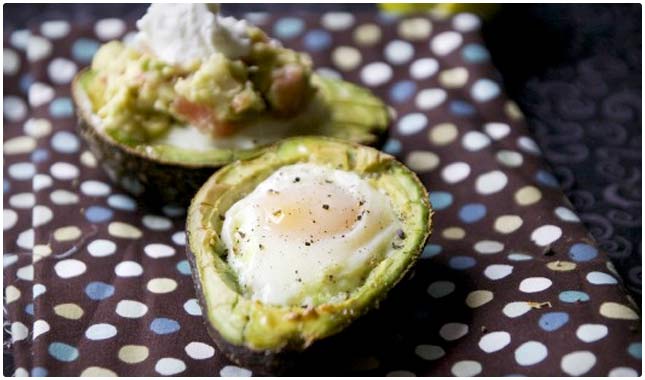 Photo: The Pescetarian and the Pig
1. Baked Eggs in Avocado with Guacamole – The presentation on these is simply amazing, so you can break them out when you want to impress overnight guests. The avocado acts as an ingredient, and the peel acts a boat to hold it all together. You get a good dose of healthy fat from the avocado, and protein from the egg. Served with a side of multigrain or whole wheat toast this is a complete meal that will most definitely hold you over until lunch.
2. Kale and Sweet Potato Hash With Baked Eggs – Here is a complete meal that will help you soar through your morning and not wonder when the heck lunch is going to get here. That's because you have a perfect mix of carbs with the sweet potato, protein with the eggs, and a superfood vegetable in kale. Eaten together you're getting a perfectly proportioned meal that will help stabilize your blood sugars so you don't have that morning fog.
[AdSense-A]
3. Mini Egg White Frittata – Any time you make something mini, it's going to have that cute factor. Then it just becomes a matter of not eating too many of them. These use egg whites, as well as whole eggs but they give you the option of taking out the yolks and just using more whites. The spinach really gives this a nutrient boost, and the feta cheese will help it to taste amazing, while not adding a ton to the bottom line in regards to fat and calories.
4. Hash-Brown Quiche – Here's a quiche that breaks the mold on what you typically think of when you think quiche. Yes, it has the eggs of course, but the author uses bacon bits and portobello mushrooms for a great flavor. If you're lactose-intolerance, use almond or coconut milk in place of cow's milk. You can also omit the cheese or substitute it with a safer option.
5. Benedict-Style Eggs with Sautéed Spinach – Most of us know that eggs benedict are not good for you, and that's mostly because of the Hollandaise sauce. These are benedict-style, so it takes a similar approach but won't leave you mired in the sauce. It uses turkey bacon to keep fat levels down, and baby spinach to get nutrient levels way up. The cheese sauce that goes on top is a much better option than Hollandaise sauce and you're left with a tasty, filling, and healthy breakfast.
6. Arugula and Veggie Scrambled Eggs – The arugula is a leafy green that adds a peppery taste to a meal. When combined with the feta cheese you are giving your eggs a real boost. Use a reduced fat cheese if you're really trying to cut down on the fat, but there isn't so much cheese here to set you back. The onions will also work to get your metabolism and digestive juice going, so this makes a start to your day that will continue to pay dividends.
7. Mexi Bolita Beer Breakfast – Here's a breakfast dish that you probably wouldn't have thought of on your own. If you never thought you'd be having beer at breakfast it's time to rethink that choice and consider having this oddball creation. Here they use Negro Molena but they say you can use any dark Mexican beer for the same result. The other ingredients are all healthy and wholesome and this is worth trying out, even if you're just curious.
8. Baked Eggs in Shredded Cheese and Potato Cups – Baking the eggs is nice because you'll avoid the oils associated with frying and scrambling them. The use of potatoes means you're helping to balance out the protein of the eggs with the carbs of the potatoes. Adding a bit of cheese does raise the fat meter, but not to a level that negates the wholesomeness of this meal. Great presentation for company, or when flying solo.
[hr]
Muffins
Muffins have gone from having a good reputation to a bad one because of the sizes you find at coffee shops and pre-packaged ones. But these recipes bring muffins back to their roots. Regular sized and made with healthy ingredients.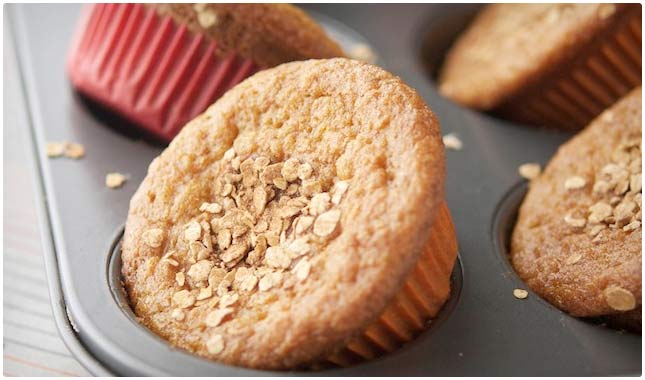 Photo: The Iron You
9. Pumpkin Protein Muffins – These muffins give you a nice pumpkin flavor, with an added boost of protein thanks to whey protein powder being used. This means that you can get a protein filled breakfast without using eggs or fatty meats like bacon or sausage. The muffin itself provides the carbohydrates so it's also balanced and should keep you satisfied throughout the morning. You might also considering eating it after a workout to feed your muscles.
10. Healthy Mango Bran Protein Muffins – Bran muffins are usually referenced as a classic dieting food, but they don't have to taste bad. The use of mango in these muffins means you'll get a boost of antioxidant support, a tropical flavor, and even more fiber. They give this an added protein boost with whey protein, which makes it a great breakfast for those that are working out and lifting weights. Aside from that it could be used as a pre or post workout recovery tool.
11. Strawberry & Banana Chocolate Chip Oat Muffins – These look great with the slice of strawberry on top. And you'll also be letting your taste buds know you still care with the addition of chocolate chips. Don't worry, there's not enough chocolate to undo all of the benefit you're getting from the strawberry and bananas. You're also getting fiber and the metabolism boost from the oats. Overall these are muffins to be reckoned with and can be added to your weekly breakfast menu.
12. Mini Spinach Fritters – Here's a breakfast dish that could have made it into the egg category, but since it's in muffin form we added it here. Eggs and spinach taste great together, and you're getting the benefit of both in this recipe. The end result is a meal with plenty of protein and veggies. Serve with a side of toast to round it out.
13. Chocolate Avocado Muffins – These are a real treat that won't have you regretting your breakfast choice. The avocado in these gives you some healthy monounsaturated fat, and the raw cacao used is not your typical milk chocolate found in candy bars. You're left with a chocolatey treat that will appeal to both vegans and gluten-free followers. Cinnamon acts to rev up your metabolism, and almonds have plenty of healthy properties and make a great topping.
14. Antioxidant Power Muffins – You know you're getting your fill of antioxidants when it's part of the title. This recipe uses a combination of blueberries and cranberries to live up to its name. It combines them with other amazing foods like ginger, cinnamon, and bananas so this is a nutritional feast for the body. The way they've made them here almost looks like a fancy doughnut, but they're calling them muffins. Either way they're healthy as can be.
15. Flourless Hazelnut Carrot and Date Muffins – Ever wonder how you can make a muffin without using flour? This is a nice recipe for those that are following a Paleo style diet and not using anything that is processed. It's also good for those that are trying to avoid grains, or on a gluten-free diet. They might not be the prettiest things when they're finished, but with ingredients like carrots, bananas, and walnuts.
[hr]
Pancakes & Waffles
You don't have to visit your favorite diner or breakfast restaurant to enjoy pancakes and waffles. In fact, you can do a better job at keeping them healthy by following these easy recipes. A great once-in-awhile treat can now be one of your major breakfast players.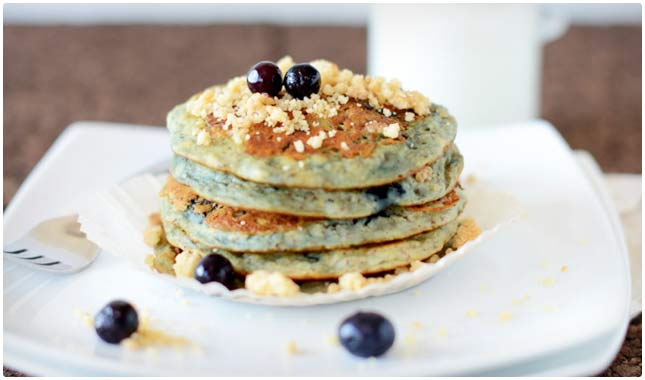 Photo: Minimalist Bakery
16. Vegan Blueberry Muffin Pancakes – Vegan means no animals were harmed or exploited to make these blueberry pancakes. Even the pat of butter on top is not butter, but Earth Balance spread. The use of ingredients like flax seed and almond milk are keeping it healthy. And blueberries always work at getting more antioxidants into your system, in addition to other health benefits. Overall these are a good breakfast choice you can return to again and again.
17. Orange-Vanilla Greek Yogurt Pancakes – Whole grain pancakes made with Greek yogurt? Awesome! That means you're getting the added protein from the yogurt and making the pancake batter better for you. They're also using fat-free milk and orange juice for the orange flavoring. Overall these are pancakes you won't soon forget, and they're something you can have whenever you get the inkling, and not feel bad about later.
18. Semi-Homemade Blueberry Pancakes – In a perfect world everything would be homemade, but it takes too long for most of us to justify. Here's a compromise you can live with. They use store bought pancake mix, which allows you to be choosy and get the kind that suits your diet, gluten-free, low-fat, etc. In their version they are using blueberries but they say you can mix it up with any other fruit. The addition of peanut butter to the top is unique and gives it a shot of healthy fat and protein.
19. Blueberry Oatmeal Waffles – Waffles are a favorite among both kids and adults, but there's really not much healthy about waffle batter. With these you're getting the goodness of oatmeal in the form of a waffle, plus you're tossing in blueberries for antioxidants and other vitamins. The sprinkle of coconut means you're getting a nice flavor to it, just be sure to use a light syrup if you go that route and you're all set.
20. Peanut Butter and Chocolate Cornmeal Waffles – At first we thought this might be gluten free since it uses cornmeal, but it also uses flour so no, it's not. But it still has a lot going for it, including the use of peanut butter and chocolate so you're giving your taste buds a wake up call. You'll also be using banana and yogurt as a topping. Make that Greek yogurt and you'll get extra protein and a thicker texture.
21. Wonderful Waffles – What makes these waffles so wonderful? The use of whole grains and nuts for starters. You're also getting the awesome power of oats. They say you can use gluten-free oats if you have a gluten sensitivity and still get good results. There are not too many additional ingredients to these, which keeps it simple, and keeps them easy to make and easy on the diet.
22. Caramel Apple Crepes – While not exactly a pancake, we had nowhere else to put this one and wanted to make sure you didn't miss out on it. They use whole wheat crepes on this one to keep it healthy, and the apples are nice and fresh, retaining all of their vitamins and nutrients. Whipped cream is optional, so skip it if you're concerned about the added calories and fat. Otherwise this is a great breakfast to let your taste buds know you haven't forgotten about them.
[hr]
Breads
A slice of wholesome bread in the morning can be a filling and satisfying start. The carbs it contains will propel you through a busy morning, and each of these healthy recipes uses ingredients that have antioxidants and other nutrients that are good for the body.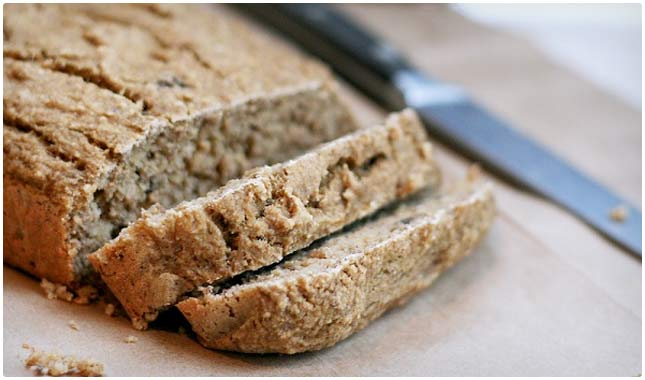 Photo: Mix It Up
23. Good Ol' Banana Bread – Nothing beats some warm delicious banana bread in the morning, and this is a recipe that shows you a way to make it healthy so you don't have to feel guilty about it. In addition to the obligatory bananas, you're adding egg whites which cut out the egg yolks, and the classic spices that gives banana bread its signature taste, cinnamon and nutmeg, with some ginger thrown in as well.
24. Banana Cranberry Breakfast Bread – Bananas and cranberries are superfoods in their own right. Bananas have potassium and fiber, and the cranberries have antioxidants and can help fight heart disease and cancer.But it's not easy to eat just fruit in the morning, as you'd be ravenous before noon hits. When you pair them up and place them in a bread along with applesauce and oats, you're doing something right.
25. Coconut Flour Pumpkin Bread – This uses quinoa to give it a heartiness as well as protein. It also contains pumpkin puree for the pumpkin flavor. They say this makes a nice holiday loaf to bake up, giving your home that classic holiday smell, but it can be enjoyed year round if you'd like. It makes a good breakfast choice, and is interesting because they use coconut flour, which many will have to go out and buy specifically for this recipe.
[hr]
Breakfast Sandwiches
A breakfast sandwich is a great grab for an on-the-go morning, and contains a well-balanced meal you can hold in one hand. Most of these use egg for the protein and the bread or wrap serves as the carb, with some veggies on top.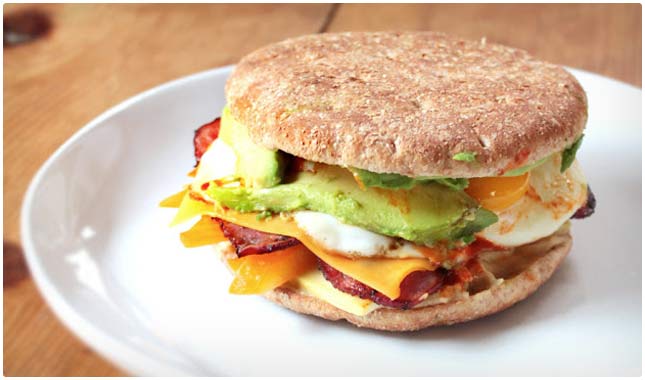 Photo: Food Nasty
26. Low Calorie Breakfast Sandwich – Whole wheat deli thins keep this a low-calorie meal, and give you the flavor without the bulk of a biscuit. The combination of hummus, avocado, turkey bacon, and hummus will have your taste buds wondering what is going on, but in a good way. The net result is a sandwich that contains a good amount of protein, carbs, and even healthy monounsaturated fat from the avocado. Win!
27. Western Omelet Breakfast Sandwich – Here's a breakfast sandwich that covers all of the bases. The eggs supply a quality protein, the English muffins are whole wheat, and the peppers give you a morning vegetable. It's easy enough to make this a vegetarian dish by simply leaving out the ham. That would also be recommended for those that are watching their fat and sodium intake, but there isn't enough used here to make this an unhealthy choice.
28. Greens and Tofu Scrambles Wraps – A breakfast wrap sure looks appetizing, and will get your digestive juices going in the morning. By subbing tofu for eggs this is a great meal for those that don't really like the taste of eggs. The use of turmeric, a superspice, will help rev up your metabolism, and it also contains shiitake mushrooms, a superfood all by themselves. This is a nutritional powerhouse you may want to consider adding to your regular breakfast meals lineup.
29. Poached Egg and Smoked Salmon Sandwich – This sandwich has a lot going on, and since its open faced you're automatically cutting out the extra calories that would come with an additional slice of bread. Almost every ingredient on here is a superfood, so the final concoction is really going to start the day off right. There's avocado with their healthy fats, spinach with all of its benefits, eggs for protein, and salmon supplying omega-3s and additional protein.
30. Beet Hash Breakfast Wrap – The health benefits of beets are undeniable, and chances are you're not eating enough of them. Here's a healthy recipe that will instantly up your beet intake, but will do it in a way that tastes good. You don't want to use the pickled beets you find in the jar, buy them fresh and then grate them up as directed. You're also getting eggs and corn in this for additional nutritional value.
[hr]
Breakfast Cereal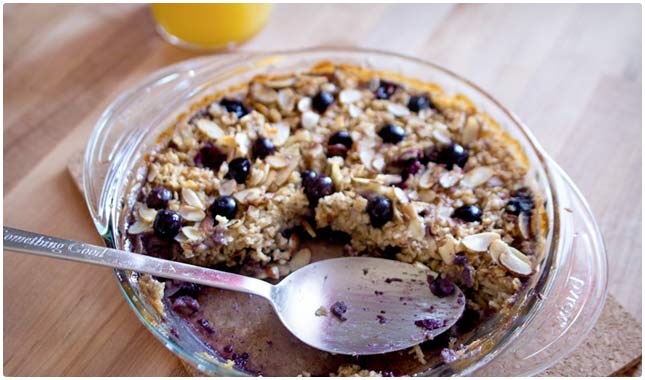 Photo: Paper/Plates
31. Baked Oatmeal with Almonds and Blueberries – Here's a vegetarian breakfast that won't leave you longing for the meat. It's full of wholesome ingredients like almonds, a very healthy nut. There's also blueberries, revered for their antioxidant value. An egg gives it some protein, and baking it seals in all of the taste and makes sure that the blueberries release their flavor as well. A hearty meal that's great for cold winter mornings, or any time of the year really.
32. Apple Cranberry Millet Breakfast Porridge – Apples? Healthy. Cranberries? Healthy. Millet? Healthy. Put them all together in a breakfast porridge and you've got a winner. Millet can protect your heart, and so can cranberries. We all know apples are a fantastic food to consume. Overall this provides a well-balanced and healthy start to your day that will supply you with the energy you need, with no crash later, and no reaching for the snack machine before lunch hits.
33. Carrot Cake Oatmeal – How to get the delicious taste of carrot cake into your cereal bowl? Infuse it into your oatmeal! This not only keeps things healthy, by giving you all of the health advantages that oatmeal brings, but it gives it a tasty twist that makes it easier to eat. The use of real carrots and just a few supporting ingredients make this an easy dish to whip up, and a flavor combination you'll remember days later.
34. Homemade Granola – Yes, you can buy granola in the store, but then you don't have any quality control and are at the mercy with whatever the food corporation deemed fit to use in their granola. This recipe lets you hand select your ingredients so you can decide what you're putting into your body. Their list of suggestions is quite impressive, with healthy almonds, as well as two superfoods in dried form: cherries and blueberries.
35. Berry Baked Oatmeal – It's hard to deny that when you combine superfoods the end result will also be a superfood. Here they're taking the stereotypical health food oatmeal and combining it with a mixture of berries, which consistently rank high on the antioxidant meter. Best of all they're doing it all on the cheap. If you want to splurge a bit more we'd recommend going with organic oats and berries. You'll still be under budget compared to other breakfast options.
36. Paleo Almond Honey Granola – Any time you see Paleo on a recipe title you know that you're going to get something that is dairy free and grain free, which means it will also be gluten free. With this granola the focus is on nuts and seeds, two items that were definitely around in caveman days and need no agriculture to collect. They also have plenty of dried fruit so you're going to get a good amount of antioxidants.
37. Oatmeal Raisin Energy Bites – Here's a cereal in ball form that makes them easy to pop in your mouth and go. The base ingredient here is oatmeal, so you'll be getting all of the fiber and goodness from that. There's also raisins which pack a nutritional punch. They call these energy bites and it's easy to see why. If you compare them against other breakfasts that can slow you down, like a big farmer's omelet or anything with fried meats, these will provide a much better boost.
38. Warm Quinoa Pudding – If you're not familiar with quinoa, don't be shy. It's very versatile and very forgiving if you make a mistake. It's also very delicious and has a ton of excellent health benefits that make it worth having as a staple item in your kitchen. Here they've put it in pudding form, along with raisins and cranberries. It's nice if you're trying to cut out the wheat and want to avoid oatmeal.
[hr]
Breakfast Bars
Breakfast bars are a great on-the-go way to make sure you don't skip out on this very important meal. These bars are made with your waistline in mind, so you get a boost of energy without being weighed down.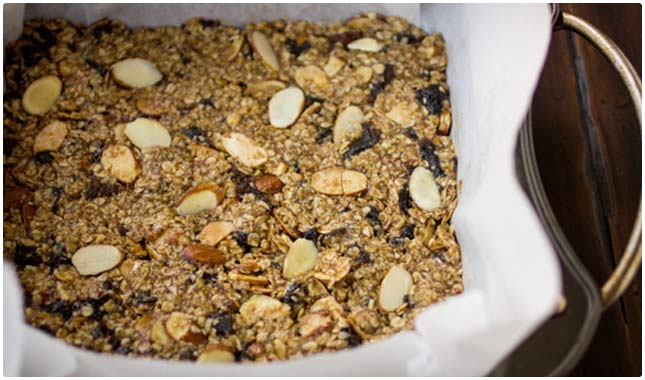 Photo: The Bojon Gourmet
39. Gluten- and Dairy-Free Breakfast Bars – These breakfast bars will appeal to a wide range of diet-conscious individuals because they don't contain any gluten or dairy. The nutrition comes from items like apricots and prunes. You can make a batch of these on Sunday and have quick breakfast meals ready for the rest of the week. They're also nice for a between meal snack to hold you over until lunch or dinner.
40. Baked Pumpkin Pudding Bars – No eggs and no butter mean that these bars come out fat free. Bonus! The pumpkin has a good amount of fiber in it, and with other ingredients like Greek yogurt and mango juice you're going to get a serious amount of flavor from these little squares. The pumpkin will also help you feel full so you won't have a grumbly tummy long before lunchtime.
41. Healthy Peanut Butter Chunk Oatmeal Bars – Not only do these look great and send a message to your brain that you're eating something delicious, they contain wholesome foods that are good for you. The chocolate used is dairy free, and when you consider that you're getting a serving of oats, peanut butter, and raisins in these, the healthiness becomes clear. The only thing you'll have to watch out for is how many you eat.
[hr]
Healthy Doughnuts
A favorite food for Homer Simpson, donuts usually don't make it onto many diet programs. But these recipes keep in mind that you're trying to eat right, and leave out many of the things that make doughnuts so bad.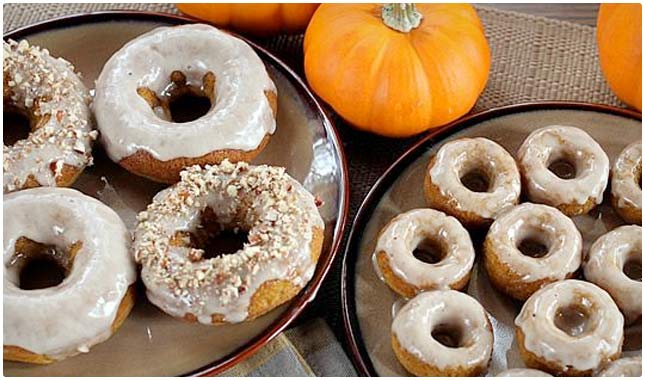 Photo: The Yummy Life
42. Baked Maple Pumpkin Donuts – The whole grains in these pumpkin donuts set the foundation for success, plus you've got pumpkin puree for fiber and flavor. The baking is what does the trick. Keeping the donuts from being deep fried is key when you're trying to make them healthy. But it's also a matter of using premium quality ingredients to keep this from infringing on your waistline. These would be great to enjoy with a cup of black coffee.
43. Chocolate Frosted Orange Donuts – The taste combination of chocolate and orange is one that is sure to please. These are a nice way to start your day if you've been eating right and want a nice treat without veering off of your diet plan. The little bit of chocolate frosting won't derail you, and the rest of the doughnut won't set you back, as it's made with almond meal and baked, not fried like donuts typically are.
44. Coffee Cinnamon "Proughnuts" – They've added enough protein to these donuts to coin a new term: proughnuts. Typically donuts do not contain a lot of protein, and if they did, it wouldn't matter because they still wouldn't be good for you. Here they're using whey protein in order to supercharge these donuts. They've also managed to keep them gluten-free while still providing plenty of coffee and cinnamon flavor. This makes it easy to avoid the donut shop!
45. Orange Glazed Blueberry Doughnuts – You've gotta love it when a Registered Dietitian recommends eating a doughnut. These are even glazed so you can get the sensation that you're having a free meal, when in actuality you're following the advice of a nutritionist. The blueberries give you an antioxidant rush, and the orange flavor comes from orange zest. Nothing artificial here, which is something you can't say about store bought doughnuts. Just keep portion sizes under control.
Choosing any of the above healthy breakfast recipes will help power you through your day and make sure you won't get hungry again too soon. Follow them up with a sensible lunch and dinner and you'll have made it through the day without the need to resort to junk food or fast food. Over time you'll see your body adjust to your new lifestyle.