Protein bars are a quick and convenient way to get your protein, but if you buy them in convenience stores you'll pay a premium for them. Making a big batch and then storing them for the week ahead is the best way to go. Not only are these protein bars more economical, but many of them taste better than what you'll find sold in stores. Many of them are no-bake, making them very easy to put together in a jiffy when you need an energy-providing snack.
[hr]
1. Soft and Chewy Protein Granola Bars
Granola bars are a great form of protein bar because they're easily portable and they keep well, tasting great several days and even weeks after you've made them if stored properly. These granola bars get extra protein from vanilla protein powder, ground flax, almond butter and almond milk. Rolled oats provide their own benefits, so you're not just getting protein from these bars, but the accumulated nutrition of all the included ingredients. Honey provides a natural sweetness, making these taste great, increasing your desire for them and boosting your nutrition.
[hr]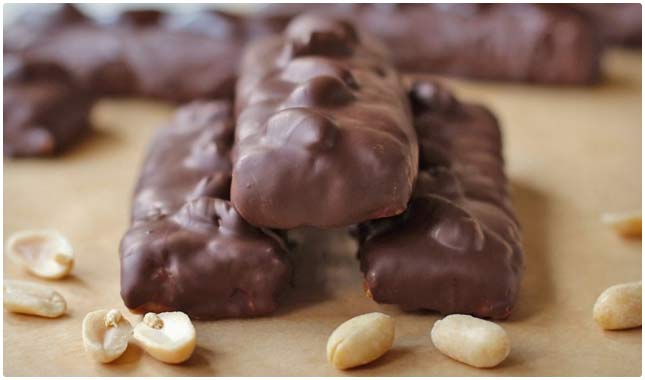 Photo: Desserts with Benefits
These protein bars take the flavors you get when you eat a candy bar and load it up with protein, making it much healthier. From the use of natural peanut butter to rice protein powder you can tell that she's using only the best ingredients and tried to remove all of the artificial ingredients, preservatives, sugars, and more that's found in traditional candy bars. She's even using a homemade caramel sauce to give you the flavor of caramel without having to use the stuff you find in stores. A dark chocolate coating means you're getting antioxidants and passing on the added sugar in milk chocolate.
[hr]
These protein bars really do contain plenty of protein because there's two scoops of protein powder in them. In addition to that you are getting protein from other ingredients, including flaxseed meal, and peanut butter. It's good to get natural sources of protein in addition to the protein provided by the protein powder, as they're not all the same sort of protein. You don't need to bake them, just mix up the ingredients as directed, then pop them in the refrigerator for a half hour. This is one of the tastier and easier-to-make protein bar recipes we've come across.
No need to bake these protein bars, as they are made without an oven and with healthy ingredients that will move you forward on your weight loss or strength training regimen. The added bonus that they come out looking like a real protein bar that you'd find in a shiny silver wrapper for $3 or so. The contain vanilla protein powder and other choice ingredients like chia seeds, peanut butter, and honey so that you're getting plenty of other nutrition in addition to the protein. This includes omega-3s, healthy fats, and a natural source of sweetness.
5. Triple Layered Protein Bars with Peanut Butter and Chocolate
Making layered foods always adds to its visual appeal, and is easier than it looks. With these triple layer protein bars you're getting the goodness that happens when peanut butter and chocolate combine, as well as plenty of protein from protein powder, peanut butter, chia seeds, and cashews. These are sure to taste good thanks to the plums, oats, cocoa, honey, and peanuts, and these are destined to be one of your new favorite homemade protein bars if you try them just once. These don't require any baking, just layer the ingredients, cool them down, and enjoy.
[hr]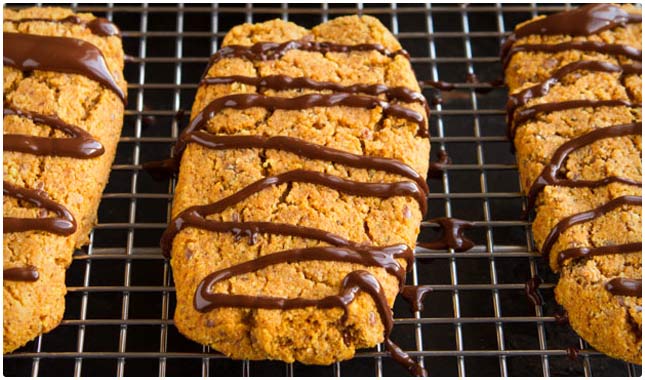 Photo: Healthful Pursuit
6. Oil-Free Chocolate Pumpkin Protein Bars
If you love the taste of pumpkin and want to enjoy it as a protein bar, there's no better way than with these chocolate drizzled pumpkin protein bars. They don't use any oil, which is a big bonus, and instead they're relying on milk, coffee, and pumpkin puree to make these taste right. They point out that you don't want to use pumpkin pie filling, so be sure that you're getting simple pumpkin puree for these to come out right. They've included just the right mix of seasonings and spices to have these taste like pumpkin pie bars with chocolate on them.
[hr]
7. Raw Pumpkin Hemp Seed Protein Bars
These protein bars are rather unique, as they include hemp butter, not something you'll generally find in most off-the-shelf protein bars. The beauty of hemp seeds is the impressive amount of protein they have. They even include all 20 amino acids that your body needs. So rather than buy a protein bar that pretty much just has protein, or that has a lot of synthetic ingredients, go with an all natural source of nutrition that tastes good too. There's also pumpkin seeds and chia seeds, two super seeds that carry plenty of nutritional benefit on their own, as well as more protein.
8. Chocolate Chip Brownie & Oat Bars
These look like a brownie and a granola bar had a baby, so you'll get the best of both worlds, plus a lot of protein thanks to chocolate protein powder. There's also real cocoa powder added, so you won't be stuck with the funny tasting chocolate flavor that usually comes with chocolate protein powder. There's oats, whole wheat flour, and honey so you'll get the taste of granola bars as well. This is an interesting mix, and we wouldn't have thought to combine brownies and granola bars to form a protein bar.
They're using maca root powder here because of the B Vitamins it contains, hoping that these essential vitamins provide a boost of energy to your day. There's also plenty of protein to help with the cause, and they're not using any protein powder to make it happen. Instead there's an assortment of protein-rich foods that are responsible for the protein. Almonds, sunflower seeds, flax seeds, and chia seeds are all known for their protein content, and they're all included here. If you are trying to build lean muscle you may want to also add some protein powder to really amp up the protein content.
[hr]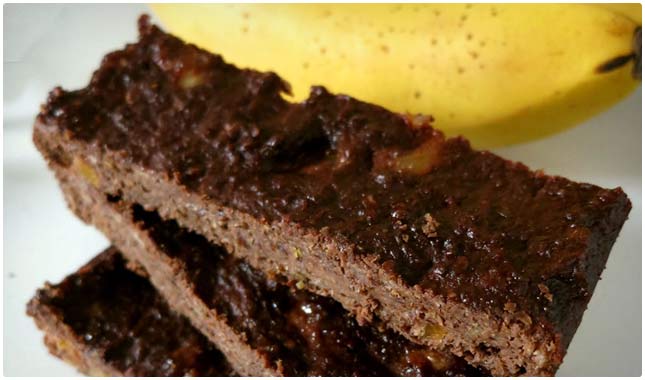 Photo: Healtheasy
10. Chocolate Protein Energy Bars
This protein bar recipe keeps things really simple, and only uses a small batch of high quality ingredients to get the job done. Bananas, almond flour, flax seed, cacao powder, and whey protein are all that you need, but they do leave the door open for other mix-ins of your choosing, making this an adaptable recipe that you can play around with. Our recommendation would be to try them as instructed the first time, and then decide what they're missing.
[hr]
11. No Bake Almond Fudge Protein Bars
These almond fudge protein bars don't need a trip to the oven, and they're ready to eat just as soon as they cool down. There's only a few ingredients, and the items that are included are all crunchy and sweet, yet good for you at the same time. The best part of making your own protein bars is that you get to do your own quality control, and only use high quality ingredients that you feel good about eating.
12. Super Protein Star Crunch Bars
Remember the Star Crunch bars from Little Debbie? You can still buy them, but making your own in a healthy way is a much better idea. They've captured that nostalgic taste and added a substantial amount of protein to them so you can actually use them to your advantage. Hemp seeds and flax seed give it the protein it needs to be called a protein bar, and there's also the classic crunchiness that makes Star Crunch bars so memorable.
If you've been looking for ways to use that bag of quinoa in your cupboard, these protein bars may be just the thing. They put the quinoa to use in a way that makes it highly approachable, and very tasty. You'll be getting the protein that quinoa contains, added to peanut butter and almonds to round out the protein profile. The use of dark chocolate means you're getting important antioxidants that will help your body battle free radical damage, and of course you'll be getting its delicious flavor.
[hr]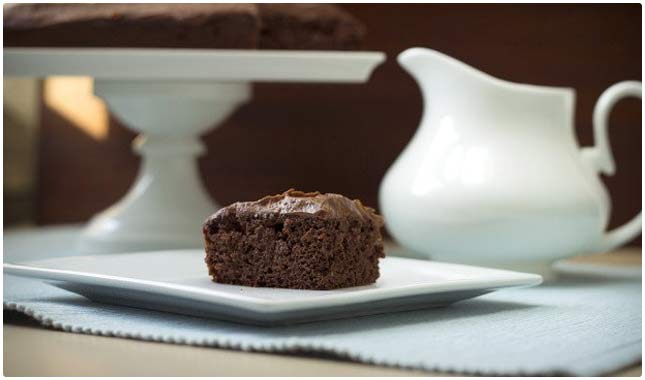 Photo: Food Fanatic
These brownies are actually something you can encourage yourself to eat, rather than deprive yourself of. They can be cut into bar form, which is why we've included them here. They are basically a brownie recipe that's been adapted until it becomes health food, with Greek yogurt, an egg, and milk adding to the total amount of protein found in it. It's the chocolate protein powder that really makes it useful if you're trying to find delicious ways to get your daily protein requirements met. And of course it's a brownie, so it's going to taste good right out of the oven and for the next few days as well.
[hr]
15. Cinnamon Raisin Peanut Butter Fudge Protein Bars
There are a lot of ingredients in play with these protein bars, and there's surely something you'll enjoy in them. There's is one special ingredient that does most of the heavy lifting: they're using Cinnamon Raisin Chia Seed Peanut Butter, so you don't have to worry about trying to source all of those different ingredients and prepare them. That is of course if you can find that peanut butter locally. You can always order it online if you want to replicate the recipe exactly.
16. No-Bake Vegan Chocolate Chip Protein Bars
Whenever you see a recipe that's vegan you know that it's going to be free of a lot of things that just aren't good for you. In this case they've come up with a vegan protein bar that actually tastes great, and doesn't require any baking. There's even protein powder used, and if you want to keep it vegan you'll have to make sure to use a vegan protein powder, which means you won't be able to use a whey protein powder as this isn't vegan.
17. Healthy Snacking Pumpkin Bars
These pumpkin bars may be a little more complicated than some of the other protein bar recipes we're featuring, but it's worth the extra time to gather up the ingredients and bake these up. They've taken extra care in selecting just the right seasonings and spices to make them taste the way they should, and to they've kept it as healthy as possible while still making it a great snack time choice. Greek yogurt, almond milk, and flax seed give it the protein, and of course you could always boost it with some protein powder.
[hr]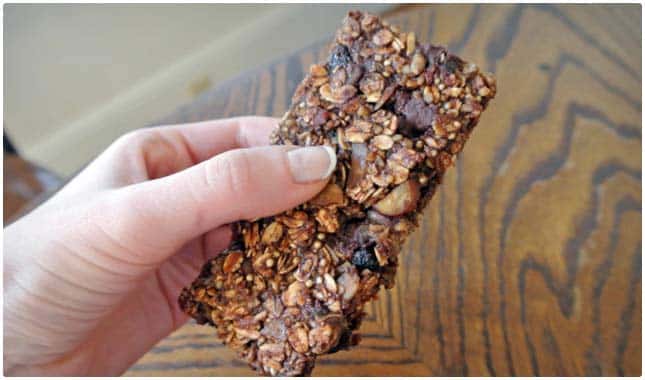 Photo: Blonde Ambition
These muesli protein bars really do look like muesli in bar form. They're great to take with you anywhere as a highly portable and nutritious snack. They're using a muesli blend that is fortified with antioxidants, as well as an assortment of ingredients that adds even more nutrition to the equation. Chia seeds, quinoa, banana, honey, and almond milk go together nicely, and each item provides its own nutritional benefit. When they combine it's like having multiple superfoods all in one bar. Have you heard the one where the superfoods walk into bar? All kidding aside these bars will provide you with all the energy you need between meals.
[hr]
19. Date Walnut Protein Bars with Sea Salt
You simply must try almond butter if you haven't already. It's a great substitute for peanut butter if you're on a diet that doesn't allow legumes. It provides a good amount of protein, and the classic nutty flavor that almonds are known for in an easier to digest form. To boost the protein they've added protein powder, so you'll be getting all of your protein needs met with this snack. This will come in handy if you've eaten a meal that didn't have much protein in it, and you're looking to correct the imbalance, or you're using protein as a way to help build lean muscle from strength training workouts.
20. Peanut Butter Crunch Protein Bars
We don't think that they're trying to replicate Peanut Butter Crunch cereal with this one, they just made protein bars that include peanut butter and have a crunch to them. Peanut butter, dates, applesauce and protein powder form the foundation for these homemade protein bars, and they also include a crispy rice cereal to make them crunchy. This is a good idea, as the crunchiness adds to the satisfaction experienced when eating these. The powder they are using is plant-based protein and actual counts as vegetable servings, so you're getting much more nutrition from these bars than from ones you find for sale in stores.
Powering you through your day is one way to use protein bars, and these Fuel to Go bars are going to rev you up. They're full of wholesome ingredients like peanut butter, honey, raisins, dried blueberries, sunflower seeds, and more, so your mouth won't know what hit it because there are so many flavors and textures going on. The great thing is that each individual on its own provides plenty of nutrition in the form of antioxidants, minerals, and vitamins, so when they combine you're getting all of them together.
[hr]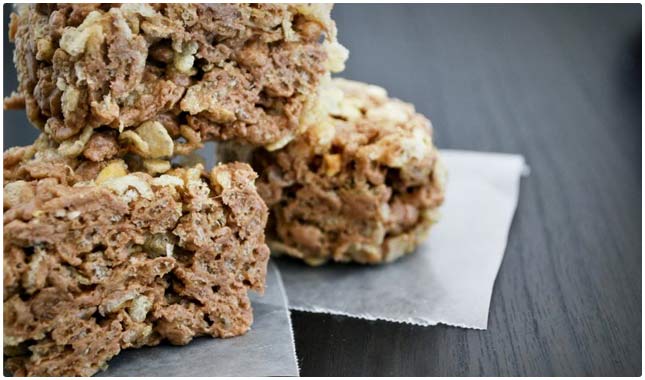 Photo: Mallow and Co.
22. Protein Bar Rice Krispy Treats
These protein bars taste like Rice Krispies Treats, except they've been fortified with extra protein so that they are more nutritious. If you've been craving a sweet treat, but didn't want to ruin your diet plans, these could be your savior. They do include Rice Krispies, so they'll taste authentic. They also include marshmallows, so if you're trying to avoid sugar and oil you may want to pass on these bars and find another recipe. There's plenty of protein in them, with peanut butter and a lots of protein powder to make them a popular protein choice when a protein shake just won't do.
[hr]
23. Chewy Chocolate Protein & Peanut Butter Fudge
These peanut butter fudge bars are laced with protein so you know you're getting plenty of it with each bite. It's a delicious way to get your protein, and any time peanut butter and honey collide you know you're onto something good. The chocolate in these doesn't hurt their cause either, and it's included in the chocolate protein powder. Be sure to opt for a high quality protein powder so you don't get the strange artificial chocolate taste that you'll find in some of the lesser brands. You'll generally get a better quality protein if you go with a well-reviewed protein powder and pay a little extra.
24. No-Bake High Protein Candied Ginger Cheesecake Bars
These don't look like your typical protein bar, because they're cheesecake bars, and who would ever think that cheesecake could be a source of protein. The way she's done it is pretty impressive as well, because there's only a little bit of protein powder being used, with a lot of the protein coming from multiple sources, all of them healthy and delicious. These include almond meal, quinoa flakes, flax seed meal, egg whites, cottage cheese, and Greek yogurt. It will taste like cheesecake, but probably not like any cheesecake you've had before thanks to the use of candied ginger. It's a way to have your protein and eat it too.
25. Peanut Butter and Jelly Chocolate Protein Fudge
Here's some peanut butter and jelly fudge bars that don't skimp on the chocolate. It's not everyday that you find protein bars enhanced with the taste of peanut butter and jelly. Many diets won't let you eat peanut butter and jelly sandwiches as the jelly will contain too much sugar, and the bread that the sandwich is served on has too many carbohydrates. But these fudge bars use honey as a natural sweetener, fruit for the jelly, and peanut butter for the peanut butter, so you're getting all nutritious foods, plus chocolate to boot.