Similar to the green smoothie trend, mean green juice is taking over. Lighter than a smoothie and containing different ingredients, many are finding just how refreshing it can be to drink your fruits and vegetables. Each of these recipes has a different take on how to make a green juice, so experiment until you find your favorite.
[hr]
1. Green Juice for Beginners
If you're at all intimidated by the thought of making and drinking green juice, start here. They keep it simple, with just enough ingredients to make it taste good and top you up on important vitamins and minerals. The lineup includes pineapple, apples, and ginger, and gets it distinct green color from a special kind of kale called dino kale, as well as some parsley. It's very easy to make, and since it doesn't taste bad thanks to sweet fruits you're more likely to drink it and benefit from it. You can always add in more ingredients as you get used to the idea of daily green juice.
[hr]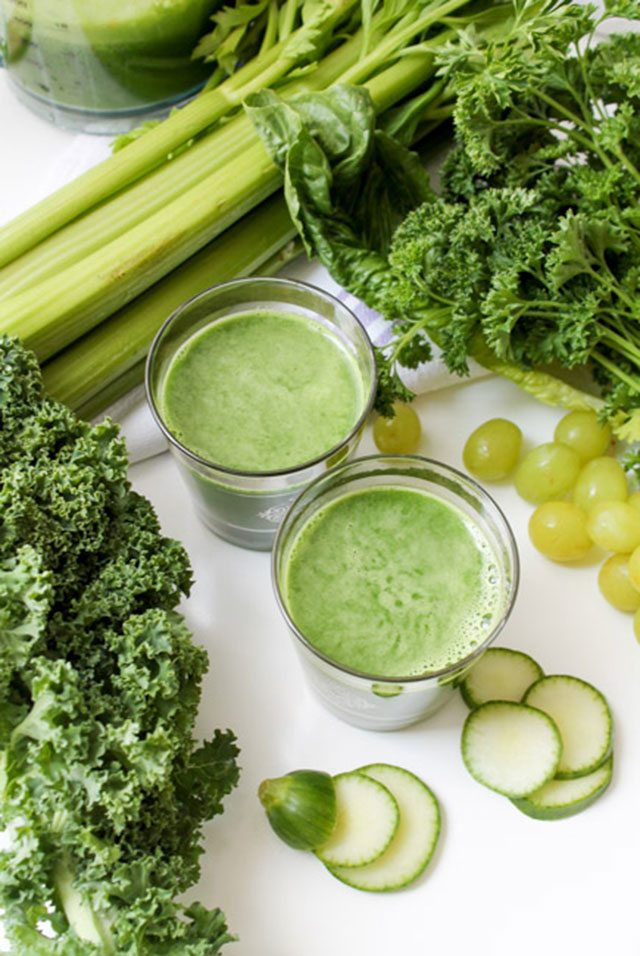 Photo: The Honour System
2. Lean & Mean Green Juice
Here's a way to stay lean and mean with the help of green juice. It includes a pretty standard list of green juice items, such as kale, cucumber, and celery, but it uses grapes as the source of sweetness. Often you'll seen apples being used to add sweetness to a juice, but grapes work well too, and also contribute to the nutritional value of the juice. This recipe calls for the use of a juicer, not a blender. A juicer will separate the juice from the pulp for all of the ingredients, and gives you a more concentrated liquid.
[hr]
3. Apple Fennel Green Juice
This green juice uses two tasty foods, one a fruit and one a vegetable, to produce a delicious taste. Apple brings its classic natural sweetness, while spinach has its distinct flavor that blends nicely with the apple. Adding to the greenness of this juice is lemon, cucumber, and mint, and all three of these bring additional nutrients to the table as well.
One good tactic when making green juice is to follow the recipes exactly the first time, and then make additions and substitutions based on what you liked and what you didn't like. It can be fun to play around with the different ingredients.
4. Tasty Green Juice
When it comes to drinking green juice, if it doesn't taste good you probably aren't going to drink it with enough regularity for it to make a noticeable difference.
There's an entire lemon in this green juice, so it will be packed with citrusy tartness, which is balanced out by the sweetness from a total of three apples. There's plenty of kale added so you're getting vitamins and minerals aplenty in the form of Vitamin A and Vitamin C, as well as magnesium and potassium. They give the tip that if you don't have a proper juicer you can blend these items up and then strain the juice through cheesecloth.
5. Primavera Green Juice
This a green juice is made from and brought to you by Primavera Kitchen. Olivia has taken a pretty standard approach to green juice, combining ingredients found in many green juice recipes, such as cucumber and celery. There's also green apples, which tend to have a tartness to them that other apple varieties lack. You'll also be getting a mix of kale and romaine for added greenery. Romaine lags behind kale in the nutrition department, but still provides more nutrients than iceberg lettuce, specifically Vitamin A.
[hr]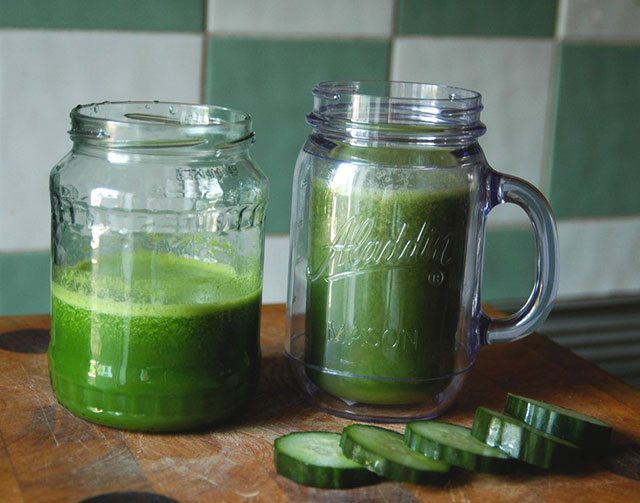 Photo: Cate in the Kitchen
6. Popeye Potion
Popeye the Sailor Man would be proud to put his name on this green juice, as it's filled to the brim with spinach. To be sure, there are two handfuls of spinach in this green juice, or actually you could say that there's the equivalent of two handfuls, since you're mostly getting the essence of these vegetables and fruit by juicing them. You'll get less fiber by separating the juice from the pulp, but you may be more inclined to drink the juice rather than blending up the items. She points out that this is a vegan juice, as are most green juice recipes.
[hr]
7. Pineapple Green Juice
Pineapple flavor dominates this green juice, which packs a nutritional punch thanks to all of the additional fruits and vegetables it contains. You start with a full cup of pineapple, adding broccoli, kale, and a Granny Smith apple to the mix. A cup of spinach will provide you with a big boost of Vitamins A and C, and a final handful of fresh mint means this will have a cool, crisp flavor throughout. It's the kind of juice you can use to recover from a stressful day at work, or during the middle of a stressful day to help you cope and stay in control.
8. Green Goddess Juice
Ladies, become the goddess you were meant to be with this green juice recipe. Wondering how to lose belly fat? Kale, cucumber and  green apples will do the trick. If the thought of drinking kale doesn't sound appealing to you, just remember that its flavor is trumped by such add-ins as ginger and lime. You'll love the way this tastes and you won't even remember that there's kale in it by the time you're done drinking it.
9. Naturally Sweet Green Detox Juice
Green juice goes nicely with any detoxing efforts you may be taking, and this particular recipe has a keen eye on keeping it clean. To make it even cleaner make sure to use organic produce, which will help you avoid GMOs, pesticides, and herbicides found in and on conventional food. This is a yummy mix of apples, parsley, lemon, and cucumbers, with a special ingredient, ginger, used to give it a twist that you don't often find in standard green juice recipes. The ginger not only boosts the flavor, but contains antioxidants to make the juice healthier.
[hr]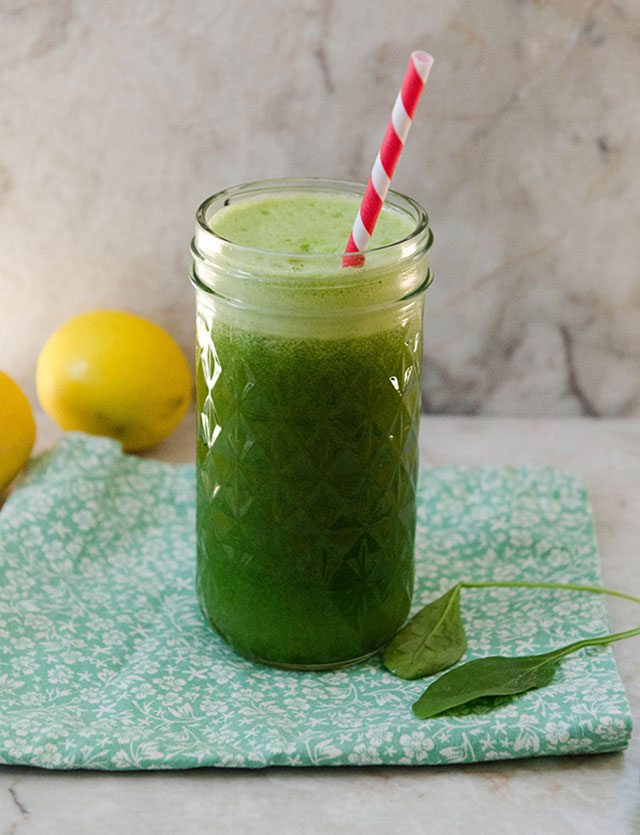 Photo: So… Let's Hang Out
10. Green Spinach Lemonade
You don't often see lemonade and spinach together, which makes this green juice concoction something special. For those that don't really like the taste of spinach too much, this is a good juice to go with because the lemonade is what you mostly taste. Real lemons are used to give it the taste of lemonade, not like most artificial lemonades that clearly state they contain no fruit juice. To sweeten it up they've gone with apples and they say you can use an additional apple for more sweetness.
[hr]
11. Green Juice II
It's nice when they don't stop at the first attempt and keep trying to improve upon a recipe. This green juice recipe is the second finalized attempt at making a tasty green juice that you'll look forward to drinking. Red grapefruit makes an appearance in this green juice, which means it will be a bit sour, but also sweet thanks to the pineapple they're using. The juice gets the required green color from parsley, celery, and spinach.
12. Sweet Freedom's Green Juice
Carrots are one of the ingredients that don't really contribute to the green color of this juice. Most of the others are green and color, but what they all have in common is that they often make the list of top superfoods. Joining the carrots is spinach, kale, cucumber, kiwi, and green apples. The green apples will give this juice a bit of tartness, which can play well with the other flavors. This is another green juice recipe that uses some ginger to help cleanse the body while adding a robust flavor to the total experience.
13. Feel Better Green Juice
It's nice to think that you have the ability to help yourself heal based on what you put into your body. This green juice can help boost your immune system so that you can kick whatever it is that is causing you to feel less than awesome. There's a separate recipe that provides much of the same nutrition but without the green color, which if for kids that might not be too keen to drink a green drink. This is a beverage you can truly feel good about giving them when they're not feeling their best.
14. Super Immunity Green Juice
Once you start feeling better you can drink this juice as a way to maintain that healthy feeling. What's nice about this recipe is that they tell you what each ingredient is adding to the health equation here. They say that kale provides you with fiber to help kill belly fat, and ginger aids in digestion. Lemon provides Vitamin C while spinach brings Vitamin E. Since so many Americans are deficient in these important vitamins, it's great that this juice supplies them in a convenient format.